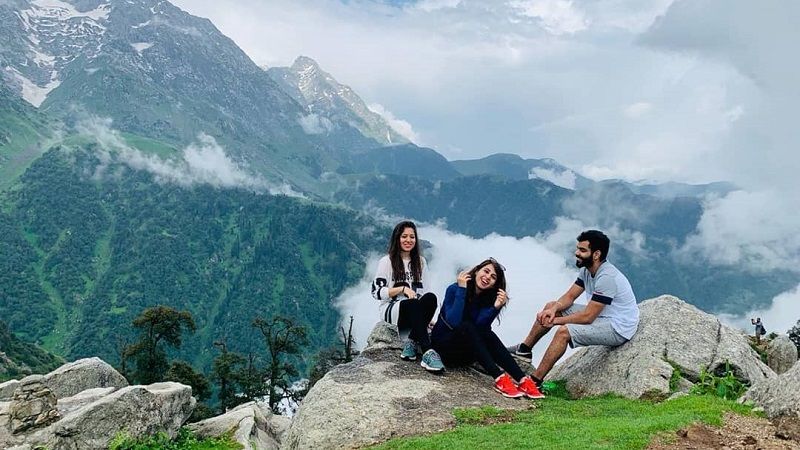 The ever-famous and oldest Himalayan trek – The Triund Trek – is brought to you by Moustache. This trek takes you on a fizzy and twisting paved path through verdant oak woods and cute meadows, making it the simplest and most charming of all the Himachal Pradesh treks. The steep trail is marked with occasional go through routes from ancient local villages and Pahari dhabas, which give the chance to befriend the locals while whispering antique tales.
If you enjoy learning about a community through the lens of food, this is the perfect place for you to meet friendly locals and eat delectable local cuisine. Another advantage of Triund trekking is that, with the exception of monsoon rains, it can be done at any time of year. Though the best time to visit is between May and June if you want to see blooming vistas of flowers and trees, November to February is the best time to visit if you want to see fields of pure white snow. In the season, the temperature in Triund ranges from -10 C at night to 10 C during the day.
With a height of 9350 feet, Triund acts as a natural refuge for a variety of songbirds and wildlife, making it a popular destination for bird watchers and wildlife photographers. Isn't it a wonderful place full of thrilling adventures and thrills? Yeah, it most emphatically is. We believe that one should always enjoy the simplicity of the trip rather than the destination, but Triund is about more than just the path to the top; it is also about the astounding summit and its breath-taking vastness in contrast to your existence. Unlike your dreamy mountains' pointy summits, Triund's summit is more of a stony plateau with patched clearings for camping.
The quaint town of McLeod Ganj, located just above Dharamshala and near Dharamkot in the Dhauladhar range of mountains, should not be ignored. It is home to an impressive collection of theme-based cafes, which are typically operated by either locals or dynamic young travel enthusiasts. Take a stroll in the evening and stop at any appealing café for a delectable brunch or evening snacks (do taste home-baked cakes though).
The town also has a number of tourist attractions, including Namgyal Monastery, Kangra Fort, St. John's Church, Masrur Temple, and Naggi Point. Touring around these destinations will definitely be the sugar on top of the already decadent dessert. Summers in McLeod Ganj are very pleasant, with temperatures ranging from 10 to 20 degrees Celsius, but winters are a little colder and more erratic, with temperatures sometimes dropping to – 10 degrees Celsius. Despite all of the attractions McLeod Ganj has to deliver, the entire trek from McLeod Ganj to Triund is nothing short of an exotic experience in Himachal.