ESCAPE THE ROUTINE AND HEAL YOURSELF ON THE PATH OF TRIUND
McLeod ganj is a suburb of Dharamshala in Kangra district of Himachal Pradesh, India. The place is home to large no. of tibetan community.
The view of green lush mountains and snowy white dhauladhar ranges gives you immense pleasure.
Being a delhiite, the best escape you can find from your noisy city life is Mcleodganj ,dharamsala. The place is beautiful and pleasant enough to delight your eyes for a couple of days and heal your body.
Taking a bus from delhi is the easiest way to reach Himachal pradesh,all thanks to Kashmere gate ISBT.
Mcleod ganj is a one night journey away from delhi, and the buses run daily at night from bus terminal till dharamshala and some of them till Mcleod too.
Its all ok even if u don't find direct bus to dharamshala or Mcleod, u can head to chandigarh any time of the day or night from delhi and from chandigarh there are plenty of buses running between dharamshala and chandigarh.
So about our trip we started from Delhi at 12 in night and reached early morning in chandigarh and stayed there for a day & night and took the bus for dharamshala at around 3 in noon on next day which dropped us at 9pm in dharamshala.
As it was our first trip to himachal and being little unaware of the conditions and circumstances we decided to stay at dharamshala in night but after enquiring with the bus conductor we get to know that there are enormous number of taxi services which run from dharamshala to mcleod. A one way taxi will charge u around 300 or 400 rs although mcleod is just 15 km from dharamshala but its like "their place they rules."
Although local buses too run between dharamshala and mcleod but there are only till 6 or 7pm in evening. so to save money reach and leave mcleod early before evening.
We reached mcleod by 10pm and checked in into hotel, had some dinner and planned for next day's trek to TRIUND.
Next day morning we left the hotel at 8 am and headed towards main chowk or main market of Mcleod from where we hired a taxi( for 100 rs ) to Bhagsu nag waterfall.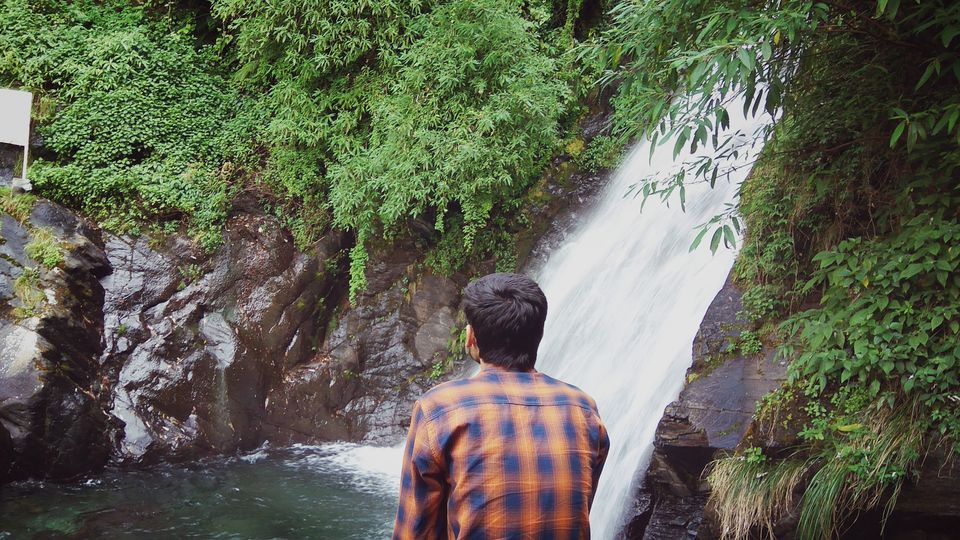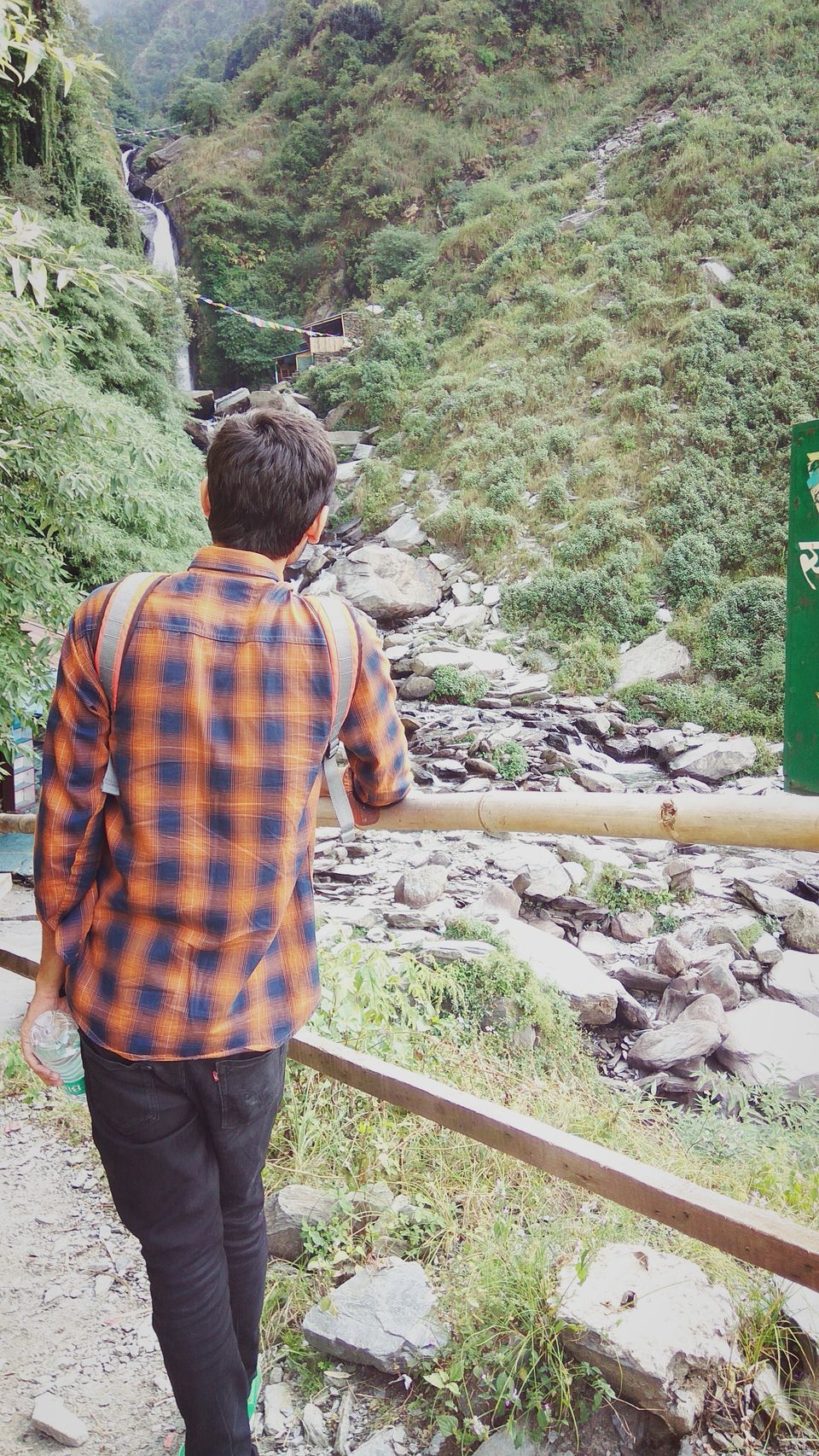 It was a pleasant place and much more pleasing and exciting to know that we were the first one to reach there in the morning after a easy trekking of around 1 km.
After spending some time over there it was time to head for the real trek.
Triund trek starts from the Dharamkot village and is around 10km from there to top but u can also start it from gullu devi temple which makes ur trek shorter to 3km as there is direct road till gullu devi temple and can take a taxi till there and start your trek. The taxi charges you around 400 rs from main market(500rs from bhagsu waterfall) till gullu devi temple.
we reached the temple by 10:30 am and started our trek at 10:45 am after providing few details to the local officer/team which monitors travellers treking to the mountain.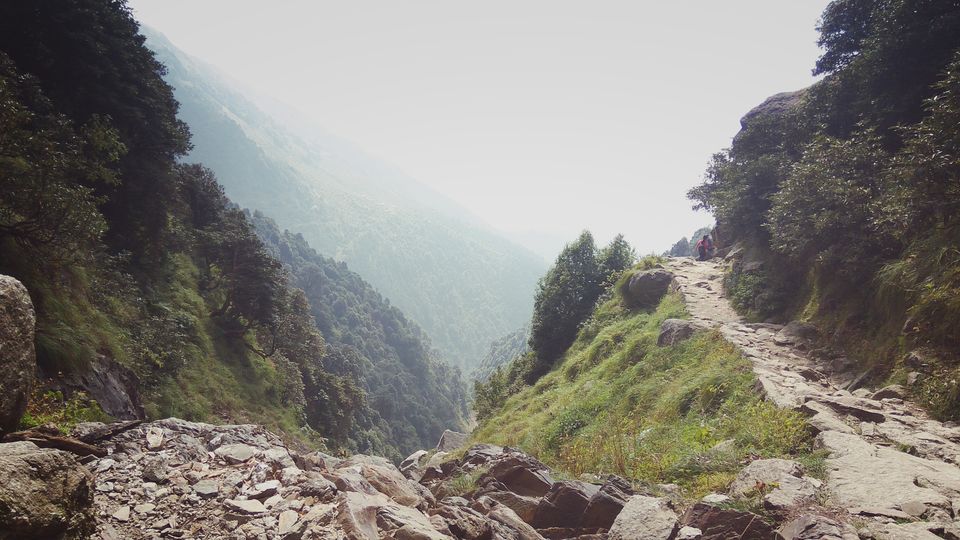 The trek is a moderate 7km long from gullu devi temple and takes around 3- 4 hours(depending on your strength and resting time) to reach at the top. the trek provides you some great beautiful moments and scenes which motivates you to reach as soon as possible to the top.
Carry as much as water and chcocolates u can to keep urself hydrated through the trek and also some eatable items. you can still find some shops during trek but their prices are just double or triple than normal.
The magic view cafe is almost half way to the trek. u can rest there for few mins and have some snacks.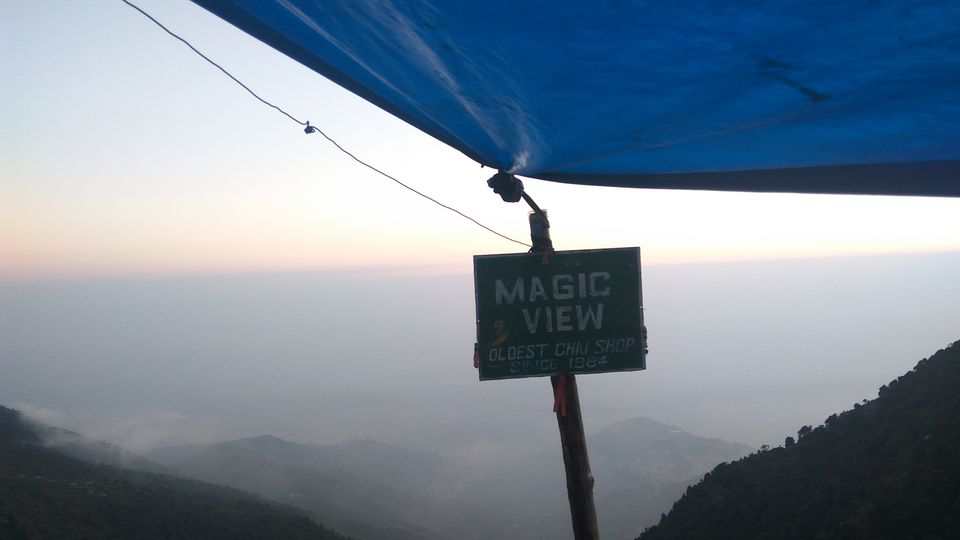 we completed the trek in 3 hour 15 minutes and the view and scene at the top was just magical and heavenly,the whole mountain top was covered with clouds and it was all white and foggy over there.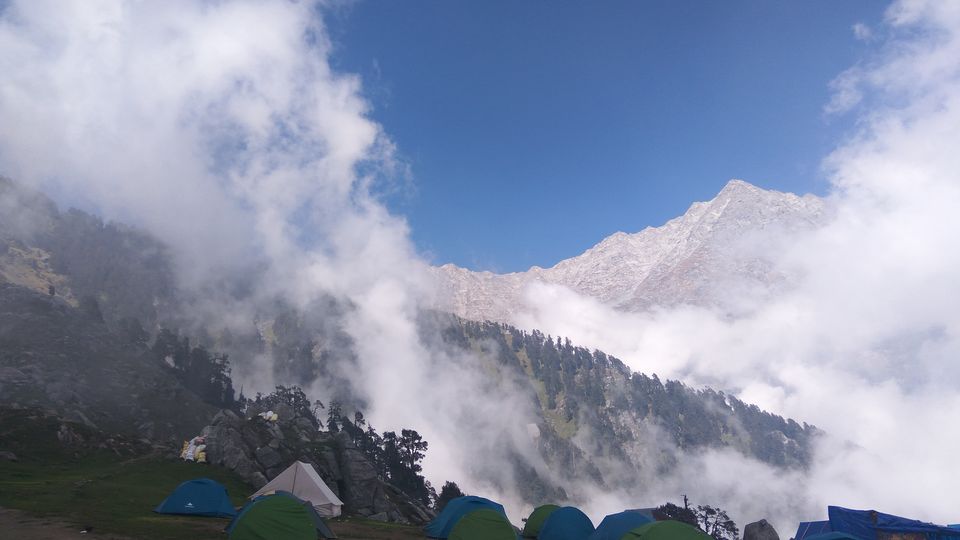 so now it was time to make urself comfortable on the ground and stare at majestic dhauladhar ranges. the pleasure u get after walking for 7km and then lying on the mountain top with clouds all around you is something which cant be described in words.
you can stay there for the night too. tents are available at the top starting from 300 rs per person to 1000 for a big sized tent for a group of people. but do carry some eating stuff and good quantity of liquor to make u warm and stay up all night.
unfortunately we couldnt stay there for the night and started our trek to down around 4:30 and it took just a little more than 2 hours to complete it and reach down.
All in all it was a great experience trekking for the first time and triund is a must try trek for everyone.
while returning from mcleod u can get direct bus from dharamshala to delhi every evening till 9 pm.
Please be on time to avoid extra expenses like us as we missed our last bus,