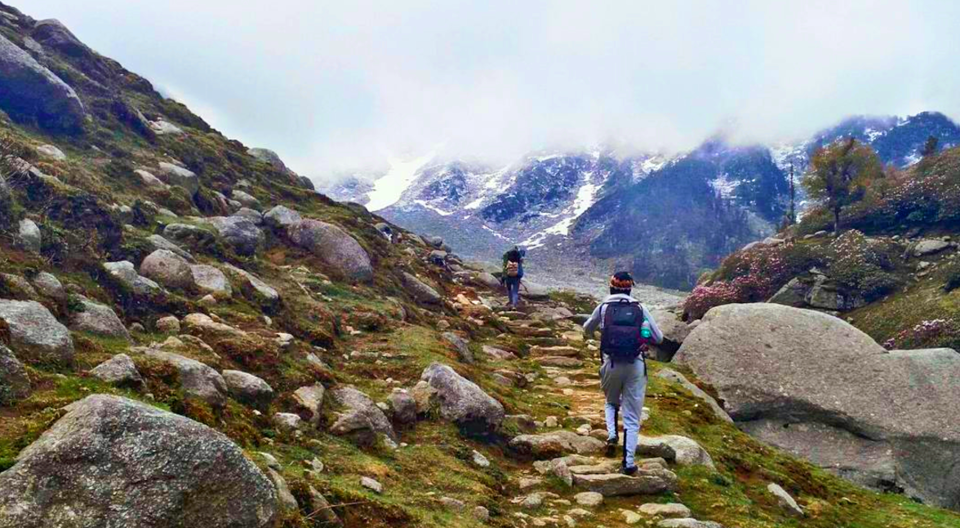 Of the many lakes that find their origin in Himachal Pradesh, the most fascinating of them all are the seven high-altitude nestled in the Dhauladhar ranges. These are Nag Dal Lake, Lam Dal Lake, Kali Kund, Kareri Lake, Chanderkoop Lake or the Moon Lake, Sukh Dal and the Dam Ghodi Dal.
Because they are so pristine and precious, and considered holy by locals, reaching them is not an easy task, certainly not for first-time trekkers. But if you are a seasoned trekker and interested in the Dhauladhar Lake Trail, it begins at an altitude of 8,000ft, with the highest elevation on this trail being 14,245ft. The lakes are frozen during the early summer months of April and May, so most batches for this trek start in June, when snow melts.
There are two different routes that can be taken to start this lake trek. One begins from Kareri village, and the other route starts at Triund. The better place to start this trek is from Triund in comparison to Kareri, is because through Triund, you will gain altitude smoothly and you will also get used to the steep gradient that will you'll have to walk on in the coming days.
This is a difficult trail and requires perseverance by trekkers, and I recommend that you hire a guide who can take you on the right trail.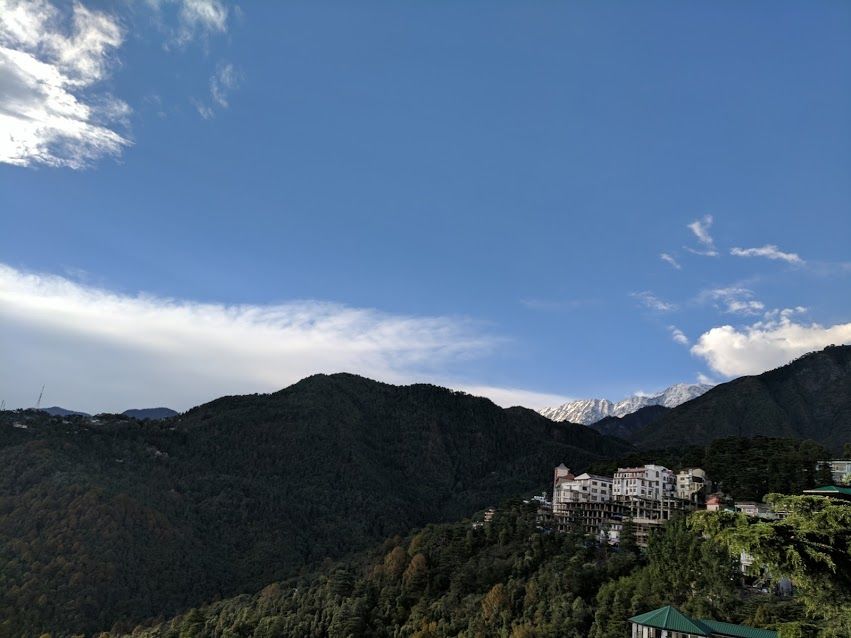 Getting there
Take an overnight bus to Mcleod Ganj and reach early morning. You can spend the day in the hill town and acclimatise by taking long walks in or around the area.
Here's an itinerary for when you start the trek from Triund.
Mcleod Ganj to Triund
You will be trekking to the famous Triund Hill on the first day. This is an easy trail and should take you about 6-7 hours to cover 9km to reach your campsite for tonight. There is a very well demarcated campsite at Triund, and there will be other trekkers to give you company.
Walking distance: 9km
Triund to Lahesh Caves
Start your trek during the early hours of the day, preferably by 6am, so even if you have a slow pace you will be able to cover a good distance in a day. You will be crossing the Snowline Glacier on your way up. Your aim is to reach the Lahesh Caves, which are 6km away from Triund. It should take you around 4 hours to cover this distance and reach the campsite before sunset.
Walking distance: 6km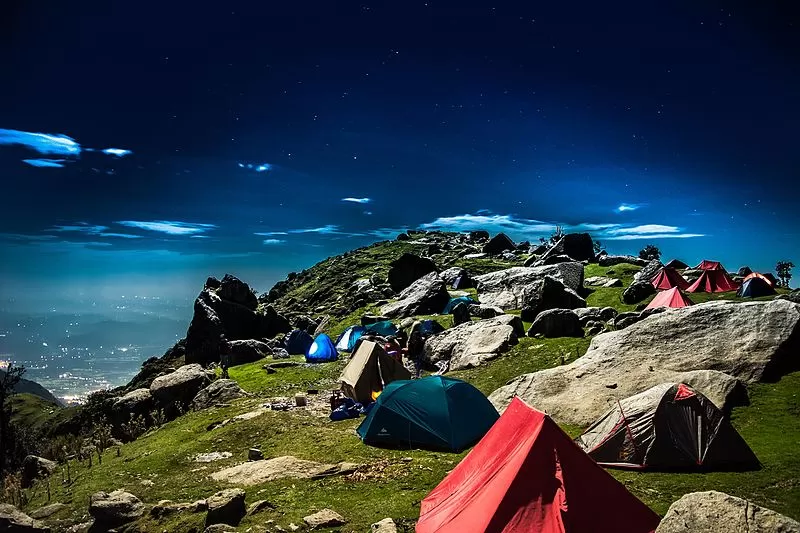 The real trek begins from this point. The route from Lahesh Caves to Nag Dal at 3,900m will have you walking on a slightly steeper incline and you will gain altitude rapidly and crossing over the Indrahaar Pass to reach the other side of the Dhauladhar ranges. The Indrahaar Pass at 4,500m is the highest point to reach on this day. It is advised to cross the pass as soon as possible to avoid any high altitude sickness. From this milestone, you will descend slightly below to reach the first glacial lake on your trek: Nag Dal. Nag Dal is also called the Cobra Lake. You will be walking for about 6 hours today.
Walking distance: 8km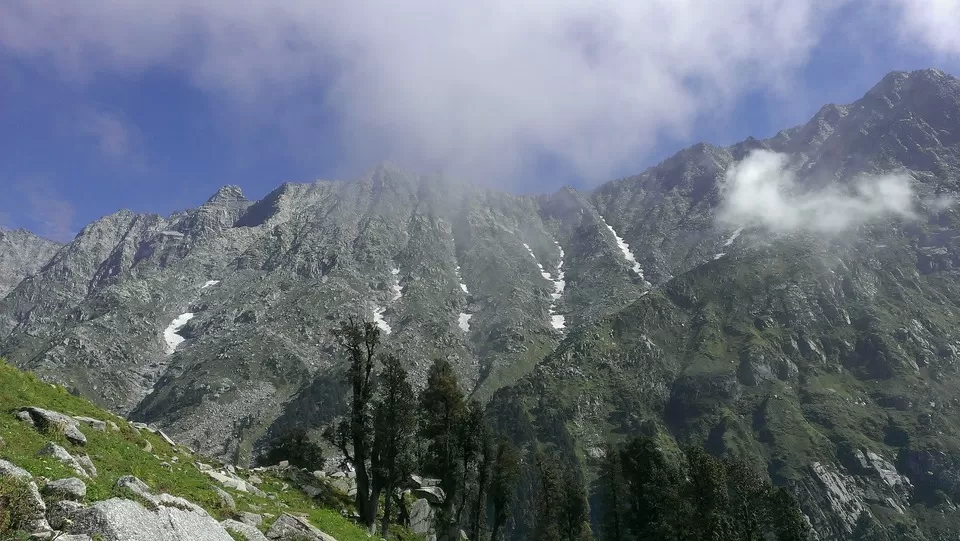 Nag Dal – Chaderkup Dal – Dham Godi Dal Trail
Leave the campsite early morning to reach your next stop, Chanderkup Dal on time to get the best view. Chanderkup Dal is also called Moon Lake because it stays frozen for most parts in early summers, and has chunks of ice floating in it. If you go for this trek during May end, the lake will be frozen.
The distance from Nag Dal to Chanderkup Dal is 3km and should take you around 3 to 4 hours to cover this distance. You will be at 12,000ft when you finish at Chanderkup. Spend some time at the lake and start for your next stop, the Dham Godi Dal.
Dham Godi Dal drains down into the Beas river that flows through the Kangra Valley. The distance from Chanderkup to Dham Godi Dal is another 2 to 3km and should take you another 3 to 4 hours because of its steep incline to reach Dham Godi Dal. Camp can be set up near the lake.
Walking distance: 6 to 7km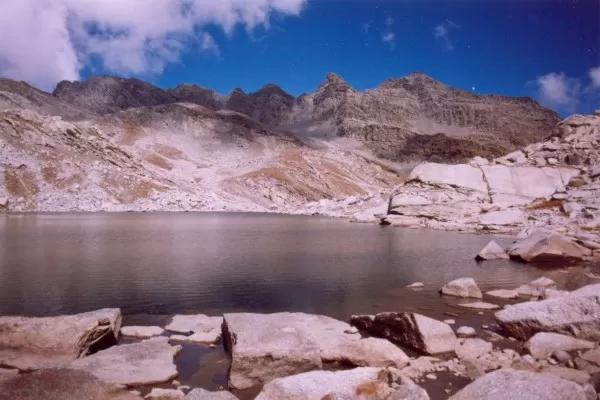 Dam Godi Dal – Lam Dal
Once again you step out to reach your next destination early in the morning. Today will be the most difficult climb. Even though the distance from Dam Godi Dal to Lam Dal is about 2 to 3km, the climb is quite steep and rocky so it should take you some time if you take small breaks. Lam Dal is the largest lake in this circuit and spreads across 2km, it is also considered to be holy by the devotees of Lord Shiva. You can reach the lake around early afternoon and spend some time near the lake. Camps will be set up a little far from the lake to avoid cluttering it in case there are devotees.
Walking distance: 3km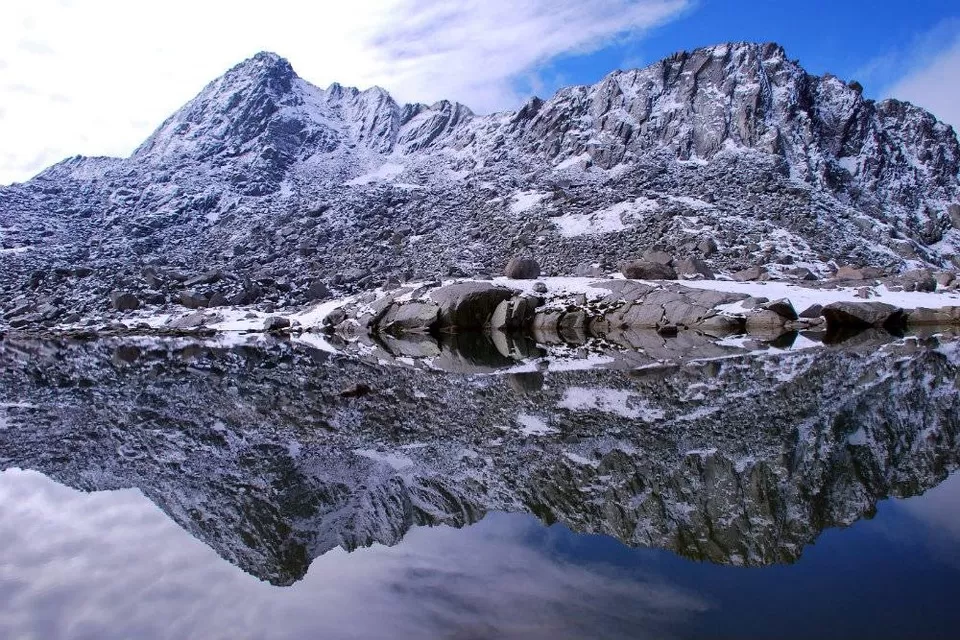 Lam Dal Lake – Naghar
The distance from Lam Dal to Naghar is 8km and on your way you will be stopping at Kali Dal, which is the fourth lake in this circuit. Another glacial lake that is considered holy, the Kali Kund is just a little below the Lam Dal (3km) and the descent is gradual and not sudden.
Your stop for this day will be at Naghar, a popular camping site for people who trek up to Lam Dal from the Kareri Lake side after crossing the Minkiani Pass, that you will be crossing tomorrow to reach the Kareri Lake. Naghar in itself is a small glacial lake that stays frozen for most of the time during the year.
Walking distance: 8km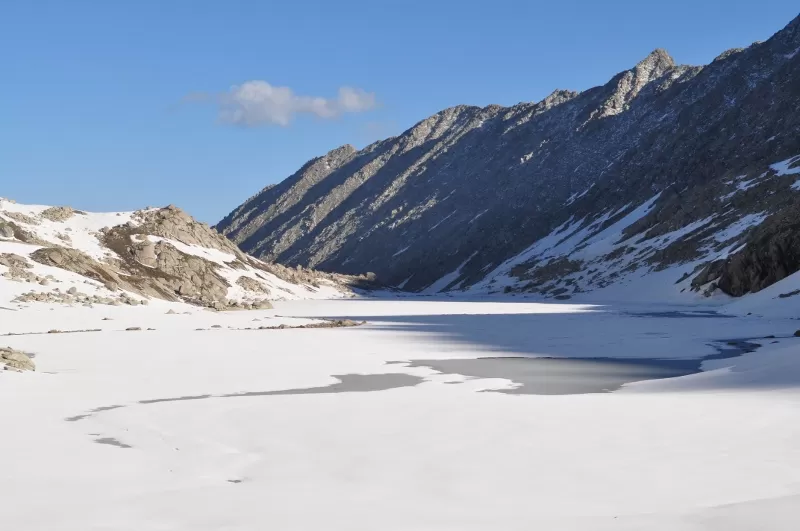 Naghar – Kareri Lake
On the 7th day of the trek, you will ascend to a higher altitude and cross the Minkiani Pass. The Minkiani Pass is surrounded by glacial mountains at the base of which lies the Kareri Lake. The distance from Naghar to Kareri Lake is 8km and should take you about 6-7 hours to reach.
You can also do a separate trek to Kareri Lake starting from Kareri Village that has a well-defined path up. You will be at an altitude of 13,950ft and it will be awfully cold even in the day while you cross the pass, so keep your thermal jackets handy and stop a couple of times to catch your breath. There are many campsites at the Kareri Lake and around as well, and you will find many trekkers at this lake. Tomorrow will be an easy day for you, as the trek down is quite easy with a number of makeshift stalls on the way that sell snacks and aerated drinks.
Walking distance: 8km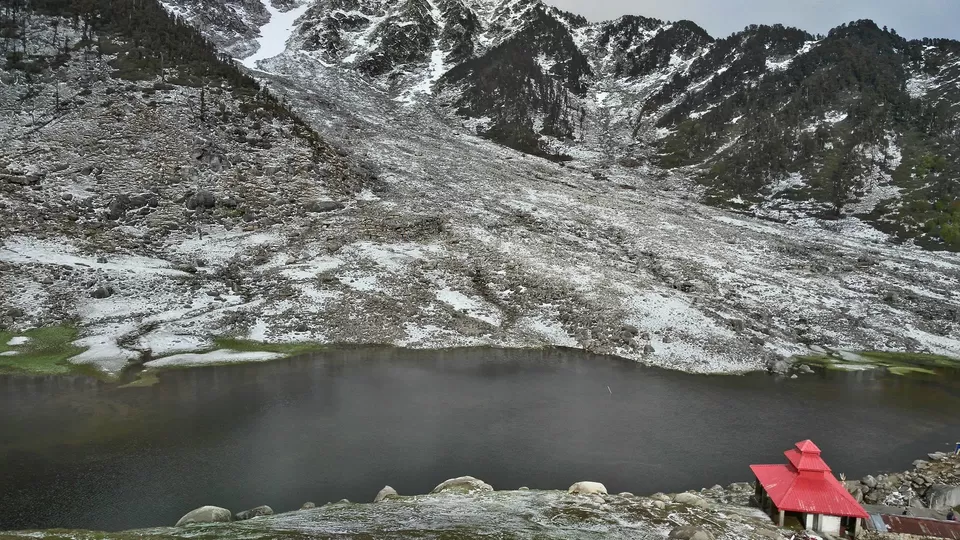 Kareri Lake – Kareri Village
Today will be the maximum distance you will be covering. Your first stop will be at Reoti, which is a campsite for people who go to the Kareri Lake. There is also a small confectionery shop, 10 mins away from Reoti, where you can eat your lunch. The trail as you continue to walk down till the last stall will be at your right side, when you reach the last stall around that is 3 km away from Reoti, keep walking for another half a kilometer further and you will reach the river. Cross it over by climbing big boulders and the trail will shift to your left side. Kareri Village from there is 4km away. When you reach Kareri, take the paved road on your left instead of crossing the bridge to your right. There is another stall there from where you can ask for further directions.
Walking Distance: 16km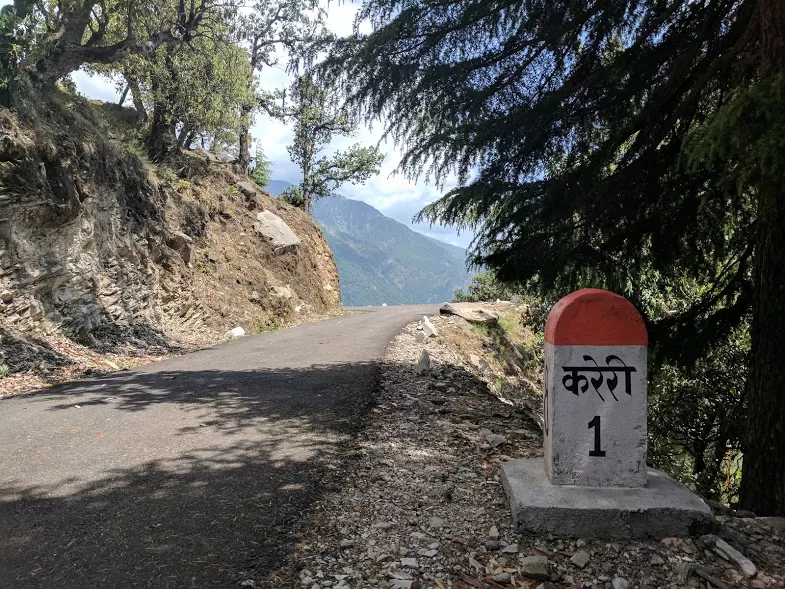 You will reach Kareri Village by late afternoon. Take a cab from here till Dharamshala or Mcleod Ganj and explore these towns and take the night bus back home from Dharamshala.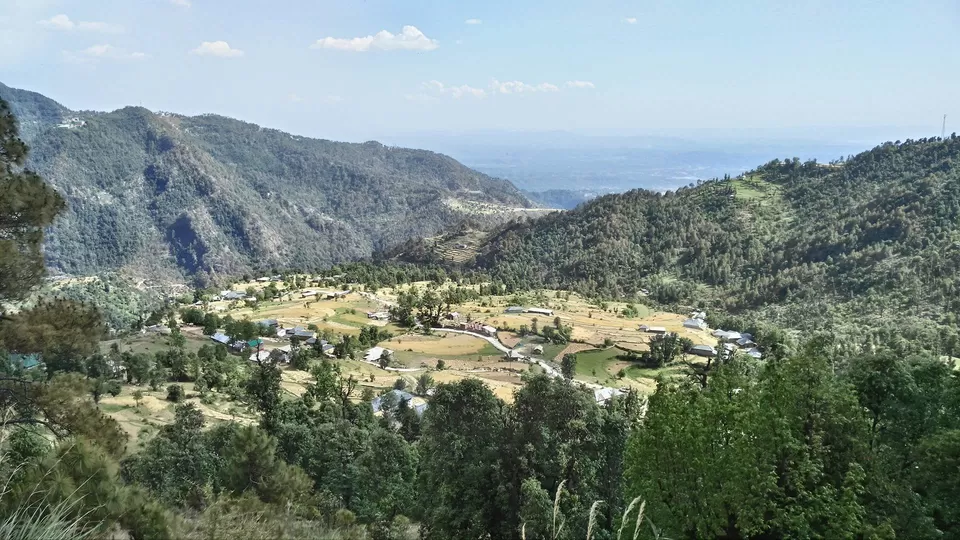 Things to know while planning this trek:
1. Every trekker needs to take permission from the Forest Department to enter the Dhauladhar forest area. A fee of Rs. 300 per day is charged by them. If you go with a trekking company, they will obtain this permission for you, and cover that fee in your cost per person.
2. This is an intermediate trek, and only those who have had a prior trekking experience in high altitude regions should opt for this circuit trek.
3. The season for this trek starts at the end of May and goes on till September end. Trekkers are advised not to do this trek in the months of August and September when the monsoon arrives.
4. Porters charge usually Rs.200 to Rs.300 per bag per day.
5. There are no makeshift stalls on the trail after Triund. Be well stocked with food if you plan to go independently.
6. Do not leave any waste behind. Travel responsibly and bring back all plastic with you in your backpack.
7. The temperature starts dropping below zero degrees as soon as the sun sets. Carry enough layers to keep yourself warm, and a raincoat to avoid getting wet in case of snowfall or rain.
8. A guide usually charges Rs. 1,200 per day. It is strongly advised that you take a guide with you. The trail after Lakesh Caves is not defined and there are chances that you might end up getting lost.
9. A trekking company will give you a tent that will be shared by 3 people. If going independently, you will have to carry a tent from Mcleod Ganj as there is no place where you can rent a tent from later.
10. Carry medicines for high altitude sickness (diamox), stomach flu and personal medicines. Be aware of any signs of altitude sickness. The whole idea of camping during this trek is to 'walk high, sleep low'. See this article to know what all you should be carrying with you.
11. You can hire a taxi from the 'Ex-Servicemen Taxi Stand' right outside the Dharamsala bus station, which is trusted and provides taxis for a decent rate to reach Mcleod Ganj.
12. Camps will be set up within half a kilometre radius from the lake or the destination you will be stopping for the night.
To know more about what you should look out for on a trek, check out this itinerary.
Have you been on a similar circuit trek in any high altitude region? Tell us your story on Tripoto!
Frequent Searches Leading To This Page:-
htour and travels in himachal pradesh, himachal honeymoon tour, plan my trip to himachal pradesh, best tour packages for himachal pradesh, himachal package yatra, himachal package itinerary