First things first, there isn't a better pair of shoes in the market if you're serious about hiking.
The first statement is succinct and actually encapsulates everything that will follow in this Tripoto Review.
What are they?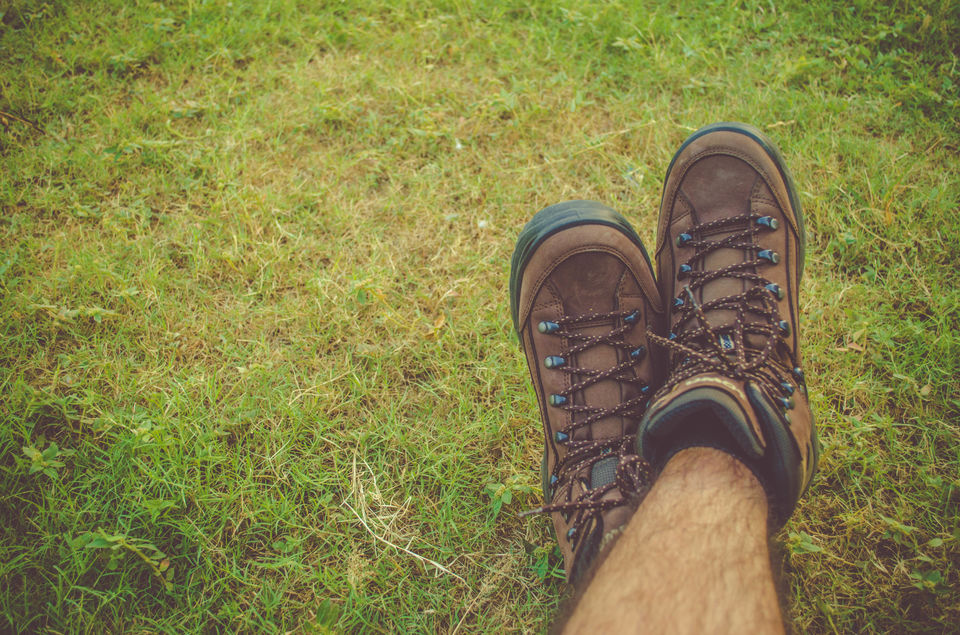 I am talking about the German brand Lowa's best selling hiking boots and they are called the Renegade GTX. I wore them on my recent expedition to Himachal and learned a few things that I want to share in this review. This pair made some of Himachal's most difficult mountain hikes and trails seem easier, and if you know me personally you'd know that I'm very particular about my hiking shoes.
To be honest, the first time I saw them I was not too excited to wear them because they looked huge and sort of uncomfortable. I wouldn't have even liked to wear them, let alone go on a trek with them, had they not come in with strong recommendations from fellow travellers.
And, by golly, were they right!
The perception of the pair being cumbersome completely disappeared as soon as I wore them and walked around my block a bit. They are a lot lighter than they look, the heel nestles comfortably at the back, and most importantly they let your feet breathe. Only 15 minutes had passed when I decided to take them on my then impending hike to the Himalayas.
The brand claims to be number 1 in the world in terms of technical mountaineering shoes; its good grip can be credited to the brand-exclusive PU material and the comfort comes through the MONOWRAP frame construction. Another interesting thing is the fact that most of the shoe makers in the Lowa factories have been working there for generations, so they have unparalleled experience in craftsmanship in the field. Now, if all that sounded like French to you, the only important thing for you to understand is really the fact that these are almost the best hiking shoes you can buy for the price that they come for.
And they are waterproof.
Weight: 1110 grams
How do we know?
Well, that's precisely what we do at Tripoto, right? In our pursuit of seeking the very best products that make travelling easier, I tried these beauties on one of my treks to Aani in Himachal Pradesh and found them to be insanely good. I was there on the road for five days, constantly trekking and hiking, and never a night arrived when my legs/feet gave up. By the third night, I realised that it was not I who had become superhuman, but my pair of shoes that was extraordinary. Lowa's Renegade GTX are extremely comfortable hiking shoes that boast of a fine grip as well.
Now that you know how we know, read on about the shoes.
When to wear them?
Functionally, they are supposed to be worn whenever you go on a trek or a hike, but after trying them out for quite a while, I realized that they're just as perfect for general wearing also. The fact that they are comfortable, light weight and well-ventilated gives them an extra edge over the regular shoes we wear. The only drawback you may find here is obviously they come a bit more expensive than your normal shoes.
Build & Longevity
The shoes are made with Nubuck leather, which essentially makes them completely weather-proof. The waterproofing is provided by a unique lining called GORE-TEX, and the synthetic sole lets it be unaffected by climatic changes. Removing the aforementioned jargon, the gist tells us that these shoes are made to last long on tough terrains. The company claims it to be a product that will never actually wear out, it's you who'll eventually stop wearing it. Well, you just got your answer.
Specifications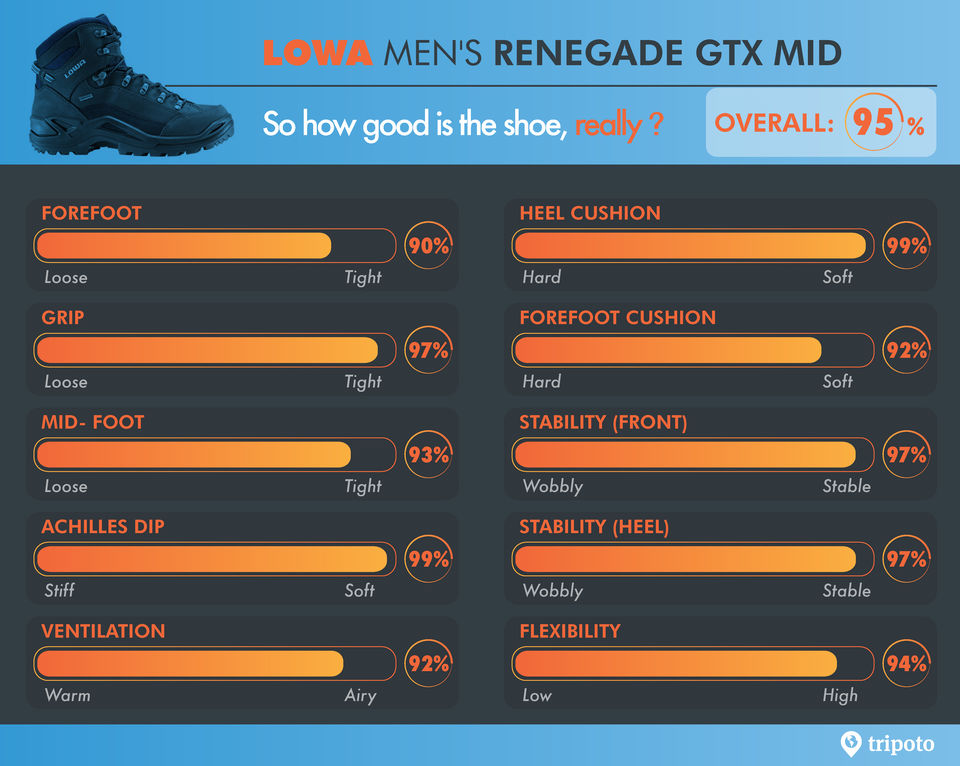 Materials
Upper: Nubuck Leather
Lining: Waterproof GORE-TEX®
Footbed: Climate Control
Midsole: DuraPU® with MONOWRAP® Frame
Outsole: VIBRAM® Evo STABILIZER
Final Verdict
Take the product with your eyes closed. Take our word for it. Whether it's casual birding, weekend treks, rough trails or winter trekking, Lowa's Renegade GTX is made to last all weathers and terrains with an equal ease.
You can buy the product here.

In association with Extreme Adventure Sports.
Frequent Searches Leading To This Page:-
best hiking boots of all time, best hiking boots for men, best hiking boots budget