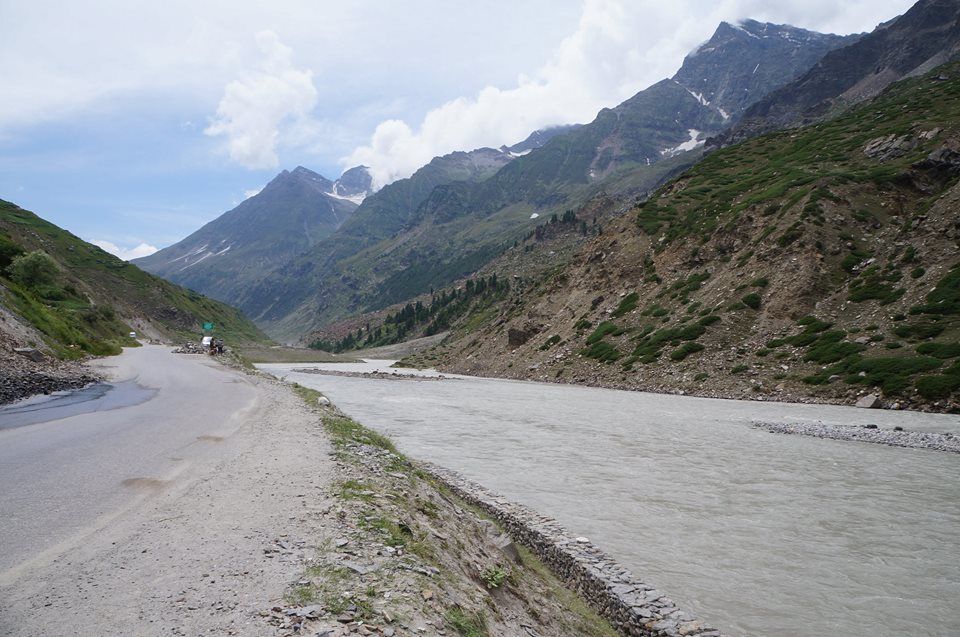 It was same time of last year when I had booked return tickets to Delhi a month before the trip, while I had planned my first ever trip to North from Pune. While stalking countless trips on Tripoto for months, it was obvious for an introvert like me to select Himachal due to that instant click in the mind whenever I hear "Himalayas". As usual, I was quite excited, and for a 10 day trip I was spending a month in research and planning the itinerary. Prepared a couple of itineraries and backup plans ready to avoid last minute planning for any unforeseen circumstances. Listening to my solo trip plans, my close friend Rahul too decided to join me.
So finally the day was about to come. Winded up with all the important office work and I left for the day. Bags packed, tickets printed, didn't keep any last minute work so had an ample sleep before the early morning flight. Started early morning from home, my brother took me on bike to drop at airport. I called Rahul to check whats up with him and he wasn't responding to my calls. He called me back after few minutes saying he had started but he is going back to get his forgotten wallet. Fine, wouldn't make much difference since he stayed nearby the airport. Now, it was my turn. The bike stopped due to some problem around 3 kms before airport and 30 minutes left for checkin. Informed Rahul to pick me while on the way, but luckily the bike started somehow and I reached on time.
It was a cloudy morning in Pune, and had a great excitement when the flight took off. Unfortunately, that excitement wasnt for too long in the plane. Since I was in window seat, I decided to click photos in my camera. When I got up to remove camera from my bag, was shocked to see a milk bottle leaked from one of the passengers hand bag. Still thinking howcome it was brought in handbag inspite of airports level of security. The milk was spilled all over other passengers bags too (and in laptops). Fortunately, my camera was safe. So the morning of the first day was somewhat like this.
Moving on, reached Delhi, took a hault at Rahul's relatives in Delhi and then took an overnight bus to Manali. Reached Manali in the morning and took some rest after the tiring journey. Had to visit market to arrange bike, so later in afternoon we stepped out for lunch and in search of bike. But while on the way me and Rahul had a small fight for some silly reason due to which we didnt speak to each other for till evening. The bike was managed and permits sorted. Rahul and me patched up at night and decided to continue as per plans. We were going to leave for Chandertaal Lake via Rohtang Pass. While I woke up, Rahul informed me that his health is not good due to cold and cough. As soon as we crossed Rohtang, I had to decide whether to continue to Chandertaal since it wouldnt be suitable for Rahul on that extreme off road and later stay in camps. So we diverted towards Keylong where we could get good hotel and food. So Day 1 we were in Keylong instead of Chandertaal. Although, that distance between Rohtang to Keylong was magnificient for a newcomer on bike.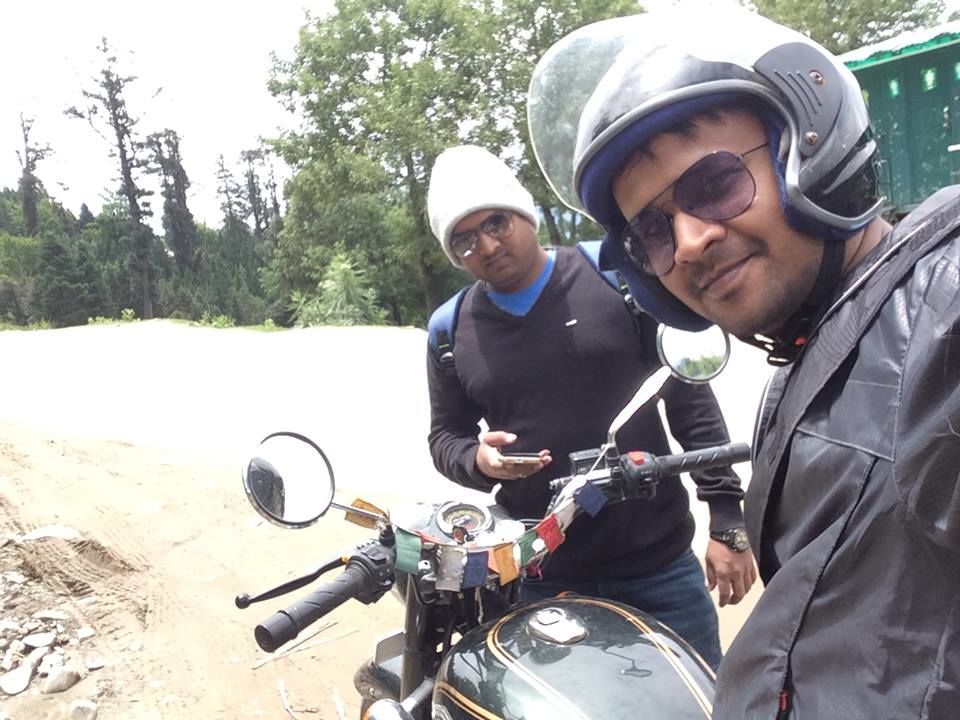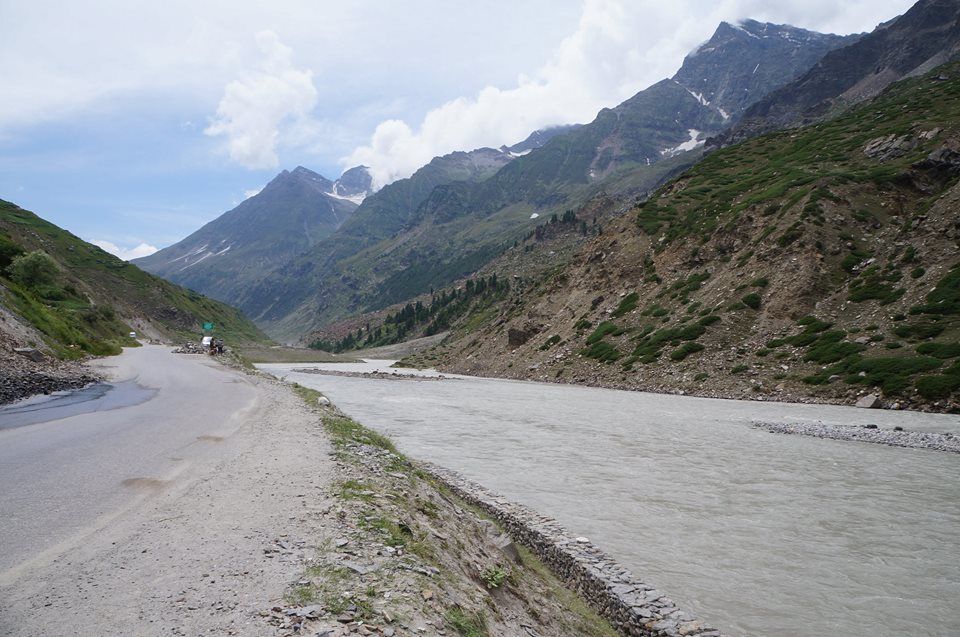 The Day 2 plan was to go Chandertaal from Keylong. Rahul still wasn't too well but he did not want me to sacrifice the original plan. So again we started to Spiti for Chandertaal. Took a hault at a tiny dhaba at Chhatru. While we were having lunch, I saw his eyes and realized that it was very risky to take Rahul to Chandertaal in this condition, but Rahul didnt listen to me. He still told me to continue to Chandertaal. On the way met 3-4 bikers who had cancelled their further plans to Chandertaal due to horrible roads and paagal nallah's flowing all over the way. They suggested not to go ahead due to extremely poor roads. It was 2pm and I had to decide whether to continue on bad roads with Rahul in this condition, or to return back to Manali which would take approx. 3 hrs. We came to conclusion that it was wise to control the emotions and go back to Manali at that point of time. So again, Day 2 we went to Manali and stayed for a night.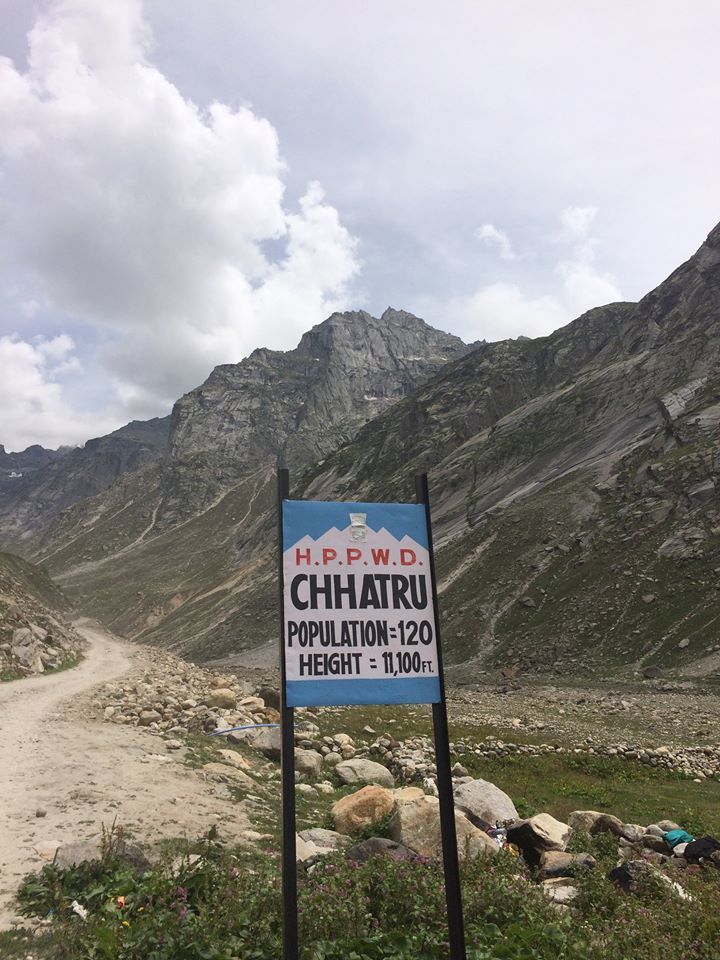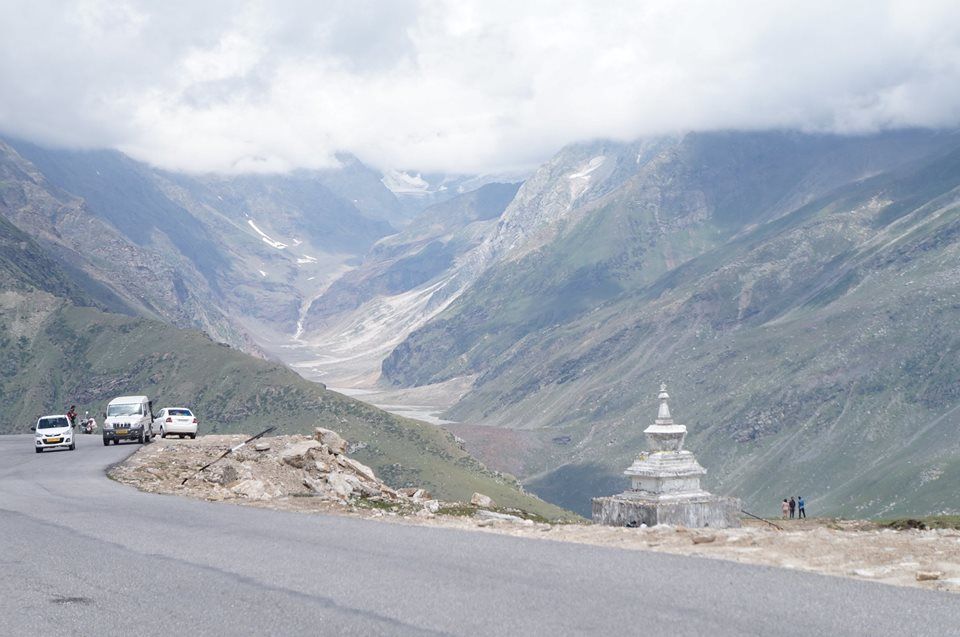 Then came Day 3, (the only successful day of my trip) where we began our journey towards Parashar Lake. However, since Rahul was sitting at back most of the time, started severe pain in his back. He immediately informed me to stop somewhere and he wouldn't accompany me further. So we took a hault at Kullu where Rahul took rest and I continued alone from Kullu to Parashar. I cant put in words that experience of driving to Parashar Lake. Best ever ride I had in my entire life. Its an ultimate experience to ride there, a top quality road between a dark and dense forest. I wonder why bikers dont spare a visit to that place. A must try if possible. Since I had to return back, gazed Parashar lake for 20-25 mins and immediately left so that I can reach down before sunset. I was well in time and reached safe. Came to hotel and showed pics to Rahul what he had missed :)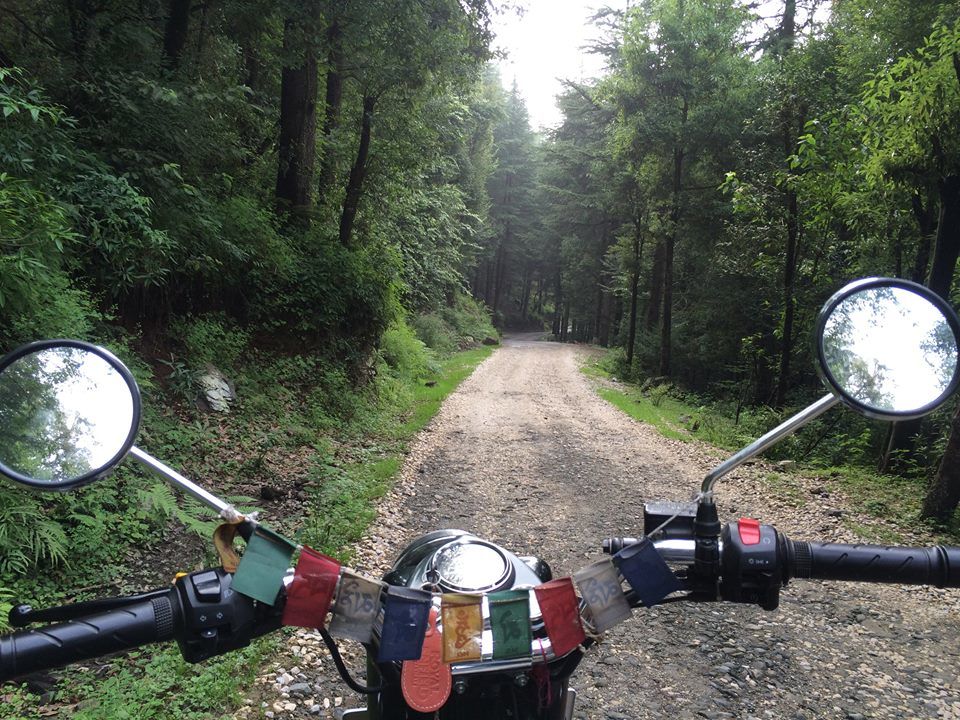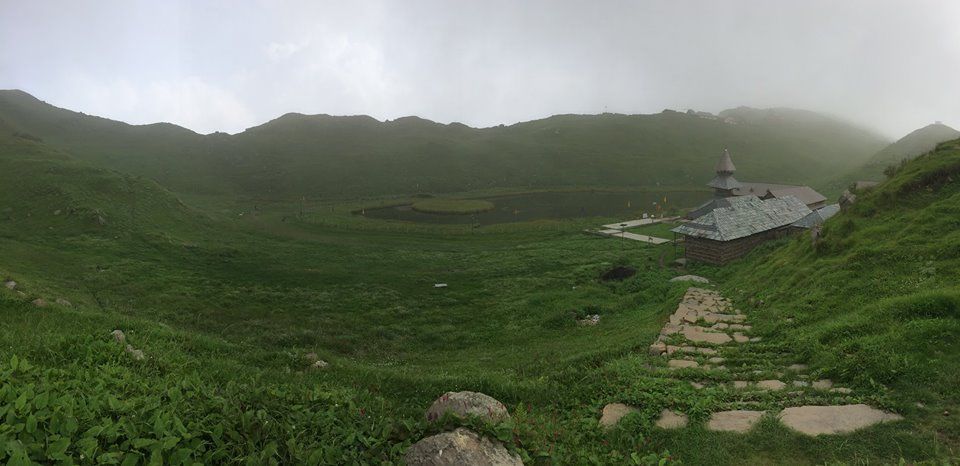 Now it was Day 4. Took a nice sleep and we both (night shift guys) woke up late. It was the day to return the bike in evening. Started from Kullu towards Manali, did some shopping in Kullu local markets and tasted the yummy Trout fish on the way. Who knew our trip was going to take a big turn that day. Since it was raining, the roads were a bit slippery so we were driving with extreme caution. About 4 kms to reach Manali, and on a slope came a Maruti Alto slipping out of control, coming straight towards us. No chance to move or turn suddenly, due to heavy Royal Enfield attached with backpacks. The Alto came and crashed straight on our bike and we both flew and fell down. It took 3-4 mins for me to realize whether all parts of my body are in place. Thankfully, I was conscious. Immediately looked after Rahul, and his knee and the nose was bleeding heavily. Since few houses were around, people came running for help. The ladies without any delay started dressing and cleaning. I had no chance to move my back and neck. The phone screen got damaged. Somehow I managed to call the bike owner for help and he came rushing on the spot. Meanwhile, people had beaten the Alto driver since they found him in drunk state. The bike too was severely damaged. The people started insisting us to leave to hospital asap. While in all this situation, the bike owner said "Sirji, bike ki chinta na karo. Aap ki jaan bach gayi yeh bohot badi baat hai" it was a moment of mixed emotions to hear those unbelievable sentences at that point of time.
The local people around took us to hospital. A crowd of 8-10 people were constantly with us, helping us in each and every possible manner. Not a single thing went missing from our backpacks even when we weren't in a condition to carry them. Later, the cops came to hospital for inquiry. First statement that cops made to us was "Atithi Devo Bhava". They assured us that we would not be facing any legal troubles and not to worry about anything. The real owner of the car arranged us for stay and dinner after we were discharged on same day. Next day, we were shocked to know that inspite of heavy damage to bike, the bike owner came to us to return our deposit. He said "Sirji, hum haath ka kamate hai. Jo hua usmein aapki koi galti nahi hai". Hearing these sentences from a stranger, thousands of kms away from your home where no one knows you and one cheat you taking advantage of the situation we were going through, but humanity still exists and people in Himachal won my heart inspite of that accident.
It took few months for Rahul and me to come out from that shock, physically as well as mentally. For days, we were just thinking that life is so uncertain. Anything could have happened to our body. We had families behind. We could have become disabled. The people could recover money from us. The police would land us in trouble. They could have asked us bribe. We couldn't do anything if all the local people and police come together to bully on us. But inspite everything, everyone were just kind and supportive, thanking god and hoping for our better recovery. I knew that people of Himachal are so kind, but if I wouldn't meet with accident, i wouldn't come to know that they are are kind till this level.