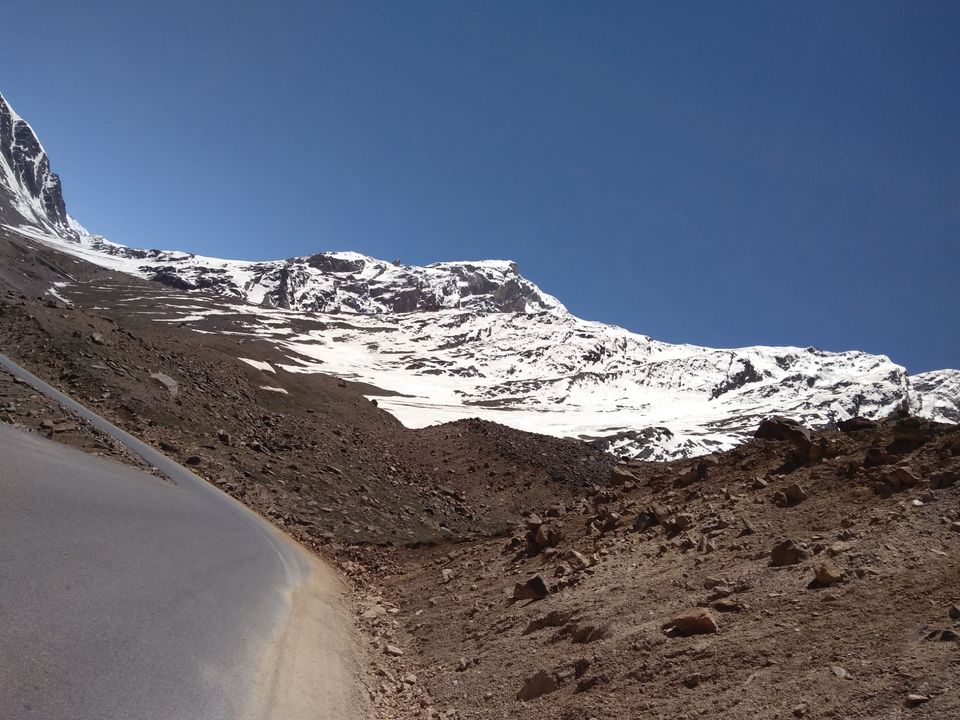 We Started our Trip from Delhi to Manali by RSRTC Scania Bus.
Reached Manali Around 2 Pm.
We went to Himachal Tourist Information Centre.
We haven't done much research about the route. So, it was good to take advice from some Responsible Person.
We went to a Travel Agency as advised by them, We booked a Enfield 500 for Next day and they assured us of getting Permit for the Trip.
Than we booked a Lodge as Manali is costly in this Period as this is the Peak season.
Then as advised by the Agent we bought 2 Pairs of Raincoat and Gumboots.
We were carrying Gloves as well Airproof and cold Resistant Jackets with us.
We then relaxed till 6 in the evening and then we went to Hadimba Devi Temple, then we visited some of the Famous restaurants of Manali.
Being a Pure Vegetarian it was Hard to find an Pure Vegetarian Restaurant (which only serves vegeterian food).
But finally we ended up in Mall Road where we got Vegetarian Restaurant.
It was something around 11 in the night.
So, we decided to go back to room and sleep.
We woke up at 7 in the Morning, we got ready and Packed our stuff and it was something 9:30 till we reached Petrol Station, we were about to get our Bike delivered there.
Due to some reasons Permit to Lahaul & Spiti was to be received around 12:30.
But we kept our luggage at their Office and asked agent to give bike for some local travel.
He gave us Enfield 350 and Said you can go till Gulaba Checkpoint you would not be able to cross Gulaba Checkpoint as for that Permit is needed.
We had already made Plans about Solang Valley, so that we will be Familiar with mountain roads as it was our First experience,
My trip Partner Ketan was also Excited as I was.
We reached Solang Had Breakfast, Visited Paragliding site then came back to Manali.
We reached back around 12 o'clock
Then our bike was ready with Luggage Kits fixed, then we placed our Luggage.
I was carrying a Rope as well as two huge Plastic bags in which generally Grain is Packed.
He got us Permit when we were even Packing.
So by almost 1 Pm we began our trip.
Our Route was through Palchan - Marhi - Rohtang - Gramphu.
Actually our Plan was to go to Chandrataal
But we Missed the way and continued on Leh Highway and Reached Khoksar which was just 6 km Ahead from Gramphu.
After asking from a Military Official we turned back. Time was 4PM.
We took our Route
We travelled 7 km in a Hour in Hope of good route ahead.
As we were two with Luggage it was hard to ride bike on a route with Rivers on the road and big stones.
We decided to return back to Khoksar and Planned to start Journey in the Morning next day towards Chandrataal.
We went back and stayed in the first camp on our route as it was on the side of Chandra River (Which Originates from Chandrataal).
The camp stay was mind-blowing,
We met new people, A group of 5 who were coming back from Baralacha La.
They advised us to change our plan from Chandrataal to Baralacha La.
We enjoyed the Campfire in the Night as we were not 2, we were 7.
Full on Masti was there that Night, that was an unforgettable Experience with Strangers. We danced till around 1 at Night.
This Morning we departed at 7 for our destination.
Our Route was through Chandra Valley till Keylong.
So the Beauty of this road is Mind-blowing.
We took Breakfast in Keylong.
Then Proceeded towards our destination.
Our Route was Khoksar - Keylong - Jispa - Darcha - Zing Zing Bar - Baralacha La.
After Darcha we found something amazing it was untapped Beauty of Nature.
Drains were flowing from the Top of Mountain, that was nothing but Melted Ice. We stopped there for a while and Enjoyed the Atmosphere.
Then we Proceeded towards Baralacha La.
Then came Surajtaal, Said to a Glacier.
It is a Frozen Lake even in the June First Week.
Then Comes Baralacha La 1 Km ahead of Surajtaal.
He it was all Snow.
Snow was as soft as It might have falled just Hours ago. We enjoyed throwing Snow balls on each other.
Then we departed back to Keylong.
We searched a camp, which was advised by the Group we stayed together in Khoksar.
The main issue was again Vegetarian food as the food we were carrying with us was over.
Finally we searched Bread and Butter in the Keylong town.
Then we relaxed at the Night.
This Morning again we Departed Early as we have not stopped at Rohtang Pass on the first day.
We reached Rohtang Pass at 11 Am.
We took break for around 1 hour, Till, we were not bored from Ice.
Ice was also not so Good as a Lot of Tourists come here and go with Dirty Shoes on Ice.
When we Proceeded towards Manali, We faced huge Road Jam, Some said it is a Daily Thing.
Then we Reached Gulaba Viewpoint and Relaxed in the Garden.
After 1 Hour of rest, we Moved towards Vashisht, the Hot water Spring.
We stood in the hot water for few Minutes.
Then we reached Manali Handed bike to Agent.
Kept Luggage in Office of the Petrol Pump.
Then we Left for Shopping in Mall Road,
My friend Ketan had to purchase Some gift for her Girlfriend.
We started Searching for Gift.
It was my First Experience to search for a Gift for a Girl😅 . Finally he found a Handbag for Her.
Then our bus was to Depart at 10 Pm for Delhi.
Same bus RSRTC Scania.
This Trip can be Completed in 3 Days and 4 Nights if Planned well in Advance.
We had less time, Otherwise would have planned trip to Leh. We planned trip on Evening of 28th May.
And No Bookings were done.
Waiting for Next trip on this Way and this Time at least 12 day Itinerary.