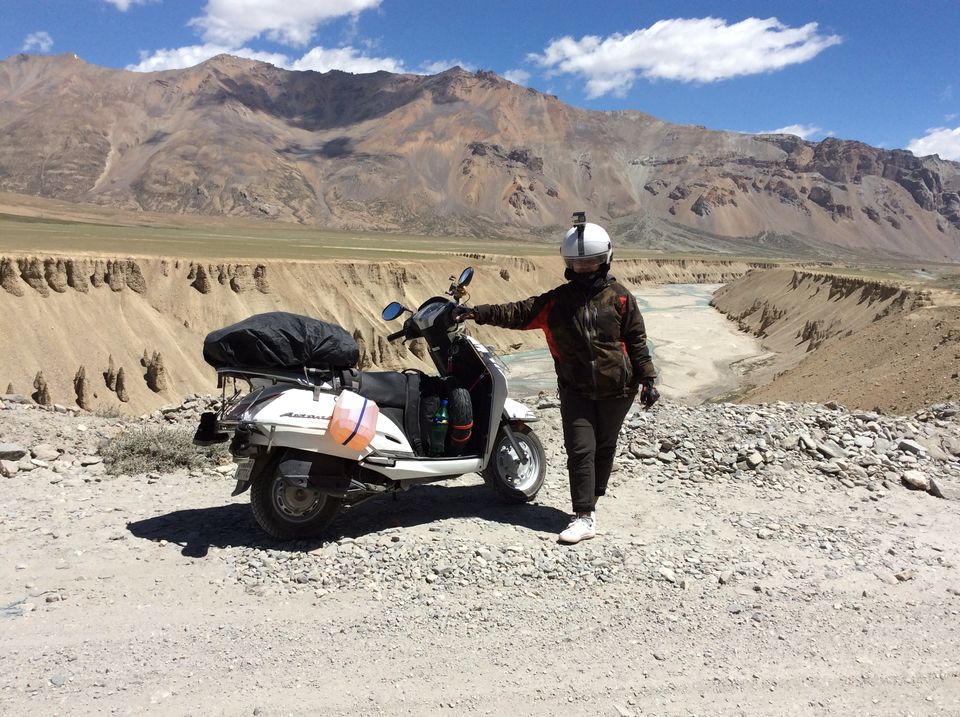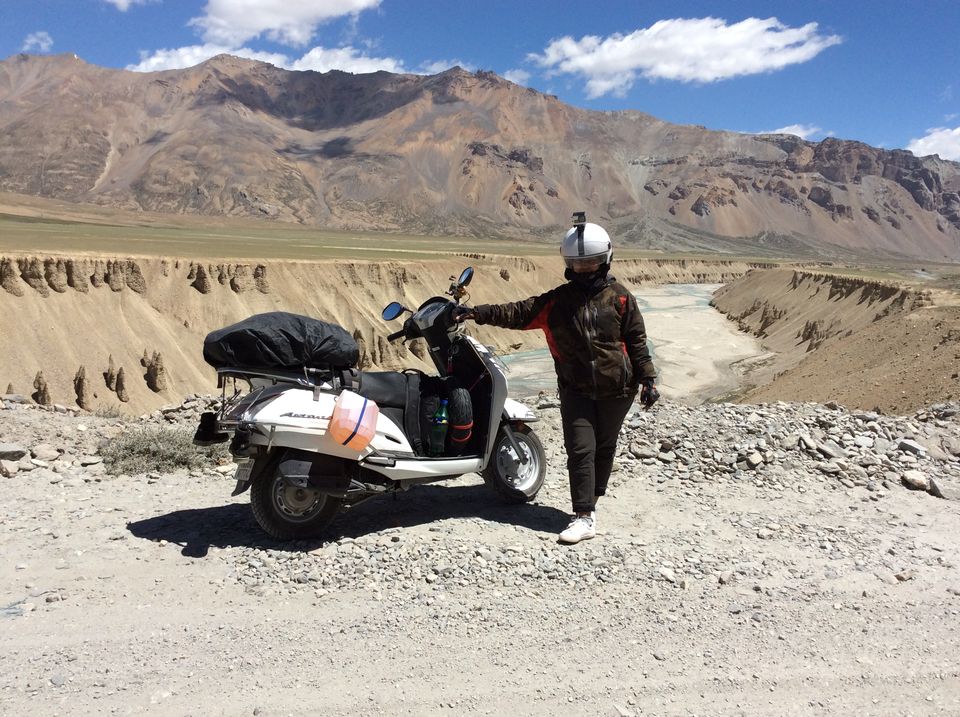 Trailer- https://www.youtube.com/watch?v=MJdc3GpVwy8&t=125s
Story started when first time I was thinking that how should I take my 7 months old pet from Rudrapur, Uttrakhand to Manali , HP , as i was working in Camp there. As you cannot take your pet in public transport because its not allowed and taxi was totally out of my budget. So I opted scooty option.
So, I decided to get a basket fixed and I travelled from to manali by my scooty with my pet.
Than I thought when I can travel with my pet for 800 km than without pet I can go anywhere to any limit .That was the time when I realized my capabilities.
So Leh Ladakh began:-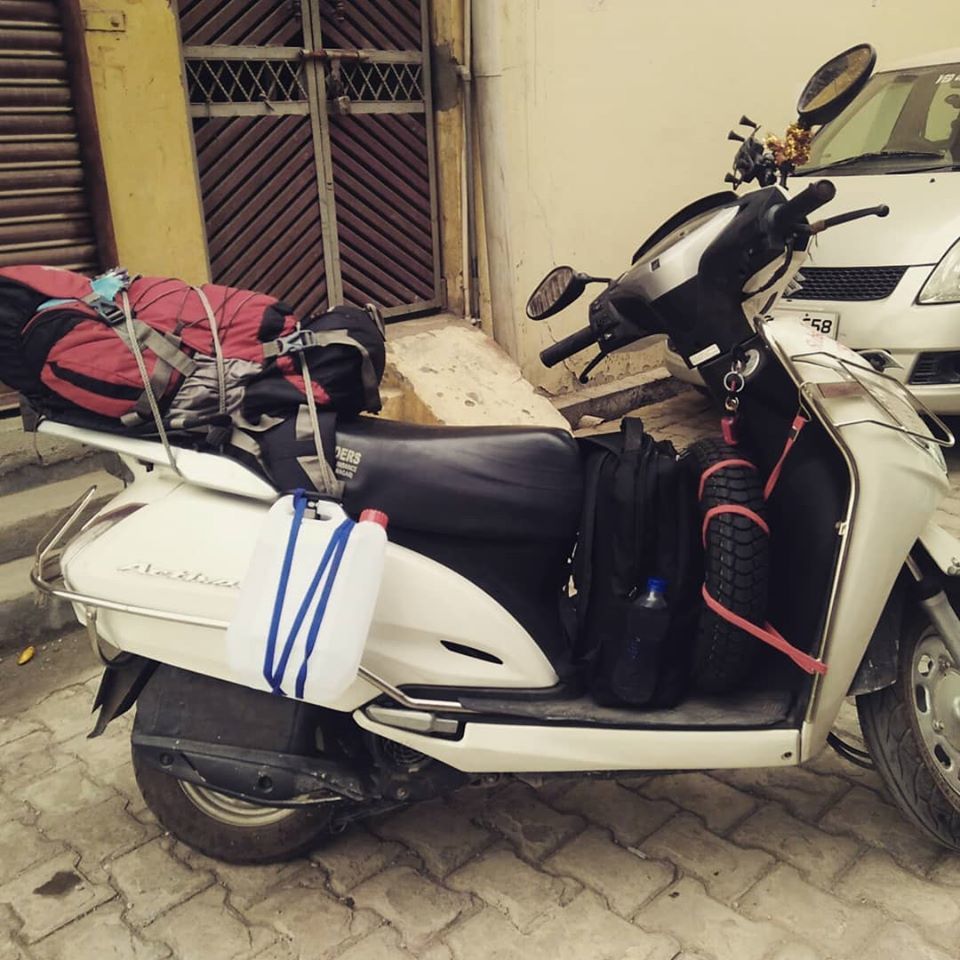 Preparation- https://www.youtube.com/watch?v=Tq3uophA5go&t=197s
"Everyone had only one question 'Why I am travelling 'Solo' but for that I have only one answer because I don't just want to be in one group. My interest was in meeting many Solo riders and different groups.If I myself will be in a group than firstly I will not be able to gain a feeling of achievement & will not be able to explore more .
While my travel I always have a set budget plan and stick to that always in any condition.
"My Journey"
Rudrapur to Delhi (250 km ,5 hours)
Stayed at friends room in Noida got my Action camera and scooty prepared.
Delhi to Manali (600km , 14 hours stuck in jamm at many places) because it was peak season time in manali.
Reached at 9 pm to my friends camp. Next day went for 'Bijli Mahadev Trek'.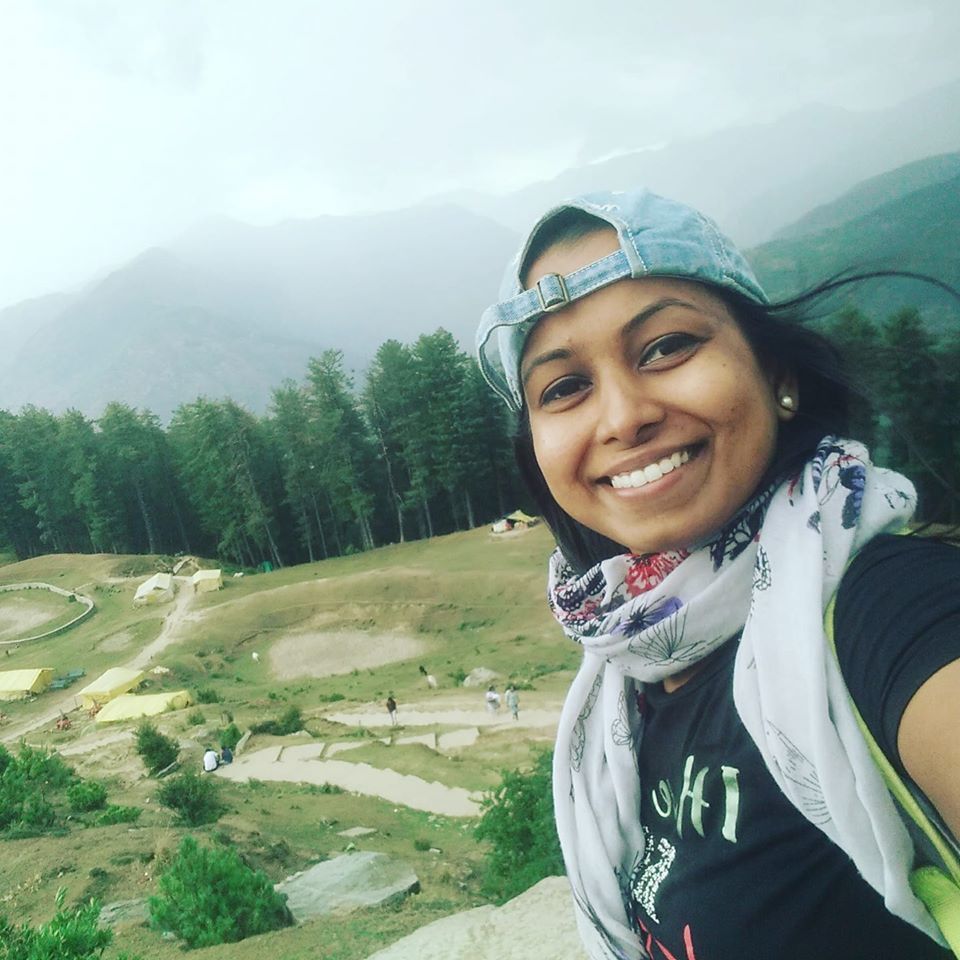 And last day went to Honda, Kullu To get my scooty services.(service was not required but still got it done to be on safer side and to learn some technical work).
Activa 125 cc Preparation:-
 Got its service done
 Got an spare 'Spark Plug'.
 Engine Oil
 Stepny (had tubeless tyre but still got it to be on safer side)
 Desired tools.Got an extra tool from market for changing the tyre.
 Got 2 iron buckle one on left side and other on right side for carrying petrol canes.
 Got an charging point and a mobile Holder on scooter (for using navigation but that time was not aware that no network will work not even BSNL).
Now after all this I was all set to leave tomorrow.
Day 1 (21 st june 2018 ):- Manali to Jispa :- 140 km, 7 hours.
Video Link - https://www.youtube.com/watch?v=eapgASoNu_U&t=86s
Accomodation – Mountaineering Insitute,Jispa 100/- for one bed.
Pass – Rohtang Pass
Permit- Required at Gulaba checkpost.
Damaged Road- Rohtang pass to koksar. 20 km
Started at 8 am in the morning Got a back up of 15 litres(5 litres in tank and 10 litres in the cane I carried) from last petrol pump 'Tandi' 6 km before keylong.
Day 2 (22 nd june 2018):- Jispa to Pang :- 170 km , 8 hours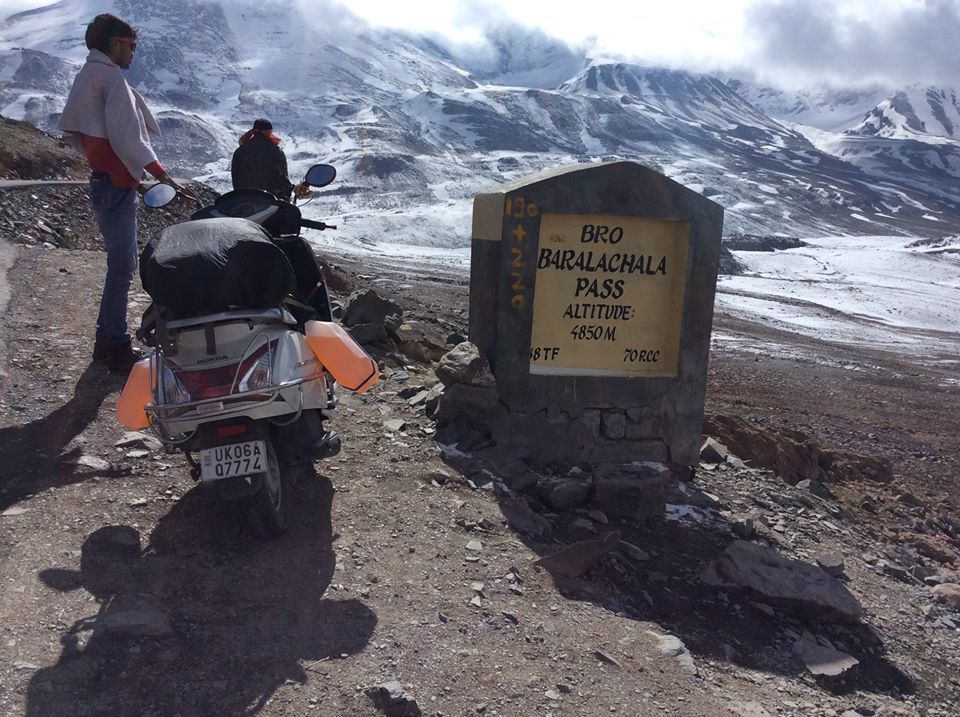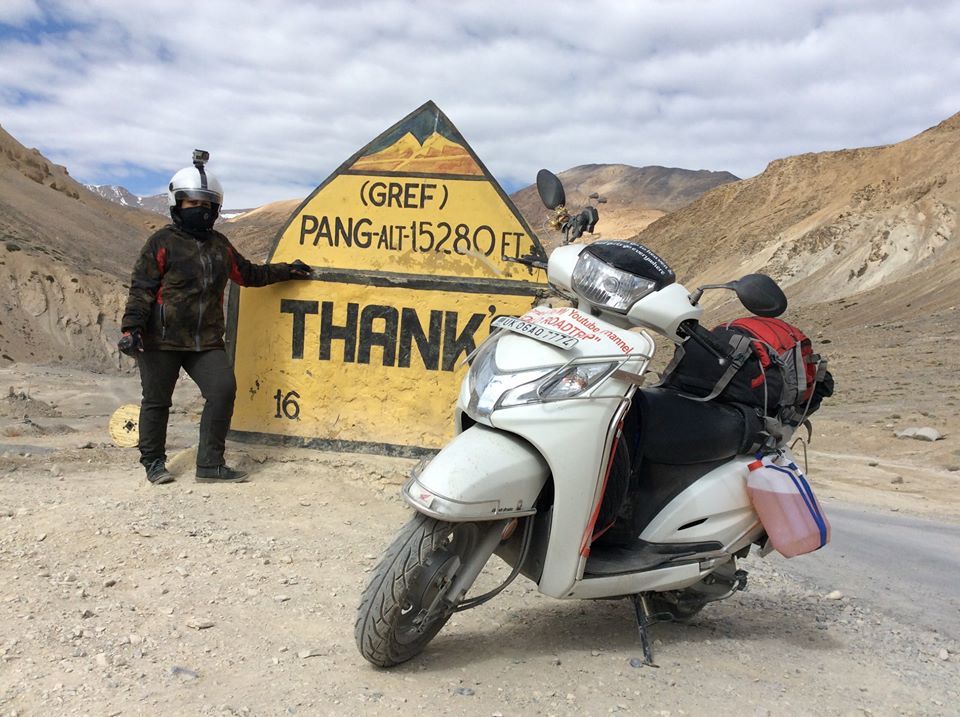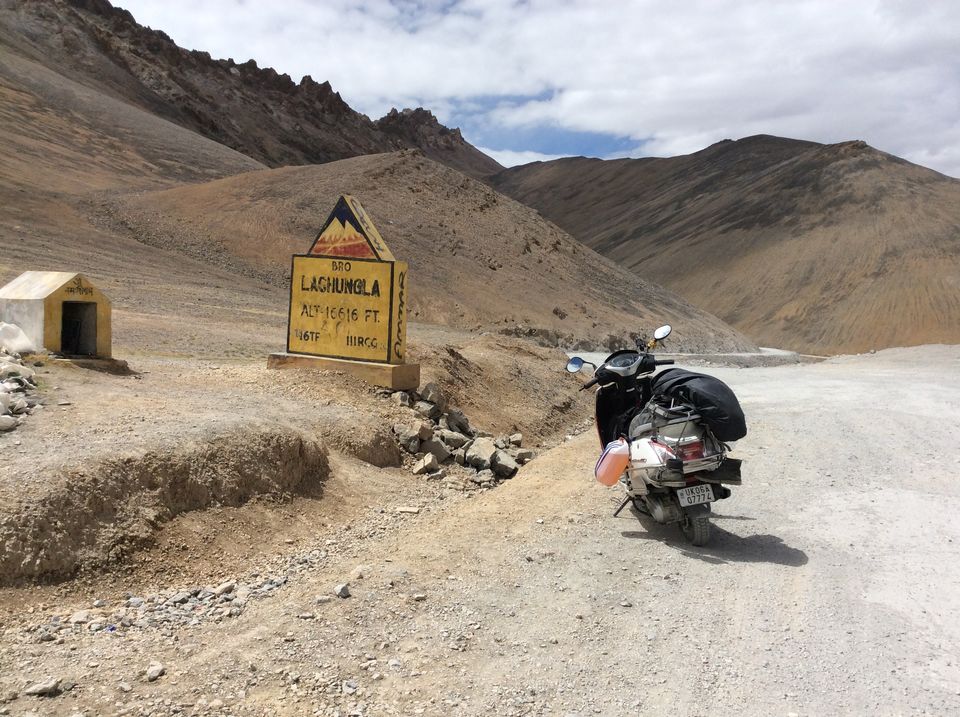 Video Link- https://www.youtube.com/watch?v=xnSVL1-WVnM
Accomodation – Got shared room with 'Dhaba Didi' 200/- per bed.
Pass – Baralacha (16,040 ft), Lahuchngla (16,598 ft) , Pang (15,280 ft).
Damaged Road- 100 km (30 km serverly damaged before pang)
Water crossing – 4 (between jispa- Zing Zing bar and one before sarchu)
Co- rider – Sanjeev ,Mumbai
Started at 7 am with sanjeev.Crossed all water crossing together ,was stuck in one of them but sanjeev helped. After Baralacha pass had lunch in Bharatpur.Sanjeev left from there and I continued with myself. Stayed with dhaba didi she said you can share in my personal room.She was really great. As I was having headache she offered me a good oil head massage. That was the best stay in my journey I was feeling as I am at my home.
Day 3 (23 rd june 2018) Pang to Leh:- 175 km 5 hours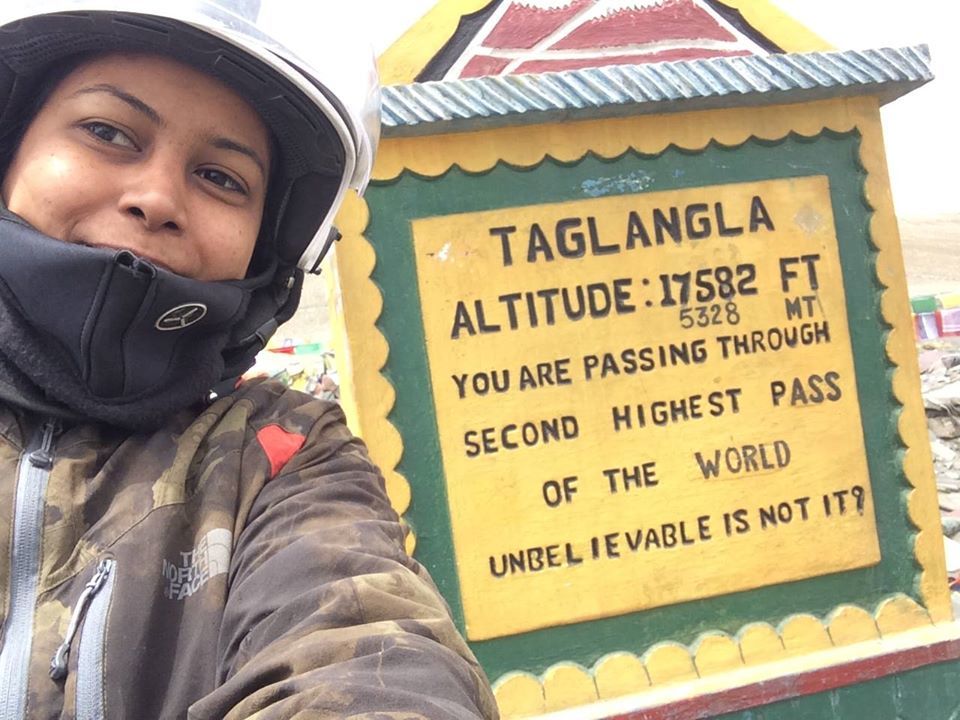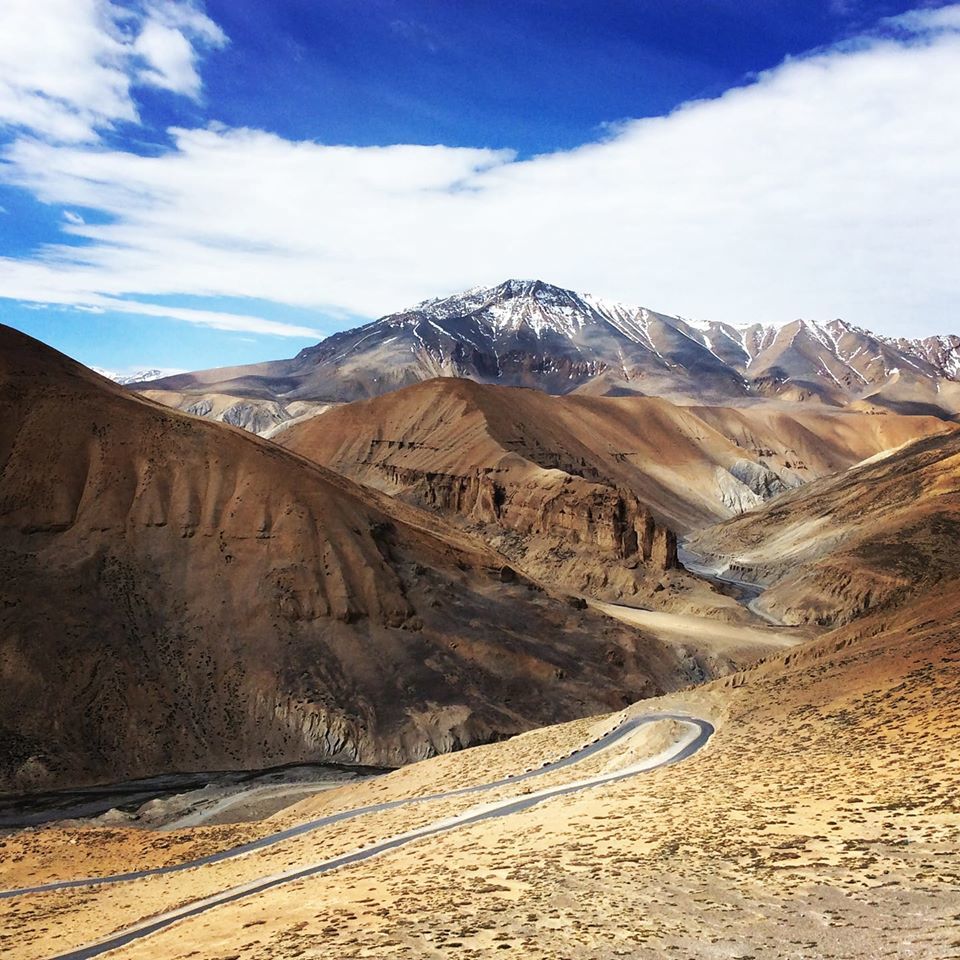 Video Link- https://www.youtube.com/watch?v=qRjDHOnF4wc
Accomodation – Goba Guest House ,Leh 400/- for single room
Pass – Tanglang la (17,480 ft)
Damaged Road- No
Water crossing –No
Stayed at high altitude in pang ,when got up in morning was still having headache so slept again. Left at 10 am from room. 20km before Tanglang la pass road was becoming steeper scooty speed was 20 only but the road condition was good so I and my scooty managed.
The route after Tanglang la pass totally changed it was like both side mountains with red , green, yellow colors and in the was the road. It was a picturesque view. Was stopping again and again for the photografh.
Day 4 |(24 june 2018) Leh to Nubra Valley:- 160 km , 5 hours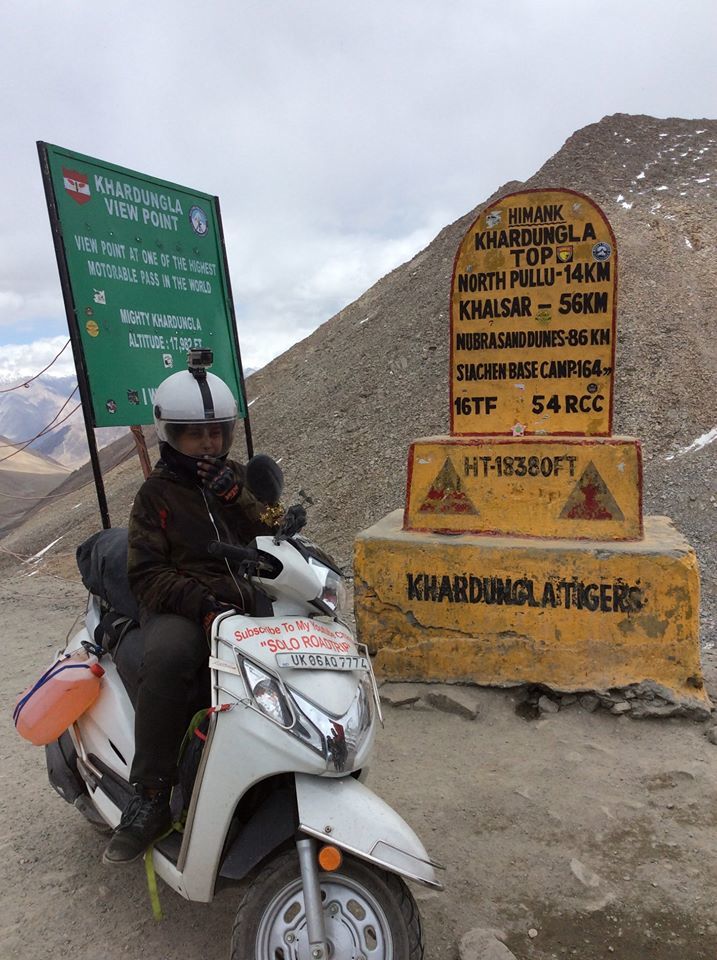 Video Link- https://www.youtube.com/watch?v=CRqfS8yIyKM
Accomodation – Sonam guest house, Diksht (shared room with a foreigner) 600/-
Pass – Khardhungla 17,3820ft
Damaged Road- 30 km serverly damaged
Permit – 'Inline permit' that you can get from DG office leh.
Places visited – Dikshit Monestry , Maiterya Buddha, Double humped camel ,Sand dunes.
Was waiting for my inline permit to Nubra & Pangong lake got that permit at 12pm. It was late to leave but still I left at 12:30pm. Road towards Khardhungla pass were severly damaged and steap. It was becoming harder to ride due to pick up & than snowfall started.That was the challenging time when once I thought to go back. But at once an energy came in me and I said to myself "Fuck with everything now and now no one can stop me". And than finally I reached
'The worlds secong highest Khardhungla Pass 18380 ft'.
It was an achievement because in Leh everyone told me "Activa se are you mad" I said yes I am.
So I proved myself that time. At that pass everyone was so surprised to see me they were asking we want to take a selfie with you I said sure. That was an amazing feelong when everyone is coming to you and trying to connect to you. 10 km after the pass road condition was good than I started with a new spirit and reached Nubra by 5 pm. And got my accommodation and went out to explore.
Day 5(25 th june 2018):- Nubra Valley to Pangong Lake:- 160 km, 6 hours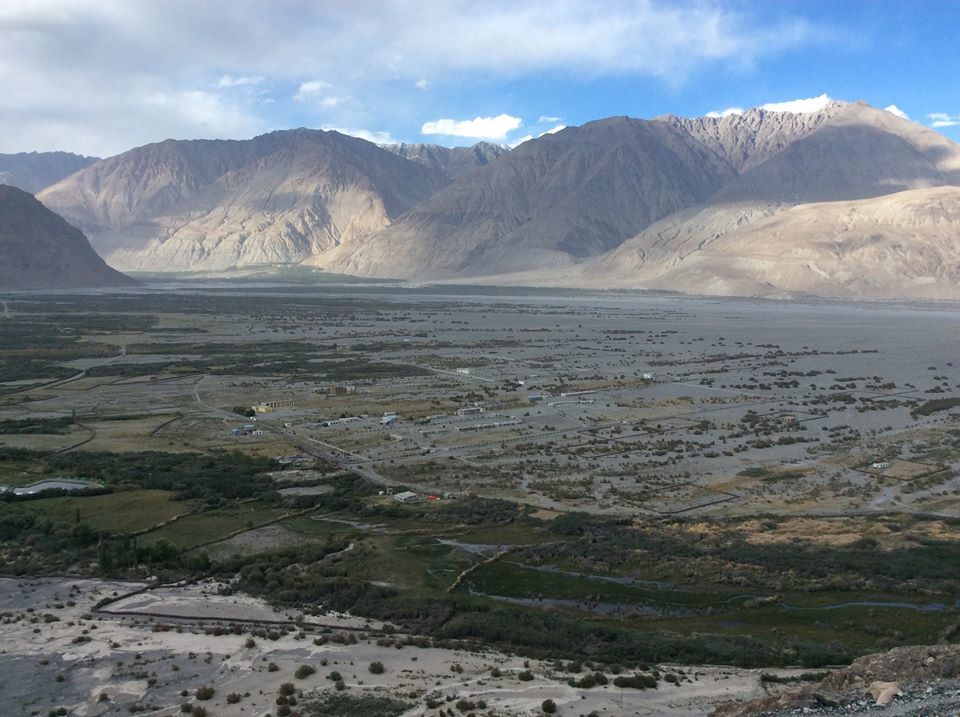 Video Link- https://www.youtube.com/watch?v=Ib-F2fgAEME
Accomodation – Sasoma home stay,pangong lake. Paid 300 for one bed (shared room with
Gujarati group.)
Pass – No
Damaged Road- As such no damaged road but anywhere river crossing started and that was so scaring.
Permit – 'Inline permit' that you can get from DG office leh.
Last night tried searhing group whom I can join because I came to know this route was really confusing but didn't able to find than one option was to go back Leh and other was to Pangong lake. I opted second one. Left my room at 6:30 am.
At one turn I was confused in beginning than was standing at that turn and waiting for any vehicle to come and when it came I asked
Are you going Pangong ?
Taxi driver said 'Yes'. I started following him .Till 'Sheyok' it was full of long river crossing At many crossing it was full of water but than also I managed and finally crossed all of them.
Stopped at Sheyok for breakfast and making calls has I had BSNL sim so I called Mom,om and my friend Jhaba and I was saying to them guys I did it this was the most scaring route and everyone told me don't go Solo on this route its not safe but still I went.
After that no more river crossing only good road with a different view where you feel you are on different planet.
Reached Pangong at 1 pm. Settled down in my accommodation. Packed my bag :-
 One Pair Clothes
 Towel
 Drink/Ciggratte/Namkeen & a lighter.
Went to lake. And thought how to go inside water freezing water.Than I took 2 peg into my body & went inside the water. It was something amazing , I like doing things that are not common.People were straying at me because I was the only one who dared to go inside the water.I tried to lighten the cigarette but the lighter was not working due to cold tempreture.Than I was shaking it and finally I was able to lighten it. Enjoyed Blender's at lake till 3 hours. I was wet and now its time to change my clothes but how but that also I did smartly there only.
And now I was thinking who will ride my scooty till my homestay? So I left it there only came in evening to take my scooty.
Had dinner with the Gujarati group .Had great and fun time with them were telling about Gujarat. Finally slept at 11pm.
Day 5 (26 th june 2018) Pangong Lake to Leh:- 220 km , 6 hours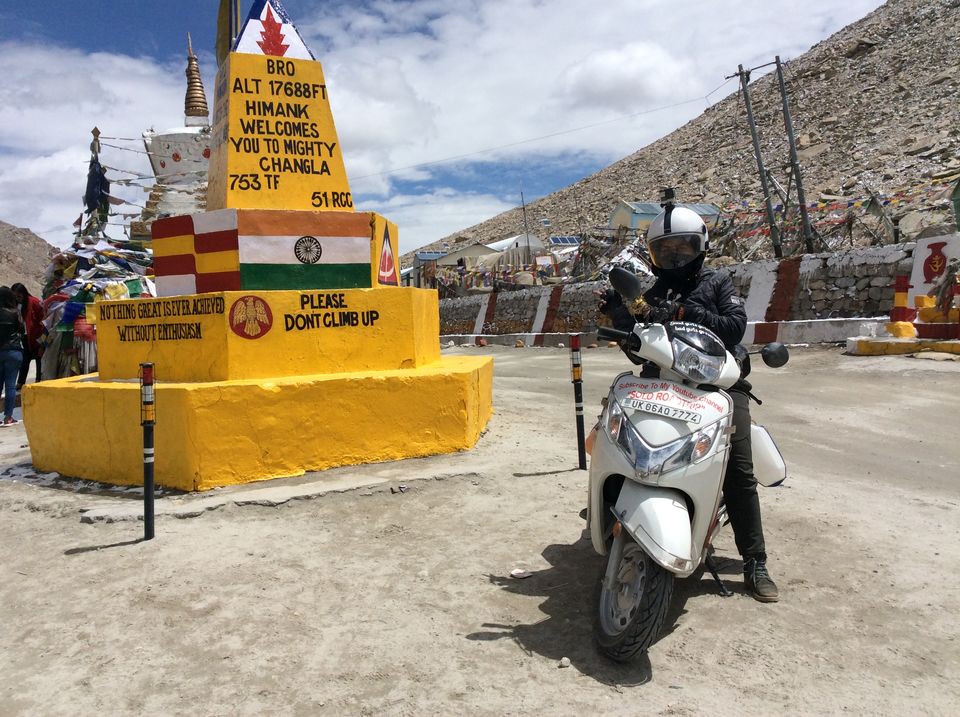 Video Link- https://www.youtube.com/watch?v=E-cVLD8BiTg
Accomodation – Goba Guest house, Leh 100/-(Shared with other group)
Damaged Road- 100km (work was going on after Changla pass & main road was blocked , a deadly shotcut was given where every second vehicle was getting stuck.)
Pass:- Changla Pass 17,688 ft
Today I started my ride with the gujarati group due to Changla pass because to join was a good option. It was a sunny day roads were in a bad condition steap as well but still I managed with a speed of 20-30. And finally reached the pass.Started clicking pictures.
That was the time when I felt all the challenges had finished and its time for celebration, but I didn't knew about the upcoming issues.
After reaching Leh at evening time went to the Agent 'Chamba Bhai' just to thank him as he was standing for hours for my permit. He was really happy to see me and said madam I want to take your interview. I said Sure chamba bhai.
Than went to Shanti stupa and local market to explore. Most important I bought flag for my scooty.
Day 6 (27 th june 2018) Leh to Keylong:- 360 km, 14 hours
Video Link- https://www.youtube.com/watch?v=zN9aIIvdcxQ
Accomodation. – Gyespa Hotel ,keylong 1500/-
Passes- Tanglang la,Pang, Lachungla, Baralacha
Permit – Not required.
Got up at 5 am and challenged myself that today only I will reach Manali.
As I left rain started after lato 60 km from Leh.Had not weared rainsheet only a thin jacket. 20 km before Tanglang la Pass snowfall started.but still I was riding because no place to stop. It was becoming steaper ,snowfall continued and scooty was becoming cooler and stopped 2 times than self start was not working so started from kick. Fingers freezed because was using half fingers gloves and not able to feel any sensation in my fingers.
When I reached the pass it was full of fog so didn't stopped as scooty can make issue in starting again. 10 km after crossing the pass snowfall stopped but rain still continued. Reached Deibring took 1 hour break for tea and was sitting near to tandoor , dried my clothes , got my scooty tank refilled the extra petrol I carried.with that, weared my rainsheet and left after this.
Reached pang after that 30 km worst road started full of mud and slush so I was going slow.
Water crossing before sarchu came but this time due to rain flow was more but crossed without stopping. After reaching sarchu stopped there for tea.
Than next pass was Baralacha Pass 10 km before this pass snowfall again started it was full of fog . Saw 2 cars were stuck there due to fog. For 5 km more snowfall continued. I was just riding without stopping.
Reached Zing Zing Bar and now it was the time when I have to prepare my mind for heavy loaded water crossing due to continue rain and as it was eveving so flow increases. Was taking feedback from other riders those who were coming from other side , they all said you should stop today and continue tomorrow but I sticked on my plan.
Continued with a new spirit. Don't know what kind of energy came and I crossed all the crossing without even stopping. At 6pm reached jispa .I was searching for a group who is going towards Manali. I joined them but after 10 km I was not able to find them . That was the time when it was dark only I was there who was still riding because all other riders stayed in Jispa. Was totally blank but still I continued in dark.
After reaching Keylong came to know that the roads are being blocked. So, I was left with no option inspite of staying in Keylong. Reached at 8pm , was searching for accommodation but all the property were booked. No budget room was avaible. At last only one family suite was avaible that costed 3000/- but as I was alone they offered me at 1500/- . I was not happy as it was totally out of budget but still good as I can relax because today I was riding continuously for 14 hours in rain and snowfall.
Day 7(28 june 2018):- Keylong to Manali:- 120 km , 6 hours.
Video Link- https://www.youtube.com/watch?v=ReKkynqlOWs
Damaged road – 20 km (Between Koksar and Rohtang Pass. Was in worst condition due to continous rain.)
It was morning 8am but route was still blocked . At 10 am left the room because came to know till 12 pm route will be opened. And it will take an hour to reach there.Went to Tandi petrol pump refilled the tank. There I met a bikers group from spain with a local Group leader 'Sunil' from Manali. They asked
Are you solo on scooty? I said 'yes' He was not able to believe . He said to his friends " yaar ye ladhki akele hai scooty par" And I left him with his mouth opened.
Than the most intresting water crossing came 8 km before Koksar named 'Pagal Naala'. It was not less than the hell. I was scared because I had heared many incident of this Naala as it directly flows to Pakistan. Crane was working there for removing big stones so the flow was increasing due to that.I was saying please stop for one minute but he was not listening at all.
Got stuck ,water deapth around 2.5 ft.and scooty stopped any how started again I guy pushed my scooty I was on full race and finally I came out of it.
That time I was feeling as don't know what I had achieved. Parked my scooty at one side and strated making video. This was the biggest mistake I did that I stopped , so water went inside it.And when I tried to start it didn't .Even the kick was jammed. And that was the time when I got stuck.Stopping the riders group as they have mechanic with them who can help me but all mechanic said they don't know anything about scooty. Now I have to take best decision for me n my scooty.
I met the group one I met at Tandi petrol pump they said you can come with us than you can search for help. I joined them and they stopped at Koksar for food. Options I have:-
1- There was no mechanic in koksar they said you have to go keylong but I was not at all interested in crossing that 'Pagal Naala' again.
2- Toe it with the help of bike .till koksar but that already tried till 2 km but than it was becoming difficult as it was all incline.
3- To arrange a pick up. The gujarati group that I met in pangong was running one day back to me. So thought of contacting them.anyhow was able to contact asked them to pick up my scooty in there back up vehicle. They said yes we do that. I was so thankful to them because they didn't charged me for that. In all this my friend Jhaba from Manali helped me.
(Note:- When you don't have budget issue things become easy for you. Pick up option were avaible at koksar but I was left only 800/- in my pocket so it was a bit difficult. But I always stick to my budget and make things happens in that only).
I opted 3 rd option.
Left key at koksar in a 'dhaba'. There was a option of taking public bus but I didn't opted that because further as I came to know is full of jamm so in bike I will cross anyhow.So, continued till gulaba with the group.
(Note- when you are travelling alone you have to be super smart and always choose the best
option even still if it is tough.)
Now 20 km road was severly damaged full of big stones, mud, and slush as it was raining so it was difficult. I was just cheering the group for positivity. And now again there was a water crossing 'Raani Naala'. With a team spirit we all crossed I was pushing bikes to cross and they were happy that I was helping them. Finally reached 'Rohtang Pass'. It was full of fog and crowd so we didn't stopped there continued. At once bike slipped at a point due to that big stone I fall down Michael however controlled the bike . He was fine I had little blood on my teeth. But was totally fine. Michael was feeling so guilty for me but I said its ok and all this happens. So Zavier said Tanu come and sit on my bike its not loaded at all so it will be fine. I sat behind Zavier.
Reached Gulaba there Jhaba was waiting for me. When I saw him I don't know why but I wanted to cry for a second because today was the toughest day of my journey where I was the one to take best decision.
Next day got my scooty back without even a single scratch. Was really thankful to Gujarati group.
Total Expenses:-
Petrol – Manali –Leh & Leh –Manali 3,430/-
Fooding and other exp 3,105/-
Accomodation 3,200/-
Total expenses 9,735/- Manali to Manali from Uttarakhand 14500/- was total expense of my trip.
After this trip started my Adventure Company by name 'Hopping Hooves' dealing into Treks, Roadtrips, Tours , etc......
I will say just stretch your limits and go ..... people will will always say something and will discourage you but don't stop your self....If i talk about myself for me demotivation is the biggest motivation.....If someone says u cant do it than i do that thing and shut there mouth....
Youtube -chanel- https://www.youtube.com/channel/UCty9ikP7r9vK8qLyM3Oz4qw/featured
Facebook - https://www.facebook.com/Hopping-Hooves-406801466743902/
Instgram - https://www.instagram.com/tanuja.verma8/
Company- www.hoppinghooves.com
https://hoppinghooves.com/
Contact details- '+91 8194079828 (whatsapp)
Frequent Searches Leading To This Page:-
leh ladakh tour packages cost from mumbai, best places to visit in leh ladakh in june, things to do in leh in september, best hotels to stay in leh ladakh, leh ladakh tourism government