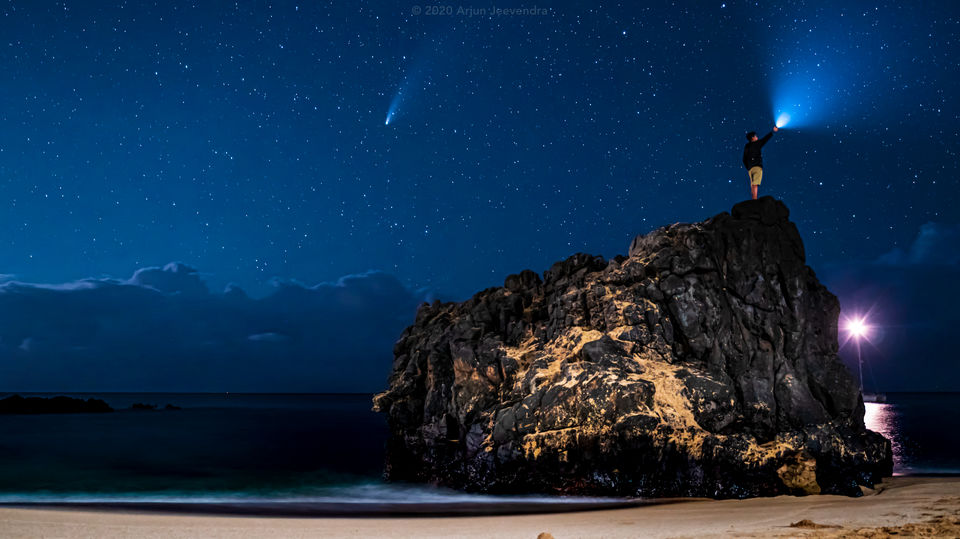 Discovered in March by NASA's Near-Earth Object Wide-field Infrared Survey Explorer (NEOWISE) mission, this comet has been taking over the Northern Hemisphere as photographers scurry to capture it before it moves away from Earth.
Arjun Jeevendra has been documenting the comet NEOWISE from Hawaii through July 2020.
An analyst at an airline company in Honolulu, Oahu, HI, Arjun explains how he went about capturing these mesmerising shots that are out of this world!
How did you go about preparing for the shots of the NEOWISE comet?
I remember reading about the comet from various articles over the web during early July, 2020 and I believe no one expected the comet to get as bright as it did. By mid-July many astrophotographers had already started posting their first images of NEOWISE on Instagram. Being new to photography, I was fascinated by the possibilities and wanted to try my luck photographing the comet myself.
I went through some videos put up on YouTube on how to spot the comet. Once I learnt about this, I started dedicating my weekends to driving to the far corners of the islands in Hawaii around 3 AM as these spots had little or no pollution and therefore improved my chances of viewing the comet.
I knew that the comet would be visible in the North Eastern part of the sky around 80 minutes before sunrise. My first three attempts of capturing the comet were in vain. Bad weather led me to drive around looking for possible spots to view NEOWISE. But I continued to track the path of the comet and mapped it to the spots I could access. Finally on 18 July after many days of trailing its path, I managed to capture NEOWISE on camera from the western corner of Oahu.
What was it like when you finally saw the comet for the first time?
So here's the thing, although they say it is visible to the naked eye, you'll probably end up squinting really hard and searching your peripherals trying to see it. I had got into the habit of constantly shooting the sky with a high ISO setting on my camera. I discovered the comet in one of my many trial shots - I recognised the tail of the comet though faint in the image.
I had finally spotted it and I was ecstatic at being able to finally spot it! Thereafter I immediately setup my camera with my wide angle lens and started taking long exposure shots. The results took me by storm and I decided to continue my quest of shooting the comet before it disappears for 6800 years!
There was also a hurricane (Douglas) warning here in Oahu. I was pretty much in clear cut agreement with myself that I had to make use of the next few days before the weather worsens. I started heading out after work being optimistic of the weather each day and the shots kept getting better and so was my patience.
I accidentally managed to capture the early Parseid Meteor showers while was shooting a time-lapse of NEOWISE which you can also get a glimpse of in this time lapse video:
Do you regularly photograph celestial bodies or was NEOWISE your first brush with astrophotography?

I am really new to photography. Although I have always been interested in it, I was able to save up enough only recently (late 2019) for the camera I wanted. I managed to get a few nice shots of the milky way after many nights of patiently waiting for the right photograph to happen. NEOWISE definitely appeared at a time of my peak interest in photographing the sky.
We may not get to view NEOWISE in person, in this lifetime as it continues on its interstellar path, moving further away from Earth through August. But Arjun's beautiful images bring us closer to the experience of viewing the comet without the struggle of the wait for the perfect shot.
This is only the beginning for Arjun as comet NEOWISE has only fueled his love for astrophotography and shooting the milky way. Follow him on Instagram for more starry updates!