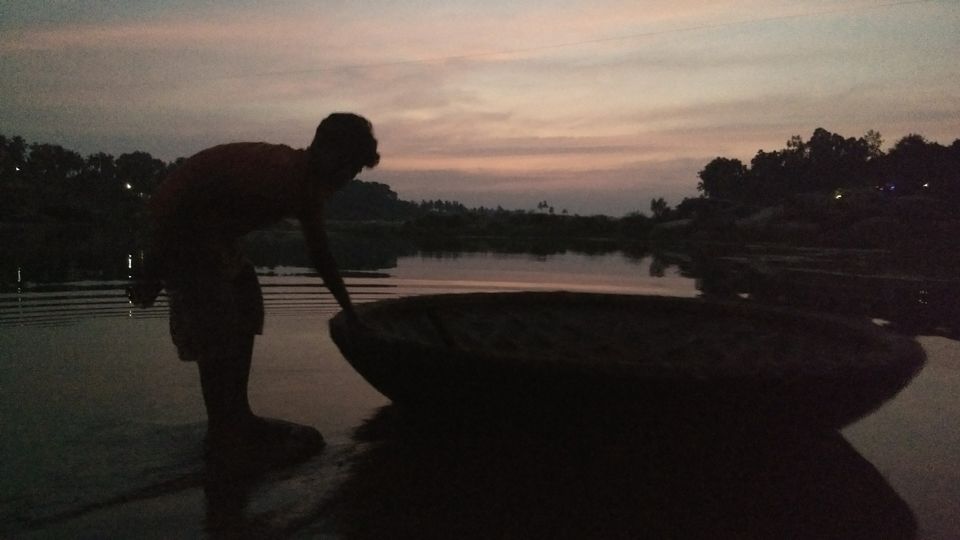 I have been talking a lot about Solo Traveling and how it has influenced my way of life, my way of thinking and everything else. But one major thing, I want to highlight, you are at a risk and there's no denying of the fact. SO, DON'T BE CARELESS!
And here the Saga goes...
Day1
Hampi, once the capital of Vijaynagar is a land of simplicity, beauty and creativity. It's surrounded by beautiful fields, banyan trees, rivers and temples.
How to reach ? From Bangalore it is an overnight journey. There are multiple trains and buses available. The nearest railway station is Hospet. For me, one way was bus(KSRTC) and returned by Train(Hampi Express).
Where to Stay? There are many good guesthouses cheaper to expensive. Just near the Virupaksha temple. There are lot of options to stay. It is from 500 and above. Another part is other side of the Tungabhadra river, somewhere near Sanapur Village. There are rooms available on couch surfing websites which are as low as Rs 200.
How to roam around? The best way to roam around is to hire a moped or a scooty otherwise there are autos available which can charge as high as 800 Rs for taking you around. The vehicles are available from Rs 150 to Rs 250. They charge 100 Rs extra for the fuel. They might scare you by saying there are no petrol bunks around but there are two petrol bunks around one at Kamlapur(4Kms from Hampi Bus Stand) and another at Anegundi (which is at the other side of the river). Please check for the tyre, breaks and other stuff before taking the bike as they might trick you with this. I would suggest even if you are alone, tell them you have a friend to accompany you on the bike.
I took an overnight bus from Bangalore to Hampi which was quite comfortable at 6:30 AM. I stepped down and roamed around and found a place for myself to stay near Virupaksha temple. I got moped for myself for 250/- and decided to move around. The very first temple on my way I saw was 'The Ganesha' temple. It's a huge idol, so I clicked some photos and relaxed. There's I saw a guy flipping through a diary, noting down which all places to go and see. I greeted him and asked if he is alone and wants to join me for the rest of the day. He agreed and there I got a company :) for my rest of the day. Then we went to all the temples inline like Narsimha Temple, Underground Shiva Temple, Ram Temple, Krishna Temple. It was all very good. The architecture was something to speak about. The beautifully carved finishing had a story in itself. While on the way, I figured out that he was from Argentina, comparing this place with back his home. Then we went to the famous Vitthal temple. It is an amazing place, though little crowded. The stone chariot is very famous. It represents the creativity of the artists of 15th century. The wheels are made of stone. Apart from that, a guide can be hired to understand the cultural history of the temple.
When you are riding the bike, a beautiful part is the path. The green trees stands like they are welcoming you. It'a clean and picturesque road away from the shu sha of the city, it was great.
While I was in Vitthal temple, my new friend and I decided to jump a high wall. I was actually challanged by him and without looking at my fitness level, I decided to jump and yes I fell! I got a bruise in my left leg and pain in my hand. It was a mistake! Don't overestimate yourself. I didn't have any first aid. I managed that somehow. It was careless behavior.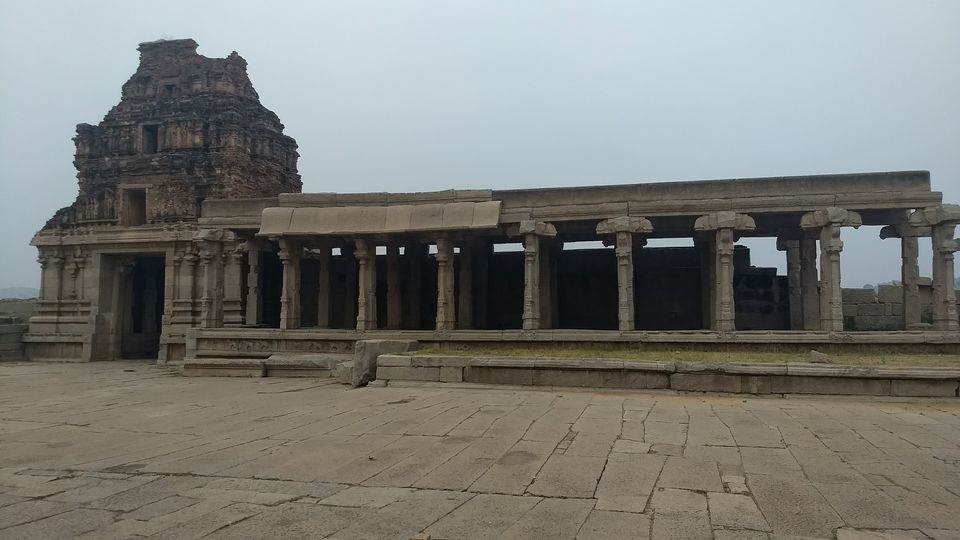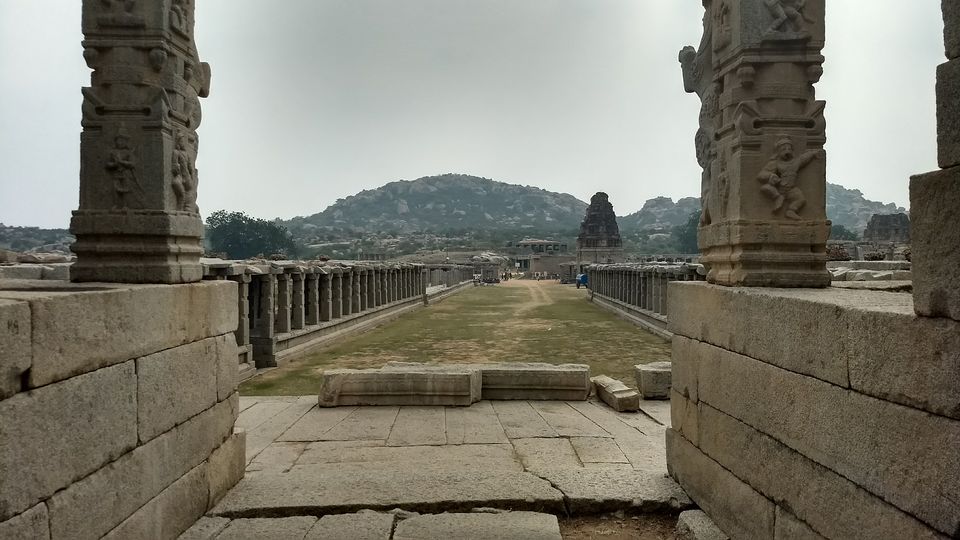 After the temple, we went to other side of the river. Near the Vithal temple, there is boat cum steamer which can take your vehichle also along. We decided to go. A word of caution, the last boat goes back by 6:00 PM. On the other side, there's a temple called Anjani Temple. We walked all the way up. It has 525 stairs. It was little tiring that too after my bruised leg but we made it. A beautiful view of town can be seen from the top. The temple is called the birth place of Lord Hanuman, interesting isn't it. It's one of the famous spots to see the sunset but as I said I had to go back before 6:0o PM, we couldn't wait for sunset. And as a rule, after my Bali trip, I made it a point to come back to hotel before it gets too dark because you are not very much aware of the place, the people and there are NO STREET LIGHTS! We headed back and guess what the tyre got punctured! Oh Man! It was sheer hard luck but the people there are very helpful, I asked for help for the punctured tyre. They were generous enough to take me to the shop. I got the puncture fixed but by the time, it was all sorted it was 6:15 PM, hence the last boat is gone now. They said there's one more boat way to go but they don't take vehichles. Tough! Then the other way out was to go from highway, cross a bridge and reach Hampi, the longer route! Phew! I had no choice but to follow to what they said. I bid Adieu to my foreigner friend and kickstarted the moped towards the highway. My whole focus was to reach before it gets too dark. I was driving fast, and fast , and fast. It was longer than I thought. With a super beating heart and focus towards reaching Hampi, I was driving, asking the route from the people around as there are no great networks! Vodafone still does fine but somehow my internet was missing. People were kind enough to point me to the place at every step. Finally I reached Kamlapur! 5 Kms away from Hampi. I knew this place as I came here in morning. I felt relaxed as I knew the way now but it was complete dark and then guess what? Petrol was over! Yes, it was a very tough day. I saw a bike coming towards me, I didn't hesitate to ask for help as I could feel that people here are really nice. The guy stopped, I asked for petrol. He told me to park the bike here and go with him. I followed(how can you go with a random person in the dark night?, Trust your instincts!) He took me to the petrol bunk which was very near, gave me a bottle and helped with petrol. I fuelled my bike and started! That 5 KM didn't seem finish only. I found few people coming at my back. It was very dark by that time, with no street lights. He said, madam where are you going? With my experience in Hampi, I gladly answered him. He said, don't panic, you are on the right way. I just smiled but deep down I knew, I wasn't well. He was coming very near to me and telling me again and again, "Madam, Relax!". Finally, I started getting confused with the way. He said "I will escort you" and yes, he escorted to the Hampi Bus Stand and left me with a smile. I felt home, after I reached my place. It was a big day . Due to the muscle pain in my leg, I could hardly move. I took rest that night.
Next Day, I started for Virupaksha temple and then Sanapur Lake which is at the other end of the river. I got a boat to cross the river just near Virupaksha temple and got a scooty in 150/- for the day. While looking at the market, I again met my same foreigner friend(Yay!) and we started again to lake. We rode around and then later he took me to a waterfall with some of his hostel friends. It was an amazing water stream. When I stepped down into the river, I got hurt at the toe, earlier I ignored it but it was painful, so I decided to come out and see. It was a deep cut in my toe and It was bleeding. I again took it lightly(Mistake#2). Just got a cloth and tied over it. I should have gone to the doctor but we decided to stay and catch bus from Hampi. In the evening, we went back to Hampi to catch the bus. While sipping tea in a cafe,I got a message " How was your travel, rate the bus?" I was puzzled and then I found out. I booked for Sat and not Sunday. So, my bus is already gone!(Mistake#3). I had to go back as I had flight from Bangalore to catch, hence I immediately decided to leave to Hospet, larger place than Hampi to get bus or a train. Finally I managed to get a train with a General ticket. I was sitting at the station with this real painful toe which in all this randomness was badly hurt. I was scared,if I get any infection. I wasn't feeling good, brave, unstoppable. I was hurt, I don't have a seat to sleep, with noone to look around, I felt like crying. I pinged a friend and told him about this toe. He immediately asked me to contact Station Master and get first aid. I was sitting, just infront of his office. I entered his room with limping leg. He saw me and got all his attention towards what happened. He got my first aid done. I really cried that time. I am brave untill I am fine, but in this situation, I needed help. I cried, it wasn't pain of the toe, it was something else. I remembered my parents getting mad at me for travelling, my friends who would question my solo travel. I was hurt. Finally, the station master got me food to eat and took care of me like his baby. He also arranged a seat for me in the train which was very difficult on Sunday. In the end, I asked his name. "Noor Mohammed", he smiled and I boarded the train with a thought "Humanity has no religion!" Yes! something changed in me. I became a better person and a responsible traveler.