Hampi the backpackers paradise where you would realise and experience the stunning architecture and sculptures from the age without machines and technology, amazing hill tops views and fresh greenery with paddy fields all over.
Some nice cafes serving nice food of different cuisines, flea Market and hippie backpackers around the world.
I started my journey from bangalore
I reached hampi by bus. I took KSRTC bus from kepewgowda majestic bust terminal at 9.30 pm and reached to Hospet a town near hampi. I REACH HOSPET AROUND 5.30 AM in cold morning and I waited at Hospet bus stand for an hour for bus which would take me to Hampi. The bus arrive sharp at time. Hospet to hampi distance is approximately 13 km which bus crossed in no time.
After I reach hampi first thing I did was nice full breakfast. So after breakfast it was around 7.30 - 8 am and I started my journey towards this trip.
The first thing that would come across you as you entering this village is Virupaksha Temple. It is an important workshop place for The Shive worshippers and also a spectacular engineering can be seen from outside of this temple.
After that I went to Hemkunta Hill which is just outside the Virupaksha temple. This is a very easy to climb hill with zero difficulty level Although the ambience and the view of this location during the golden hours of the sun is a nice vibe. I luckily went their during those morning hours. There are as many as hundreds of hundred of small temple you will find artois everywhere. I spent quite time their but as sun started going up I escape. Then I head to village and went near the bank of  Thungbhadra River. This is the river that parts this land from Hampi to the other side which is called The Hippie Island.
I sat at the bank for some time watching an elephant taking a bath in the river with his Muthoot. I took some clicks off that elegant animal which is some thing a rare visual to city guy. I met one guy there as we were waiting for a boat there to cross the river. We decided to share the mopaid bike and share the expenses of the day and share each others company.
As soon as you go to the other side of the river you will feel a different vibe here, with markets and hotels and restaurants you will get Goa kinda vibe.
So then we took a mopaid on rent for a day and we take a spin over the village across boulder stone, rocky mountains, nice green paddy fields everywhere and coconut trees.
Then we decided to go Vijaya Vittala the temple, the key visit in hampi, it is remains of the the empire of Vijayanagara spreads across the large area, There's this temple where Lord Vitthal the avatar of Lord Vishnu has been worshipped by the ancient people. It also have a stone chariot, the figure which is been photographed on 50 rs bill.
Lot of people cost this place throughout the day. We spent rest of the afternoon their tired. You better take a water bottles their, very needfully. After looking at the ruins if the vijaynagara empire fir quite time. It was 5 pm and we decided to go for the sunset view.
We rush to Anjaneya Hill. This hill has a easy climb by some 800 to 1000 steps. It have a Hanuman temple at the top, it is to be said that it is birth Place of Lord Hanuman. And of course the view was amazing. You can see it in photos.
And we ride back to river side, looking for the stay, manage to get a one night stay for 500 rs.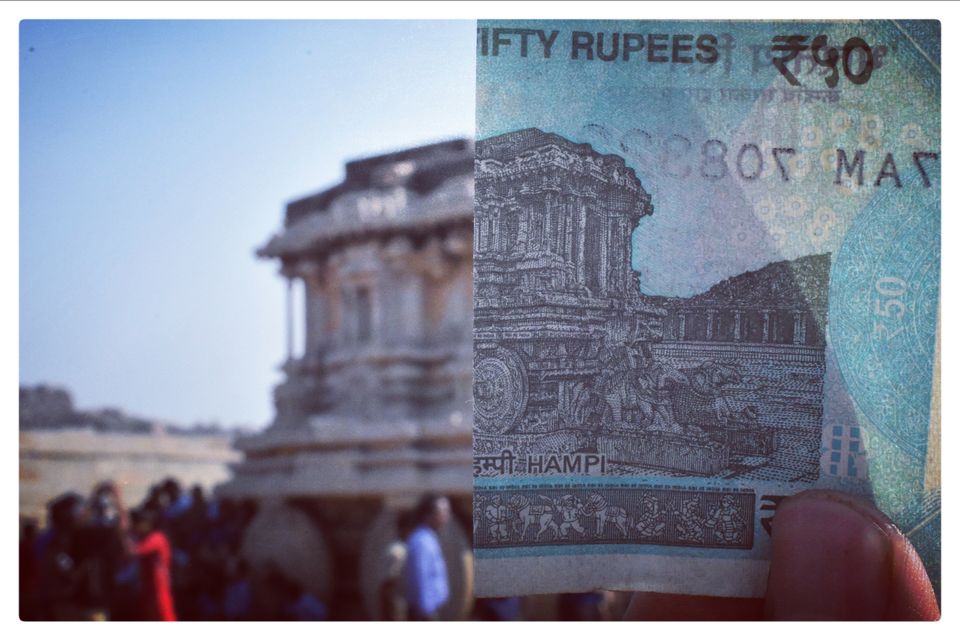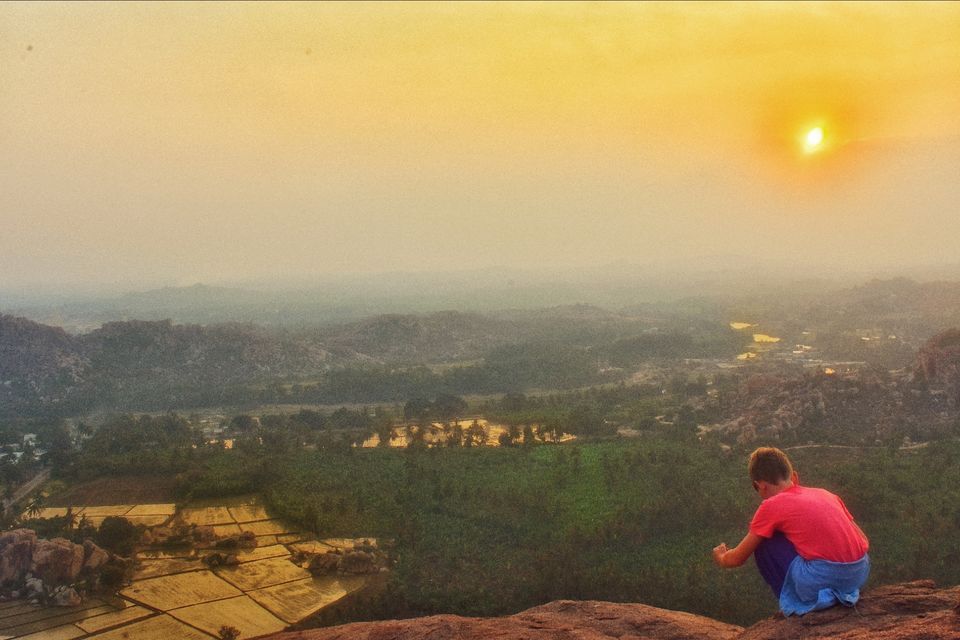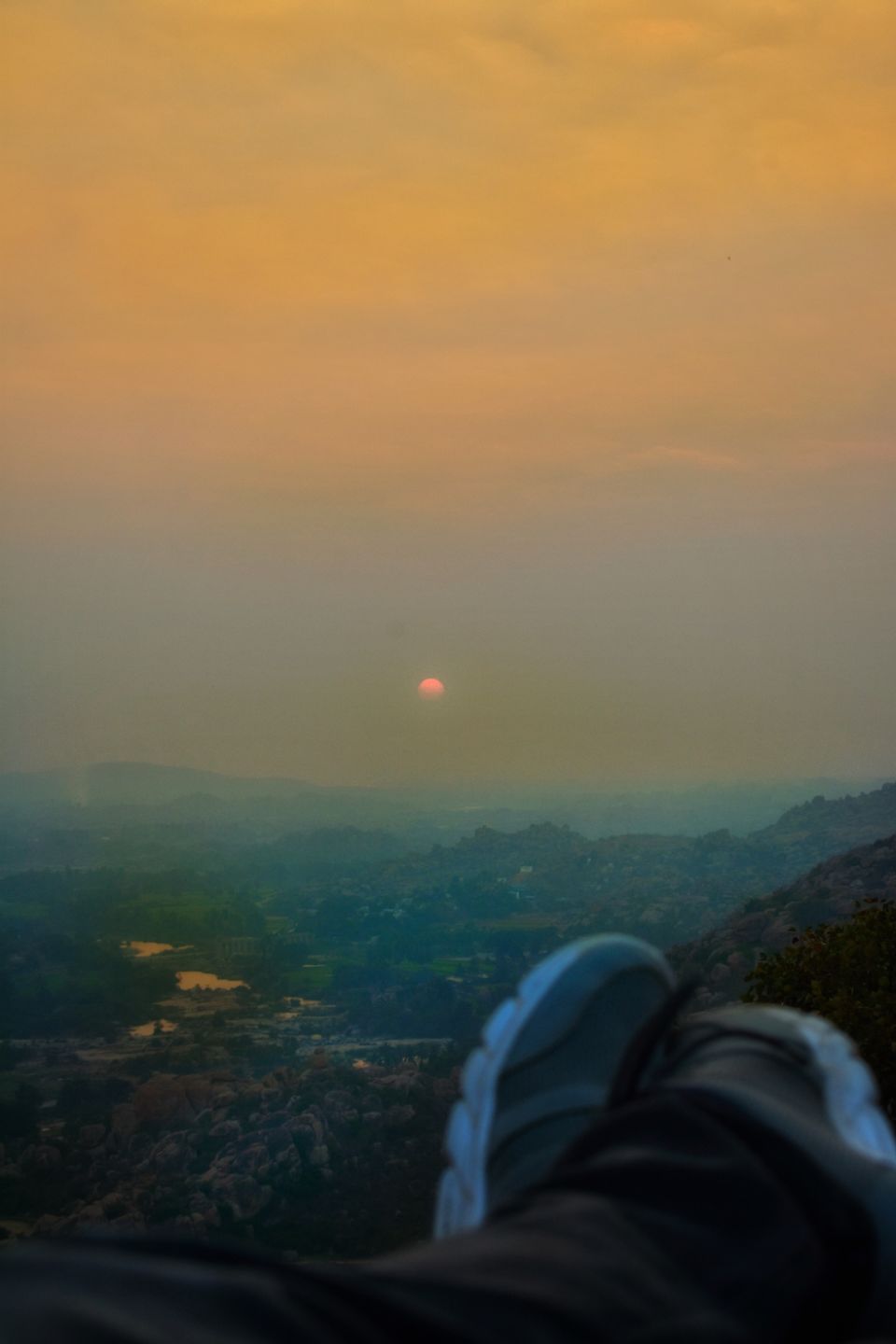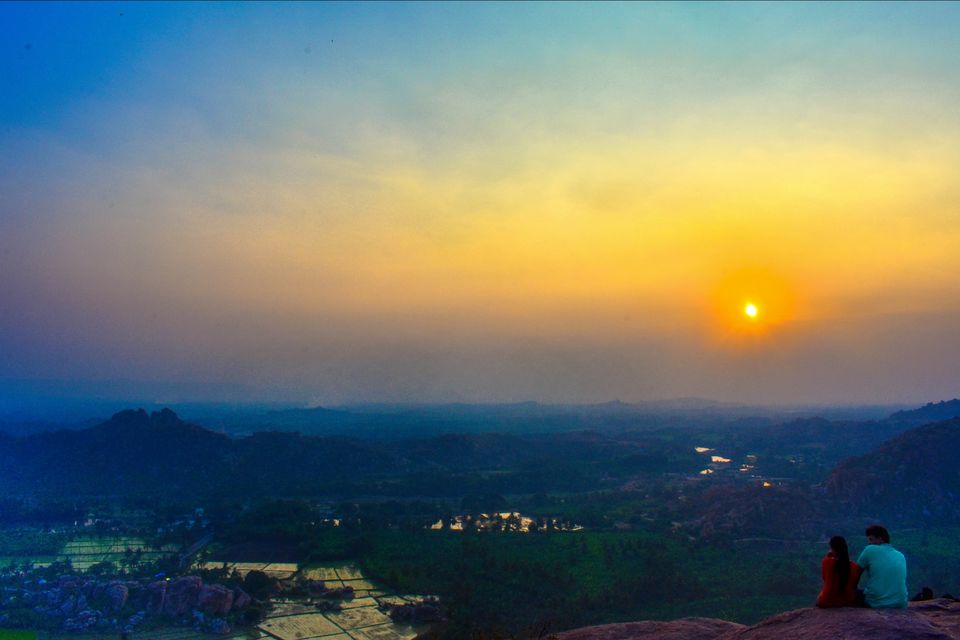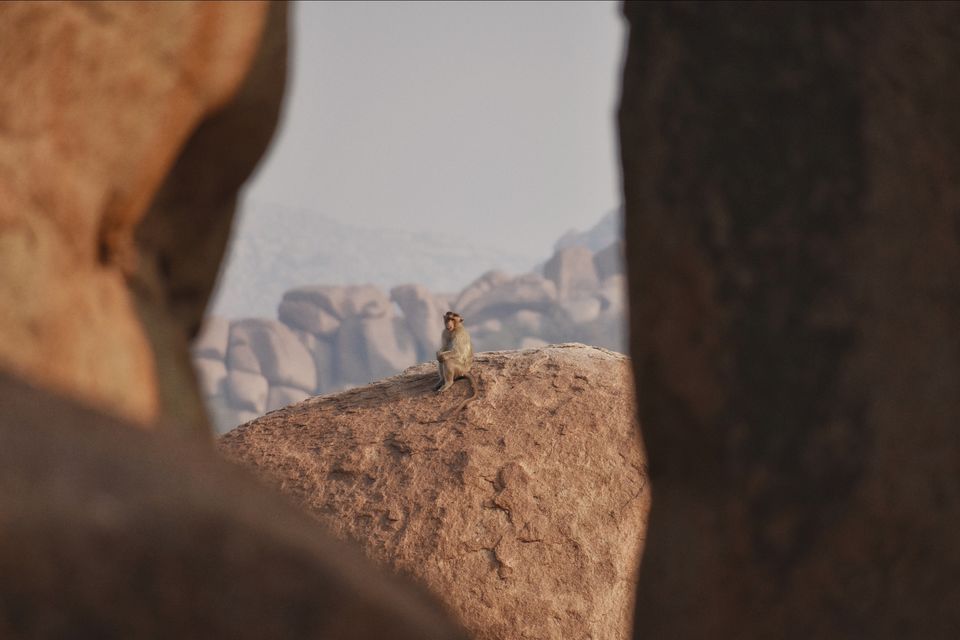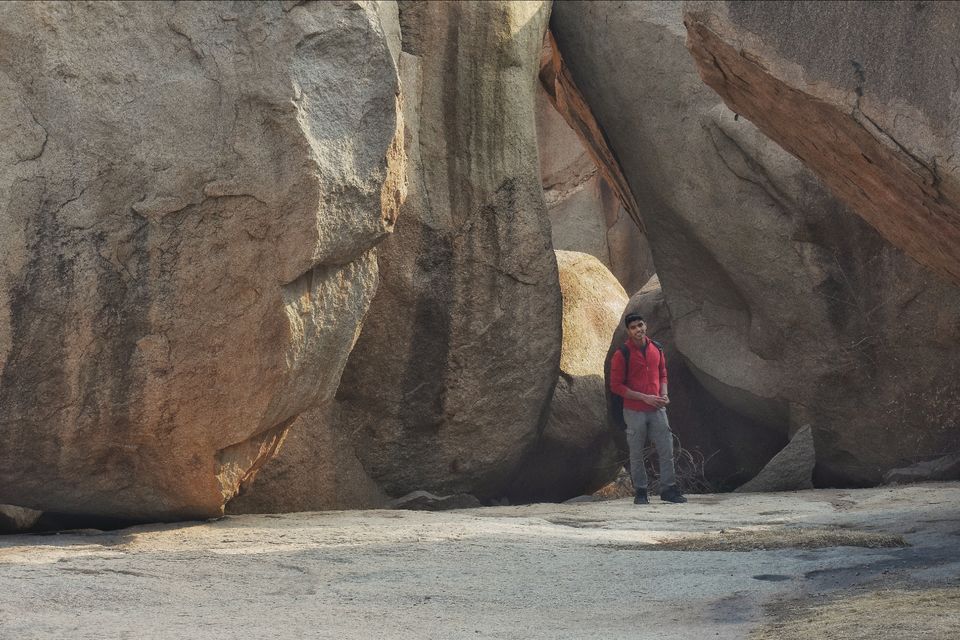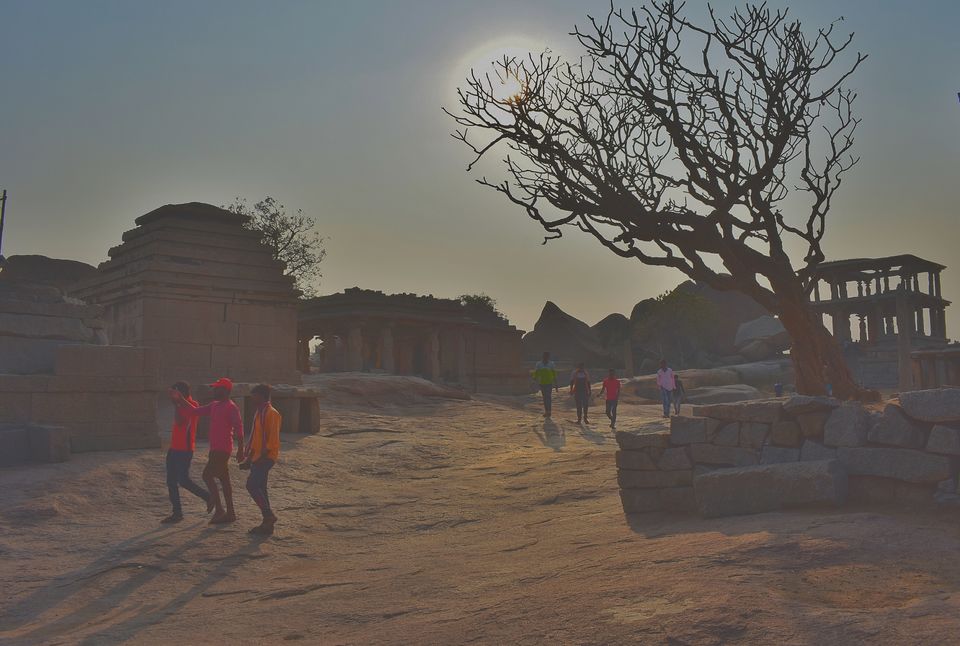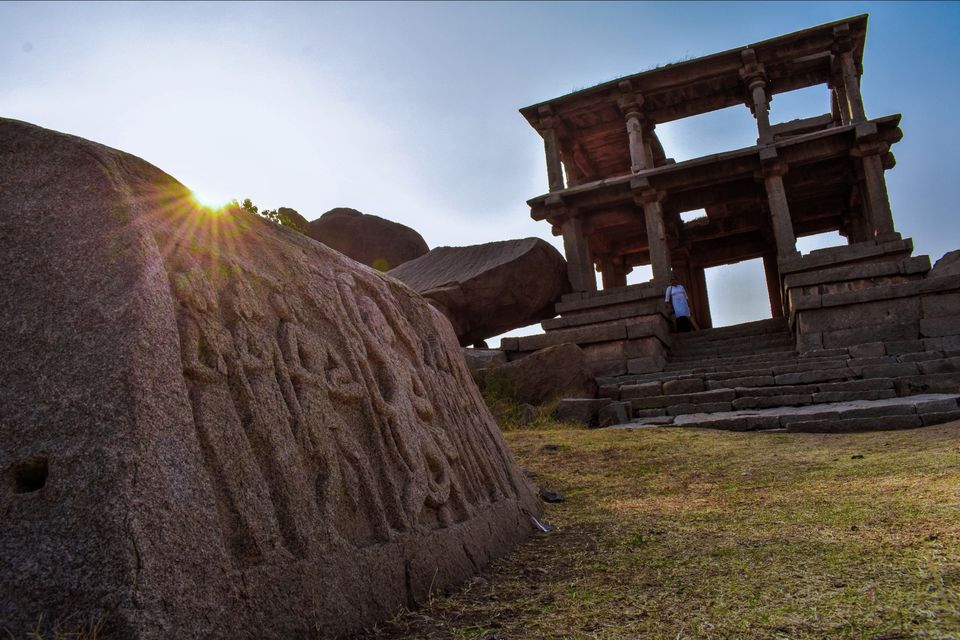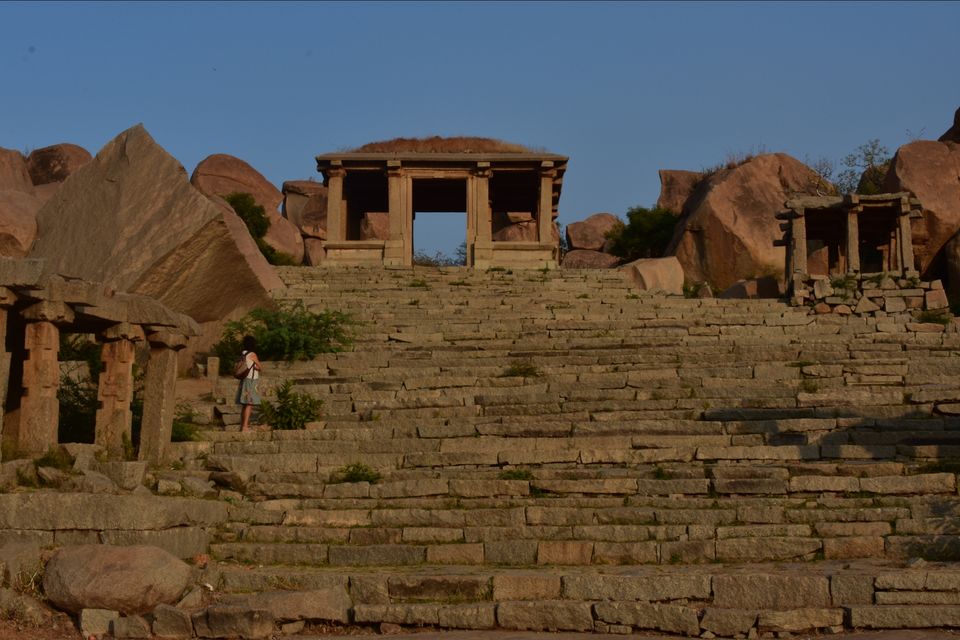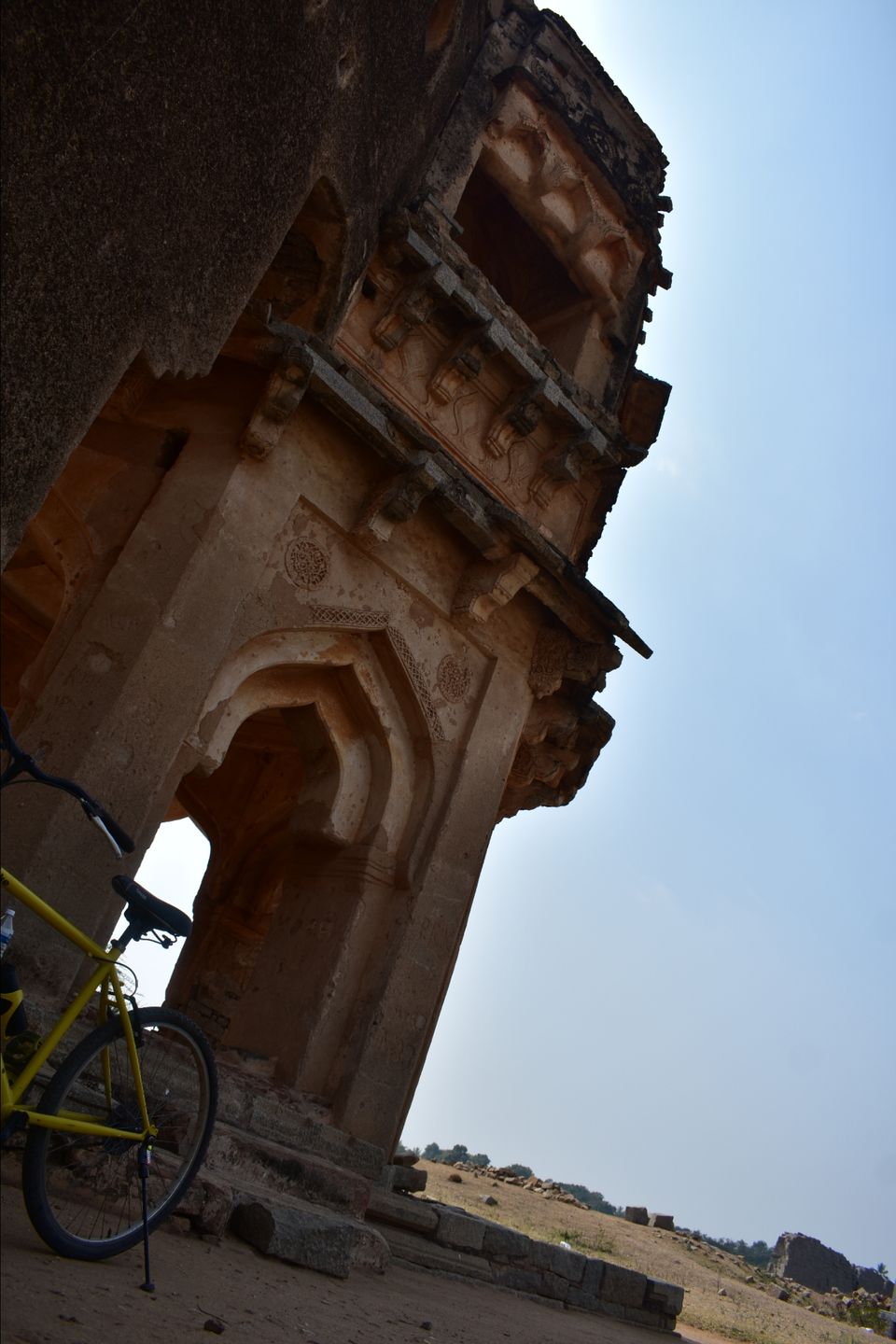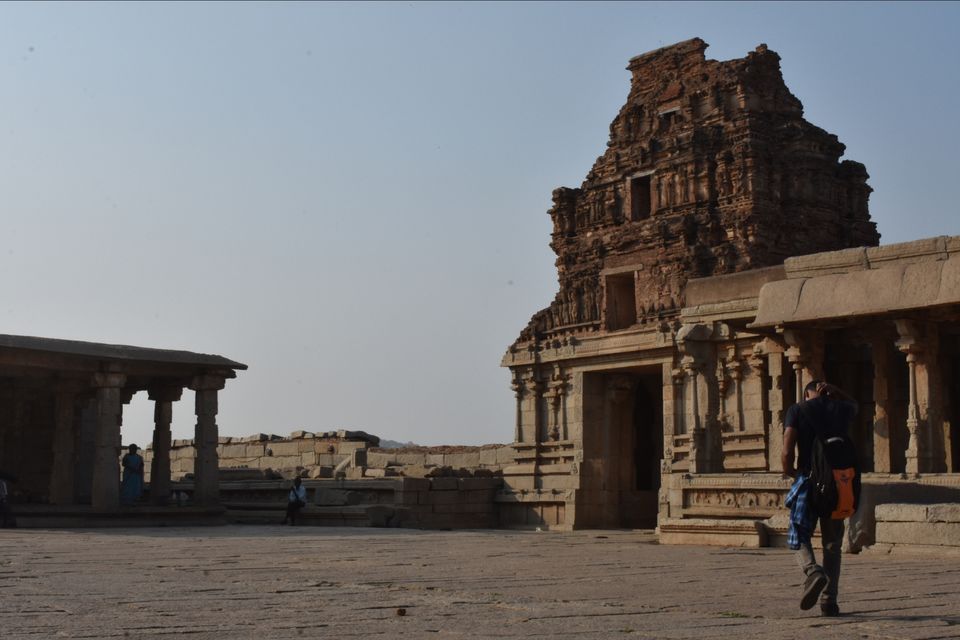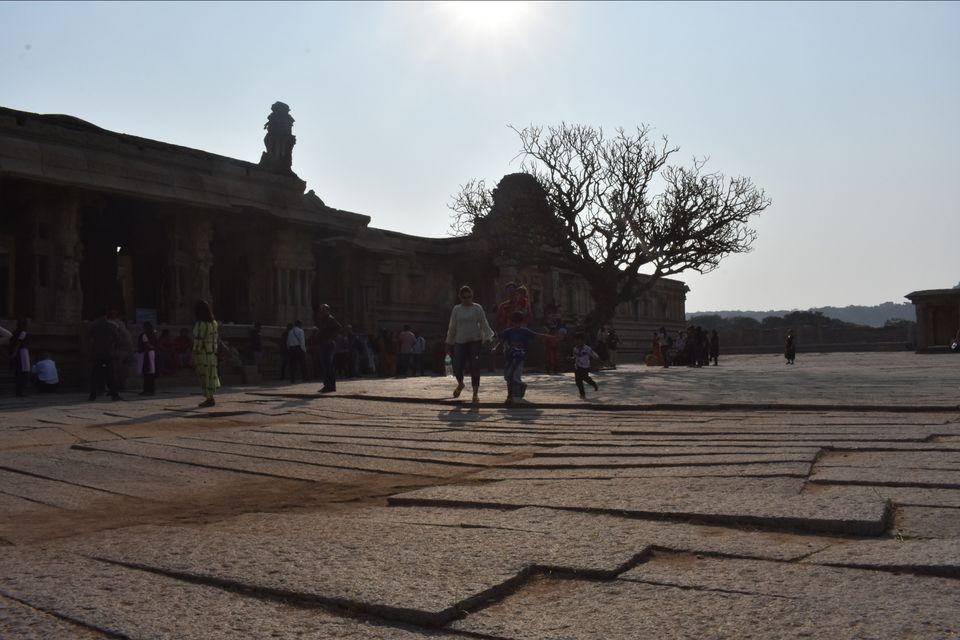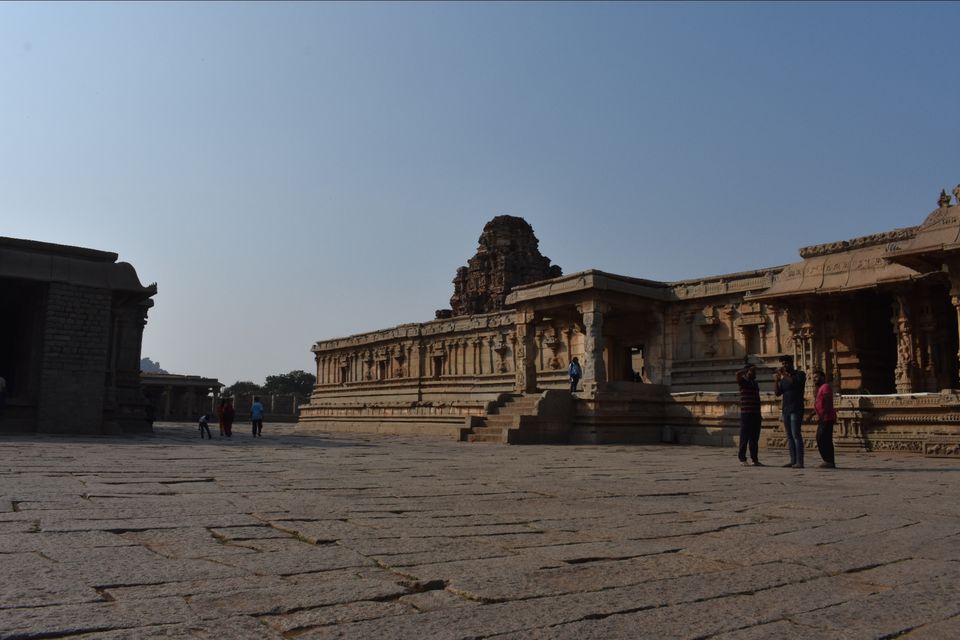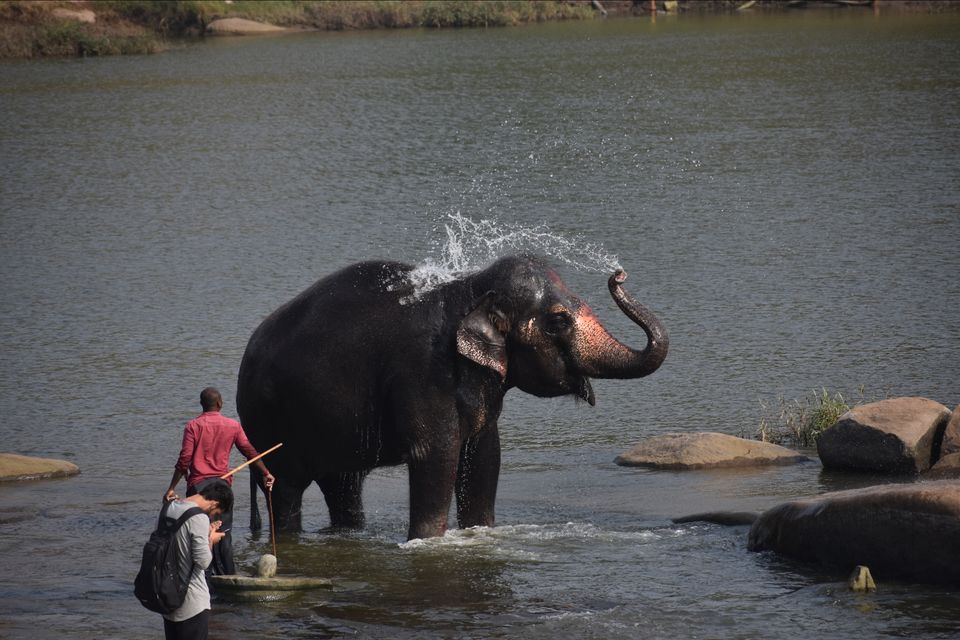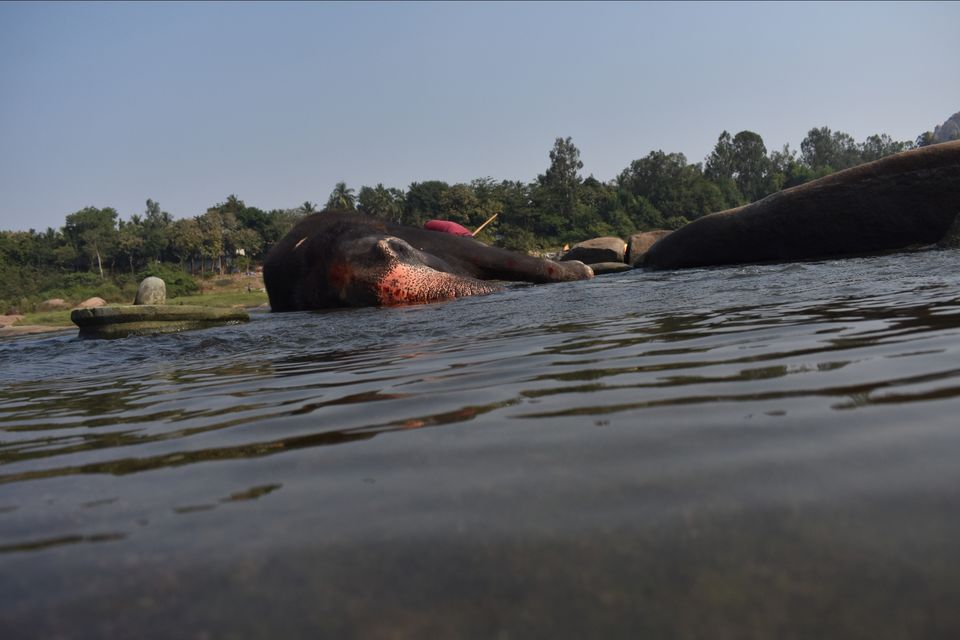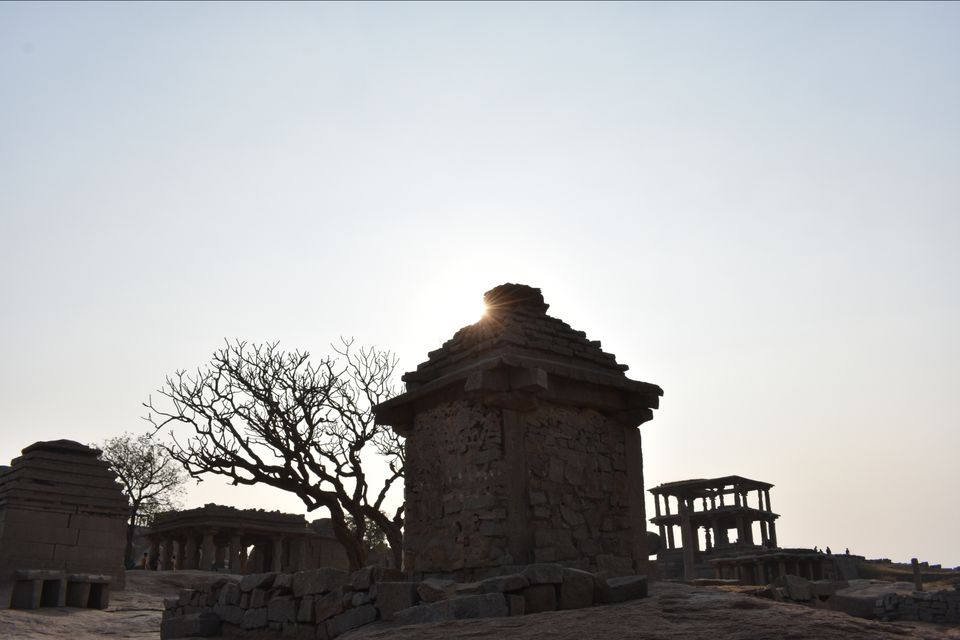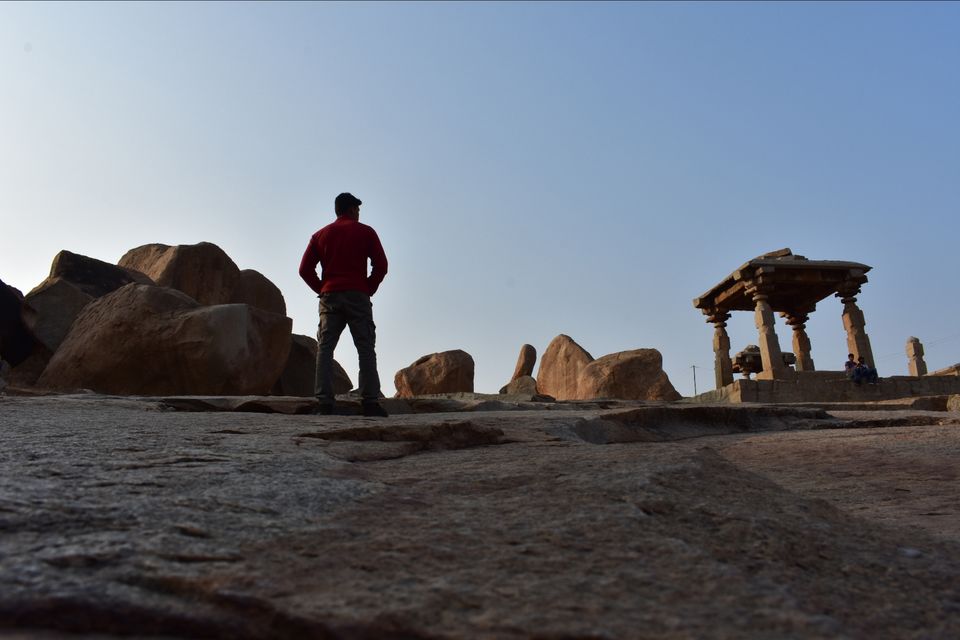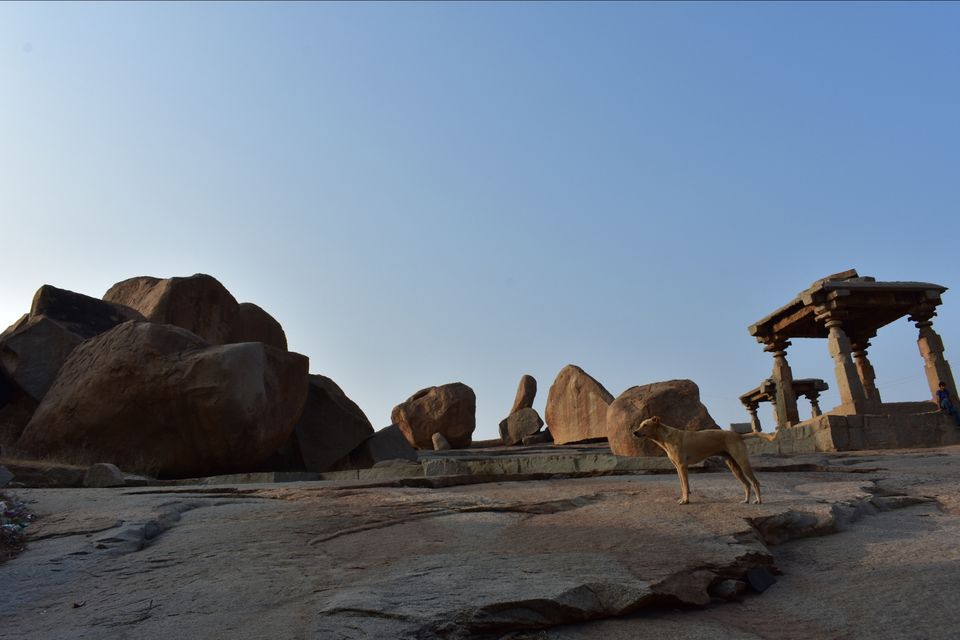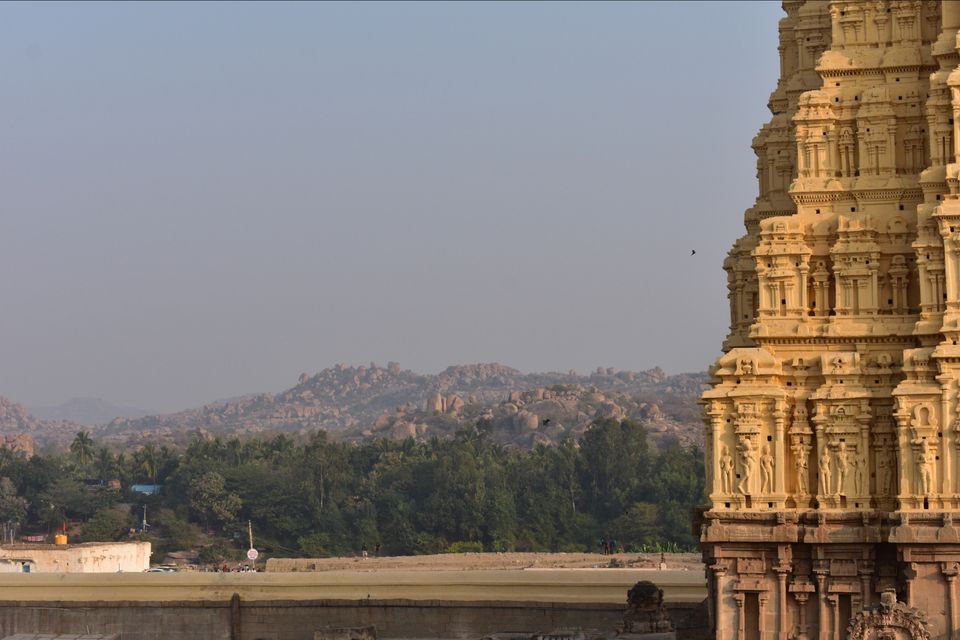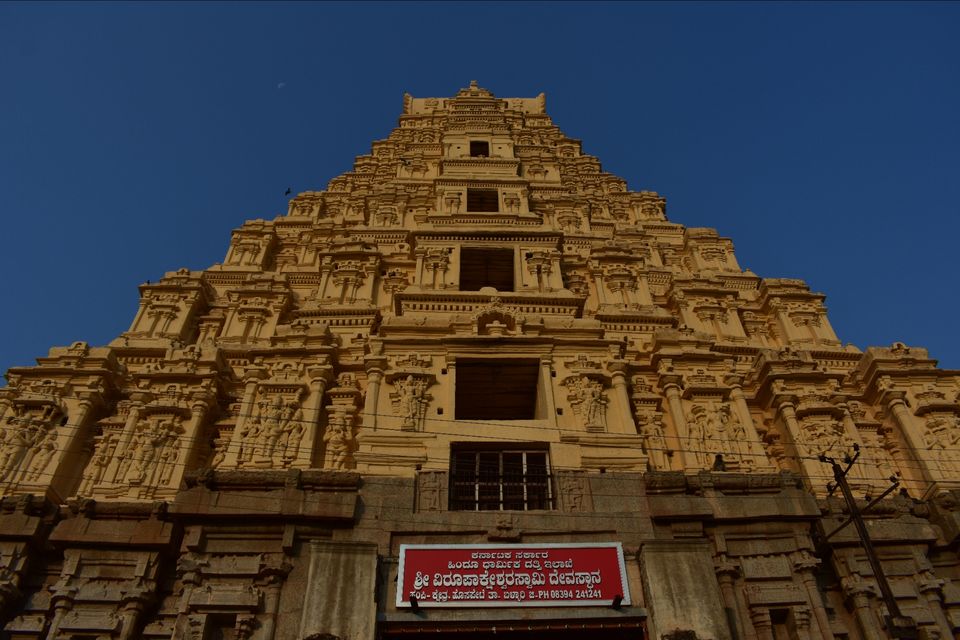 I planned to go for sunrise in the morning at night but I guess I needed much longer sleep, so when I woke up I had missed the sunset. Then I get up had a bath and breakfast and I returned by mopaid bike. Because you can not drive this vehicle in hampi village, it is just for other side of the river. So I returned to hampi and took a bicycle on rent to explore this part, It is fun to ride bicycle in hampi roads are nice for it. We went to see Elpephant stables Queens Palace, watch tower. It was a great experience experiencing those old monuments. And pretty much all the day I cover all the important places on bicycle whole day. And I went Matanga hill foot, sat around a nice place near the river bank on the other part not the one that I sat around yesterday. Enjoyed chill. And the I went to top of matanga hill to witness the sunset. Matanga hill is not a very easy trek to climb but if you are ust to treks you will doi it with ease. Sunset and sunrise in Hampi are worth it. You should go for every time when you are in hampi. I would recommend that. That's the end of the second day which was the last day. I think 3 days are more than sufficient to see in and around hampi. I returned bangalore the same way I reached. Plenty of buses to bangalore from hospet at night time,
Hampi is one such destination where the place itself speaks loud enough about the history India have. A very nice getaway for weekends in South India. Have a visit