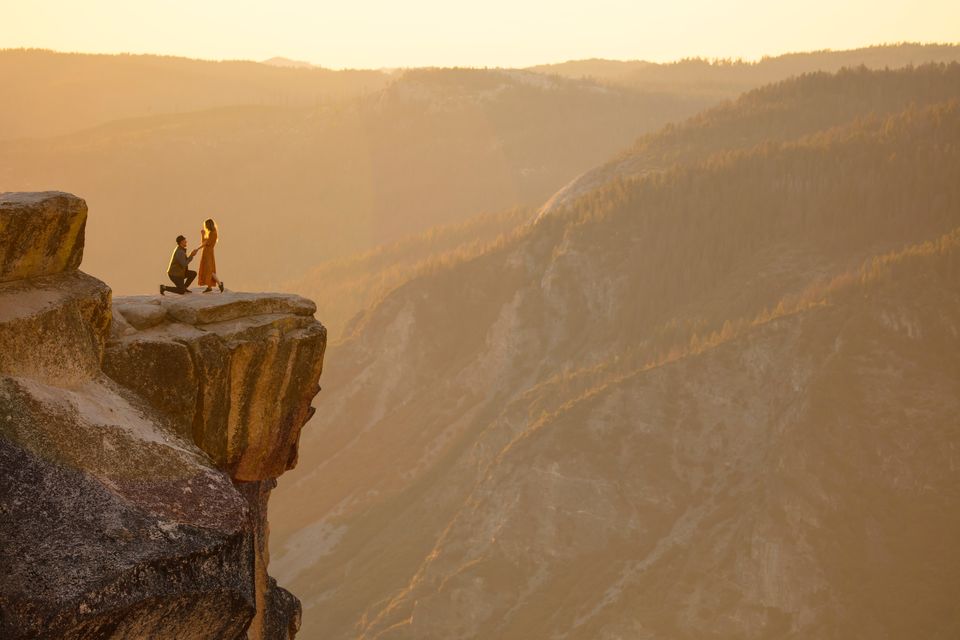 Valentine's Day is around the corner which means that hopeless romantics are ready to succeed at finding true love. Whether it's a high school crush or your partner whom you've decided to finally propose to, Valentine's Day is filled with heady optimism and romance. The grander the gesture, the more positive the outcome. Or at least one hopes. But if you're one of those unlucky lovers whose partners refuse to enter holy matrimony with you, you'll at least have a view that will be worth moving on to.
Here are our top choices for a romantic proposal with incredible views. The bonus? Whether it's an "I do" or an "I don't", you won't be disappointed!
1. The Northern Lights, Iceland
Hike out to this breathtakingly beautiful and serene location. Sip on some hot cocoa from a flask and take in the views. Nothing brings a miracle to life like the Northern Lights do in Iceland!
2. The backwaters of Kerala
The backwaters of Kerala are already a dreamy spot. The boats meander through greenery that sets the tone for a relaxed and romantic getaway. If you're lucky enough, you'll get to pass by lotuses that will greet you with their cherry pink hues. What better way to 'put a ring on it' than amidst thousands of fresh blooms?
3. Lavender Fields, France
Drive a vintage car to Provence, France and dine over an intimate picnic of wine and cheese. Nothing like the light scent of lavender for company as you watch the sun set over another day in paradise!
4. Isolated beaches of Lakshadweep
Charter a boat out with some chilled champagne on board, as you take in the brilliant views of little explored Lakshadweep. Dive into clear waters and float amidst tranquility before you pop the question. It's definitely not a bad place to get your heart broken should things go sideways with your proposal.
5. Ristorante Grotta Palazzese, Italy
Delicious Italian food served within a cave - yes it's real! This restaurant is located in Puglia, Italy and comes with views that are stellar. Soak in the ambiance as you hear the waves crashing against the shore in mesmerizing Italy.
6. Under the stars in Spiti Valley, Himachal Pradesh
Take a road trip to this gorgeous valley and nuzzle up to each other as the skies get filled with a million stars. Soak in the beauty of the mountains as you propose to your partner over your common love for adventure.
7. Climb the Sydney Bridge in Australia
Aim for unparalleled views of Sydney from the Sydney Harbour Bridge. Not for the faint hearted, but worth your while, climb the bridge for an adrenalin-filled proposal with views you'll never forget!
8. Udaipur Lake Palace, Rajasthan
How can we talk about romance and not mention Udaipur?! Probably the most beautiful spot to set the tone for your proposal - take a sunset boat ride across Lake Pichola and dine at the restaurant by the City Palace. Filled with glistening light that reflects off the lake, vintage architecture and incredible hospitality - your partner will want to begin planning your wedding here!
9. Picturesque Santorini in Greece
The warmth of the sun, cozy cafes by the waterfront and pops of colour from the vibrant bougainvillea - Santorini is perfect to catch a sunset and renew your love for each other over a romantic proposal. Stretch your feet over an infinity pool for aerial views of the island that will leave you brimming with joy from this romantic getaway.
10. A hot air balloon ride over Jaipur, Rajasthan
Maharajas who built exclusive hideouts for their queens, the dreamy Sheesh Mahal, lovely courtyards and decadent hallways - the Pink City is oozing with romance. But why not take it a notch higher by proposing on a hot air balloon ride? The pretty city creates the perfect backdrop for a royal proposal from the sky.
Whether you enjoy a nature trail, an adrenalin filled adventure or simply relaxing by the beach - these destinations are bound to elevate the romance and take your relationship to the next level! So what's your Valentine's Day proposal looking like?
Ready to travel for free? Earn credits and redeem them on Tripoto's weekend getaways, hotel stays and vacation packages after the pandemic is over!
Think we missed out on something? Tell us about it in the comments below. Or write about it here on Tripoto and earn Tripoto Credits!