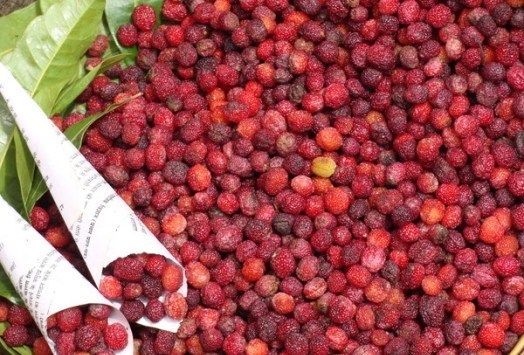 Being from Uttarakhand is a very delightful feeling that only a 'Thet Uttarakhandi' can experience who is living far away from his native place.
Uttarakhand is known for its natural beauty, the Himalayas, its hundreds of small & big rivers- Ganga, Tons, Yamuna, Kali, Alaknanda, Bhagirathi to name a few, the holy places, sacred temples and last but not the least its identity being a tourist destination of India.
Comprising of two regions- Garhwal & Kumaon, Uttarakhand is a must visit place for everyone who want to experience the real pahadi life, lifestyle of these two regions different by name yet similar by their tradition & cuisines. Both have a similar sort of culture, habit & way of living yet there are many things that show their individuality from each other.
Uttarakhand is known for its delicious Garhwali & Kumaoni food, beverages and sweets that you should try once whenever you visit to this beautiful state. Phaanu, Kafuli, Bhatwani, Chainsoo, Thechwani, Jholi, Urad Pakora, Kachmauli, Kaddu ki Bhujji and bhari Poori & Mandue ki roti are among some mouth-watering dishes Uttarakhand is known for. The famous Uttarakhandi beverages include: Buraans and Malta Juice, Chhans (buttermilk), Chai with Gud (we prefer having tea without sugar & have it with jaggery bites)
Seasonal vegetables like green leaf, beans, mitha karela, lengude, kaddu, kaakhdi (cucumber), seasonal fruits like malta, limbua, polam, kaafal etc depicts Uttarakhand heritage. During the festivities, we have some special desserts and sweets like R oat, Gulgula, Aarsa, Bal-Mithai, Singhori, Jhangora ki Kheer, Aate ka halwa, Lapsi etc.
The article emphasises upon the cuisines of Uttarakhand. I have compiled a list of all popular Uttarakhandi Cuisines with photographs & their method of preparation. If you are an Uttarakhandi, then I am sure you will definitely enjoy reading & cherish these dishes. If you are not, then I recommend you to give them a try!
Some Famous Garhwali and Kumaoni Recipes
Garhwali
Bhatwani - It can be cooked with or without gravy and is generally cooked using Bhat(a variety of soyabean). It is a rich source of protein. Just fry these bhats in an iron kadhai with some oil & gram flour, add spices, garlic and water and its ready to be served.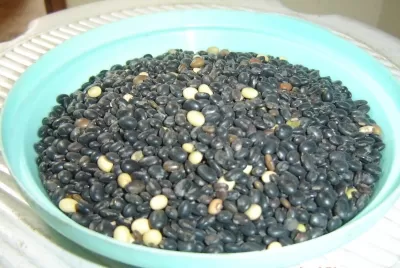 Chainsoo: Chainsoo, a popular dish from Garhwal is made of Urad or Kali Dal (whole), which is reckoned to consist of a lot of protein in it. This dish is prepared by first roasting the lentil and then making a fine paste of it. The dal is kept for cooking in an iron kadhai over slow fire with lots of garlic & chilly tadka.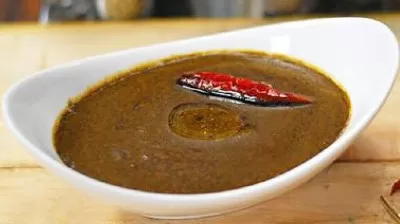 Thechwani - The name of this dish is derived from the way it is prepared. The dish is made by crushing (and not boiling)potato & Radish with a tadka of jakhiya seeds.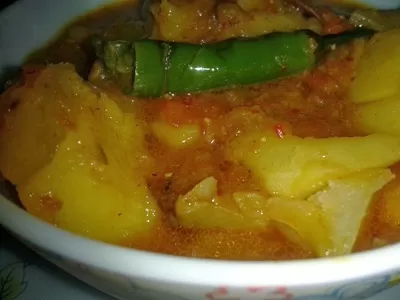 Phaanu - Just like Chainsoo, this is also cooked using lentils. Phanoo is basically a preparation made by mixing different lentils (including the special Gahat) that are soaked in water overnight. It is basically a soupy dish that goes best with steaming white rice.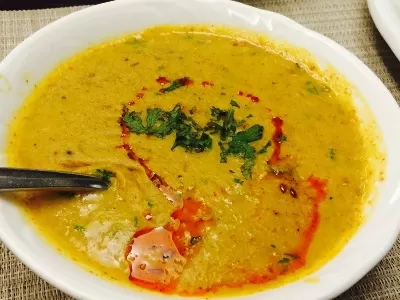 Jholi - In Garhwali language, Jhol means very thin gravy. Jholi is a gravy-dish cooked using potatoes, tomatoes, curd and asafoetida as main ingredients.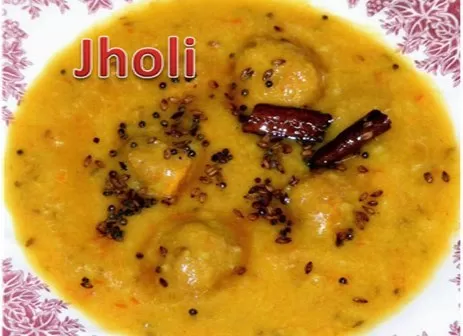 Mandua ki Roti - Chappaties made from Mandua cereal usually grey in color.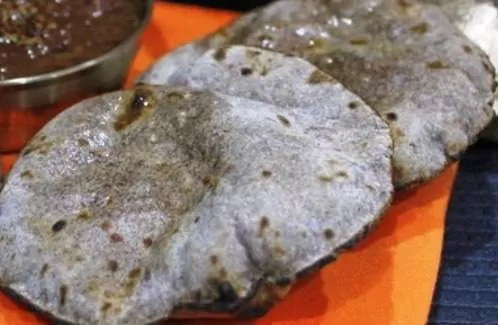 Gahat ki Dal or Paranthe - Dal prepared from Gahat, tempered with Gandherin, Asafoetida and Cumin seeds. Parantha is prepared by stuffing Gahat Dal(a special brown lentil) in the wheat and mandua flour (Finger Millet/Ragi), Gahat ke Paranthe make excellent breakfast option in Uttarakhand. They can be served with the famed Bhang ki Chutney or any regular veg recipe.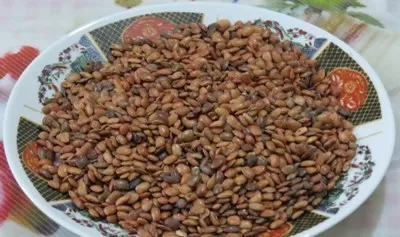 Kafuli - Made from spinach and fenugreek leafs and cooked in an iron kadhai, kafuli is complimented by hot steaming rice. Just 4 ingredientts- Boiled Spinach, finely chopped and cooked with spice and curd, thickened with rice paste. The taste is further enhanced by slow fire cooking.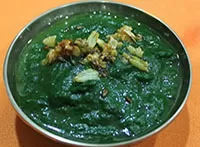 Raabod: The dish is made jhatpat with fresh buttermilk, rice, pumpkin slices & normal spices.
Jhangora ki Kheer - A sweet dish prepared with Jhangora (a local cereal), milk and sugar. Jhangora is type of millet and is the main ingredient of this dessert item. The recipe is similar like kheer with milk, jhangora & lots of nuts.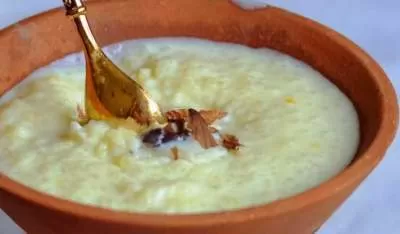 Roat - This sweet dish is cooked with jaggery and wheat flour fried in mustard oil. To make it more flavourful, fennel & dry coconut are added to it.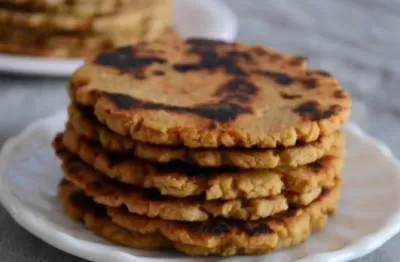 Aarsa - A sweet delicacy prepared from Rice and Jaggery & cooked in mustard oil, generally served on the occasion of marriages and festivals. The flavour is so prominent that once eaten, you wouldn't forget the taste for long.
Gulgula - A sweet local snack prepared in Garhwal made of wheat flour, riped banana & Jaggery.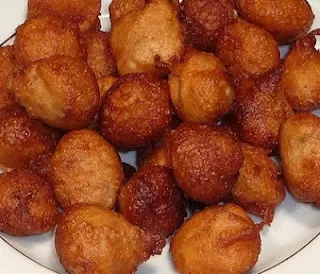 Kumaoni Cuisines
Kumauni Raita - Prepared from curd, turmeric, grated cucumber, green chillies and the mustard seeds! The taste of pungent mustard lingers long on your tongue; whereas the goodness of curd and cucumber becomes an asset for your digestion system. Adding more taste to the raita is the coriander garnishing.
Sani hui Muli and Nimbu - A typical refreshing and tempting mixture of Radish flavored with limbua (big lemon), curd and paste of bhang seeds. The dish is often made in winters & eaten together sitting outside under sun on a chilled day.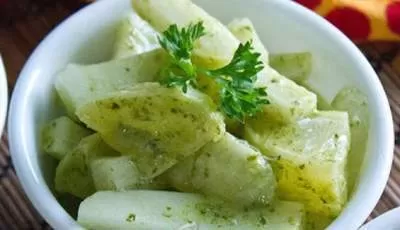 Bal Mithai - A very popular sweet dish, particularly in Kumaon, prepared from Khoya (condensed milk) and decorated with small white sugar balls. This is considered a signature sweet of Uttarakhand, very much in demand!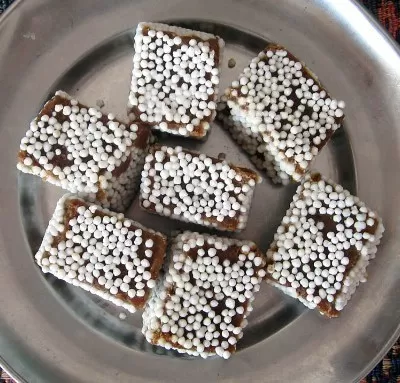 Kandalee ka Saag - A green leafy vegetable dish, prepared like other green vegetables. The leaves are locally known as 'Bichhu Ghas' since it has lot of spines all over.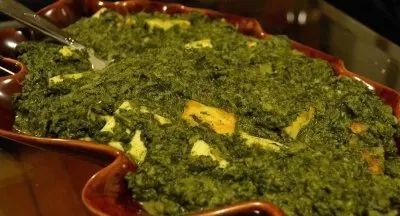 Urad Dal ke Pakore - Spicy Pakoras made by mixture of different dal (Pulses).
Bhang ki Chutney - Prepared with roasted Bhang seeds (Hemp Seeds), cumin seeds (Sauf) & garlic leaves mixed with Lemon juice. The fresh aroma and the tangy tamarind taste can stay on your tongue for quite a long time complimenting any dish made in Uttarakhand.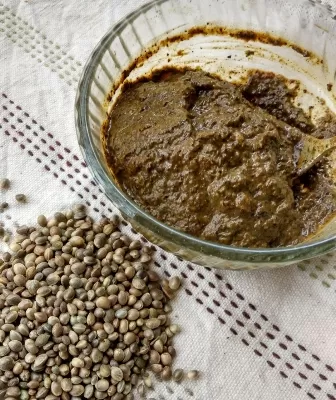 Til ki Chutney - Made from safed til, pudina & lemon. Special in winter have tasty nature with Tor ki daal & Bhaat or with Gahat ke paranthe.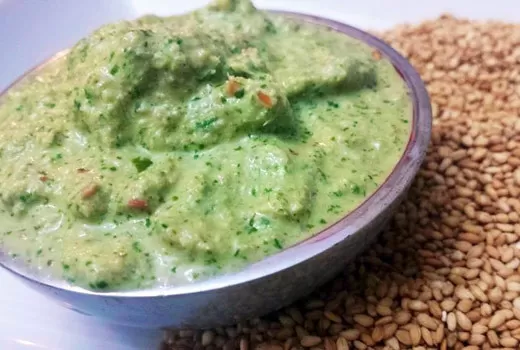 Singodi - This sweet made of Khoya (condensed milk) flavoured with cardamom and coconut & wrapped into the leaf of Molu.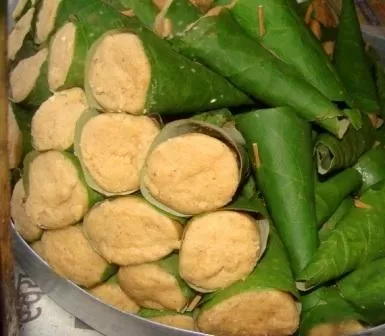 If you enjoyed reading this, please let me know in comments!
This post was originally published on Rashmi Kanti's Blog.