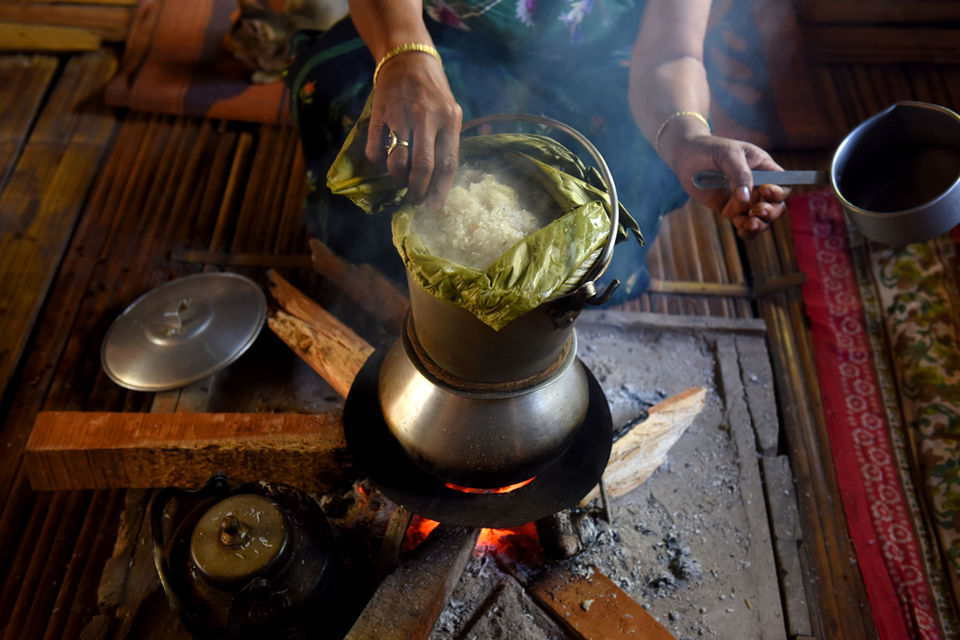 The amount of variety of food we have in India and the choices we make each day - whether to eat healthy or stick to vada pav, samosa and masala sandwich diet is a real struggle. Growing up healthy food has always been the one cooked at home, and yes deep fried 'pakodas' are healthy because at home they are fried in good quality oil. And most importantly the oil is not reused again.
My point is just like my moms kitchen, every region and every village in India has it's own version of their food. And it is almost impossible to know each and every dish. Yet there are some dishes that have to be tried atleast once in life. The ones cooked on slow fire, by a local with fresh ingredients are something that cannot be compared to anything else! Its the emotions, the place and the people that make these food so unique. So, are you ready to take a look at these 10 unique and delicious foods from India?
To start you off on the quest, I have listed some of my favourite local dishes that are ripe for their own breakout moments. This list reflects their cultural, geographic and economic sensibilities, and aren't limited by ingredients or preparation.
1. Dastuk (Ladakh)
For those who have been to Ladakh before, you should have heard of the rustic local dish - Dastuk. You get to try this if you are staying in a local homestay. This hearty porridge is made of rice gruel, pepper, salt, butter and minced capers. Locally sourced ingredients are soul nourishing and best eaten during the winters. This rich buttery breakfast bowl of warm dish will sooth your nerves and heart.
2. Paa sa (Arunachal Pradesh)
In Arunachal, Khampti cuisine is something that is a standout. Offering a nutritious fortifying soup is 'Paa sa', a soup that is made for a warrior's diet plan. This dish is a hearty delicious thin soup made of freshwater fish, garlic, ginger, chilli, makat, pee chim khim, phoi hom (indigenous scented spice leaves) and topped with ooriam juice (khumpatt) leaves.
3. Panjiri (Punjab)
A simple yet warming winter snack is 'Panjiri'. Traditionally the mix of semolina dry-roasted in desi ghee with fox nuts, walnuts, dry dates was given to women who had just given birth. Specifically for better lactation and postpartum recovery. But in modern times it includes oats and coriander and every household has their own version, for a kick of health during the cold days!
4. Kismuri (Karnataka)
'Kismuri' is originally a Konkan specialty, now popular in Karnataka. With different variations it is made with cabbage, yam, bitter gourd, okra, carrot and fried & dried prawns with a base of coconut shavings. All this is grounded together with tamarind, chillies and finely chopped (or fried) onions.
5. Siddu (Himachal Pradesh)
'Siddu' is truly an uncommon offering of Himachal. This dish is a breakfast staple said to be originated in Kullu. I call it big brother of momos - the soft dough pocket are steamed buns enjoyed with ghee, pudina chutney, or even just dal. You can find variations nowadays, as people use maida instead of wheat flour. When you break the Siddu into half, you get the aroma from the filling made from poppy seeds, almonds and walnuts.
6. Pulasa Pulusu (Andhra Pradesh)
The hero of this dish is Hilsa, a seasonal delight relished during the mid-year rains. Eaten with steaming hot rice, 'Pulusu' is cooked with okra in a tomato-onion-garlic gravy. Cooked on a charcoal flame and in an earthen vessel, the pulusu is typically served with steamed rice.
7. Lapsi (Gujarat)
'Lapsi' is prepared and enjoyed equally in Rajasthan, Gujarat and Madhya Pradesh. This sweet dish is made from dalia (broken wheat), jaggery and occasionally, ghee as per taste. A very healthy and wholesome dish, Lapsi is filling and gives instant strength.
8. Rabodi (Rajasthan)
'Rabodi' is a Marwari specialty, where papad, or dried cornbread as they last long, is broken into crumbs and cooked with spring onions, in a thick, yoghurt-based gravy redolent with the united aroma of asafoetida, Mathaniya chillies, and cumin. Rajasthan has so much food variety to offer and is known for its culinary innovation. Through pit cooking, harvesting all parts of the ker tree, using chillies to cool off in the heat, Rajasthani cuisine is driven mostly by the hot, dry climate and topography. Thus, giving us unmatched and fulfilling dietary requirements gratifying the taste buds.
9. Rameshwaram Pocket Rice (Tamil Nadu)
With this unique name, 'Rameshwaram pocket rice' is a lunch street delicacy. This dish was born out of necessity and is originally from the coastal pilgrimage town. What you will find is rice cooked in coconut milk in pockets of banana leaves, making it perfectly handy to-go lunch pouches for local farmers. Commonly eaten with accompaniments such as mutton curry, boiled eggs, delicious fried chicken, and raw mango pickle. This dish will remind you of nasi goreng, with the different assortment of flavours.
10. Chainsoo (Uttarakhand)
Chainsoo is a protein-rich lentil dry roasted and cooked with tomato-and-garlic paste. Savoured in remote hill villages and cherished in modern Garhwali kitchens, in the form of fritters or as a savoury soup. Topped with ghee for richness and jakhiya baghaar (tempering), this delicious soup goes best with rd rice and eaten with hands!
Is there any dish you think is unique to where you come from? Or maybe a dish you have always wanted to try out? Let us know in the comments below and I would love to give it a try!
Think we missed out on something? Tell us about it in the comments below. Or write about it here on Tripoto and earn Tripoto Credits!