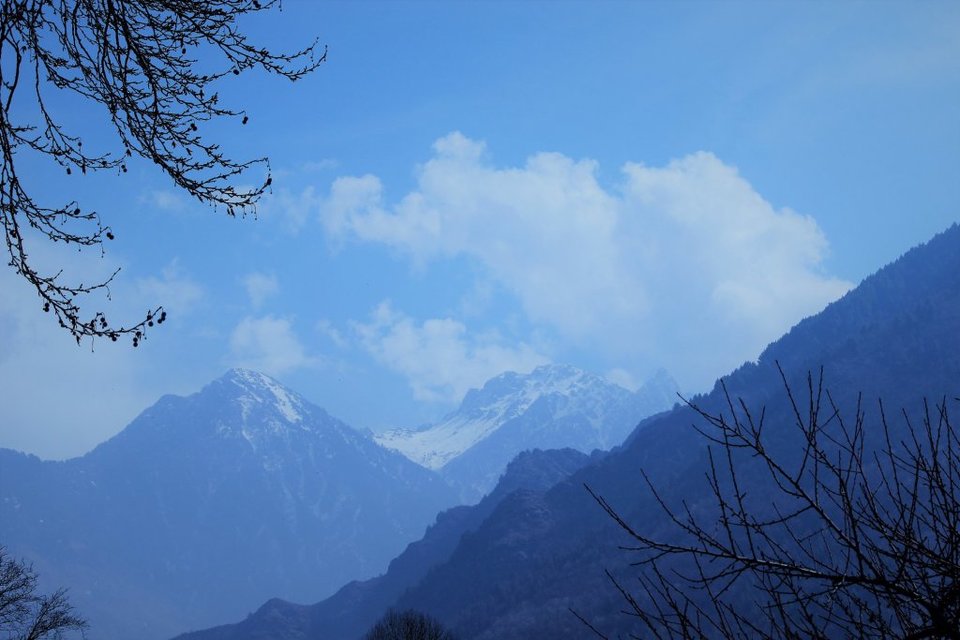 Kashmir is a heavenly place, it is the most beautiful place to visit in India. This place has its own charm and charismatic vibe. Kashmir is on every traveler's wish list. But people scare to visit this place because of the political situations but trust me politics doesn't affect even a percent to Kashmir tourism. Tourists are treated as guests in Kashmir's. They love to host you to come and visit their home with love and affection.
I travelled Kashmir in 2018 February to celebrate my marriage Anniversary. It was magical experience to us, we met lovely people there and they guided as for each and everything like we were there own child.
It was an unforgettable memory for me.
Day 1-
Arrive in Srinagar. Check in at hotel. Freshen up and go on a local city tour where you can visit places like-
Dal Lake- The heavenly beautiful and one of the top attraction of Srinagar is Dal Lake. You can go for a Shikara ride (boat ride) to explore the beautiful lake, and enjoy the mesmerizing views of mountains. Or even instead of a hotel you can directly check in in house boat of Dal Lake. There were plenty of beautiful houseboats available to stay inside the lake.
Apart from Dal lake you can also visit Nehru Park, Floating Post Office, Shankaracharya Hill Temple, Jama Masjid, Tomb of Zain-ul-Abidin's mother, Shalimar Bagh, Nishat Bagh, Chashme Shahi, Pari Mahal, Hari Parbat Fort, those are the key attractions of Srinagar.
Take rest in Srinagar hotel/houseboat.
DAY 2
Srinagar-Sonmarg -Srinagar
After breakfast head towards Sonmarg. Sonmarg is 80 km from Srinagar and it lies at an altitude of 2800 m above sea level. Also called as "Meadow of Gold". It's a beautiful valley. You can go for different activities like trekking, skiing, pony ride.
Places to visit in Sonamrg-satsar lake, Gadsar Lake. Gangabal Lake, Baltal Valley, Krishnasar Lake, Thajiwas Glacier, Vishansar Lake, Zoji-La Pass, Nilagrad River.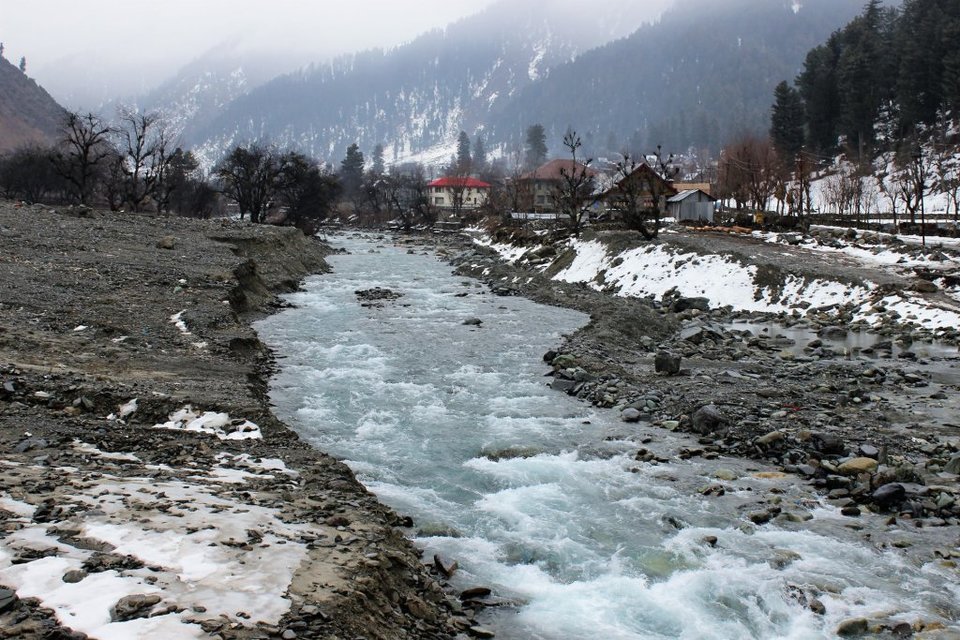 Enjoy the whole day at Sonmarg and head back to Srinagar.
Day 3
Srinagar-Yusmarg
Yusmarg is less explored place in Kashmir. Yusmarg lies in the Badgam district of Jammu and Kashmir, some 50 odd kms from Srinagar. This place is heavenly beautiful and less crowded. If you love apple trees this is the place to visit. On the way you can see plenty of apple farms and this place is a postcard perfect place.
Places to visit in Yusmarg- this beautiful place is for relaxation and simply go for a stroll, or take pony ride to the nearby lake. Doodhganga is river abot few Km away from Yusmarg, you can go by walk or simply take a pony ride. 4 hours of patchy trails through a deep forest would lead you to Neel Naag Lake .
You can go back to Srinagar but I will recommend to stay over there and the only place to stay in Yusmarg is JKTDC Hutment Complex.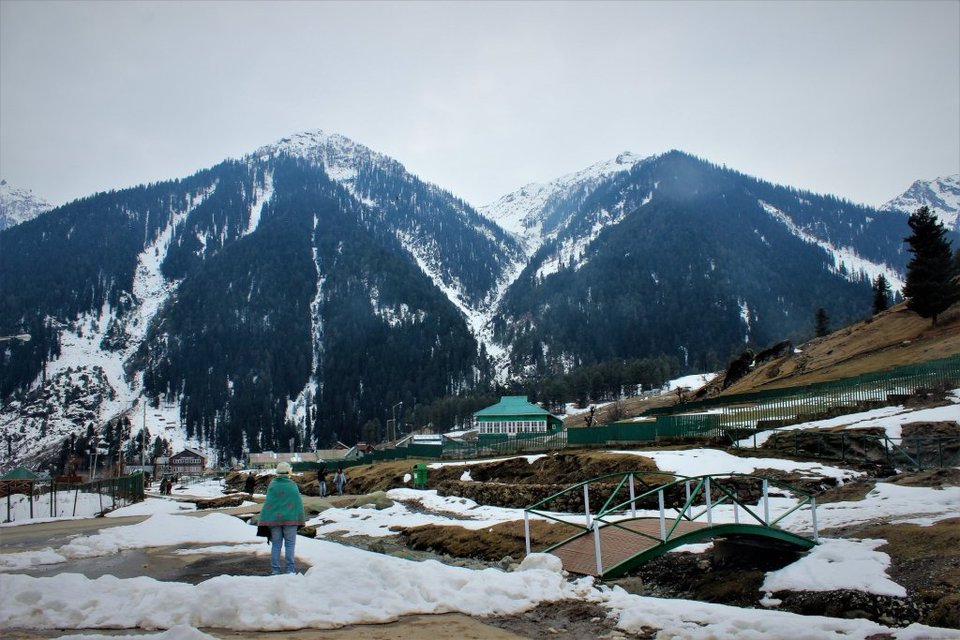 Day 4
Yusmarg-Gulmarg -srinagar
Yusmarg to Gulmarg is just 98.6 km via Srinagr, and it takes around 3 hrs to reach Gulmarg .
Gulmarg is a town in the Baramulla district, The town is situated in the Pir Panjal Range in the western Himalayas.Gulmarg is famouse for skiing. You can go for Gondola ride also.
After spending the whole day in Gulmarg come back to Srinagare.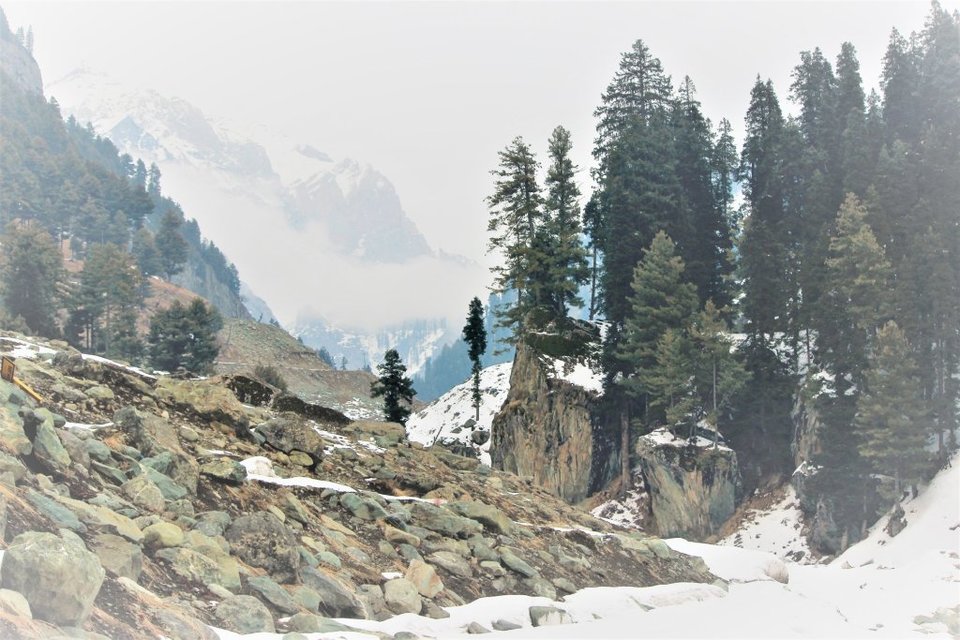 Day 5-
Srinagar-Pahlgam
Pahlgam in one of the beautiful place in Kashmir. It is 87.6 km away from Srinagar. Take up to 2 hrs 20 min to reach there from Srinagar.
You can stay as many days you want in this place. Some travelers spent all their days in Pahalgam. This is the place where Amaranth Yatra starts.
Places to visit in Pahlgam- Aru valley, Betab valley, lidder view park ,mamal Temple.
Day 6-
Phalgam-Srinagar
After spending the last day in Pahlgam entirely, next head back to Srinagar.
Explore Srinagar all over again and do Shopping . you can buy pashmina sawls, Kasmiri wooden handicraft items, carpets, papier mache artcrafts(persian artcrafts), Kashmiri tea,Keasar, Spices. Etc.
Day 7 -
Srinagar to Delhi
Take you flights from Srinagar airport and come back home with memories.
Kashmir is beyond explanation, it is not just a place it is an emotion. It is very hard to describe its beauty in words, you have to be physically present to explore and feel the same.
Happy Travelling.