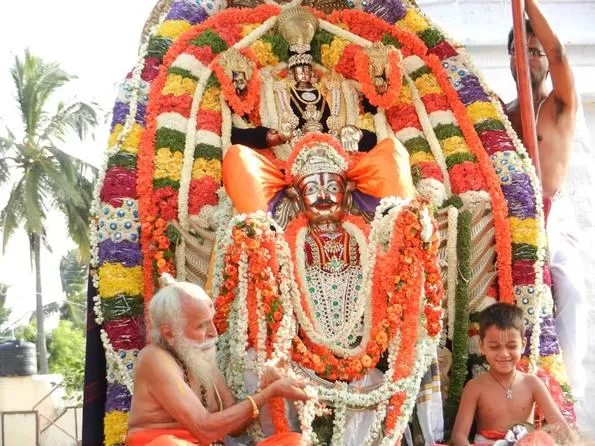 If you are a religious person, passionate on visiting a quiet, divine destination, then Lakshmipuram, a tiny village 3 kms away from Kuppam town in Chittoor District of Andhra Pradesh on the Bangalore – Chennai rail route, is the ideal place. The centre of attraction here is the Lord Prasanna Varadarajar temple at the heart of the village, surrounded by a lake behind, with greenery all around, that enchants you no end if you are a nature lover too. As you approach the agraharam, you will find several Brahmin houses with thirunamam (holy marks seen on the forehead of devout Srivaishnavites) with shankhu (conch), chakram (wheel) denoting Lord Vishnu's symbols embedded on the compound walls.
The main gopuram holding a paint-board in English 'Sri Prasanna Varadarajaswamy Temple', welcomes you. As you enter, there are separate enclosures to Sri Ramanjumar and Vedanta Desikar (on the left & right hand side), the two Vaishanavite saints of 12th & 14th century respectively. Then comes the dwaja stambham (flag post). Moving to your left, you see Varadarajar's consort Perundevi Thayar. Going further, to the left corner of the main deity is Andal Sannidhi, the lone lady Azhwar from among the 12 Srivaishnavite poet saints. In the sanctum sanctorum, we see Lakshmi Narasimhar and Lord Krishna idols to the right and left of the main deity. Looking at him, a serene and inexplicable feeling surrounds us.
Behind the temple premises, there is a small function hall with a kitchen attached. for preparing prasadam. After the darshan, a light walk along the lake bund, enjoying the evening breeze, makes us forget all worries. We feel we are at close proximity to the Lord.
Lakshmipuram is around 120 kms from Bengaluru, and easily accessible by road via Hosur and Krishnagiri (T.nadu). All Chennai-bound trains from Bengaluru, pass through Kuppam from where we can take an auto to reach Lakshmipuram.
Brahmotsavam here falls in the Vaishaka month of Hindu calendar when thousands of devotees throng the place. Natives of the village who are settled elsewhere also assemble here to partake in the holy kainkaryam.
N.DEVARAJAN, Mysore