We, i.e, my parents and I, travelled from Bengaluru
to Chennai via Vande Bharat express- this is a new train with great cleanliness, food and world class facilities. We stayed in Chennai for the night.
Kanchipuram- This heritage city is located at approximately 80 kms from Chennai. We drove to Kanchipuram early morning.
Facts about Kanchipuram:
1. It is one of the oldest cities in India
2. It is an important Hindu pilgrimage site
3. Has been chosen as one of the cities for HRIDAY- Heritage City Development and Augmentation Yojana.
4. In Tamil, 'Ka' means Bramha and 'anchi' means worship. This signifies that Lord Bramha worshipped Lord Vishnu here in this place
5. In Sanskrit, Kanchi means girdle and this city is considered to be like the girdle to the earth.
The climate was very pleasant when we arrived to this important city.
1. Temple architecture is beautiful and has a gopuram with gold overlays.
2. Deity is seated in Padmasana posture and holds a sugarcane bow and bunch of 5 flowers in lower two arms. A parrot perches near the flower bunch.
In upper two arms are pasha (noose) and ankusha (goad).
3. This is one of the 108 Shakti Peethas and naval part of Sati fell here. This is the only shrine dedicated to Devi Shakti in all of Kanchipuram
4. It is believed that Adi Shankaracharya installed the Sri Chakra in this temple.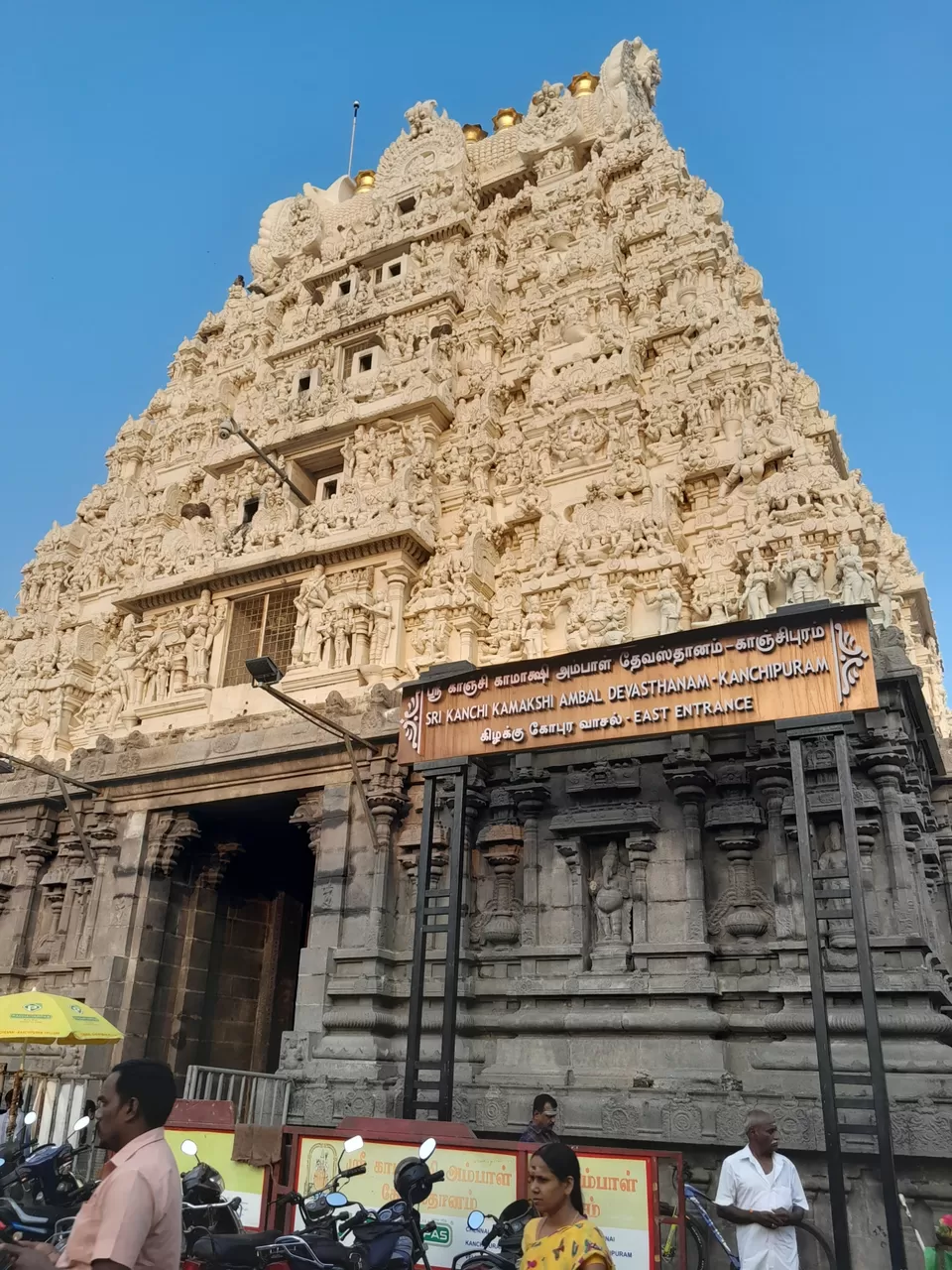 1. This is a Shiva temple and is one among the 1p8 Divyadesham temples. Also known as Shiva Kanchi.
2. Pancha Bhootha shtalam refers to five Shiva temples representing the five elements of nature-fire, air, sky, water and earth. In this shrine, Lord Shiva is said to have manifested himself in the form of Prithvi or earth.
3. According to a legend, Devi Parvati/Kamakshi worshipped Lord Shiva in the form of a lingam, made of sand under a mango tree. The neighboring Vagavathi river started overflowing sand threatened to engulf the lingam. Due to this, Devi Parvati embraced the lingam to protect it. Lord Shiva, touched by this gesture, appeared in his human form and married her. In this context, he is referred to as 'Tazhuva Kuzhainthaar' meaning he who melted in her embrace in Tamil. Also, Ekambaranathar means Lord of the Mango tree in Tamil and temple is named after this. The mango tree is still present in the premises.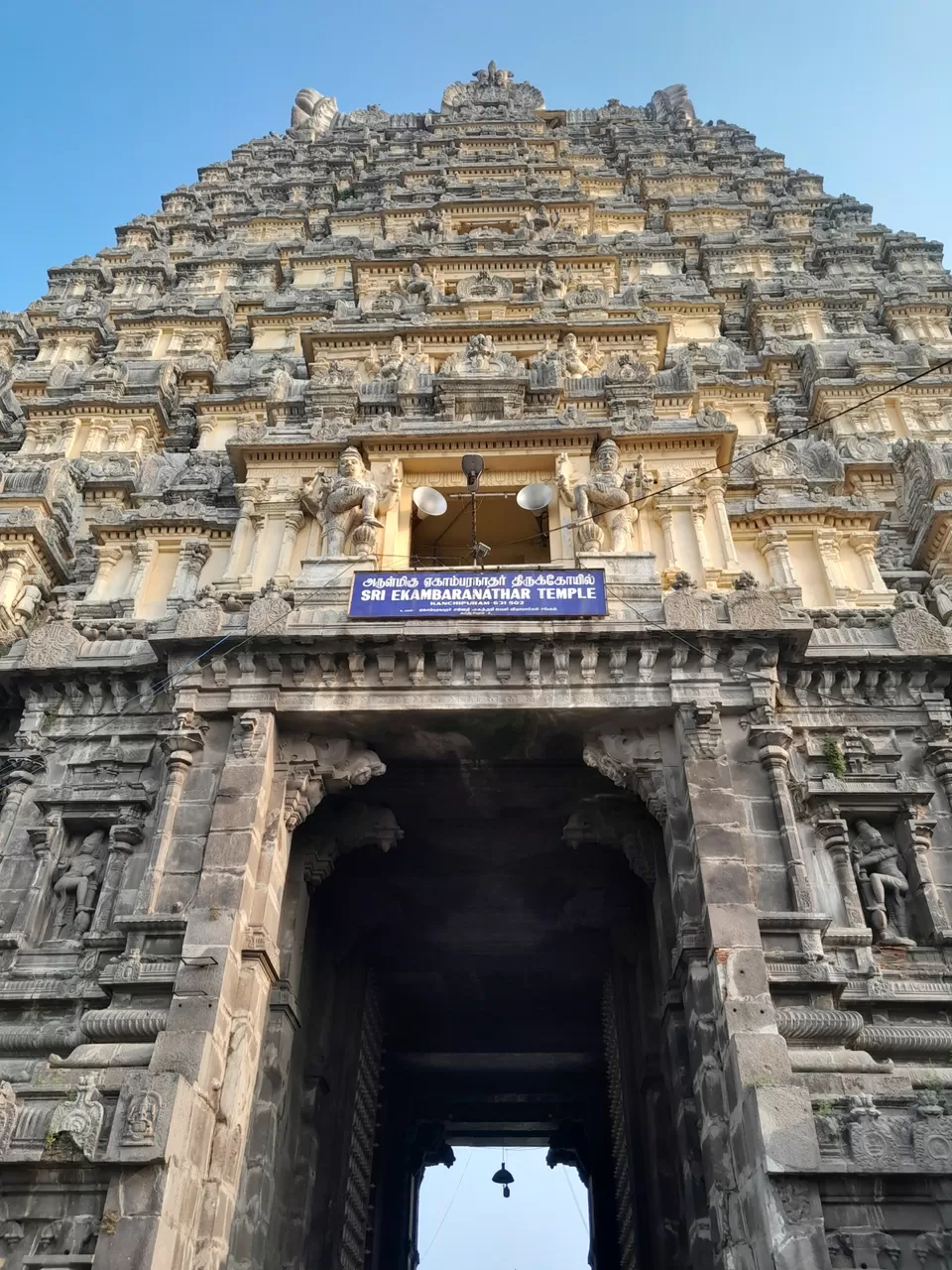 1. The temple is as old as 700 CE and is notable for one of the earliest and best specimens of Hindu mural art similar found in inner walls of the temple. The art is similar to the ones we find in Ajanta caves, Maharashtra. A lot of inscriptions are seen on the temple walls - these are important to epigraphical study of regional history and Tamil temple traditions.
2. The Archaelogical survey of India (ASI) maintains this temple.
3. Main shrine has 16 sided Shiva linga in black granite stone. There is a narrow circumambulatory passage for pradakshanam with a symbolic meaning. Passing through this is indicative of passing through life.Exit is through a pit and another narrow passage symbolizing death. It is believed that making the circumambulation or pradakshanam would usher same blessings as visiting paradise. Crawling and climbing out of the passage also indicates your coming out of your mother's womb and the Hindu belief of rebirth. Entry is called gate of death and exit is called gate of birth. Another belief states that by completing this you shall attain Moksha and there isn't any possibility of rebirth.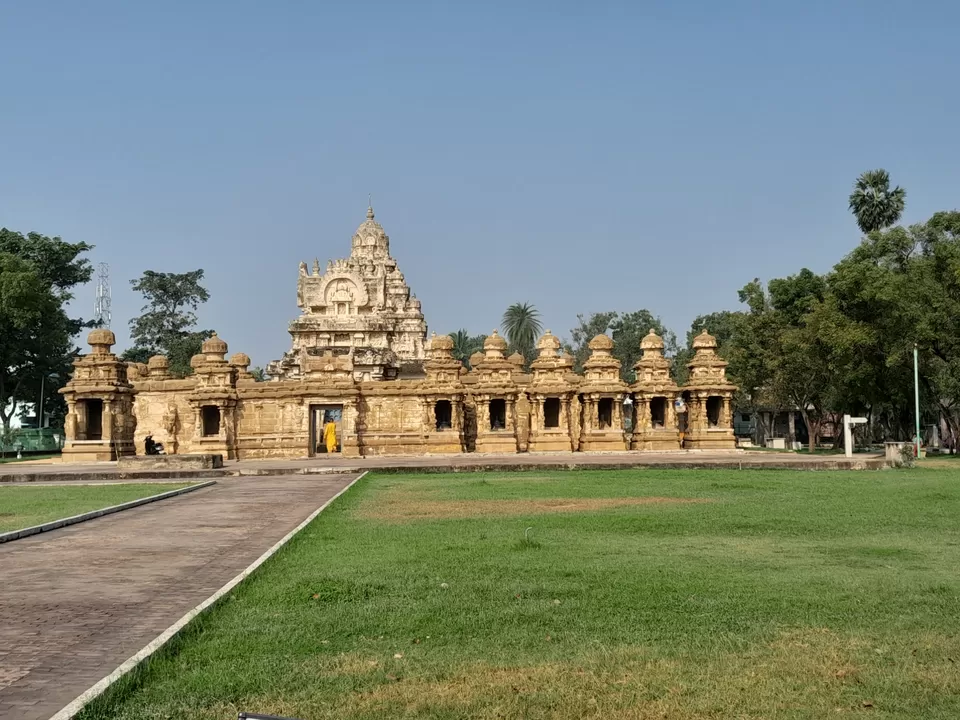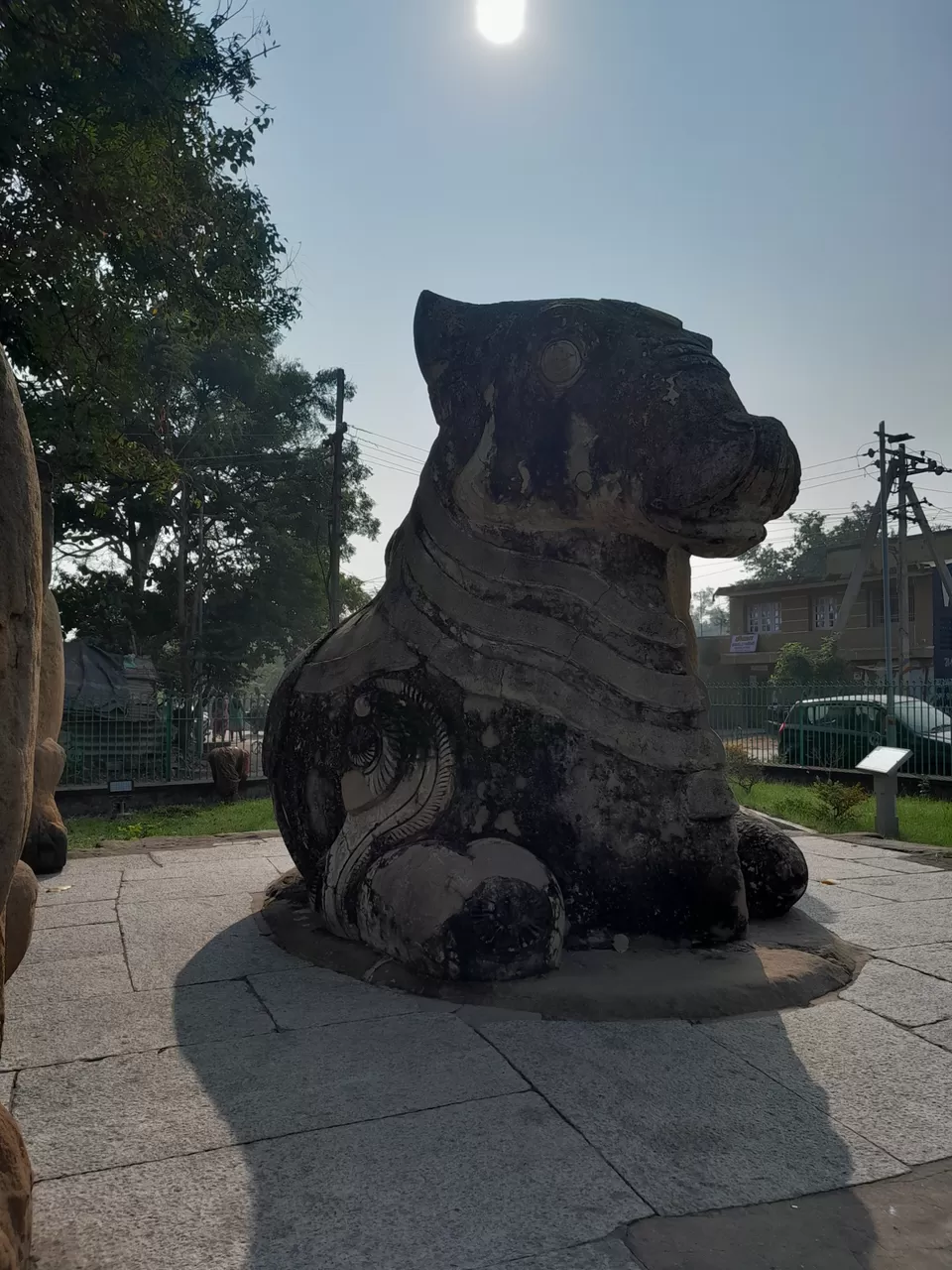 1. Also known as Subramaniya swamy temple
2. Temple is located between temples of his parents - Ekambaranathar dedicated to Lord Shiva and Kamakshi amman dedicated to Devi Parvati. Symbolically, this setting represents iconography of Somaskanda- aspect of Shiva where he is depicted with his son Murugan and wife Parvati- Bala Murugan is depicted seated between his parents.
3. The author of Skanda Puran, Sri Kacchiyapar - who was a priest in this temple, composed Skanda Puran in the Mantappam that still exists in the premises. Peacocks, the vehicle of Lord Murugan also visit the premises often.
4. As per Skanda Puran, Lord Murugan had imprisoned Lord Bramha here for the latter's ignorance of the word 'OM'. However, Lord Shiva ordered his son to release Lord Bramha.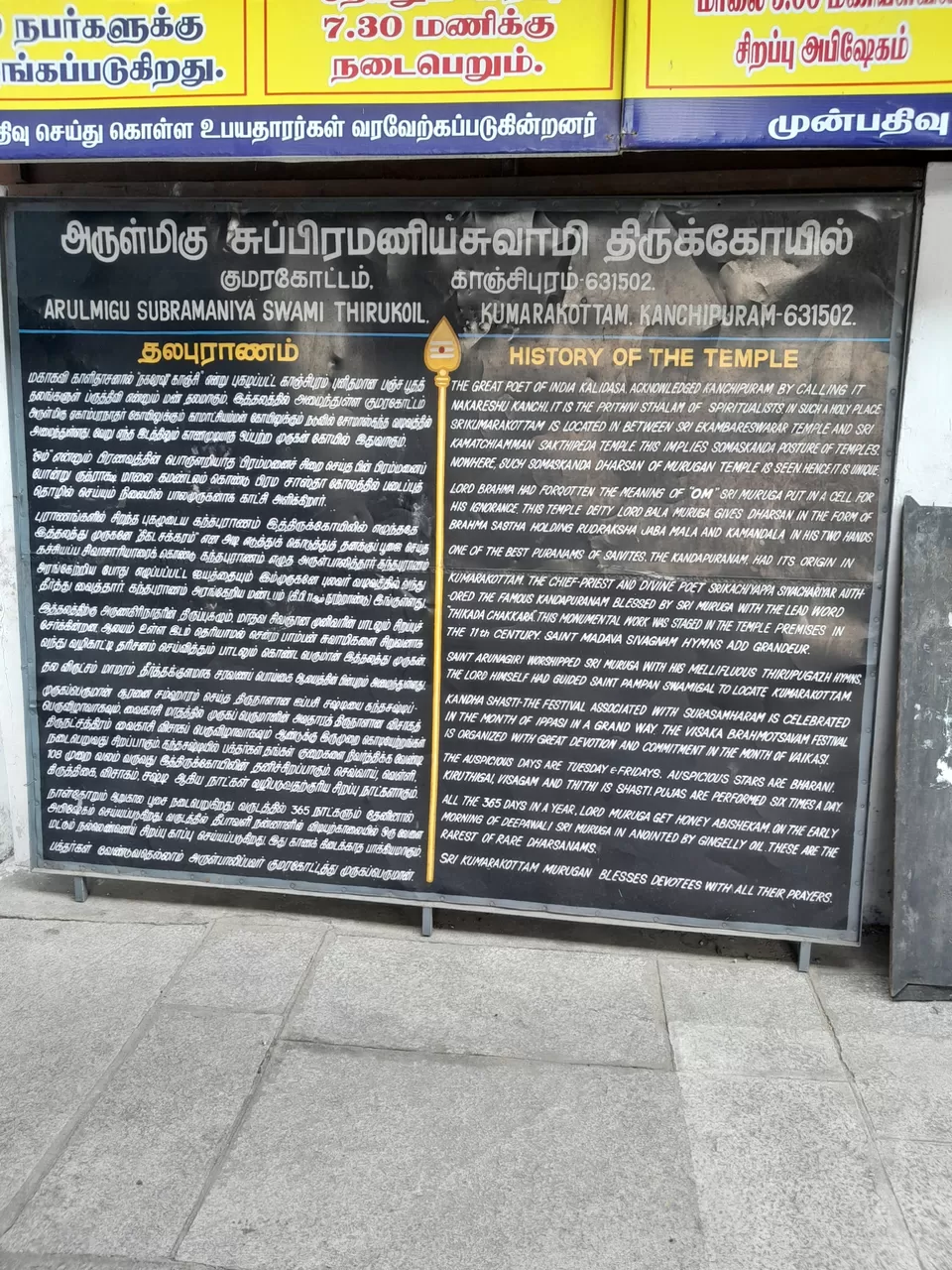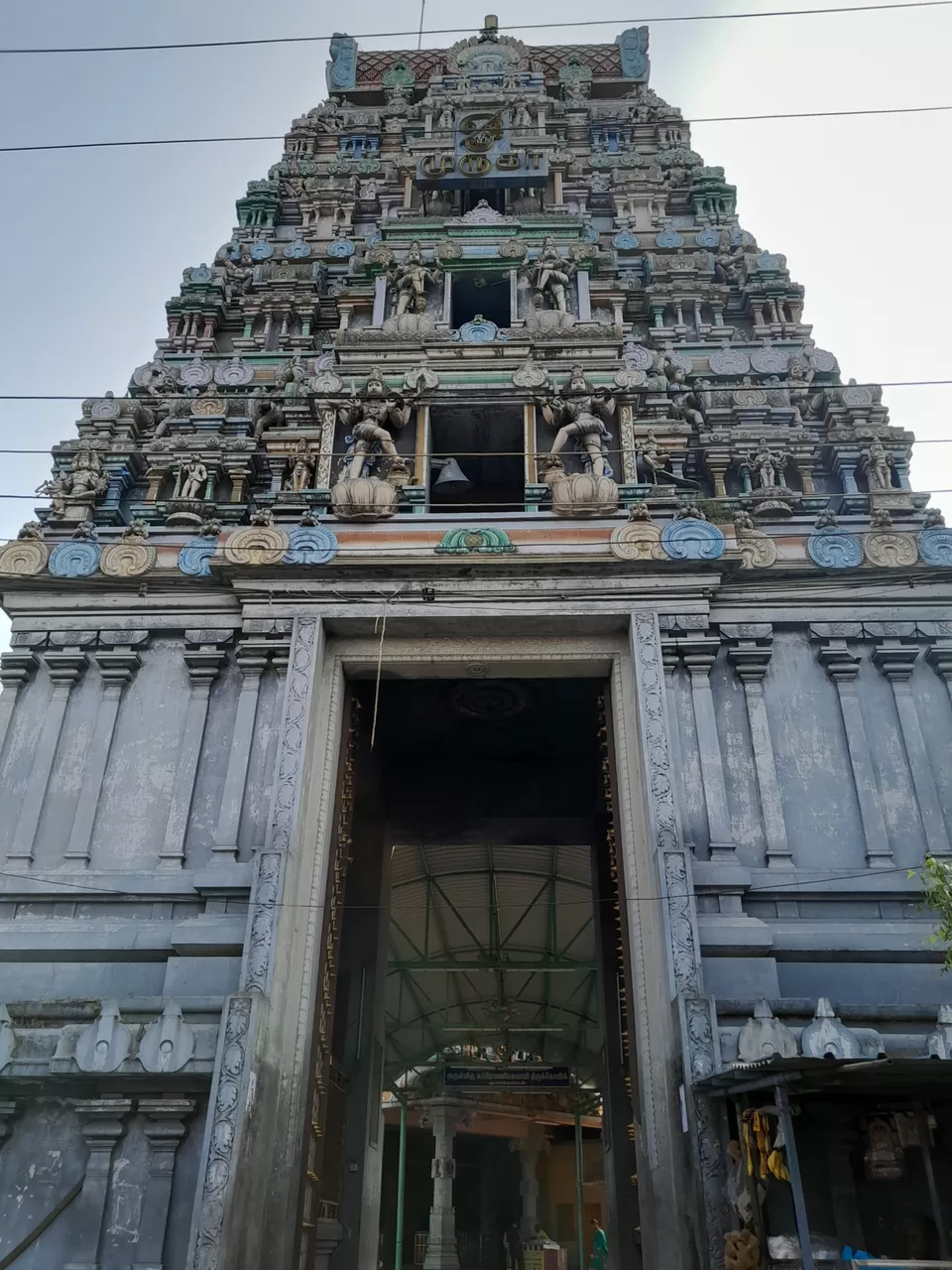 It's a museum depicting the lives of Sri Adi Shankaracharya and disciples
1. Dedicated to Lord Vishnu. Is known as Vishnu Kanchi.
2. Believed to be among 108 Divya Deshams..
3. Temple has 96 ornate sculpted pillars depicting various legends of Mahabharat and Ramayana.
4. According to a legend, Lord Bramha had a quarrel with his wife Goddess Saraswati over a misunderstanding. He performed ashvamedha yagna seeking weapons from Lord Vishnu. The latter was pleased with the devotion, Lord Vishnu came out from under the earth as a boar and made Goddess Saraswati unite with her husband. Another legend states that disciples of Sage Gautama were cursed to be lizards , they resided in this temple and were cleared of the curse by Lord Vishnu. Lizards are depicted in the temple roof. There is also a separate shrine for a golden lizard within the temple.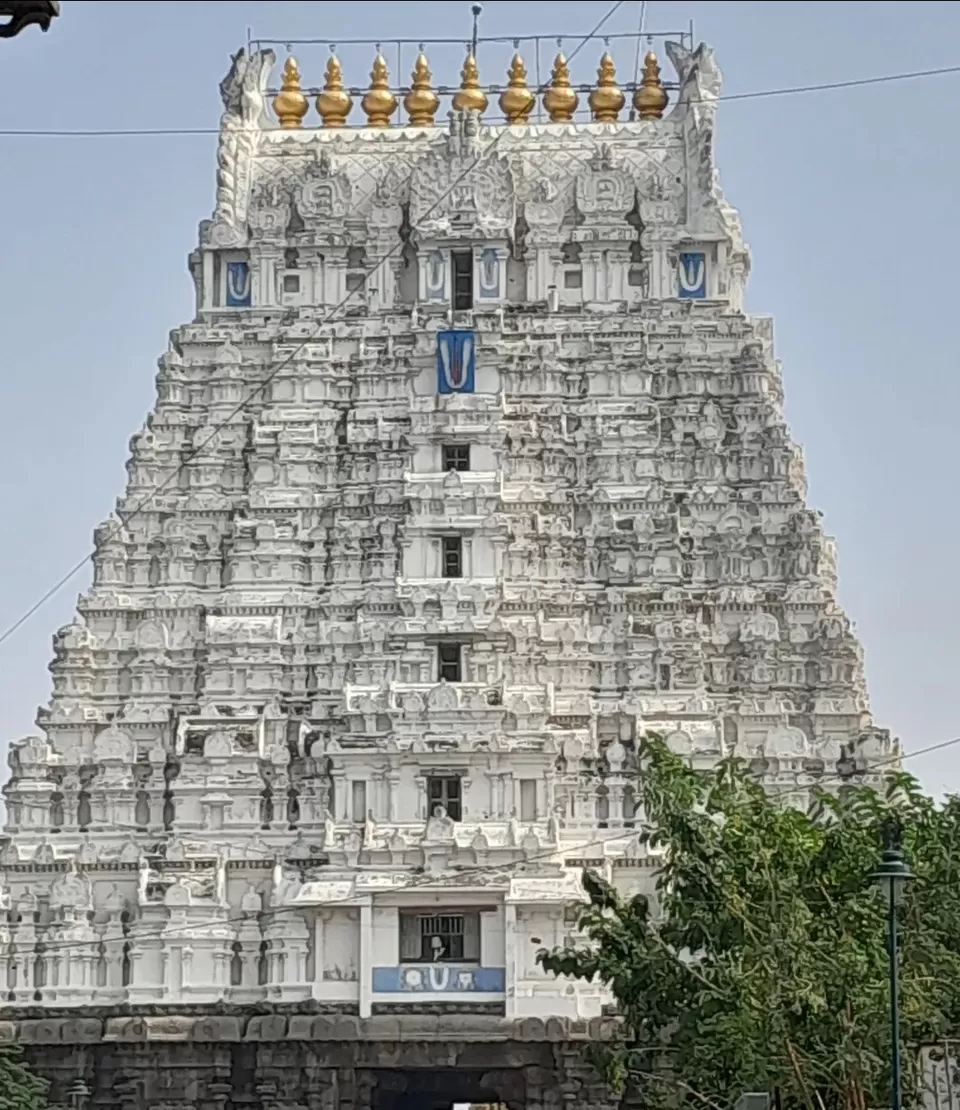 This was the last temple that we could cover. All temples in Kanchipuram are closed from 12.30 to 4.00.
Overall the trip to Kanchipuram was very enlightening to me, peaceful and temple architecture was marvelous. Indeed Kanchipuram should be known for more than its silk saris but also for its temples!! A must visit indeed!