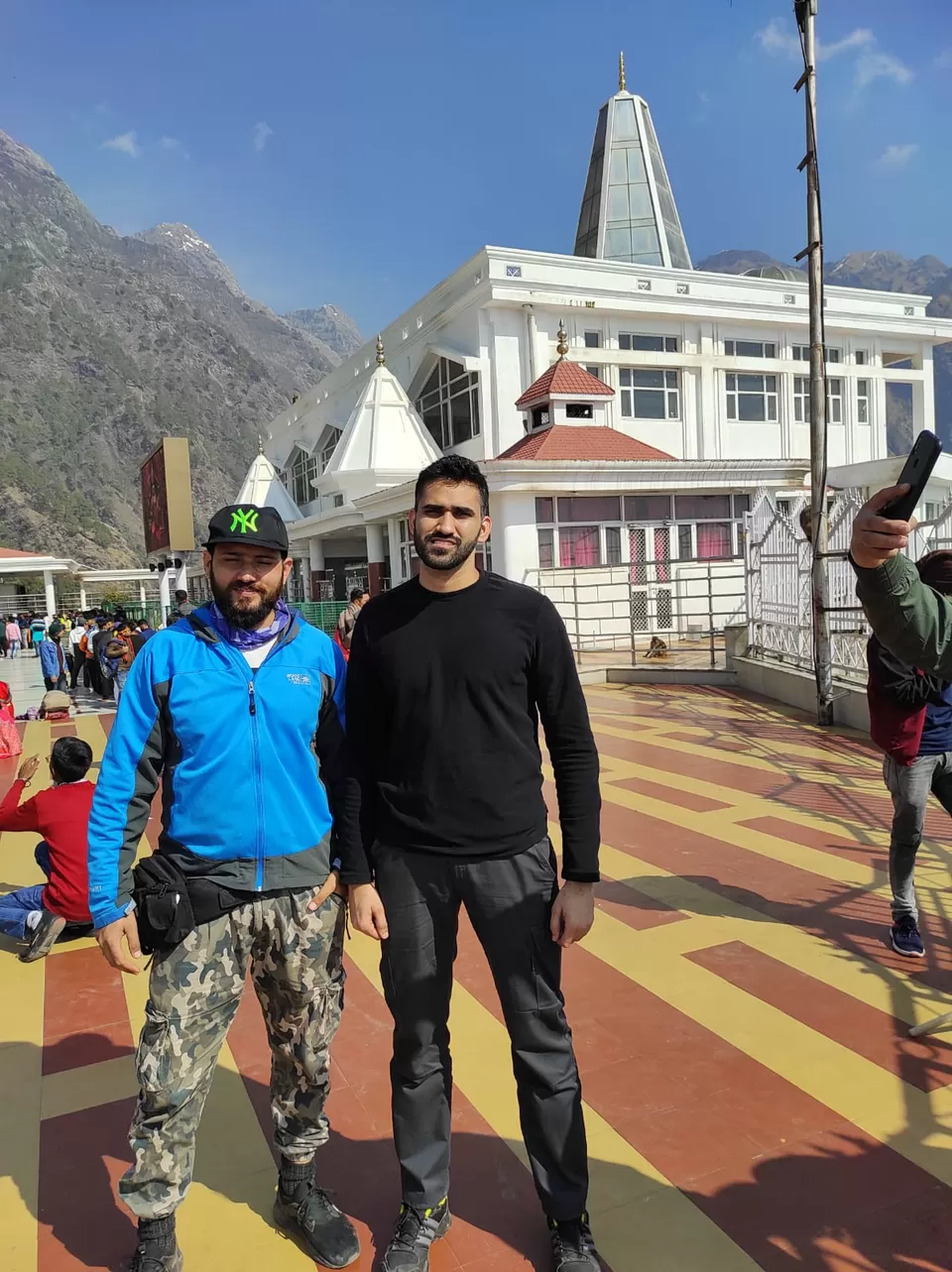 I have been wandering across India since my childhood but this time the journey was different. This time my husband and i decided to go on a spiritual journey and the first thing that crossed our minds was Mata Vaishno in Katra.
We basically live in Pune, so 2 days before our actual trip started, we took our car and our dog and headed home to Delhi. We reached Delhi on the evening of 12th Feb. We have ben driving for 2 days so we just had our dinner and went to bed. The next day we reached Delhi railway station as we had plans to go by train and my brother and some friends were also joining us. My husband and I were the first ones to reach the station. We waited for others to arrive. My brother arrived on time and we boarded the train. Our friends on the other hand missed the train by 5 minutes. Luckily they got confirmed reservations in another train the same day.
So, the train journey costed us around Rs1500 per person in 3rd AC. we left Delhi at around 8 and train's arrival time in Katra was 6AM the next morning. It was a nice experience and we were all so excited that we could not sleep till midnight. Around 12, train reached Ambala and just outside our compartment, we saw a hawker selling piping hot chole bhature. We had chole bhature even after we had our dinner few hrs back. After this we had rabdi and went to sleep. We woke up when train arrived Katra. There was a serious covid checking and testing going on at the railway station itself and all passengers were asked to form a queue and show vaccination certificate. People who were not fully vaccinated were asked for RT-PCR test.
After spending around 45 mins in line, we were allowed to leave the station. Now, we were looking for a local SIM card as only BSNL or local SIM work in J&K. After all this was done, we headed to the auto stand and booked an auto to drop us to our hotel. We reached hotel, and after check-in we took shower as same day we were planning to start ascend to Mata Vaishno Mandir. We were still waiting for our friends who missed their train and now the next train arrival was at 8AM. As soon as they arrived and had their bath and breakfast, we left hotel at around 9:30 AM. Our hotel was near the point where ascend to the temple starts. We reached at the checking gate in 20 mins and after going through the routine checking we started our real Journey on foot.
At first, we took stairs as that was less time consuming. After completing 3 sets of stairs, we decided it is not a good option and decided to cover rest of the journey by road. whatever time we were saving on stairs, the break time was nullifying it. Since we went there in Feb so there was less crowd and it was easy to walk on the road also. In peak time, one can not walk on the road without bumping into someone. We were struggling to catch breath till Ardh Kuwari as the slope was quiet high at some points and also it was chilling cold.
We reached Ardh Kuwari and our plan was to do darshan of Ardh Kuwari cave and then move ahead. We went to ticket counter when is the next slot and the officer informed us, it take next 3-4 hrs. So we dropped the plan, had lunch and started the rest of the journey. From Ardh Kuwari, there are 2 roads that leads you to Mata Ka Darbar. One road is just 4 KMs long but is very steep. This is the old road. Second path was newly built and is used by Electric cars which you can book from Ardh Kuwari and will take you to Darbar in just 15-20 mins. The charge was around 200 Rs one way. This path was 5 km long.
We decided, we will continue on foot. So we took the second option. One thing that is really interesting is, at every 200-300mtr you can find juice, fruits or coffee stalls. And at every 500 mtr one can find clean washrooms. Although there is no overhead tank for washrooms, still water supply and cleanliness was maintained properly. Also, at every 200-300 mtr there are water coolers installed. Overall, the arrangements are quiet good. There are bhandara going on and mata ka prasad been given to pilgrims at every Km or so.
We reached Darbar at around 4PM and we were aware that Darbar closes at 5PM and will re-open at 8PM so without wasting any time, we joined the queue for Darshan. As there was less crowd, so we were able to do Darshan just in time. The priest told us which 'Pindi' belongs to which 'Maa'. It was a very calming experience. The aura of the mandir was something that can not be explained in words. The actual Gufa is closed for entry, one can only see it from outside due to water inflow, and there is a separate Mandir where the 3 Pindis are kept now.
After darshan, we went to Shiv Gufa and had blessings of Lord Shiva. After Darshan, we had some food and rested for a bit. Then, we started our journey to Bhairoo Mandir. Now-a-days there is option of going to Bhairoo Mandir by cable car. The cable car starts from Darbar. I am not aware of the ticket charge, as one needs to go down one or 2 flight of stairs and from there you can go to cable car.
Well, we started on foot again. We were determined to do this on foot. From Darbar to Bhairoo mandir, distance is hardly 2 km but the climb is extremely steep. On an average, people take around 3 hrs to reach Bhairoo baba mandir from Darbar. This time we took stairs to reach Bhairoo baba as the sun was almost gone and it was getting colder. After 2-3 short breaks, we reached Bhairoo Mandir around 7PM. We rushed for darshan as soon as we reached. This time, it hardly took us 5 minutes for darshan.
After darshan, we had tea and clicked some pictures. There was an extended platform created to take pictures and enjoy the view. We spent good amount of time enjoying the view and snow-clad tops of the mountains. When we felt now we are freezing, we started descending. During descend, my knee started troubling me due to an injury i had just before leaving from Pune to Delhi. We thought, stairs will be time saving and easy option but my knee was not allowing to use stairs. So we split into 2 groups, one group opted for stairs and my husband, brother and i used the road.
Our next stop was the helipad, we reached there first and were waiting for our friends to arrive when we realized there is bhandara going on nearby. Only an idiot will leave mata ka prasad. We rushed to the place and had halwa and chane ki sabji. Then we continued to our next stop, Ardh Kuwari. The temple was looking beautiful with lots of lights and aarti going on.
We reached Ardh Kuwari and again went to the ticket counter to ask when next batch can go inside the cave. He told us it will not be possible before 3AM. We were sitting there on the stairs of temple and were not able to decide what to do as it was just 10:30 PM. The majority said we should keep going as all were tired and we were having a 7 year old with us as well who was now loosing his temper. So, we started from there and around 12 AM we reached Katra city again. We were all super hungry and all restaurants in the city were closed. At one point, we felt we have to sleep hungry but just as we were reaching our hotel, we found one small restaurant open. We had our dinner and reached hotel and crashed into the bed.
Next morning, we had flight to Kashmir, so we woke up, had our breakfast and left for Jammu airport by taxi. This trip was most memorable one and i hope to be able to go there every year.