Like some of my trips this one was planned (most of the times I just wander off without any prior planning). I had booked my return ticket to my place, so to speak, the END of the trip. You can breathe in an air of calmness when you have sorted out or planned most of the things in your life but when it comes to travel, trust me, doing the opposite will give you an enriching experience. Ergo, as much as possible don't fix the end of the trip. I had my reasons but I still regret and you will come to know why.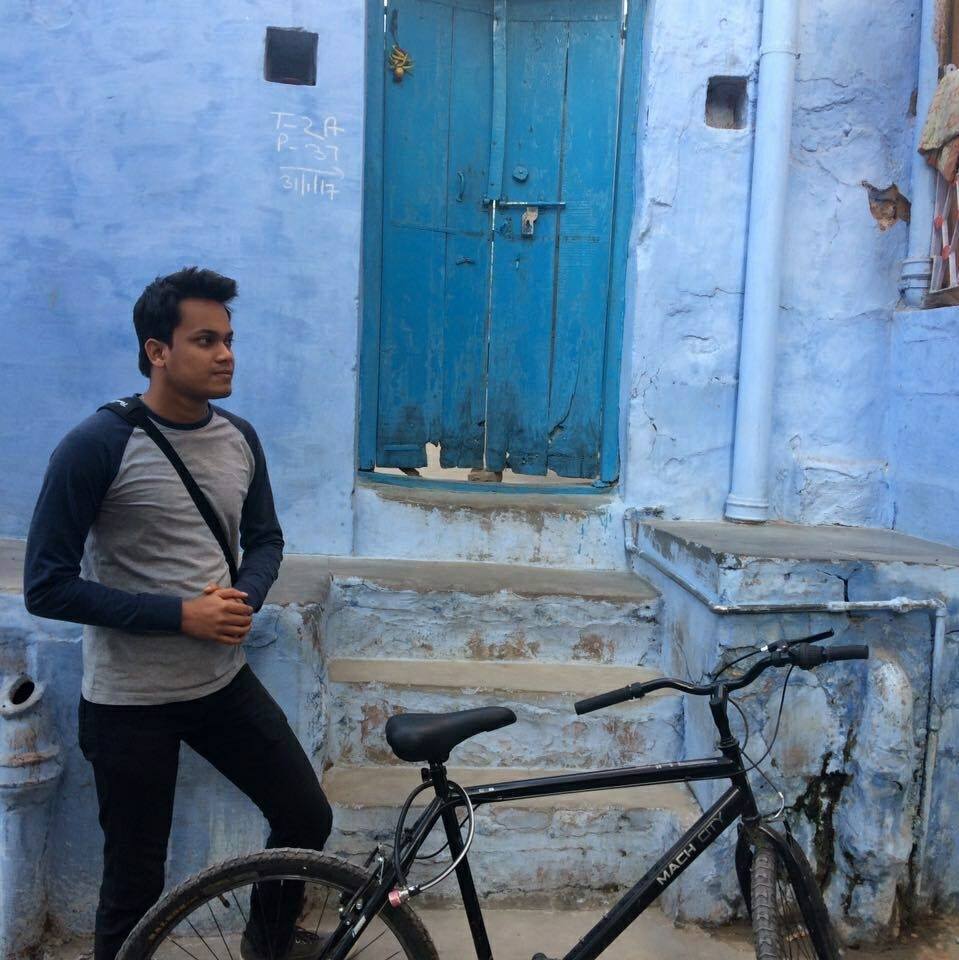 This little trip of mine started with the wedding of Ankur Jain and Pooja Jain in Jodhpur. By far, it's the grandest wedding I have ever been to. My trip started with something grand. I set off to explore Jodhpur by checking the great Mehrangarh Fort off my list first. It clearly lives up to its name. it is huge and contains a lot of history of erstwhile Jodhpur and its rulers which is worth your time. But the most important thing to do there-this goes out to all the Batman fans- is to check out the well from which Bruce Wayne arose. Spoiler alert! Going near the well is forbidden, I think because the security guard ranted at me for trying but there is a spot above inside the fort chambers from where the well is clearly visible. After that I went out to get a regal flavor of Jodhpur and so there was the Umaid Bhawan Palace ahead of me. It is a good place to visit as well. So this day of sightseeing ended with a night of wedding and ceremonies. The following day marked my official solo trip and off I went to Hostel Jodhpur Bed n Breakfast where I booked a bed in a dormitory through Airbnb. I am a huge fan of staying in dormitories. As I entered I met Surendra Sodha Ji, the host. A very helpful and wonderful host, he helped me exploring the Blue City to its fullest. The best of solo tripping according to me, is that you get to meet new people and quickly they turn from strangers to friends. This trip was no exception to that as I made three amazing friends. Batista and Ingrid, a couple from Portugal who had quit their jobs to travel places and very much keeping the travelling spirit alive. Then there is Vladimir Dolmatov from Russia, an ardent traveler who makes great memories of all the places that he had traveled to. This is a picture of us all together. Knowing about them was one of the best part of my trip.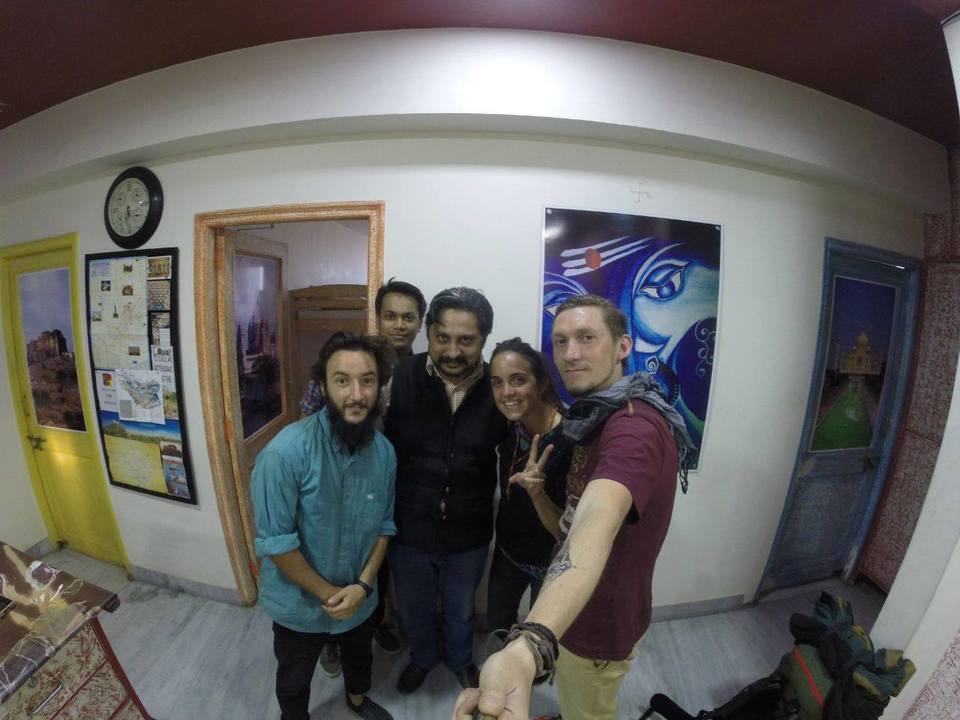 With a lot of enthusiasm and good spirits I set off to do my own charting of Jodhpur by my favorite mode of exploring, walking. Though travelling in the city is convenient. So I went to see Toor Ji ka Jhalra which is a step-well. After a short lunch I went to the famous Umaid Heritage Art School. Before telling that part a little info about me. Whenever I visit a new place I try to hit all the eateries and restaurants there even if it is for a small meal. So at Umaid Heritage Art School I tried my hands at painting a contemporary art style of Rajasthan. Being an Art enthusiast, it was such a fulfilling experience. They have a huge trove of art pieces and highly skilled in some majestic art styles. They try to maintain and spread the tradition by teaching students in the various art styles. When I inquired they don't have that much of a reach but their works get exhibited in the Mehrangarh Fort. So after this artistic stint, around evening, I was strolling in the inner parts of the Blue City and then I made a dazzling discovery. Walking through the narrow streets can be so untiring and delightful and this I recommend to be on every travelers' list when they visit Jodhpur.
Then came the next day. I woke up early in the morning and prepped up for an early morning bicycle ride. The ride starts from Ghanta Ghar (clock tower) and its costs 500 bucks. This ride is a must-have to explore the Blue City. I got to visit a few places which I might not have been able to find out. But my best find will still remain this shop: Motu Jalebi wala.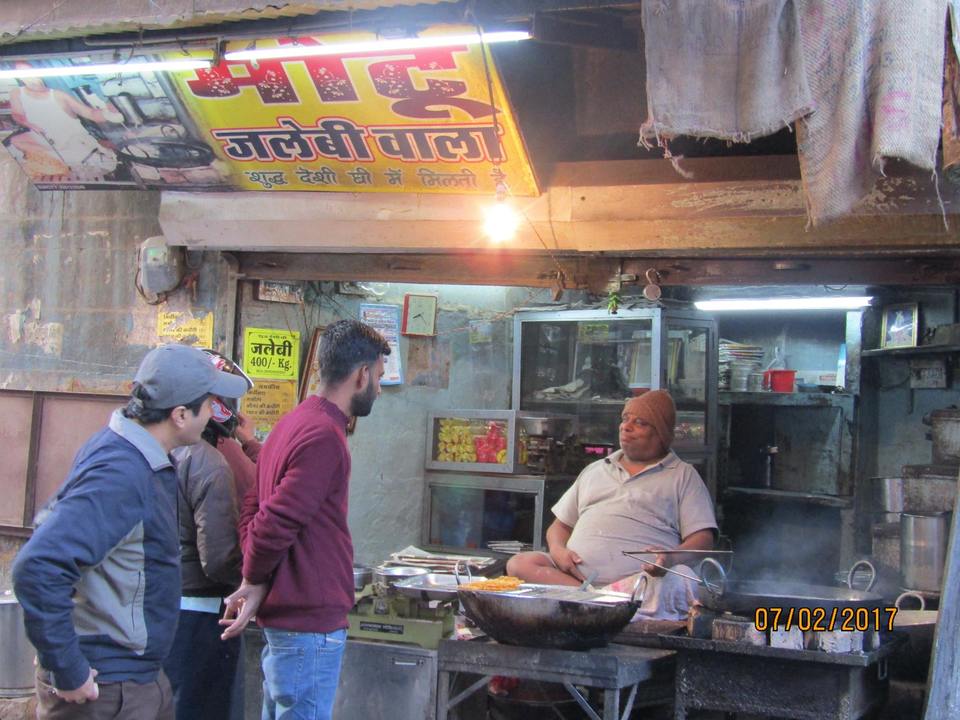 I couldn't just get enough of those delicious and mouth-watering Jalebis. Some sites that I visited are Ranisar lake and Padamsar lake.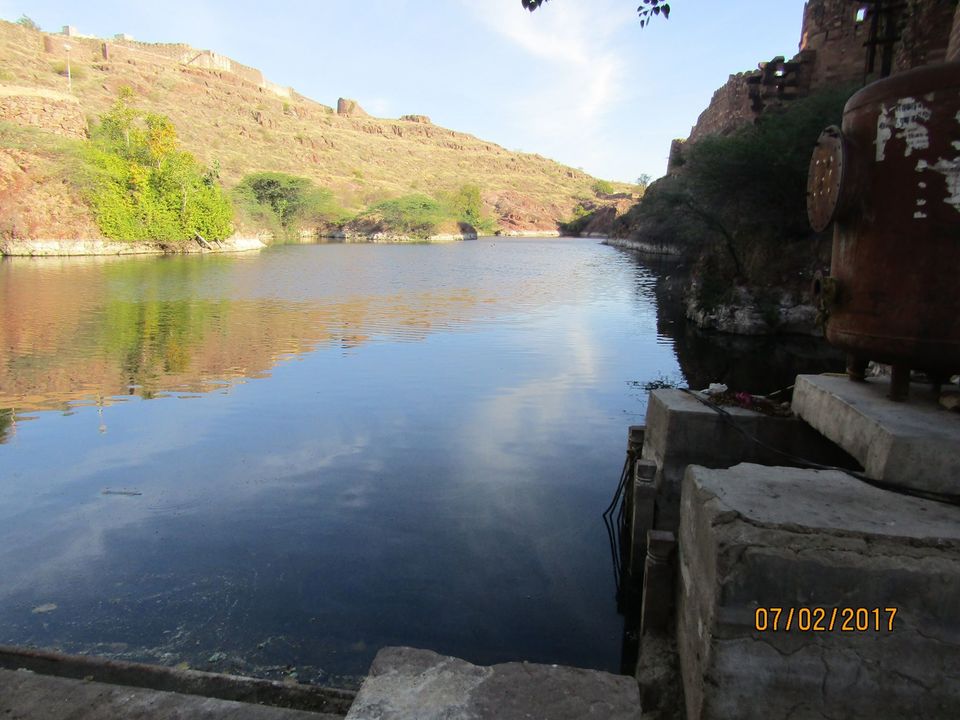 Besides, there are plethora of photographic points which I encountered during the tour. After the one-and-half hour of the bike ride, I went to Jaswant Thada on foot. It is a huge cenotaph and contains a few small cenotaphs as well. The architecture is really marvelous emblazoned with intricate and nifty designs and patterns.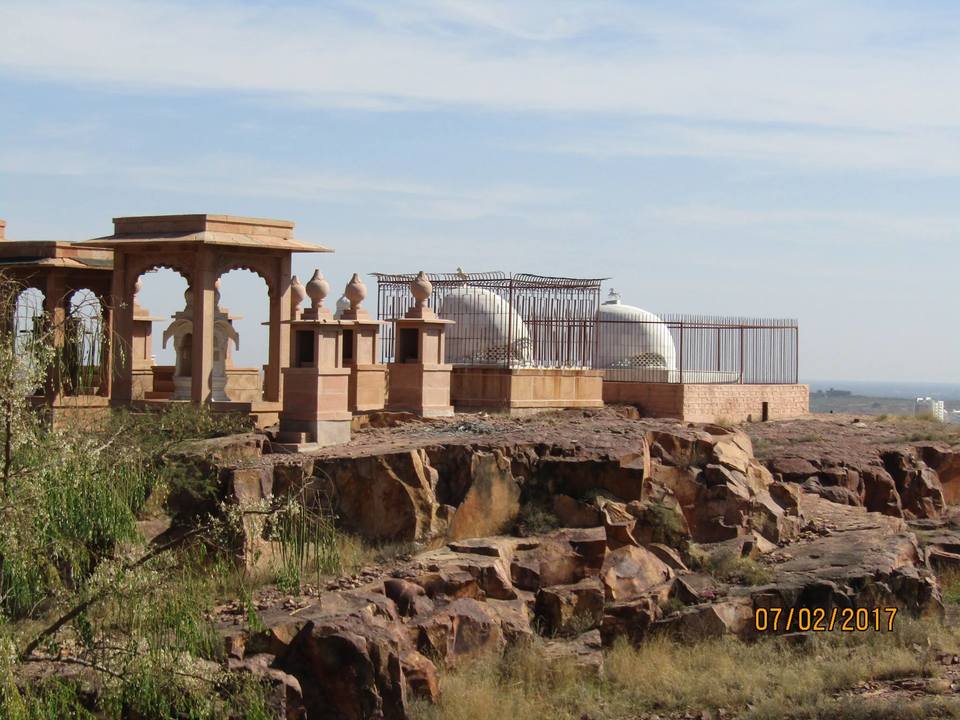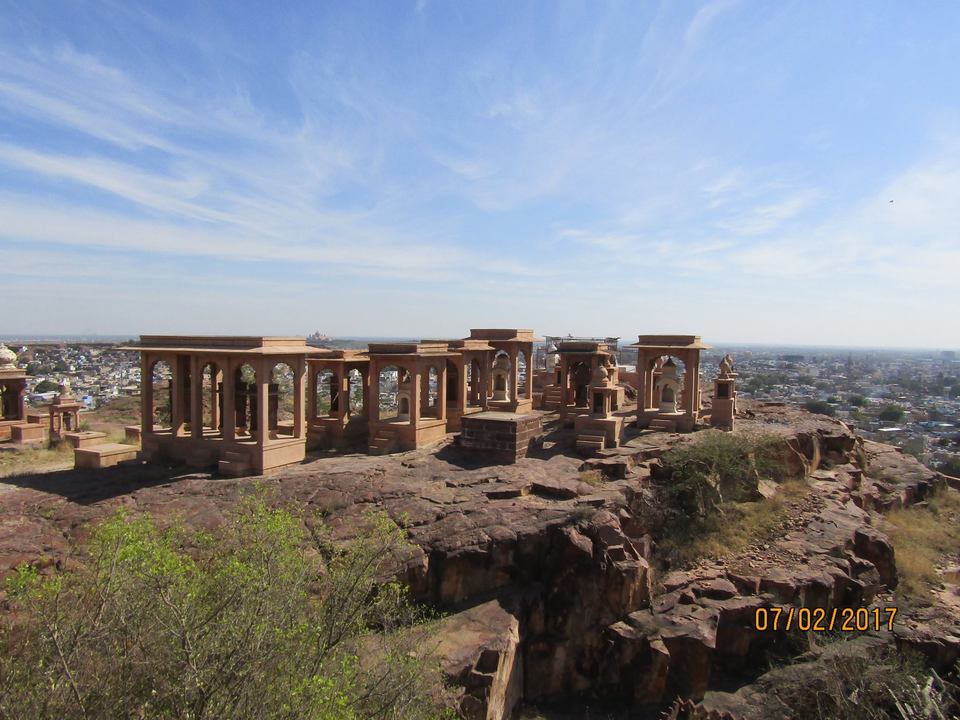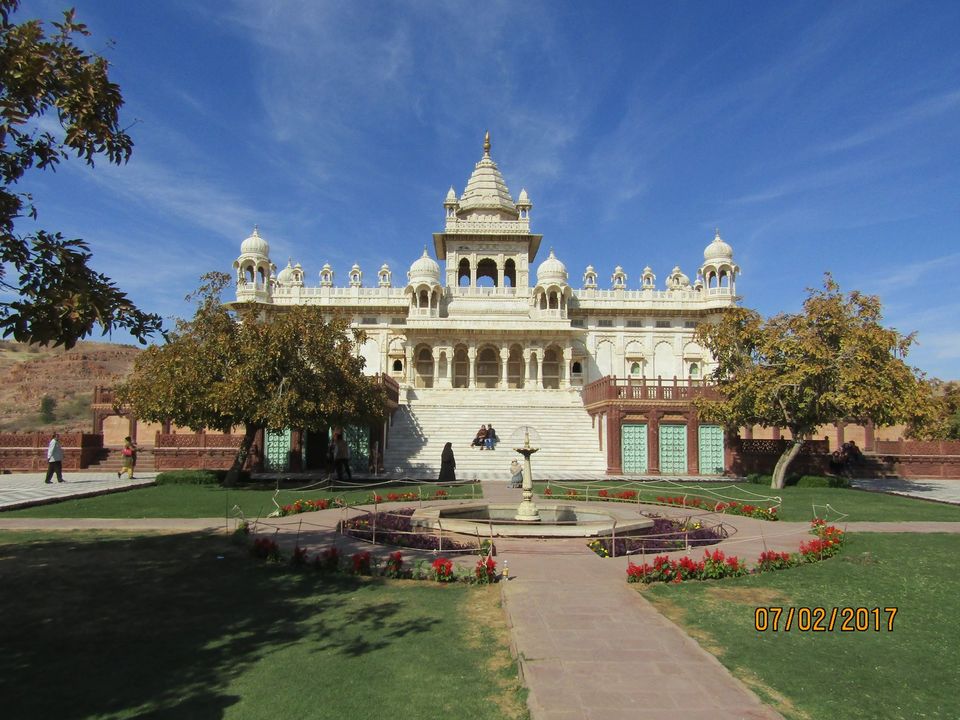 Then came the most difficult part- departure. I had to leave for Jaisalmer and so I went back to the hostel. I was lucky to meet Ravinder Singh, an inspiring person and an avid traveler who had travelled almost 5000 kms in India on foot in more than 550 days without money. Your trip couldn't get better enough when you meet such great people. Then I left for Jaisalmer, the Golden City. I took a bus from Jodhpur and it took six and half hour to reach.
Jaisalmer
I spent the night at Amazing Golden Cosy hotel. The host, Phote ji was a humble person and was very helpful in planning my itinerary. At the same time the Desert Festival was going on which is one of the famous festivals in India. When I reached the stadium the show had almost ended but folk artists were performing some music and dance. Then came the next day. I couldn't miss the festival so I darted off to the stadium which was around 7 kms away. The atmosphere was so bustling with people. An assortment of events and performances were lined up for that day and to make my day even merrier I was joined by Batista and Ingrid who had left Jodhpur a day before I left. We watched camel decoration, camel race, camel polo, a military exhibition by BSF soldiers on camel-back, mahila dangal(women wrestling) and a few more. It was really exciting and I happily ticked off the Desert Festival in Jaisalmer from my bucket list.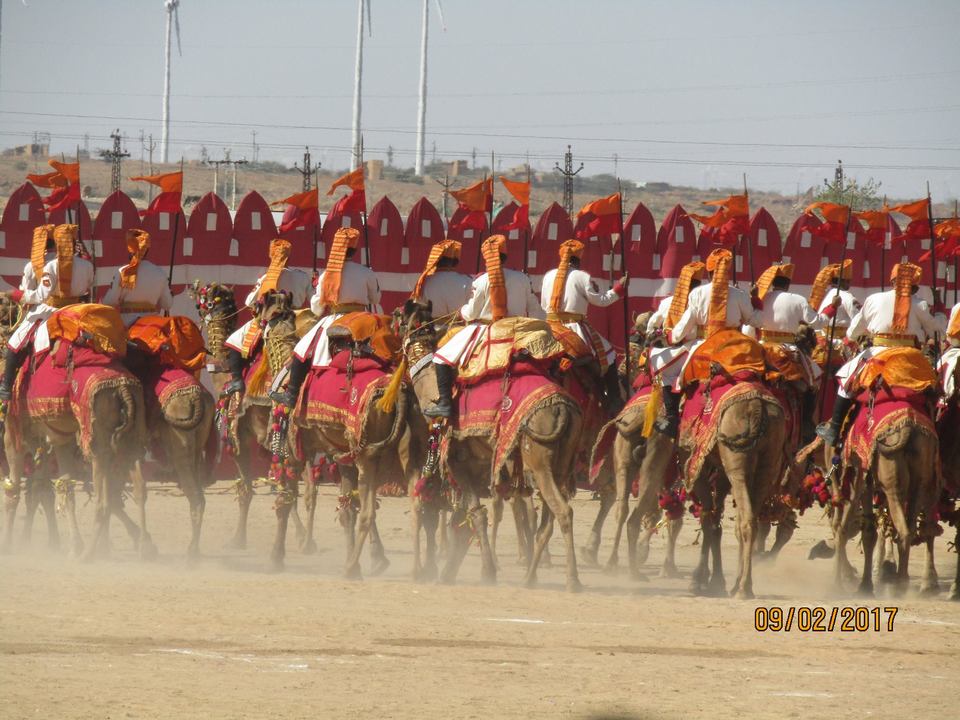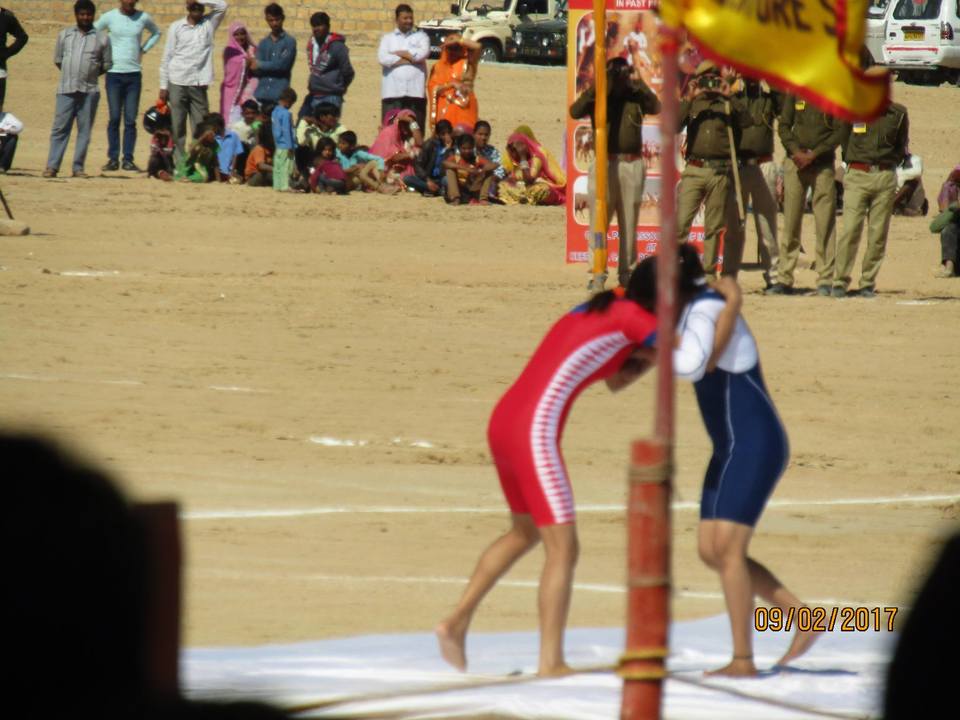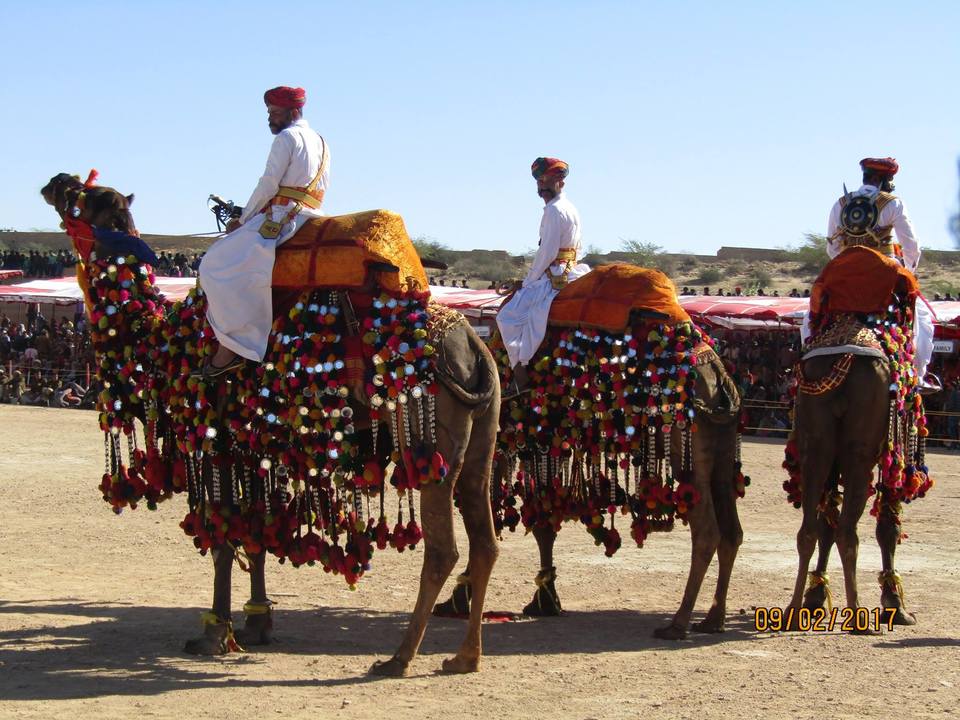 Then we said our goodbyes and I went back to the hotel. I was in a dilemma at that time- to come up with a decision which demanded a lot of thinking and exertion. To go and watch the magnificent folk art and other performances in the desert festival or to go for desert trekking and an overnight open air stay at the Thar Desert. I went with the later one (no questions asked). It took me 1500 bucks for the package that included everything(Tip: you can get packages at lower price as well if you reach out to other vendors, but since mine was a last minute call so I had to settle with that amount). To be a little bias with regards to all the experiences, the desert experience was the best thing that happened with me during the trip. So it goes down like this: I was dropped off at a point in the highway and picked up for a one hour long camel ride.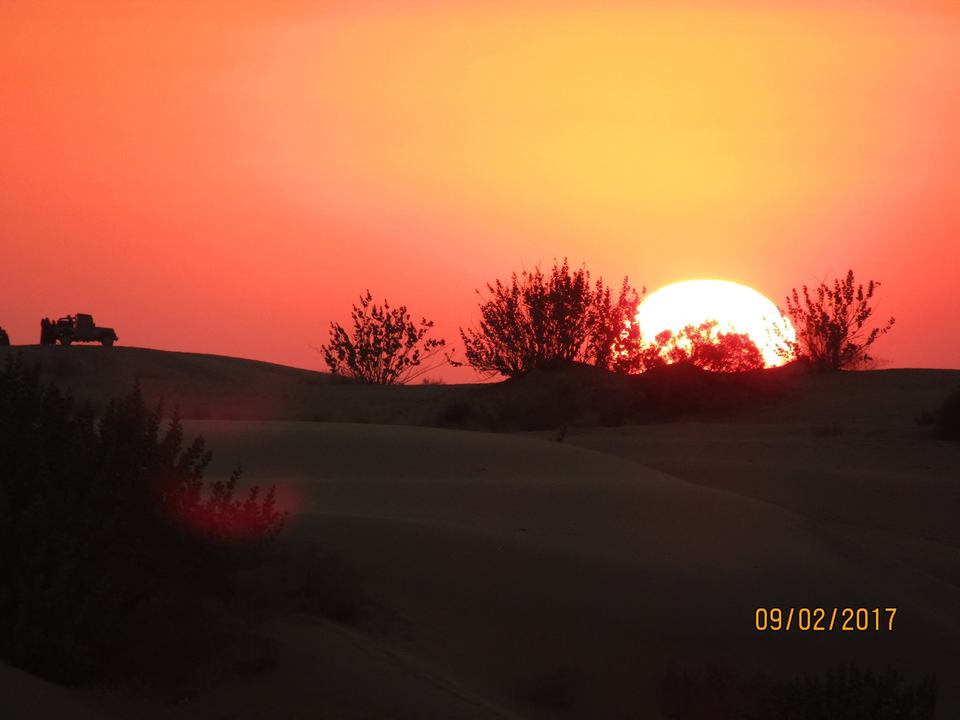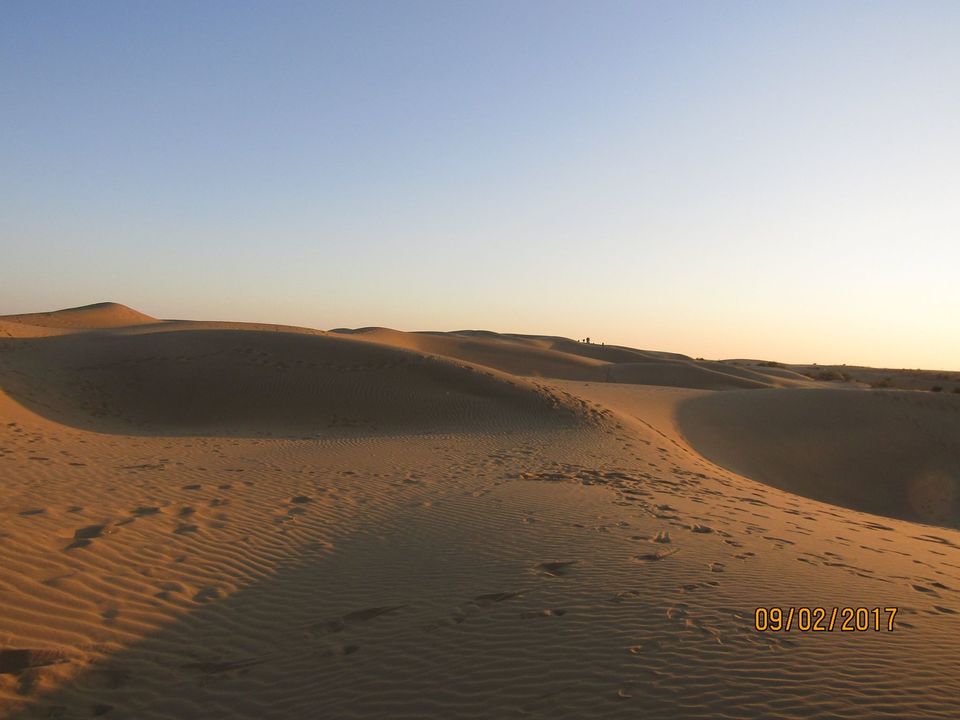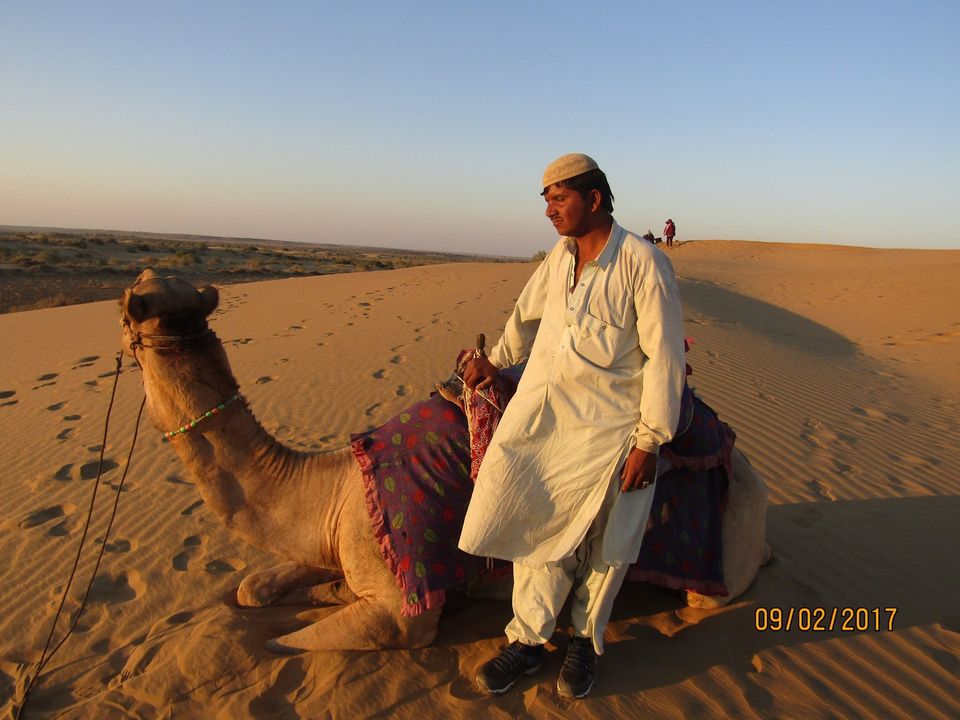 Post the ride, I started trekking the vast desert. It was an awesome experience filled with utter silence and an out-of-the world sunset. I felt like living a solo traveler's life in a moment. With the remnants of the moment I moved forward to the area where my stay was arranged. There were five local people who managed everything from cooking to preparing our beds. There were around 10 people but only 4 0f them left to stay. One was an American guy, a Mexican fellow and two guys from Japan. We talked a lot and then we went to sleep. Our beds were basically mattresses and a couple of blankets for each. This moment where you get tucked inside your bed and gaze at the stars directly was so dreamy and out rightly spellbinding. So the night turned into morning and after having our breakfast we went back to our hotels.
The end of the trip was closing in and my flight was from Jaipur. As I said I regretted for not exploring Jaisalmer to its full. I reached Jodhpur and brought some sweets. You never leave Jodhpur by leaving its sweets untried. And that is how my second solo trip came to an end but I had made a promise to myself- that I will come back to Rajasthan again and capture every nook and corner of the state in all its entirety. After all, "Jaane kya dikha de" (you never know what you might see).