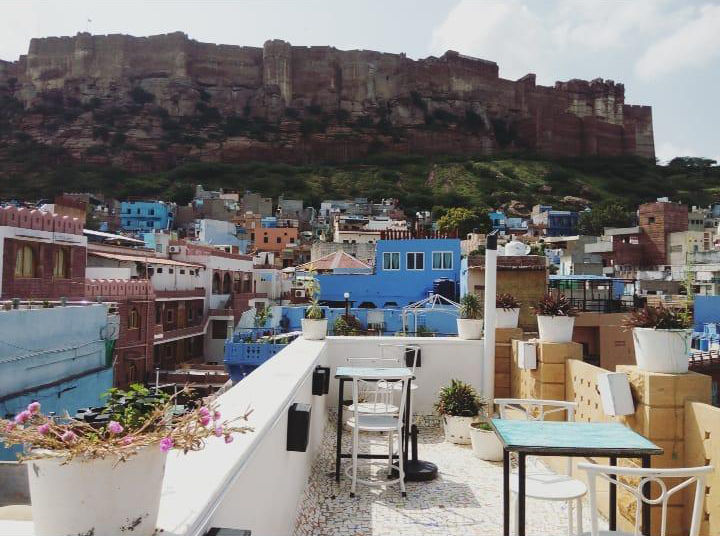 How many of us remember studying in school, about the pink city, blue city, golden city from Rajasthan? Blue being my favourite color, right from school I was fascinated about the blue city.
And we were finally heading to Jodhpur, and I was undoubtedly the most excited...
JODHPUR...The blue city !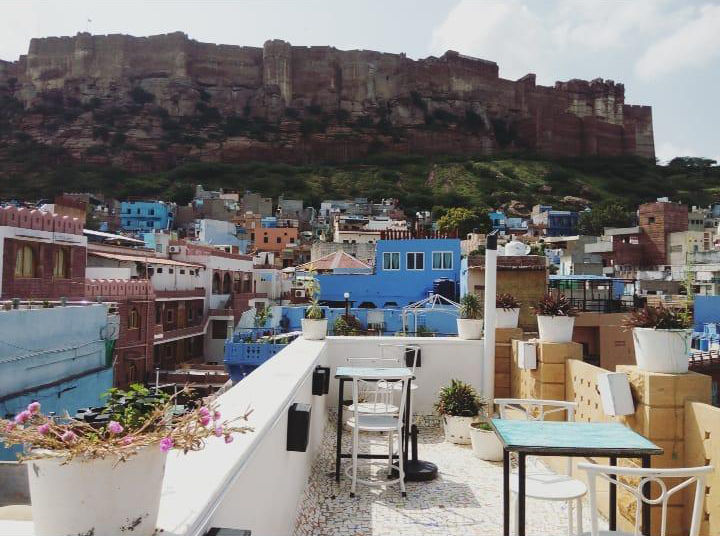 We had booked an early morning cab from Udaipur calculating that we wanted 2 full days in Jodhpur. We were lucky to get an amazing driver. He told us about this Om Panna temple in Pali that worships a Royal Enfield bullet. Wow. Like the kind of belief we can develop is sometimes just, insane. But beautiful. Who would've even thought, right?
We had booked our stay at HosteLavie. The view to the fort from there is just spectacular. Post lunch we walked to Toorji ka Jhalra. It's a pretty small stepwell, but I've had this thing for stepwells from the time I've know what a stepwell is. Hence it could be optional for you. We then took an auto to Jaswant Thada, which is again full of Cenatophs in the memory of royal family members. Offcourse its beautiful. Very beautiful infact.
The rickshaw guy offered to take us around the next day too, and we happily agreed. We loved the people we were meeting. We had become so comfortable in Rajasthan already, the people here have the most warm and welcoming vibe.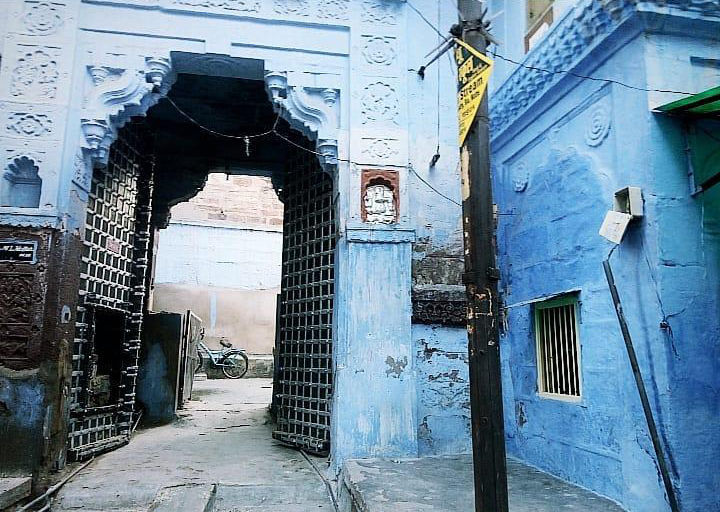 He then dropped us to Bhrampuri. It's where all the blue houses are, and I was one happy kid in wonderland. We walked endlessly and aimlessly. Just followed the sight of more blue houses, and even more blue houses, until we had had enough of it, until next time. Just when we'd thought we were done gazing at blue walls, we inquired with a family in Navchokiya about how to go back to our Hotel and a little more whereabouts, in return of which we got invited by them to see their 200 year old home. I was speechless to realize, how lucky we were to meet so many kind people.
We then got back, had dinner at the Hostel and called it a day off.
Next morning we set off early. Our pre-booked auto rickshaw was here. Mehrangarh Fort being the first stop, it took us a whole lot of time to finish our guided tour, but it was totally worth it. Again. CERTIFIED GUIDES ONLY. We were then off to Mandore Garden, its a very crowded spot, again, full of picturesque spectacular looking domed structures called Cenatophs. We were here in the afternoon and the heat, monkeys and the loud crowd just wouldn't allow us to be at peace. We rushed out soon shopped a bit (too much) at Rajasthali Emporium, and reached Umaid Bhavan Palace soon, as it shuts at 5pm.
So, now the best part of our Jodhpur trip. It was rakshabandhan, and the grandeur of this small festival here, is unimaginable. The minute we approached our hostel we sensed clutter amongst people, loud music, children running all around. We rushed in, and went up to the terrace of our hostel. And I wanted to pinch myself hard to believe how lucky we were to witness this. The WHOLE of Jodhpur, literally, was up on their terraces flying kites. So apparently it's a ritual for rakshabandhan. As over excited as I already was, I climbed up the water tank above the terrace and joined some of our hostel residents in flying kites too. The music was loud, we could here sheila ki jawani, rajasthabi folk, mi gente, lean on, every kind of music. All mixed up.
We had an early dinner, as we had an early morning bus to Jaisalmer. Our host, at the hostel, helped us get an auto, our auto guy helped us get into the right bus with our luggage. For me this trip was full of seeing new places and meeting kindest souls.
JAISALMER.. The golden city !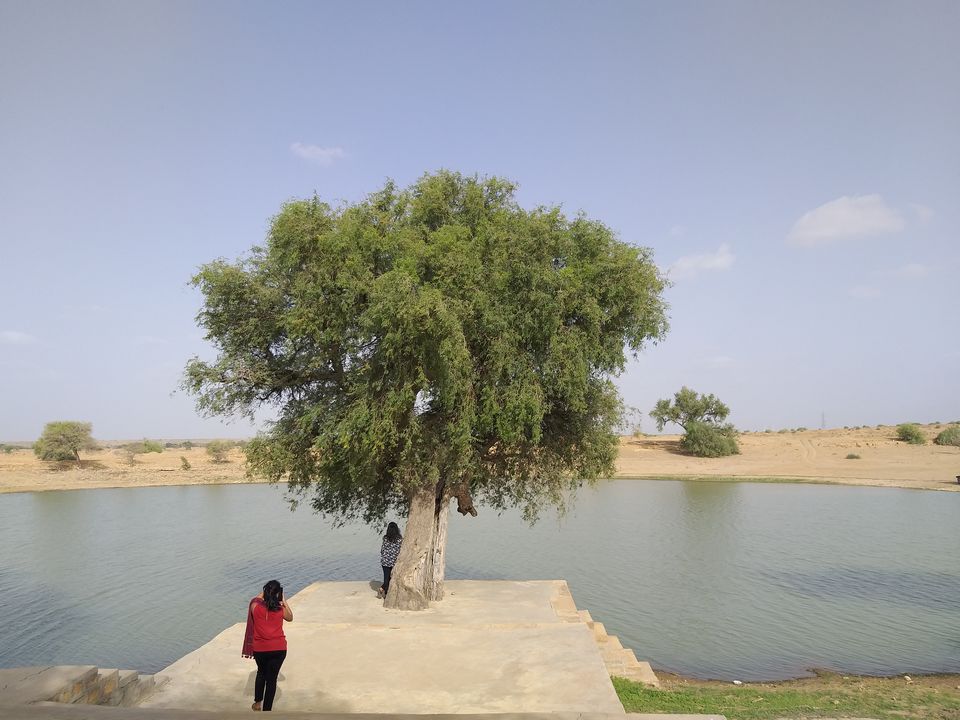 We reached Jaisalmer at 12 noon, we were greeted by 2 cute German shepherds at the HosteLavie entrance. We immediately had food, freshened up, and left for the desert safari to Sam sand dunes. We visited the mysterious village of Kuldhara, honestly I love ruins, so I enjoyed walking past and in between the stones. Sat at the oasis for sometime, visited the unfinished Cabo fort full of peacocks. And went ahead for the camel ride and jeep safari which was quick. So post that, we headed for a cultural show and some authentic Rajasthani food (Ker sangri, dal baati, gatte ki subzi- must try) back at the Hostel. Desert life isn't a cakewalk for sure. I watched people walk barefoot for miles to fetch water, also some children. It made me realize that I shouldn't ever have a reason to be unhappy about struggle, because people around the world have some real reasons to struggle for.
The next day we started off a bit late. Jaisalmer Fort is the only living fort, it has families living in it. We kept walking around, visited the Jain temples which are painstakingly carved by hand, so intricately to perfection. We entered a small art studio, and this gentleman kept staring at us, we smiled. I initiated a dialogue, which continued into a discussion and very soon we were just sitting in his studio, with no track of time, having some black tea and talking about am artist's life. He was an artist who's had shows all over the world, housed in this tiny space that he called his studio. While he sat on the floor and painted he showed us how he got natural pigments only, to do his art, his brushes, equipments, favorite paintings from his pandoras box. And he said,"I dont always connect with people, but I'm glad we met. I had a great time." He wrote our name in a miniature size on a paper and signed it, and said hope we meet someday again.
We walk alot more in the fort, and walked down to the havelis, we walked passed houses, narrow lanes, and visited a couple of havelis that were in our itenary, the best one was Patwon ki Haveli. I'd suggest walking around, as you explore the Natmal Ki Haveli, Salim Singh Haveli.
Post lunch we spent sometime at Gadisar Lake, the plan was to also go to Bada Bagh, but the heat had sucked out all our energy and enthusiasm that we really had to give up by the time sun set !
We packed our bags, and sat on the terrace talking to Polu Bhai and Simran, our hosts, who had guided us on how to plan out our 2 days.
Just as I sat gazing at the Jaisalmer fort from the terrace of our Hostel, thinking about the last 4 days, I realised that it wasn't just about Blue and Yellow, but these cities have so many more colorful experiences to offer you, all you need is the vision to appreciate every bit that your eyes capture.
STAY TUNED, as we head to explore our last 2 destination...!