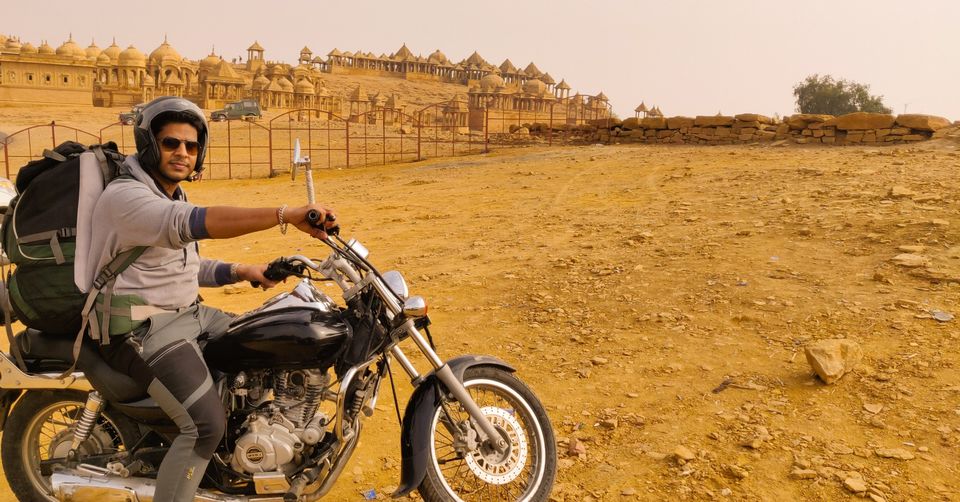 Planning to explore deserts???
Wait......!!! Then you are at right place.
But the first question is how to reach there?🤔
I arrived at Jaisalmer from Mumbai via bdts-jsm express, which is a weekly train. Other means to reach Jaisalmer is either you first reach Jodhpur or Jaipur via train and then take a bus or cab to Jaisalmer. The nearest operating airport is Ahmedabad Airport and from there, it takes around 10-11 hours to Jaisalmer.
Now I reached the Golden city- Jaisalmer. Next question arises in my mind is how to explore the city and the deserts?🤔.
There are 3 means to travel and explore.
1. On foot
2. Book a cab or minibus
3. Rent a bike and ride it yourself to the deserts.
If you are planning to explore on foot, then you need almost a week time and one camel to carry your luggage.Being a lazy person I dropped this idea. I opt for the 3rd option among the last two .
I had already booked one Avenger 220cc bike online. you can search plenty of options from just-dial and most of them also give pick up and drop off service from the railway station.
On reaching Jaisalmer around 11'0 clock in the morning, they handed me the bike and one map of the city. Then my solo road trip begins.....!!!
From there, I went to Sam sand dunes, which is around 50 km from the city. On the way to Sam Sand dunes, you can also visit "Bada bagh" and "kuldhara- The Haunted Village".
"The Haunted Village",sounds scary...right? It scared me also and scenes of all the horror movies started flashing in my mind.Like " what if my bike got punctured in the middle and I am running to save myself from ghosts" and worst one was "what if suddenly clouds covered the sun, whole sky turned dark and all I started playing hide and seek with ghosts". After all these haunted thoughts, I preferred not to go to haunted village at that time as it was around 3'0 clock in the evening and also going there after sunset is not allowed. Some paranormal activities had also been experienced there in the past after the sunset.
Then after reaching Sam sand dunes, I checked-in in my camp. There weree 3 types of camp.
1. Small tent.
2 Swiss Luxury tent.
3. Hut.
I had booked Swiss Luxury tent. It was really good and well maintained.It seems like a romantic destination, "luxurious tent in the middle of desert😍"
After that, I went to enjoy camel ride and Jeep safari in the sand dunes. The sunset view was also mesmerizing. You can also play on sand for hours.
Then have your snacks, evening tea and get ready to witness the live music and dance show. There was cultural night and bonfire in Rajasthani style followed by DJ night in the camp. The best moment was when all the tourists start dancing with the local performers around the bonfire on the beats of Rajasthani songs. That was one of the best moment of the whole trip which can't be expressed in words. You have to go there to experience that moment.
Snacks and dinner are being served in the camp only.
After that, I went to rest and plan another beautiful day in the Thar desert.
Note :
1. Renting bikes costs ranging from 500 INR to 1500INR per day, depending on the demand and cc.
2. Camp in dunes cost starts from 800INR and goes up to 4000 INR. It also includes cultural night, snacks, dinner and breakfast (and sometimes camel safari too)
3. Camel Safari charges around 250-600 INR depending on your bargaining capabilities (for 1-hour ride)
4. Similarly, Jeep Safari charges ranging from 700-2000 INR, depending on a number of the person and your bargaining capabilities.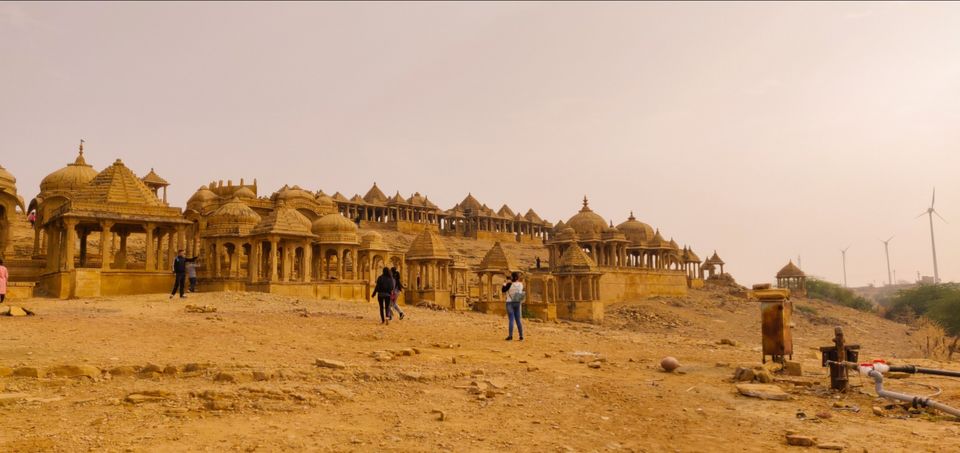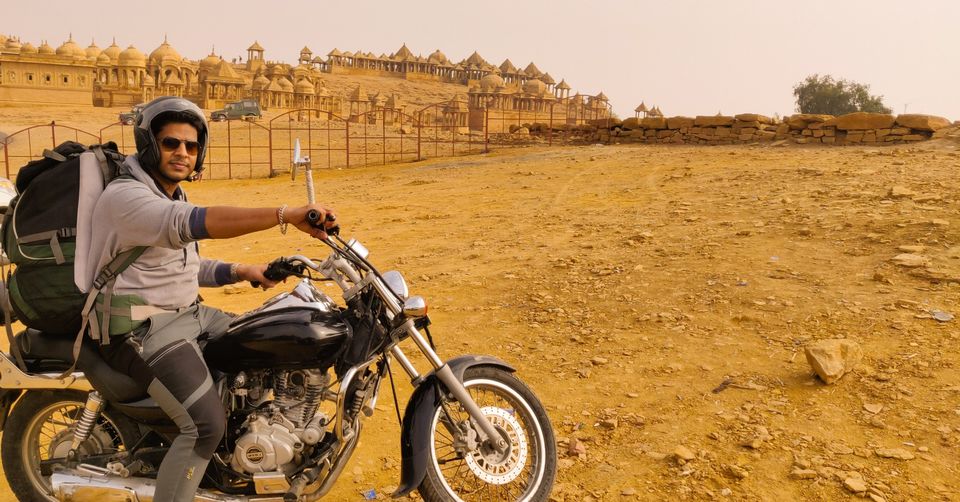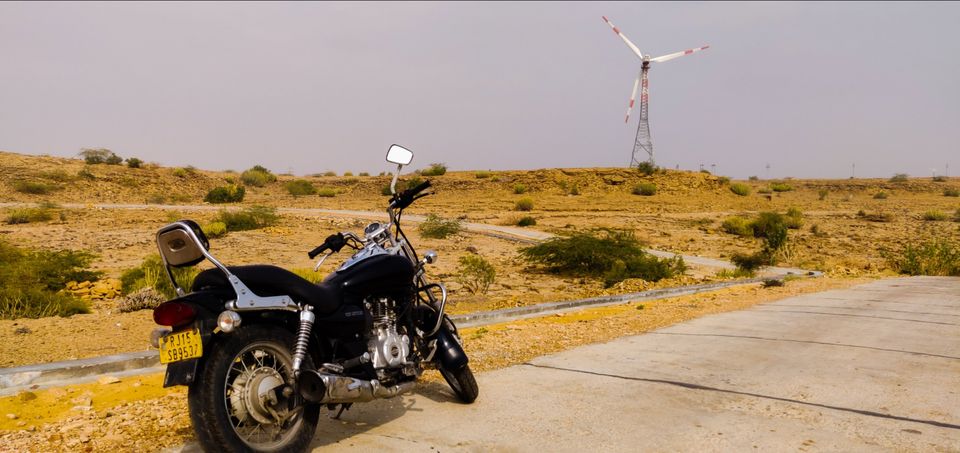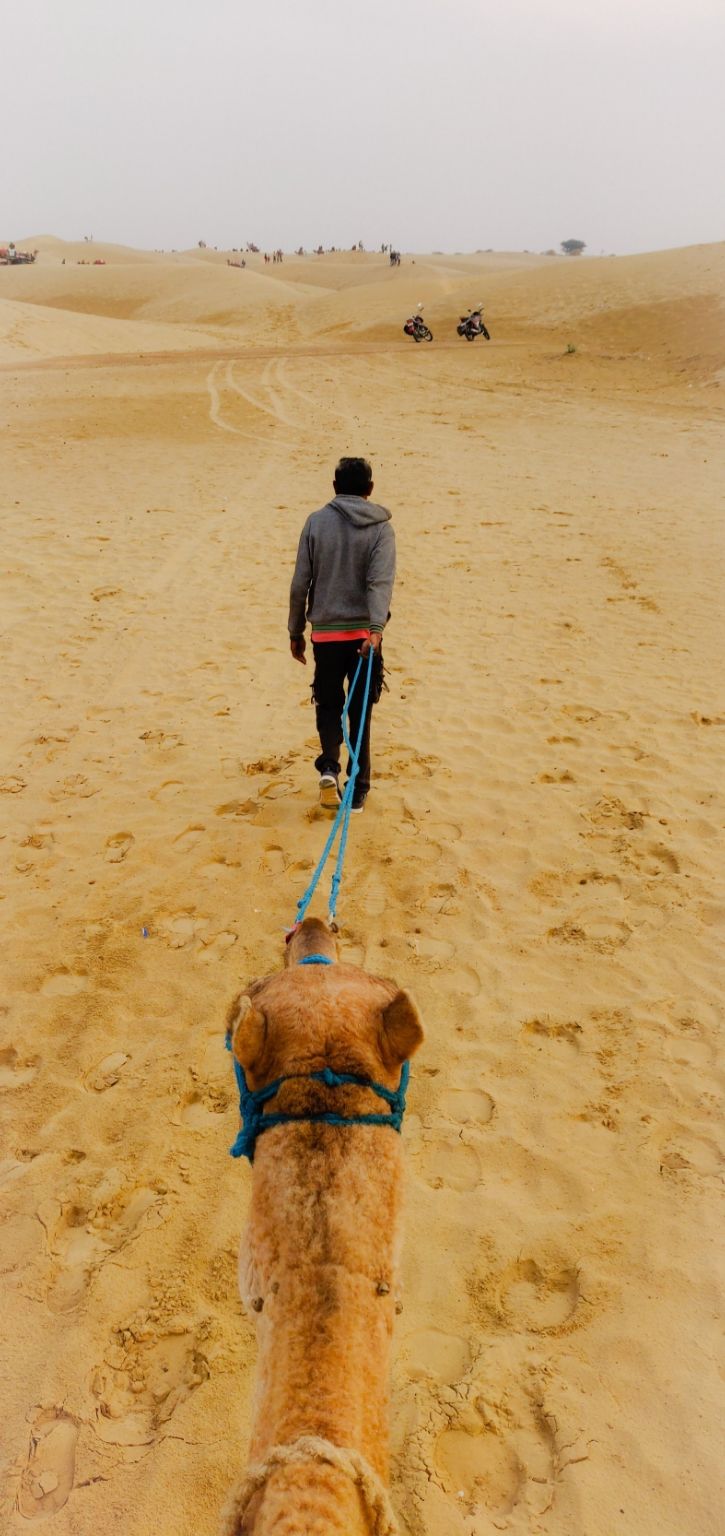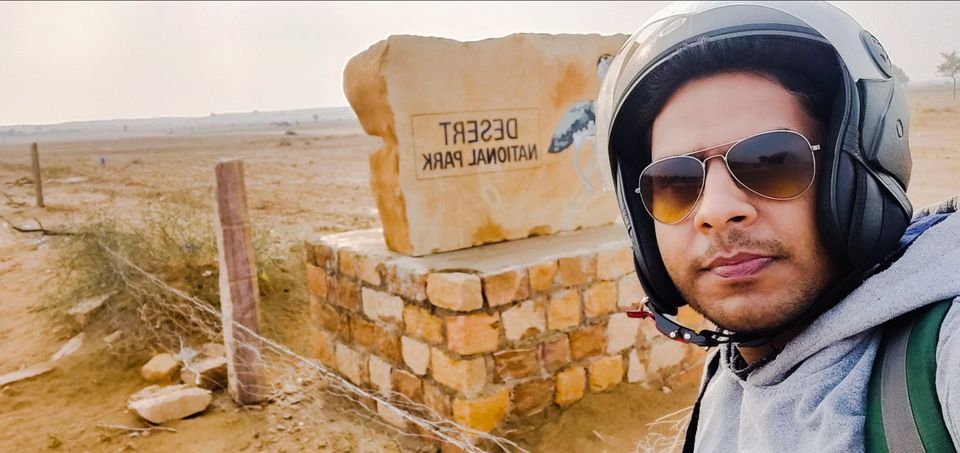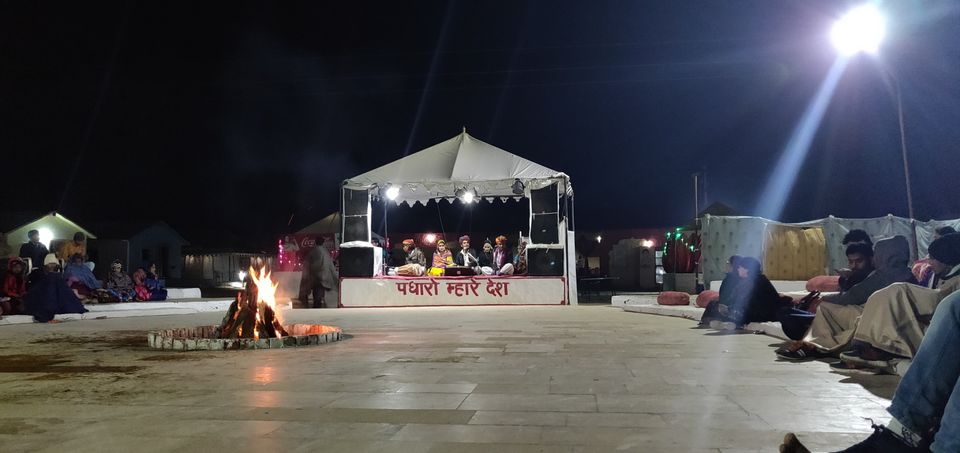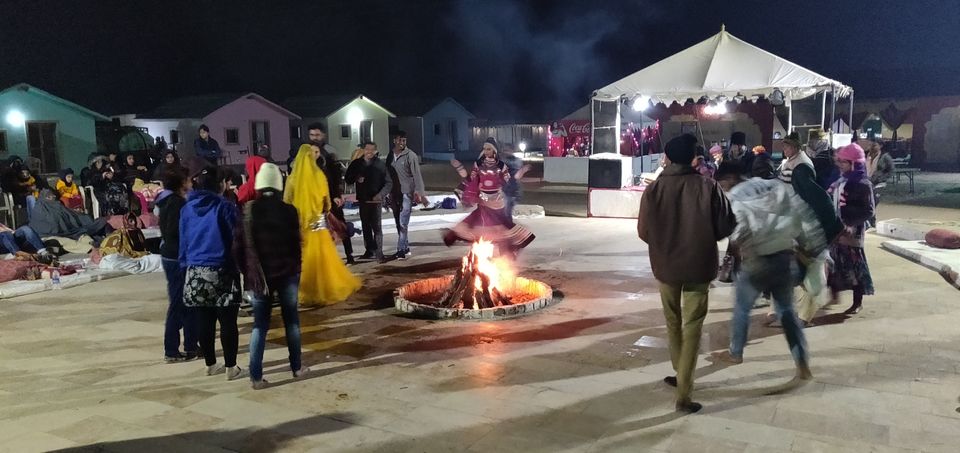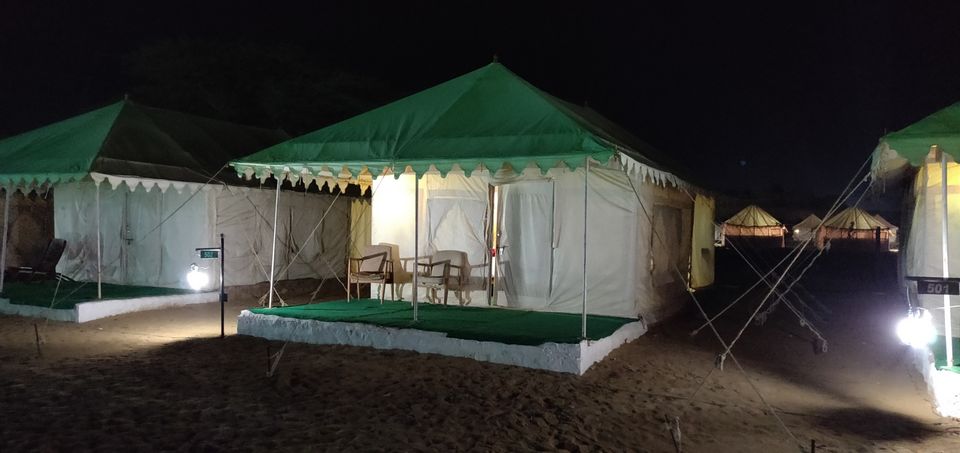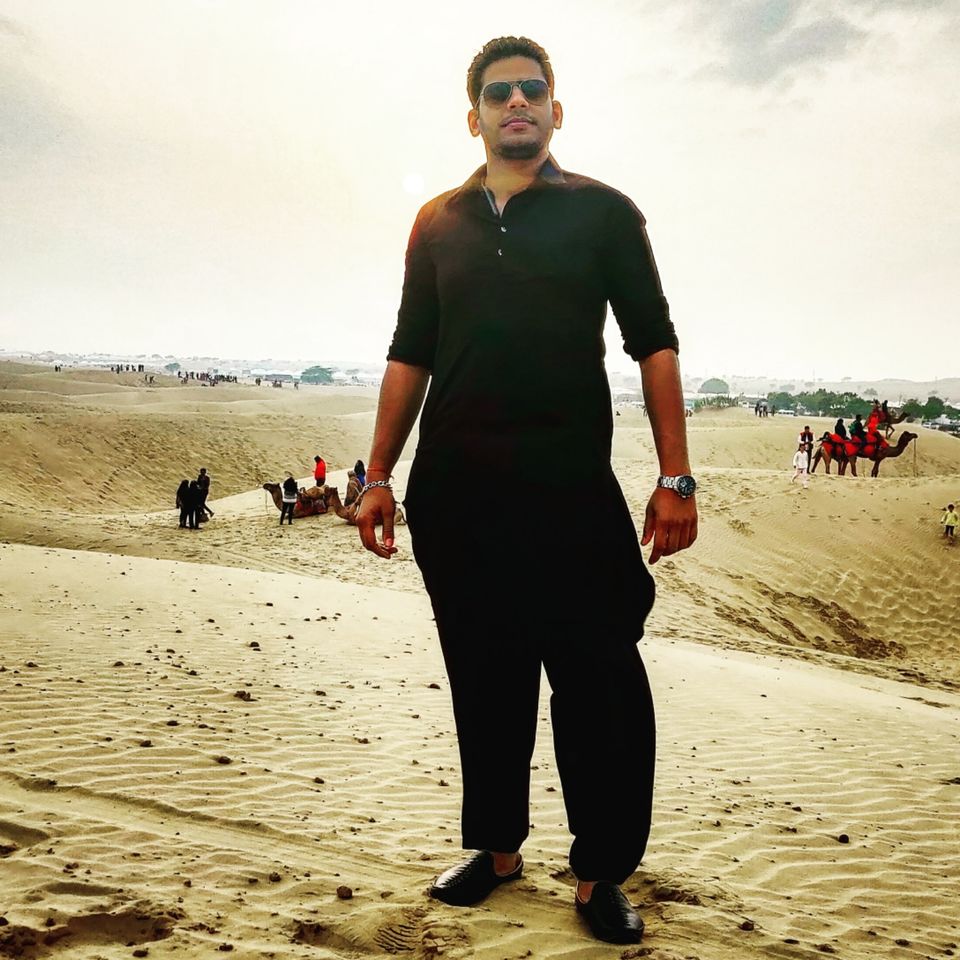 Next morning...The awesome view of the sunrise is not to be missed, but to do that you will have to ....wake up before 7'0 clock and get ready....Take morning tea and run to the sand dunes to see the sunrise.....There is a specific sunrise point in the dunes. You can also walk to the point or can take a camel to go there. Take my word for it, it is completely worth it. The view was really awesome. Then I came back to the camp, had my breakfast. You can also go for camel safari or Jeep safari now if you missed the previous day.
The explorer in me wanted to wander endlessly in the bike, and so I checked out of the camp. Unfortunately, the first heading led me straight to the Pakistani border, and before I realized it, I had the military stopping me and asking me to turn. Apologetic yet adrenaline rushed, I now made my way to the golden city. On the way back, had a cup of tea in the local village as it was chilling cold and then I proceed to kuldhara- The Haunted Village. Actually, it's not haunted during day time. Might ghosts used to rest during the day time. It's a cursed village which was abandoned around 300 years back. You will also meet plenty of people on the way going there. (I too had researched a lot before going there😝)
After that, I went straight to Jaisalmer and checked-in. There are plenty of places to visit in Jaisalmer. It's all depends on you, how you plan your ride. I thought I should start with the main attraction of Jaisalmer, "Jaisalmer fort". It is one of the biggest forts in the world and the most unique thing about it is People still use to live in the fort. That's why it is also called one of the only living fort in the world. There are plenty of restaurants and hotels also inside the fort. You can also visit the king's palace there. The architecture of Jain Temple and Vyas chhatri is also very good and can't be missed. In excitement to click good display picture for your fb, WhatsApp and insta profile, Don't forget to rush to sunset point before sunset. The moment when you reach the sunset point, you will realize why it's called the Golden city. Then rush to the Desert Culture center to see the puppet show. After that, I returned back to the hotel, parked my bike and went on a walk around the fort area for street shopping. There you can buy plenty of things ranging from decorative items, gifts, dresses etc. After that, had a delicious dinner of Daal Bhati Churma and then walked back to the hotel.
Note:
1. Nearly all the monuments in Jaisalmer have entry fees ranging from 50INR to 100INR for Indians and 250INR to 500INR for foreign tourists.
2. Don't forget to take your sunglasses with you.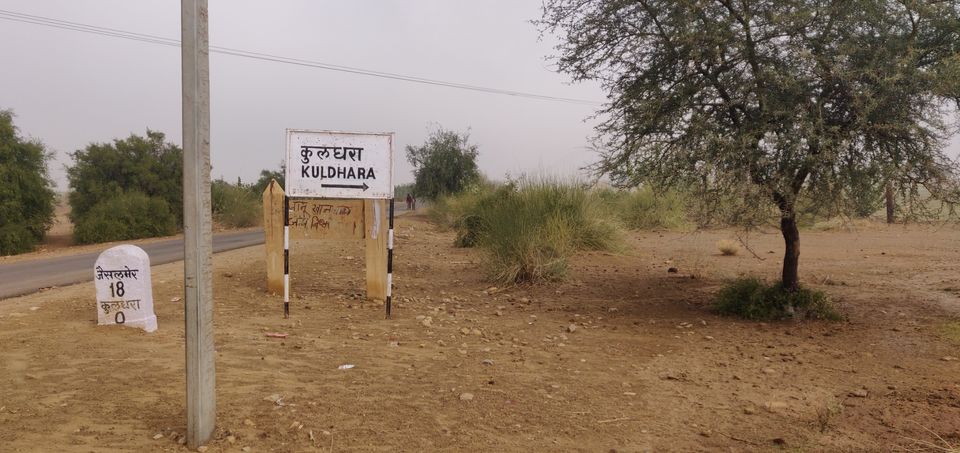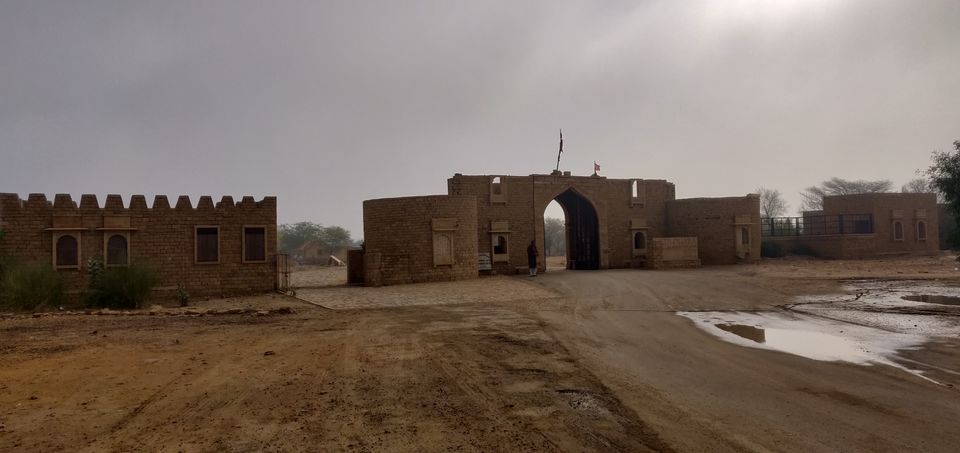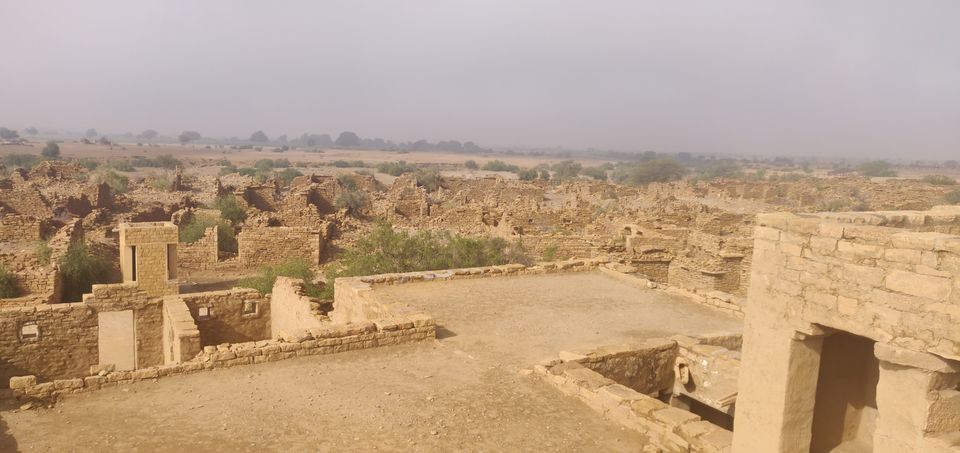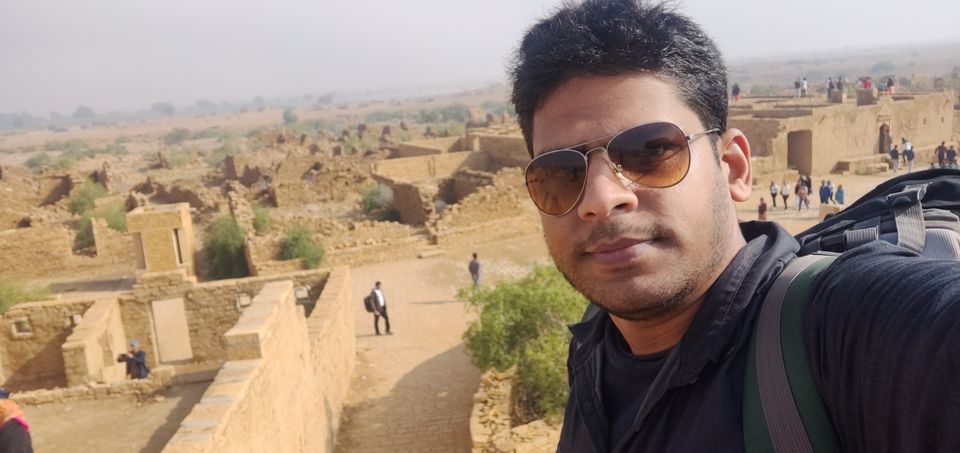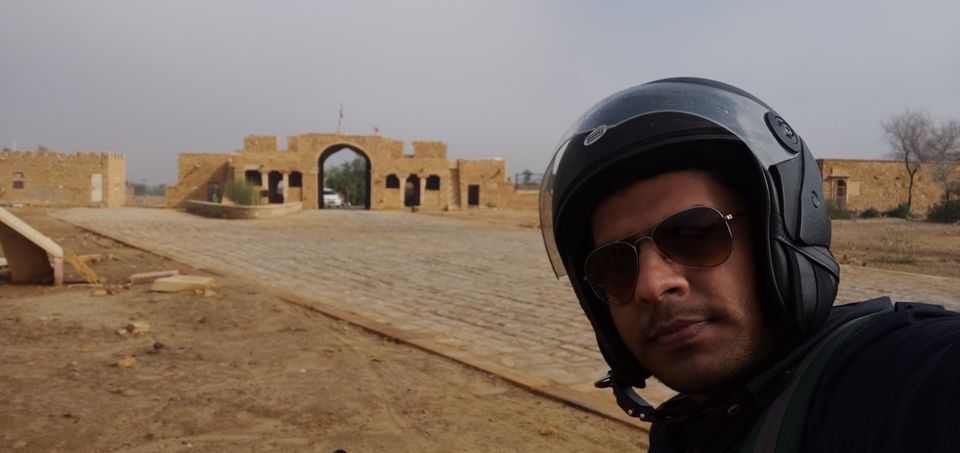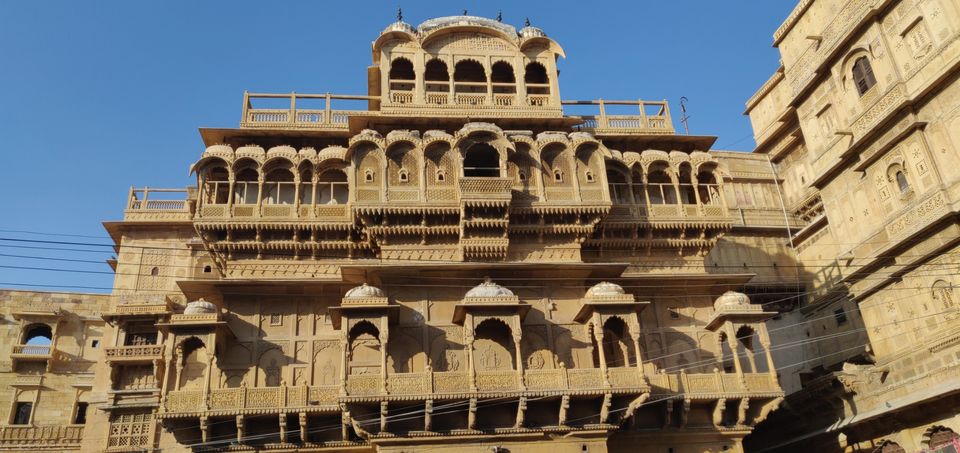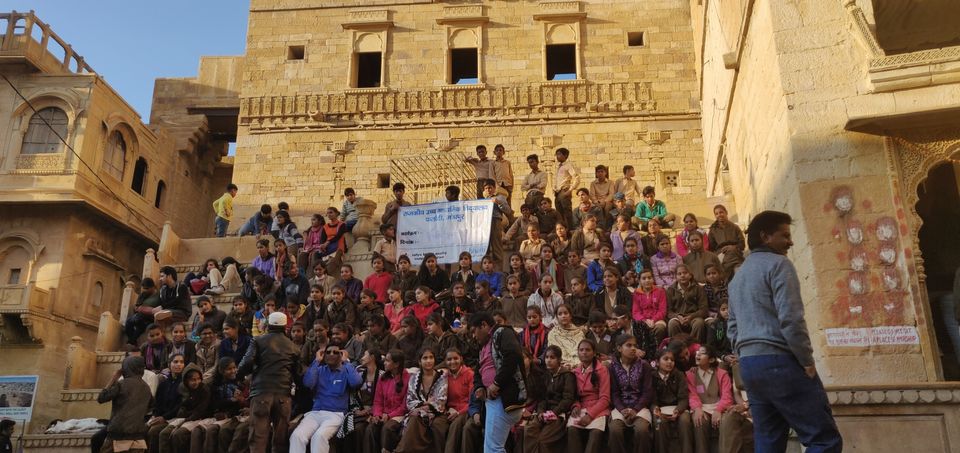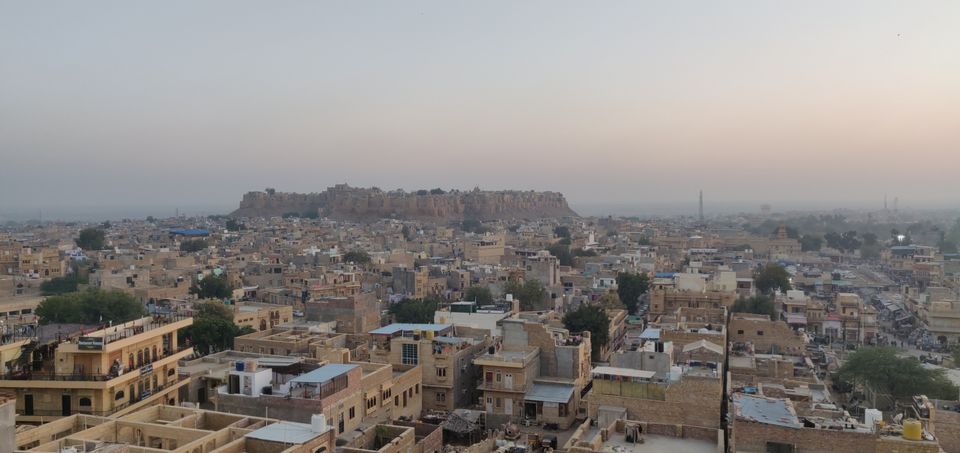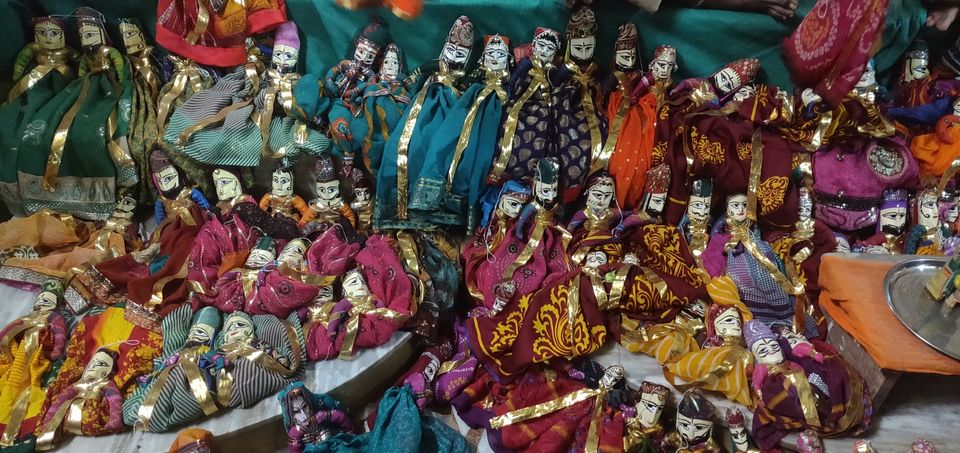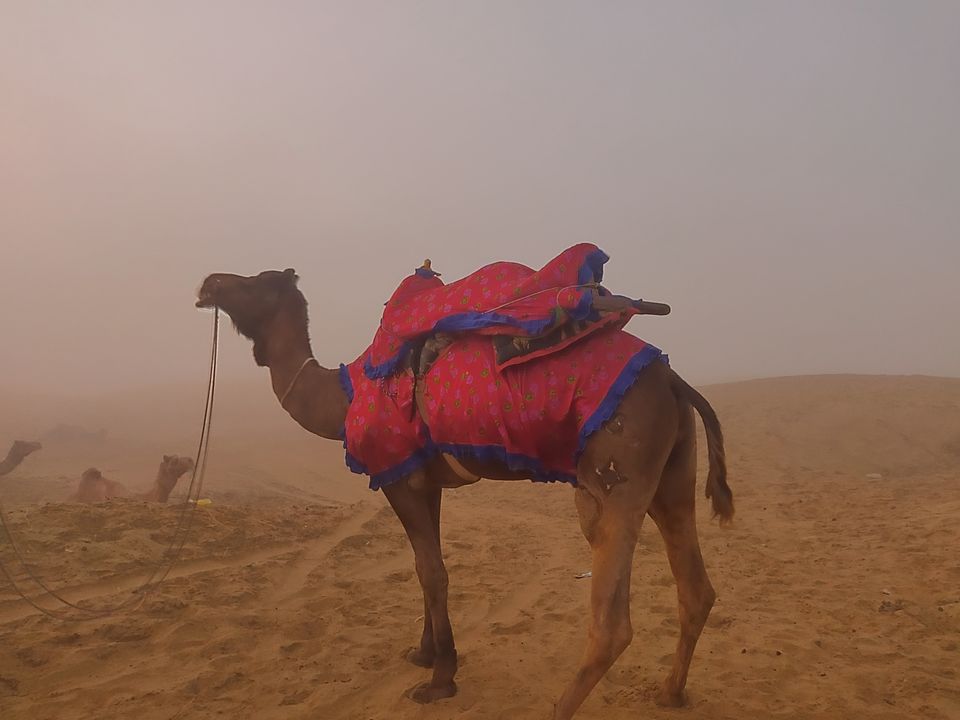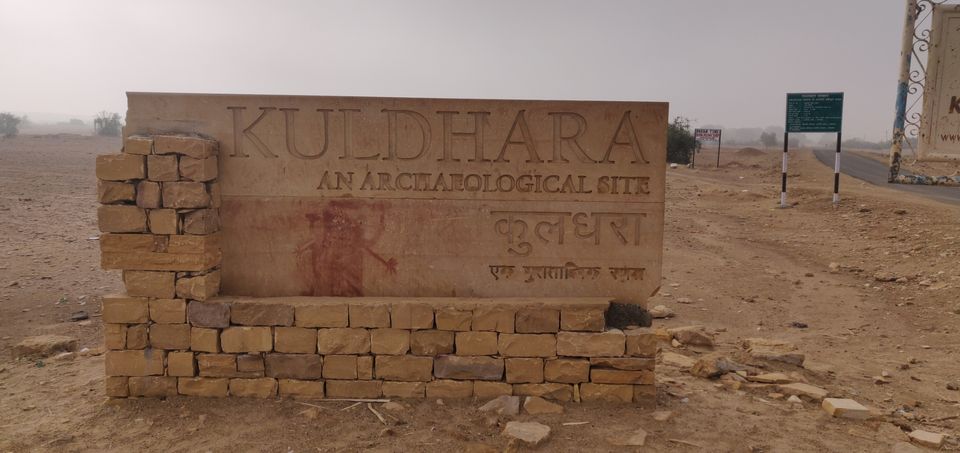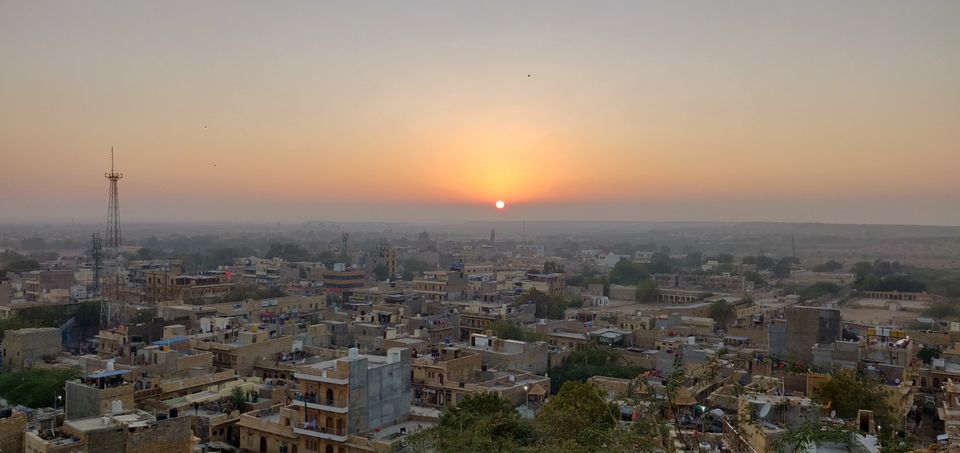 Next morning and last day in Jaisalmer. Again you can't afford to miss the awesome sunrise view. Take morning tea and go to the Gadisar Lake to see sun rise. It's a nice place where you can sit for hours mesmerizing the natural beauty. I also sat there for about an hour. Then I went to visit "Nathmal ki Haweli" and then from there went to "Patwon ki Haweli". The architecture were good, but by that time, you will get bored of haweli'. The explorer cum rider inside me again woke up and I went to explore the outskirts of Jaisalmer. I went to "Akal wood Fossil Park". This place is around 20km from the city but not so interesting, but if you are going on a bike ride, then you will enjoy the ride. On the way, you will get to see camels roaming around and also villages of Rajasthan. You will also get to see military camp.
Now the pack up time. Then I returned back to Jaisalmer and went back to hotel, check-out from there and then returned the bike. They drop me to the railway station around 3'0 clock, and I went to Delhi.