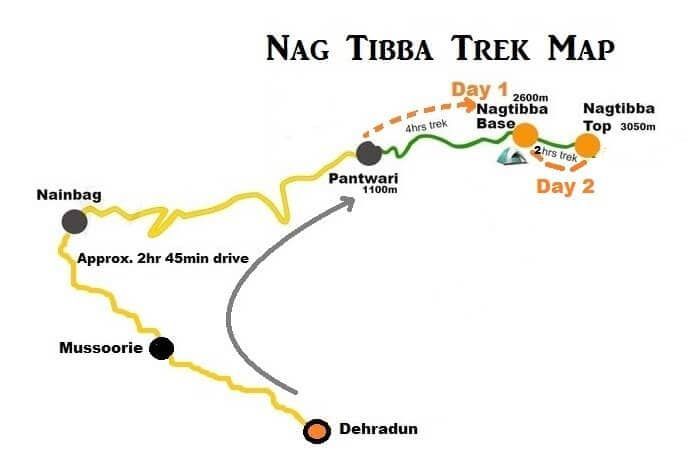 Nag Tibba Trek Route: Pantwari – Nag Tibba Base Camp – Nag Tibba Summit – Pantwari.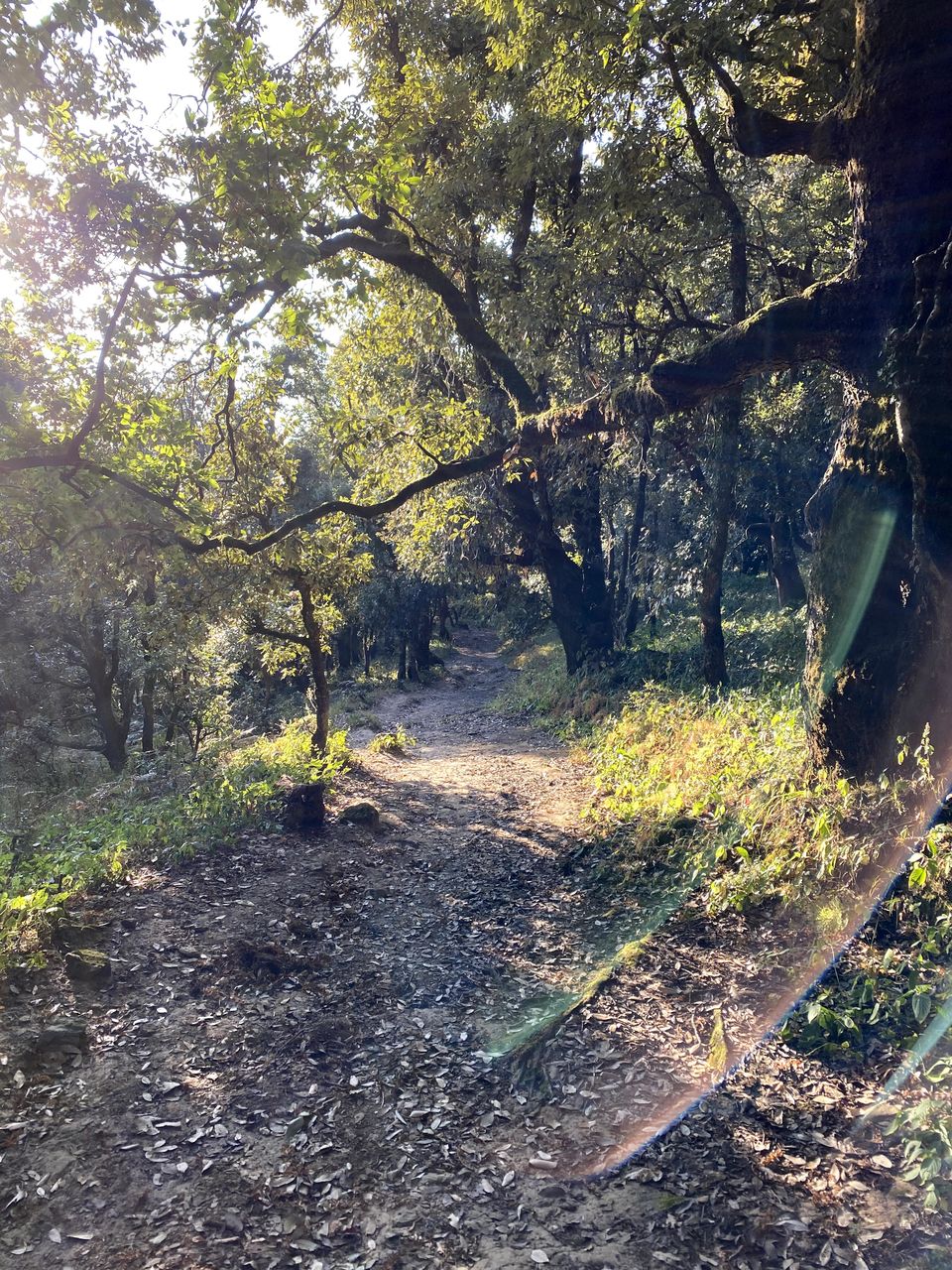 Nag Tibba is a 10 km trek from the base camps in Pantwari, which is full of twists and turns, which go through the dense forest. It is located at a distance of 60 km from Mussoorie.
Nag Tibba, literally meaning the Serpent's Peak, is a part of the 3 ranges of the Lesser Himalayas – Dhauladhar range, Pir Panjal range, and Nag Tibba range. Located at an elevation of 3050 m above the sea level, Nag Tibba is the highest peak in the lower Himalayas of the Garhwal region.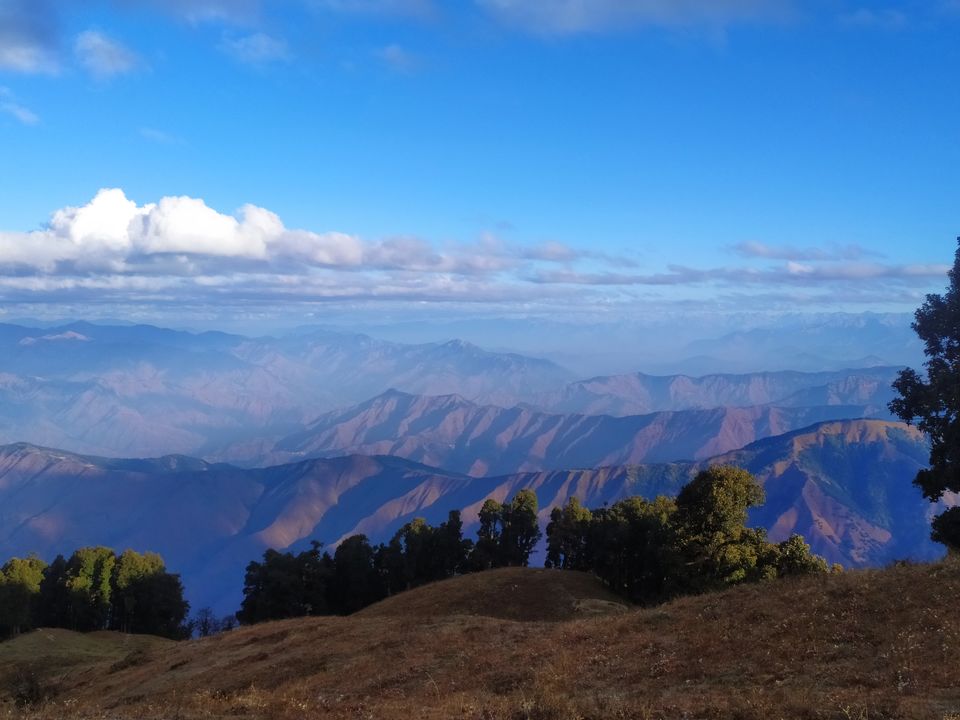 To enjoy the clear views of Bandarpoonch, Kedarnath and Chanabang peaks, all one has to do is take the exciting Nag Tibba trek. And those who have been missing out on the thrill of trekking in the Himalayas, you're in luck. Thanks to its gentle terrain, the Nag Tibba trek is one of the easiest treks in India as says but for the first timer trekker, you have to start practicing exercises such as running, walking or practice climbing stairs at your nearby place for this trek is recommended.
Nag Tibba is a weekend trek and after the Pandemic, The mountains echoed to visit them and here we all reached together from different parts of the country.
I met my fellow trekkers at the Pantwari Village where our local trek guide was waiting and soon we got familier with each other and started walking towards our destination around 10 am. we all were very excited.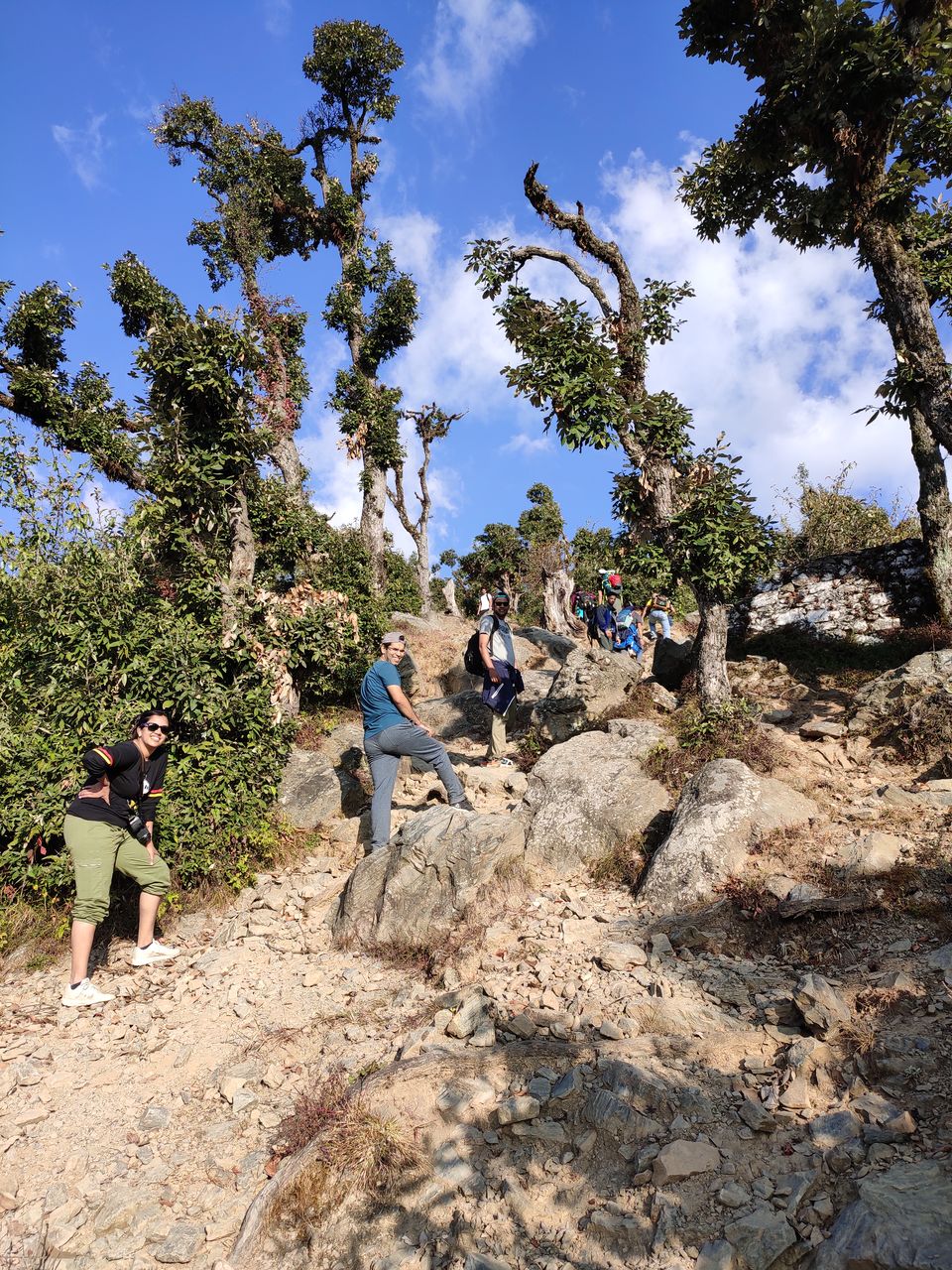 As we started to trek we went through steep terrain and rocky path which makes us exhausted and starving but it was a very small cost for this beautiful portrait of nature. We were lying down on the grass, watching the clear blue sky, and enjoying the calmness of that place. We laughed, clicked pics and enjoyed the pahadoon wali maggi and tea enroute. By Evening 5 pm, we reached to the base camp, where our tents were waiting for us.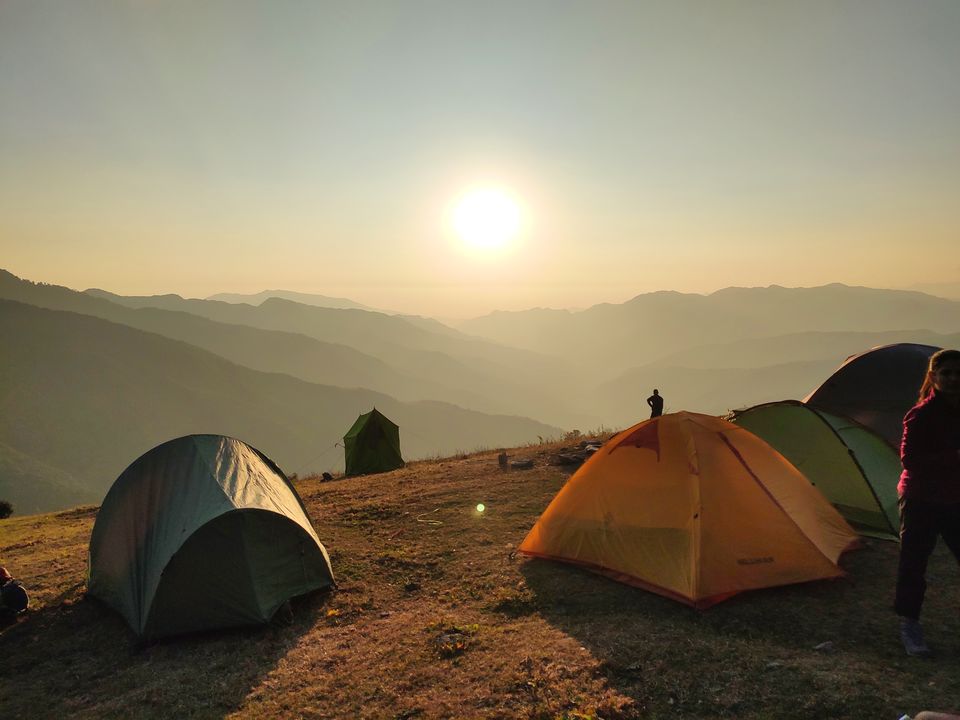 we enjoyed the evening with snacks, bonfire, singing followed by delicious dinner cooked by locals out there.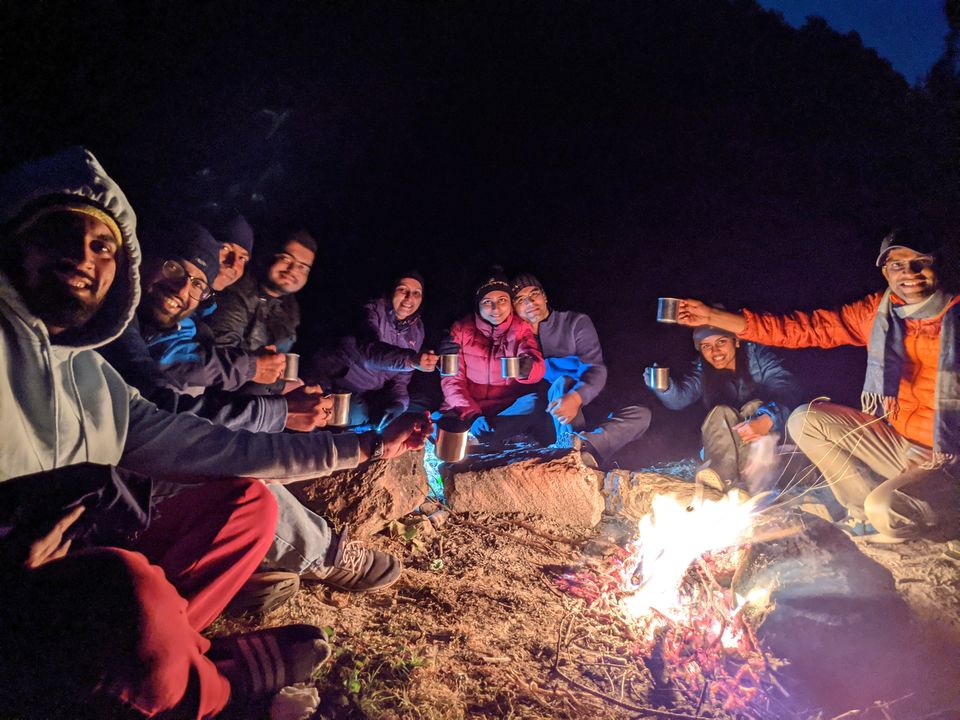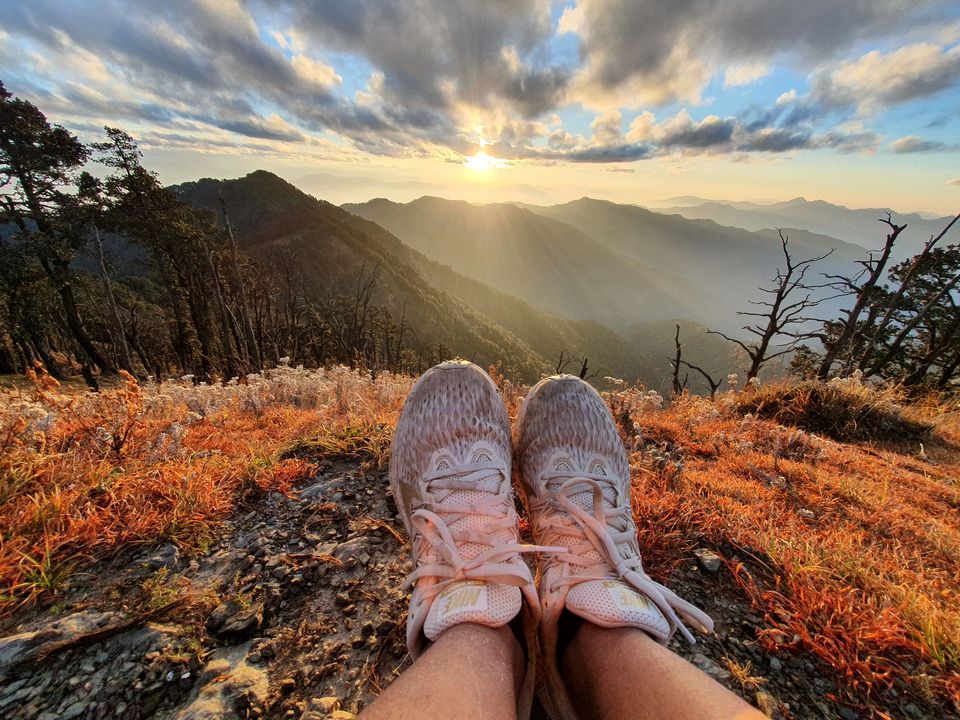 Nag Temple is 1 km before the Nag Tibba peak which is dedicated to Nag Devta. Local villagers have the Great faith in Nag Devta. The local people have been offering prayers (puja) to the Snake God (Nag Devta) at this peak which is a testament to its sanctity. There is also a water source near the temple which you can use if you run out of water. But water is not very clean so make sure you boil it or use chlorine tablets before consumption as people say but we drank the same water and nothing happened to us. We woke up at 4:45 and decided to head towards the Nag Tibba Summit for capturing the beautiful sunrise view. we start the trek to the summit. The trail was going steeper and steeper after every single step. After struggling to reach the summit. Fortunately, we finally saw some flags waving in the air. We saw each other face with a devilish smile and without saying a single word, we ran to reach the top first. Yes, it sounds silly but it was a memorable laugh for us. After 50 seconds of running, we were at the top. All were completely out of breathing. It was a bit of a climb but trust me, when you reach there you will forget every little step that you took.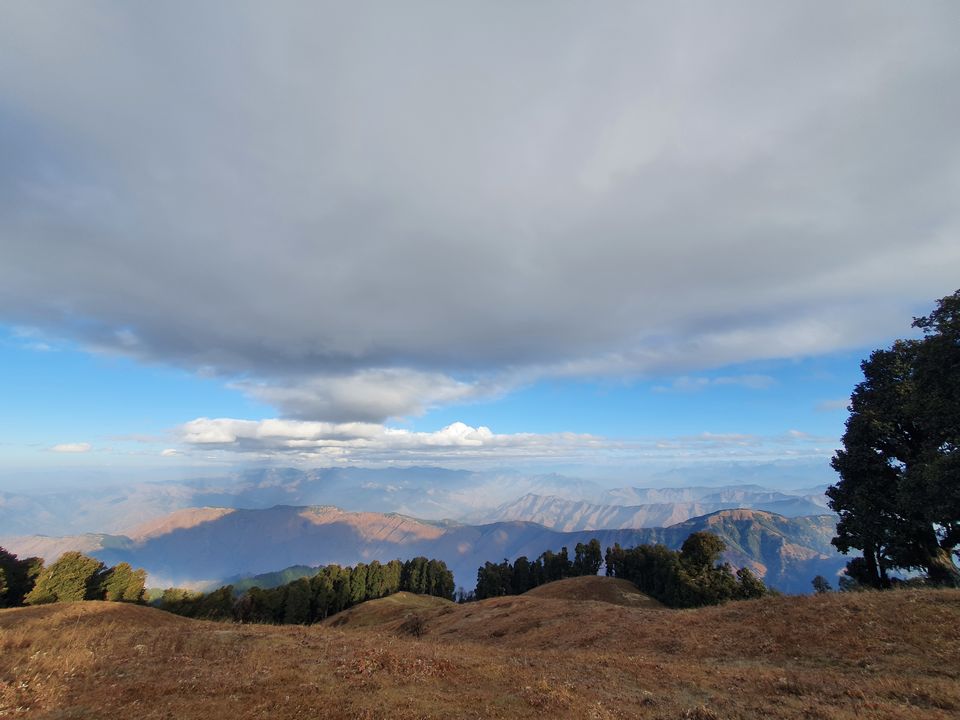 We could see the beautiful Himalayan peaks like Nanda Devi, Bunderpunch, Chaukhamba, etc and after a couple of minutes, we witnessed the awesome sunrise from Nag Tibba.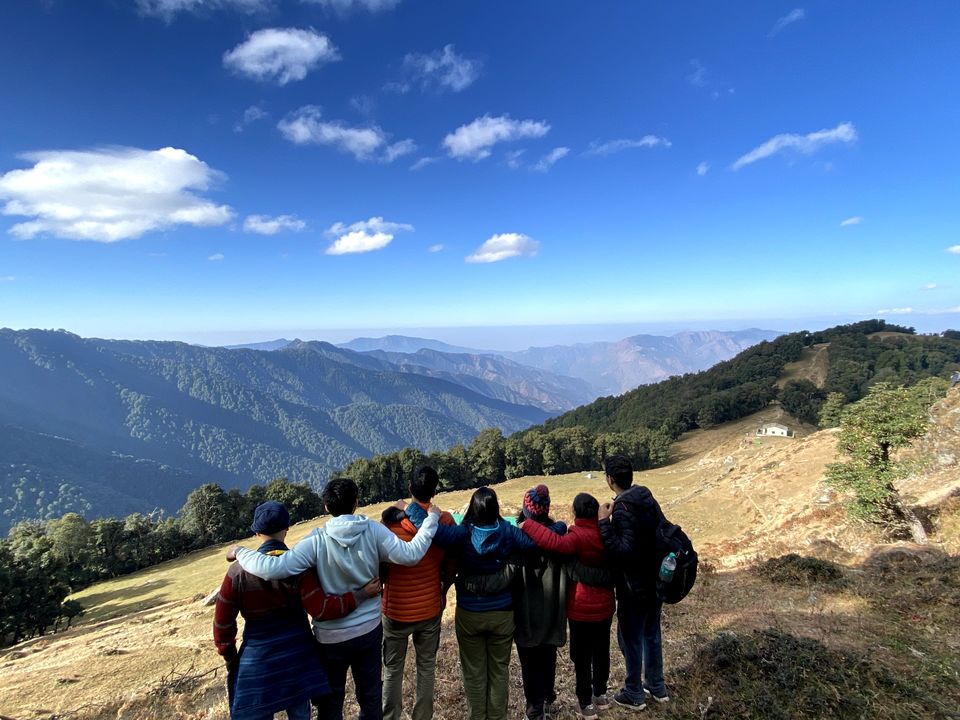 Nag Tibba is located in the lesser Himalayas. The destination is vividly defined as a "year-round destination." There are 2 seasons to go for the Nag Tibba trek. If you want to visit during the summers, then April to June is the ideal time for you. However, if you want to feel the chills and trek through snows, then October to December is the best time to go for Nag Tibba trek. Camping in Nag Tibba is a wonderful year-round experience.
Here are a few general tips for your Nag Tibba trek. You must keep in mind these few treks before coming to the trek, which is fairly easy:
• Start you training 10/ 15 days before you plan to depart for a person who never exercise and dreams to go for a trek but for a person who exercise regularly its easy or moderate for them.
• Choose comfortable clothing to walk and correct footwear is must. You should avoid sports shoes as the path is rocky and it might not give you good support. I would suggest you to buy trekking shoes with high ankle.
• Do carry your walking socks
• Use walking poles for climbing and descending as terrain is steep at someplace and you would require if you aren't comfortable walking long distances and climbing steps.
• Visit gym or exercise lower body work out, squats are must to build leg strength.
• Hydrate yourself during the trek, keep drinking water, you'll get sufficient source of water.
• practice climbing stairs on high rise buildings.
• Do not forget to carry backpack while training yourself. OR you can give your backpack to the porter who will carry your stuffs to the base camp at nominal charges.
• Give energy by eating meals, snacks and energy bars, Must keep protein bars or chocolate bars.