One of Alexa's "most frequently asked" question is "When is the next long weekend?"???? In this busy lifestyle, one thing that we always look for is a long weekend ! Spot the holidays and see if you can make a long weekend out of it. Independence day is a major contender here!????
In August 2018, we had been to Goa. My daughter who was 1 and a half yrs old at the time, enjoyed herself thoroughly. She loved playing in the beach (well, who doesn't????????? ). We stayed at Cidade De Goa which has a beautiful private beach. (Do check out this place when you are planning to Goa. They have multiple restaurants and the variety and taste is just top notch ! It still remains one of our favourite places in terms of food)
2019 : Independence Day falls on Thursday ! You know what that means☺️ We were planning a trip with our friends (Chaaru and Seema) this time. Destination was not yet finalised. This time too I was looking at a beach place as my daughter loved it the previous time. Was googling about Andaman. Just then, Seema pinged in our group asking if we can go to Andaman !!! Talk about coincidence! ????Our plan was to start early morning on August 15th and go directly to Havelock. Return to Port Blair on 17th, do a bit of sightseeing and return to Bangalore on 18th. We booked Indigo flights, private ferry(Makruzz) to and from Port Blair and a resort for the 2 days at Havelock. Our daughter adores Chaaru-Seema's daughter Tanmayee( 1 and a half at the time) and was super elated when we told her we are going on a trip together to Andaman. I taught her the Kannada song "Andaman Andaman Ooooo..." (Andamaan AndamaanAndamaan · 2014 - In case you are wondering about the song)???? You know how toddlers are ! If they fancy something, they are not going to stop talking about it????All day long, "Andaman" and "Tanmayee" mantra was played at home.????
A fortnight before our flight, we received a message from Indigo saying our onward flight has to be rebooked and they provided an alternate. As that was not a very convenient option, we had to rebook it such that we spent a night in Chennai on 14th ???? The return flight was adjusted too. Surprises started a little early ???? 2 days before the trip started, Chaaru called and informed that Tanmayee was sick and they were doubtful about joining!! We were still hoping that they might join us but we ended up going by ourselves. Our daughter continuously kept asking for Tanmayee ????
August 15th: Having a toddler sit still for hours is an arduous task! As expected, my daughter started to fidget in her seat just a few minutes after boarding So, I pointed to the seat belt sign and told her until that is switched off, we should not be getting out of our seats. Gave her a few books to pass time. When we neared Port Blair, the view was simply breathtaking ! I asked my daughter to take a look. She was so happy, she started calling out to the air hostesses asking them to turn off the seat belt sign as she wanted to get into the pool ! ????????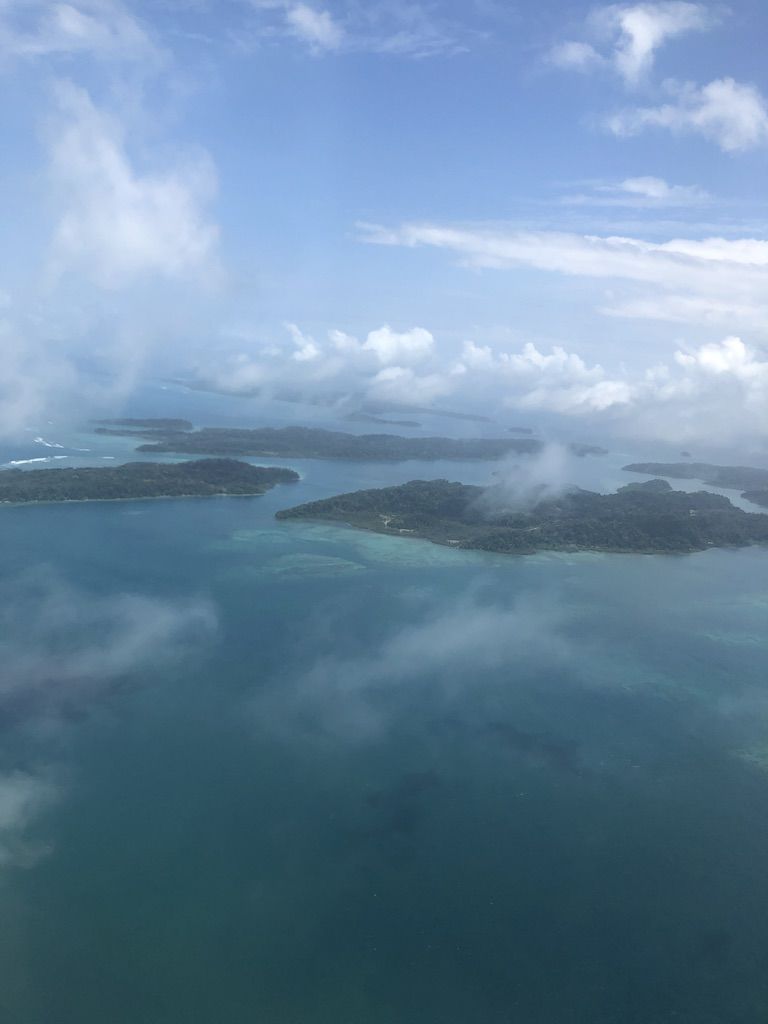 Reached Port Blair and hired a taxi to cover a few sightseeing places and drop us off at the harbour to board the ferry. Alas, it started to rain! Also, most of the places were closed as it was a government holiday???? A bad start indeed! We had decided on Andaman knowing it was the monsoon season as weather reports predicted rainfall only occasionally, not enough to hamper plans. I was worried if we would spend our holiday inside our rooms!
Boarded our ferry to Havelock. The journey of around 1.5 hrs was nice and comfortable. It was still raining throughout our journey. While looking for something, my husband saw that the return ferry was booked for 18th afternoon instead of 17th !!! Our flight from Port Blair was 18th morning !!!! OMG !!!! This was the first time I had mis-booked something! So,when we reached the Harbour, we headed to the Makruzz office to rebook. We were told it can be rebooked only the day before the travel and availability should not be an issue, so we heaved a sigh of relief and headed to the resort.
The rain had stopped by the time we reached the resort and we were lucky that our rain woes ended here. For the remainder of our trip, it rained through the night and weather was pleasant during the day ☺️☺️ On reaching our resort, we immediately headed to the private beach and spent sometime there.
Can you guess the time???
It was 5:45pm !! The day started and ended pretty early. We booked for Scuba diving early next morning and we were to be picked up at 8am after breakfast. We hit the sacks early to get adequate rest for the next day.
August 16th: I awoke with a start to bright daylight outside !! I panicked thinking we were going to be late for Scuba. Then I checked the time. It was 5.30am !! Gosh, what country are we in ?? Since we had plenty of time, we went for a quick stroll by the beach and headed to breakfast. We were picked up at 8am by the Scuba agency and taken to the diving site. After being briefed on the gestures and safety instructions, we changed to the diving gear. Husband and I took turns as one of us had to look after our daughter. It was our first dive and we totally enjoyed it ! The myriad of colourful fish swimming around you, the corals that seem to respond to your touch, the tiny fish gang going in circles at top gear and the absolute silence underwater broken by the periodical sound of water bubbles, leaves you wanting for more. Totally recommend it to those who haven't tried it !
After freshening up, we hired a two wheeler for the day and looked for a vegetarian place for lunch. Google suggested a restaurant called "Shakahaar". We decided to try it out. The place looked shady and very unwelcoming. We were hungry and decided to try it out. The owner said they had just opened up the place as it was start of the season and it generally remains closed in off season. There were very limited items on the menu. But the phulkas were amazing and food was tasty. So, yeah, don't judge a hotel by its ambience????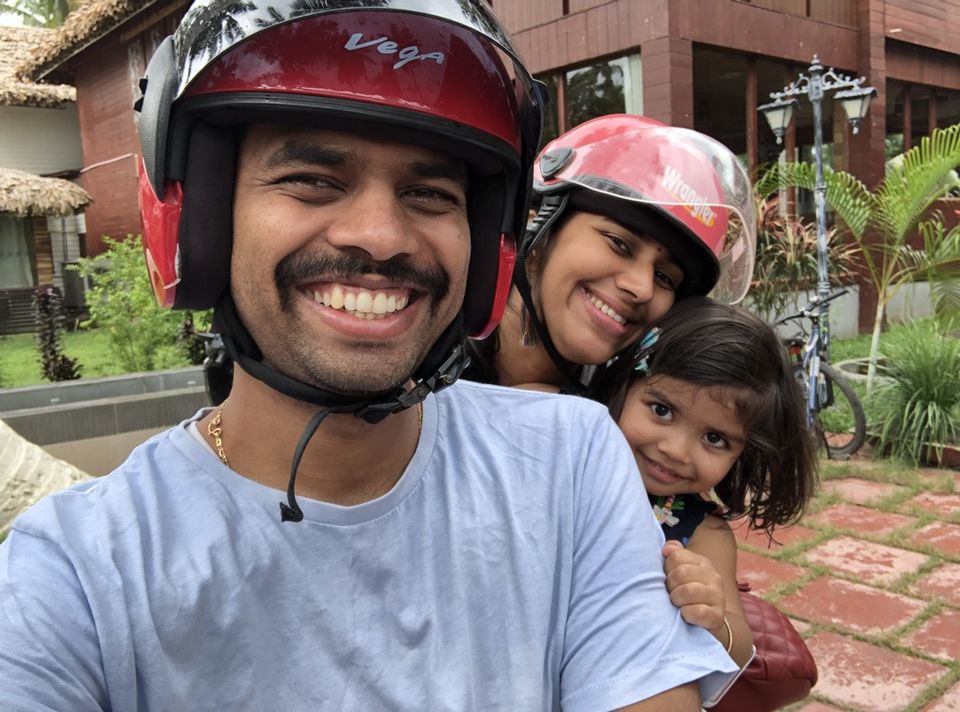 We wanted to check out Radhanagar beach and Kalapathar beach which are almost on the opposite ends of the island. First, we headed to the famous Radhanagar beach. The drive was pretty great. We were thoroughly enjoying it and all 3 of us were singing "In the jungle" from Lion king on top of our voices ???? Our daughter now thinks singing on two wheelers is a ritual ????
Kalapathar beach ! How serene !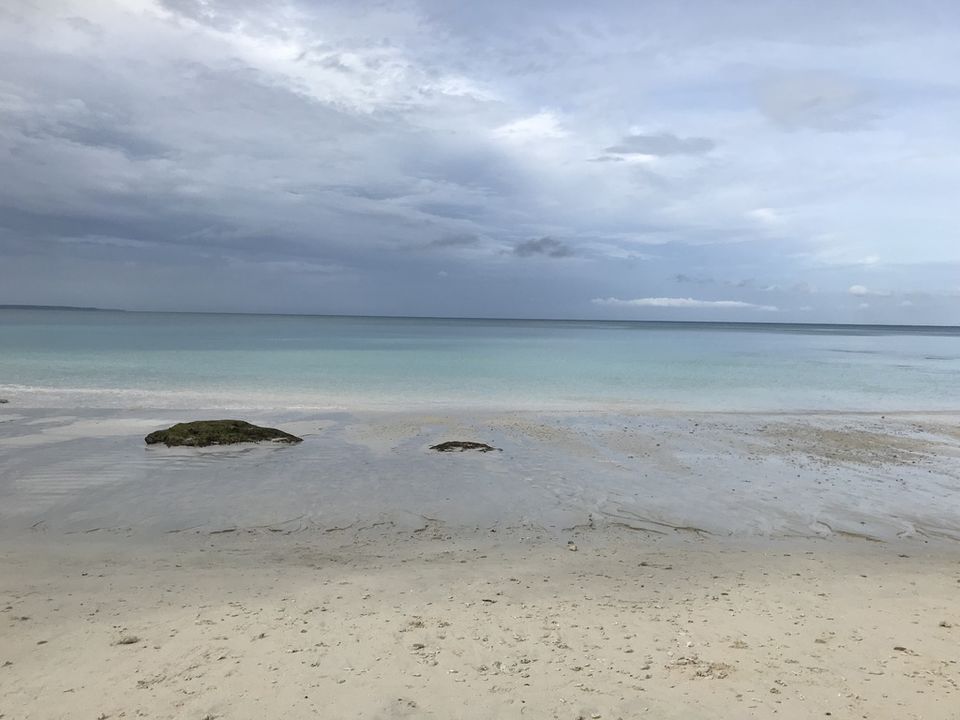 The water level changed so drastically within hours. At our private beach, in the evenings the water level was so high, it was almost inside the resort premises. When we went there for our morning walk, we literally wondered if there was a beach there the day before???????? The boats stood on sand ????????
Radhanagar beach is beautiful with clear azure water, however it was a little crowded, so we headed to the Kalapathar beach. The beach was pristine ! We were literally the only ones there at that time. The soft white sand and the clear blue sea makes you fall in love with the place!
Oh ! We spotted a mermaid btw ! ????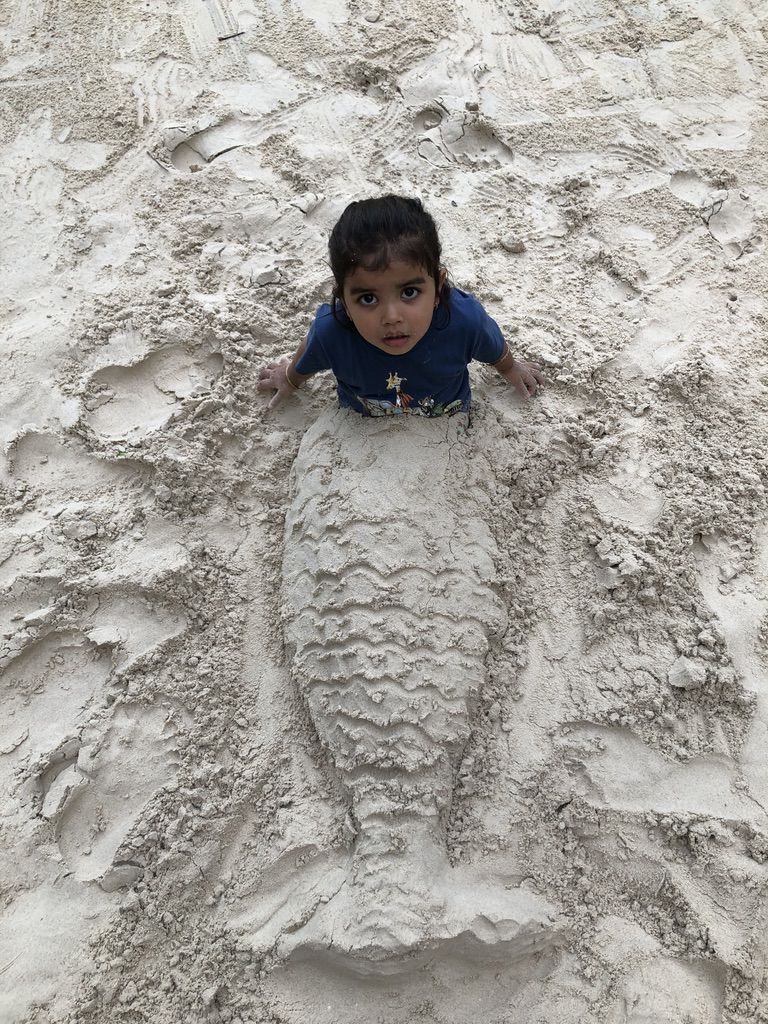 After spending sometime here, we went straight to the Makruzz ferry office. We were told that the ferry had been cancelled that day due to bad weather and hence, the next day's ferry was completely booked !! No amount of pleading worked ! Then we were suggested to try the government ferry. Off we ran with our kid in toe. There was a huge queue and we learnt that hard copies of IDs are required. We being very eco-friendly ???? only carried soft copies on our phones! So, my husband rushed back to the resort whilst I waited in the queue. The others in the queue were buying tickets for next week ! My heart was racing ! We would not be able to catch our flight ! When it was finally my turn, I was told they were completely booked! I told him I was ready to stand on the deck but I really needed to be in tomorrow's ferry. Finally, he asked me if I would be ok with a first class ticket. At that point, I did not think what first class meant, I was just happy to take anything ! We collected our tickets and headed back to the Makruzz office where we were refunded for our cancellation. No harm, no loss ☺️
August 17th: Spent our final few hours at the resort on the beach. Checked-in into our ferry. Unlike the private ferry which was like a motorboat, this ship was huge ! We proceeded to the first class and we were in for a pleasant surprise! There were multiple floors, an indoor cafe, an outdoor cafe and huge rooms with bunker beds. This was our very own Titanic ????????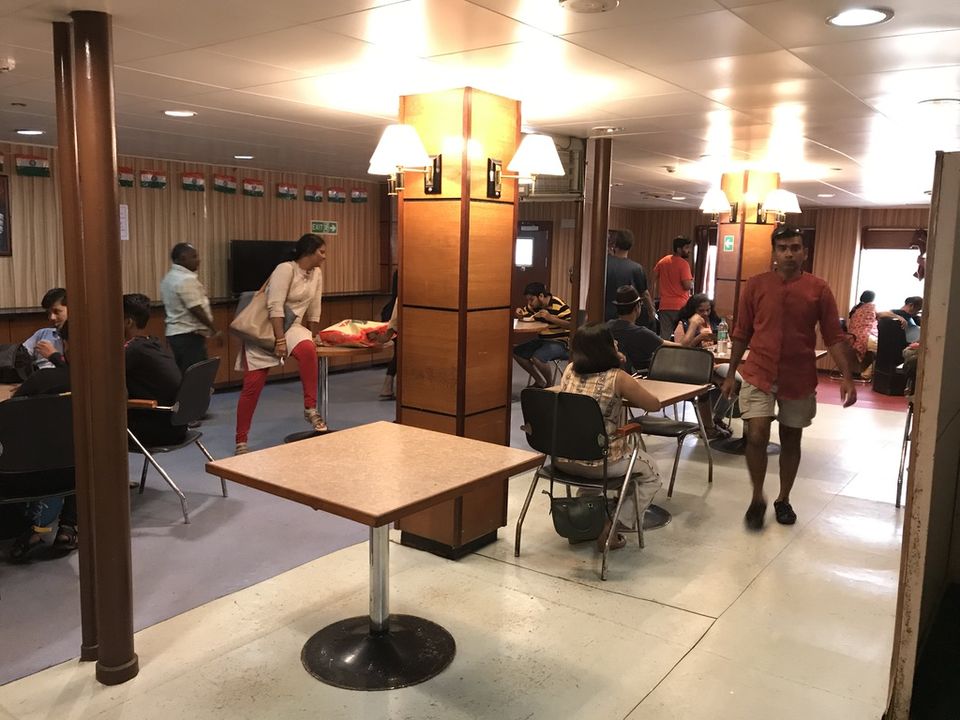 My husband was booked in another room while me and my daughter were in one. So, we first headed to my room only to find it was fully occupied ! There were two couples there and they requested us to take their room if we were ok. Guess what room it was ??? My husband's room !!!! Can you believe it ?? I mean, heights of coincidence ! We were so happy, we literally danced in our room !???????????????? The only downside was that the journey was close to 3.5hrs and very bouncy unlike the private ferry. We reached Port Blair at about 7.30pm and thought it might be too late to catch the Sound and Light show at Cellular Jail. So, just checked in to our hotel and rested.
August 18th: Our flight was at 11:10am. I really wanted to visit the Cellular Jail. My husband was totally against it as he thought there would be no way we would make it in time for the flight. But, the Mrs wants what she wants *evil laugh*. The cellular jail was not too far away from our hotel. So, I dragged him for a morning walk (at 7am) to enquire at the office and was told that it would open by 8:45am. I promised my husband we will only spend half an hour and leave for airport by 9:15am. Rushed back to the hotel to get ready and after a lot of issues, hired an auto and asked him to take us to the Cellular Jail and then to the airport. I was really worried about leaving our luggage in the auto. I was repeatedly asking him where he would be parked. But, the uncle said "I have your luggage. Where can I go? I will park right here". My instincts told me to trust him. My husband was already fuming for being dragged here. If we lose our luggage, then I am in for an earful !
Once inside, we ran here and there to see all the important stuff. It is heart rending to hear the tales of the freedom fighters and imagine their situation. The jail used to be called "Kaala paani". Many high profile freedom fighters were imprisoned here. The jail was designed like the spokes of a cycle wheel. The rooms were built for solitary confinement such that one room always faces the back of another room. The objective was to refrain the inmates from talking to each other. As if this wasn't punishment enough, the inmates had to extract oil from seeds manually. Targets were set and if not met, even severe physical punishments were meted out. Imagine the plight of the freedom fighters and how they willing endured it for the sake of the country ! Definitely makes us want to appreciate our freedom even more ! Though we could have spent a lot more time at the Jail, I was happy not to have skipped the place altogether.
At the exit, it was such a relief to see our auto driver waiting for us ! ☺️There are honest people out there ! ❤️ We made it to the flight and my husband had to finally admit the wife is always right????????
Andaman gave us a lot of beautiful memories to cherish. Months after coming back, my daughter still spoke about Andaman ! The two wheeler ride is something we will not forget.❤️❤️
My 2 cents:
- Andaman definitely deserves a week or more. For those of you who cannot spare the time (like me this time), plan to spend most of your time in a single island, preferably a resort with a private beach. Some people try the island hopping to cover the most in a short span of time, but in my opinion, you would not have experienced the place.
- Book your ferries ahead and try to have a buffer between your ferry and flight, so that, in case the ferries are cancelled, you would not have to fret about your flights. You can split your Port Blair sightseeing amongst these buffers.
- There are a lot of Scuba diving agencies at Havelock. You can book directly with them and save a few bucks. We used Gypsy Divers. And you can definitely dive even if you are a non swimmer (like me) !
- August is not the best time to visit Andaman. We were lucky to be spared by the rain gods. My colleague visited Andaman the same days as us, but his plan was reversed. He spent the first few days in Port Blair and the last 2 in Havelock. Poor guy, while we always escaped the rain, he was always caught up in it Also, the colours are not as vibrant as it would be in summer. However, the rates would be very cheap and you can negotiate very good prices for your accommodation.
- Though "phulka" would not be mentioned in the menu, ask the staff if they can make it for you. In our experience here, most of them obliged and the phulkas were out of the world !! Hot from the tava, with a dollop of ghee, it was yum ! You will definitely thank me later ;)
- We stayed at the Coral Reef Resort in Havelock. A very nice place, nothing too fancy, but good food and friendly staff.
Until next time, Andamaan Andamaan oooooooo ❤️❤️
#ThatLongWeekend