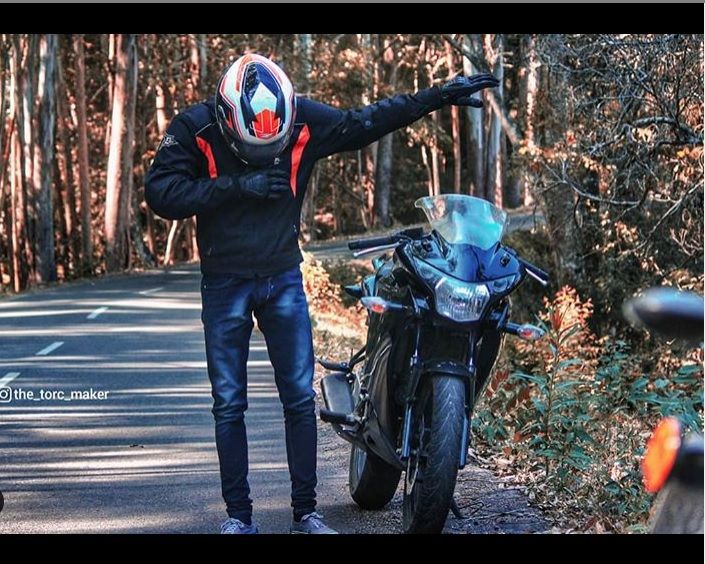 'A long weekend and a bike trip later, reality finally hit me.'
I scrub Maddox, wiping the polish with a sponge off his shiny black gas tank under the morning sun. I slide my over his metal body. With every passing inch, my heart overcomes the pain I have suffered recently at the hands of my closest set of friends.
A week back, things were all bright and sunny. All my friends had agreed to join in for a trip to Rishikesh on the coming long weekend. But as days passed, a row of excuses came my way like an unexpected hailstorm at a beach. One by one, everyone backed out. The count of companions shrunk from 10 to none.
Or did it? Do I really need other people to fulfill my desire to explore? What is it that I seek? The answer to this question is right under my nose, quite literally.
I wipe my bike Maddox clean, hop onto it and rev the engine. This is it. The sound of its engine is like an assurance from my most trustworthy travel companion. Assurance that he'll always be by my side, no matter what. So begins my journey to Rishikesh with Maddox – an experience that would later clear all my doubts about why planning a bike trip is way more satisfying than one taken with people.
A bike never says no
As Maddox and I move towards unfamiliar territory, soothing music on the headphones accentuates my driving experience. Heavenly scenery along the road makes me stop frequently and enjoy the moment. I take a turn in search of a shortcut but the road isn't that great. And not once does Maddox question my decision. Wherever I go, Maddox follows with no questions asked.
I find it hard to imagine what the world would be like if friends said 'yes' to every travel plan that I came up with. Had it been for my bike, I would have explored Goa countless times by now. Unfortunately, a bike trip to Goa isn't possible due to the long distance from Delhi. But I guess some things are perfect only because they are incomplete.
I stop, I speed up, I dodge a messy traffic island or even come to a sudden halt when the car in front of me decides to turn without indicating. Things on the road can be tricky. And sweaty. Maddox knows as much as I do that we both have our limitations. We do our best to make each other comfortable on this long journey. For me, this bike is a mean machine that doesn't crib. It doesn't give in easily and is meant to stand the harshness of the road.
I'm so lost in the joy of travelling with Maddox that I almost forget I'm driving. An alarm goes off on the screen of the bike. It's time to refuel once and then forget about it for the next few hundred kilometres. Maddox does a good job of giving direct signals for any issues cropping up, unlike my girlfriend who usually keeps me guessing for quite a while. I don't blame her. Maddox tends to get most of my attention and I'm still trying to work things out with her.
It's always 'me time' with a bike
We finally stop at a dhaba. I splash water on the tyres and let Maddox rest for some time. I stretch out, grab a meal and look around. Standing at a distance from Maddox, I stare at the open sky. I don't get to see much of it in the concrete jungles of Delhi. My eyes turn towards Maddox. He is patiently waiting, allowing me to enjoy the moment without any hassle.
This is even better than being on a family vacation. My mom's usually tracking my phone calls while my brother starts stalking me the moment I step away from the folks. Maddox lets me enjoy some 'me time' without caring about what I do, even if it means doing nothing at all.
I take out a piece of paper from my pocket before continuing the journey. Fuel tank? Check. Tires? Check. Engine oil? Check. Everything about Maddox is right here on my checklist. It's so easy deciding on a bike trip's budget when you already know how much of what your companion needs. God forbid, I would have to cross my monetary limits only if something goes majorly wrong.
There are no worries about overspending on shopping or unnecessary food purchases in the name of a food walk – Maddox runs on a fixed budget mostly. There's just the usual maintenance of tyres and body parts that's required, and he works like a charm.
It's almost evening. I can see the sun working towards wrapping things up for the day, with still a few hours to give. The three of us – Maddox, I and the sun seem to be moving in the same direction. As I apply the brakes to ride over a speed breaker, Maddox lets out a modest screech. This is normal after a long drive on a summer day. I pull over and oil the brakes using the lubricant I always keep handy while travelling with Maddox. I find it easier to overcome this friction of brakes than to overcome the friction of human egos when travelling with a gang of experienced explorers.
It looks good in every picture
We're almost there. The majestic river Ganges is now in sight. The terrain changes from a rough stony road to a smooth inviting pathway that seems to welcome the two voyagers with open arms. I don't always want to catch a moment on my camera. But this one is special. With few people in the vicinity, the warmth of the evening and the caressing breeze flowing from the waters seem present only for us to cherish this bond at this precise moment. I must capture it. I don't care about which filters to use and Maddox approves. Anyhow, Maddox looks perfect in each frame.
My bike and I – a bond to cherish
I hear you, Maddox. I know you can understand me too. And there's no way anything or anyone else in this world can ever replace you. We've been through a lot. We still have a lot to overcome together. If in time I happen to spend lesser time with you, I want you to remember this my friend. Every bike trip on your back has been a matter of pride and pleasure for me. In life, friends may come and go. Yet you are and will always remain my dearest travel companion.
Who is your favourite travel companion? Tell us about your views in the comments below or here on Tripoto.
Get travel inspiration from us daily! Save our number and send a Whatsapp message on 9599147110 to begin!