This ride is a significant milestone for me and often a milestone marks the start of a new chapter.
I would like to share my experience and thank few people who made this possible. First of all Nayan Sarma for being my companion on this ride, a good friend and a passionate rider. We both planned a ride to Kaziranga National Park located 200 kms from our place and return the next day by which we will complete a 400 kms trip. We started our ride on a lovely Friday (16th June) morning, I thank Monsoon God because he was in his best mood and he blessed us with slow showery rain which I always want to ride in.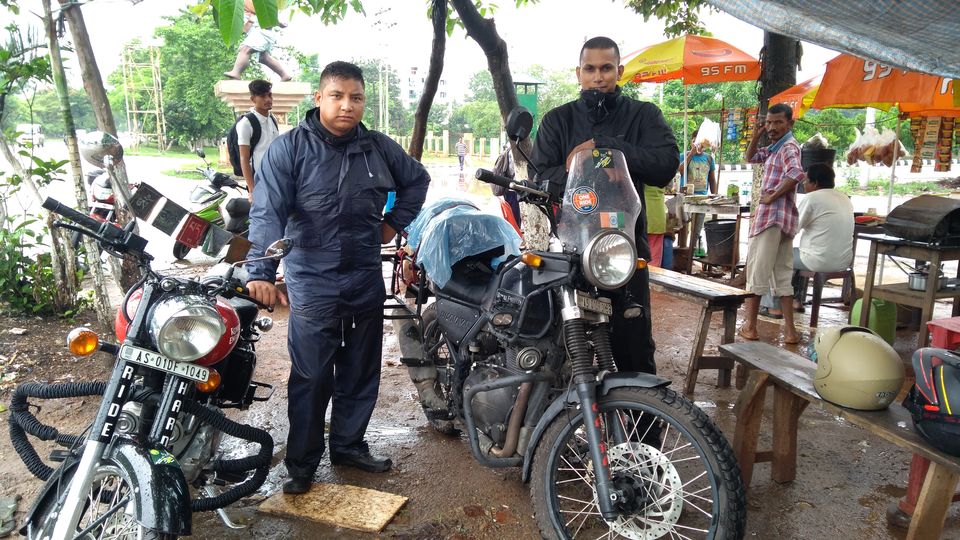 While riding and enjoying the view of wet grassland, hills and dark clouds through my goggles I started to realize the comfort I felt in riding RE Himalayan. Its seat and suspension are so good that I felt as I was gliding on the road. The thumping sound of my bike was like a sweet melody and the wind passing by was singing along with it, its power is like a wild elephant and its stability on turns gave me the confidence to twist the throttle to its limits. As I was following the road in my mind I thank the Royal Enfield team for making such an amazing bike and special thanks to Chirag Enfield guys for a friendly environment and delivering the bike on time.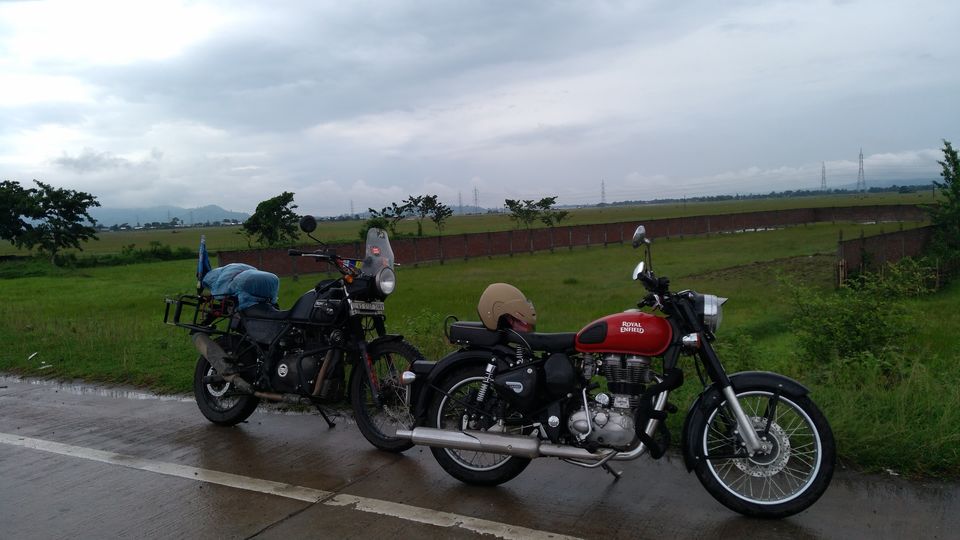 We stopped at random spots for taking photos and quick chit-chat before reaching our destination. We were enjoying every moment of the ride, the road, weather and beautiful nature all around. About 50 kms away from the main gate of Kaziranga National Park, my mind started developing an idea of riding further to visit the longest bridge of India built till now the Dhola Sadiya Setu aka Bhupen Hazarika Bridge which is around 350 Kms from Kaziranga and 550 kms from our starting point.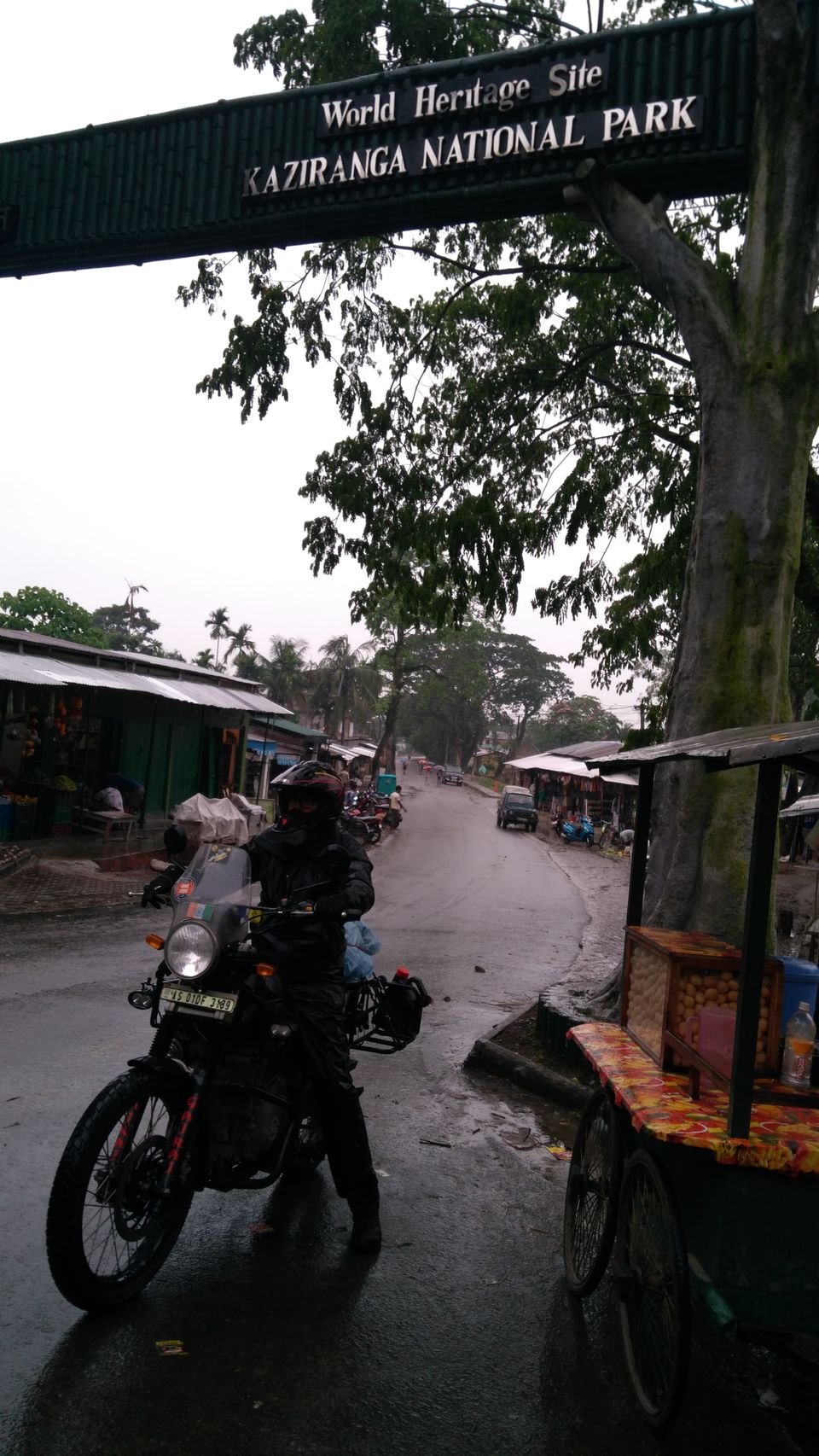 The Dhola Sadiya Setu spans the Lohit River, a major tributary of the Brahmaputra River, from the village of Dhola (Tinsukia District) in the south to Sadiya to the north. At 9.15 kms (5.69 mi) in length, it is the longest bridge in India. It will ensure 24X7 connectivity between upper Assam and Eastern part of Arunachal Pradesh. With the rapid movement of India's defense assets in mind following incursions by the Chinese Army, the Dhola–Sadiya Bridge has been designed to handle the weight of 60-tonne (130,000-pound) tanks such as the Indian Army's Arjun and T-72 main battle tanks. Since the Sino-Indian War, China has disputed India's claim to Arunachal Pradesh politically and militarily, making the bridge an important tactical asset.
I kept on thinking of the odds which might happen as I have never ridden those roads before and it would be my longest trip till now on my new Himalayan bike. Entire negative reviews about the bike which I read on the internet started popping up one after another. I started feeling the pressure of this brainstorm of thoughts inside my head and to release the pressure I twisted the throttle hard and the bike accelerated from 60 kmph to 90 kmph, then I twisted it a little more, the speed indicator was at 110. The sweetness of the sound of the wind changed to raging noise, the beauty of the view started flashing by the sides so fast that it became invisible, the melody of the thumping sound changed to heavy metal music and being at that speed for couple of minutes my mind was clear and I knew that to do.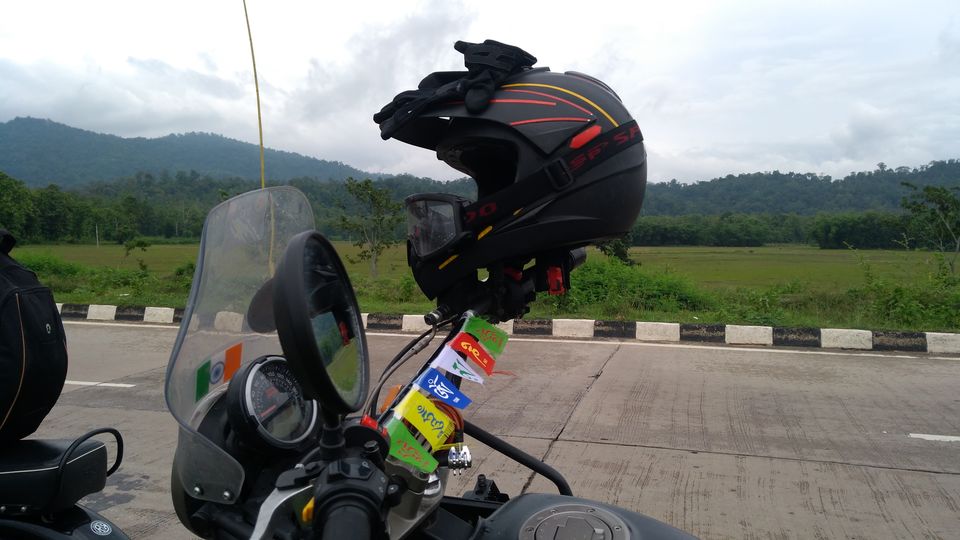 We stopped at Kohora for a quick break where I told Nayan about the idea and being a ride enthusiast he was excited and we started discussing the route and time durations needed for reaching our next destination. Finally, we decided that we will ride till Jorhat and stay for the night there and next day morning ride to Dhola Sadiya Setu. Jorhat is 112 kms from Kaziranga National Park and 305 kms from our starting point. We crossed Kaziranga National Park in the late afternoon and after that what happened brought all the odd feelings back in my head.
How do you decide what is bad or worst? Because for me it was confusing to decide whether the climate was bad or the road was worst but I was sure that there were more pits on the road than stars in our galaxy. 100 kms of pits filled road, heavy rain and pitch dark night, it was like a nightmare for me to ride on that road after reading those reviews about broken back mud guard, suspension and chassis, auto cut of engine and clutch disk problems of other Himalayan bikes.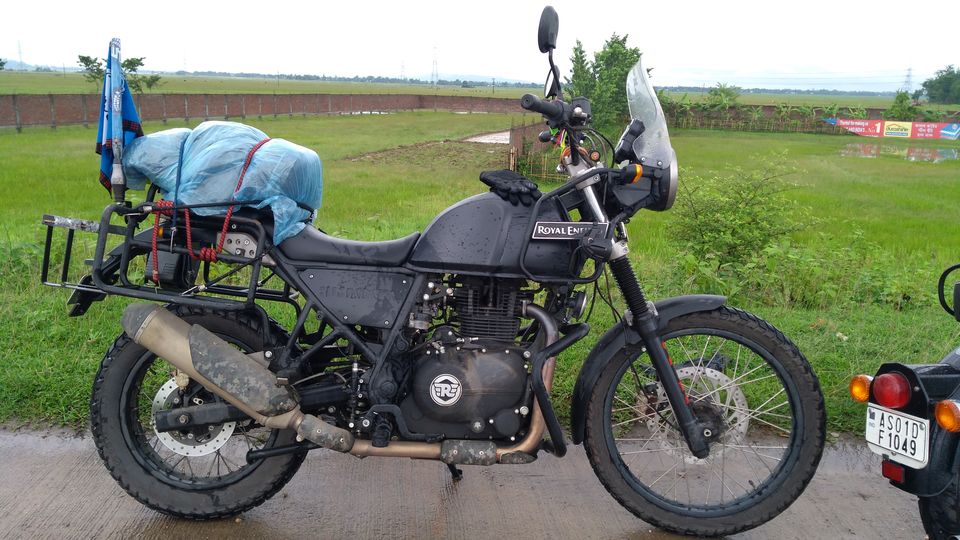 We already decided a specific speed to reach Jorhat so that we get enough rest for next day ride but due to the worst condition of the road our speed was reduced to half. At a quick stop, we decided that we have to ride fast to reach Jorhat on time because the more we are on the road conditions may get worst. With no choice we rode at 60 – 70 kmph, at that speed it was difficult to save the bike from each and every pit. The ability of suspension was on the test, braking power of the disc brakes was on the line and I have to prove myself that I can ride in these conditions.
Finally, we stopped at the entrance of the city Jorhat, I looked back at the dark road, I could see few headlamps at far distance closing slowly. I closed my eyes and recalled the last 100kms we just crossed while recalling I thank Chirag Enfield Service Centre guys for the servicing they did to my bike 2 days ago. The bike overall performance was incredible, at a speed of 60 – 70 kmph you don't get time to save your bike from each n every pit when the road is filled with it. The Himalayan's long suspension on front played its part very well by absorbing the impact of every pit I fell in, the back mono suspension provided the necessary inclusion. The disk brakes tried to do best but in those conditions their performance was average. Extra fog lamps which I added to support the headlamp provided a much clear view. Engine, clutch, gear worked perfectly and the foot rest is so strong that they became my darling because I stood on it while crossing pit after pit and they took my entire weight with a smile.
Next day Saturday (17th June) morning we started our journey to Dhola Sadiya Setu which is 240 kms from Jorhat. It was drizzling and the road condition was better than last night. We reached Moran early afternoon, we were welcome by the pride of our lovely State and it was shining in the sunny afternoon and dancing with the monsoon wind. The greenery of tea gardens on both side of the highway was giving a pleasant and warm feeling. We could not resist our self from stopping our bikes to capture the stunning view of tea garden which stretched till the horizon.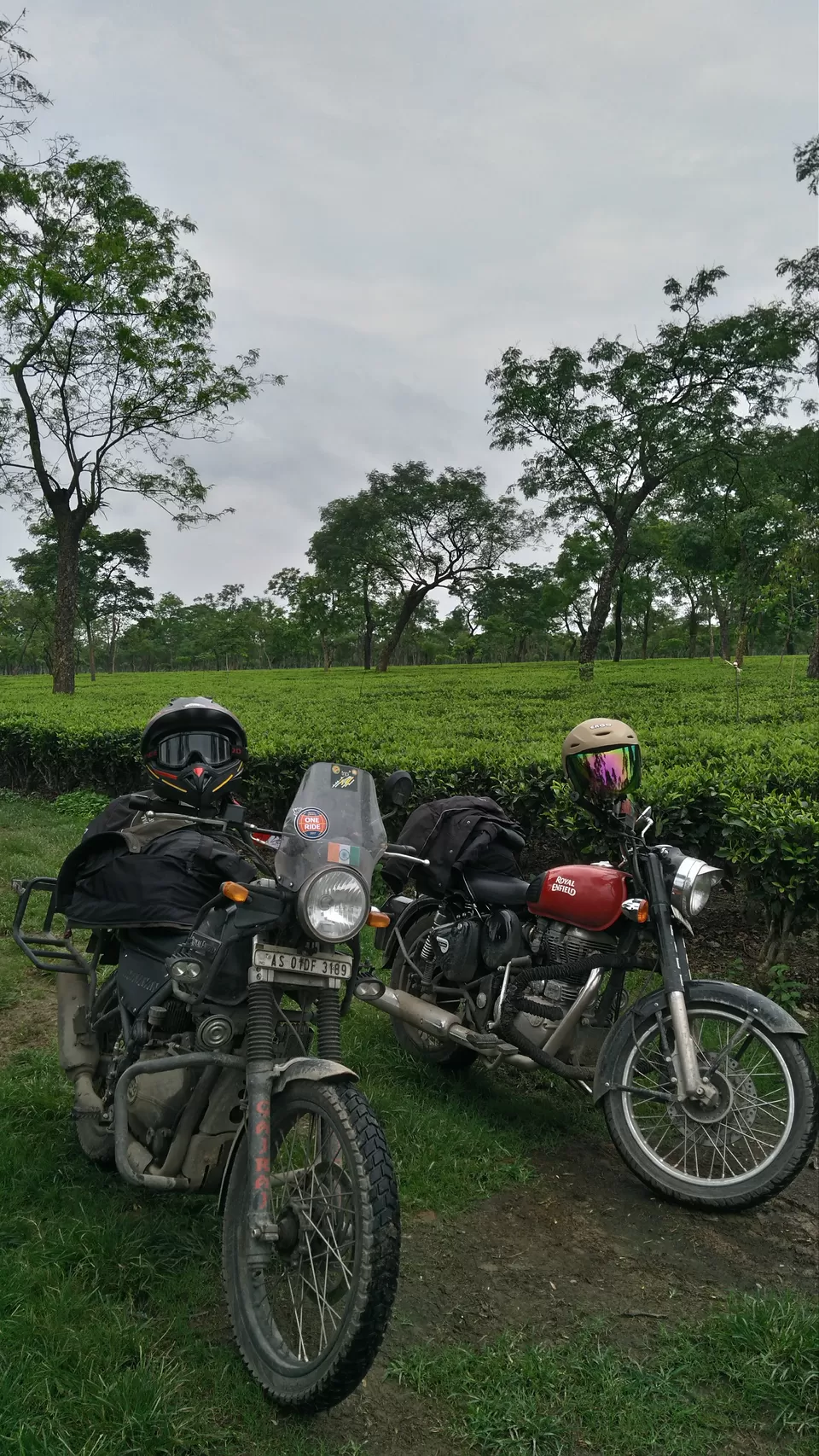 When we reached Tinsukia, Nayan wanted to visit the famous Tilinga Mandir which is located 17 kms towards Duliajan. The Tilinga Mandir aka Bell Temple is a very famous Shiva temple in Upper Assam. This temple has the largest collection of bells and has made it to the Limca Book of World Records for hosting the largest collection of bells of all types in this temple. There are hundreds and thousands of bells of all sizes in bronze, brass, copper and aluminum that are tied to the bog peepal tree and on its various branches. This temple is a famous tourist attraction of our state (Assam). We tied a bell each on the wall were thousands of bells were already been tied. Devotees tie bell so that their prayer comes true and I was amazed to see all those thousands of prayers in front of me. I thank Lord SHIVA for answering many prayers. After a peaceful break at the temple we started heading towards the Dhola Sadiya Setu which is 70 kms from the temple.
Oh! Finally we reached Dhola, I started feeling a strange kind of happiness in me, all my pain and tiredness disappeared and sense of completing the motive of our ride started developing inside me. I recalled all the things that happened in last two days. As I was thinking all the moments of past two days I saw the bridge for the first time, my eyes were wide open and I could not believe that I have reached our destination. The bridge is a huge man made marvel of our state. Being the longest bridge, the Dhola Sadiya Setu structure is massive and it looks gorgeous over the mighty Brahmaputra River. We stopped at a point to admire the view and decided to cross the entire bridge. At the very center there was a mysterious fog which covered the bridge, the wind over there was thick and calm and every one there was thrilled to experience that magic of nature. After spending an hour on the bridge it was time for return back to our starting point which always is home sweet home. That night we stayed at Dibrugarh which is 120 kms from the bridge and 470 kms from our home.
Next day Sunday (18th June), we decided that we will complete our journey within the same day, on the way back we meet Aryan Riders, a group of 10 riders from Guwahati who came to see the bridge as us and where returning back. So we joined them and rode together. We all made a chain of bikes following each other in a discipline manner, the roaring sound of our exhausts made people to turn their heads towards us miles away. We stopped at few spots for quick break, exchange our thoughts about the ride, road and route. We had to ride the same route as it was the shortest, so again 100 kms of pit was waiting to welcome us all.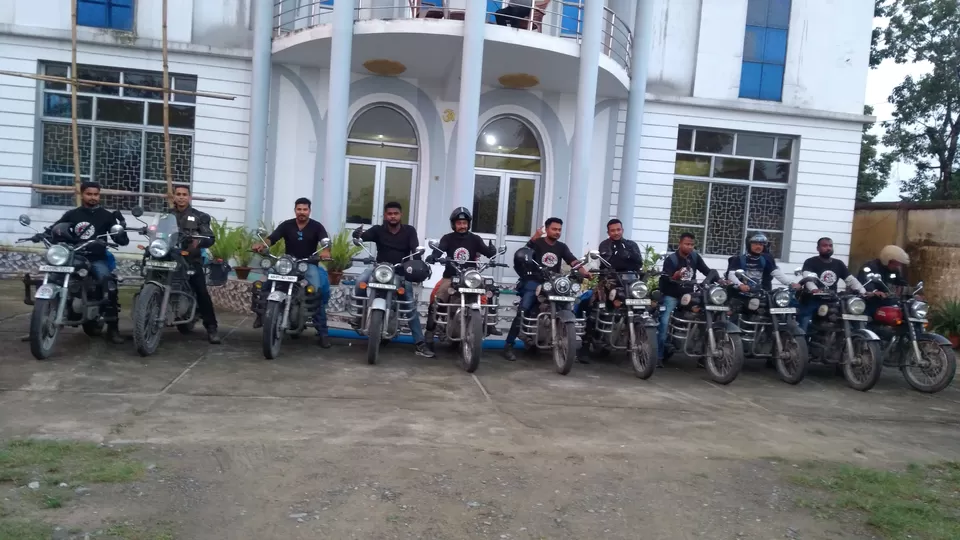 Finally we reached a point from where each one of us have to take different roads to reach home, we congratulated one another for the successfully completing the trip and promised to ride together again. While ride my way back home in my mind I thank All Mighty GOD that nothing bad happened to me, my bike or anyone else in this entire trip. I also thank each one of the riders to ride with me in this trip and last but not the least I thank my family for supporting me and a very very special thanks to my GAJRAJ RE HIMALAYAN for his astonishing performance.
I saute the brotherhood of bikers
Long live riders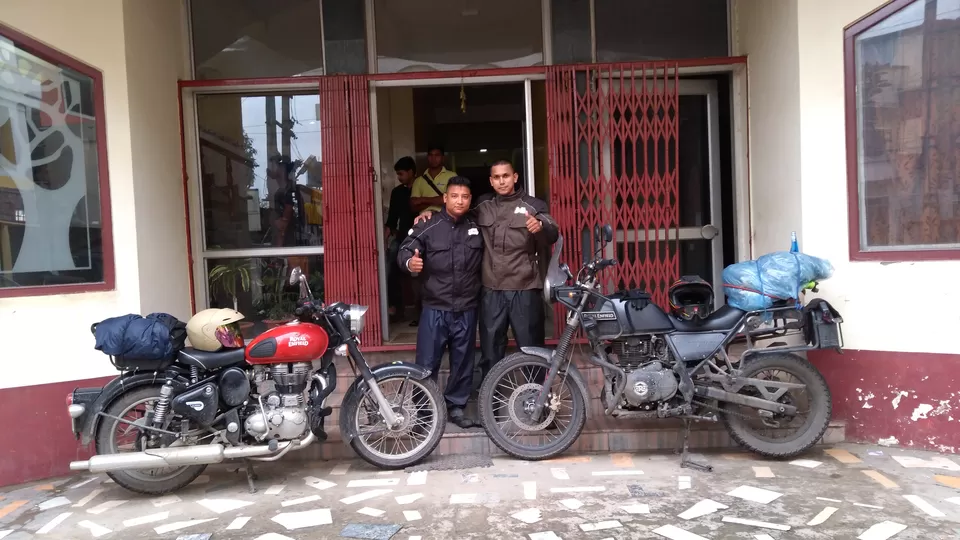 Frequent searches leading to this page:-
5 Epic Road Trips In Northeast India, North East India Bike Trip with Dream Riders, North East Motorbike Expedition - Asaam, Arunachal, Nagaland, North East Bike Trip Packages