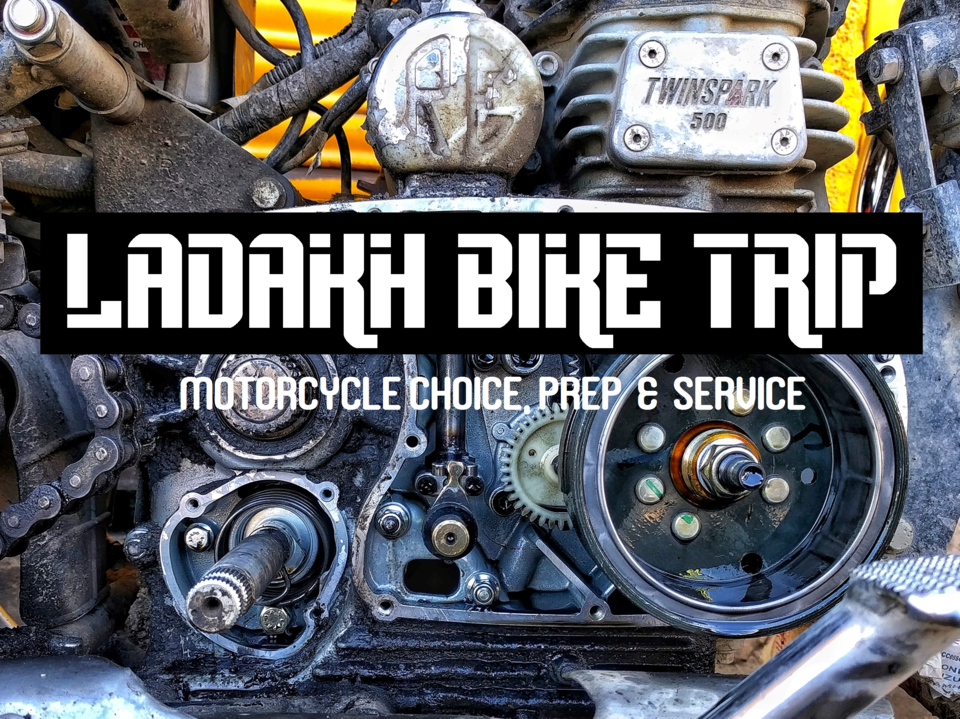 Planning a ride to the mecca of motorcyclists, Ladakh? Confused about which motorcycle is best suited for its unforgiving terrains or how to prep and service your machine? Here's everything you need to know before embarking on that long-awaited Ladakh bike trip.
THE BEST MOTORCYCLE FOR LADAKH
The answer to that will always be- whichever one you own. Don't fall for the stereotypes, you DON'T necessarily need an off-road machine or even a Royal Enfield to travel through Ladakh. Any motorcycle that's in a relatively good condition will make the cut, the only criteria being it should be one which you're comfortable and confident riding.
Traversing through Ladakh is nowhere as difficult as it once used to be thanks to the impeccable roads built here by the Border Roads Organisation (BRO) and as such the only off-roading you'll be doing will be limited to the very few stretches along the way that are yet to see a proper coating of tarmac. So spending all your savings on a 'Ladakh-appropriate' vehicle would be unwise as you're better off using that money on the actual journey instead.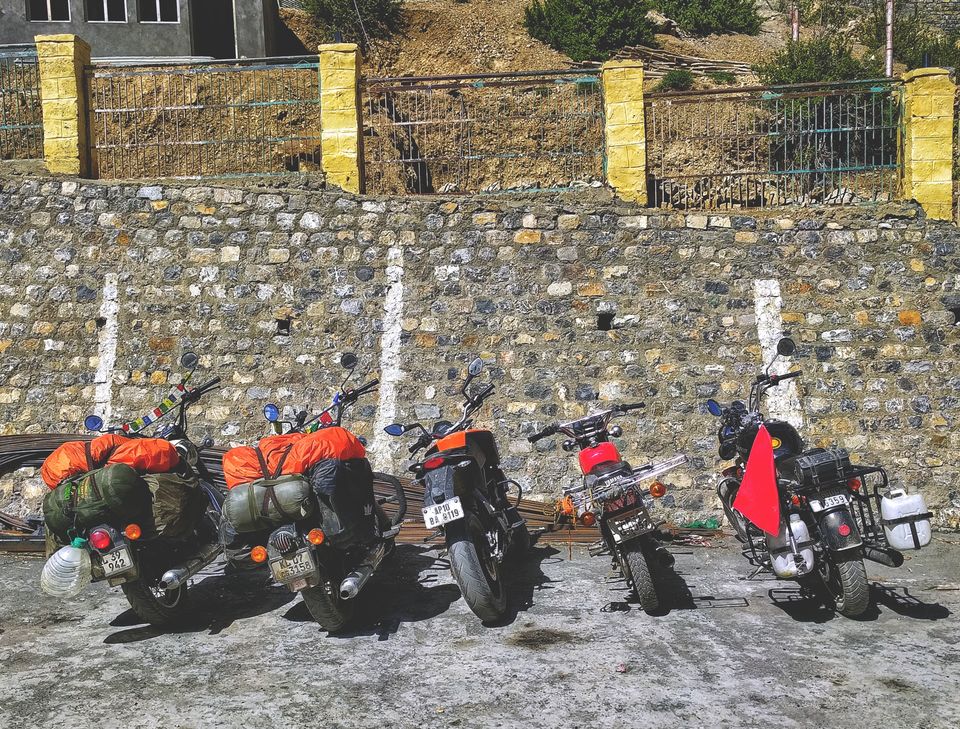 Apart from the gazillion Royal Enfields in the region, there are those riding everything from RX 100's and Bajaj Chetaks to the much powerful adventure tourers from the stables of Triumph and Honda to name a few; which is only conclusive evidence that its never the machine but always the mind that matters. The only considerations you'll have to keep in mind are the availability of spares and skilful mechanics for your choice of ride in case of a breakdown depending on the region you'll be travelling through. Peace of mind that your machine won't break down or even if it does, confidence that it can be easily fixed, will always be an added bonus while riding through some of the most remote parts of the Country. A reasonably powerful engine also helps you ride over those undulating mountains with much more ease.

Apart from the machine itself, the way you ride it also goes a long way in determining whether it will withstand the terrains of Ladakh. If you're going to butcher it and push it through speeds it wasn't meant to or decide to be a daredevil across those mountain passes and blame the machine for being unreliable; you're probably better off not taking this journey in the first place. Take things slow, enjoy the journey, and don't worry about reaching your destination. It's not every day you'll be travelling through the Himalayas.
MOTORCYCLE PREP AND ACCESSORIES
The machine that I chose for my cross-country ride in June 2017 was a 2016 Royal Enfield Classic 350. Being just over a year old there were very little issues with the bike itself that needed sorting.
Mobile Holder: Apart from a regular service and purchasing some basic spares, the only addition that I made to it was attaching a generic mobile holder cum charger for navigational purposes. In addition, I also used a USB charger from RideOn for additional power for my gadgets.
I highly recommend a waterproof & dust-proof mount such as the ones from Rynox or Mototech over normal mounts depending on how much your phone costs. (I had to replace my phone's motherboard after the trip. I'm guessing it had something to do with the massive amount of dust it accumulated day in and day out. Luckily for me, the device was still under warranty. You, however, might not be so lucky)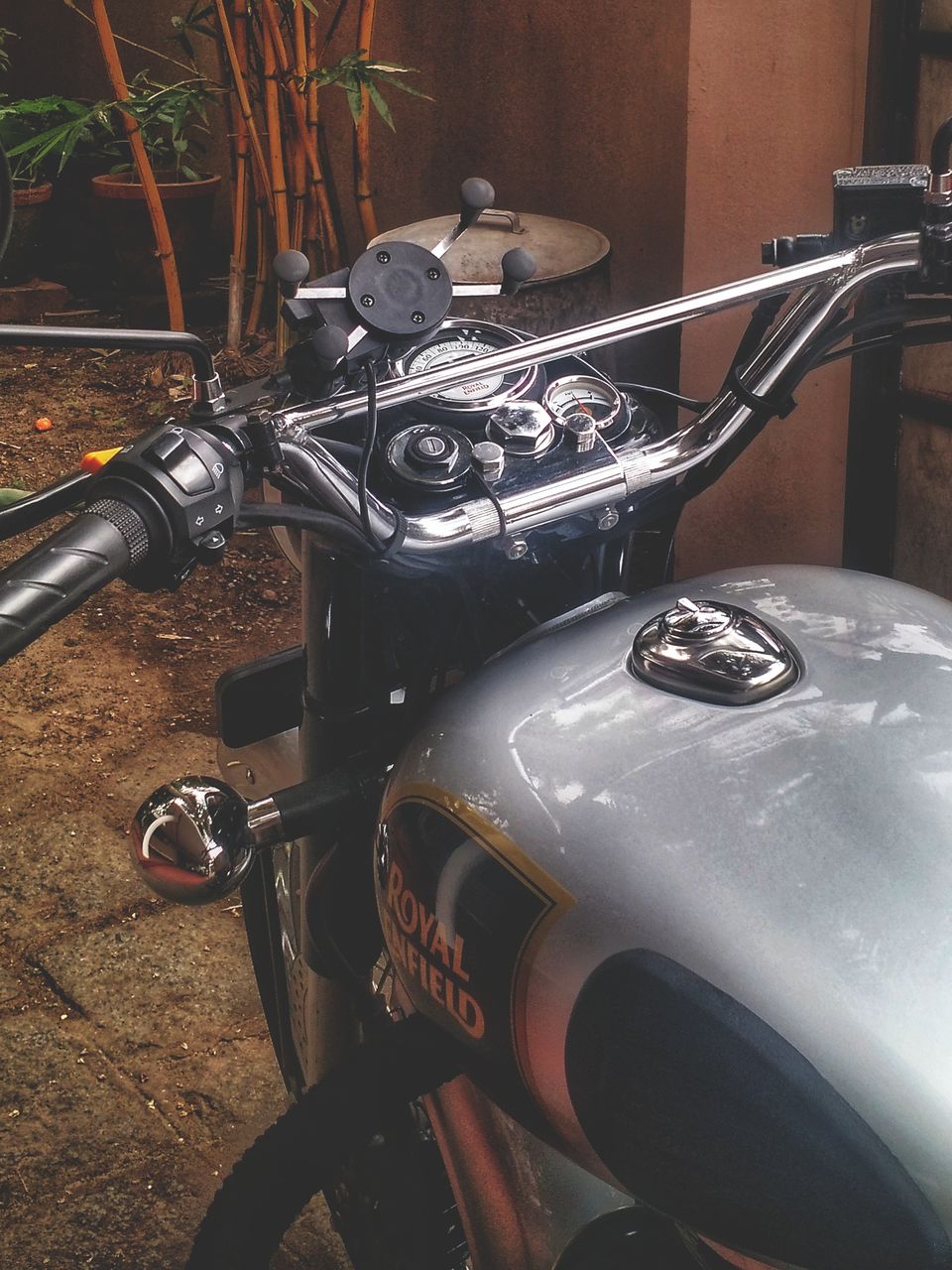 Ladakh Carrier: Much has been debated about the pros and cons of using a Ladakh Carrier for a journey to Ladakh. I, however, had to give them a pass owing to budget constraints and also because I had a perfectly functioning saddle bag. You may or may not attach one as per your requirements.

The only time you will need it is if you'll be riding with a pillion in which case the carrier will make both your lives much easier. It also prevents your saddlebags from brushing against the body of your bike which can result in increased wear and tear for the bags and minor paint loss for your bike. Although there are 'saddle bag stays' available in the market to prevent just this, the overall practicality of these carriers makes them a better choice. They also act as excellent crash guards in case of a fall.
Cons include the overall increase in weight of the bike and loss of manoeuvrability (which you will get used to) and they're practically useless after your ride unless you can find someone to buy them off you or you happen to be a regular long distance tourer (good for you!).
Jerry Cans: If you do plan to decide to get a carrier, I'd highly recommend getting a Metal Jerry Can to store extra fuel for those remote stretches with no petrol stations in between. Not only can they be securely locked onto the bike using a simple chain & lock mechanism, they're also much safer as they prevent spills and leaks which plastic jerry cans are highly notorious for.
Fog Lamps: Another accessory that I'd definitely invest in for my next big ride would be a reliable set of fog lamps. Not that I plan to or prefer riding in the night but there will always be those days when you'll have to ride that extra few kilometres after sunset to reach your destination for the day. Fog lamps can make a huge difference when compared with the less than adequate headlights equipped on the Royal Enfield.
Disc Brake Lock: This is also something that I'm looking into for peace of mind on those nights where the motorcycle isn't located within sight from my room. Although I'm aware that nothing guarantees complete theft protection, I'm hoping a simple Disc Lock will at least ward off those less experienced in the art of burglary.
Throttle Lock: A fancy tool that has been around for a while is the throttle lock, especially useful for riding across those boring and bland highways where you have nothing to do but twist the throttle all day long. Especially useful when your machine is not a performance oriented one and highways aren't really your best friends.
SERVICE INTERVALS, LOCATIONS & COST
The cost and hassle of periodic servicing of the motorcycle is something you simply can't afford to avoid when touring on two wheels. I myself ended up spending over Rs. 10000 on servicing my motorcycle which I consider is fairly average when riding long distances. I tried my best not to save or delay on oil changes or check-ups as far as possible and made it a point to service the bike roughly every 3000 kms and one service each back home at the beginning and end of the trip.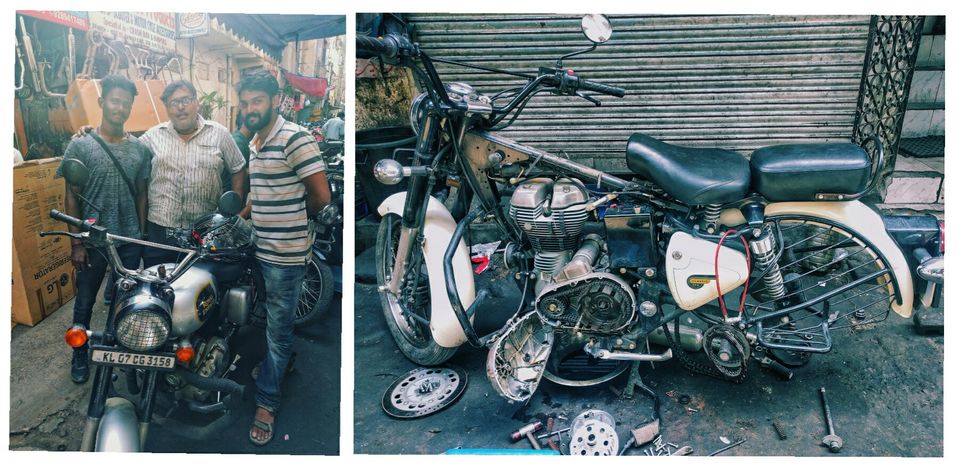 Based on my interaction with expert mechanics around the Country, I've come to the conclusion that for long distance rides the best practice is to replace your engine oil and filter every 2500 kms for Royal Enfields.

And I also learnt the hard way to avoid shortcuts while touring and believe in the brand of oils these mechanics use and not go hunting for that costly brand of oil that often claim too good to be true drain intervals. It's always better for your engine to use cheaper engine oils that can be replaced more frequently than using a costlier one for an extended period of time.
I also made it a point to avoid authorized service centres as far as possible unless I simply couldn't find a reliable local mechanic. (A simple Googling of the best mechanics in a city helps you a lot in this regard). I personally prefer to watch the experts work on my motorcycle than rely on the words of an underpaid salesman.
I've compiled a service chart containing information of all the service centres where I took my bike in, their locations, service intervals and cost for your reference. You can view the cahrt in detail here. (Do note that most of these are Royal Enfield specific service centres.)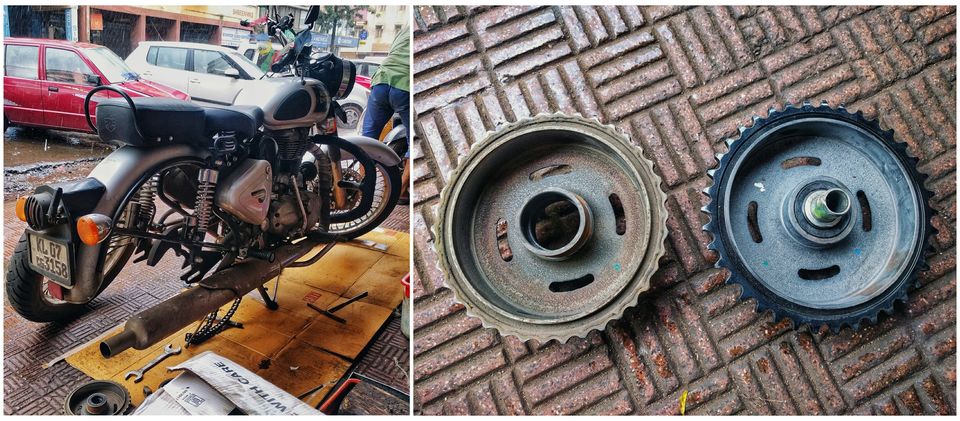 CONCLUSION
All that said, things can always go wrong, machines can fail, humans can err. But I urge you not to be disheartened. Overcome the challenges, beat the odds or simply try again the next time. These mountains aren't going anywhere.
The information contained in this blog post is only indicative and is entirely based on my own experiences from my Kerala to Ladakh bike trip in June 2017 and things that I've learnt along the way. Everything basically comes down to the kind of travel you prefer. I'm all for learning and sharing; if you have anything else to add or have any other valuable tips or suggestions, do leave a comment below.
I'll be following up this blog post with a series of posts dedicated to long-distance motorcycle touring. So do let me know if you found this post useful and follow my blog for more such content.