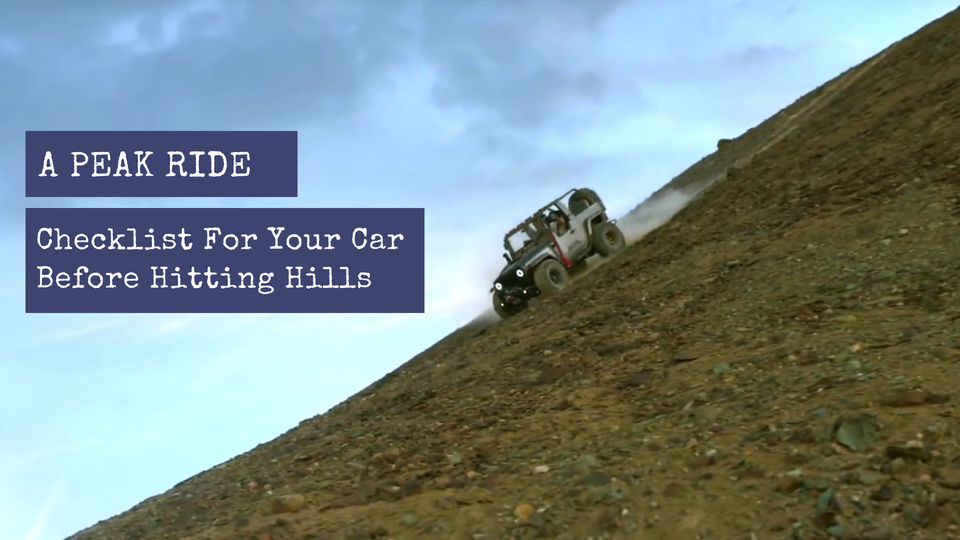 Hill stations have always been the hottest destinations for road trips. The cool breeze, the mist that kisses your skin, the beautiful fog (well…not always), the eye-refreshing greenery, the clean air, the birds & animals and direct interaction with nature can deter any man from visiting these places at least once. The trip will also be one of the most memorable ones, be it with your friends or your family. A trip for an eternity. An important partner for your trip is your car. You should know your car inside out before hitting the road. In this article, I'll provide you with a checklist for your car before a trip to a hill station
LIGHTS: I am not sure if this should be on top of the list, but it is definitely one of the most important things to check. Hilly areas are covered with thick fog and maybe your only hope of finding track could be the tail lamp of the car in front of you (so if he goes off the cliff, you'll also go off the cliff). Make sure all your car's lights including the signal indicator and the brake lights are working. Additional fittings such as fog lamps are advised.
TYRES: It is better if you start the trip with a new set of tires. Check the tire pressure and tire treads. The hill is a different scenario altogether. There is going to be lots of hairpins and places where you'll thank your traction systems. Also, your car's tire pressure should be maintained at the optimum level as per the manufacturer requirement. So, that's two things: No worn-out tires and optimum tire pressure. It's better to carry a portable tyre inflator with you.
BRAKES: Go to your nearest service center and check your brake fluids and see if the brake pads are worn out. It's an inclined road and it'll be difficult to drive if your brakes are not good enough. Make sure your handbrakes don't fail at times. There will come instances where you will be stuck in a block on a slope.
WIPER SYSTEMS: Why are you even going to the hill stations if you are not able to get a good view of nature? If you want to see the monkeys jumping off the cliff you need to have a clean windshield, right? Jokes apart. You need to have a clear view of the road and also it is important that windshield fluid tank is filled and the wiper blades and the nozzle are clean. The weather is unpredictable on top so expect the unexpected.
AIR CONDITIONING UNIT: Another vital element is the A/C unit. It's definitely going to be cold up there and you will be shivering in your car if the heaters fail. The dehumidifier will help you get the windshield clear.
ENGINE OIL: The next important thing to inspect is your vehicle's engine oil. Check the level. If it's not optimum, get it changed as soon as possible. Also, see if the coolant level is optimum and the fan belt is working fine or else it will destroy your engine before you even realize it. like I said before, it is better to take your car to your nearest service center before going on a trip and ensure that everything is working fine.
SPARE TYRE & TOOL KIT: Learn some basic mechanics before hitting the road. Trust me it'll come handy at some point. The roads are going to be harsh and ruthless and might lead to a flat tire. Of course, now every car comes with a standard extra tire but if you're in the middle of nowhere, it is up to you to fix it. carry necessary tools for minor works so that your car can make it to the next workshop.
OTHERS: Certain things that I haven't mentioned are first aid kit, portable chargers, a physical map and a flashlight. You might not find a hospital or any medical center nearby in case of an emergency. So, for the time being, it will handle the situation. The flashlight is advised because it will difficult to see under the hood and a flashlight will give you vision to those dark places. Portable chargers are least preferred since many vehicles come with built-in USB chargers. But if your vehicle doesn't then it might be a good idea. There are some manufacturer online sites that provide such accessories. A physical map is a must. It will be the only thing that will give you direction when all your gadgets are drained.
A ride to hilly regions is pretty fun and wild. It will be good only if your vehicle can conquer the tracks. It's pretty easy if you follow the above precautionary steps. It's not going to be easy, but it'll be one hell of a ride. Be aware of your surroundings and should be really focused on the road since it is not at all straight. Find the right time, place and with enough precautions, you should be able to get away with a relaxed trip. Hill stations will never disappoint you. Just don't get too cocky and underestimate the road. You might not know what all surprises it has for you. Drive slowly at the hairpins and if you get tired, take a break. Drink lots of water even though you don't feel thirsty. Keep yourself refreshed and enjoy the ride.