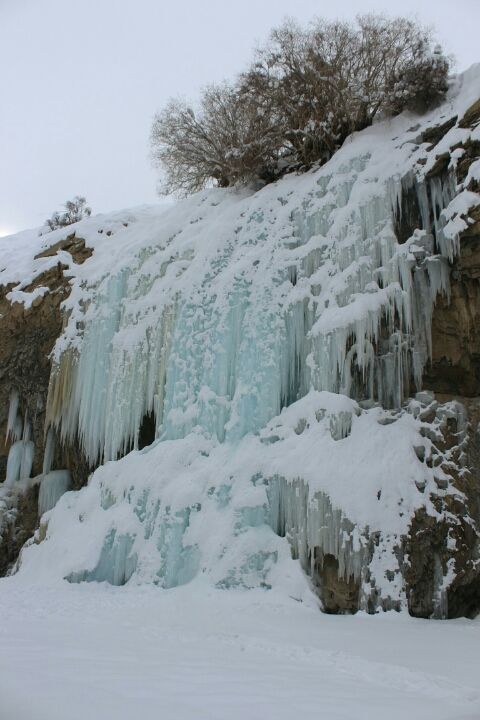 "How will you survive the minus temperatures, the extreme weather conditions and the strenuous off treks?", my dad asked.
"Don't worry daddy, the mountains will take care", is all what I said!
*CHADAR TREK - THE EXCLUSIVE ONE*
From the time you start planning for Chadar, many thoughts may occupy your mind regarding the extreme weather conditions. But believe me, it's ALL WORTH IT!! Because it's an opportunity you don't want to miss!
CHADAR TREK is one of the most difficult and overrated treks of India, specially known for the 'Penguin style walk' on the frozen Zanskar river. It is situated in Leh, J&K, India, on the trail of the Zanskar river. Right from Chilling to the Nerak village you will be walking on the Freezed Chadar. Due to the minus temps, Zanskar freezes making it possible for you to walk over it. This trek is open only in the months of Jan-Feb.
The trek begins from Nimmoo village.
This is the last stretch and the summit point of the chadar trek. You can also go up to the Nerak village. The mightiest mother water falls (frozen waterfall) are formed here!
Covering your body with 4-5 layers of clothing (thermals, overcoats, snow proof jackets, gumboots, etc), keeping yourself hydrated, camera and extra batteries is all what you'll need.
~My Experience~
On 23rd Jan 2017, I departed from the Mumbai airport with my other trek fellows to reach Leh. After arriving in Leh, a van was waiting to receive us to our Leh guest house for leisure and acclimatisation.
25 to 31 Jan : This 7 days-no-network-trek was an adventure in every possible way, right from the landslides to the initial few days of heavy snowfall, from experiencing -10 to -32 degree temperatures to walking on the Freezing Zanskar, from breaking the ice sheets to climbing & sliding on the snow mountain, from eating the hot maggi with chai for lunch to having snowball fights with friends, from snowfalls to bright sunny days, from going through off treks to walking from the cold Zanskar river, from celebrating the 66th Republic day to reaching the Final Summit Point, from sleeping in moist sleeping bags to witnessing those zillion stars shining bright only for you! - #WeDidItAll. A ONCE IN A LIFETIME EXPERIENCE!!
Words fall short to describe the infinite beauty this trek holds and has to offer. You will always want to stay there.
1st & 2nd Feb : Leaving behind God's most beautiful place etched in our hearts forever & biding Zanskar farewell we headed back at our guest house and the next day after visiting a few monasteries and landmarks we departed for Mumbai!
>> A big shout out to the LOCAL PORTERS for always being there for us right from the first day to guiding us at every juncture and carrying heavy loads on their shoulders. Also, for always serving us with hot meals, only to make our trek less difficult, enjoyable and safer!
>> As Chadar trek is a bit different from the Himalayas Treks, it is not recommended for Beginners to enroll (Only because of the extreme conditions).
>> Before registering yourself for chadar, make sure you're fit enough for the journey. By fit I mean, very fit! Many links and organisations provide you the training to undergo for chadar!
For more pictures, visit my instagram page - @naini_shah
Thankyou, hope you liked it! :)
Happy Travelling!
#trekking #trek #chadartrek #frozenriver #thrilling #tripoto #adventure #explore #challenge #survivingtemperatures