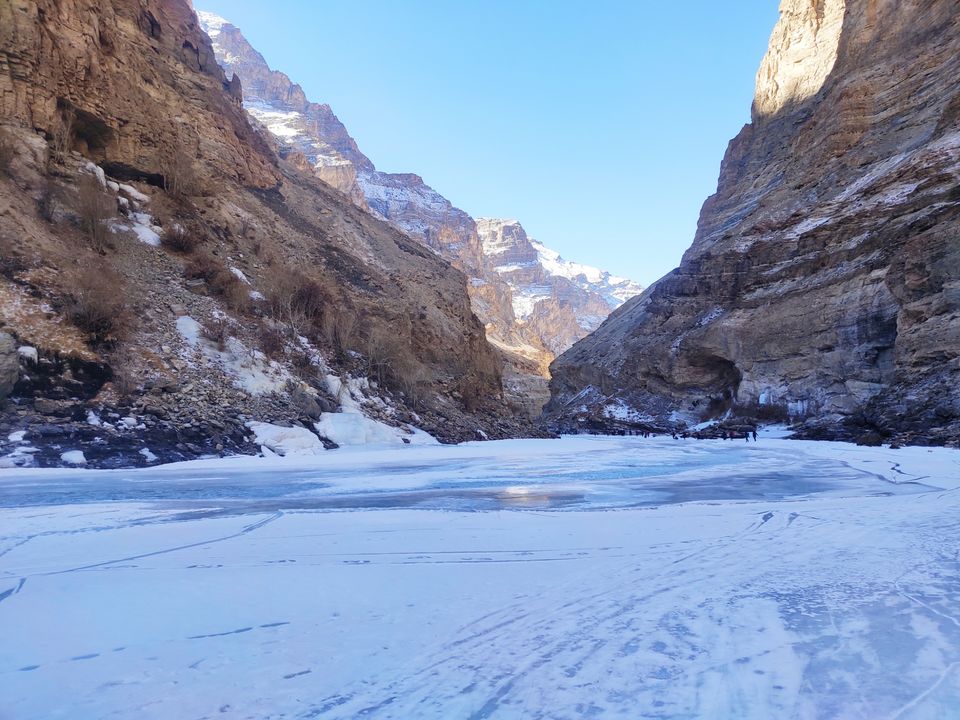 A journey or can say yatra to one of the most difficult treks in terms of temperature is nothing but Chadar Trek.
Chadar is named because of Zanskar river gets frozen completely in winters and it appears as thick blanket, hence it's called Chadar.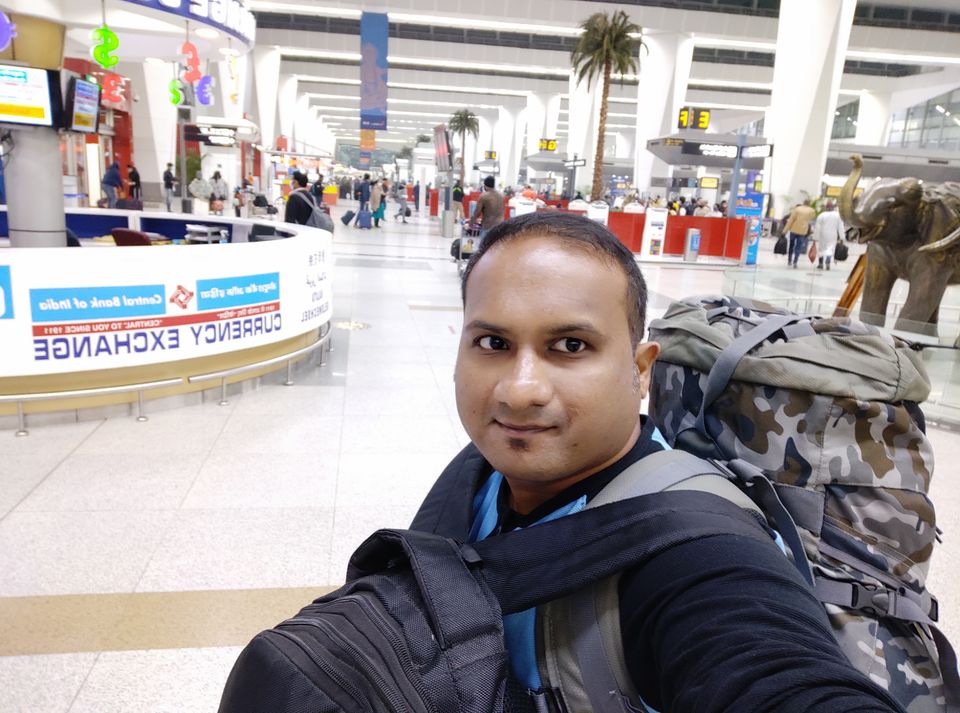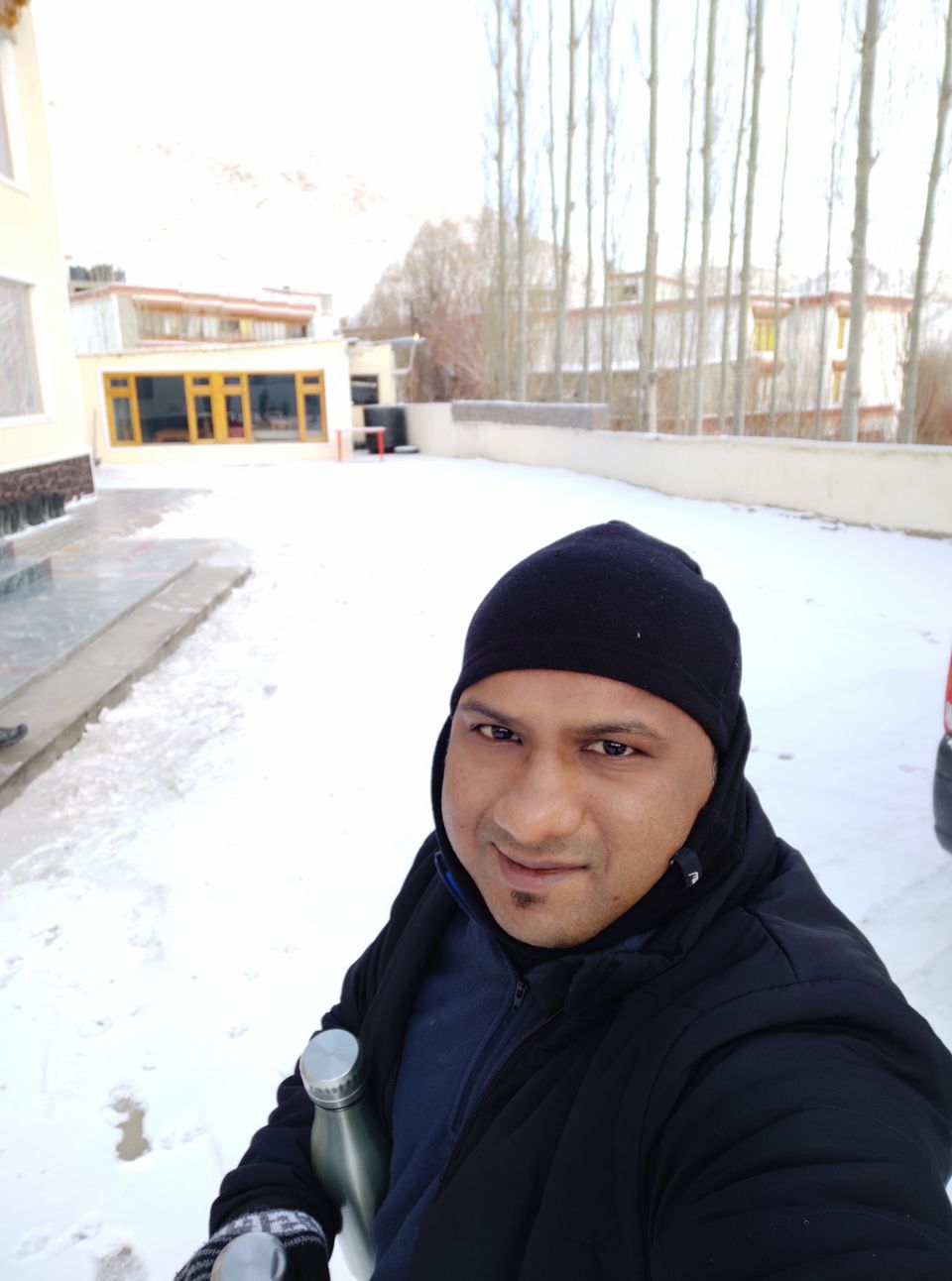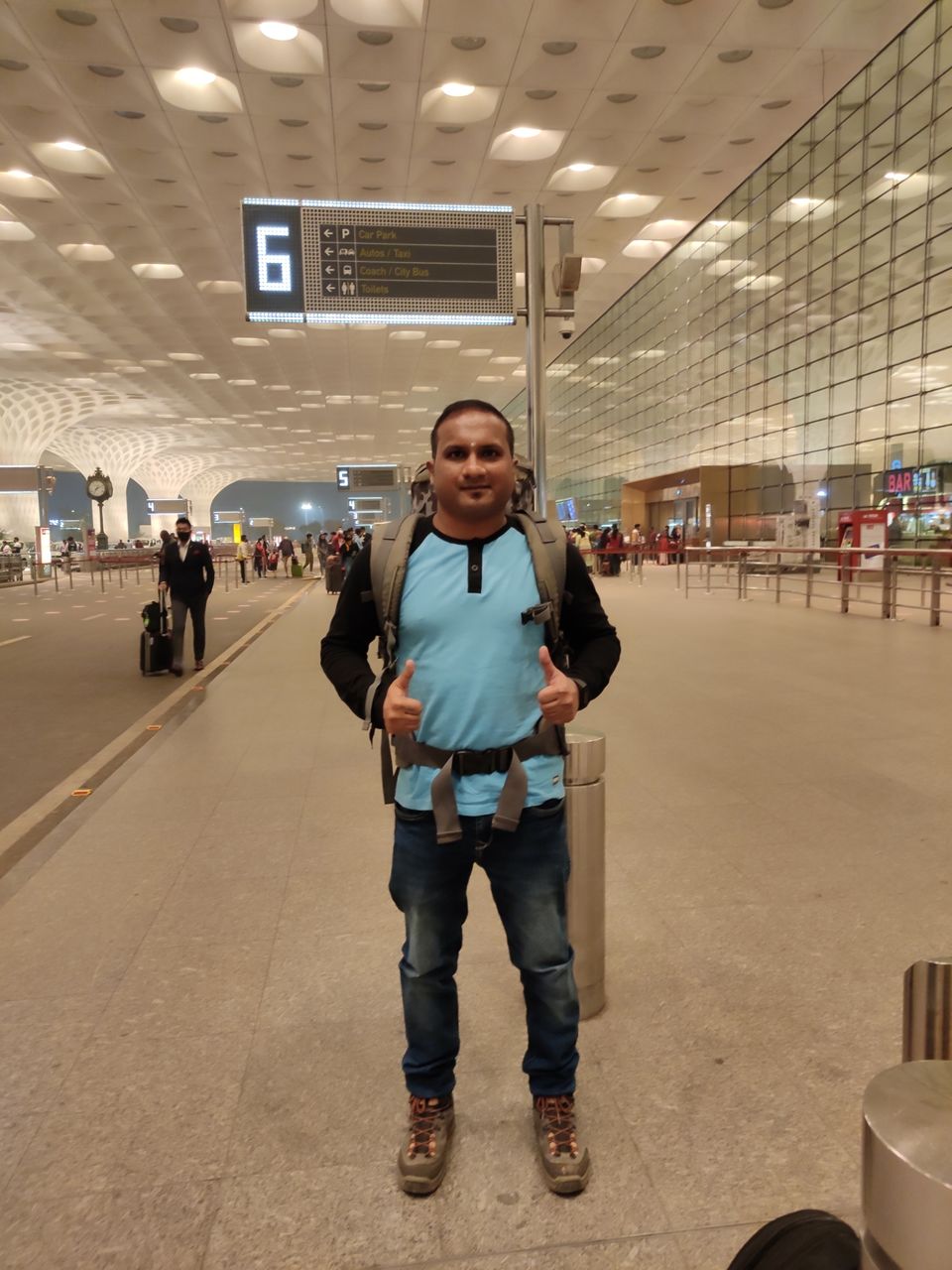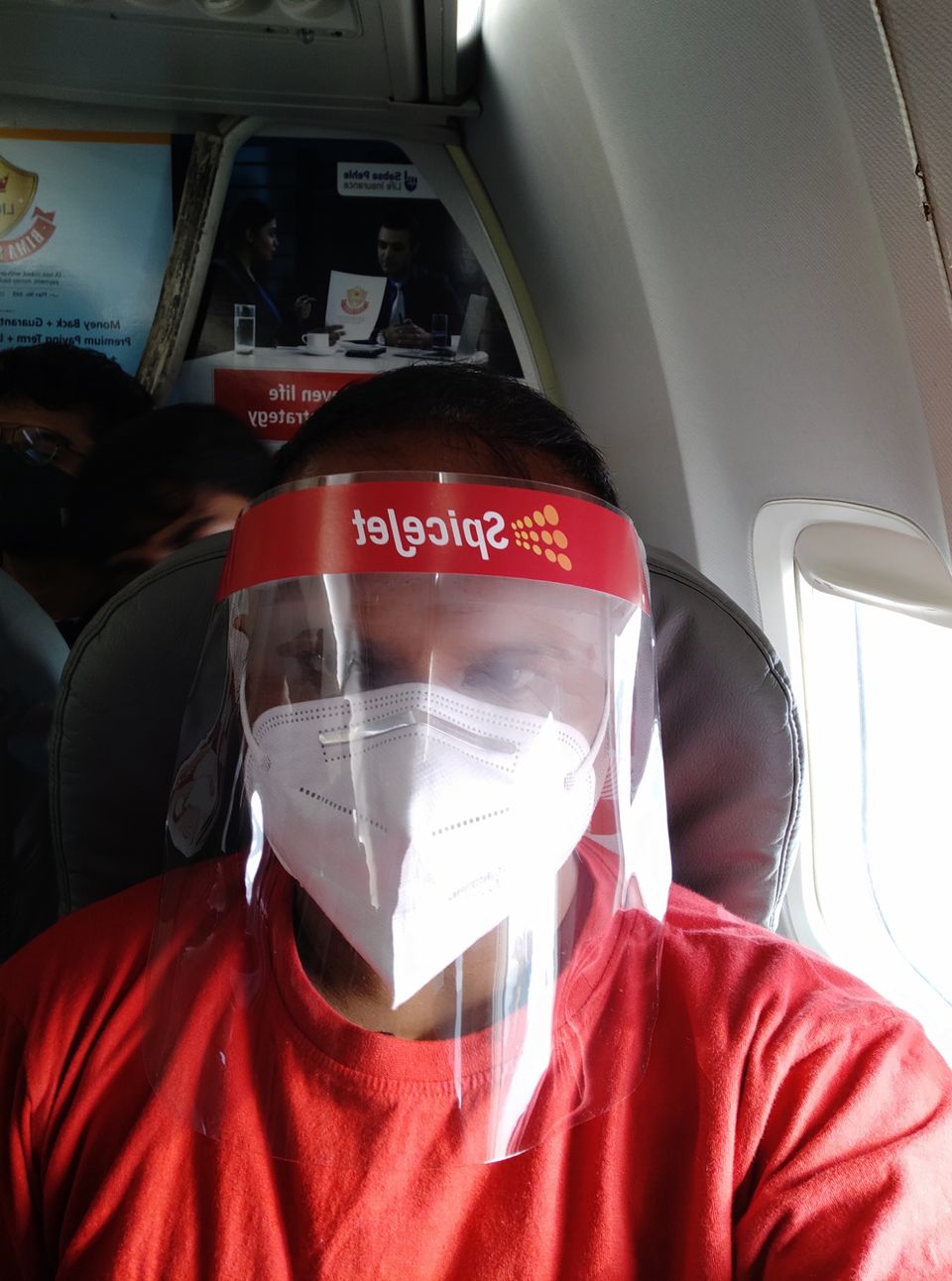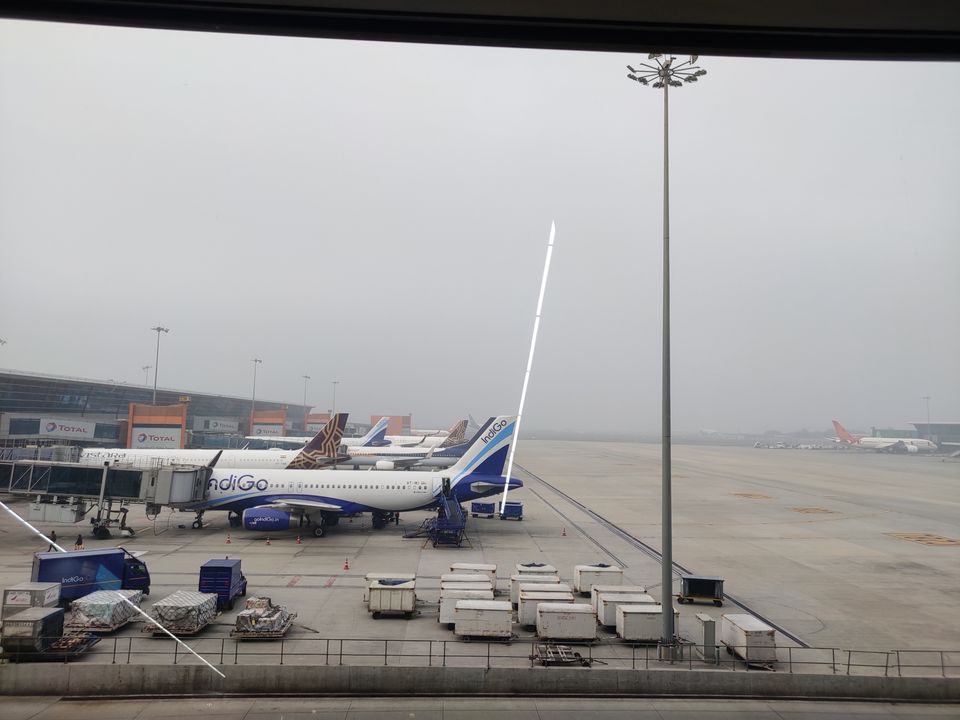 Fitness :
- Absolutely 100% required ,when we go to any easy or moderate level treks, most of people just pack their bags n kick off to the treks for fun.
I say trek is not only for fun, it's an adventure journey which require mental fitness, focus and physically strong.
This trek is completely different from rest, because temperature here drops to - 25 to - 35 degrees and one have to walk on this daily approximately 65km in span of 5 days.
So fitness physically and mentally to face challenging situations is must.
How to Travel :
1. By air get down to Delhi, prefer arrival at night. Take halt for some hours, rest and get charged for next flight to Leh early morning. Always book a flight having a halt of atleast more than 5hrs between 2 flights. Get F side seat from Delhi to Leh flight to have a view of complete Himalayas clearly. That's the main part of the flight. You enjoy your journey to max.
By road :There is no connectivity by road to Leh in winters. So this option is not valid and more important, trek company ask for Delhi to Leh boarding pass as mandatory document to submit.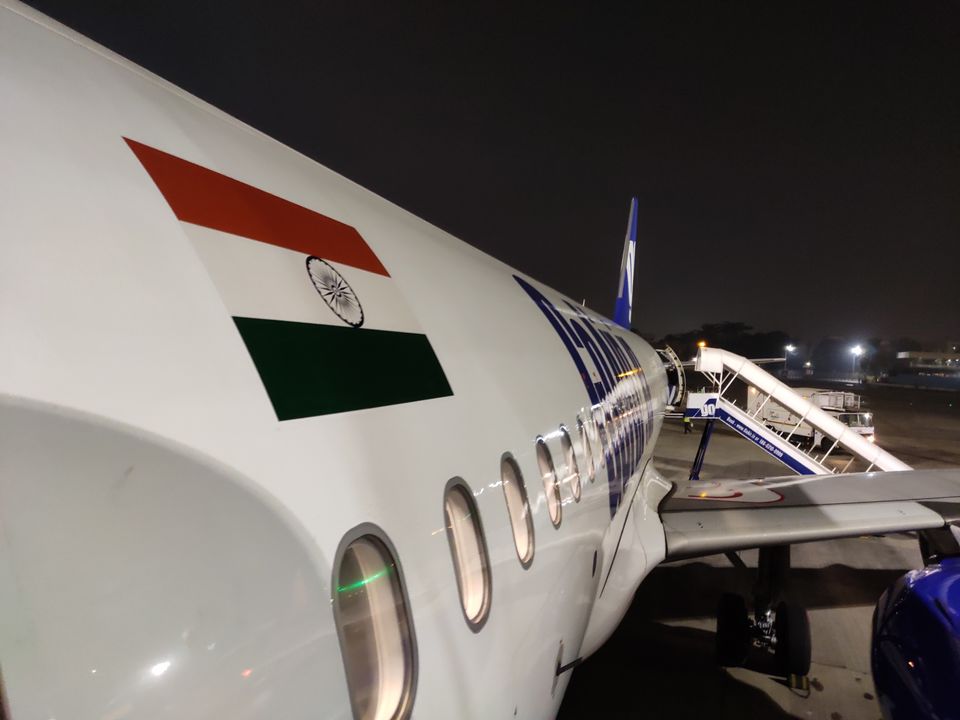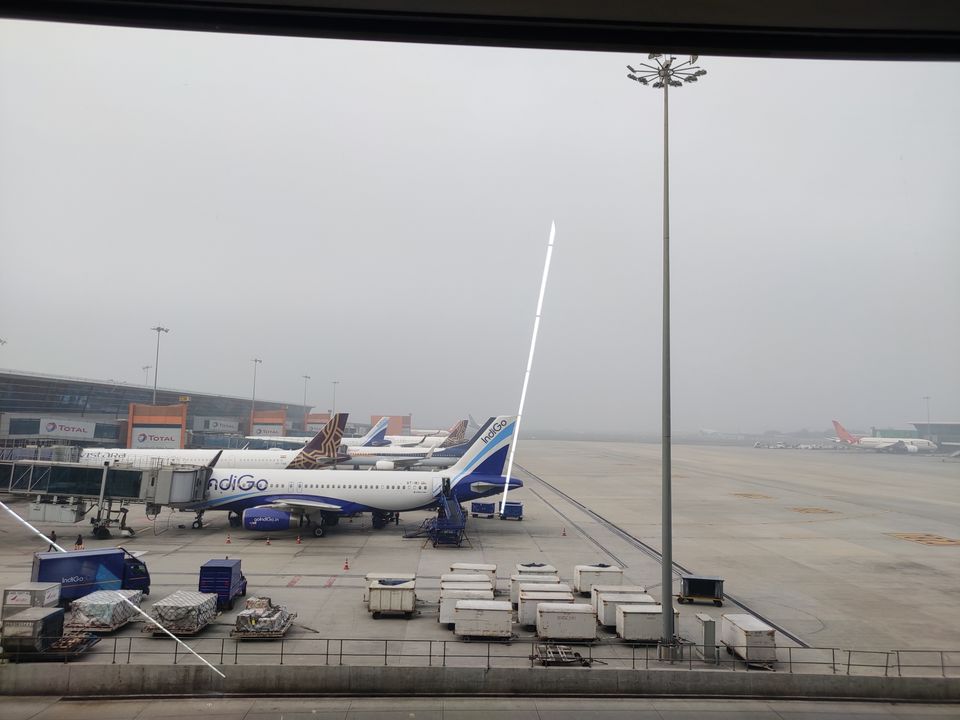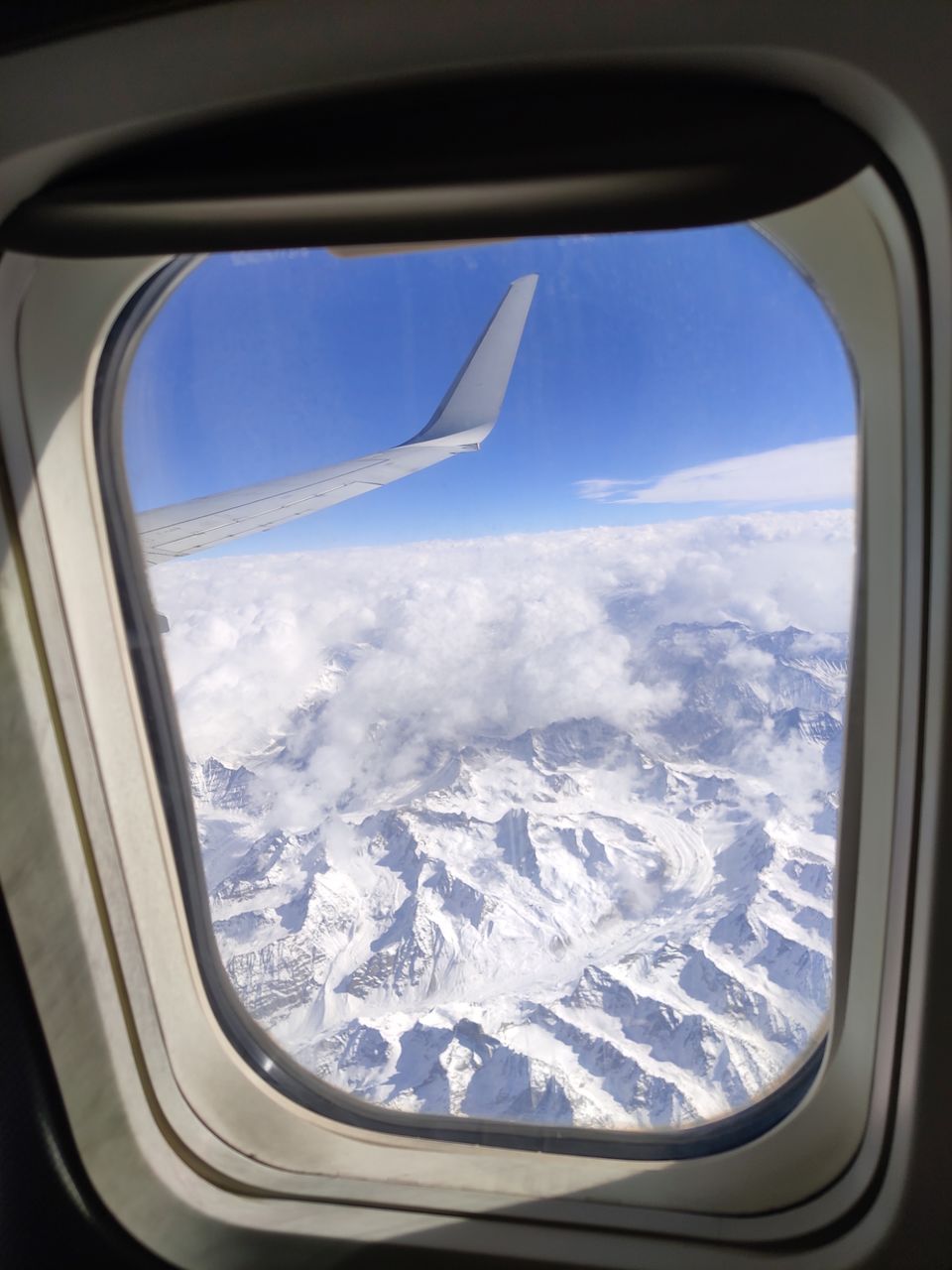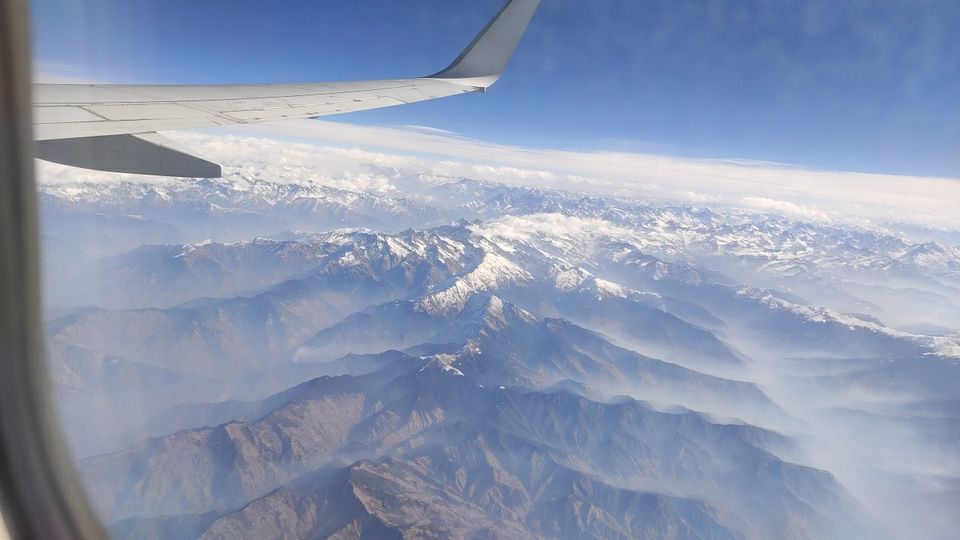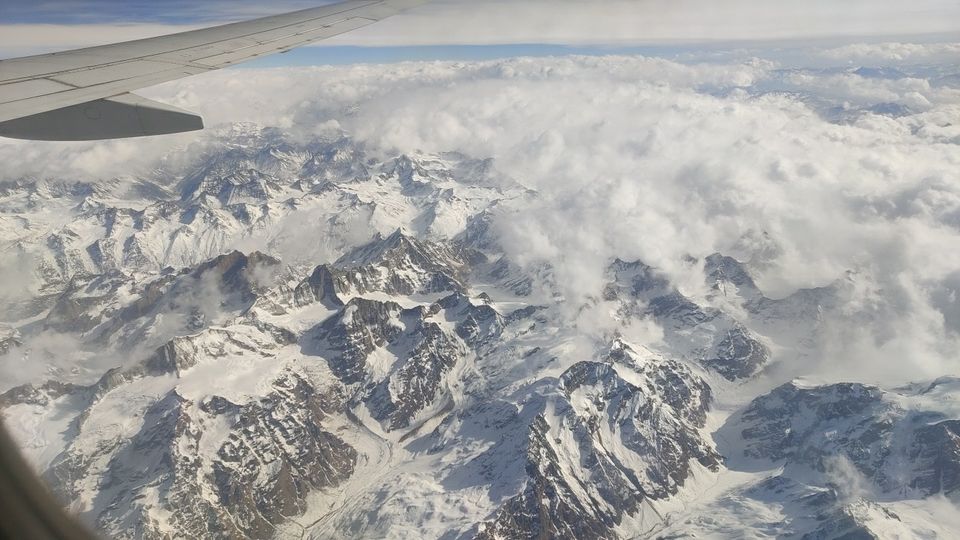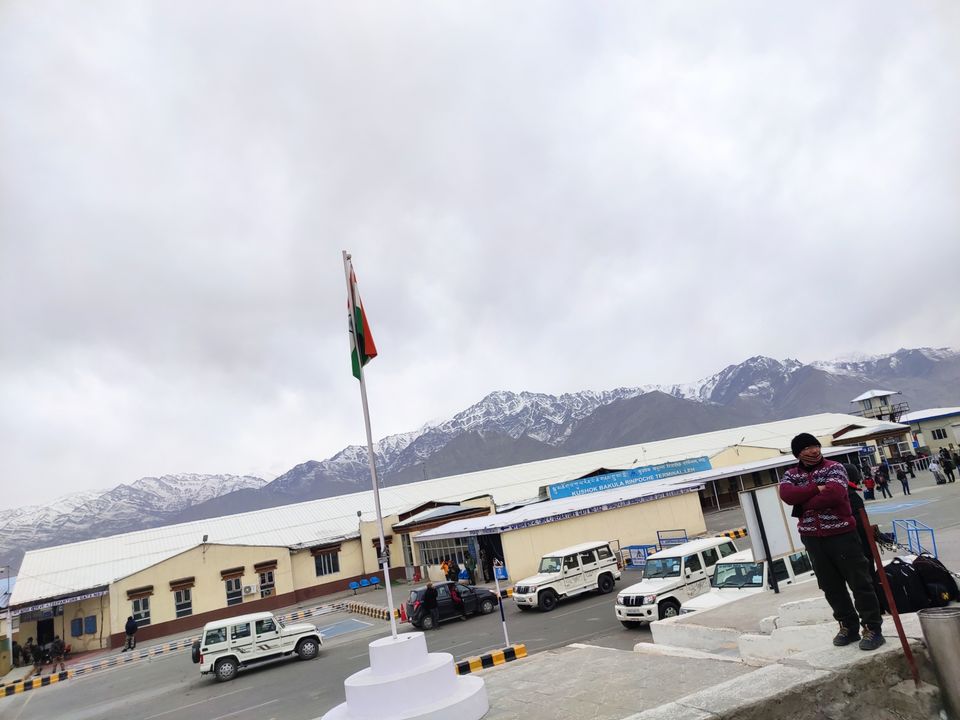 Essentials :
- For chadar trek, I suggest to buy all your essentials from top to bottom from Leh main market army store. Reason is as they are of good quality, properly layered which is required for trek and important thing is its very low cost as compared to decathlon.
- I suggest to get warmies, fleece and trek shoes only when arriving in Leh, rest you can buy as mentioned above.
- Army store contact person and number below : Rajesh - 9414063835
Arrival at Leh
-This day we arrive at Leh, then proceed to hotel which trek organizers will arrange and intimate before arrival.
Just rest and acclimatize yourself and drink plenty of warm water.
Do not plan for any outing, keep calm.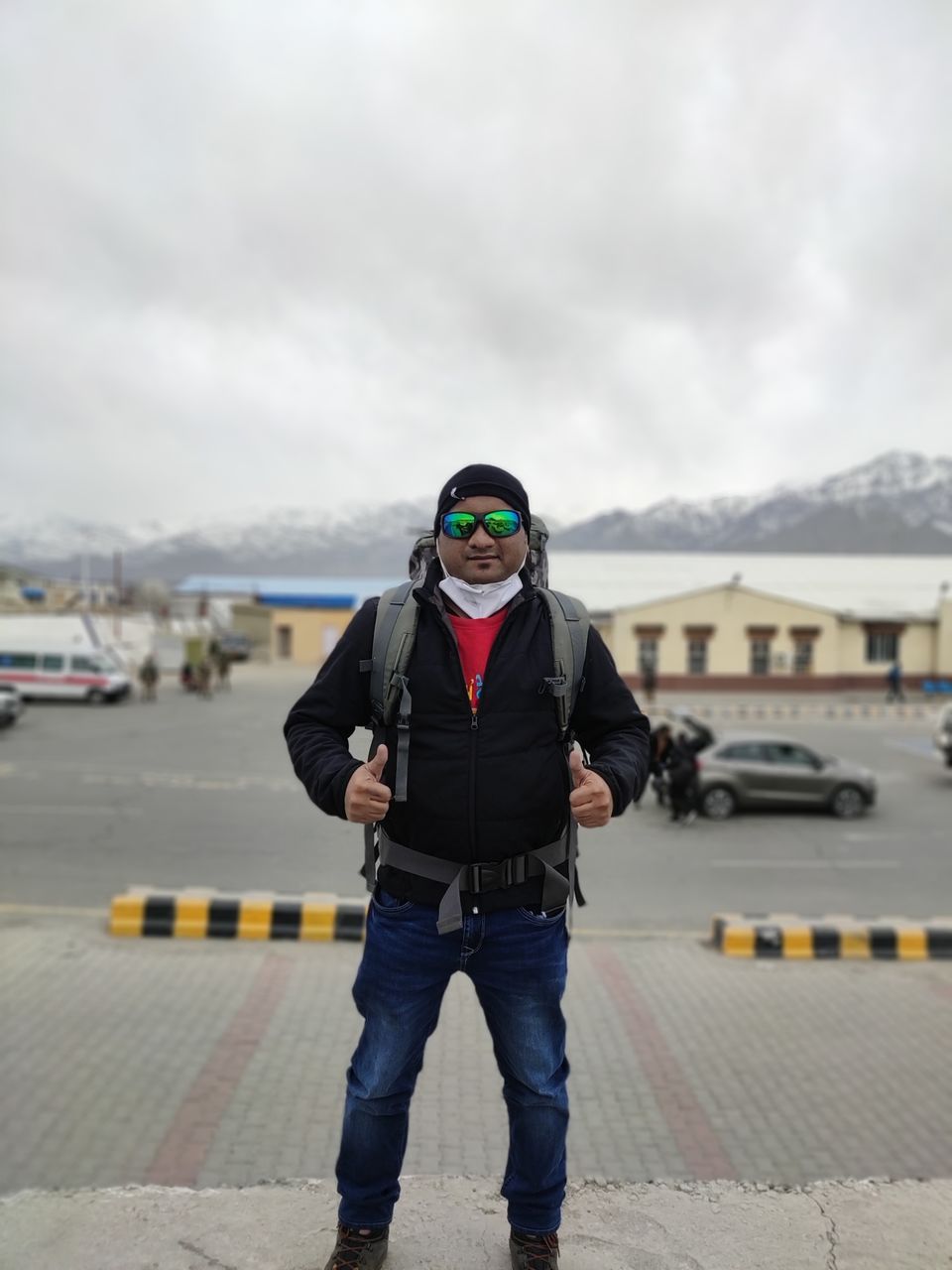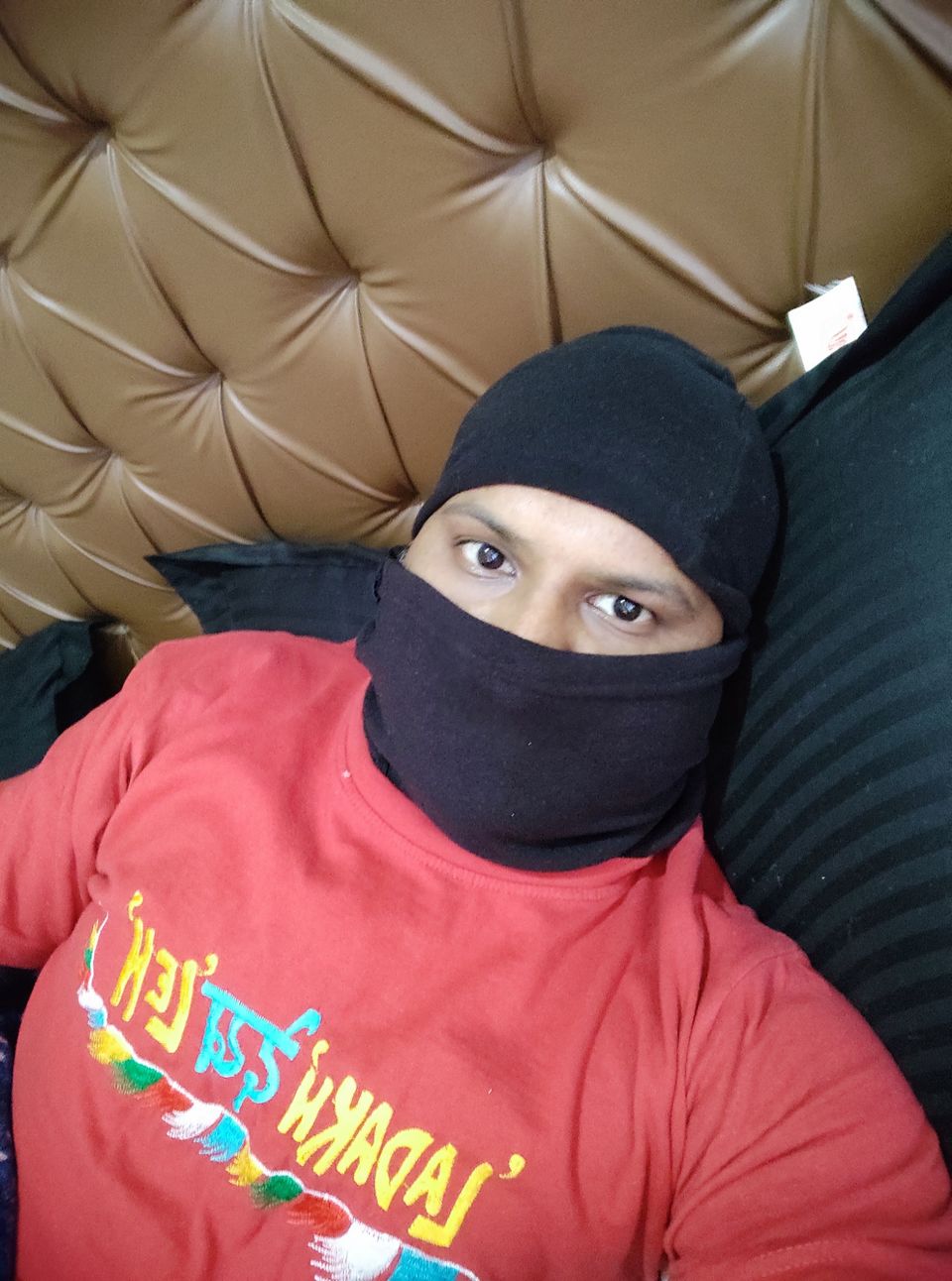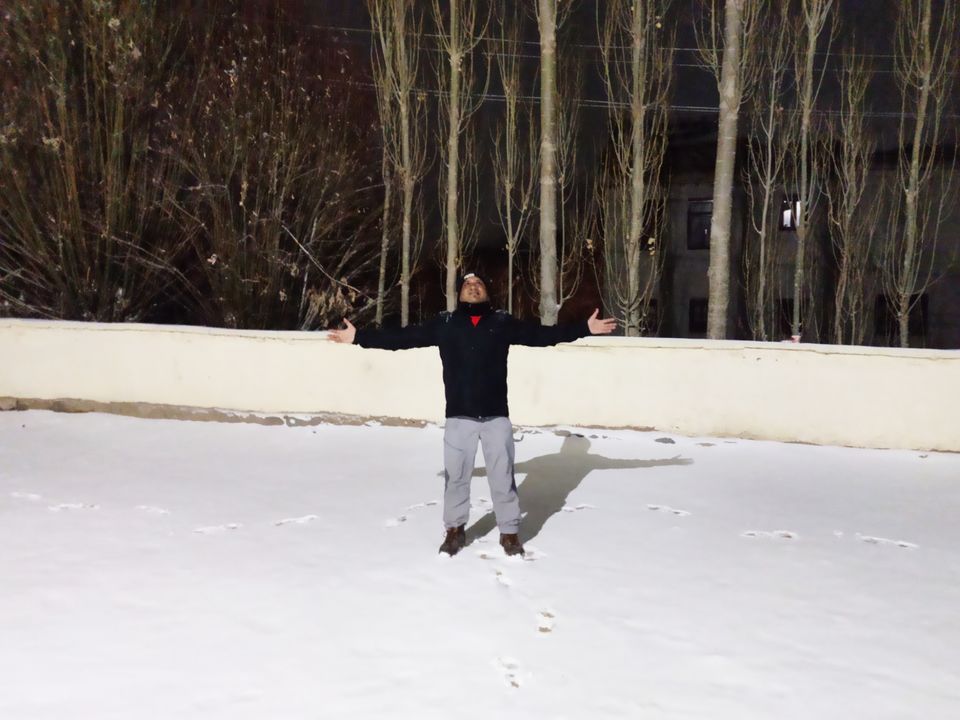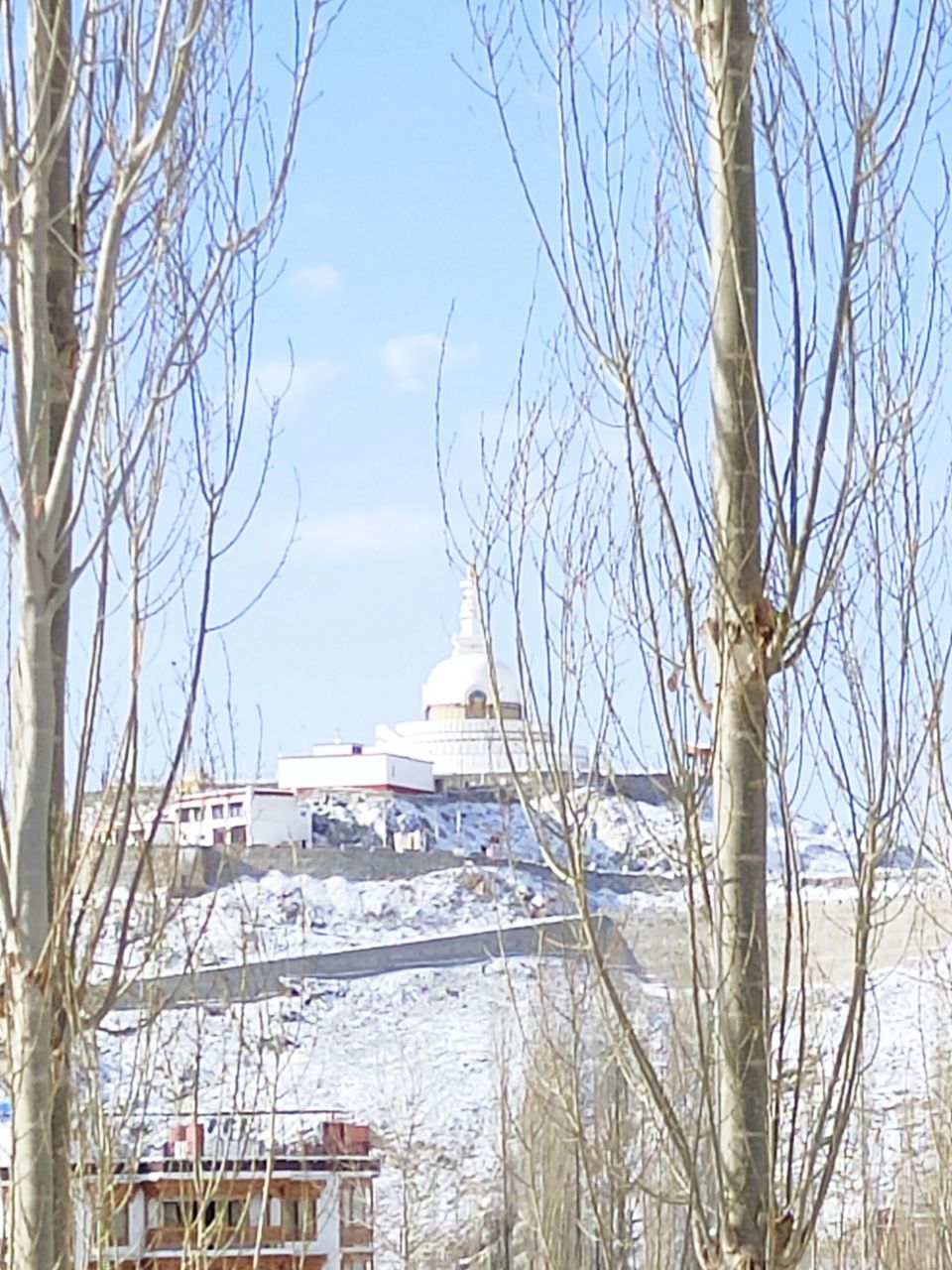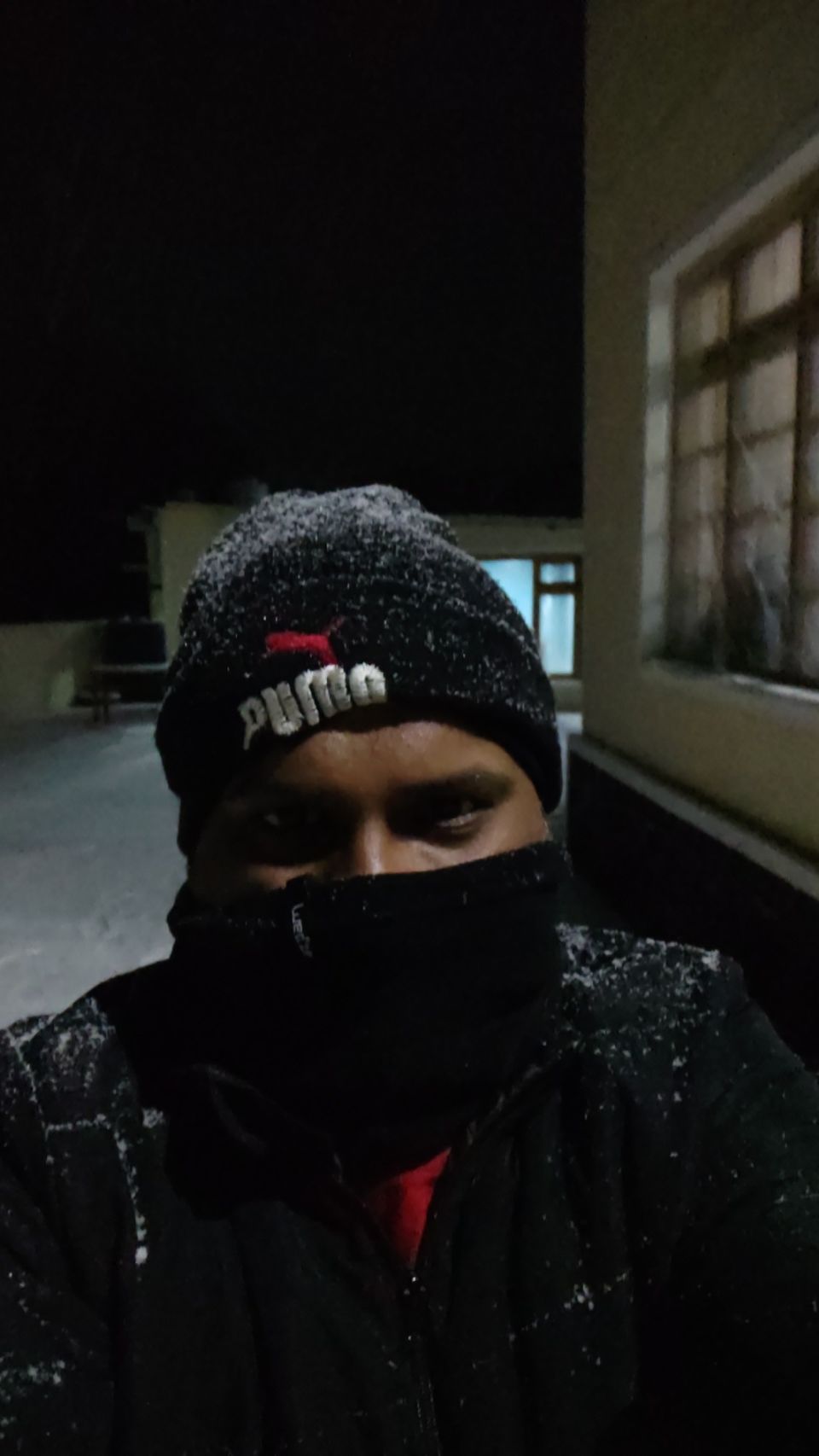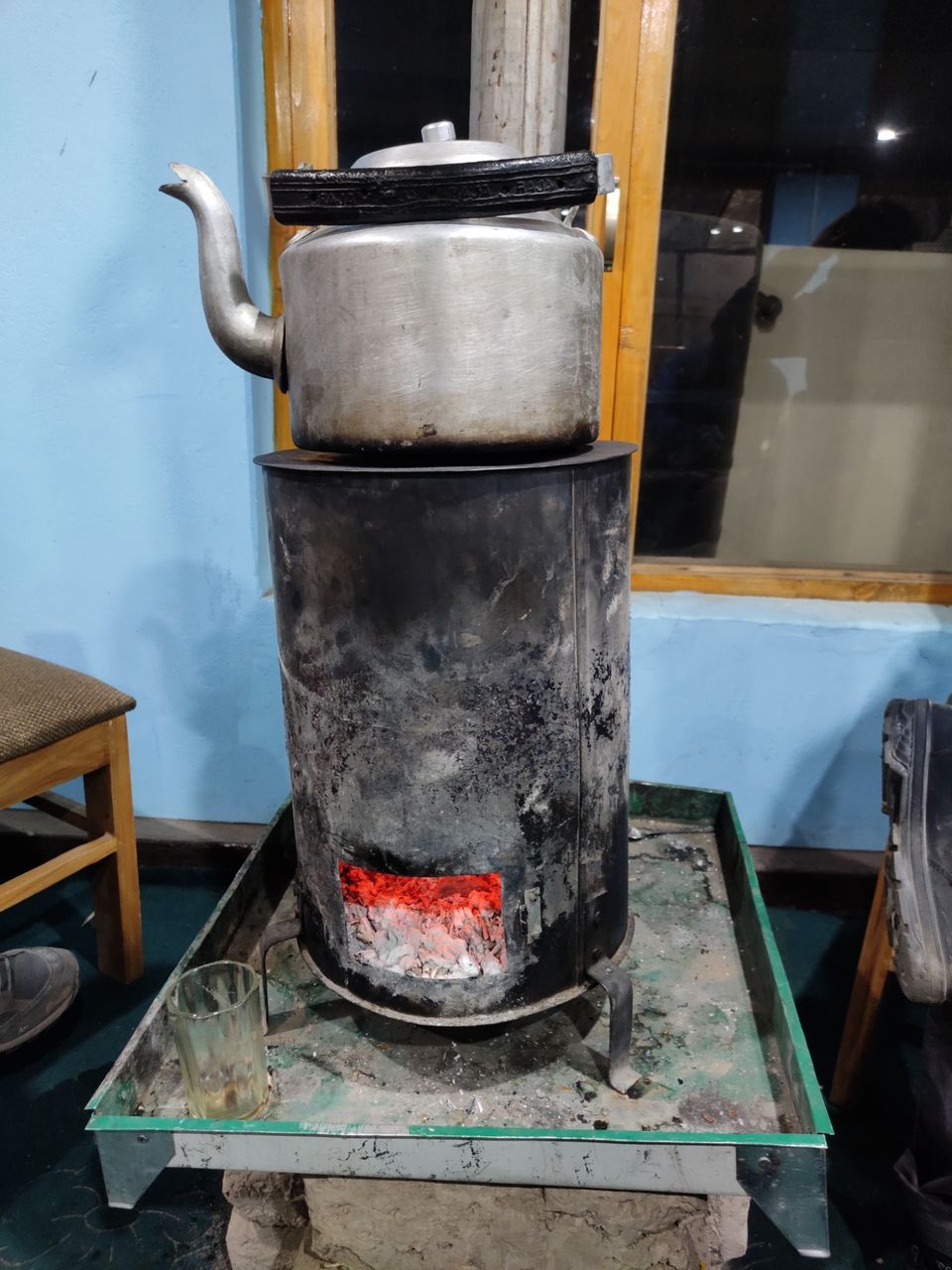 Acclimatization
-This day is totally for acclimatization, well you can go out have a walk to shanti stupa early morning and then from there visit to Leh market, Leh palace and nearby shops and army store for purchase of essentials and gum boots.
Note :Gum boots costs 350 Rs.
- Needs to keep hydrated oneself always.
Remember, if lips gets dry and urine color is pale yellow then one needs to hydrated max.
There is only one medicine in high altitude to get cured fast - to keep drinking warm water.
- Also can visit to ice stupa, sangam point, gurudwara pathar sahib if one wish to explore more, but it's better to stay at hotel and rest for remaining day and get acclimatize.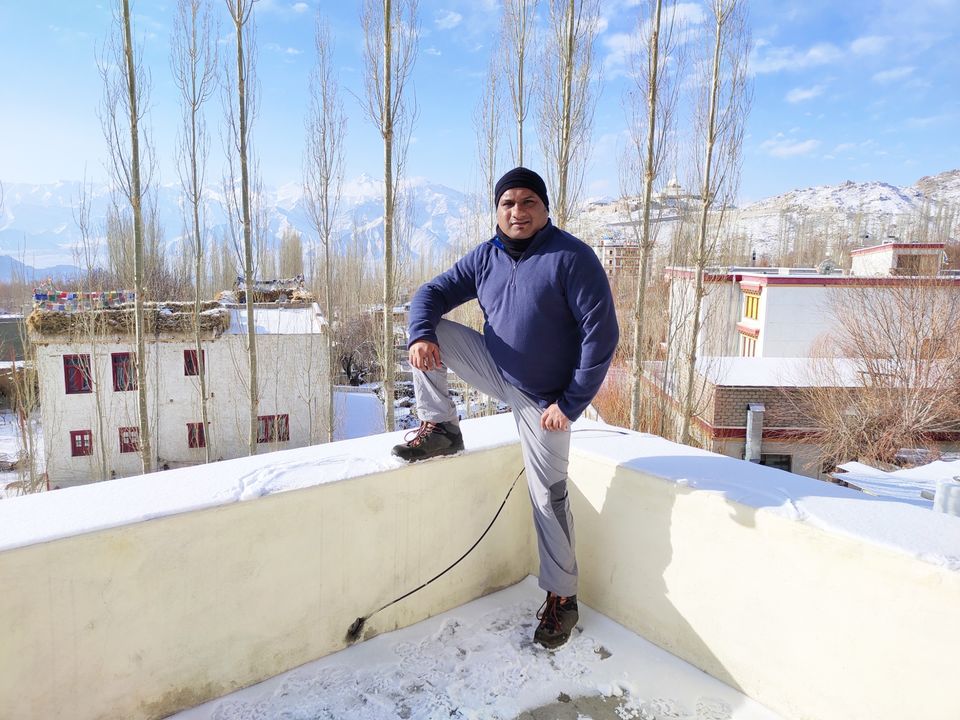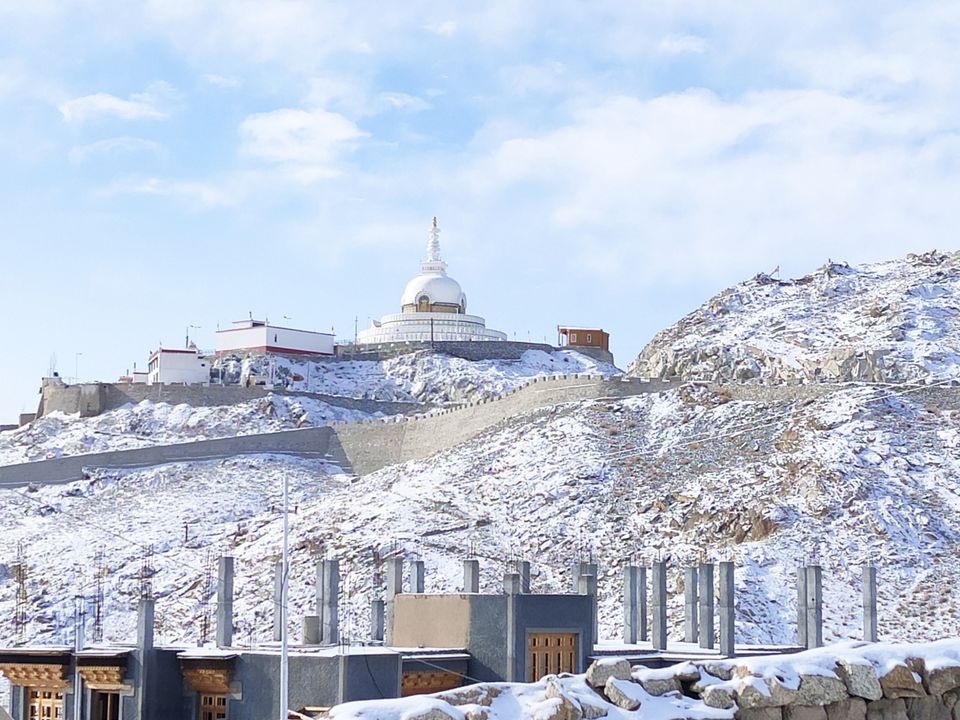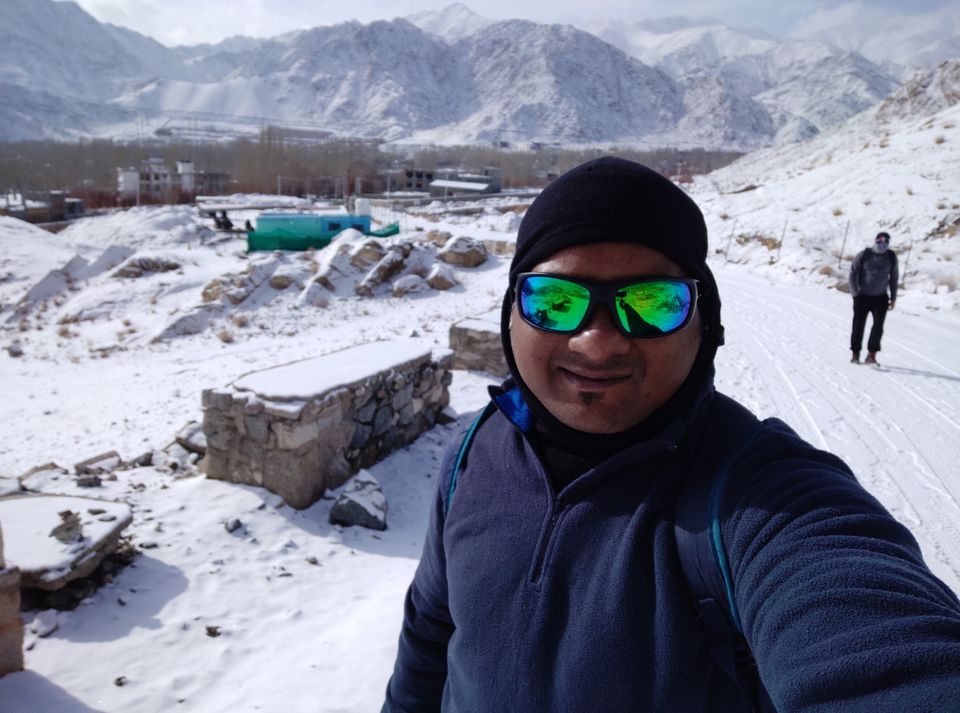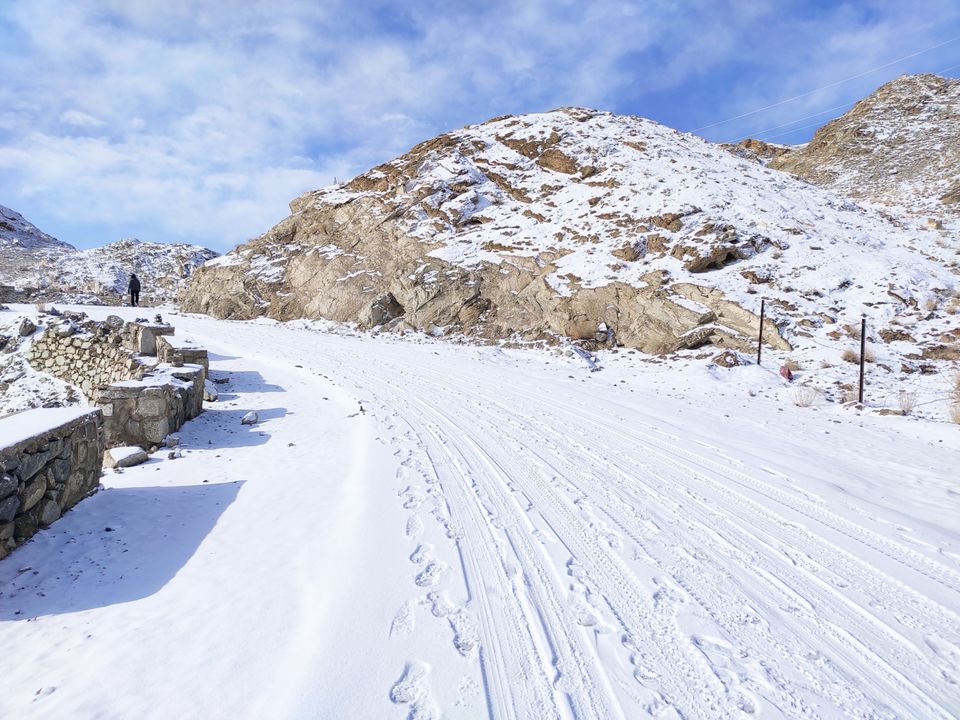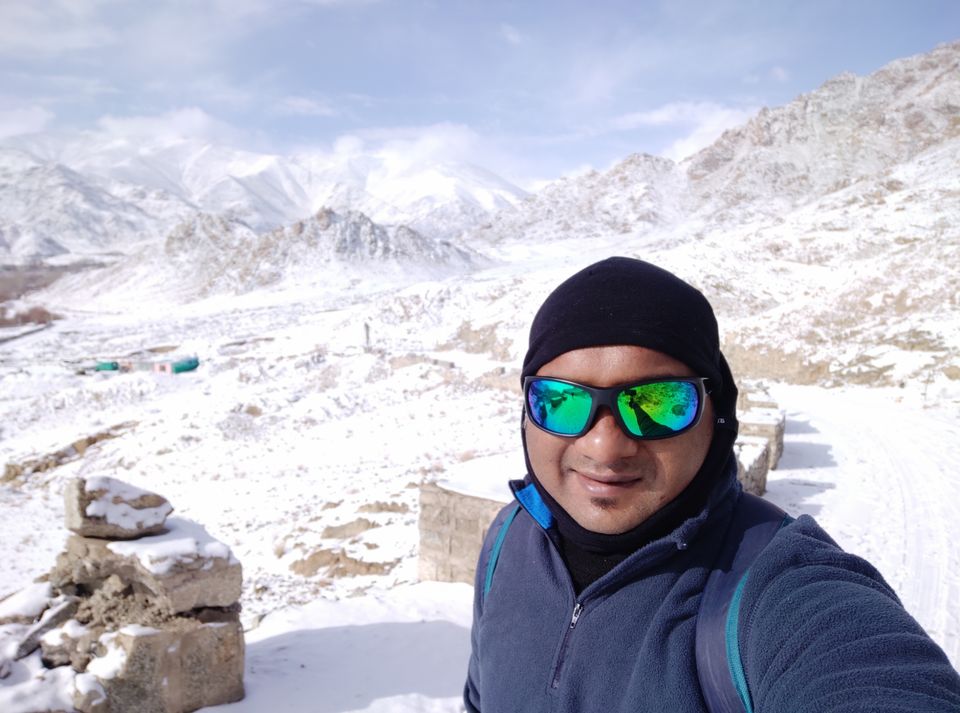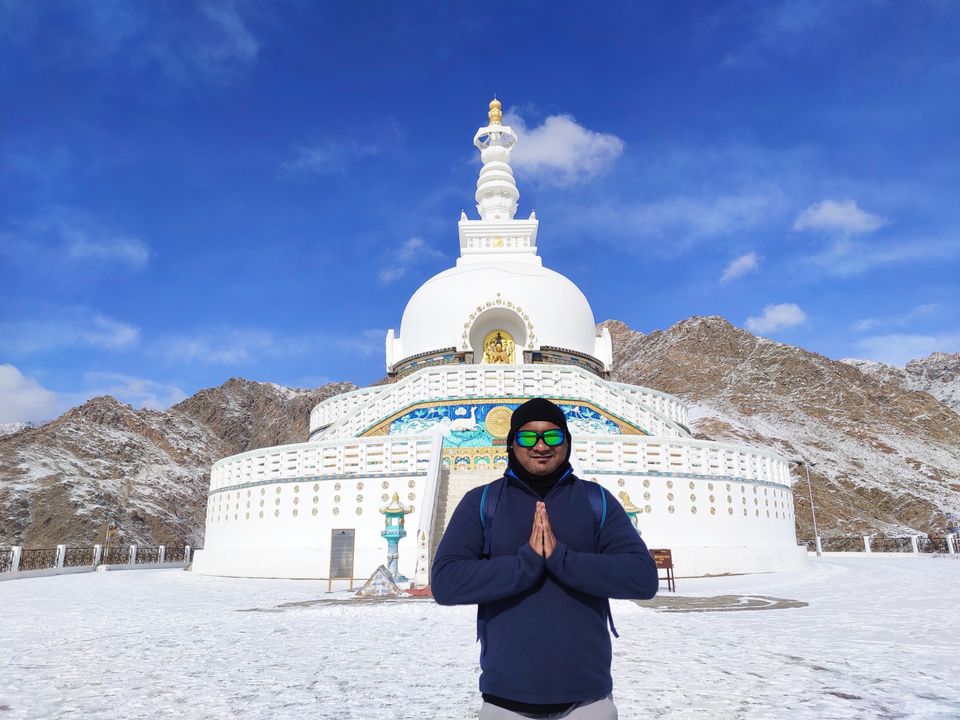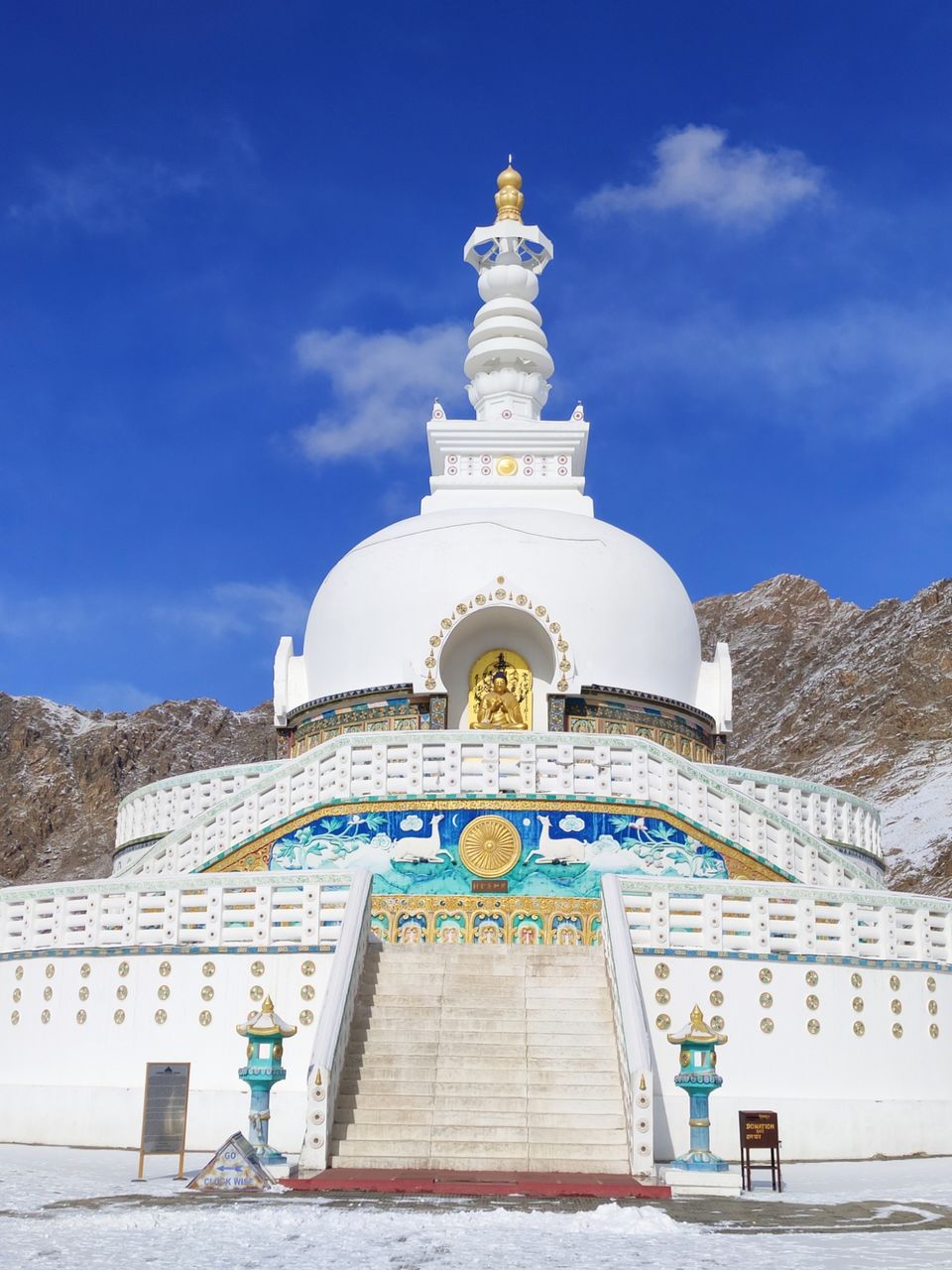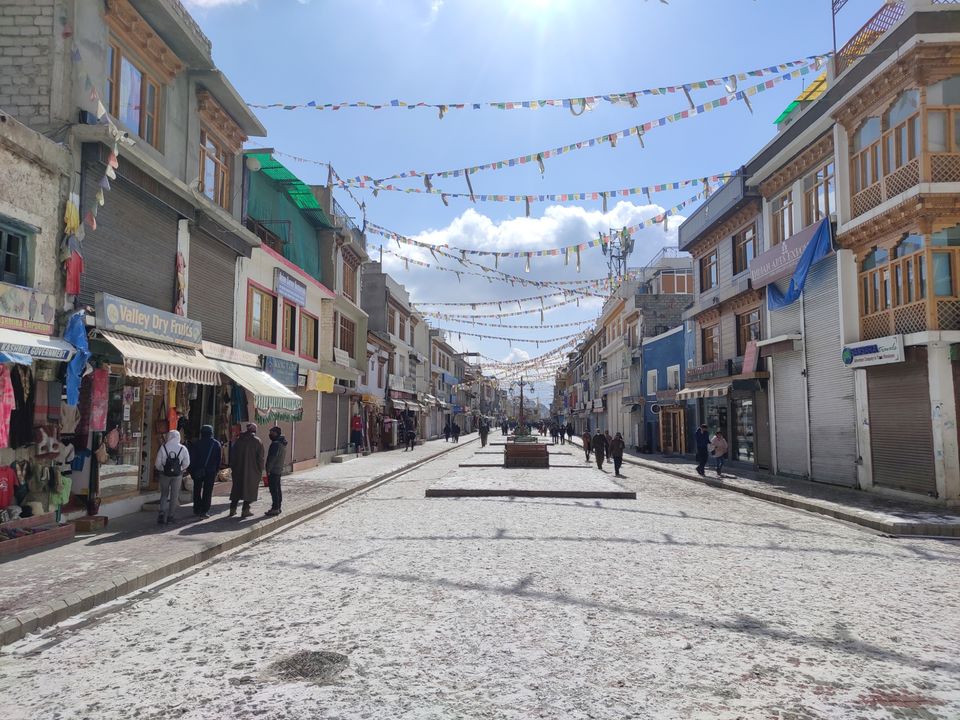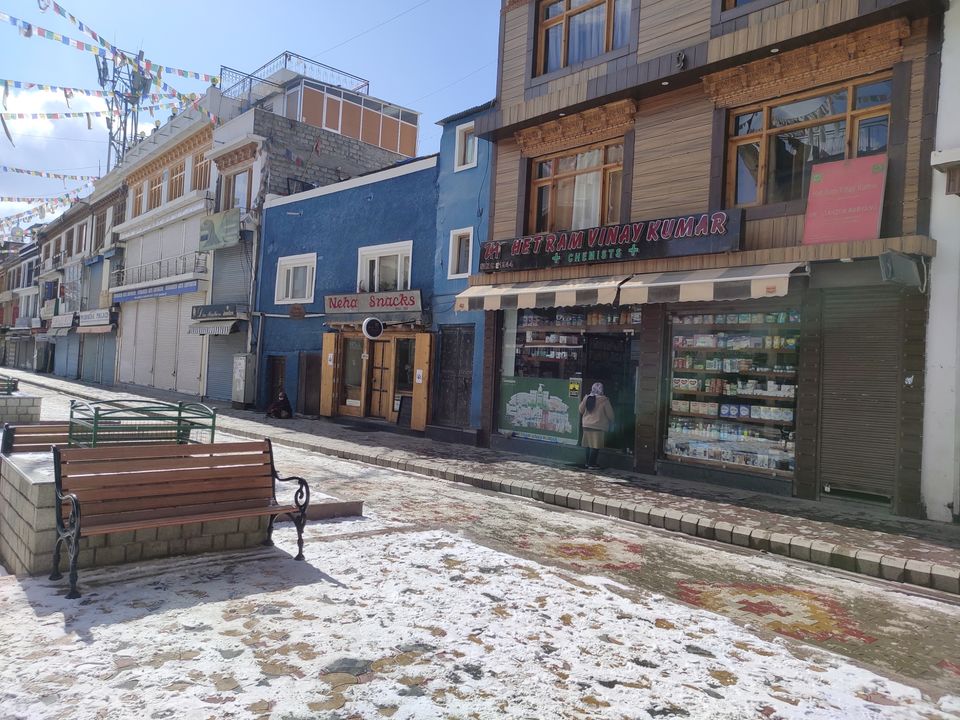 Medical checkup day
- Just chill relax and keep hydrated : all will be ok. This day is for medical checkup before starting to trek.
- Doctor check SPO2 and Blood pressure levels and then issue medical certificate.
- Spend rest of the day at hotel and acclimatize and do not travel.
Leh to Shingra Koma via Bakula
- This day drive around 2 hrs to Bakula campsite.
On arrival you will get to see chadar first glimpse, and that happy moments.. butterflies in our stomach is just unbelievable and surreal. This is the view which everyone waits for after coming to Leh for chadar trek.
- Walk for 5km to first campsite of trek shingra koma.
-First walk on chadar is so real and not reel.
That cold, snow and white white color everywhere plus brown mountains besides and clear sky makes one really crazy.
Those slippery chadar, hard as well makes the walk fun and challenging as well under extreme negative temperatures of around - 25 degrees to - 35 degrees.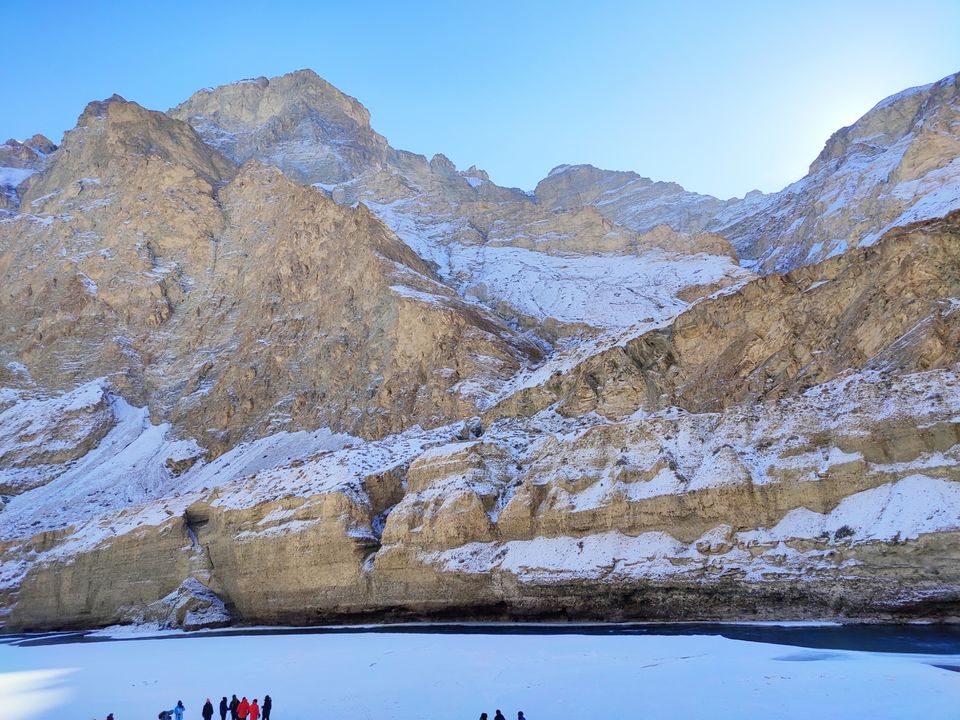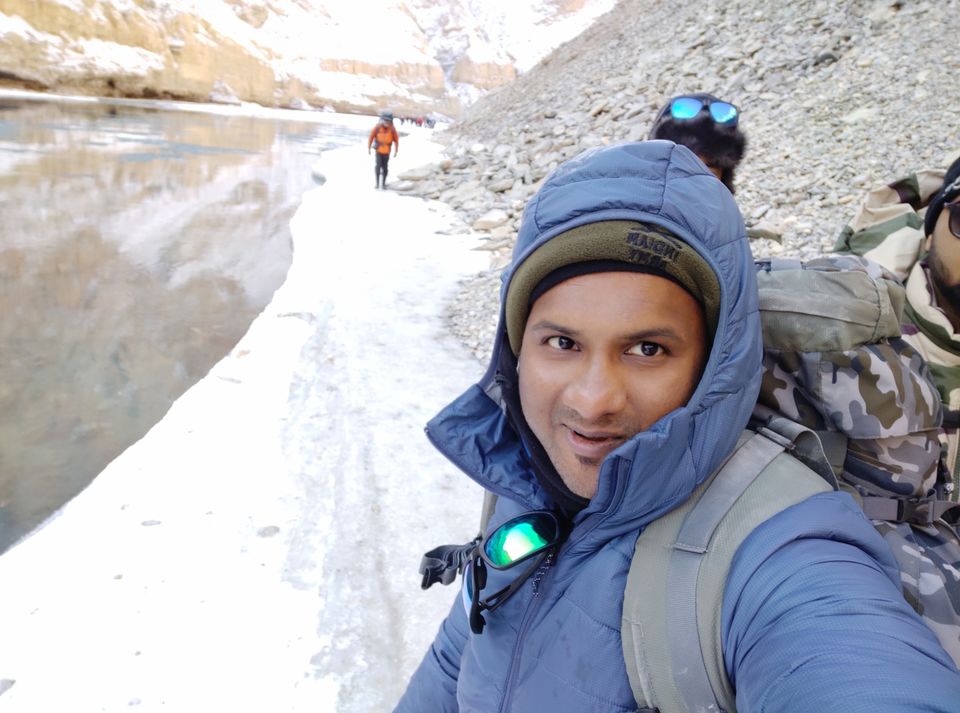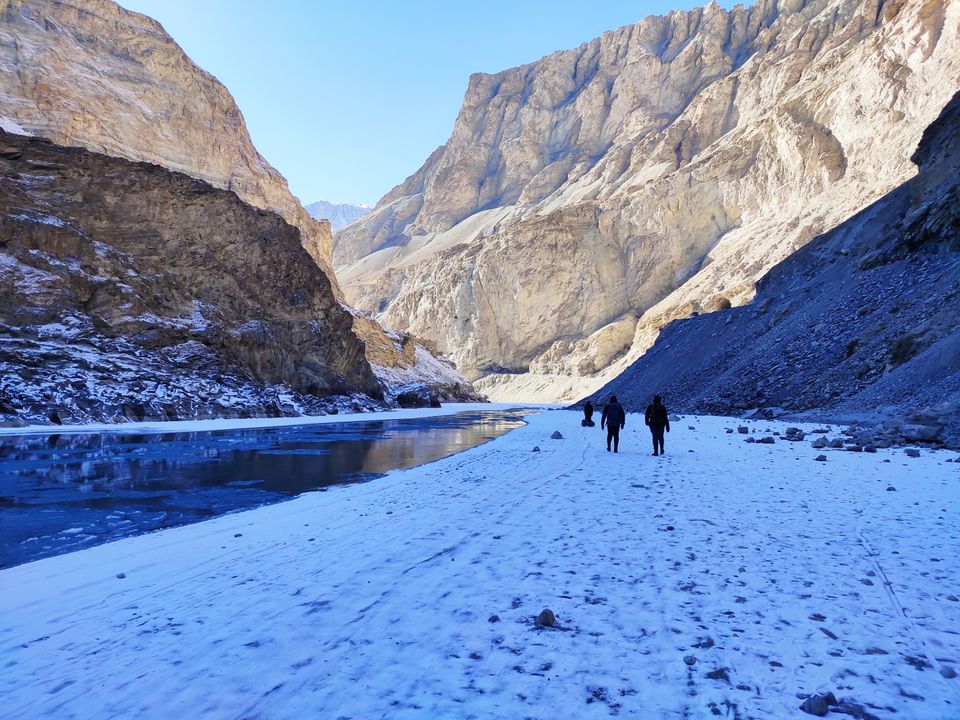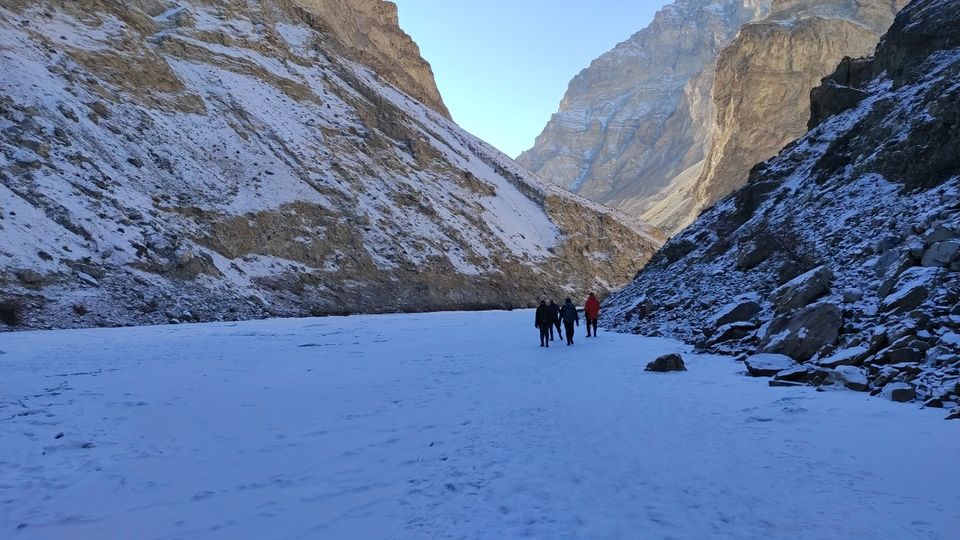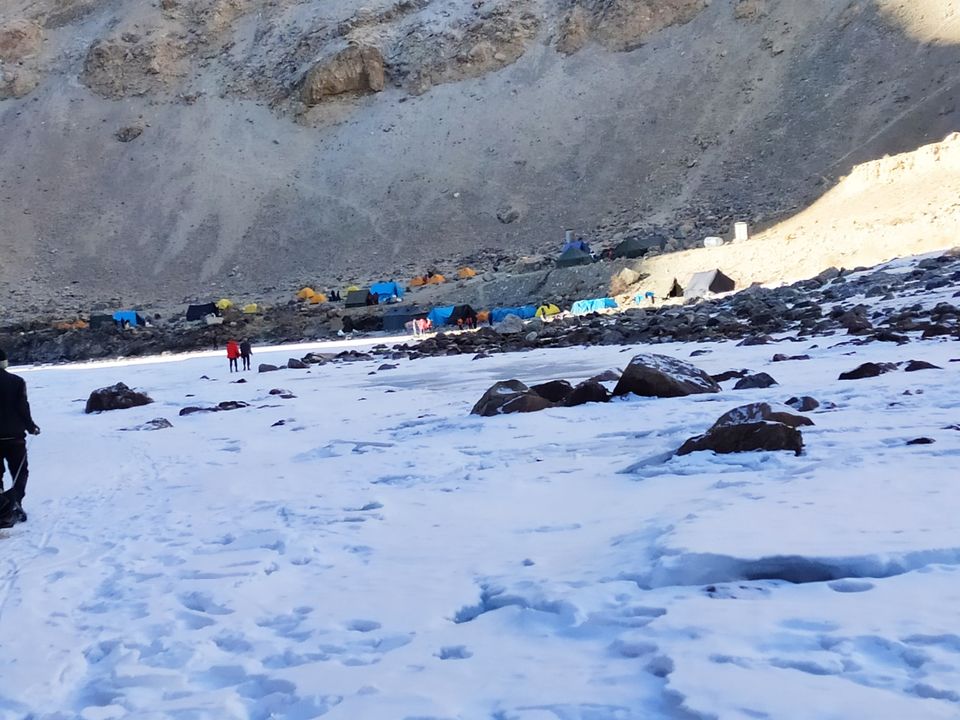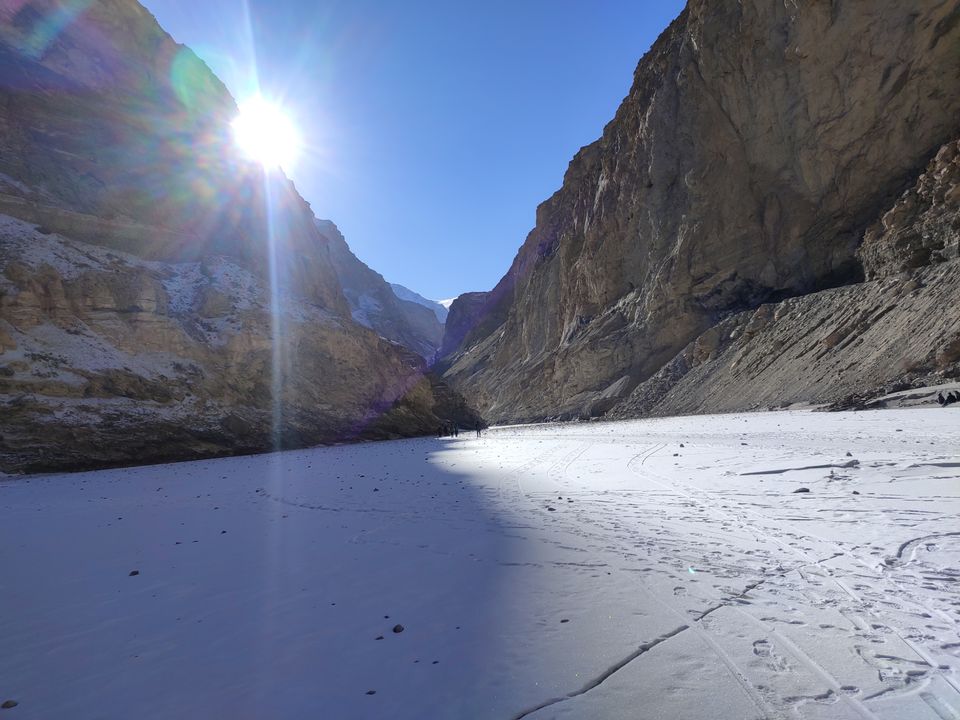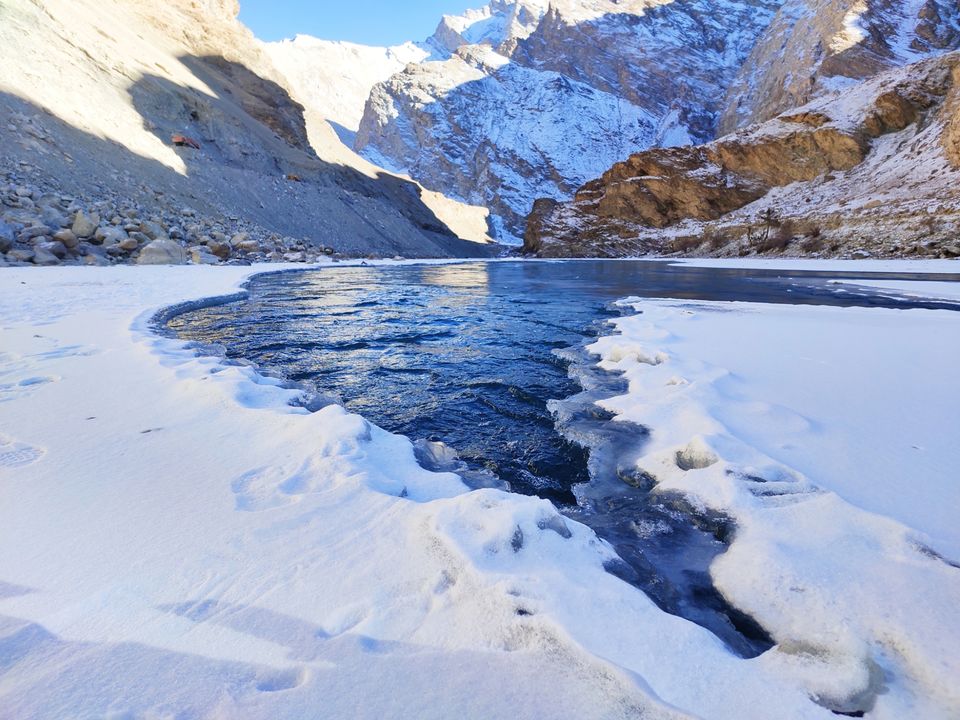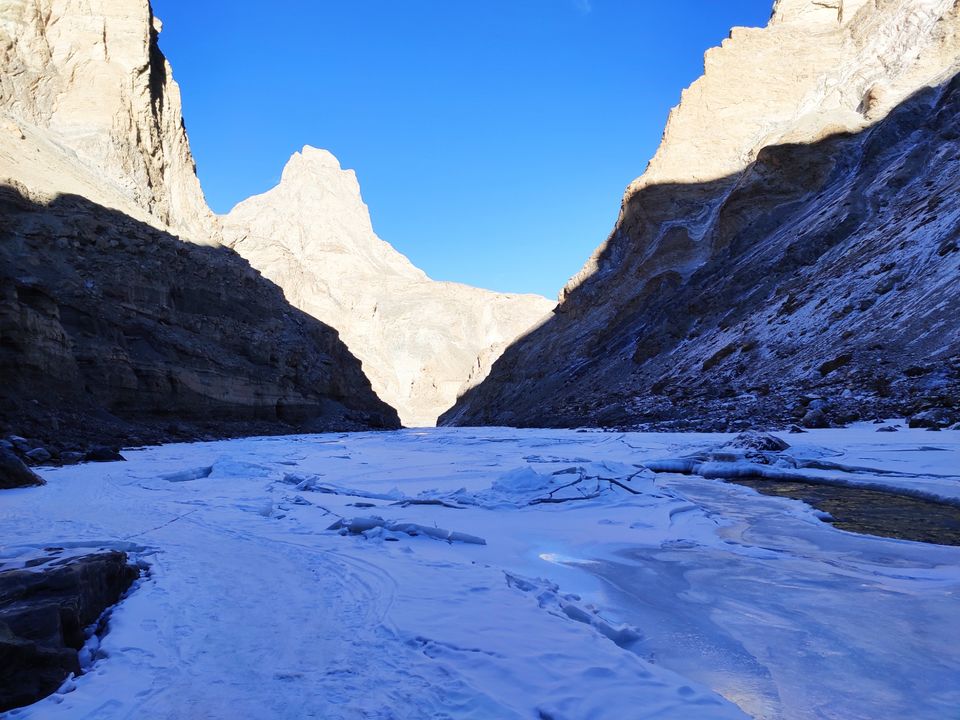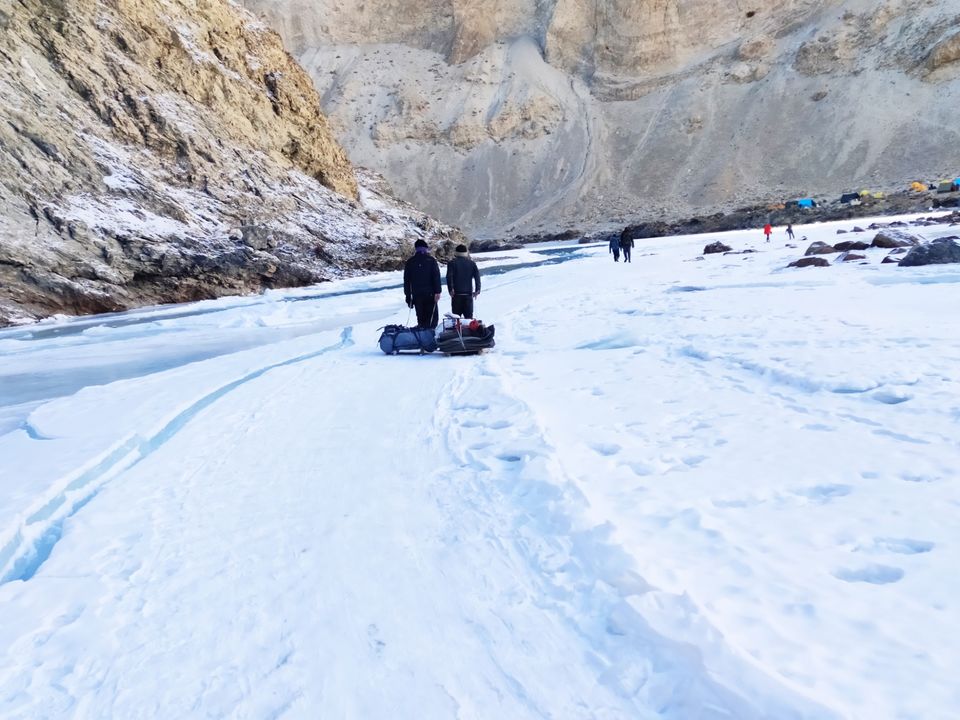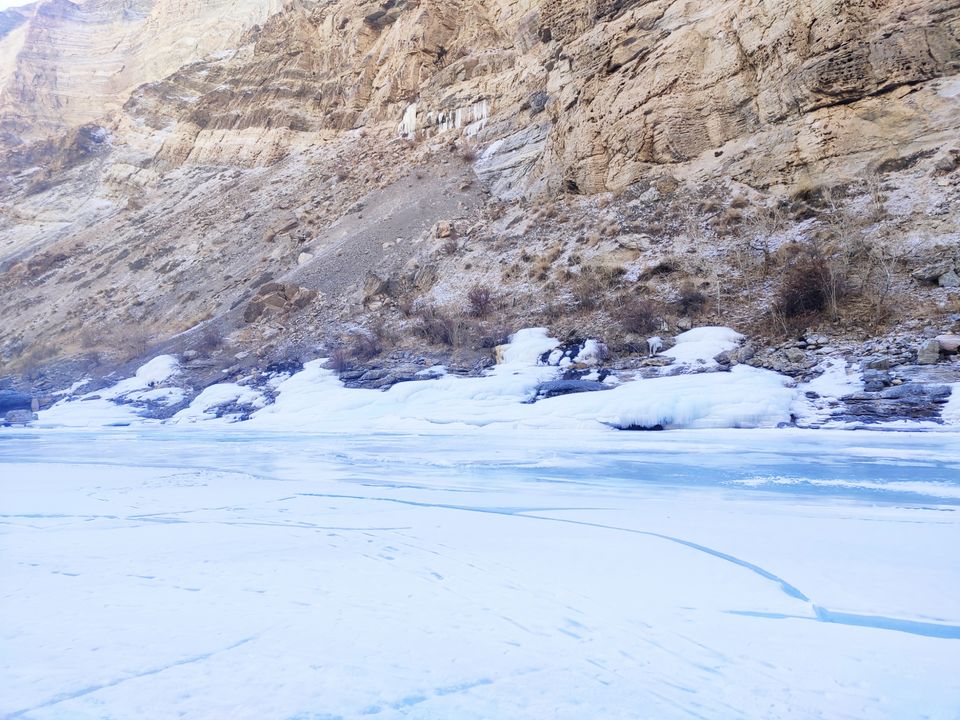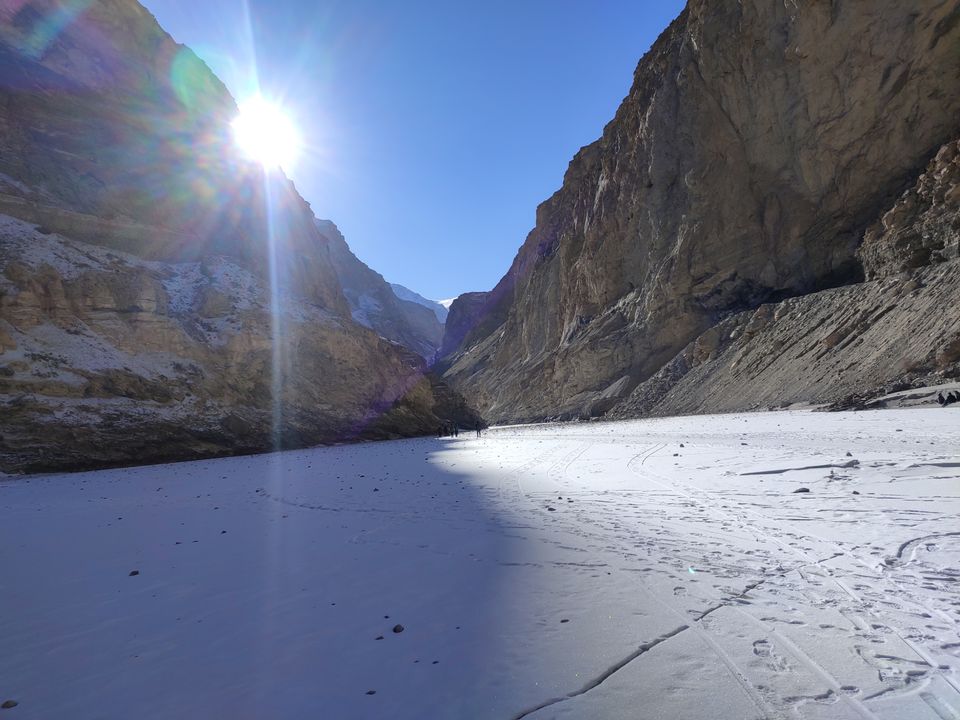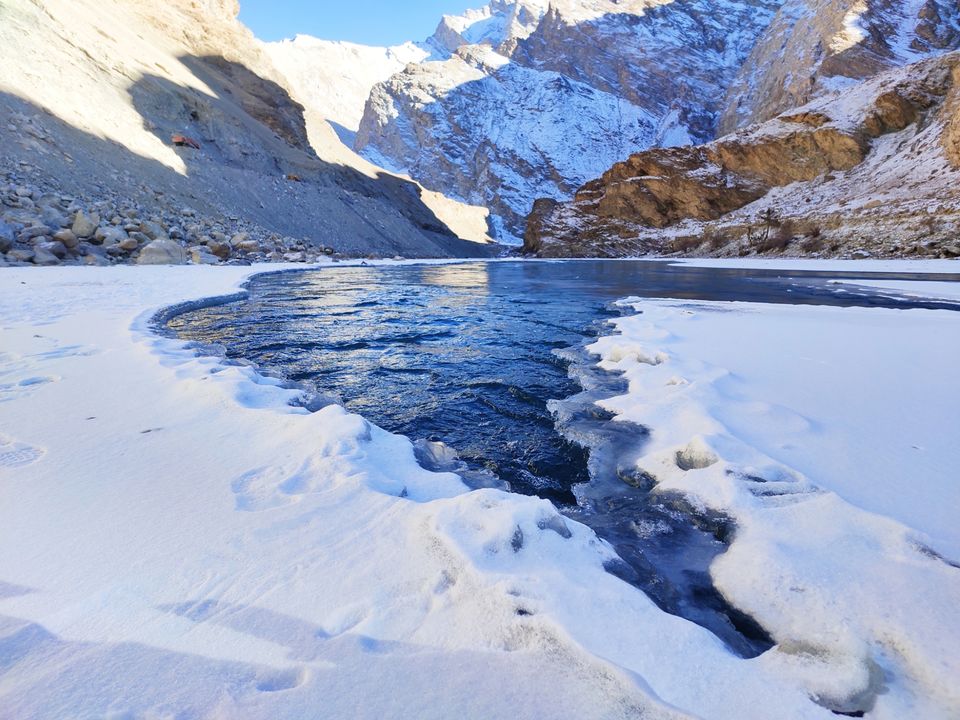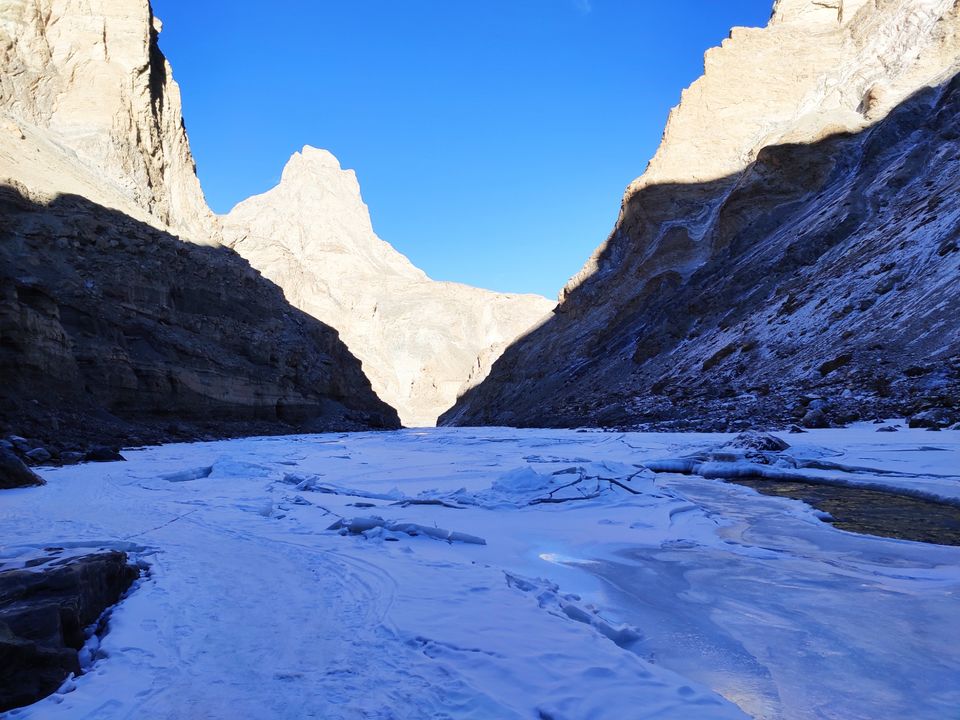 Shingra Koma to Tibb
-This day is a long walk of 15kms to next campsite Tibb
Wakeup call early morning around 7 welcome with tea or kawahh and then proceed with breakfast.
Hatsoff to porters who prepares delicious food in this extreme tough conditions.
- Walk in between this campsites is something unbelievable as one can see the views which are unrealistic but 100% seems realistic. One word Amazing. Check out the pics below.
- Just 2-3kms before reaching Tibb we found chadar broken, 3-4 feet of chilled water was flowing around far,so we couldn't make it to Tibb and halted at Hotong campsite, which is considered as coldest campsite on chadar trek.
- Chadar is unexpectable, as it can change any moment depends on weather.. It can also form thick blanket on minutes and also gets melted fast.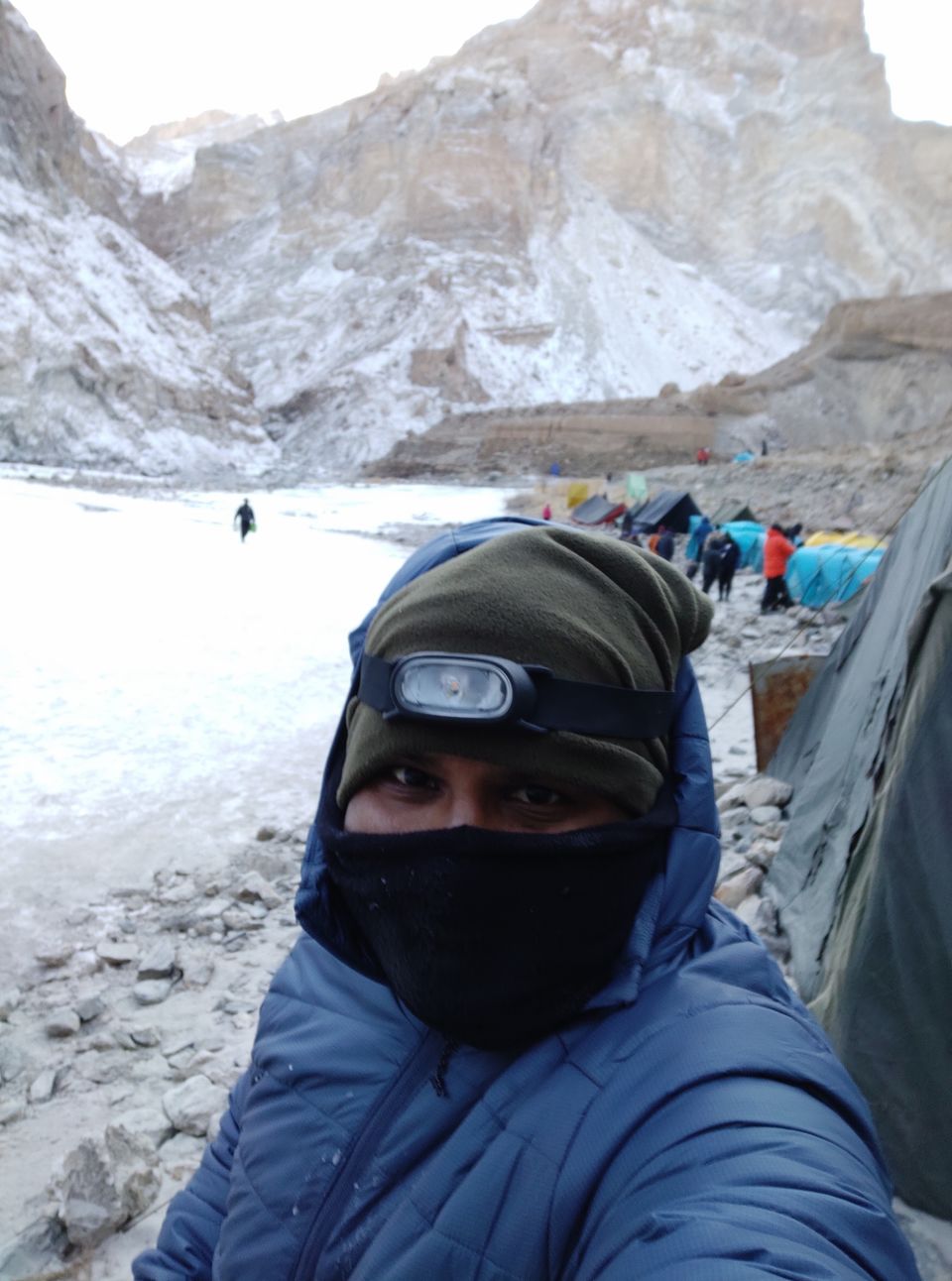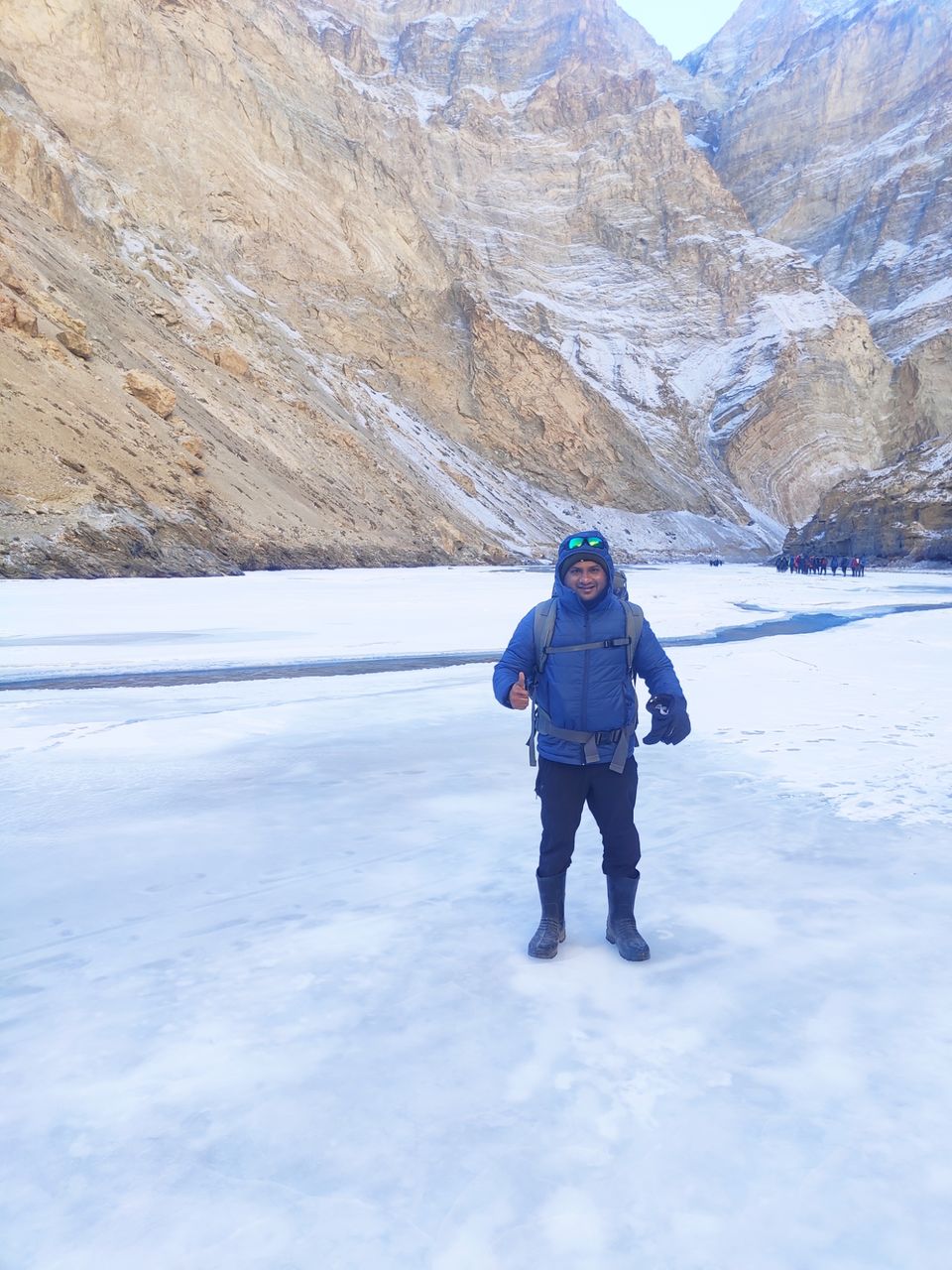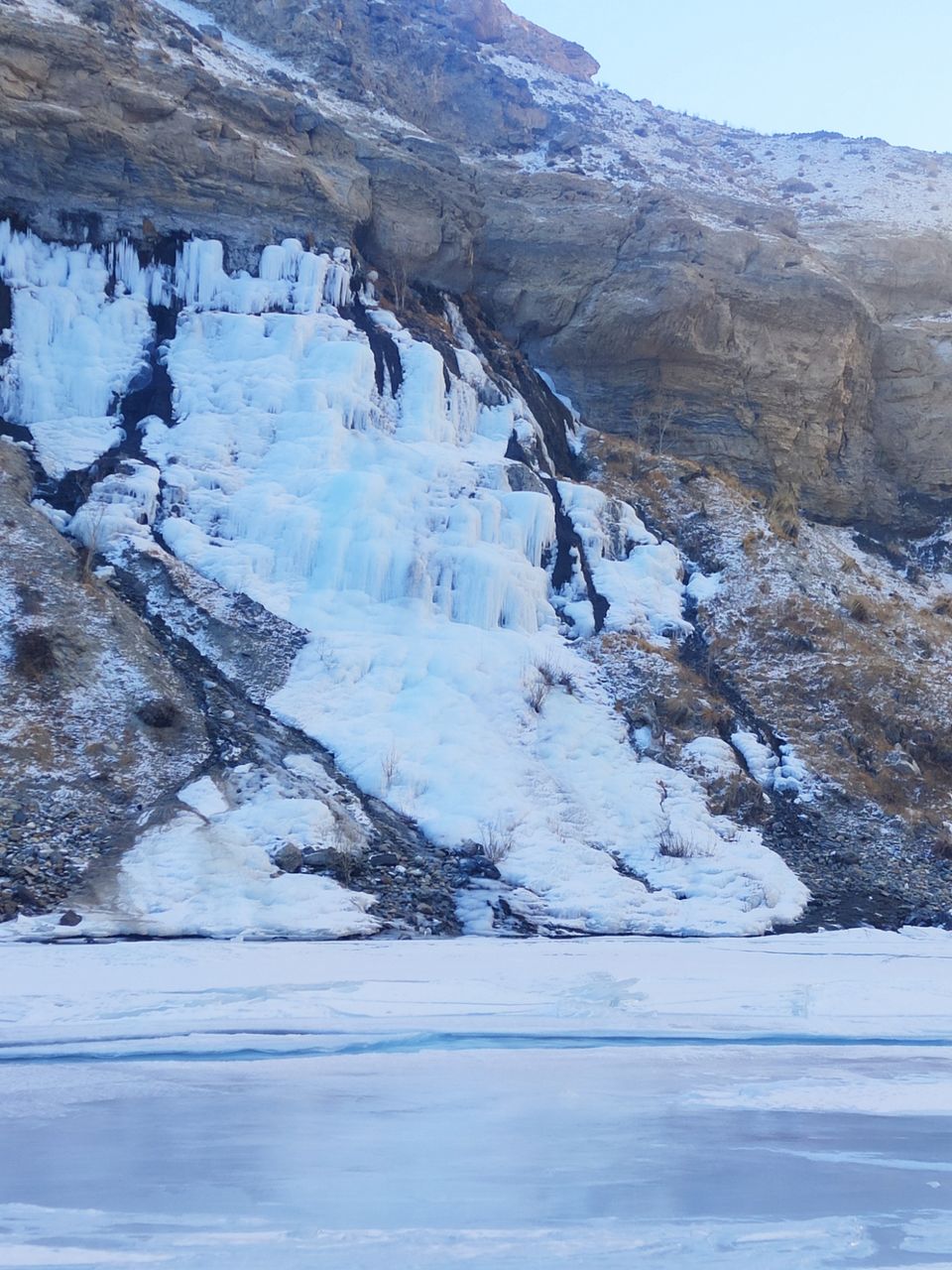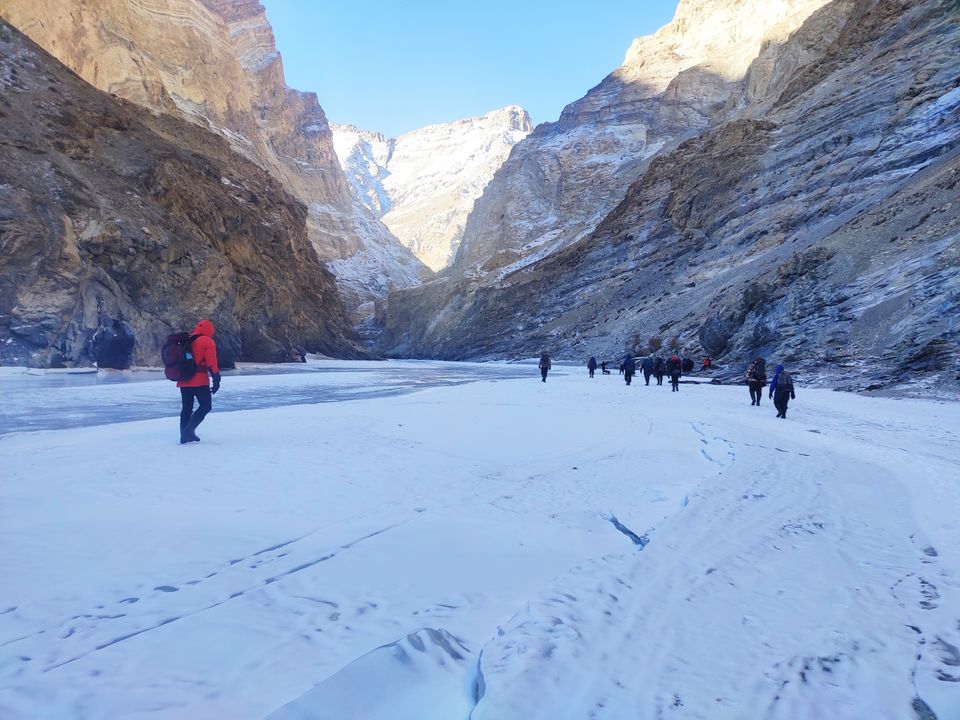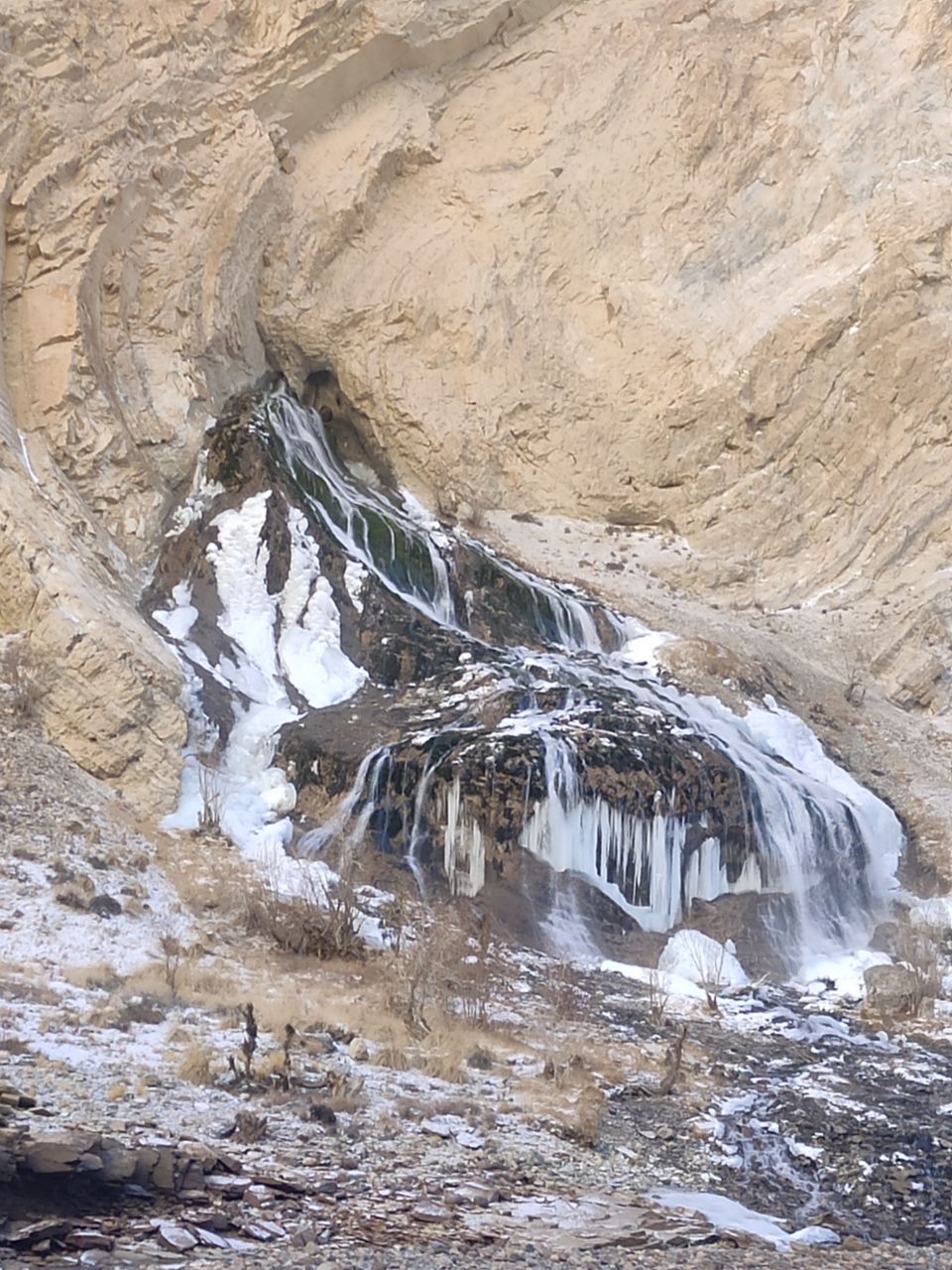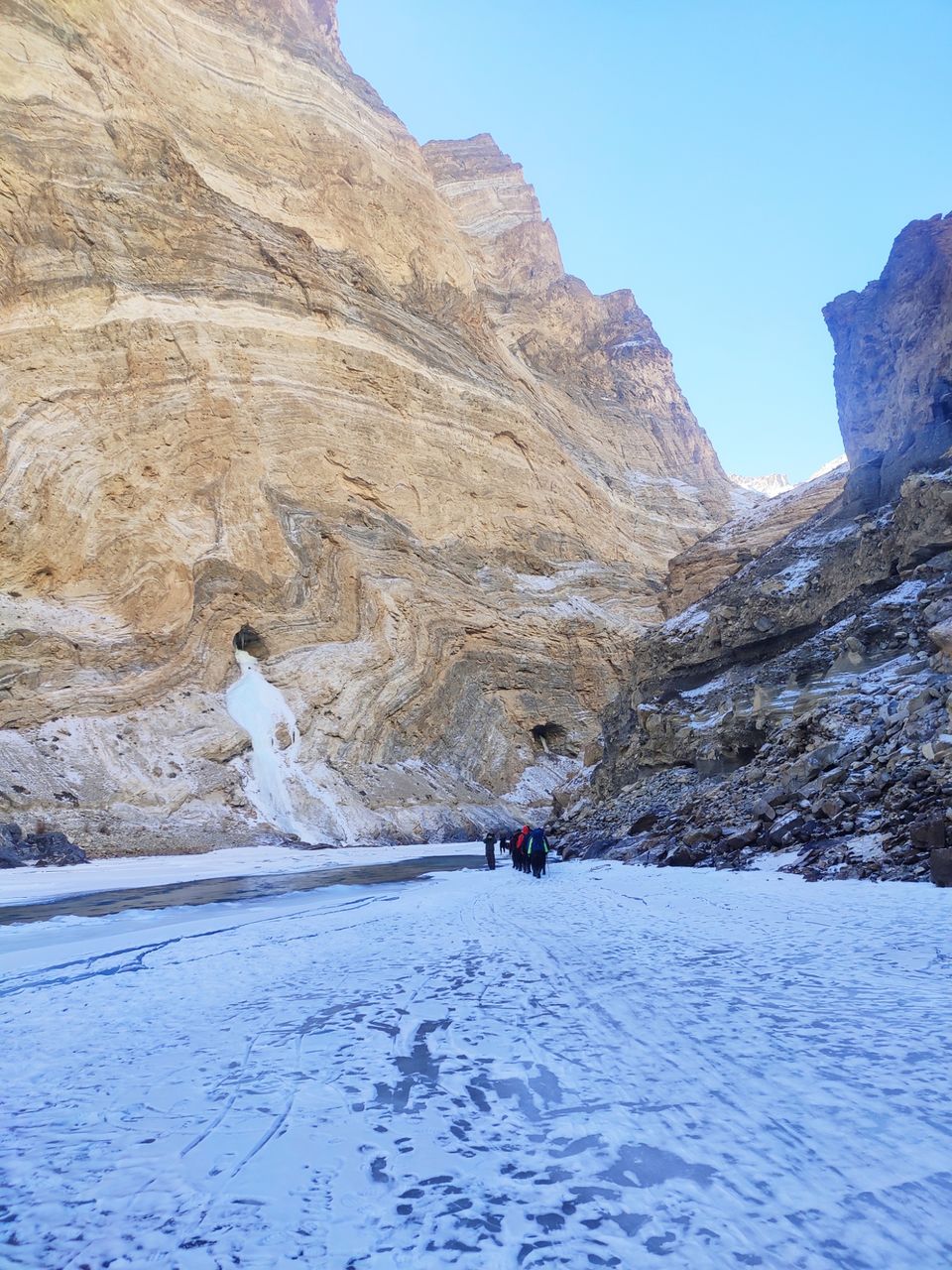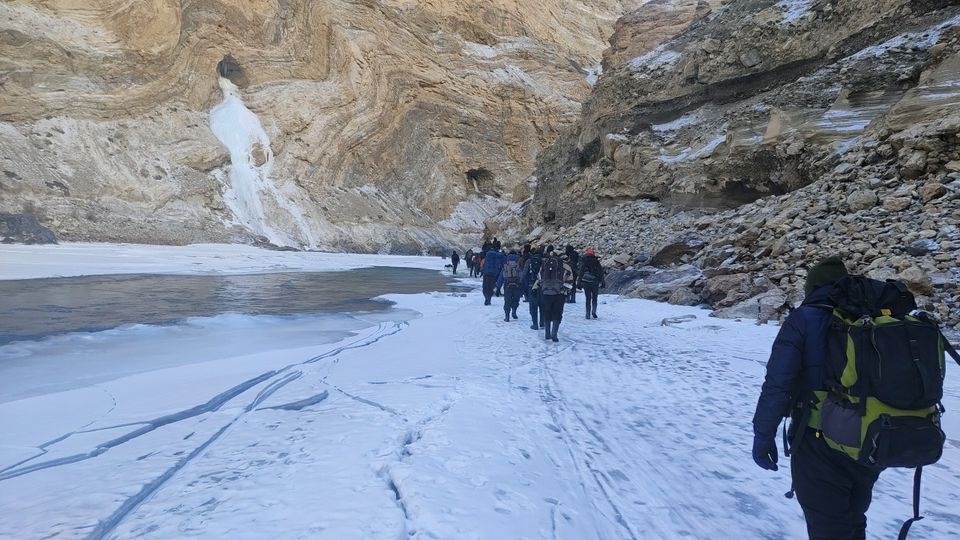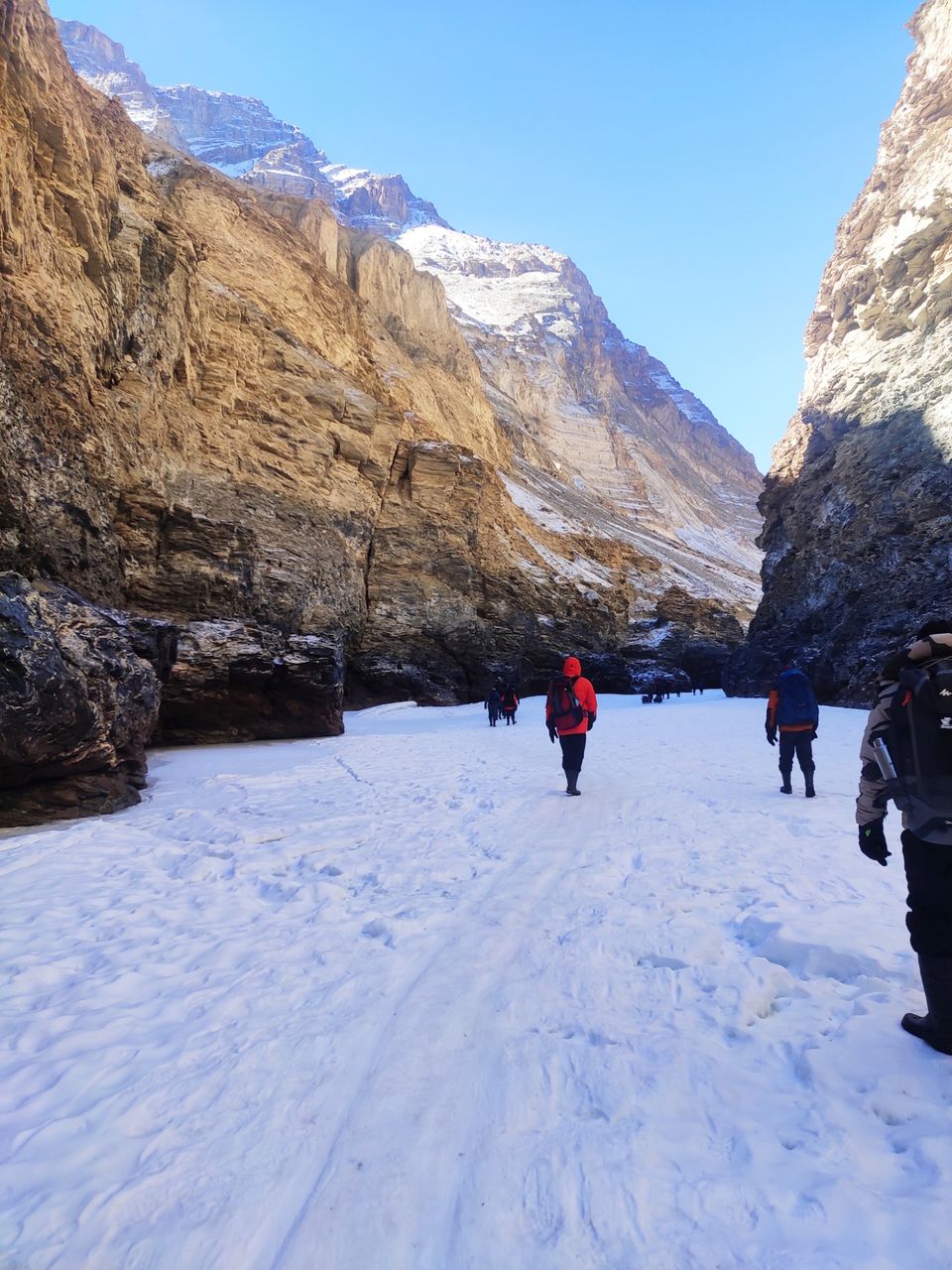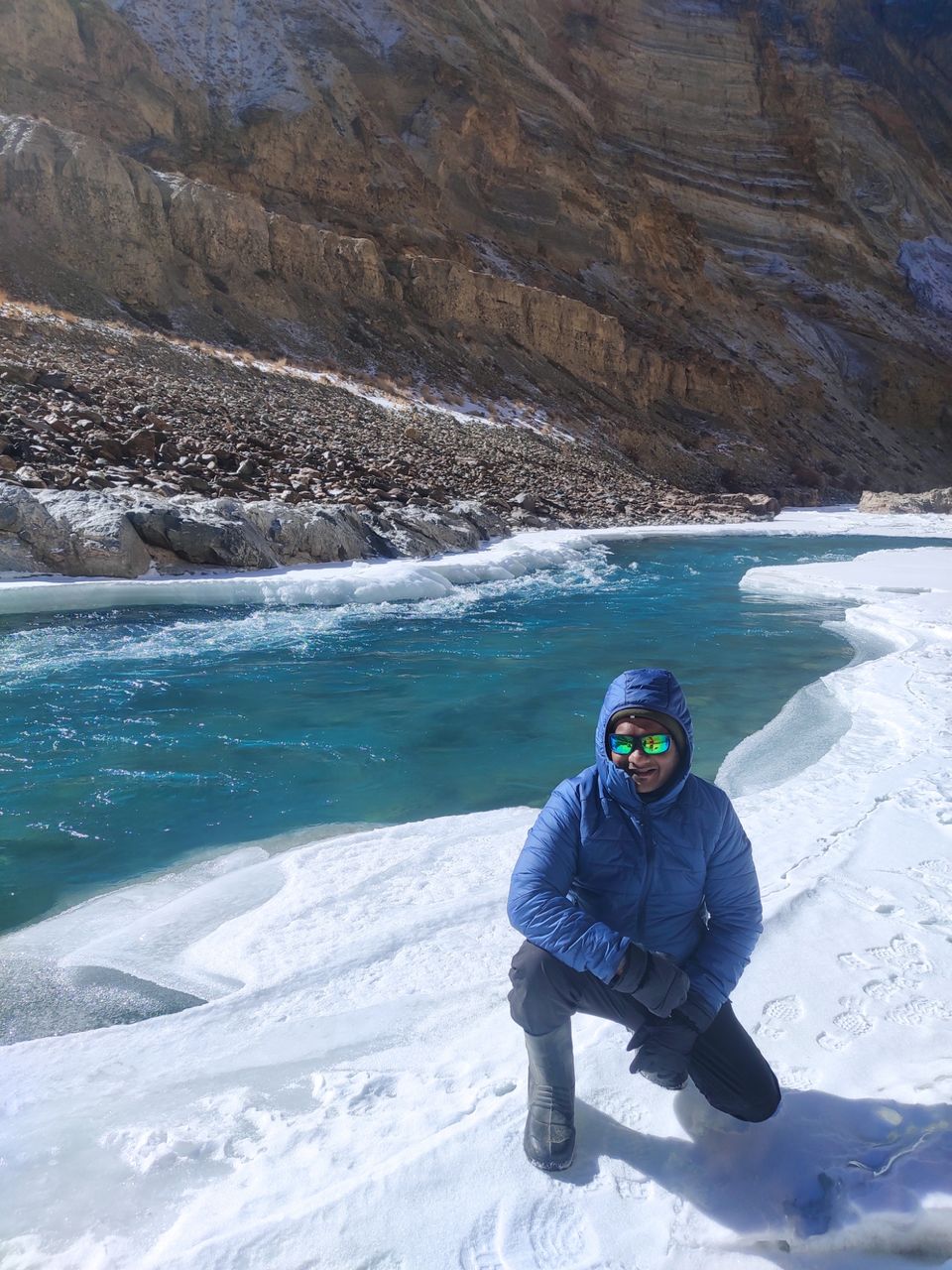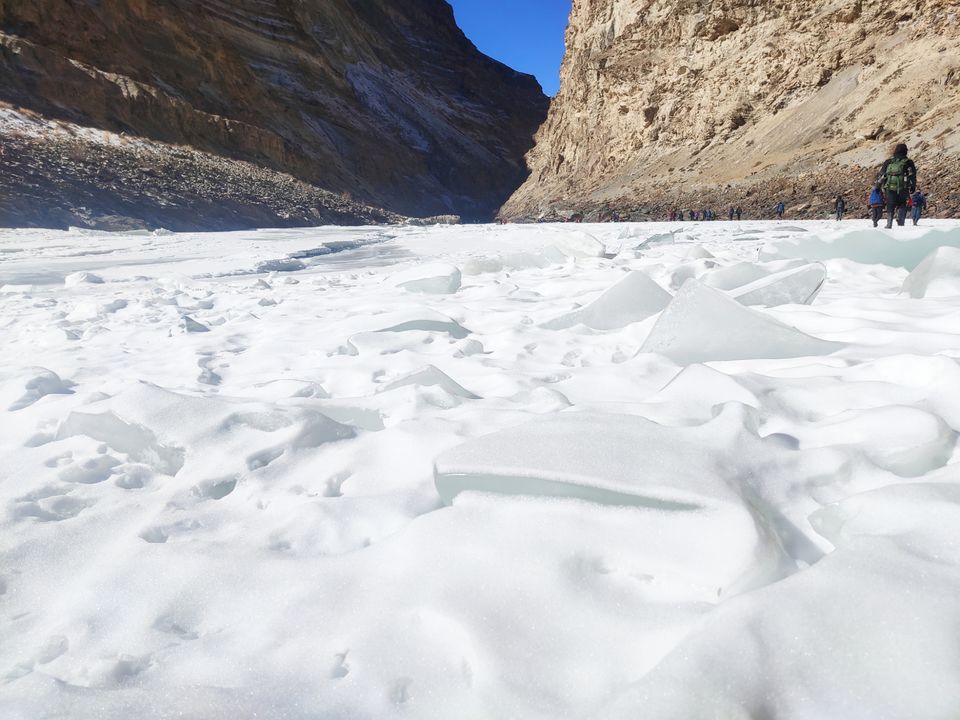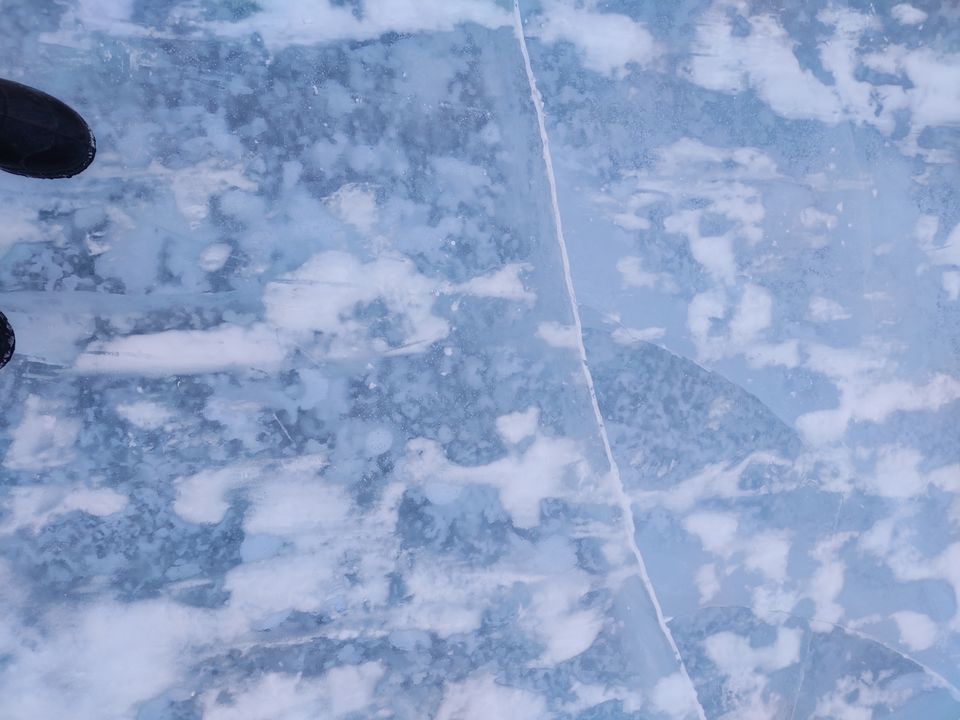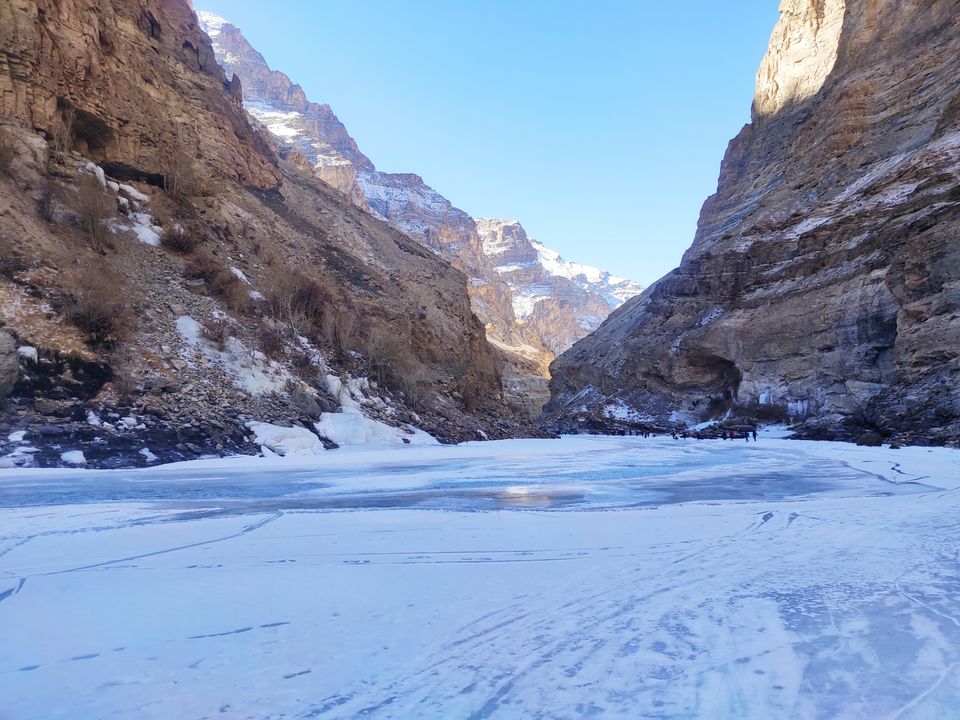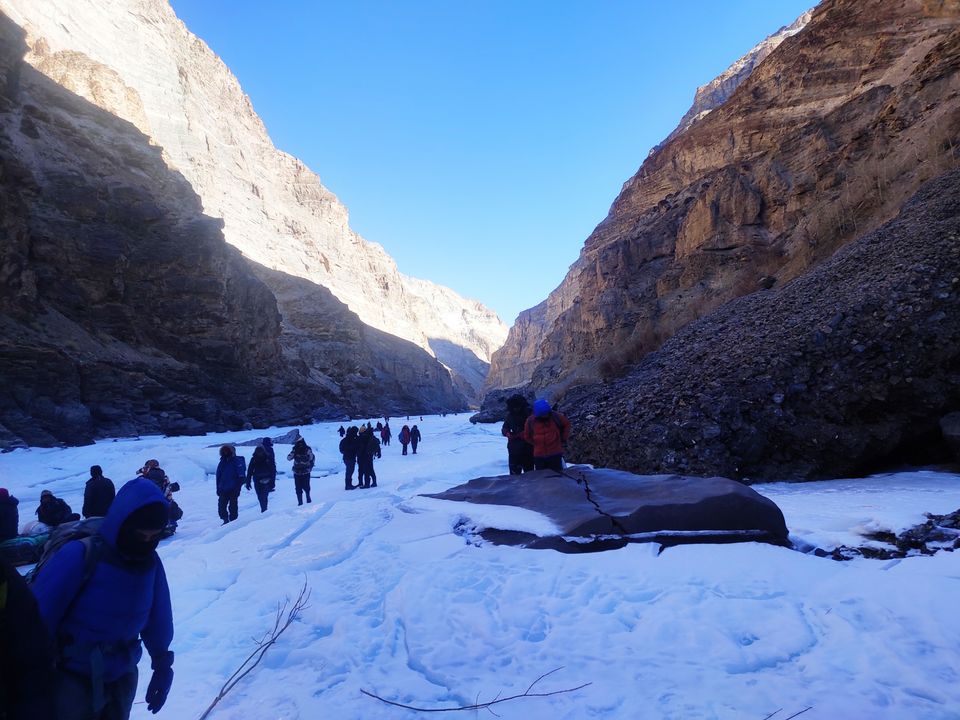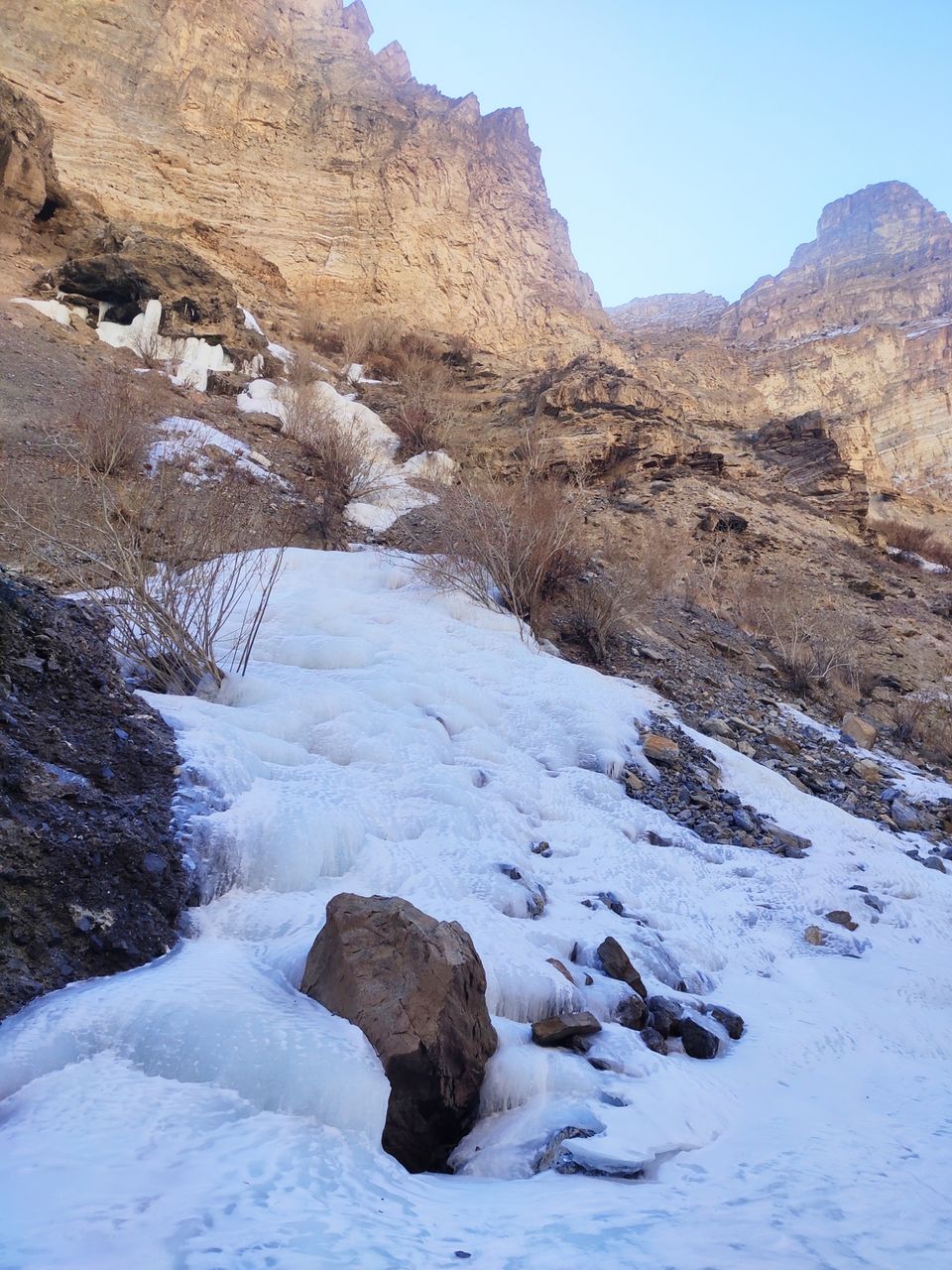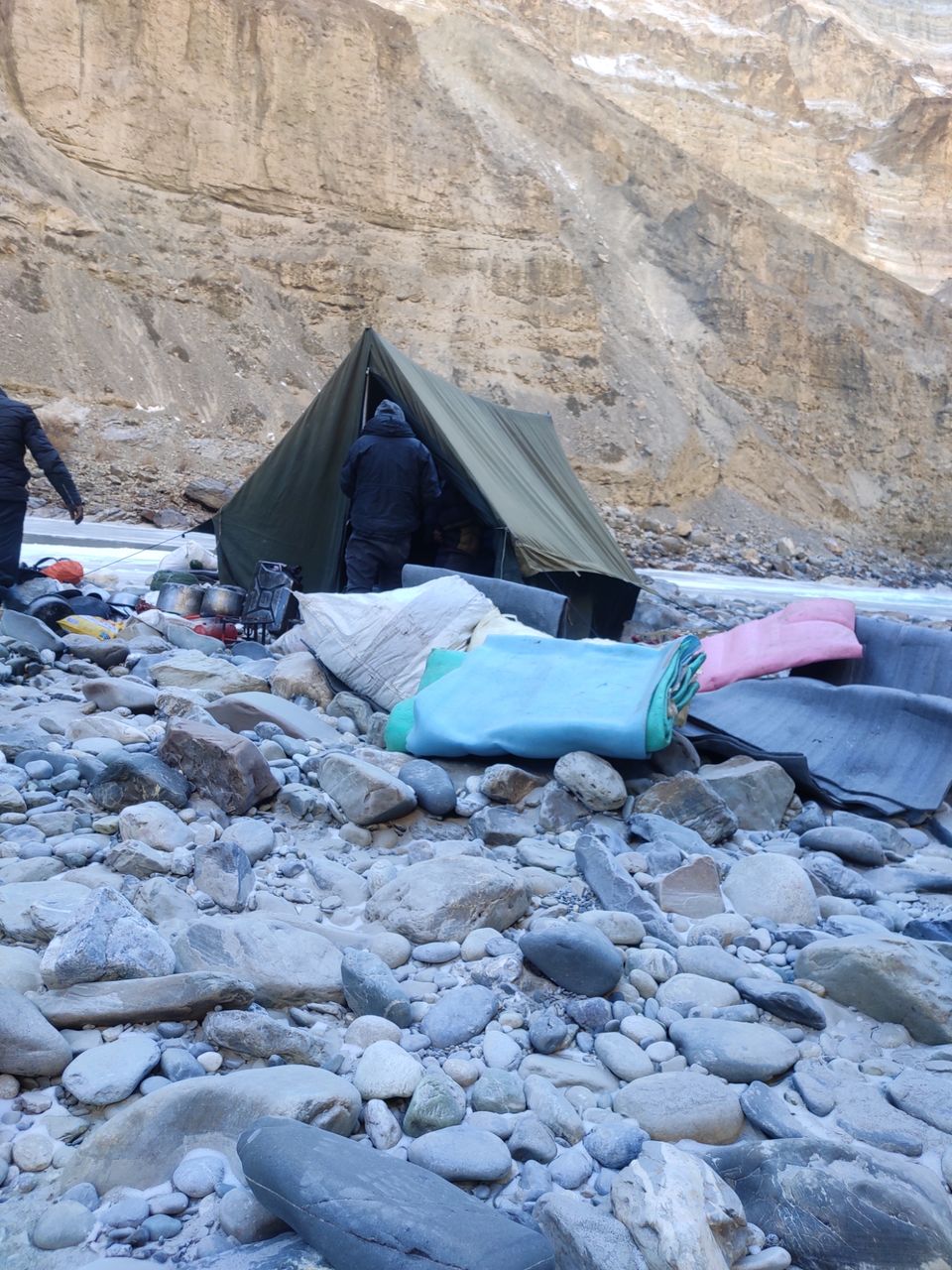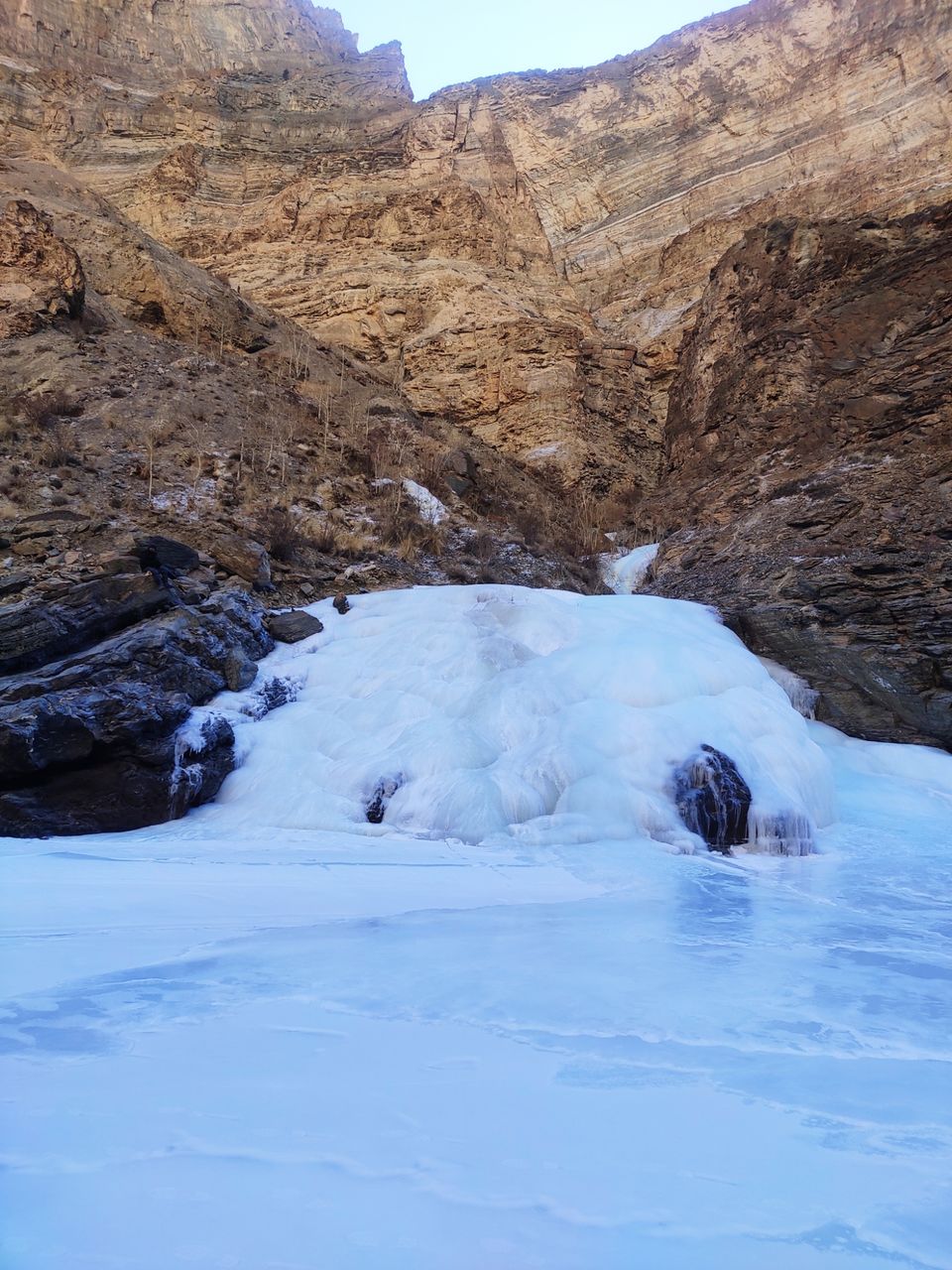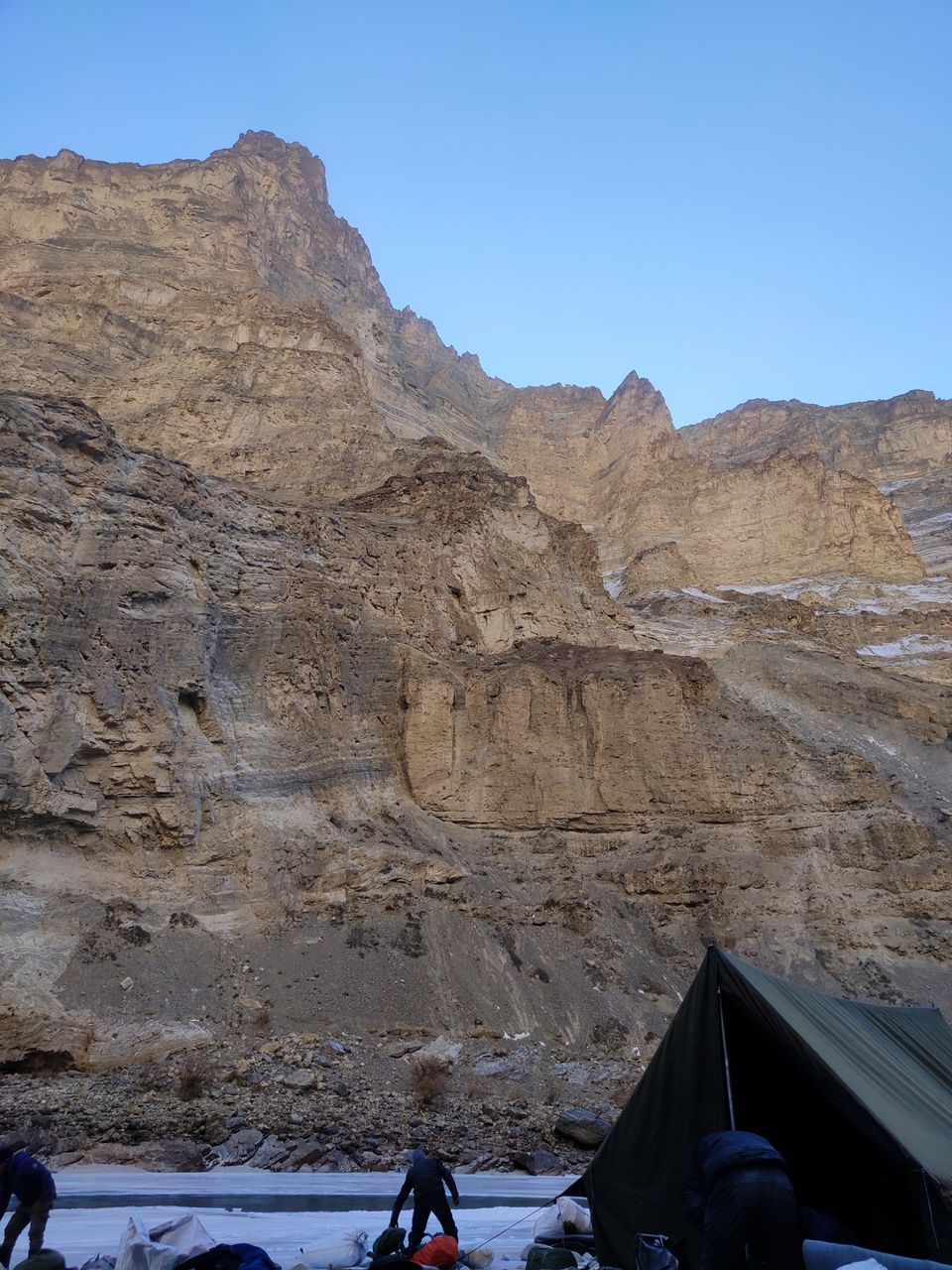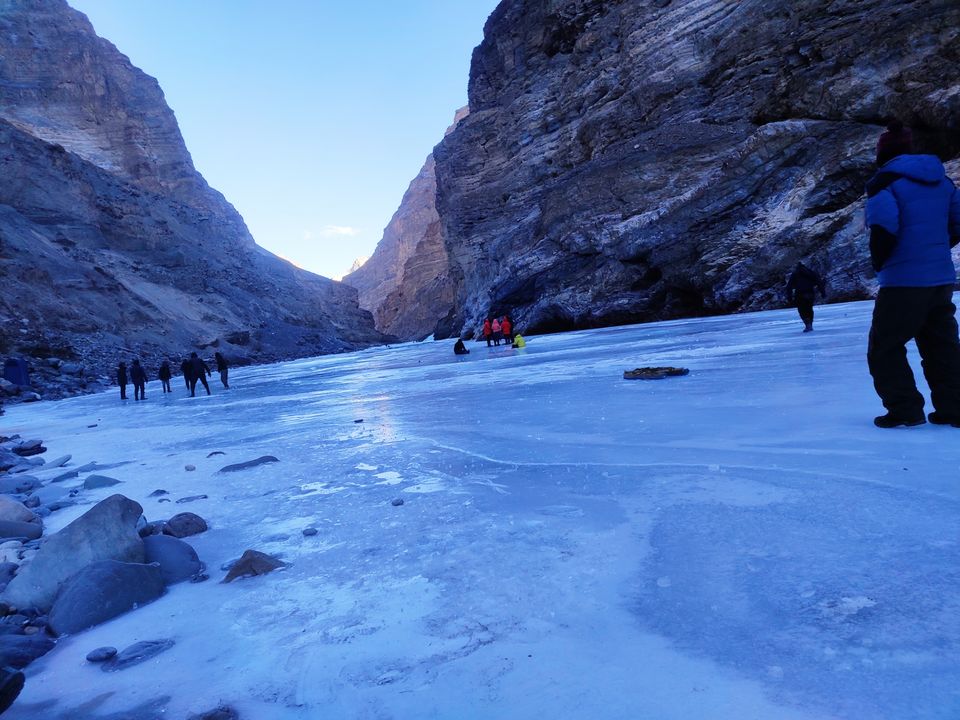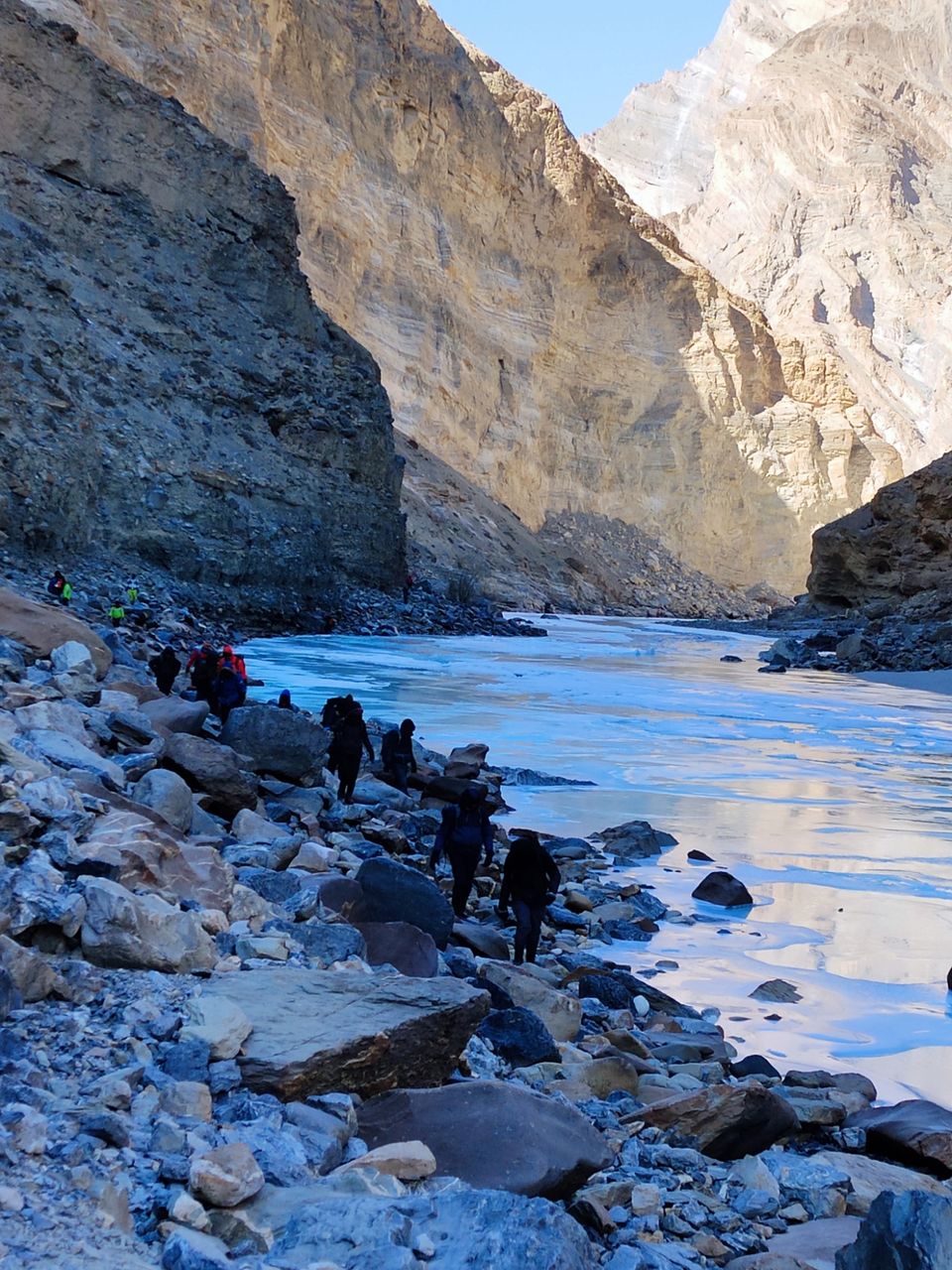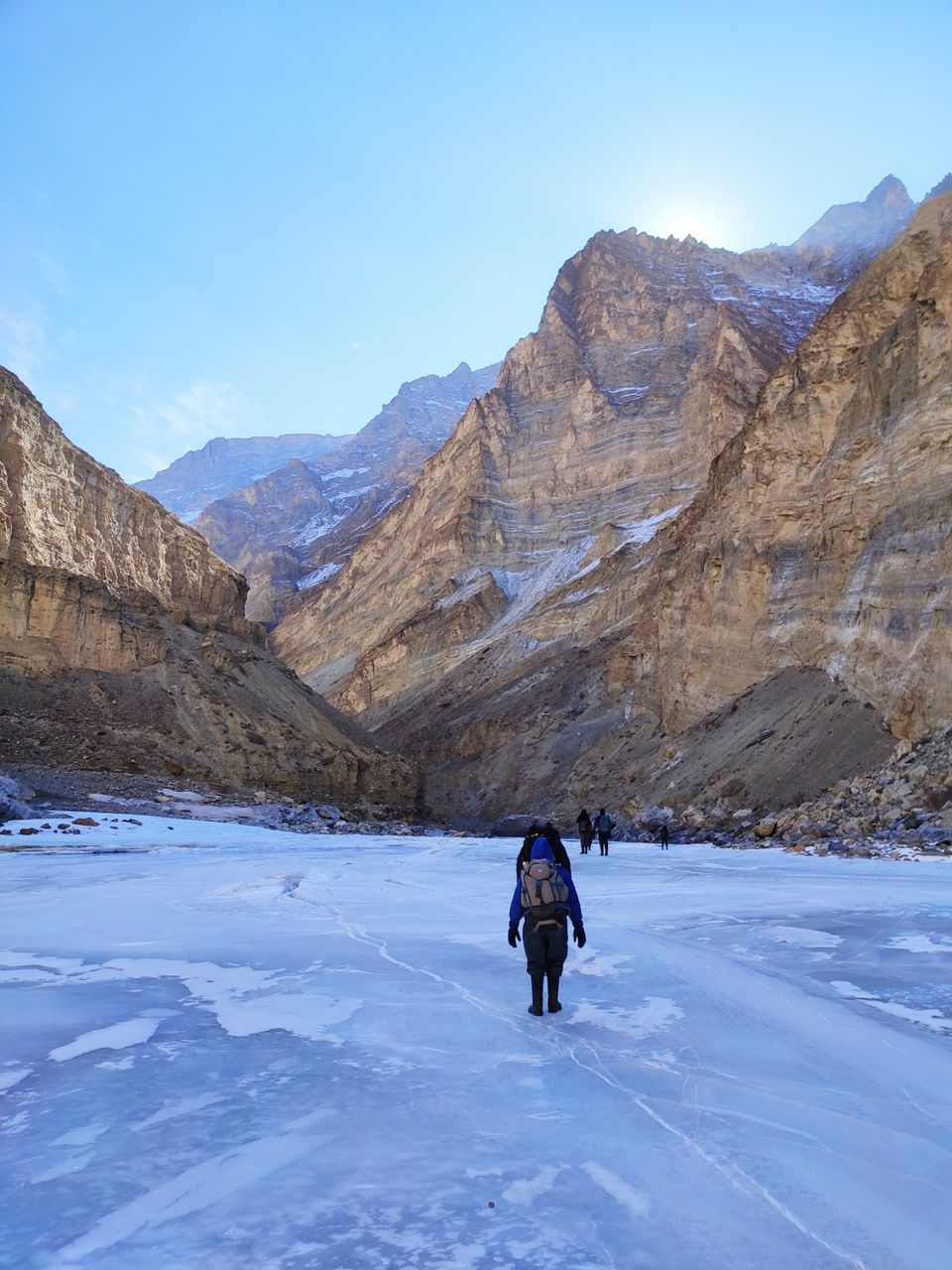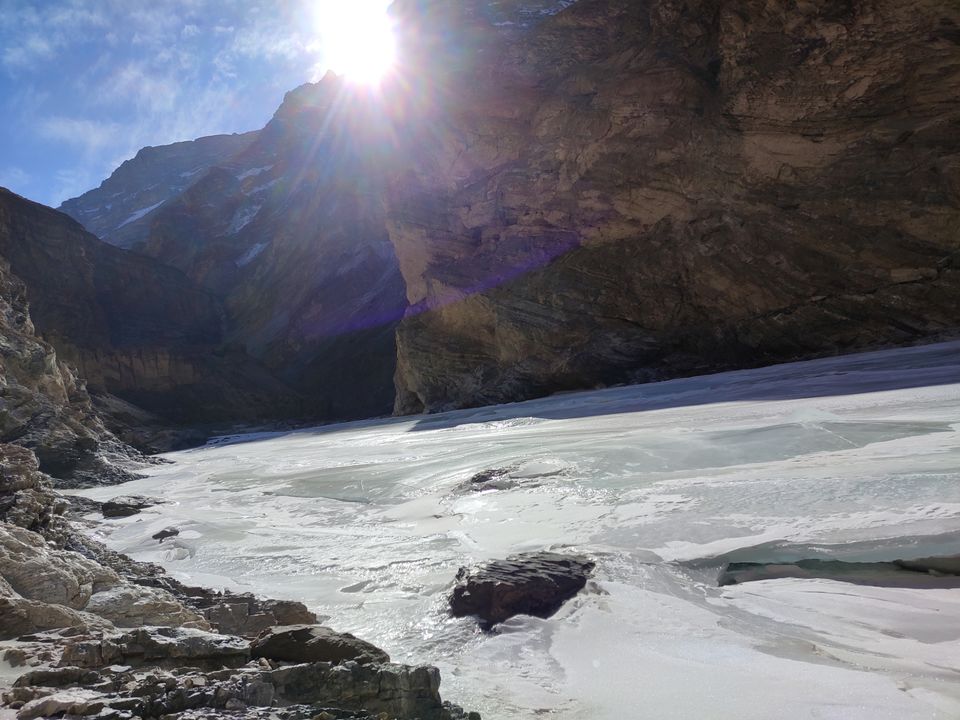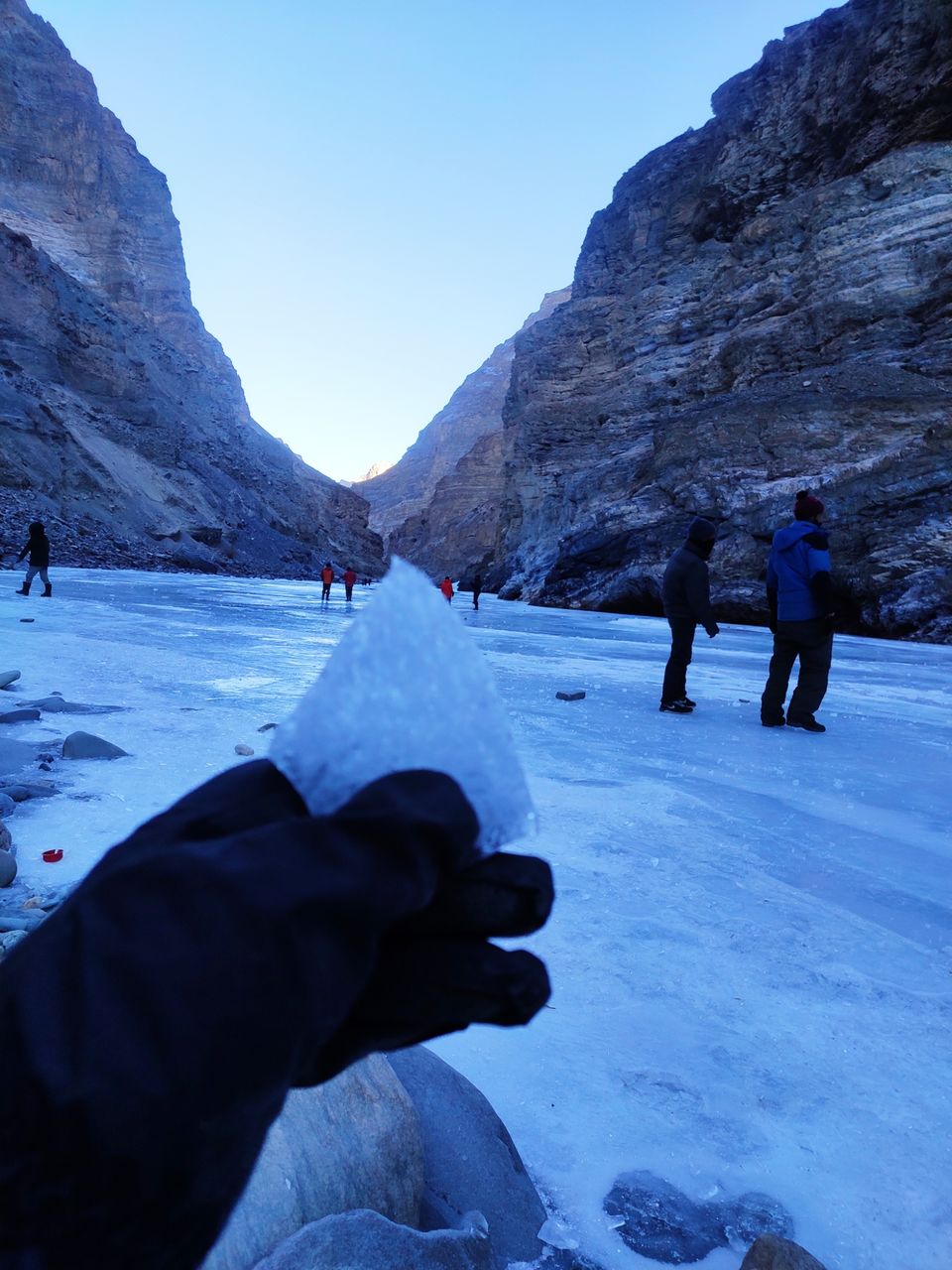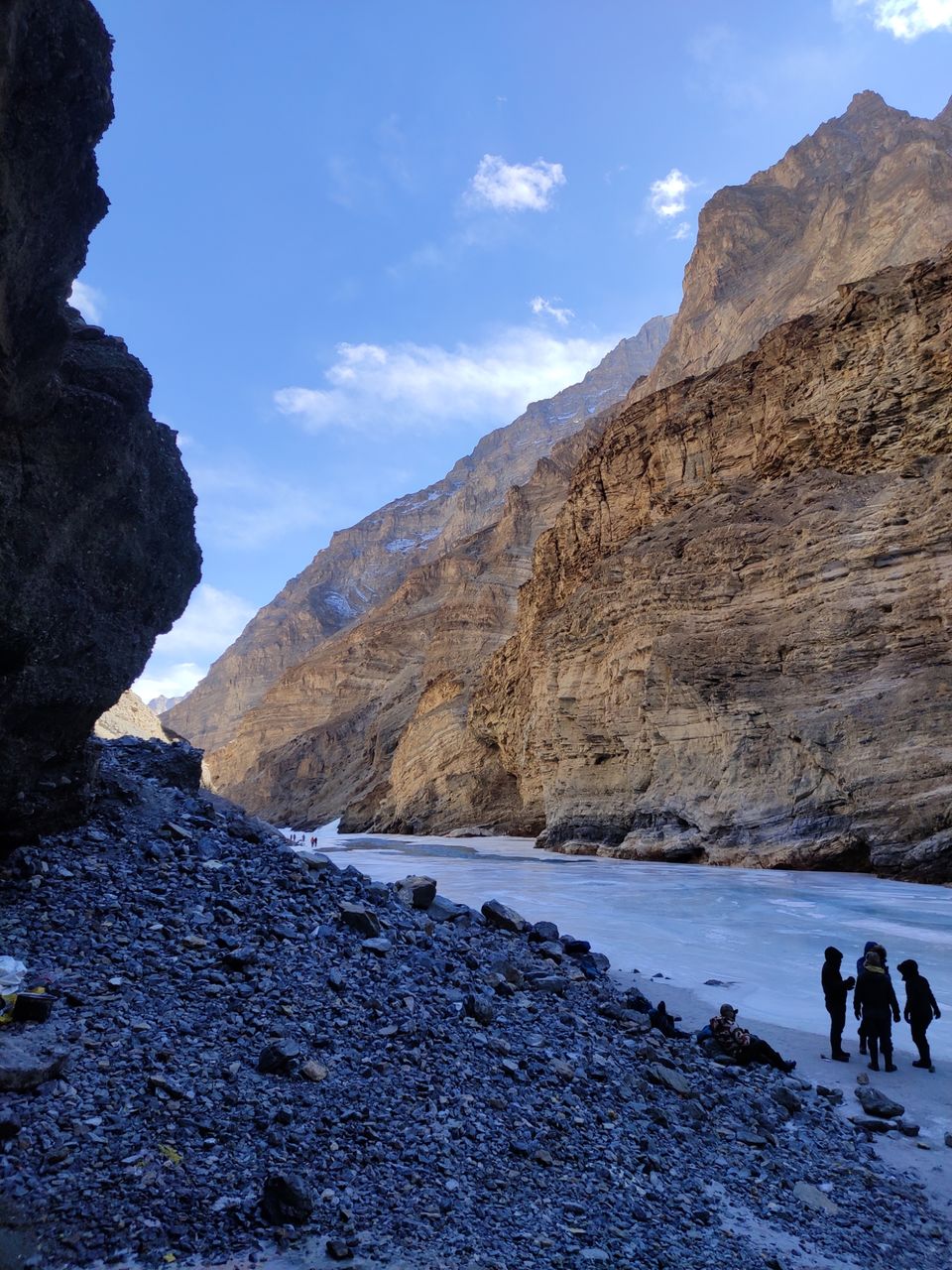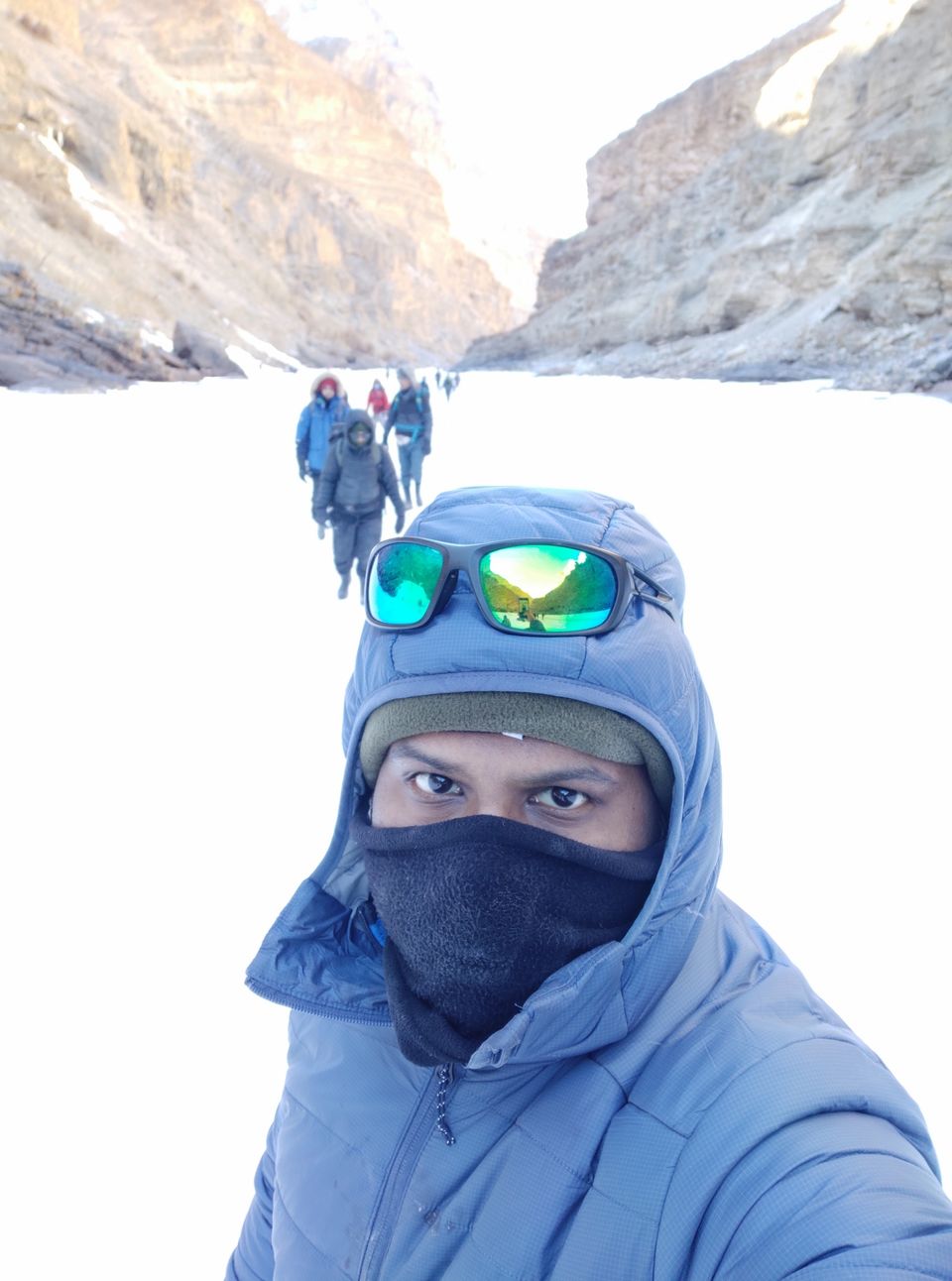 Hotong to Shingra Koma
- Since we couldn't reached Nerak earlier day, we had camped on Hotong campsite.
Only thing to view on Nerak is biggest waterfall frozen, dat went missing in this trek.
- Instead we had found many waterfalls frozen on this route, so no regret of reaching Nerak. Satisfied with our walk on frozen zanskar river and enjoyed life moments.
- This day tried to move further to Tibb, had a walk of around 1.5km on Mountain boulders also crossed on melted chadar and halted at one point where further ascent was not possible.
- Trek leaders made good decision and we went back to Shingra Koma, in between we posed some pics with Indian Flag near frozen waterfall and on chadar as we were well satisfied with our walk.
- Walk for 15km to the campsite. I can say had experienced calmness, craziness and once in a lifetime experience and prayed to god within to gave us all strength, courage to face chadar and complete it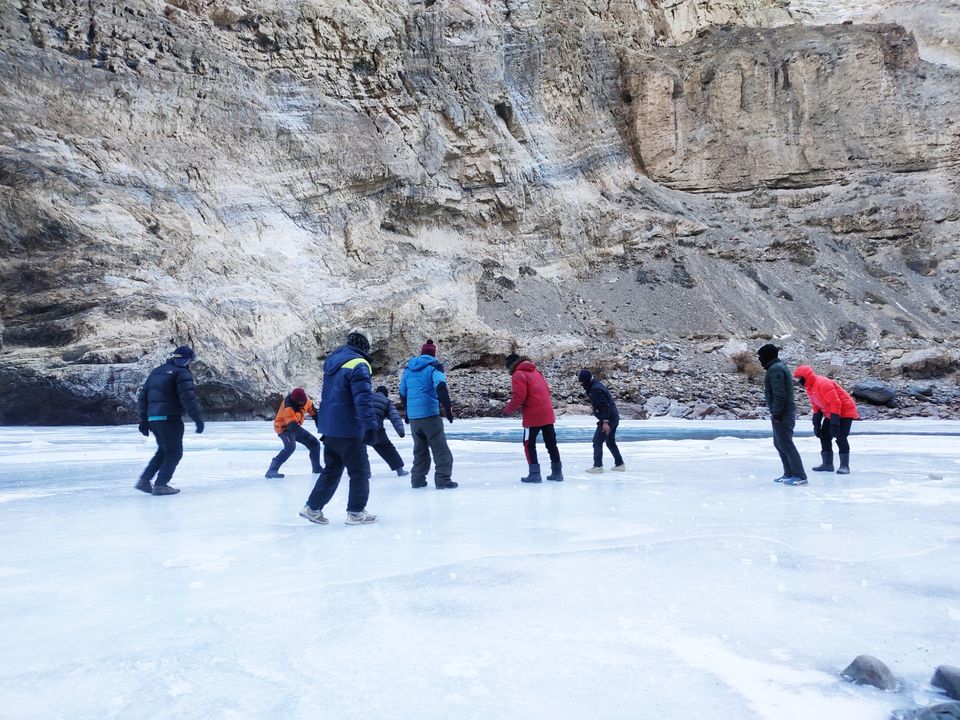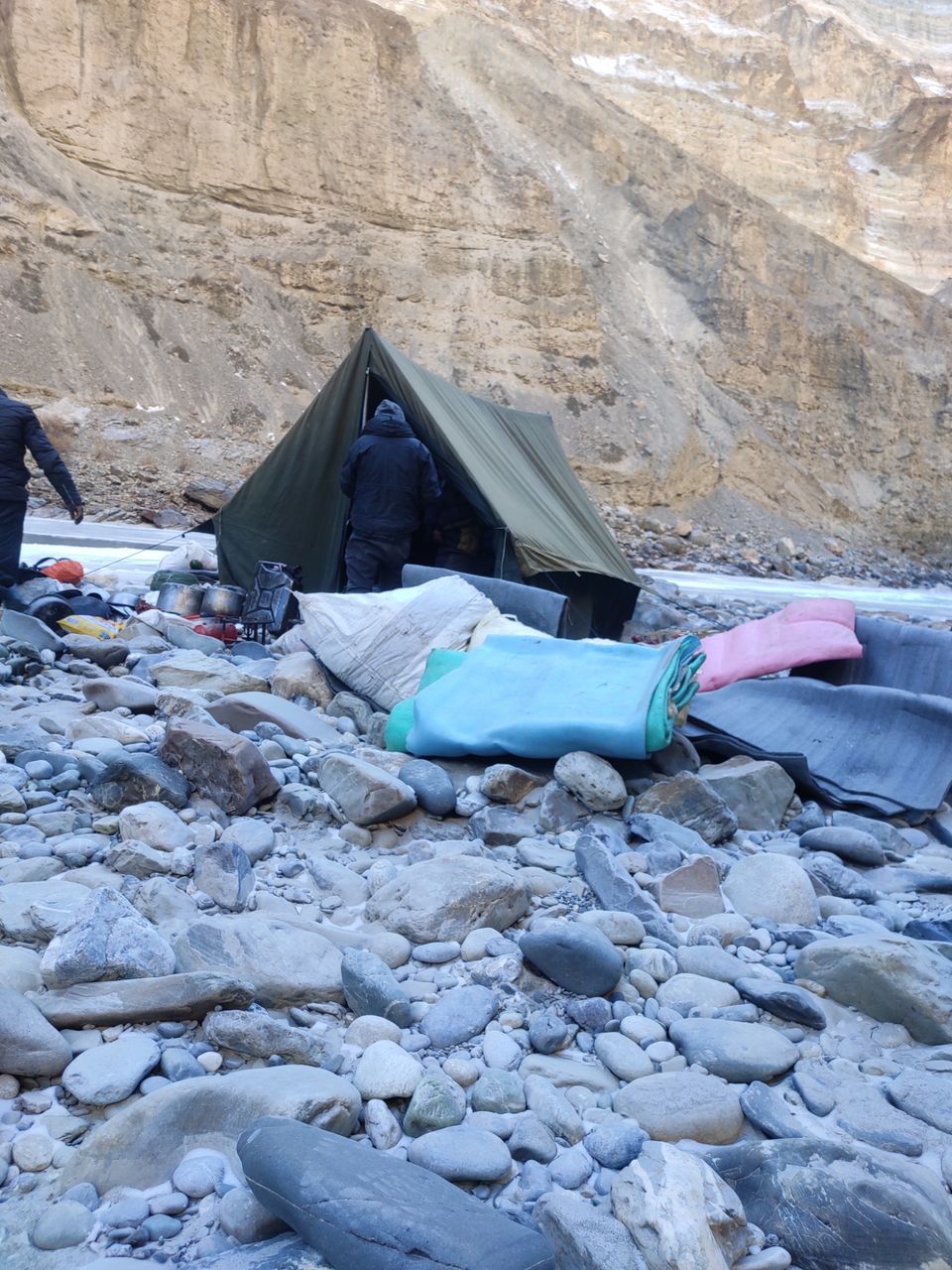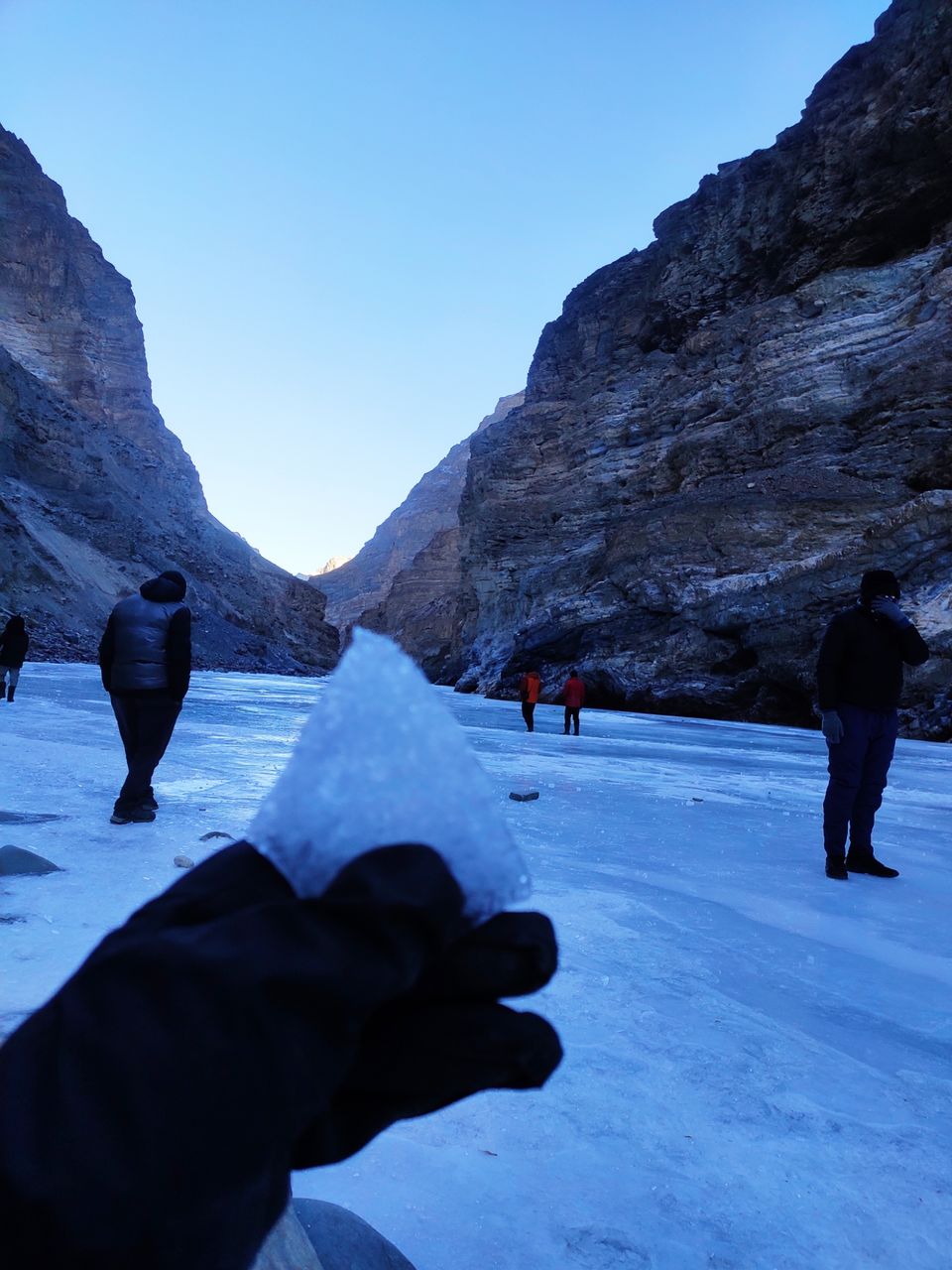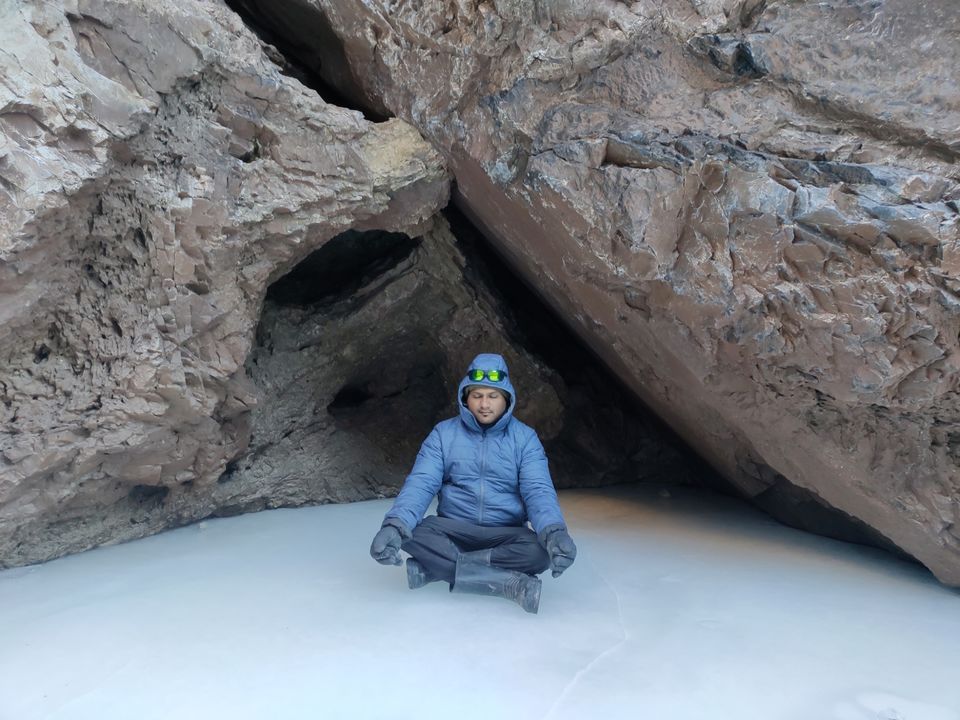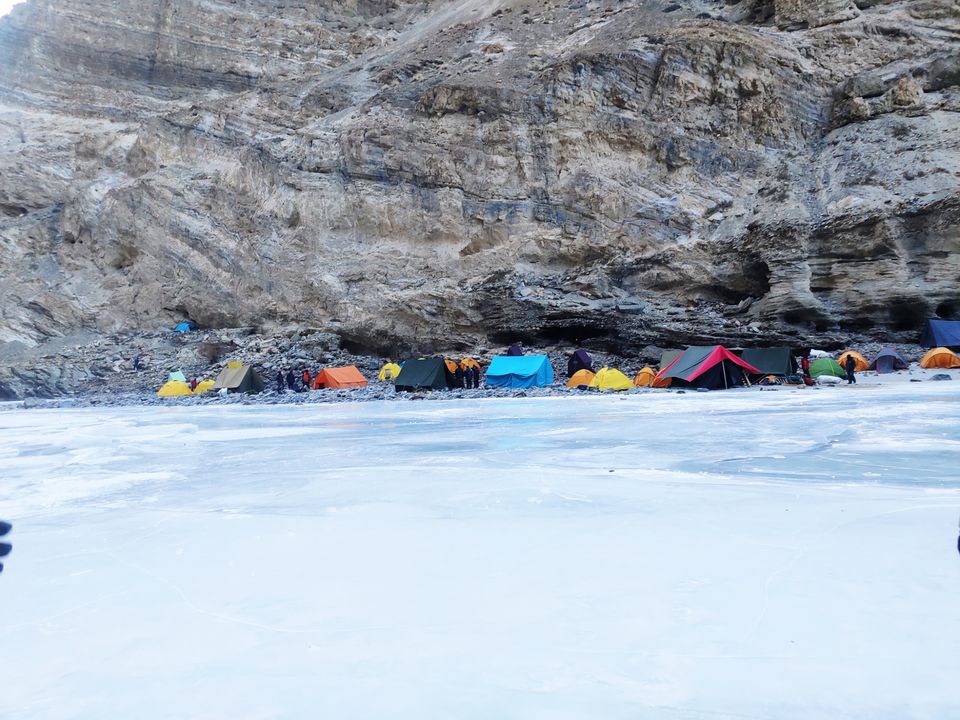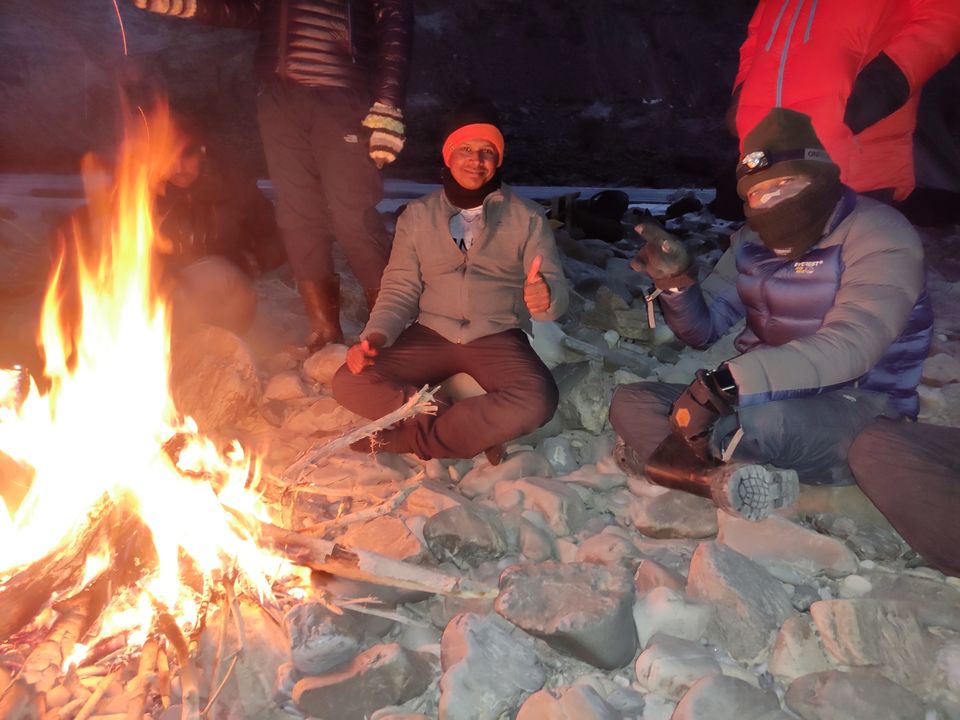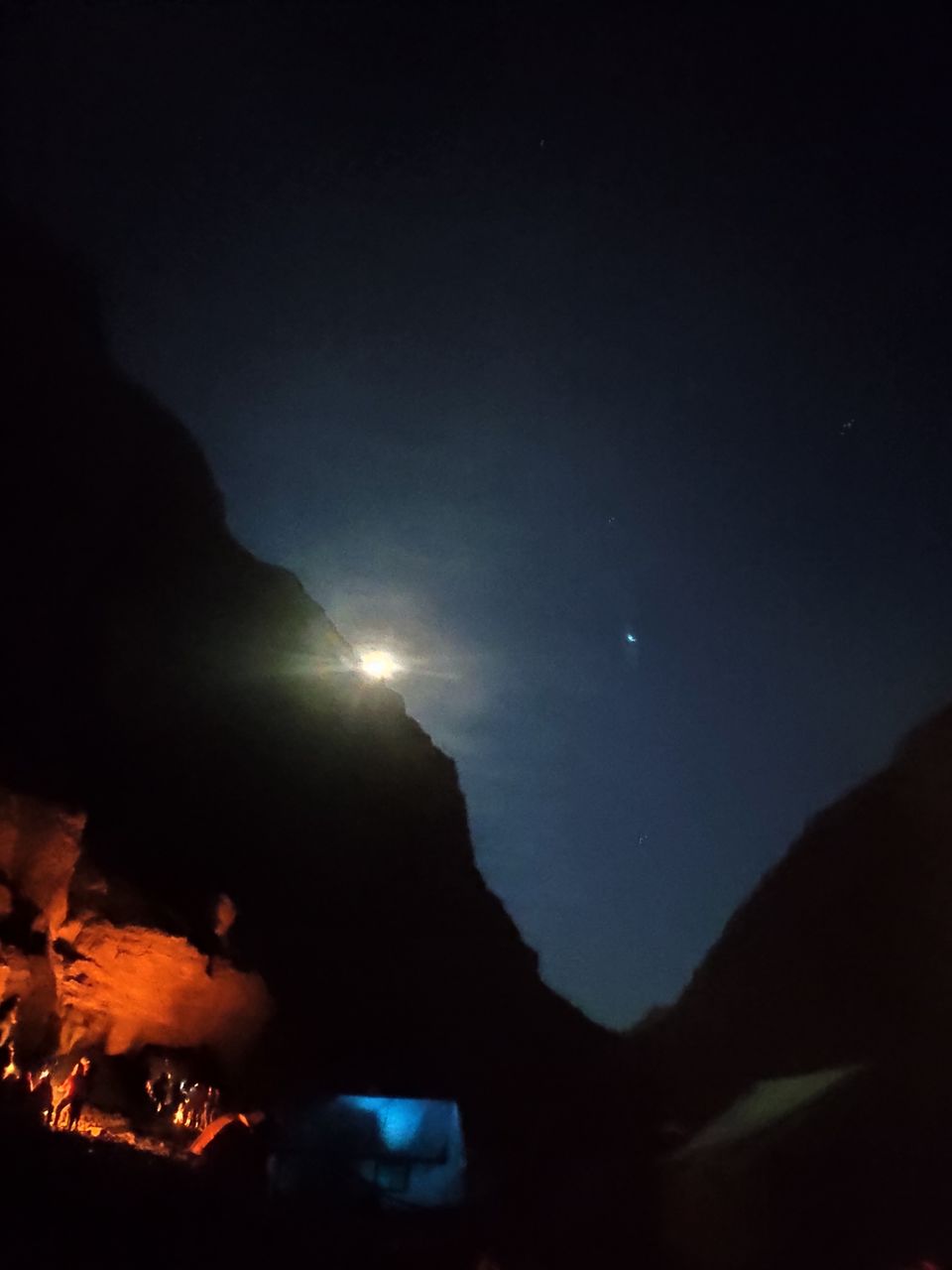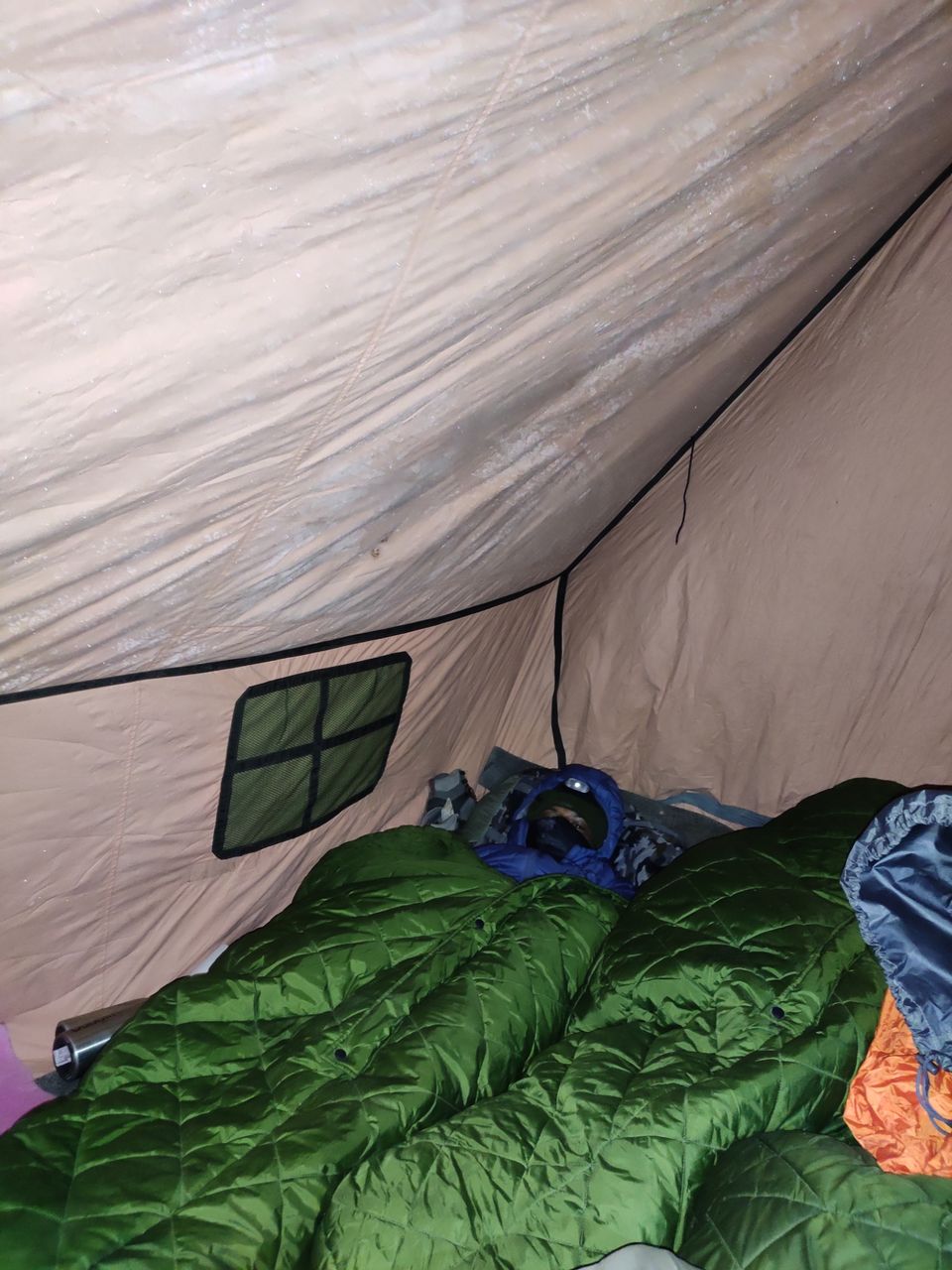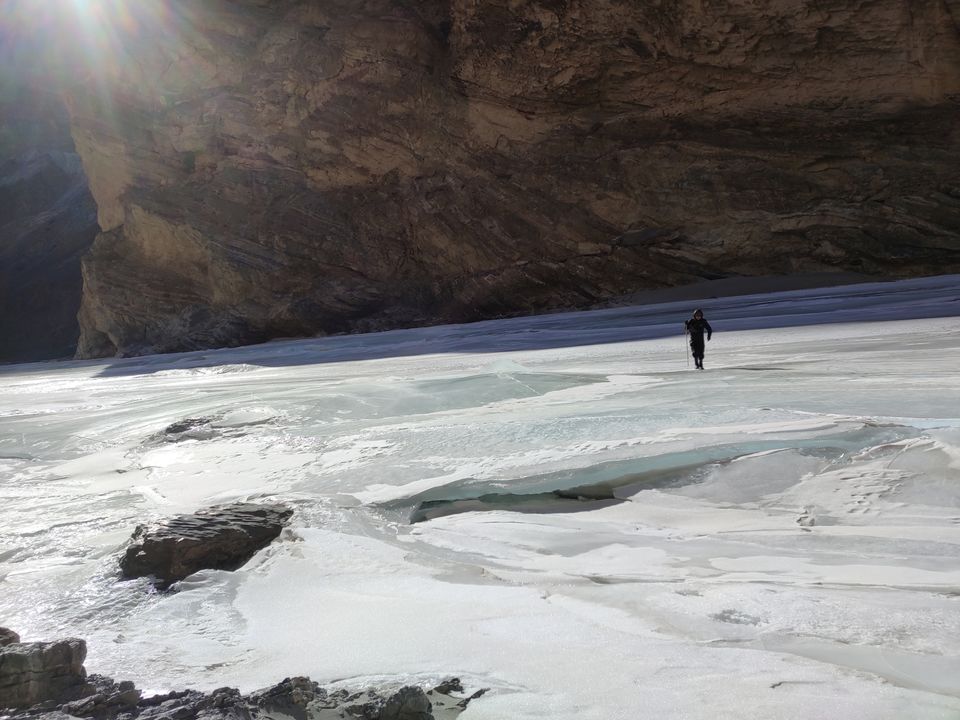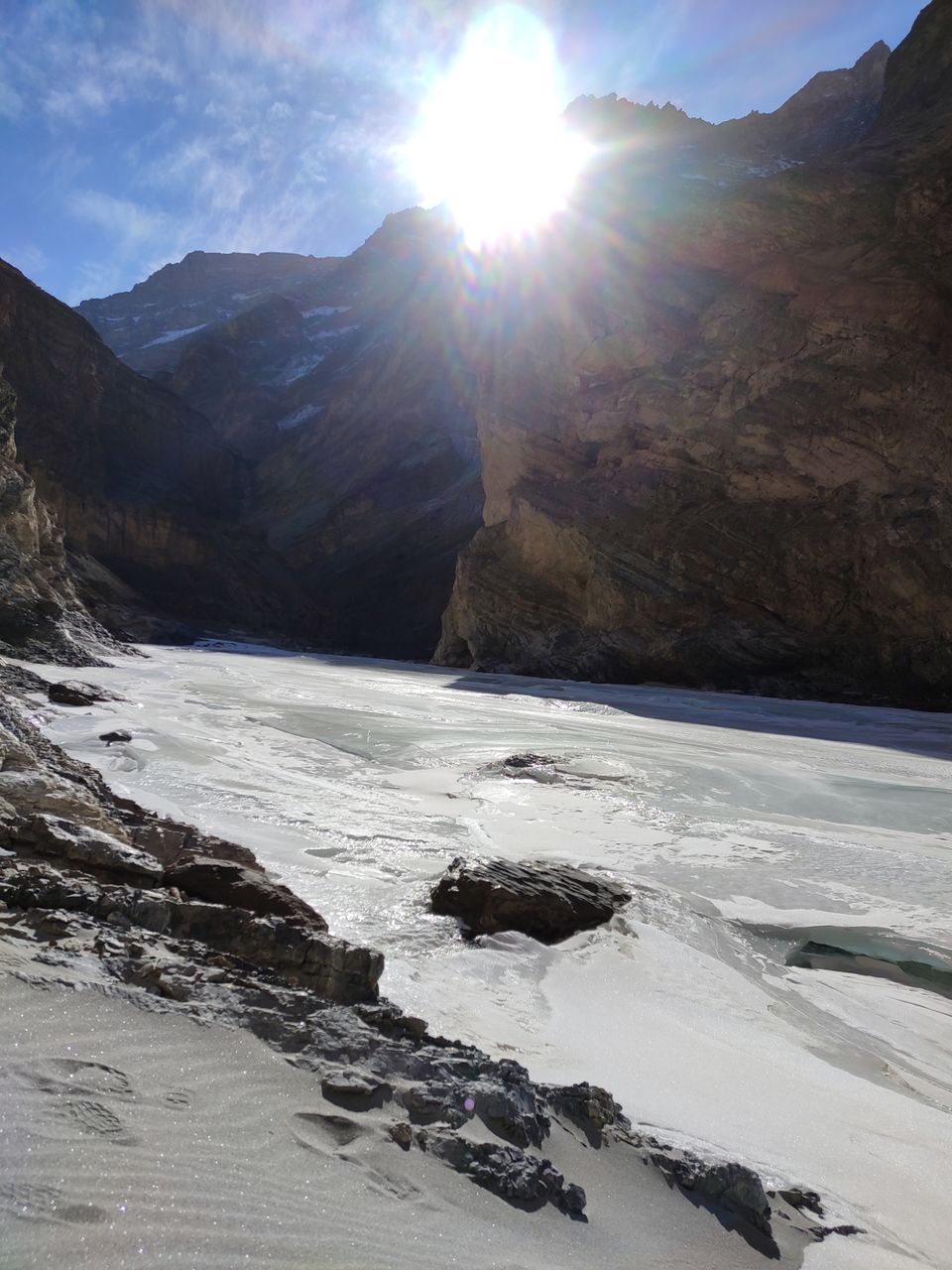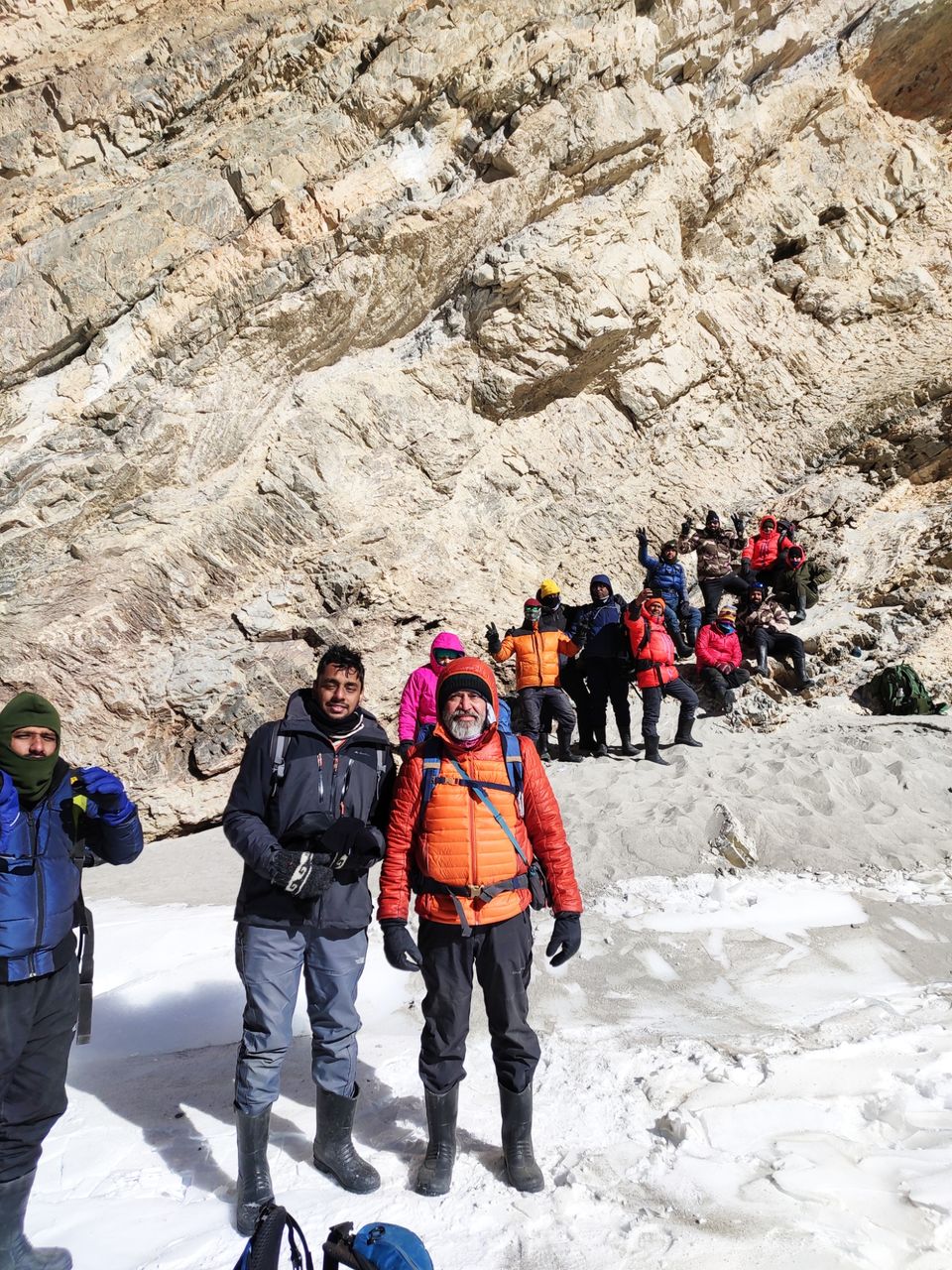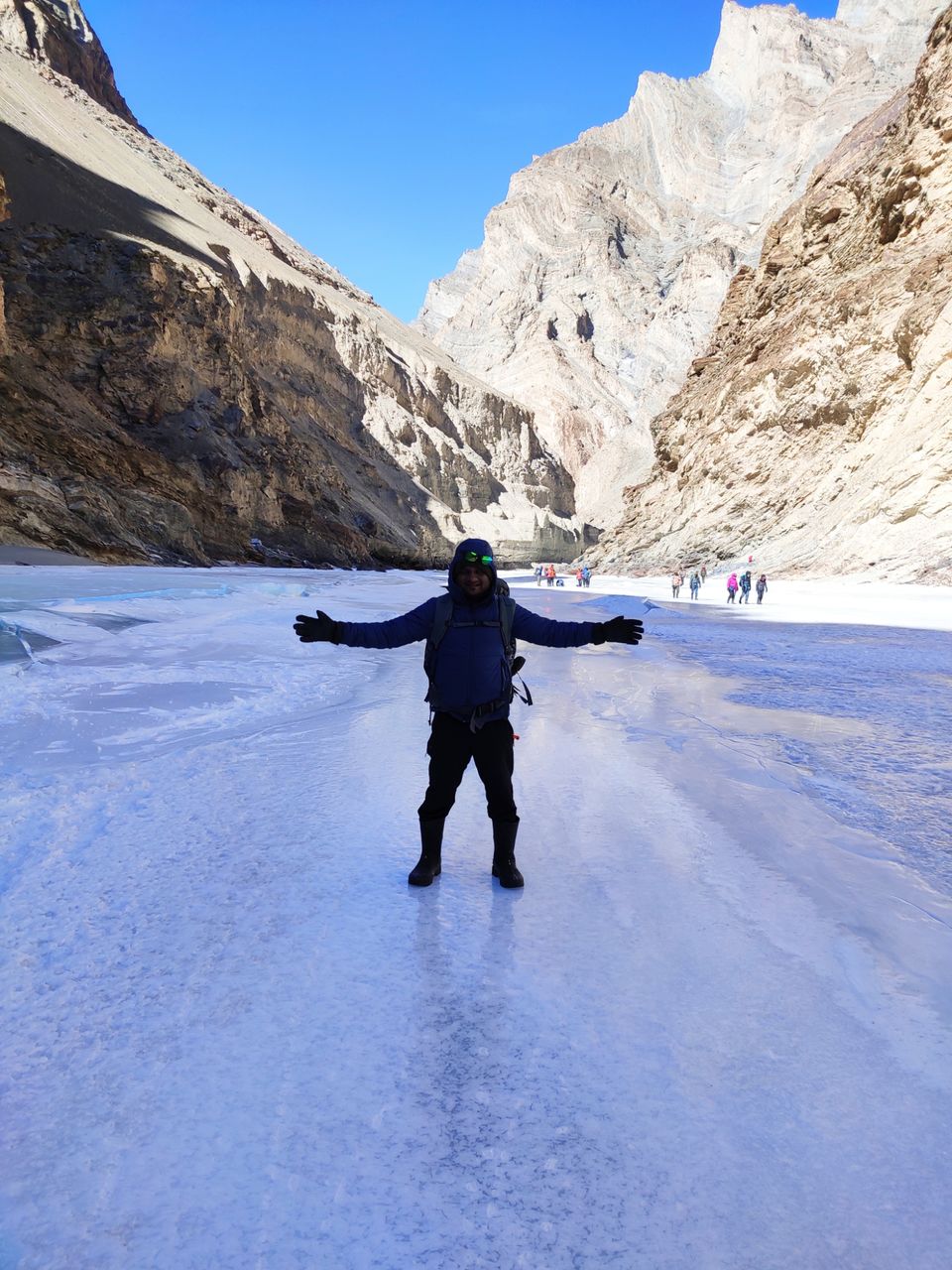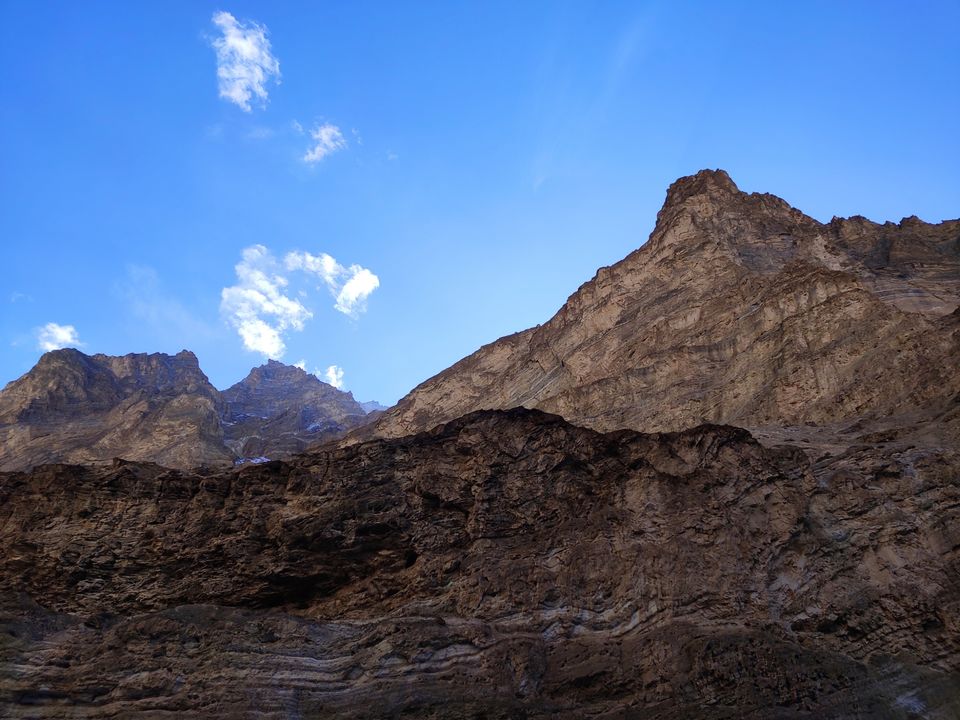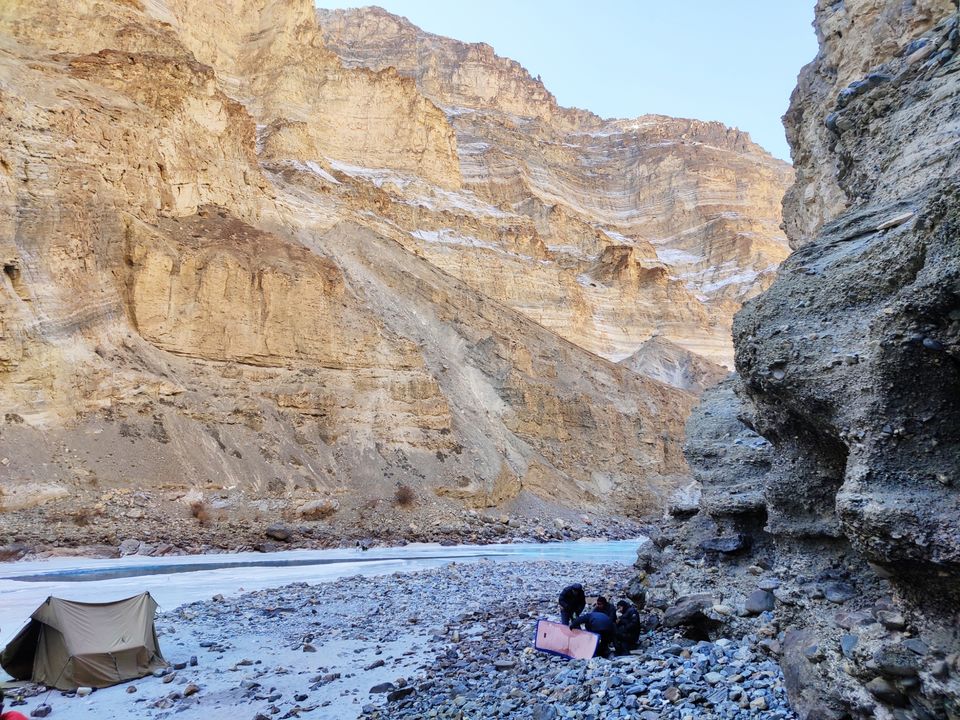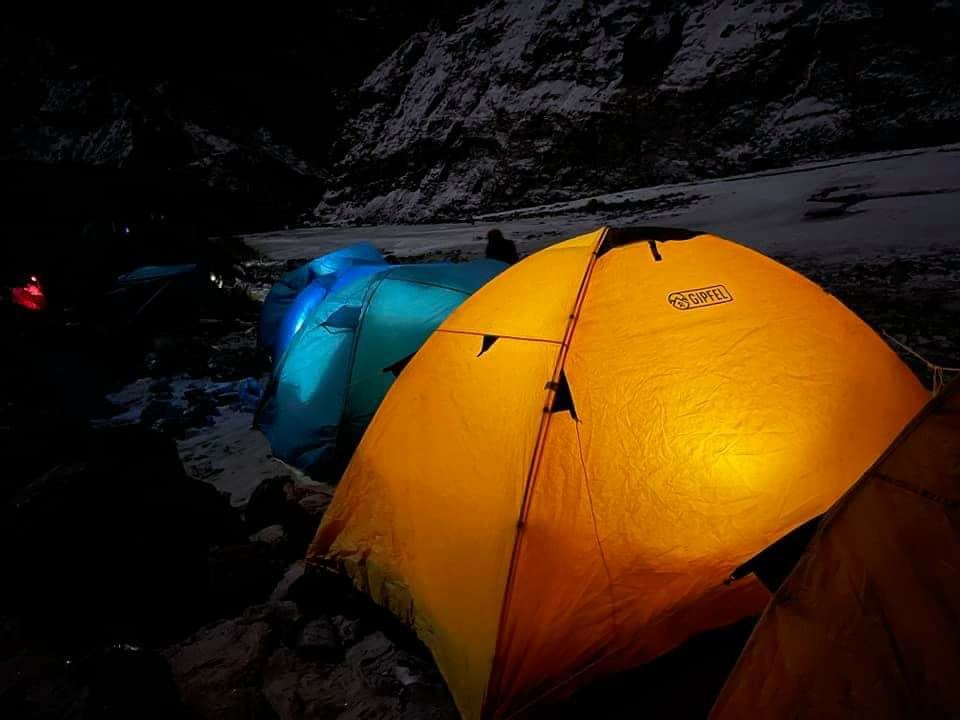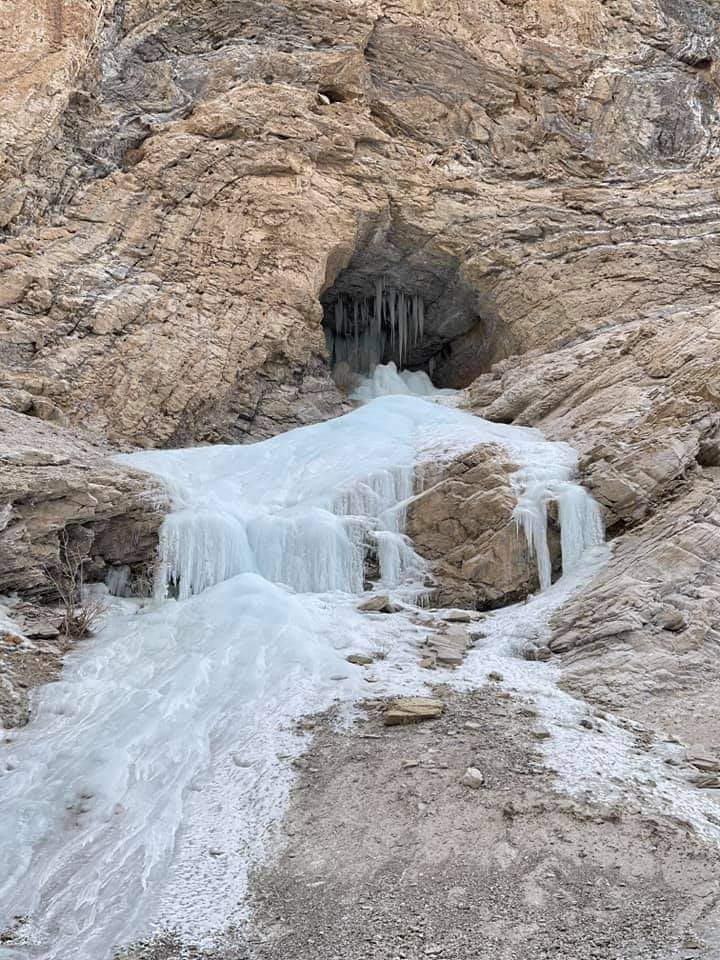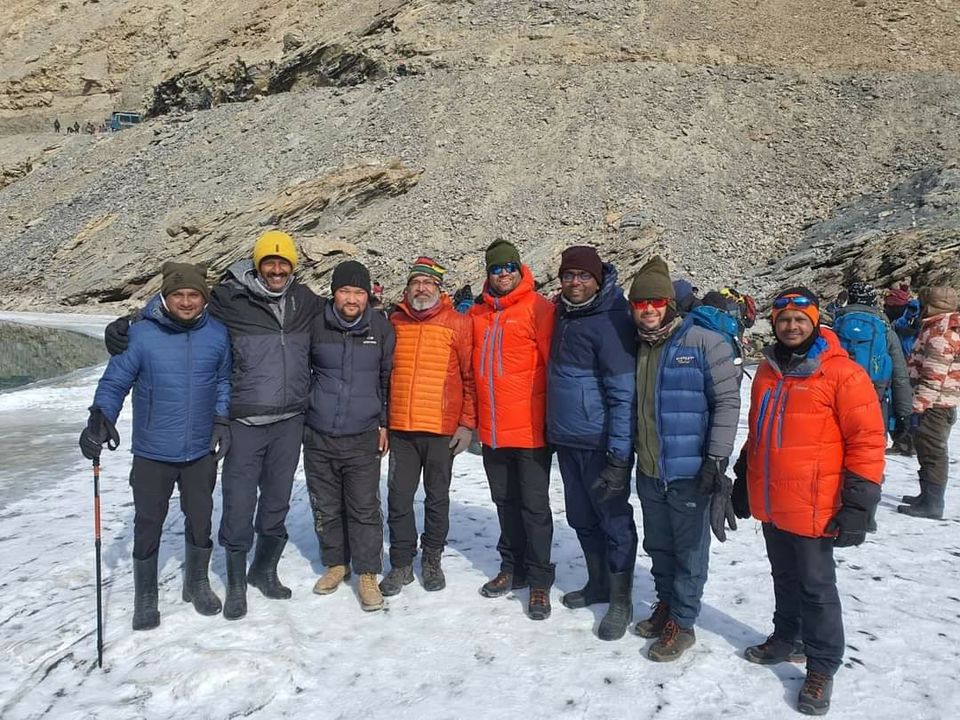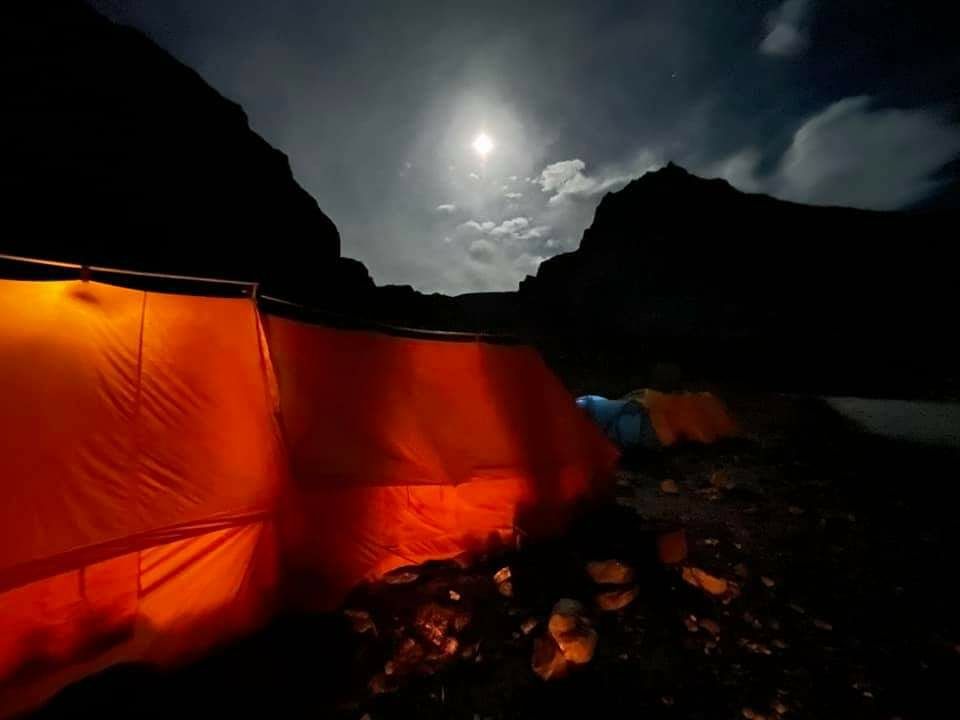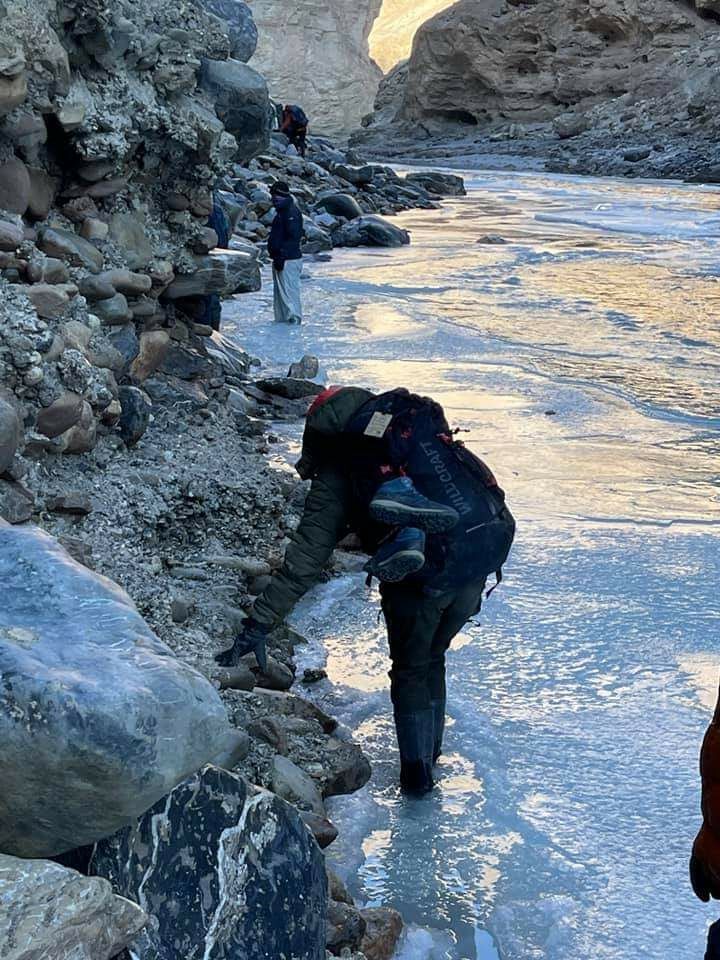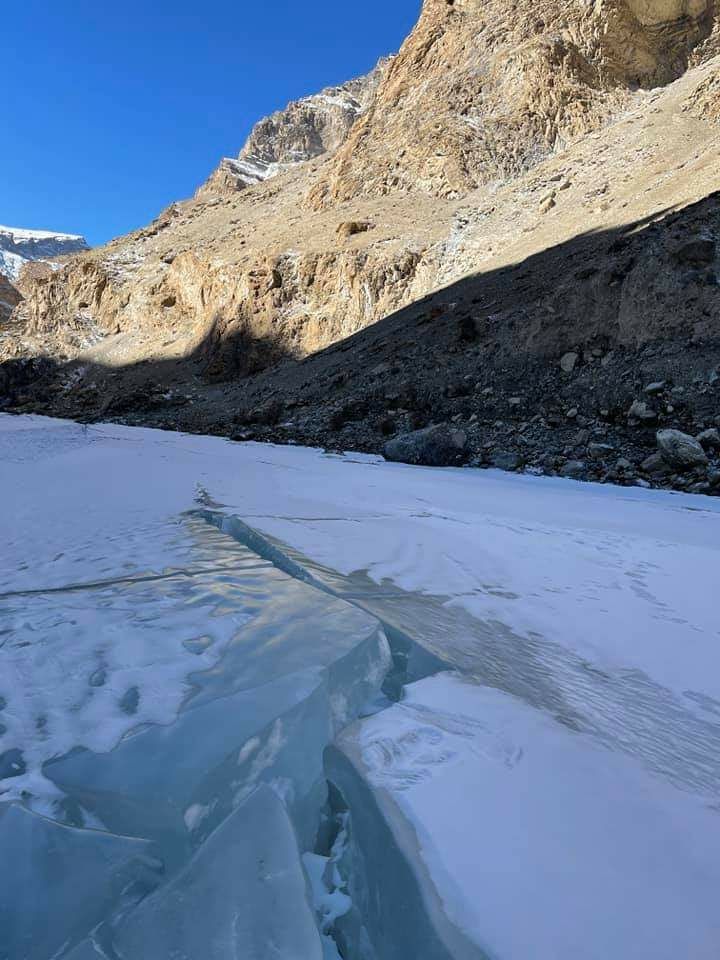 Shingra Koma to Bakula
- Last day of Trek was a walk of around 5km.
It was fun, as we bonded well with trekking group members and it become like a family in this journey.
- Enjoy sipping flowing water of zanskar river and if one wish to jump and take a bath in this chilled river can wish too.
Note : Jumping can cause hypothermia, so it's a risk apart from fun factor.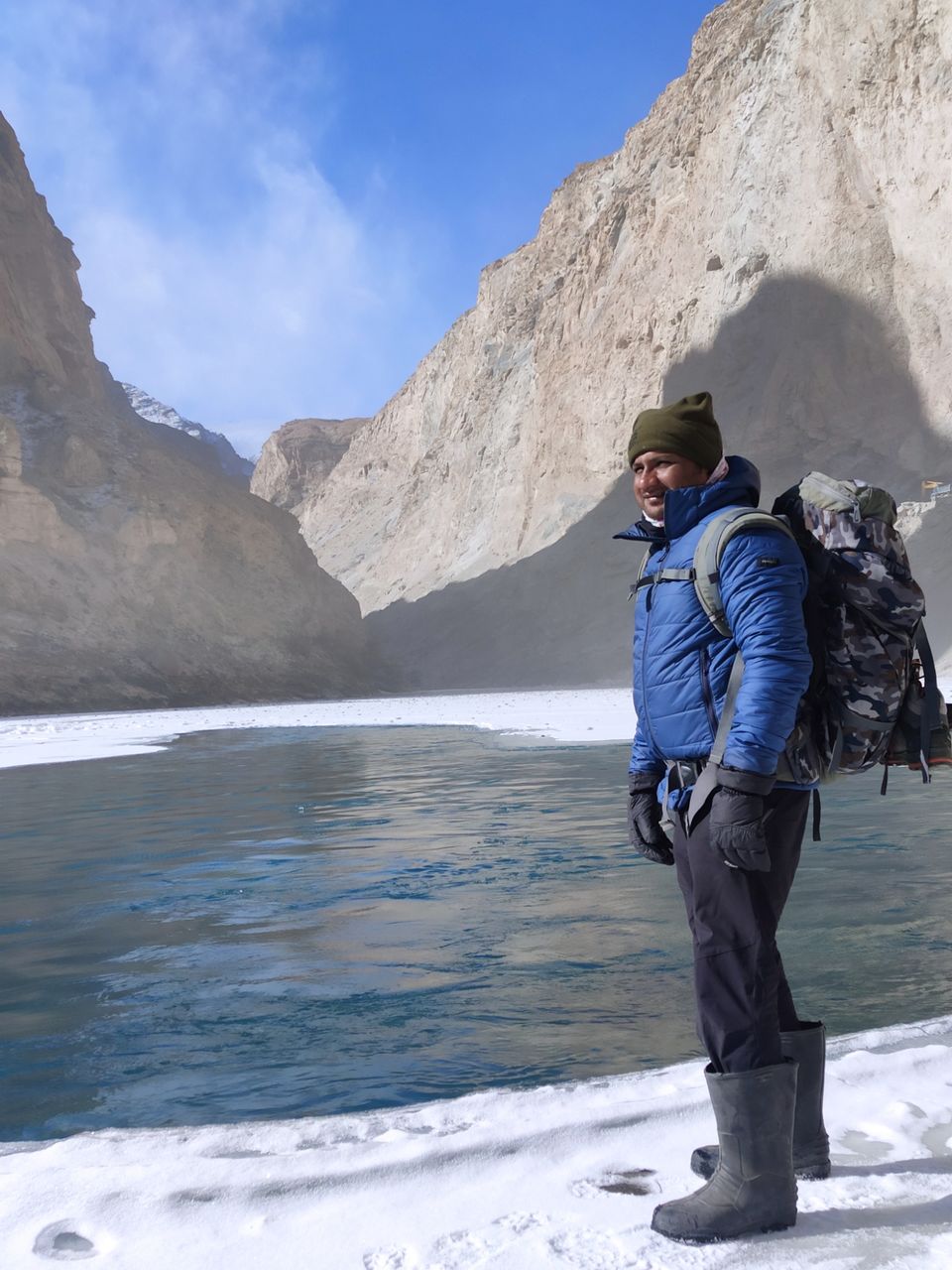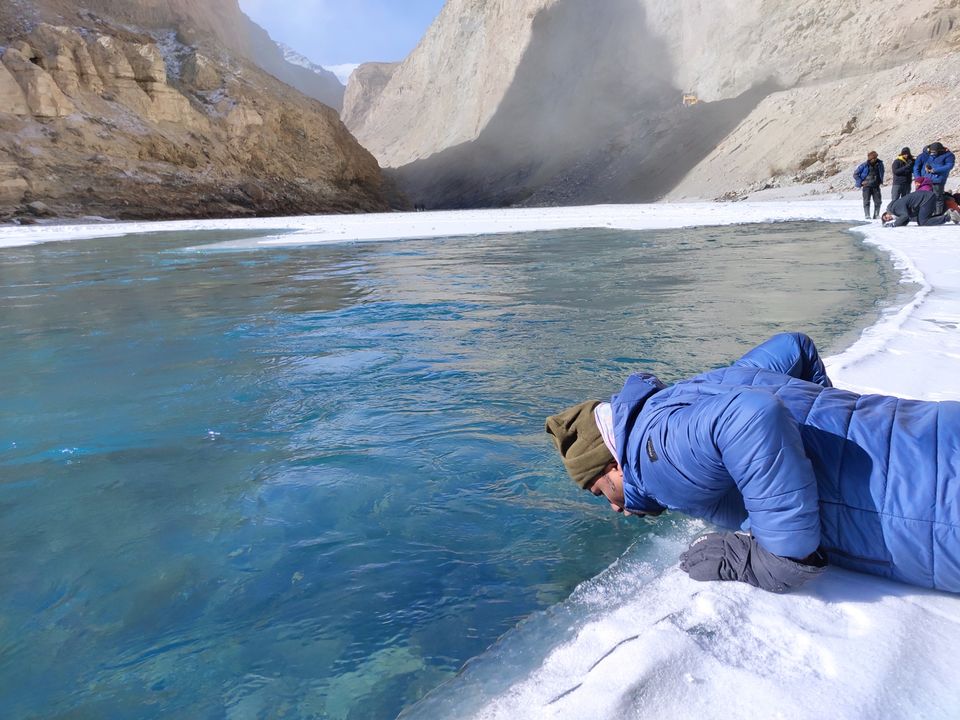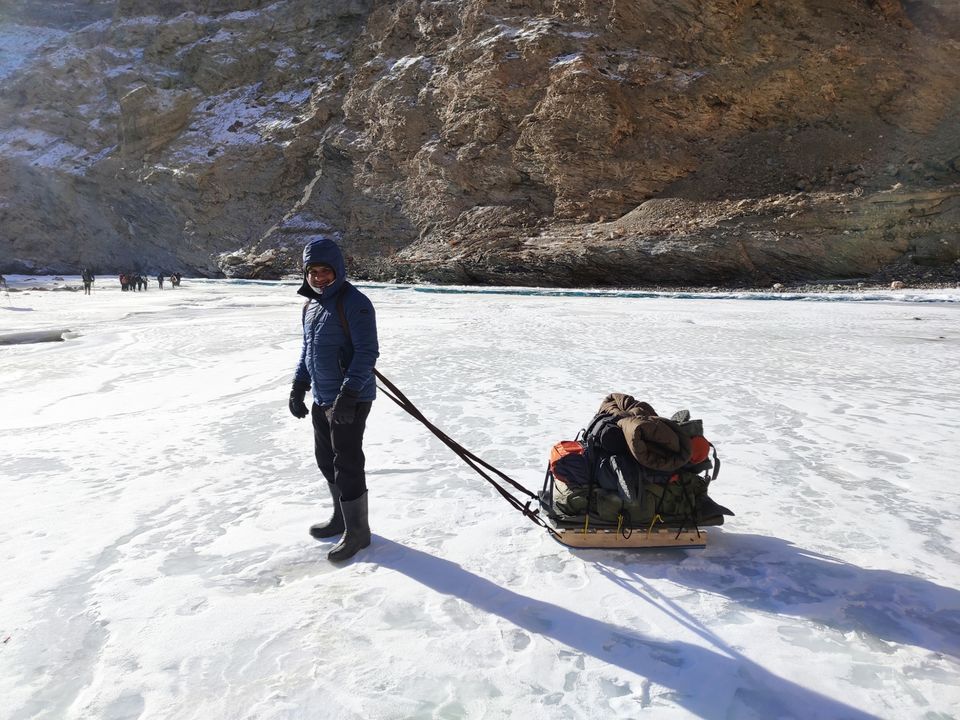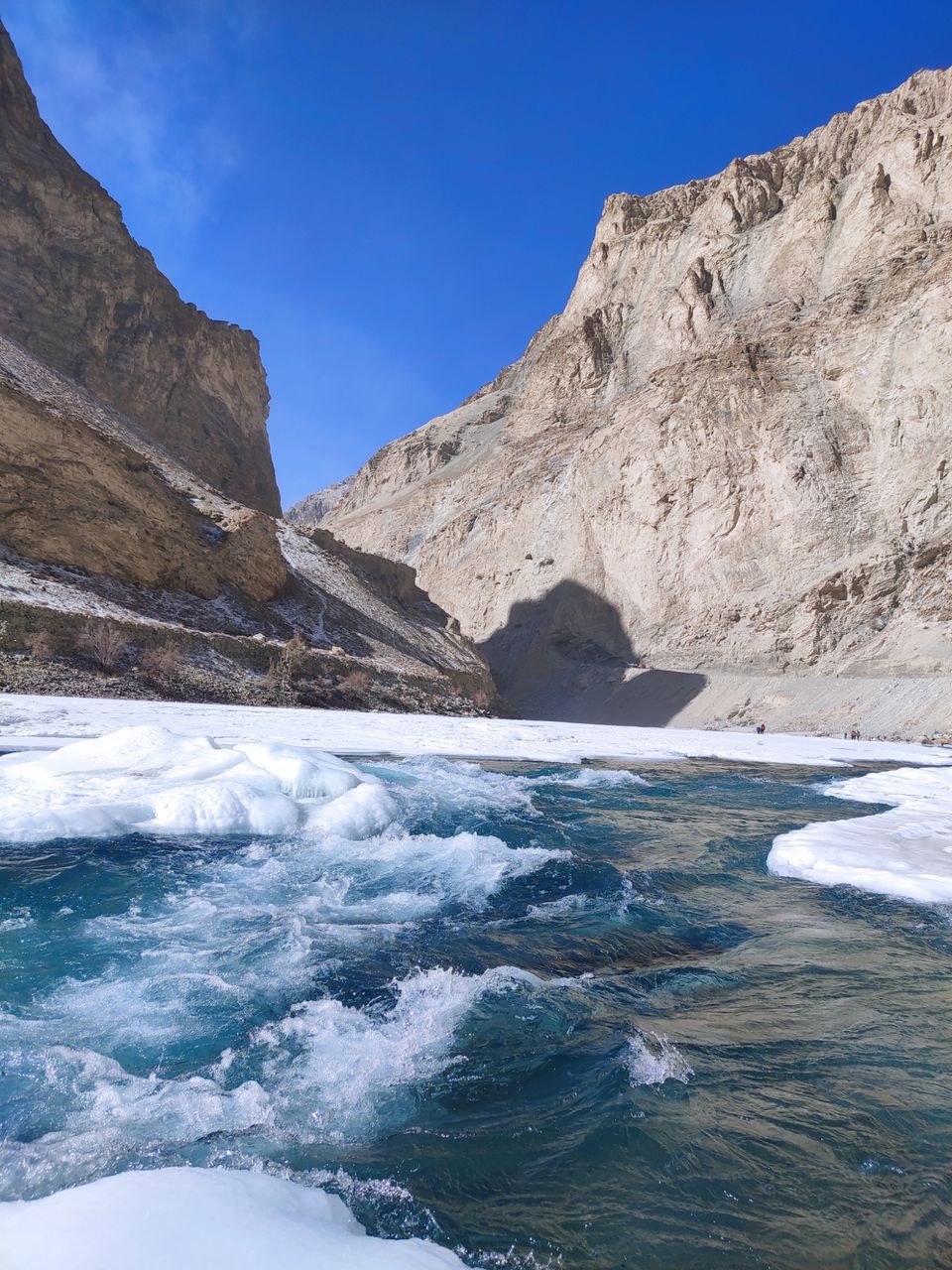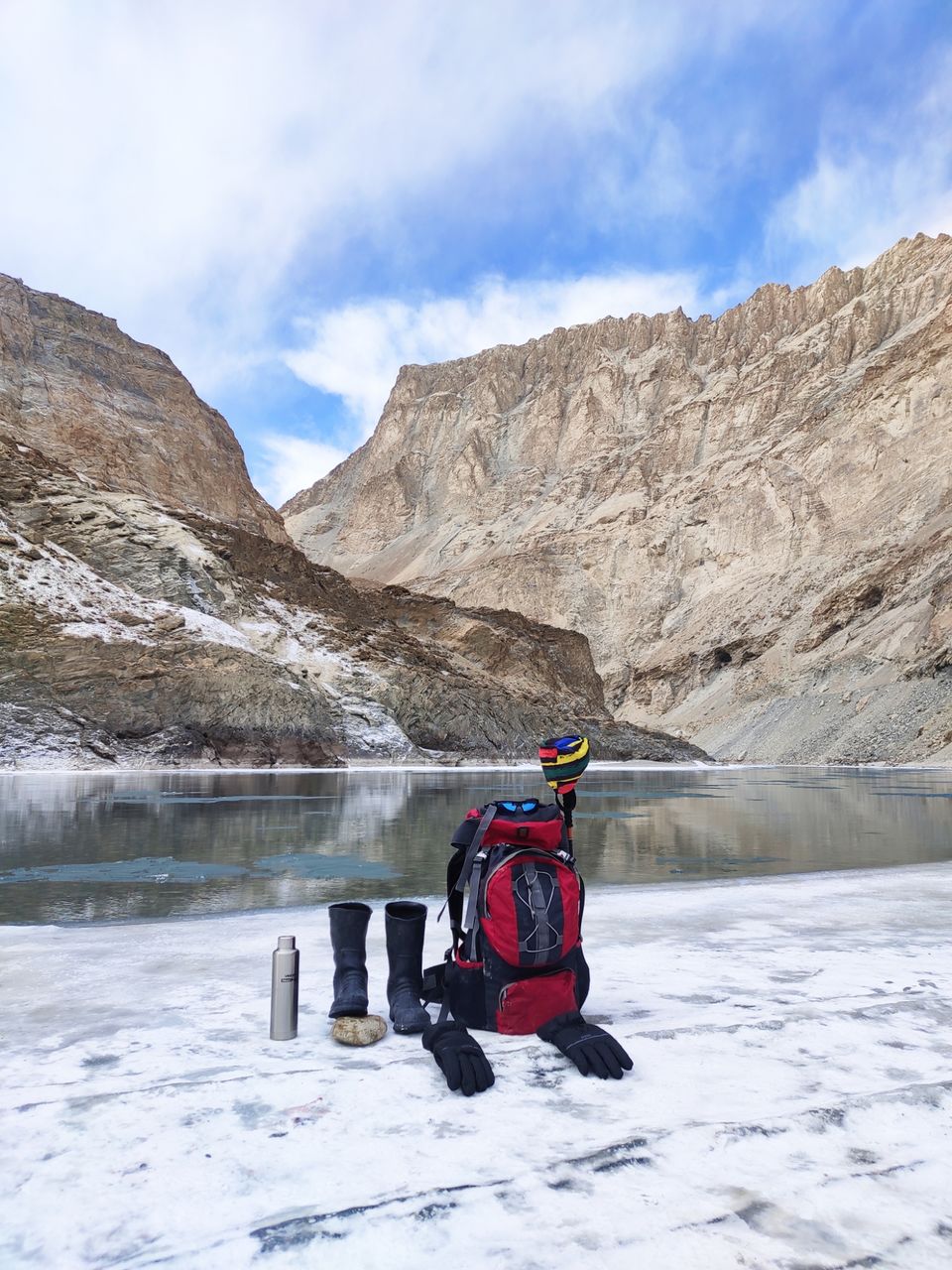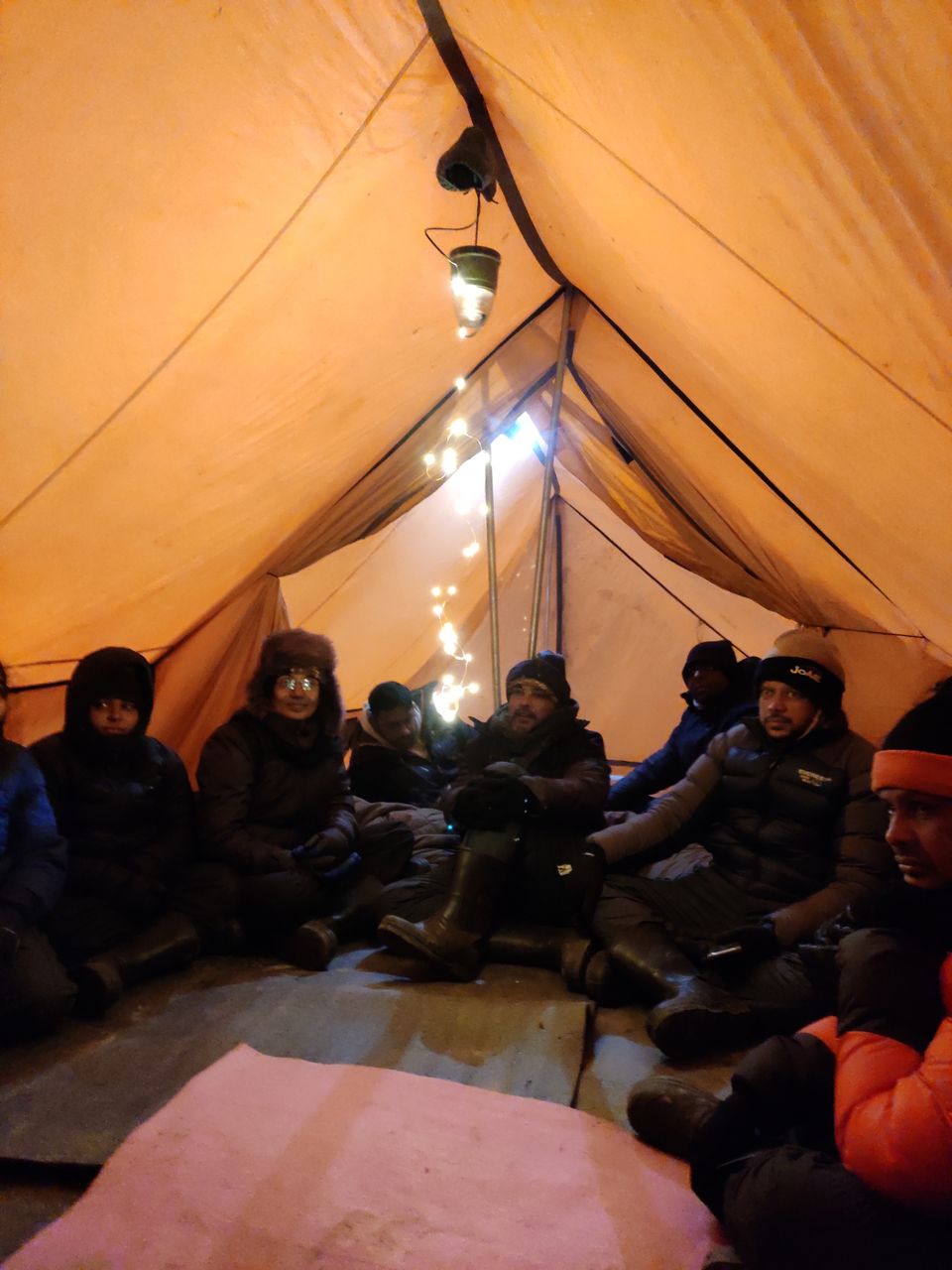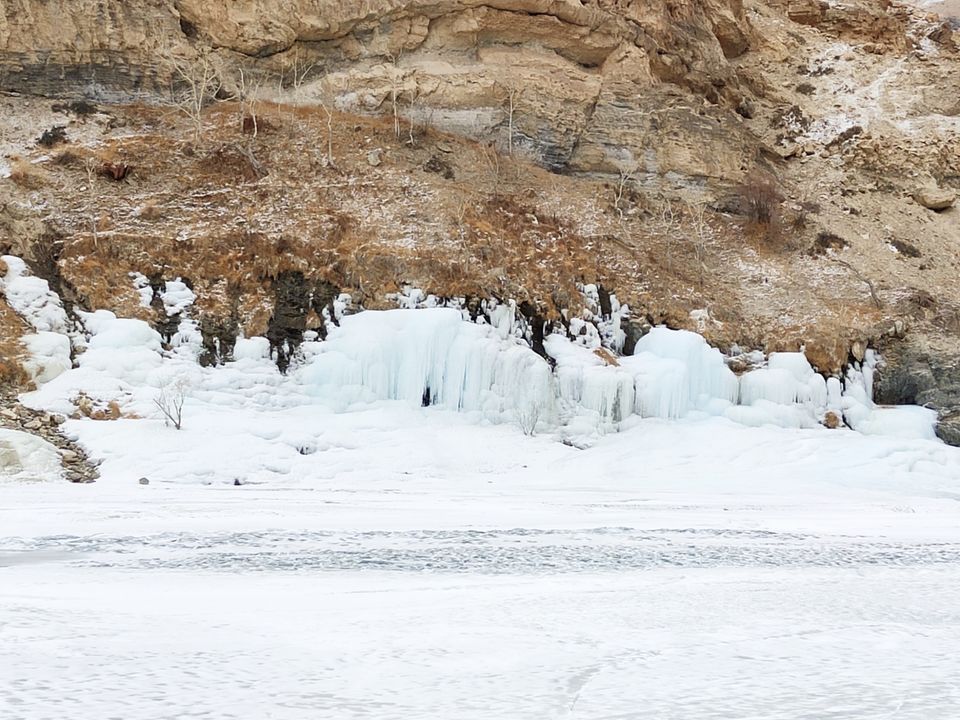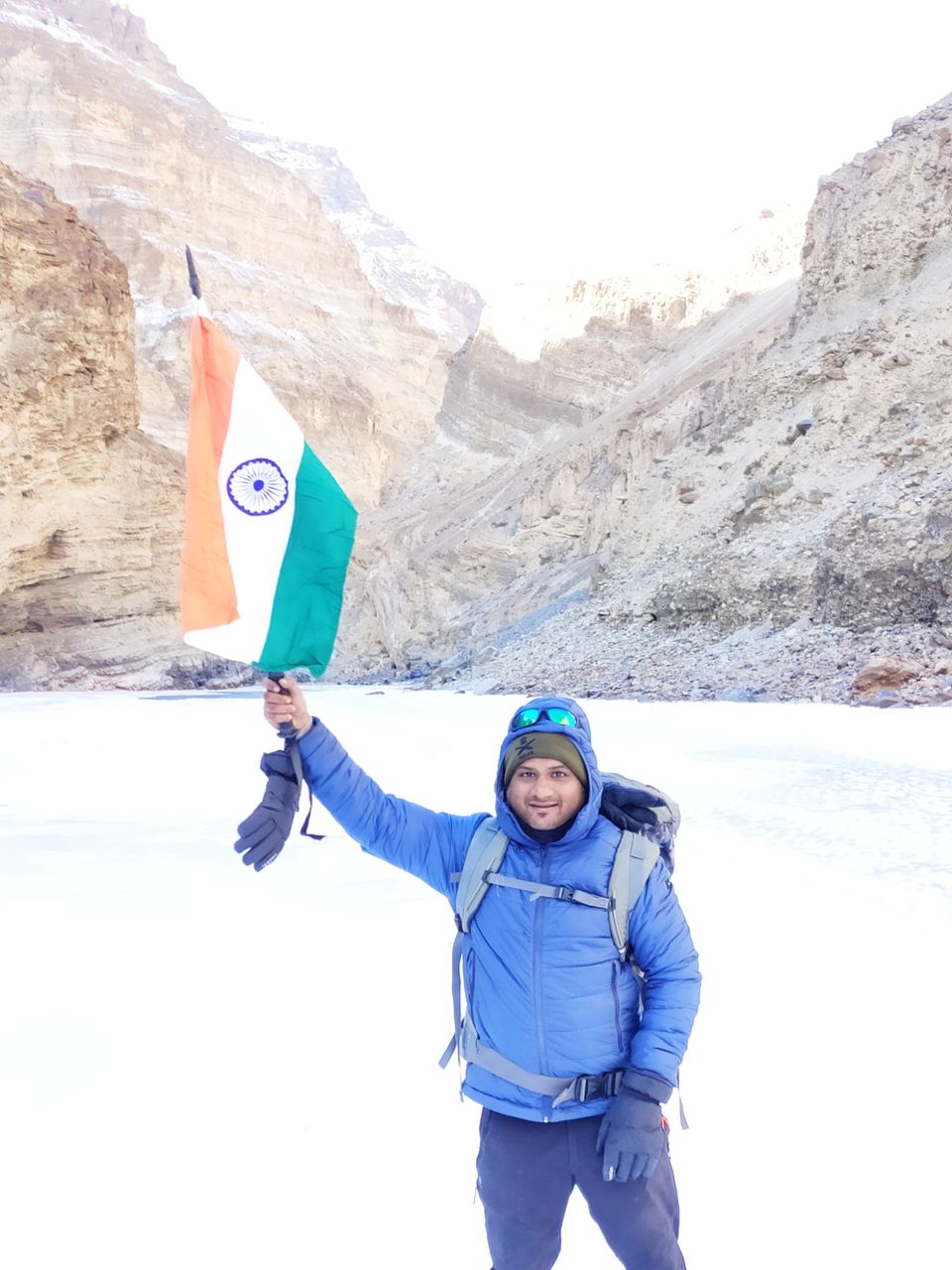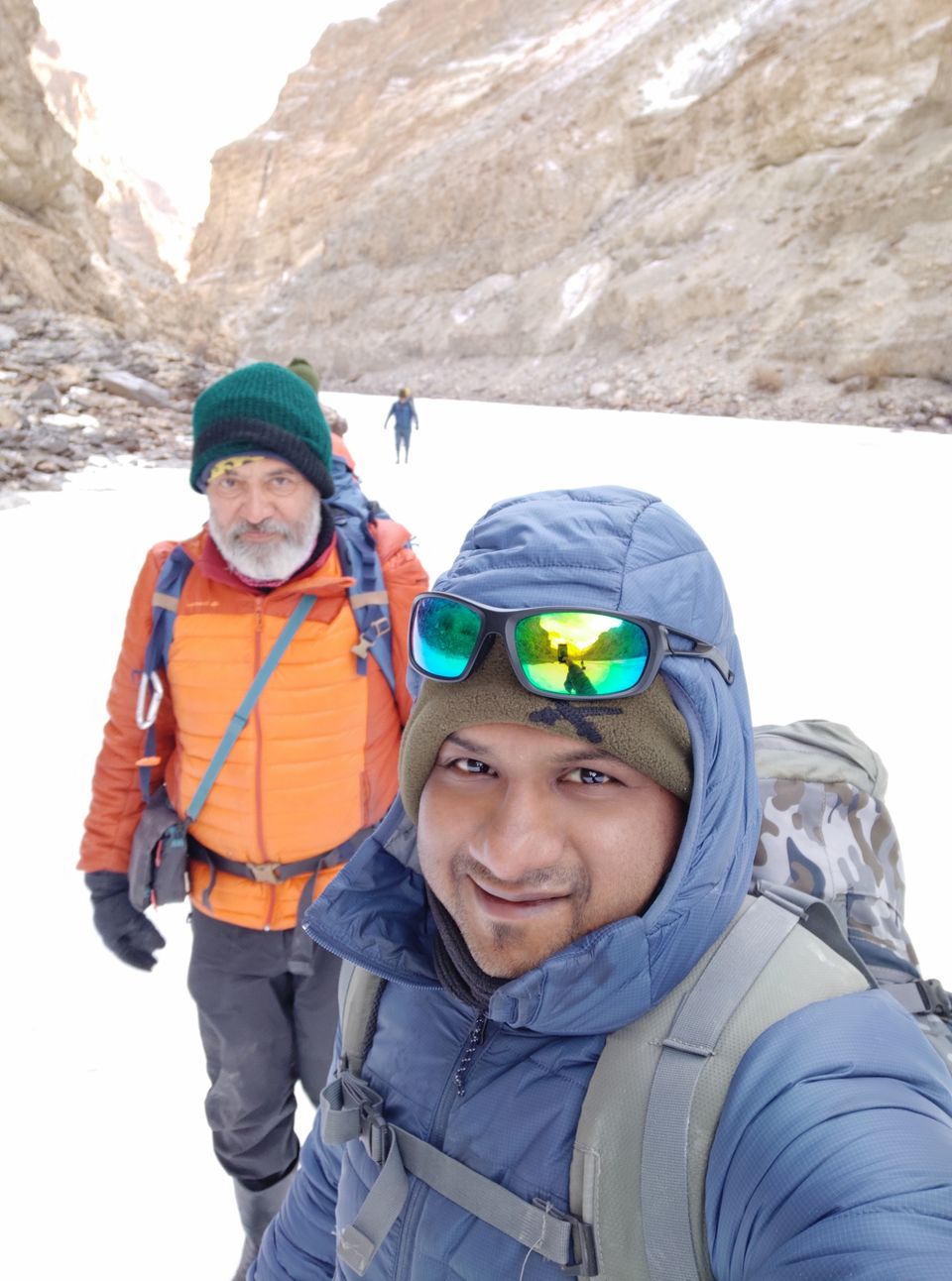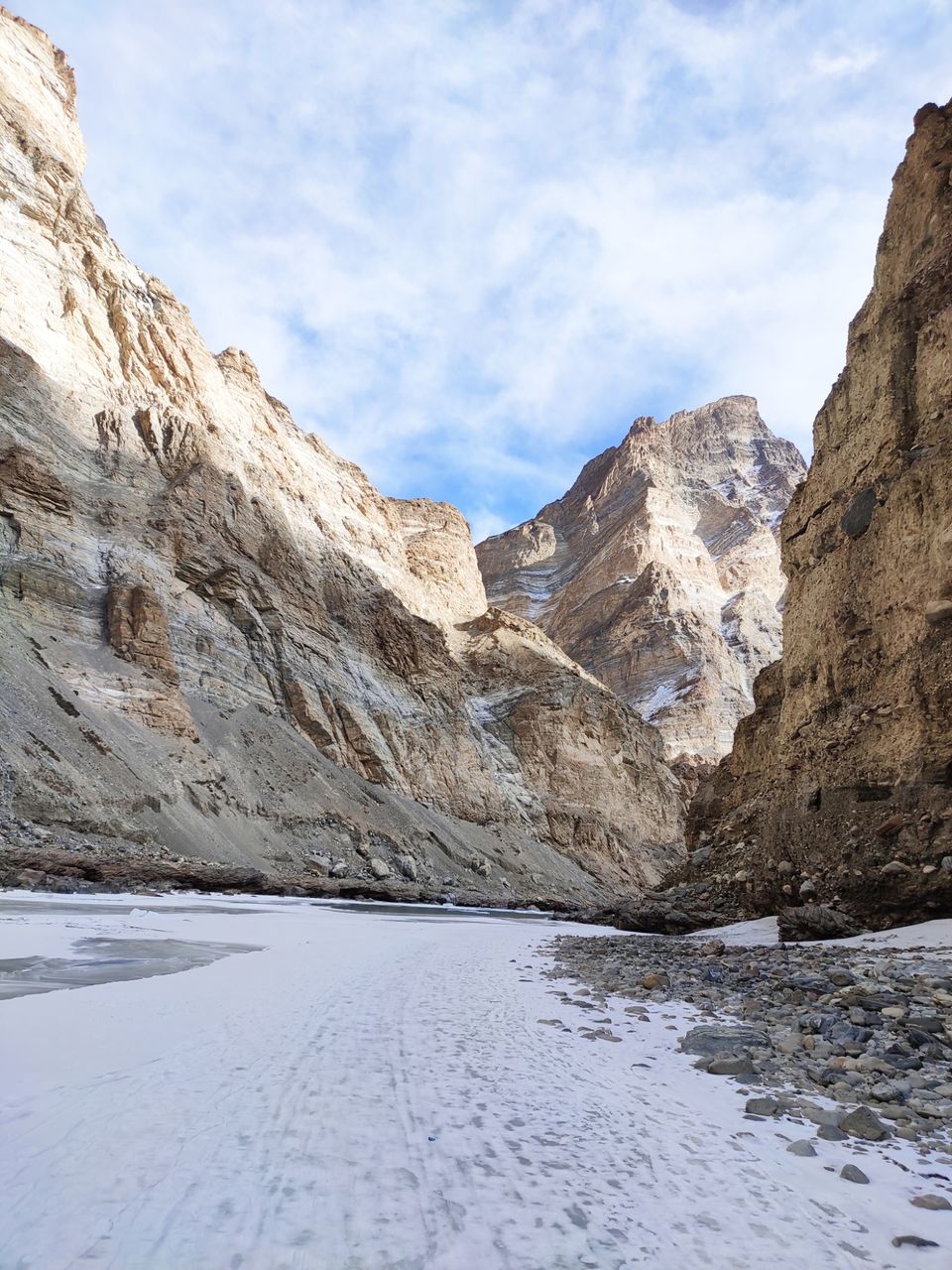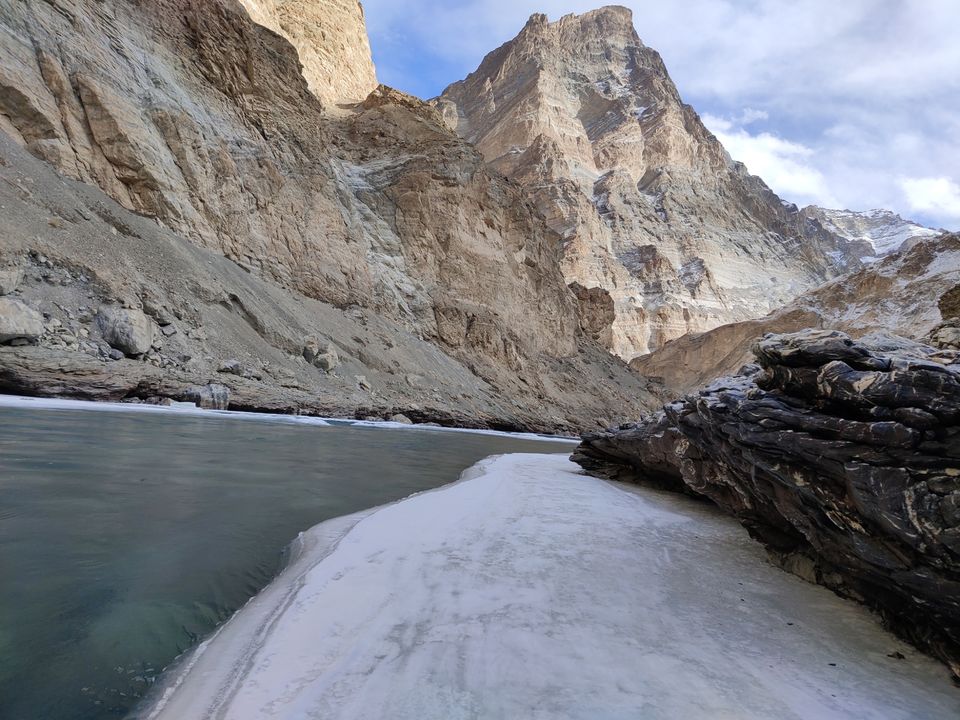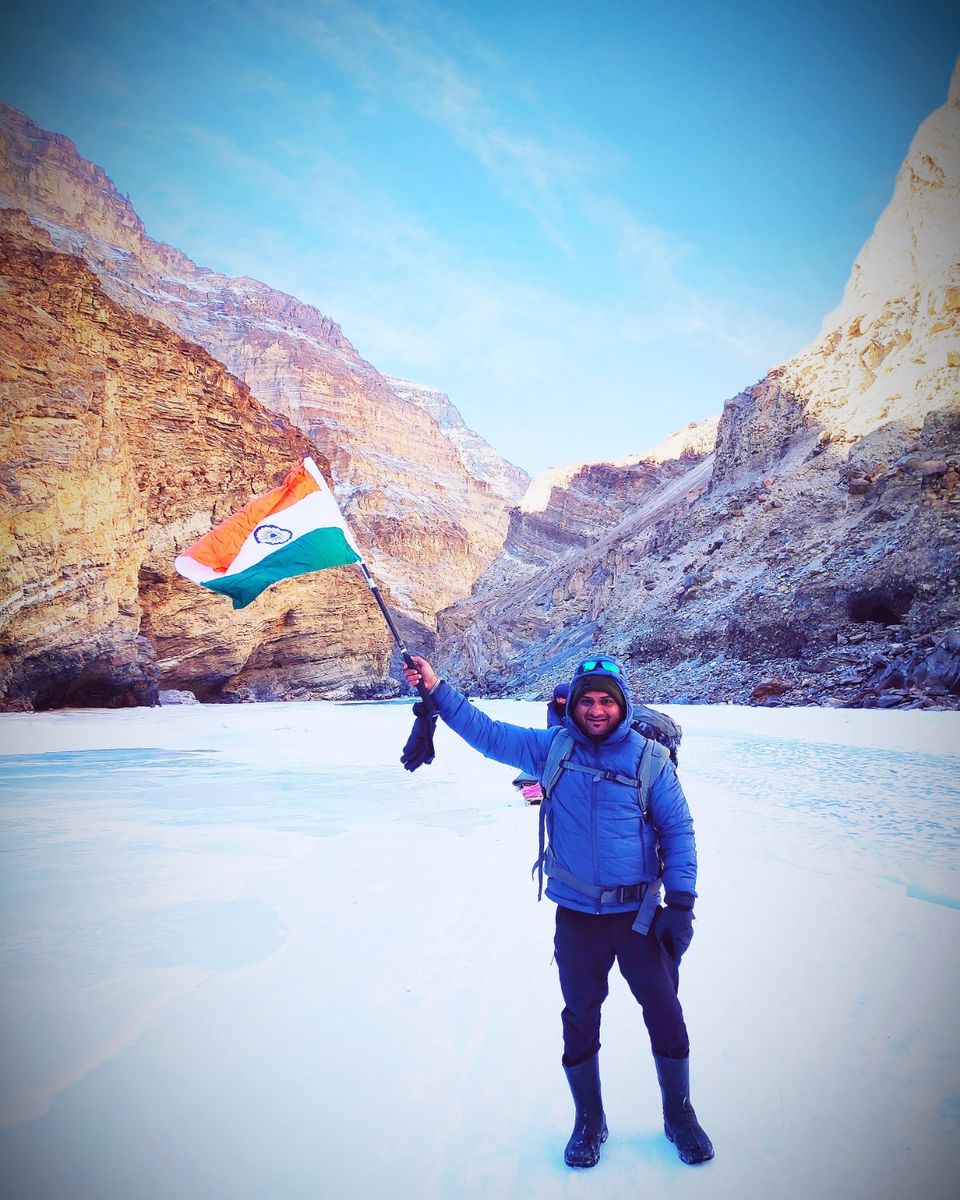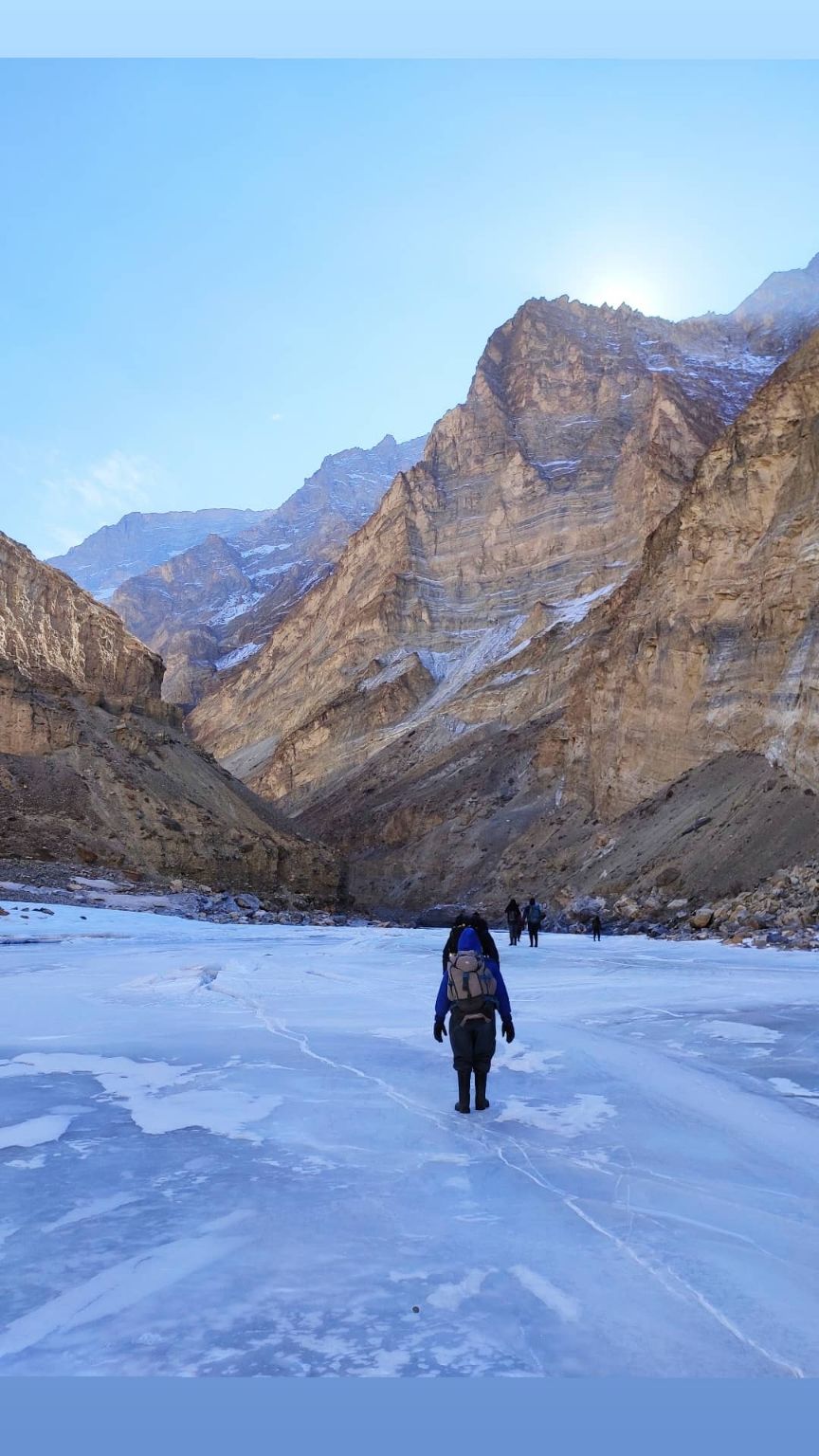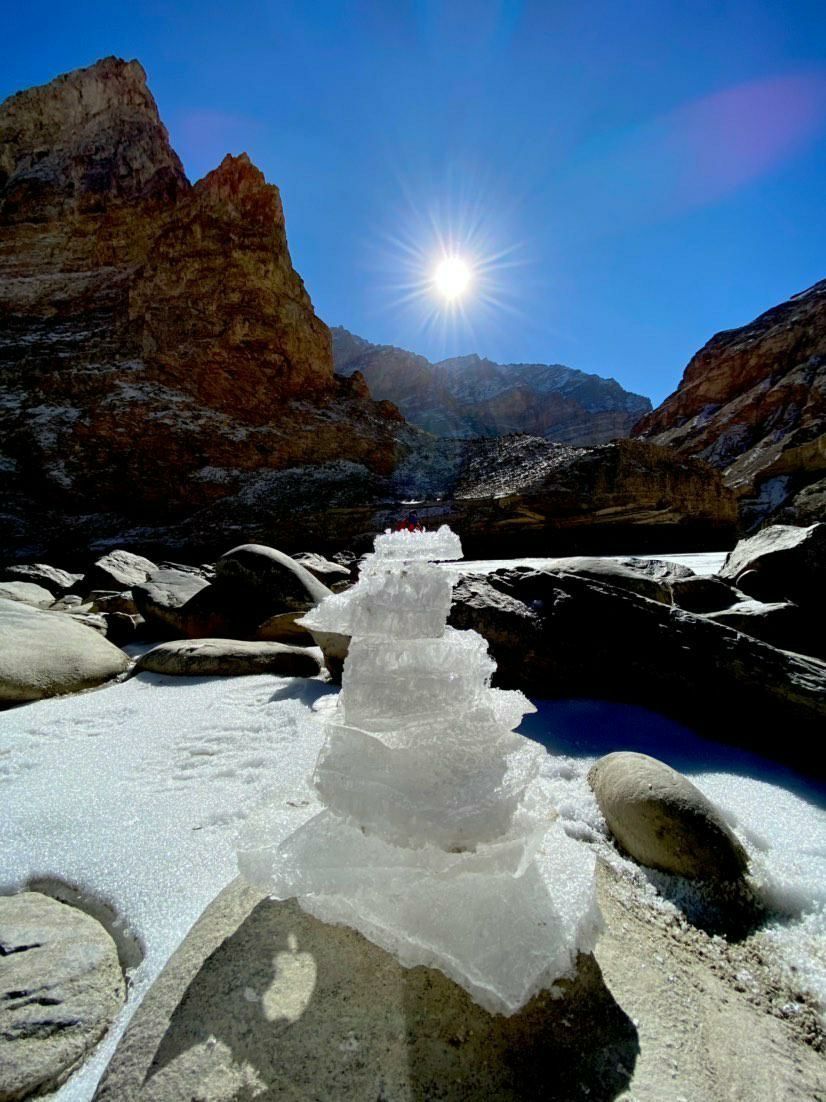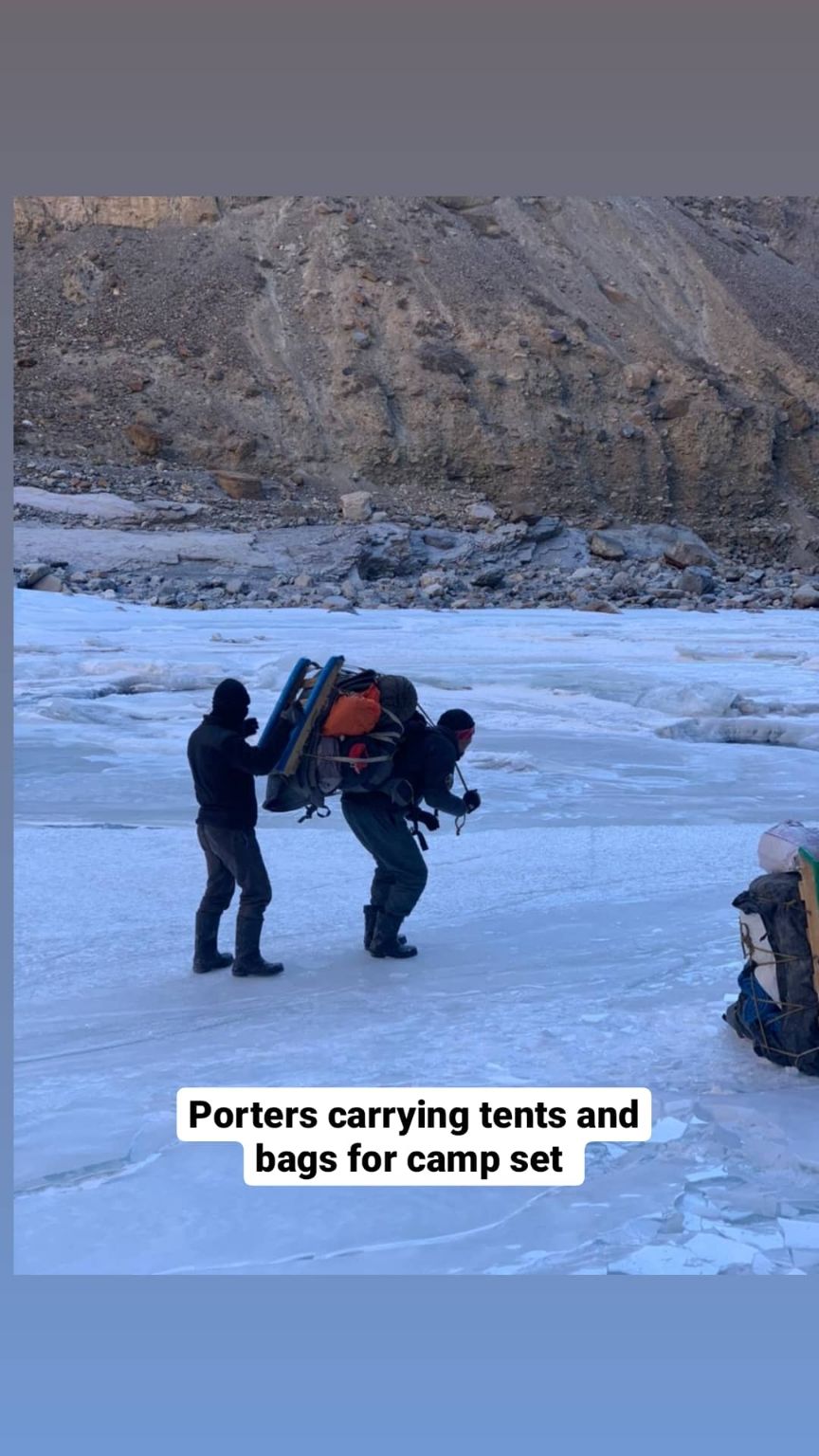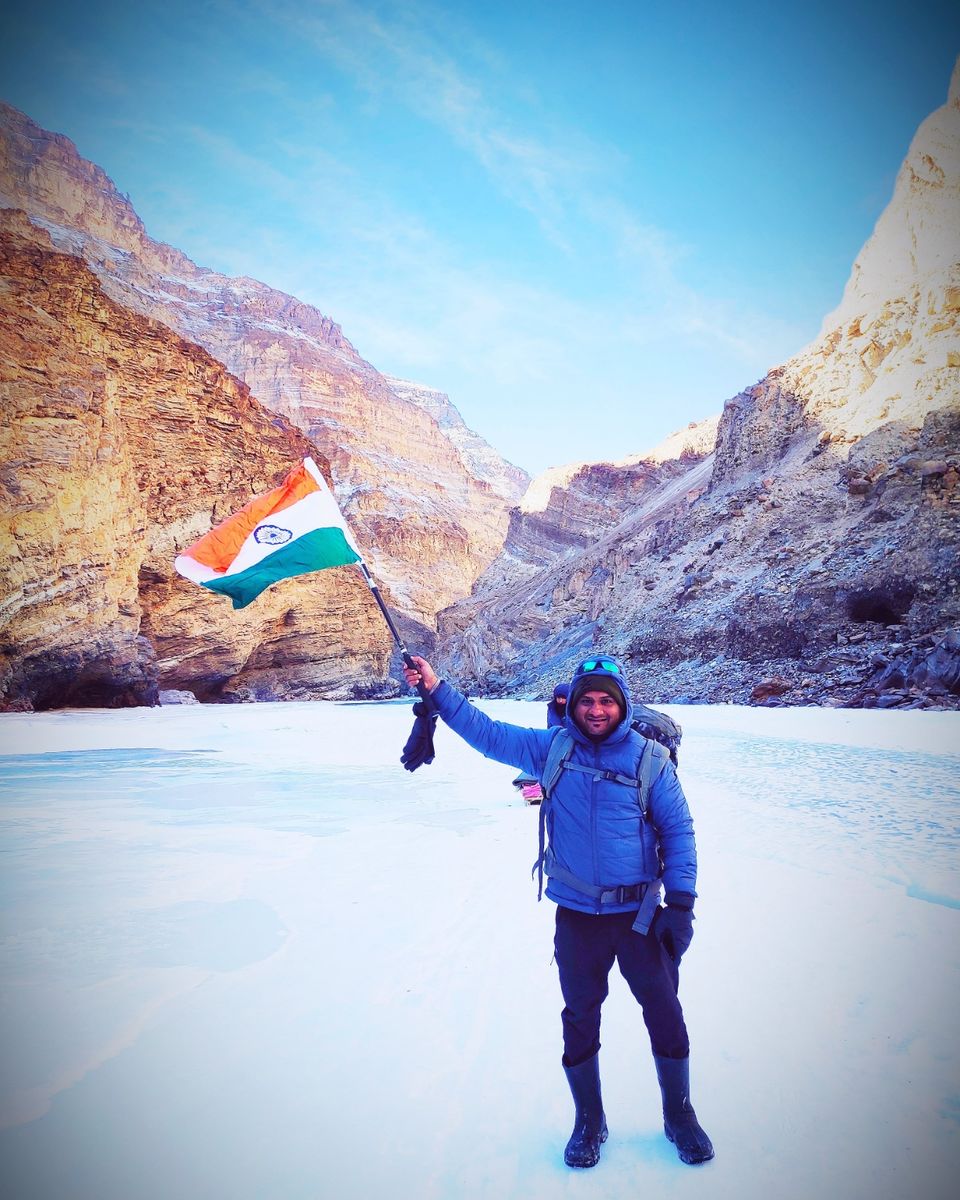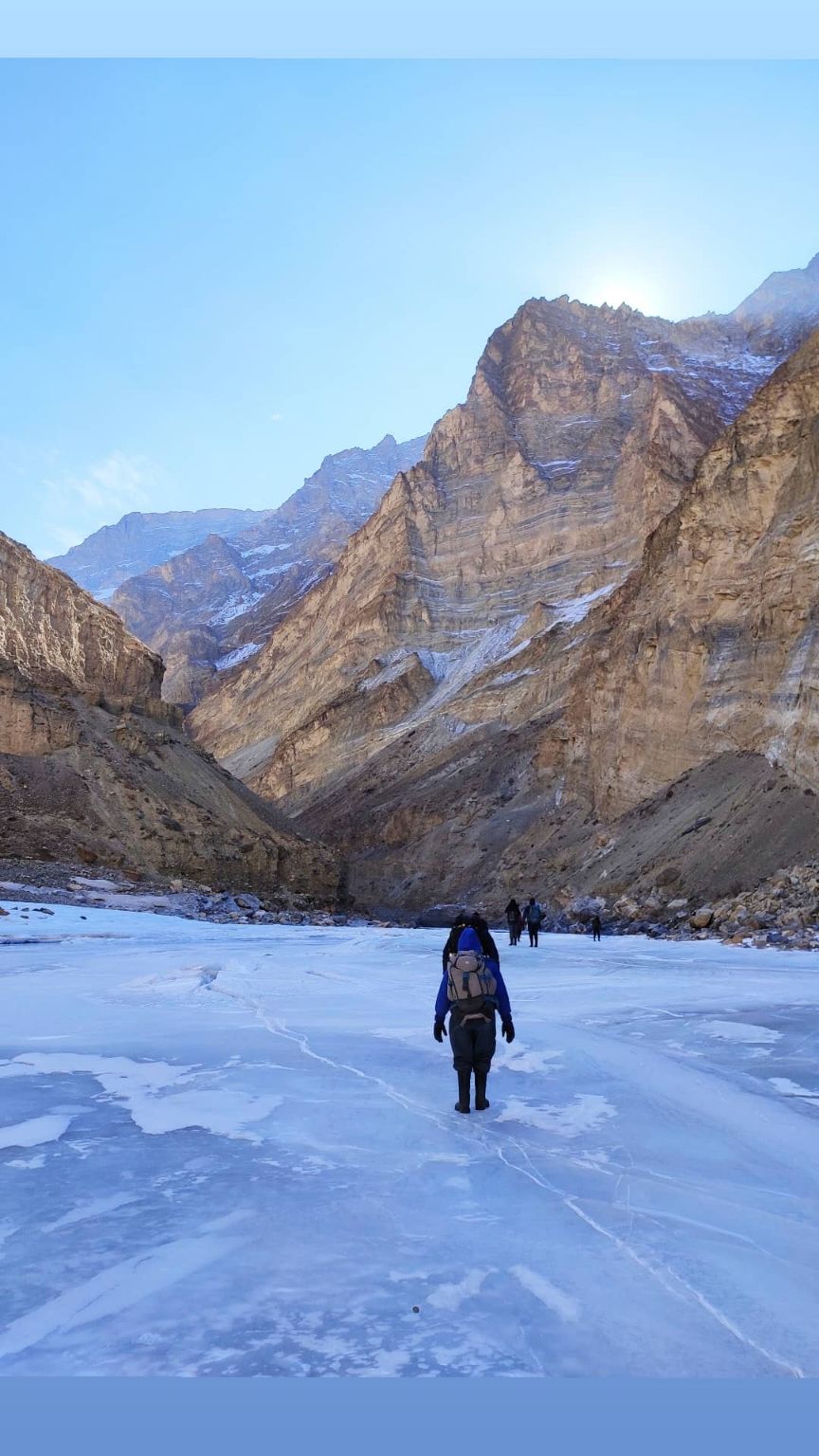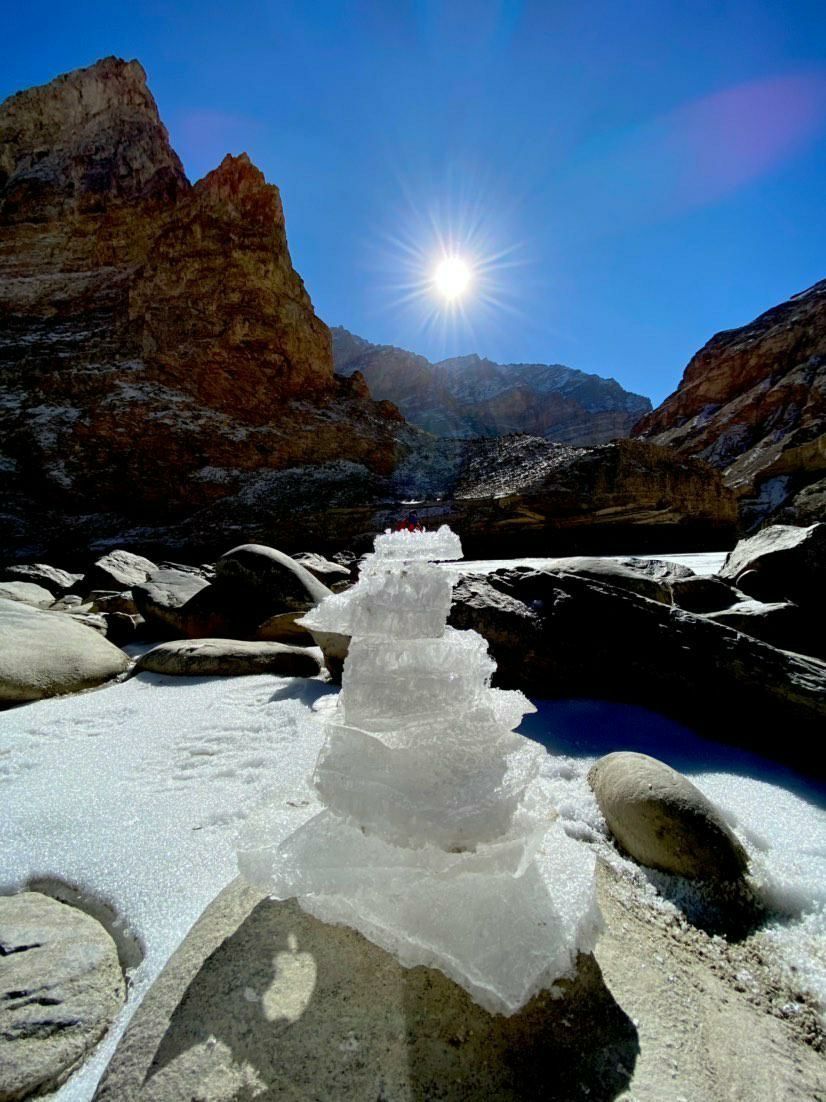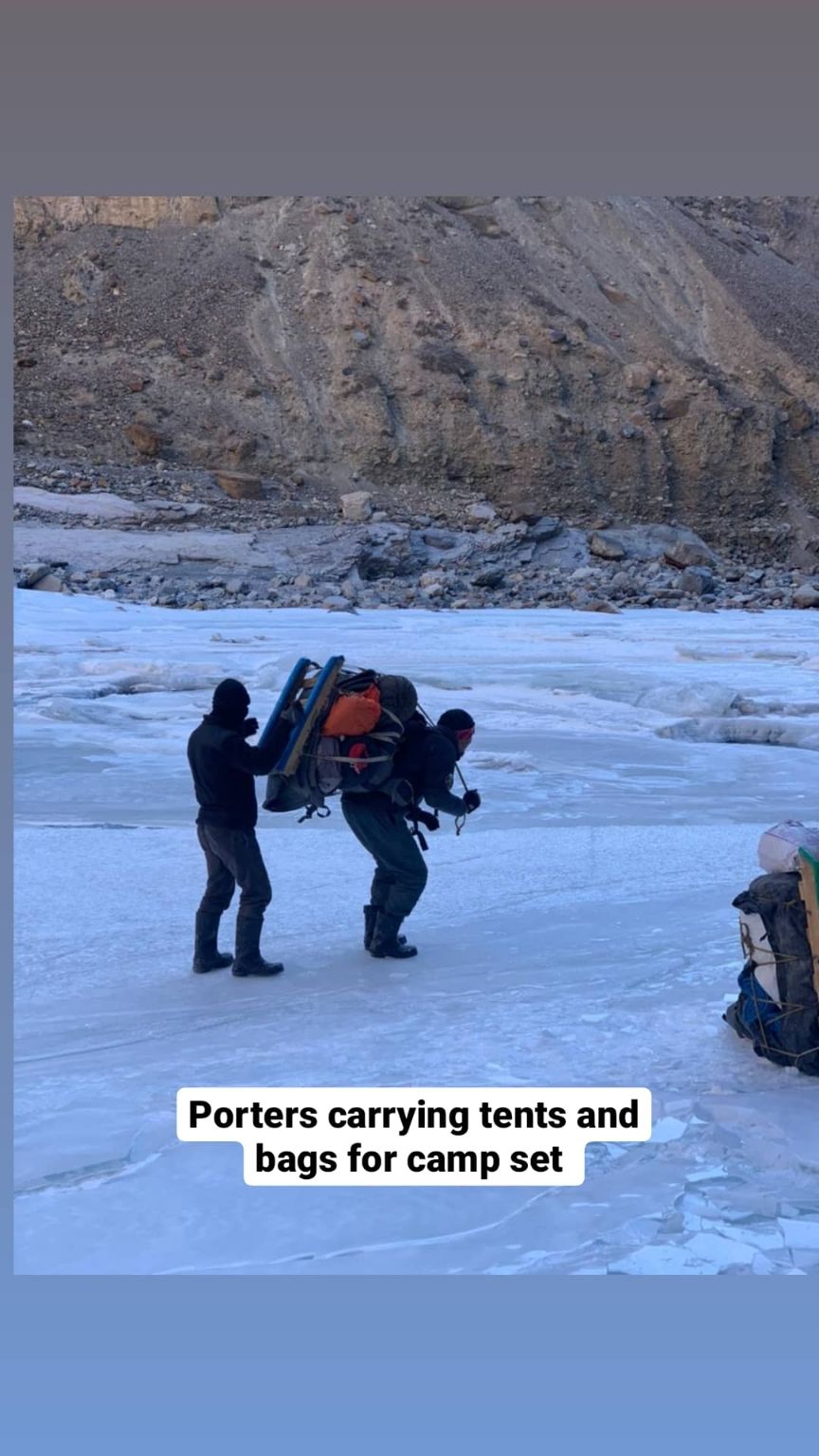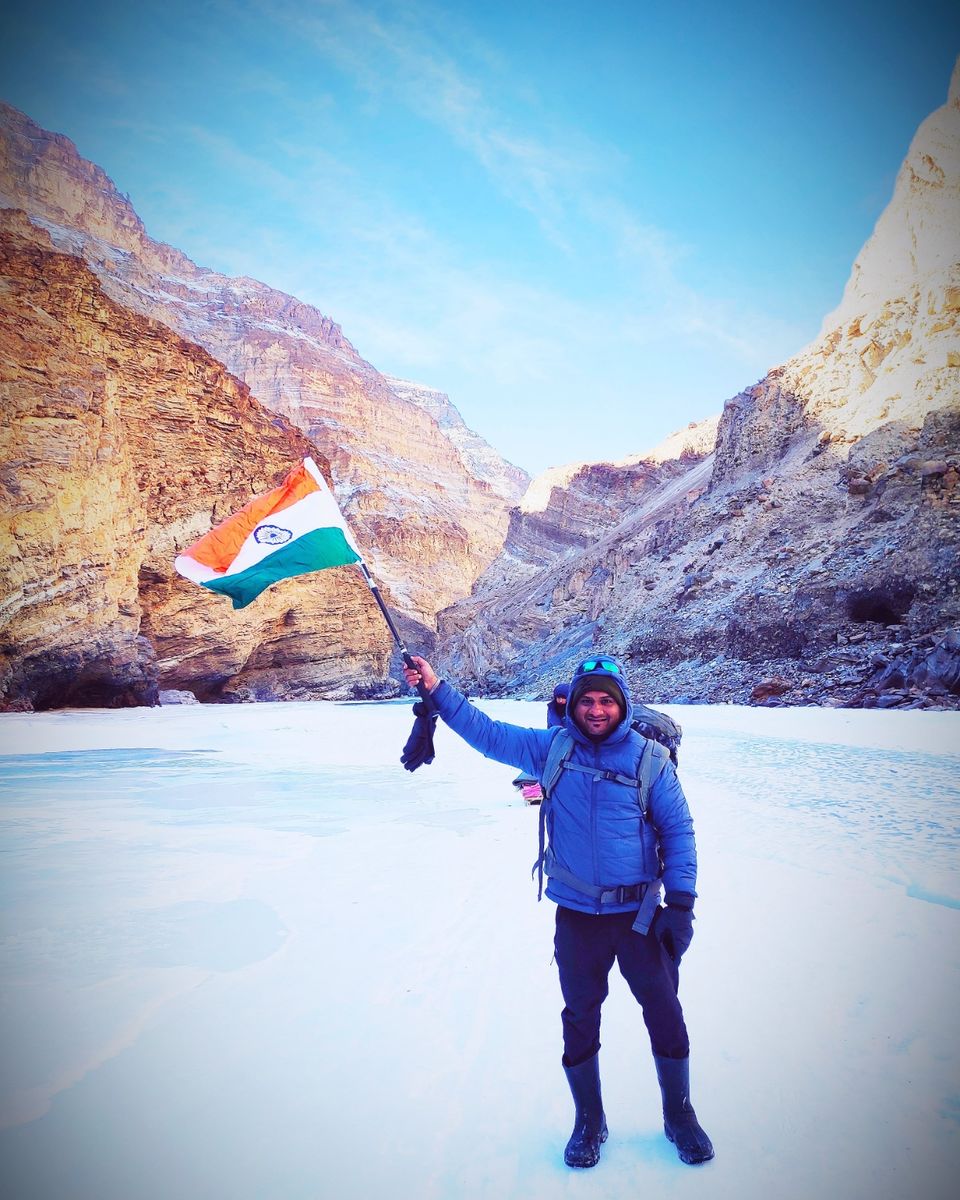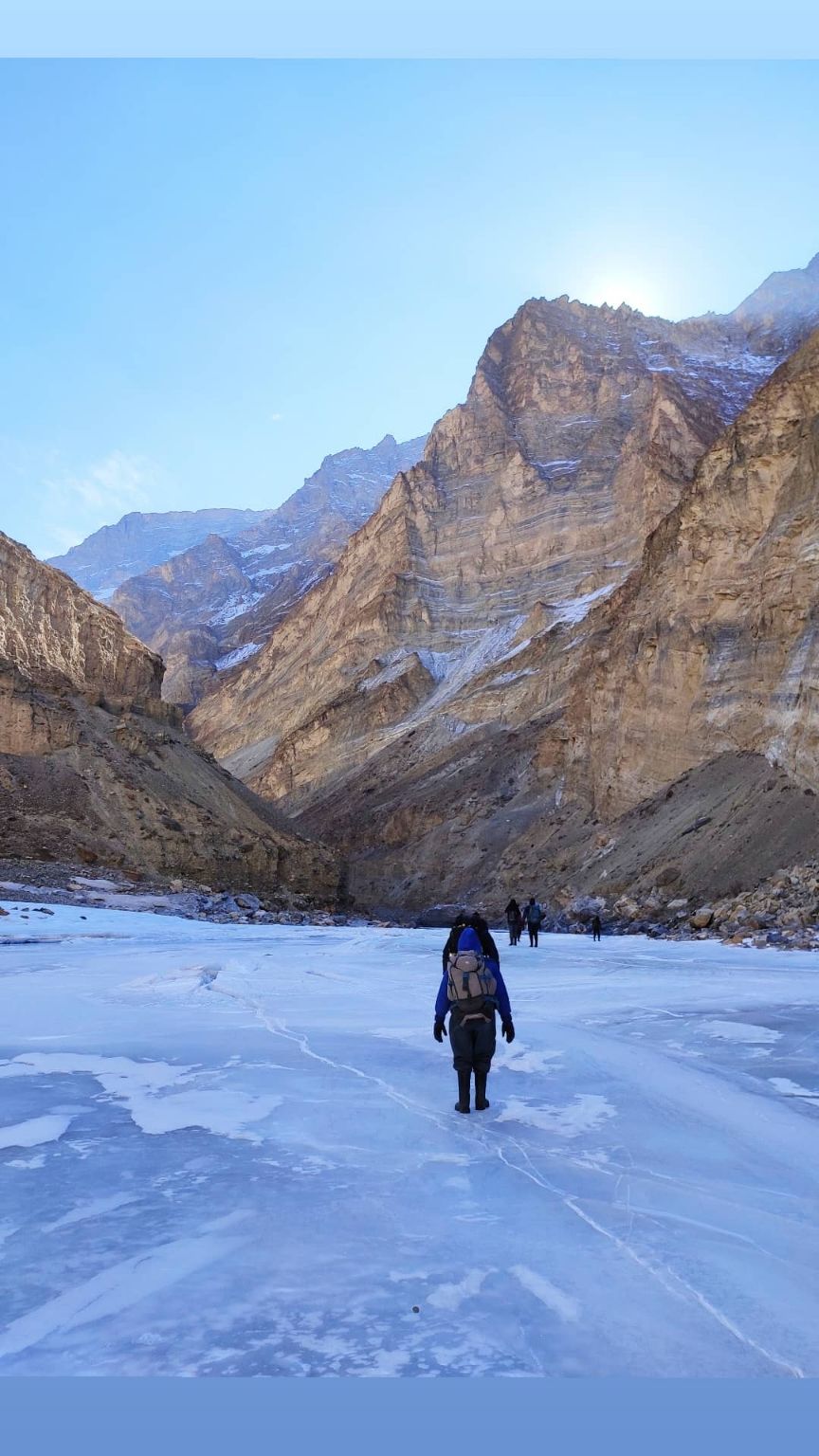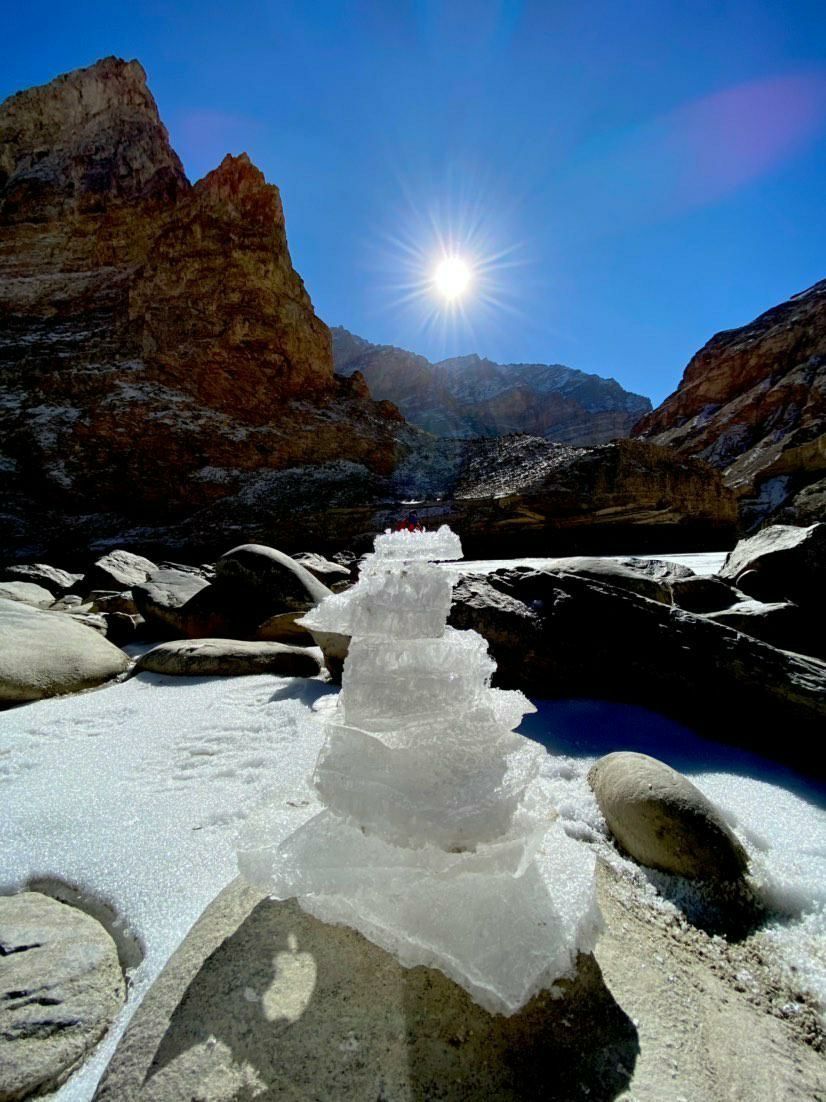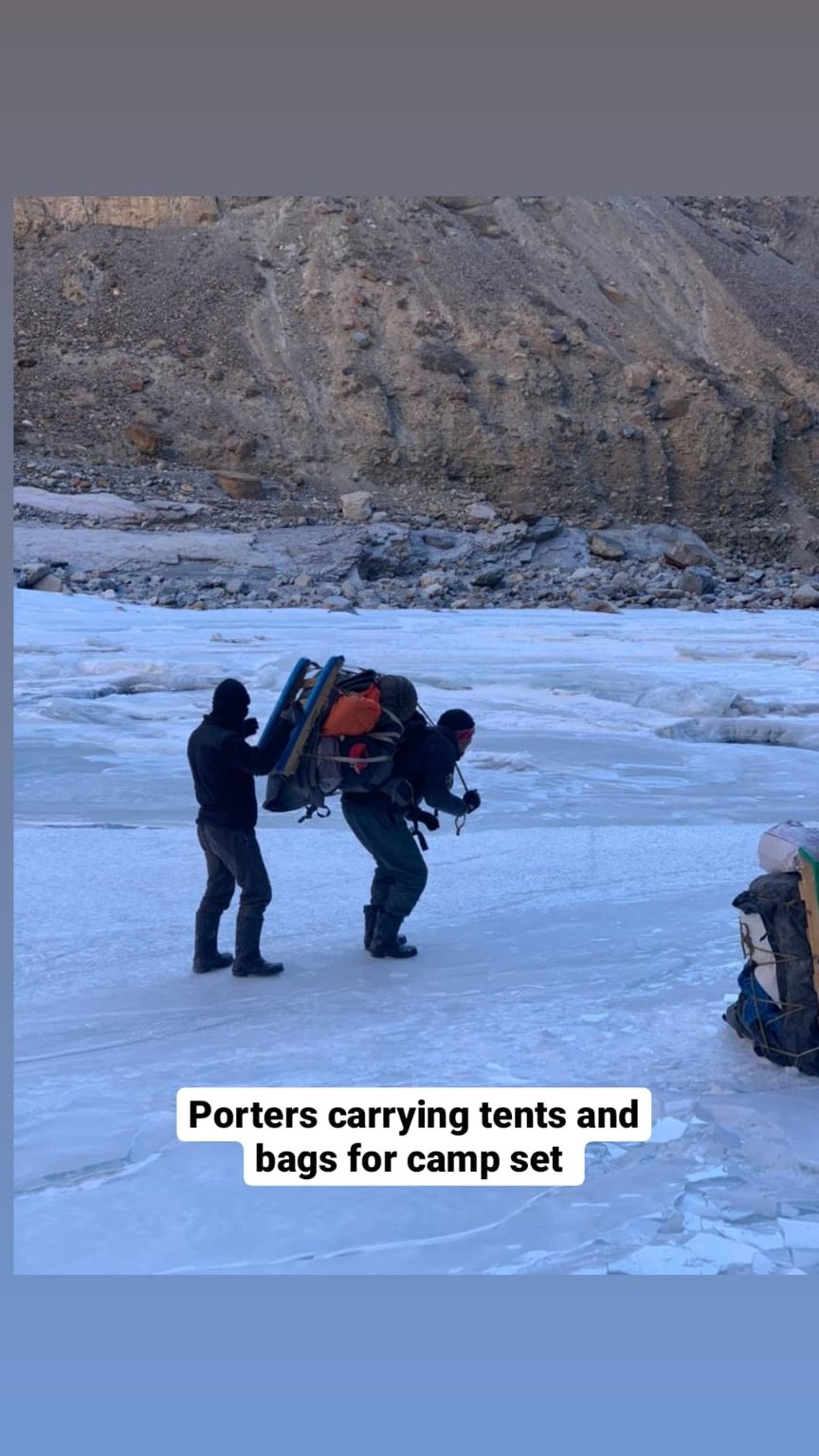 Below are the expenses of complete chadar trek :
1. Trek cost - 25k max If booked earlier can get discount of around 5-6k. So make it 20k
2. Fee structure for the Chadar Trek 2021:
a. Pre medical check-up & rescue=3.2k
b. Wildlife = 2k
c. ALTOA = 800
d. Insurance fee - 2.2k
Total = 8.2k
3. Flight charges : Around 15k (from any city - Delhi - Leh)
4. Essentials purchase for trek :15k (If buy from scratch top to bottom)
5. Hotel food charges for first 3 days: 2-3k
Total = 65k approx.
That's all about my experience on Chadar Trek and I hope it will motivate you to take this step, keep your feet on gum boots and jump to this trek next year.
Chadar Trek occurs once in a year from Jan to 1st week of Feb and I truly suggest readers to try before it get completely disappears from our life's.