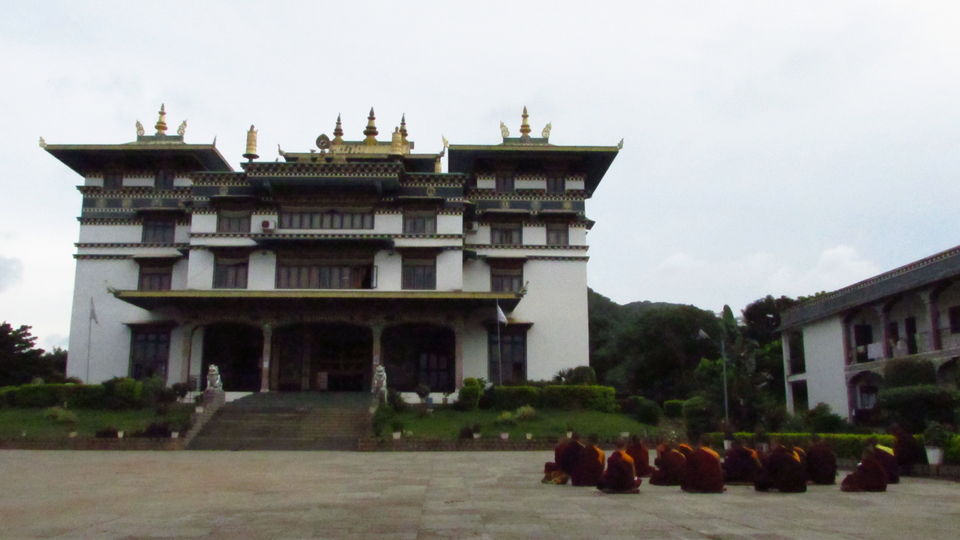 Some parts of Odisha remain so unexplored that once you land on one of these places, you'd definitely be like "Why?". Some places are so rarely visited that they are almost "google-proof". Chandragiri or Phunksokling District or Jeerang is not google-proof, but it is definitely unexplored. Jeerang is a small town and among the only Tibetan settlement in Odisha, located in Chandragiri, also known as the "maize-bowl of the country".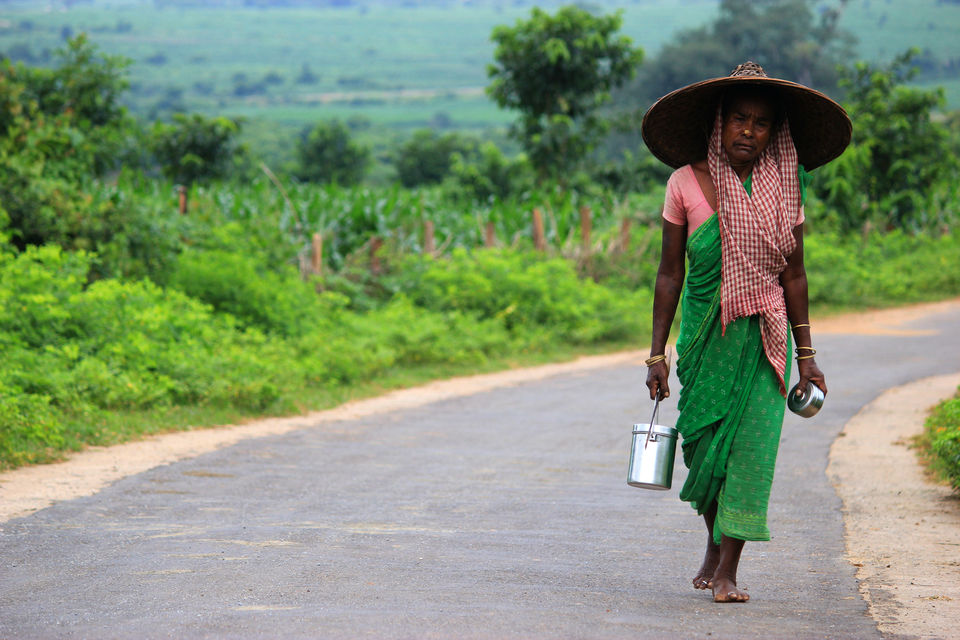 Small green hills lay scattered unevenly on huge maize farms and once you look at it from a higher ground, you are bound to be mesmerized by the view and the strange, beautiful sounds of flying prayer flags amidst the silence. Life is as simple here as it is anywhere in rural India.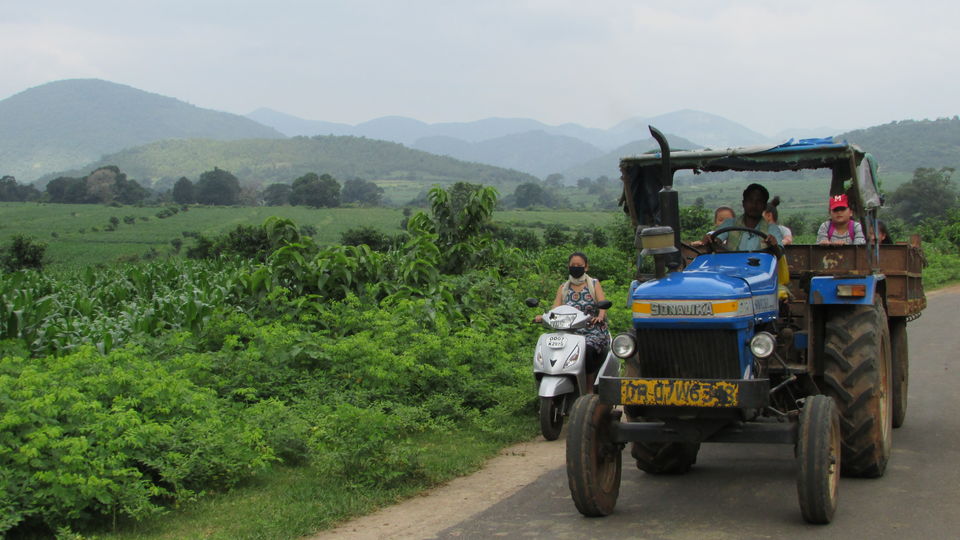 After China invaded Tibet, Tibetans fled to anywhere and everywhere. India had always welcomed them and so in many parts of this country, we find Tibetan settlements. After Dharamsala was given to the Tibetans to have their government in exile there, a lot of families shifted to Dharamsala to feel like home, to live among their own people and to make their voices for Tibet sound louder.
But many, though, were tired of losing their country, shifting and having temporary homes and did not want to leave. Chandragiri is one of those places where they stayed. After fleeing from Tibet, they took some years to switch to business in order to re-establish the long gone daily living cycle. Summers were spent in cultivating maize, and winters, in knitting woollen sweaters and scarves that are sold in Tibetan markets across the country.
THINGS TO DO
SIGHTS
Padmasambhava Mahavira Monastery
This is the main monastery in Chandragiri. It is a home to 200 monks. The interiors of the monastery is extremely beautiful with all kinds of tibetan buddhist decorations. They have also got a library with holy scriptures. The monastery is located amidst the mountains and the best way to enjoy this monastery is to convince one of the monks to take you to the terrace of the monastery. It has a small temple, but from there, you could see the whole green landscape, a divine view that will definitely be the best one you get there.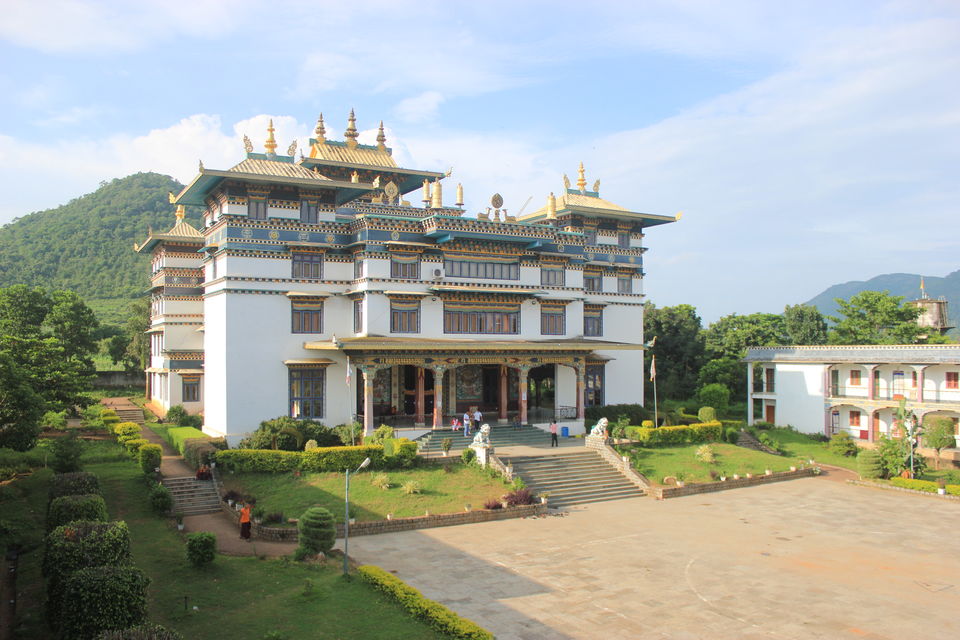 Jeerang Stupa
The Stupa is situated some 100 metres away from the monastery. The most beautiful fact about this place is that you will never find many people here. Sometimes, you might just find no tourists at all. So every sight you go to will be almost empty and enough peaceful for you to enjoy and feel the air. The Jeerang Stupa is a beautiful stupa surrounded by prayer wheels. To observe dusk from this place is one of the most amazing things to see in this place.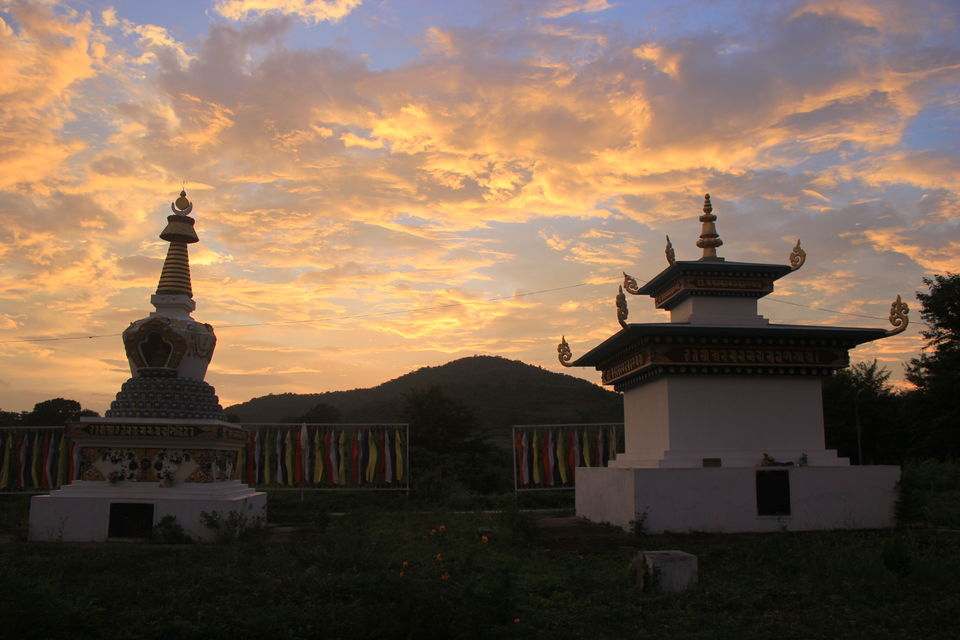 Statue of Padmasambhava
This is situated in another camp and you will require an auto-rickshaw (tuk-tuk) to the next camp. This is a new structure constructed and is located not at an easily visible location. It is in a lane. If you ask anyone at this camp, they will show you the lane. But once you get to see this structure, you will surely be taken aback by its color, beauty and power.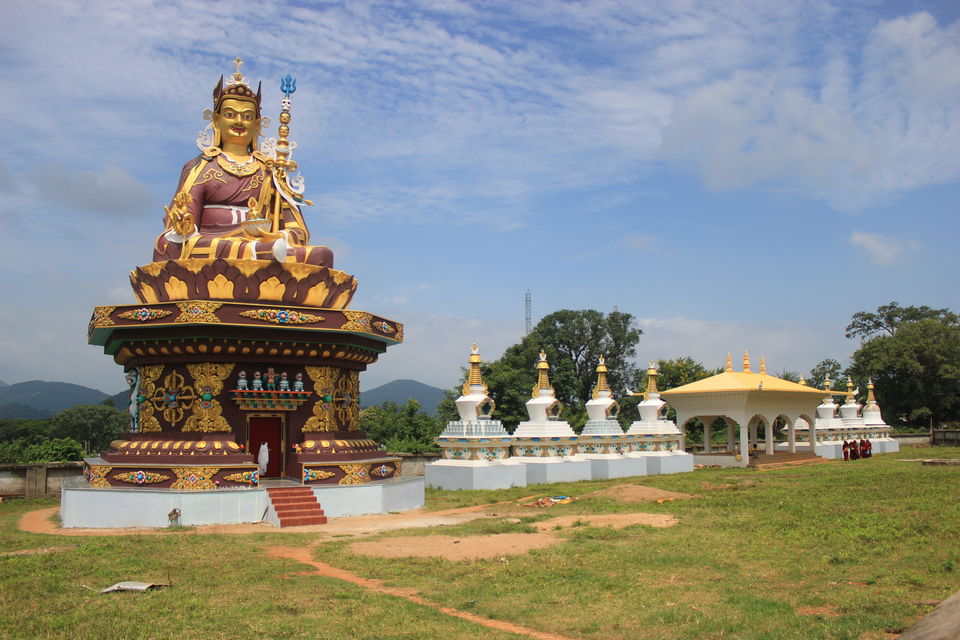 PLAY FOOTBALL WITH MONKS
On the right of the monastery, within the complex is a football field where you can just join the monks to play football after their evening prayer session is over.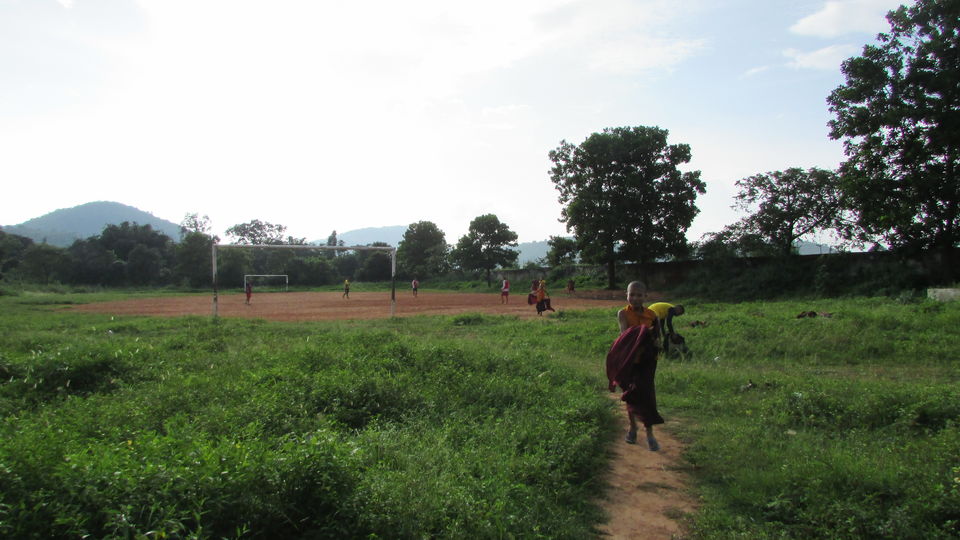 EATING
Chandragiri is a small settlement and there are no big restaurants in this region, because it never sees a good amount of tourists coming here. But there are local eateries where you can find momos, thukpas, and tingmos. But just outside the main monastery there is a restaurant and they serve amazing lunch and dinner. They do not have a menu card. They're just called "lunch" and "dinner". But if you want to eat from there, you need to let them know atleast some hours before lunch or dinner time. Strange, I know, but it is worth a try.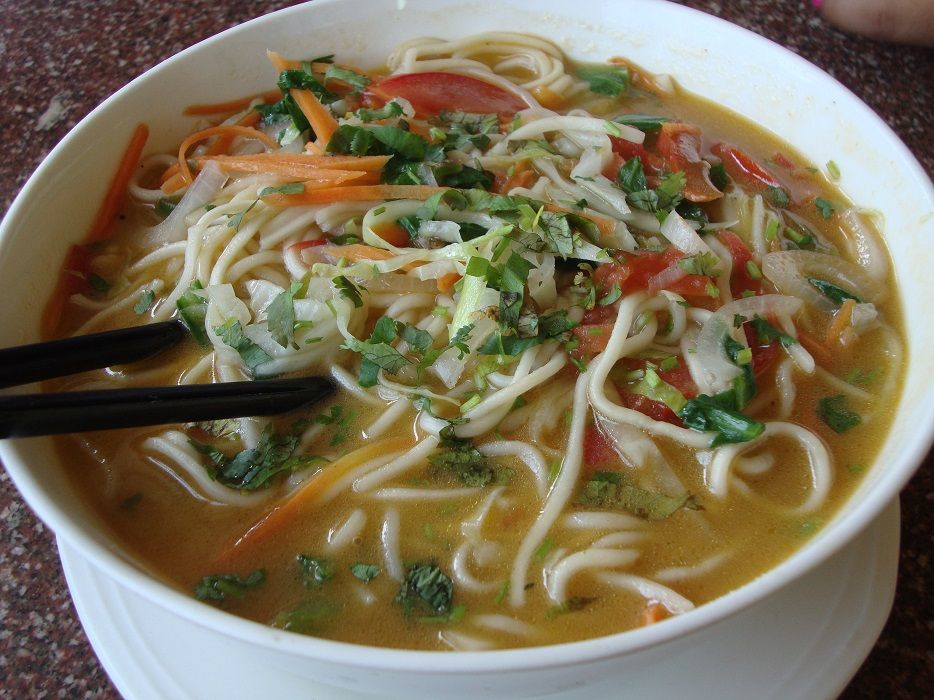 HOW TO GO
By Air: A flight to Bhubaneshwar and then a train to Brahmapur Station and from there, a private vehicle to Chandragiri. If not a private vehicle, a bus from the Brahmapur Bus Station.
By Train: A train to Brahmapur Station and from there, a private vehicle to Chandragiri. If not a private vehicle, a bus from the Brahmapur Bus Station.
By Car: A private vehicle from Bhubaneshwar or Brahmapur.
TRAVEL COST
A private vehicle from Brahmapur would cost INR 1,800/- and a public bus would take INR 200/-
P.S - Public bus is not recommended since it takes way too much time than it is supposed to take and it could get dark before you reach and this settlement looks deserted at night and also, might not be safe.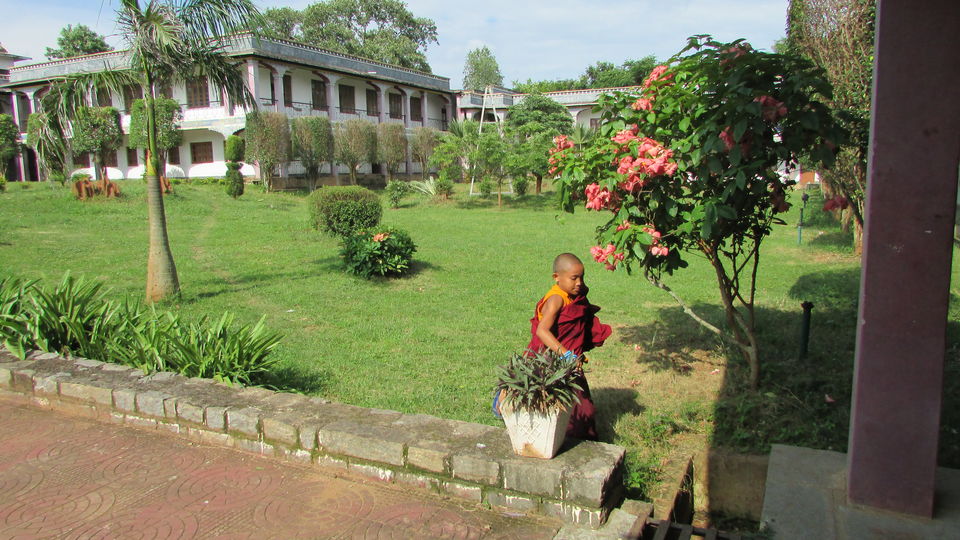 ACCOMMODATION
There are no hotels in Chandragiri. The best place to stay here is the Monastery Guest House or the Ripa Guest House. Here is their contact number: (+91) 95568-27226
Room Tariff - INR 750/- to INR 1000/- per night
WHEN TO GO
Best time to go is between September to February. However, this place is accessible all the time. But from March to August, Odisha is too hot.