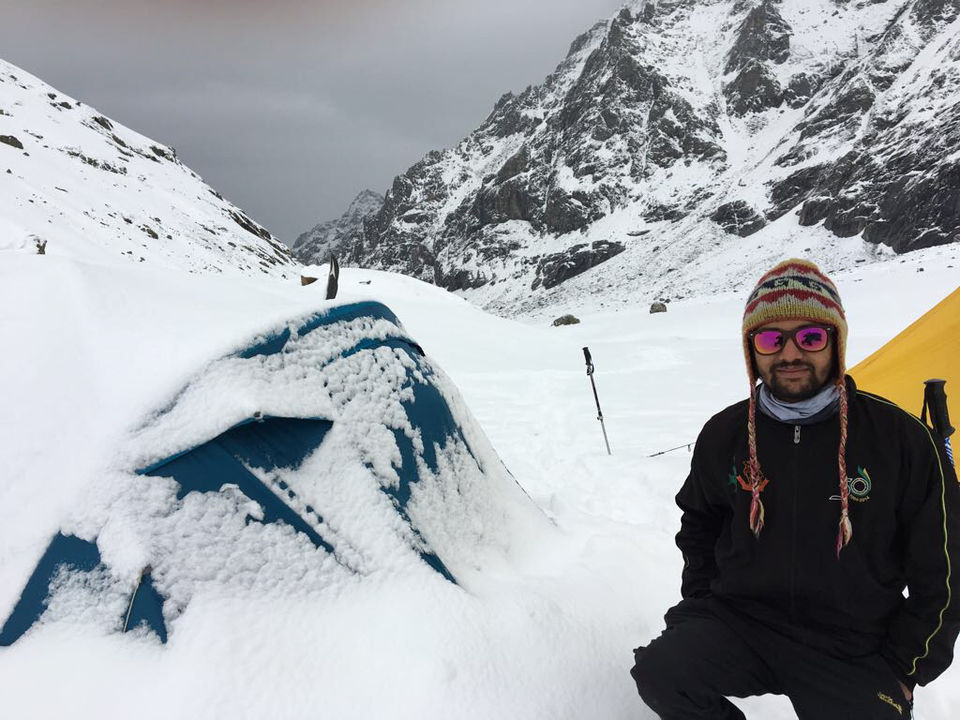 We started as a team of fine 8 people to summit Deo Tibba 6001 mtrs massif in Manali region of Kullu district. We hired 5 porters and a fine cook with loads of ration and estimated 800 mtrs of rope.
Day 1 we started from Jagatsukh village and reached camp Chikka, to our despair we were less on sleeping mats! So two of us got running down to arrange more mats.
Day 2 We reached Chikka at 11 am with mats and joined the group for camp 2 Seri ... it was a long day as campsite was covered with snow the struggle began.
Day 3 We moved to the next campsite Tenta as our base camp for the expedition.
Day 4 was a load ferry day to ABC above the duhangan col. Ropes were fixed in a jiffy and team climbed 700 mtrs vertical col. with 400 mtrs of fixed rope to ABC. We came back to BC for night sleep.
Day 5 7 of us reached the ABC meanwhile it had been snowing continuously for 7 days now and the gradient of snow was wet and not fit
for further climbing. Upon a mutual agreement we decided to scale a different Peak Norbu just opposite Deo Tibba.
Day 8: We had light breakfast at 0330 hrs and we 7 climbers hit the summit at 7 am with a cloudy morning. We descended fast and moved ABC to BC and it was the last day of heavy snowfall as we made a wise decision to descend a day early by modifying our plans.
Day 9 : Decent BC to Jagatsukh village.