Mistakes bikers make while travelling to High Altitudes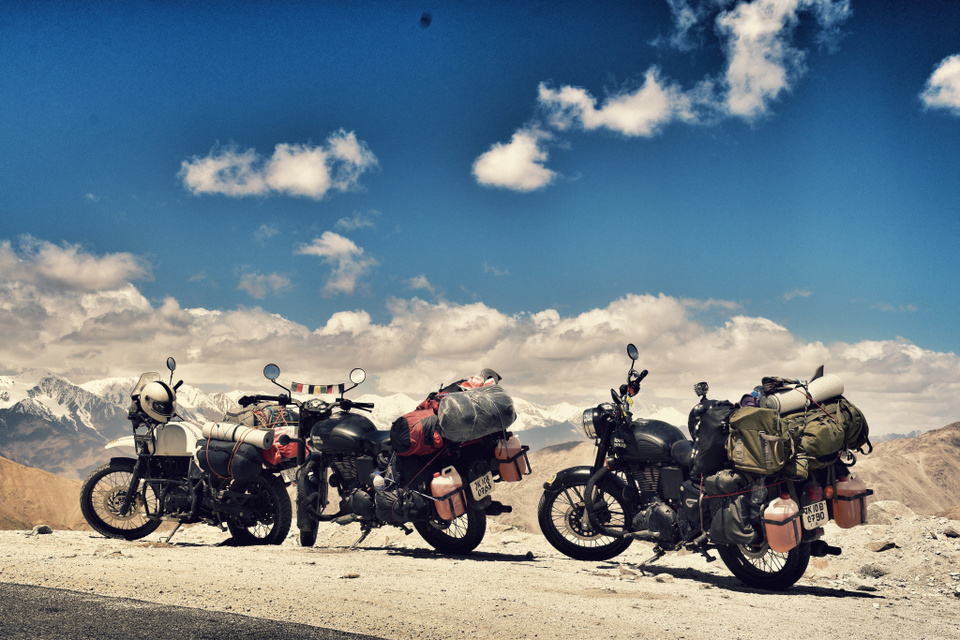 After being to many biking expeditions, to some of the most challenging destinations and terrains of Himalayas I felt the need of writing this blog.
In such terrains even after taking utmost precautions not everything goes as per your plans. So just think how making a silly mistake can ruin your adventure.
I have witnessed deadliest incidences where people came unplanned and the expedition proven to be their last.
Your trip is not good if you are not good enough to enjoy it. Here I have made a list of few common mistakes that bikers make and precautions one must take so as not to suffer during their high altitude adventures.
Don't show off your vigor-Acclimatization takes time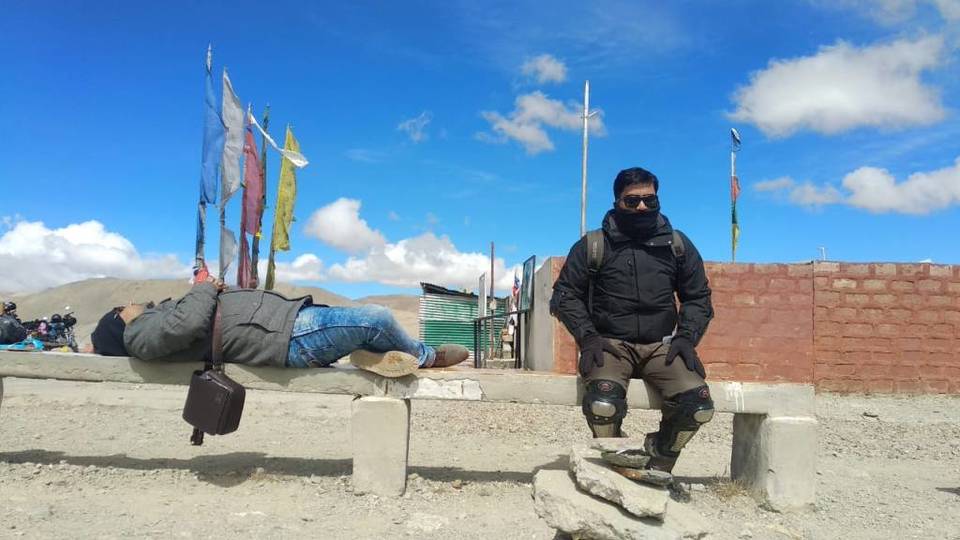 People travelling from planes to high altitude experiences an acute altitude sickness. Which is quite obvious as the atmosphere at 2000ft differs from 12000ft.
It has nothing to with your physical fitness and your travel experiences to such altitudes. I have seen a few athletic built men who claims to be trained mountaineers suffer badly from severe Asphyxia and Breathlessness, while some big bellies do just fine.
PS: Remember, it starts from zero every single time.
Some people find acclimatization a non important component of their travel. They make a mistake of being over confident (or trying to show off may be).
Always remember, never try to hide your sickness, it is nothing to do with your virility. Tell your friend or co-traveler if you feel altitude sickness. If diagnosed timely you may get better treatment. If delayed it may be lethal.
How to acclimatize??
Sleep- On reaching a high altitude zone, lower down your activities for some, take sleep as much as you can. It may take a day or two for you to completely acclimatize. Keep yourself Hydrated- High elevations may cause fluid loss, drink plenty of liquids. Avoid high sugar, soda pops and caffeinated drinks. They are diuretics and dehydrate your body. Drink lots of water. It is better to urinate frequently than laying in bed with a splitting headache. - If you have been to higher altitudes during your day long excursion, try to descend a few hundred feet to sleep. You will have a better sleep. Eat Right- Eat high carbs meal, this will improve your body's ability to absorb more oxygen. Avoid salts and high sodium diet. Say no to Alcohol/Tobacco -Alcohol and tobacco may adversely impact your body's ability to absorb oxygen.
Select the right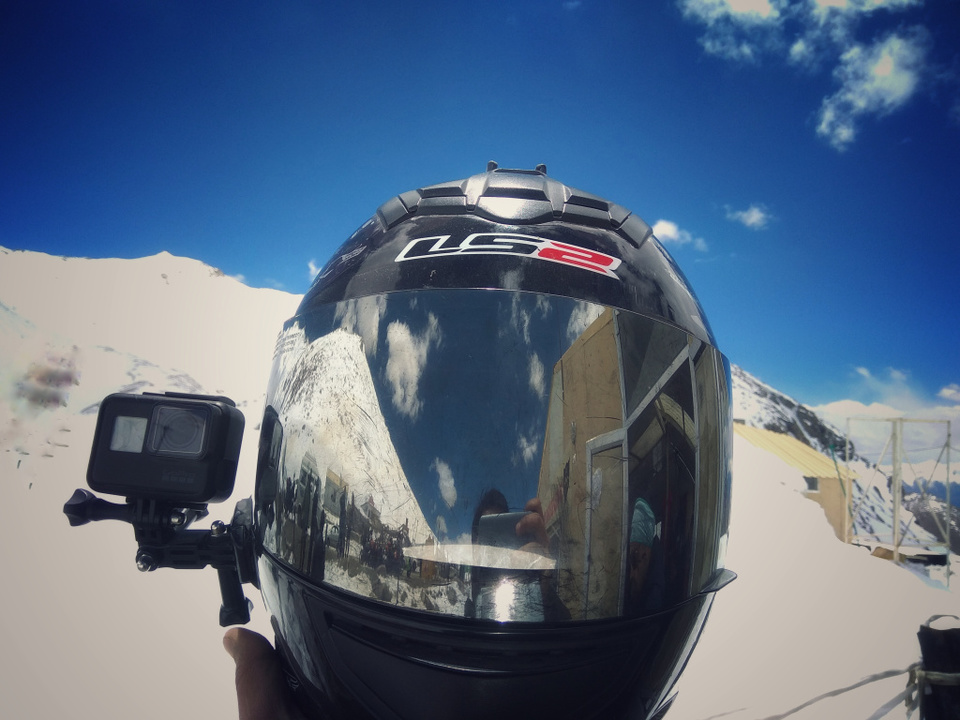 It is always wise to select the right gears and machines for such terrains. If you are travelling with your own bike, you will well versed with it. But if youplan to rent a bike, which people usually do, do follow the points below.
Do not pre-book your bikes. Reach a day in advance and select your bikes and negotiate for the price. Once you pre book, the rental will make sure you will get the bike that no one else is ready to take. Check the bikes thoroughly, including handle alignments, Sprockets and brakes. These are the three components that gets worked out quite frequently in mountain rides. Take a ride before you make a deal. Never take a chance on a "not so good " looking bike. After all you are paying the rental service a decent amount, you have all the rights to get the best. Make sure you are well equipped with riding gears. It is advised to carry your own riding gears, as nothing will fit you the way your own gears will. Still if you are made to hire it from a rental please make sure the following: Helmet- Go for ISI, CE or DOT certified full faced helmets only. Open faced generic brand helmet may put your life in danger. Riding Jacket- Take a good quality riding jacket with Knox, CE Level-1 or Level-2 Protection. Do not go for a fancy jacket with non certified material as protection. Riding Gloves- Any riding gloves with Certified Knuckles and palm protection can be used. Knee/Shin gaurd- Use a branded riding pant with Knox, CE level-1 or Level-2 Protection. OR go fora good quality knee gaurd.
Don't keep anything loose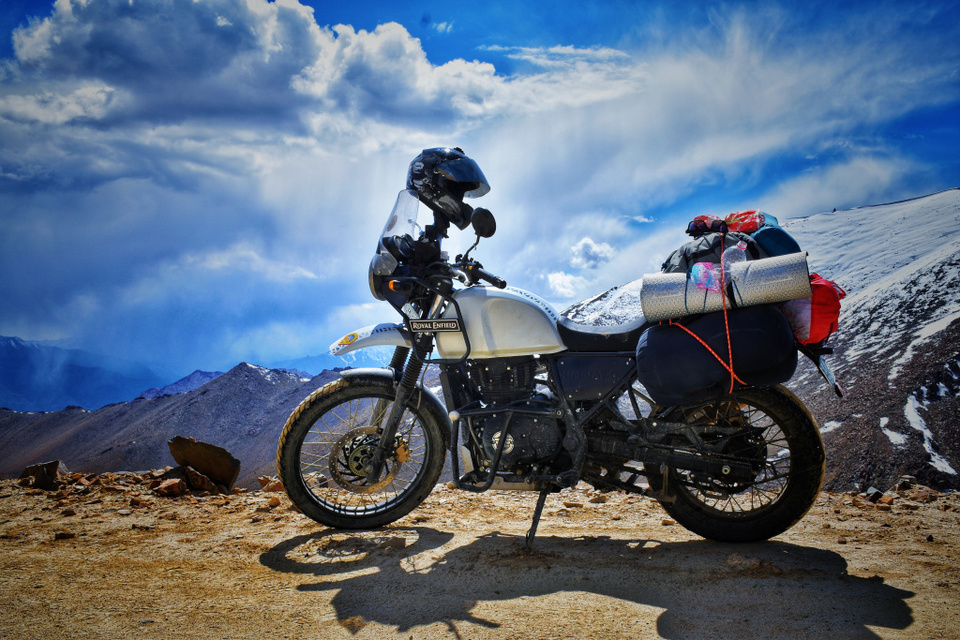 Tying your luggage to your bike is an important activity. A loose luggage not only may damage your belongings but may result in severe accidents as well. Make sure you do it right.
Use good quality elastic luggage tying ropes with hooks. Make sure your luggage is tied in such a way that the mass distribution is even on both the sides. The luggage is to covered with rain covers. Use a tank bag for items you may need during your ride. Tie the luggages rock hard, nothing should be kept shaking. Doubly wrap the parts which have more weight.
Be gentle on the Curves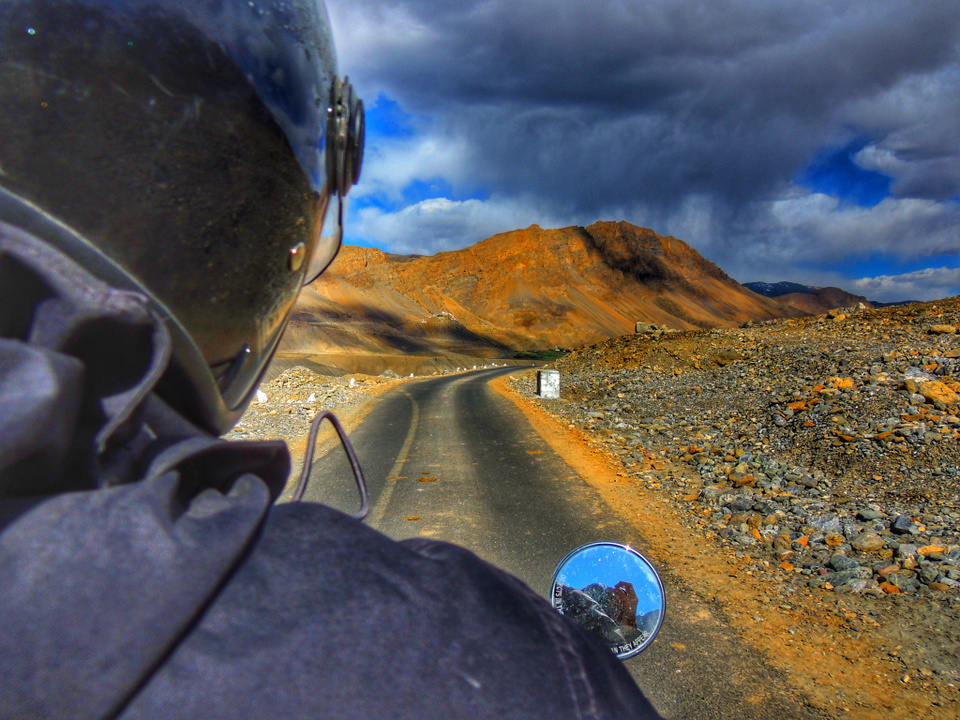 Biking on such beautiful terrains may be tranquilizing, but has inherent dangers associated to it. Laddakh reports a number of lethal biking accidents every year. When driving in a group follow a set travel plan and make sure every one is well aware of it.
Take maps offline- In mountains you will merely get good internet coverage, it is wise to download the maps offline.
Do not Over Speed- Do not get indulge in a race with anyone. Follow your lane especially on the curves (They can be dead sharp at times).
A team- Drives like a team- One rider takes the lead position and one takes the tail. rest all riders need to travel in between lead and tail. Always drive in a lane and try not to over take each other.
PS: It is not about the speed but the scene.
Communicate- Communicate with horn signals (We have assigned some horn patterns as signals, you may chose your own) or any other modes of communicating with fellow riders. One can use Bluetooth intercoms which are readily available.
PS: Driving in mountains is not like playing a Road Rash, you don't have three lives here.
Be CareFuel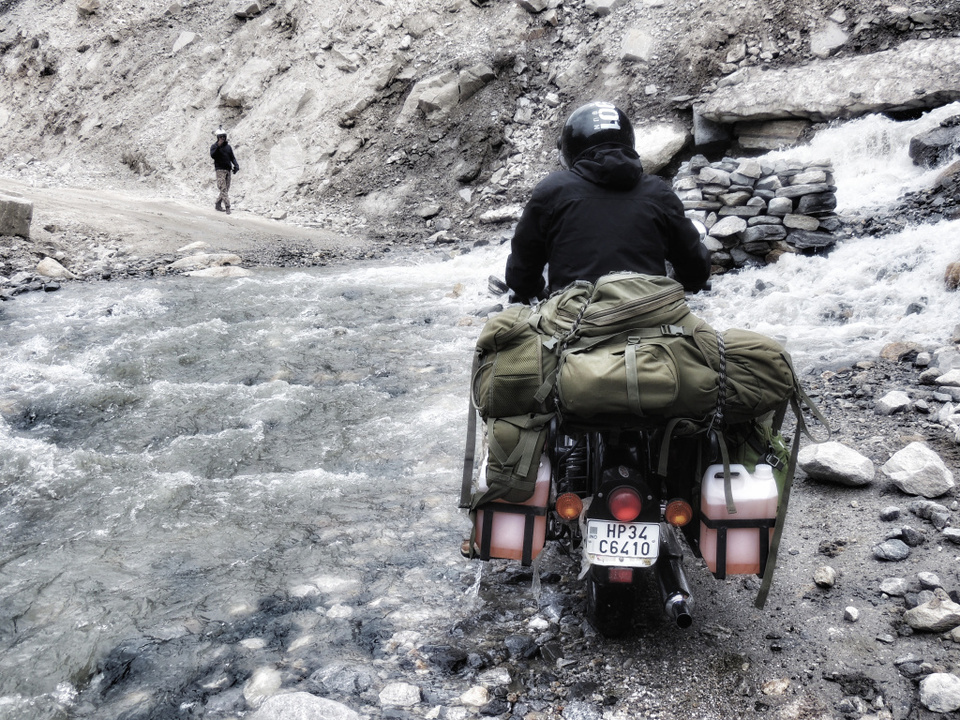 On our way from Pangong to Nubra via shyok valley this summer, we met two guys. They were standing on the road. After watching our group coming they jumped on to us and literally started begging for fuel.
They were in desperate need of fuel as their bike ran dry, and they had no option to roam nomadic in this dead silent barren terrain.
They were moving towards Pangong in search of Fuel. We informed them Pangong doesn't have a Refueling Station. The next refueling station in their direction will be at Karu. We gave them few liters of Petrol that we were keeping in surplus, so that they can reach nearest village.
They went totally unplanned on such a complex biking tour. They had no idea where they were going and how will they reach. They were not aware of the dangers involved in such terrains.
A huge part of Ladakh region does not have Fuel Refilling Stations. You may have to travel hundreds of kilometers before you get a refueling option.
Make sure you have a good idea about your bike's fuel economy, the possible refueling stations and you have kept a stock of fuel just more than what you may require in worst possible situations.
Use 10L plastic can to carry fuel, these will easily fit to your bike's carrier (Also known as Ladakh Carrier).
DO NOT GO UNPLANNED like the two I mentioned.
Start Early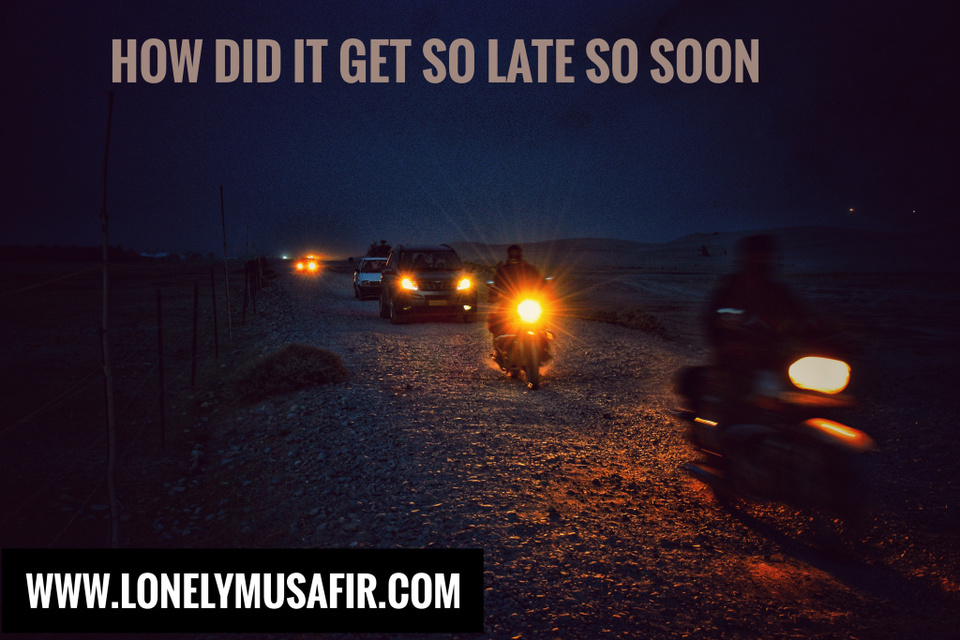 Unlike planes, the sun sets faster in mountains. Sometimes a good visibility turns into dark within 5mins. This happens due to the geography of these mountains.
Mountain terrains becomes horrific to drive in dark and fog. And it may rain anytime. Just imagine how dangerous it may become to drive under such conditions. So, it is always advised to start early and complete the ride before sunset.
During my rides to North Sikkim I witnessed severe challenge due to massive landslides that slowed down our speed and it use to get dark everyday. Check the Sikkim blog for details.
Guard yourself from the Chilling Nights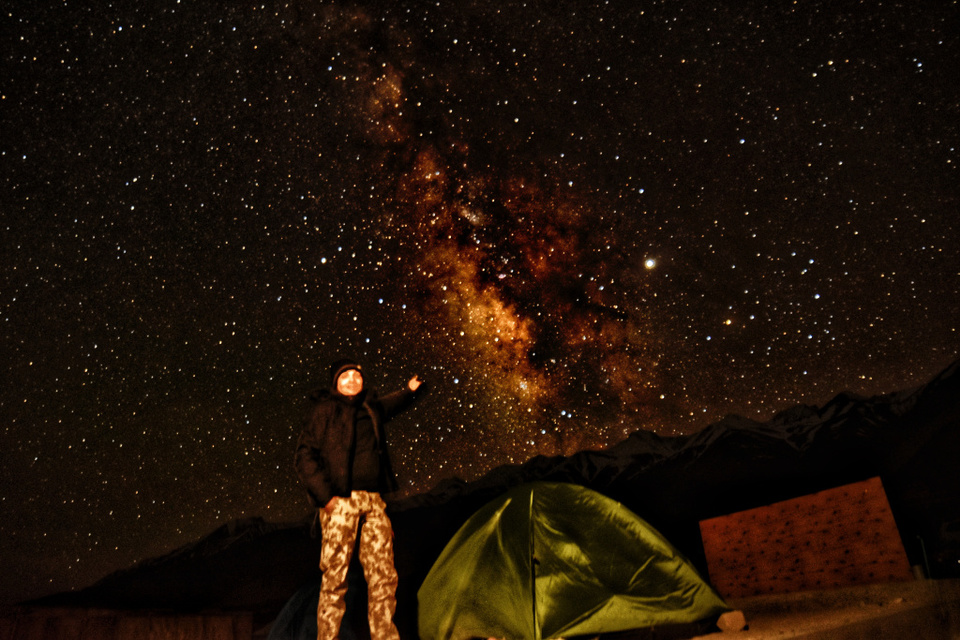 Do not forget to have this view out side your tent.
It is advisable to stay in a hotel or homestay, if you are not carrying proper camping gears. But, if you are an adventure freak and you have planned to pitch your own tent at Pangong Tso or Tso Moriri our some where enroute, make sure you have the following.
Mind my words, the nights are very cold and the chilling winds make it even worse.
PS: There are no bad weathers, if you have the right gears.
I do not claim to be an expert in high altitude biking but hope, whatever little I have learned from experince and shared will be beneficial for the someone planning a travel to Laddakh/Sikkim/Himachal/Arunachal.
Do check my detailed blogs/vlogs for better insight.
Spiti Vlog Teaser Spiti Detailed Blog Sikkim Vlog Teaser Sikkim detailed vlog Ladakh Vlog