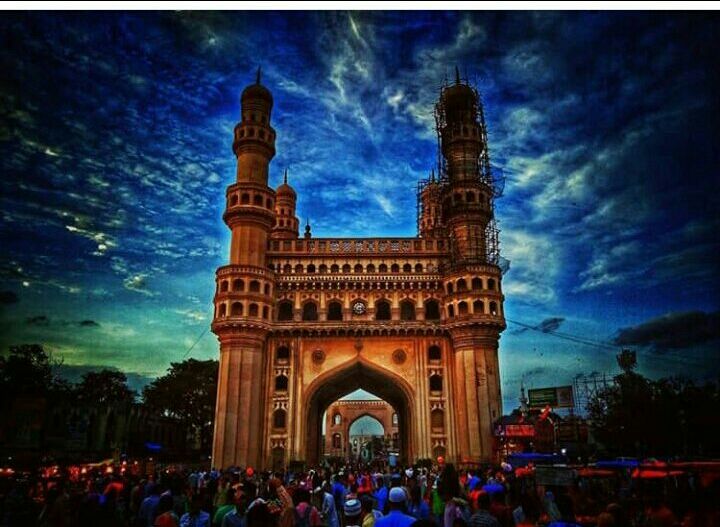 Hyderabad, Pearl City and the capital of Telangana and Andhra Pradesh. This magnificent city of Nizams mesmerizes everyone with it's unlike compound of history and modern trend.Hyderabad has shot much historical attraction and modern architecture as well as world-famous cuisine that seems and smells appealing. The city is not only famous for Charminar and Biryani but it has got more than that to offer you. Hyderabad has got an interest in each generation.
Everyone loves to travel, discover new places, experience new cultural traits, and Hyderabad has it all to discover. From the worlds biggest film studio RAMOJI FILM CITY to the destination for some exclusive Hyderabad pearls I'm going to share with you my visit to this beautiful city.
Being a metropolitical city Hyderabad is well connected with all means of transportation. And I took the train for my travel. I reached in morning by 9 am, it was a bright sunny day of September which is also the best time to visit the city (recommended: visit from September to March) I directly took the taxi and headed towards my hotel: The Central Court, it's a three-star budget hotel with four variety of rooms to choose from whichever suits your needs. The hotel is situated in the middle of the city and it is convenient to travel all the places as most of the tourist attractions are situated in the old city of Hyderabad.
It was 2 pm till I washed up and had my specially prepared chef's lunch at the rooftop of my hotel which served me a variety of cuisines with starters, main course, and dessert that was completely mouth-watering, and with that taste in my mind I started with my first place – SNOW WORLD: One of the three biggest snow-themed parks in the world, it is also the first snow-themed park itself in India. With inbuilt snow slides, igloos and many side entertainments like snow dance and mountain climbing make every penny spent feel worthy. A chilling temperature of -5⁰C makes it more fun especially for people who haven't felt snow before.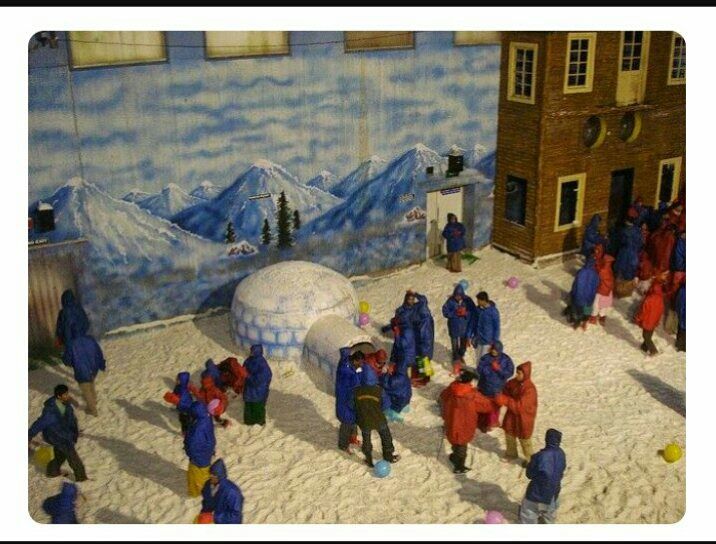 (Recommended: take care of camera and gadgets and your eyes as the snow is artificial and may harm) As the dawn broke it was time to say goodbye to this mini Switzerland which brought back the kid in me, with the beautiful red sky and the fresh blowing wind I proceeded to my next destination-HUSSAIN SAGAR LAKE & LUMBINI PARK:A heart-shaped lake with 16 meters tall statue of Buddha in the center of lake is the main attraction for the locals and among the tourists as well. The view is just breathtaking as the day comes to an end, the place also provide with facility of boating and cruise to make your experience even memorable with few performances by local artists.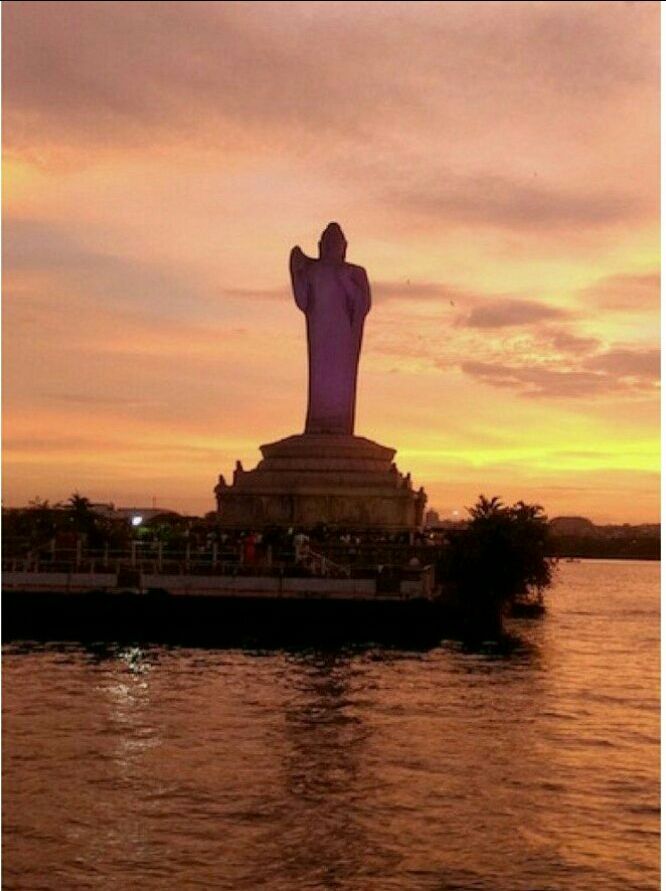 (recommended: to visit in evening and book the tickets for cruise prior) with shining lights all around the place, I enjoyed the laser show in Lumbini Park adjacent to the lake, this whole thing at the end was the best to put my journey on a halt till next morning. With a lot more to come on my way on this journey of Hyderabad, I headed back to my hotel, peeping out of my car window enjoying the cold breeze and with some light music.
With two best places among many best places to visit in the city, I was excited for my second day as this was the most important day of the whole journey and I was going to be the part of the largest film studio in the world.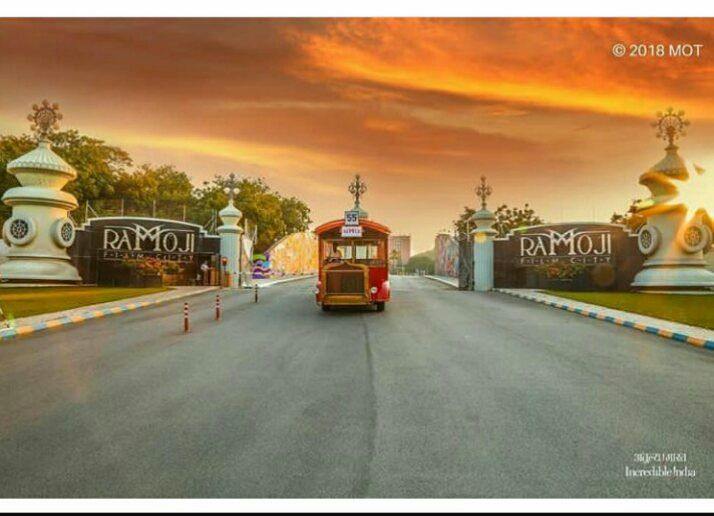 RAMOJI FILM CITY: From "Sholay "to the latest film "Bahubali" this film city holds the" Gunnies Book of World Record" for being the largest film studio in the world. With a fully filmy entry on the grand gates with a warm welcome with evergreen songs of Bollywood, the performances from the artists are something to watch. Walking further you get to witness so many varieties of live stunt shows, traditional market, street show, and the list is just endless. Spread across 2000 acres with more than 104 gardens and uncountable film sets of some legendary Bollywood and Hollywood movie and historical T.V. serials like "Mahabharat", Ramoji has it all and the list doesn't end here it's just started. It even has a view of California's Hollywood which makes you skip a beat and makes you breathless. The tour of this film city is done through the small red vintage bus with non-stop commentary from the host describing every single detail of the place that you encounter on your way; you also get a chance to visit a few popular sets as well. It was noon, time for my lunch; the film city has four themed based restaurants with multi-cuisines to serve its guests. I had my lunch in a castle structured "Dil Se" restaurant which has savored North Indian and South Indian delicacies. You can also have some side dishes on the small restaurants which are all around the place if you don't have an appetite.
After great refreshment, I was charged to explore what more this stunning place holds for me. From FUNDUSTAN (Kids Park), BONSAI GARDEN, BUTTERFLY PARK and other few, this film city also have a studio which let its guests experience the real art of film making and sound mixing, the legendary scene of "Dhanno and Basanti from movie Sholay" was a treat to watch.
The fun didn't stop here, after so much of exploration it was the time for some nail art and tattoo, the locals have the shops to help you with these. Every theme park is just incomplete without ride which adds an extra adventure to your trip and what's better than some thrilling and adventures ride that too free of cost, with horror house, rain dance and many more it just makes me short to count on my fingers but the place is a must-visit destination for every age group.
It was evening and the whole Ramoji was bathed into the lights which changed the whole view as compared to the morning. I was tired but the place has yet to give me even more. Fortunately, I planned my trip during the Ramoji Fest which added a bonus for my never-ending enjoyment to this place. I was full but the place had a lot more to give me as it was just the start of the night, the fest showcases the talent of so many artists across India with their power pack performances and tremendous talents, accompanied with ramp walk and award ceremony as well.
Everyone who ever dreamt of going to Disneyland can fulfill it by enjoying an awesome parade with so many cartoon characters, the DJ, the lights, the bands and a walk and dance throughout the streets of film city posing and hugging you favorite cartoons, this fun just added to the memories of my unforgettable album of life.(recommended : to visit during the festivals of which updates are available at Ramoji's official website)
The film city not only a place to be visited by tourists but also has its own RAMOJI FILM AND TELEVISION INSTITUTE. Apart from visitors the film city also holds business meets and wedding ceremonies and to make your event comfortable it provides you with many luxury hotel packages for your stay. It even offers honeymoon packages for its visitors to make their visit a perfect delight.
Singing, dancing and laughing I was filled with all new energy, hopes as this filmy day came to an end with the total filmy closing ceremony. The marvelous view of the place made me promise myself to visit the place again for sure someday. The day just passed and left behind the best memories that I would cherish my whole life and that's the magic of this film city, thousands of strangers visit here daily but by the end of the day it makes you fall for it and that makes you crave for it more. With the same craving and the flashback of the whole day at the back of my mind, I came back to my hotel with tired feet but with a fully charged soul.
With high up energy from refreshing breakfast at the hotel room, I was ready to be wanderlust again. And here comes the landmark monument of Hyderabad-CHARMINAR: situated in the middle of old city Hyderabad, this masterpiece is surrounded by the famous "Laad Bazar", with around 14,00 shops. This is one of the best bangle markets with the cheapest rate and countless variety to choose from. Whether you are a girl, woman or gonna be a bride you could get as many options as you want, as this place offers you everything that you demand in bangles and other jewelry.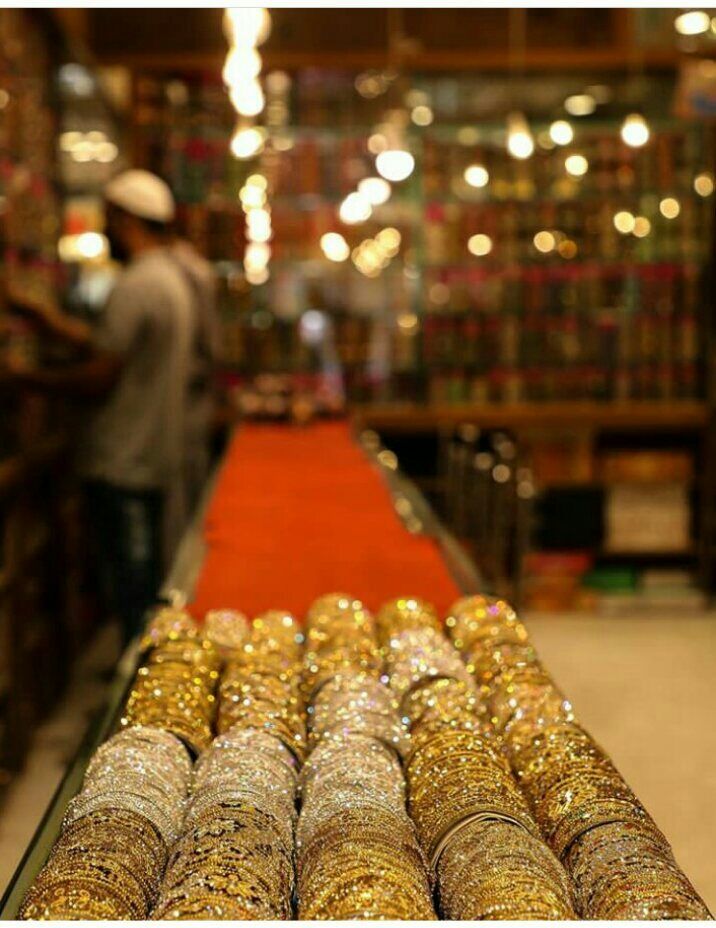 As the city is famous for its pearls you could also buy some artificial pearl jewelry at this market if you wish to wear them but are short on your budget. But don't forget to witness the beautiful view from the top of "Charminar" for which the place is famous for, in the excitement of shopping. The next brilliant masterpiece that I encountered was the famous  GOLCOND FORT: with outstanding architecture and its rich history makes the place a must-visit spot. The monument was once the diamond market in the 12th century and was a storage place for world famous "Kohinoor" and other precious diamonds as well. This astonishing piece of history also hosts a light and sound shows that too in three different languages. Apart from its historical importance, the place is also the best spot for your picture-perfect scenery, high mountains and a view of the whole city which makes it a must-watch sightseeing place.
Loaded with so many shopping bags and mesmerized with the rich history and culture of the city, I was close to the end of my beautiful journey at Hyderabad.

You can never get tired and bored of exploring the beauty of the world but as everything has its end; my journey also came to its final day. But before my departure, there were still few things that were left unexplored and I needed to take back a few gifts of worlds famous-
HYDERABAD PEARLS: The old city of Hyderabad has the maximum number of certified and pearl jewelers to buy from; this is the place where this trade was initially established so it does have variety and cost-effective pearls and other gems to offer you.
HYDERABADI BIRYANI: When it comes to food my taste buds never compromise and "Paradise" restaurant at SD ROAD, Paradise circle is a brand for Hyderabadi Biryani and also have options for vegetarians and non-vegetarians as well. Their menu does not end with just Biryani but servers you with other variables as well. The restaurant also has home delivery services and all this comes at a pocket-friendly budget and that's called a perfect ending to your perfect trip.
KARACHI BISCUITS (fruit cookies): Food is just incomplete without some delicious dessert and what would be better than the famous Karachi Biscuit at "Karachi Bakery"; one of the well known and old bakeries of Hyderabad not only has fame but has an interesting story to its unique name. They even have few outlets across the city which makes it convenient to buy and grab a few, to extinguish the fruity quench with these mouthwatering cookies.
With this sweet and spicy food, I also discovered the blend of vividness not only in taste and culture but the warmth that is shared with me in my journey to Hyderabad. With hundreds of memories in me, I checked out from my cozy hotel room. It was night and the city was stunning as usual, with soft music at the back and the sweetness in the wind, the city bid me a sweet goodbye which marked an end to my four-day long journey.