We started our journey from Ahmedabad by Bus , it was a package trip.
Day 1 Lonavala
We reached Lonavala and Khandala on 27th December 2011 morning , We reached Lonavala , a hill station .It is famous for production of various kind of 'Chikki' in various flavours both hard and soft. I bought many but my favourite one was soft chocolate one.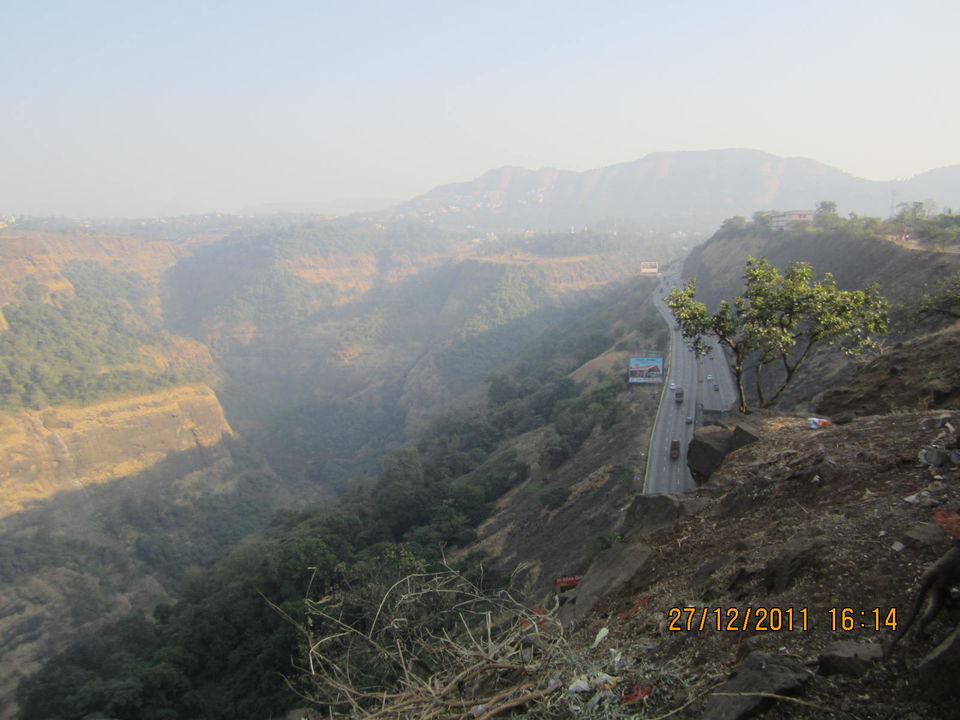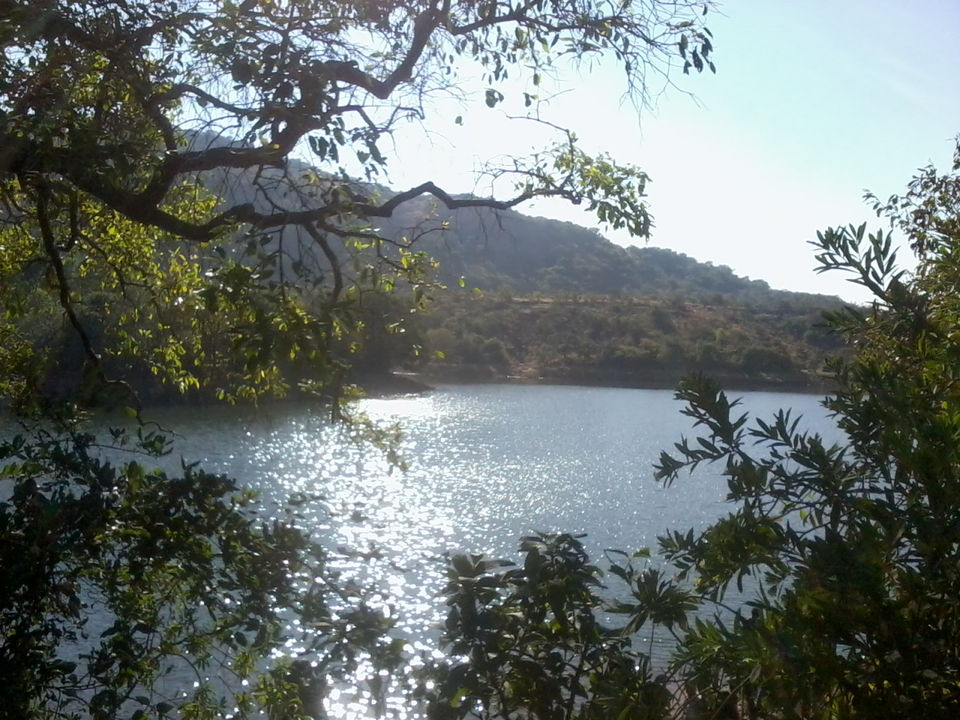 Day2 Khandala
We did Khandala sight seeings Valvan Dam , Bhushi Dam ,Rajmachi ,Point and Lion Point, Kataldhaar , Khandala sunset Point, Shooting Point , various movies shot here like 'Major Saab'
After overnight journey we reached Panaji(pronounced as Panjim) ,the Capital of Goa on 29th morning it was post - Christmas and
Pre - New Year Time , a peak season in Goa when its flooded with tourists who come from all over the world to celebrate.
Day 3 Panjim , Goa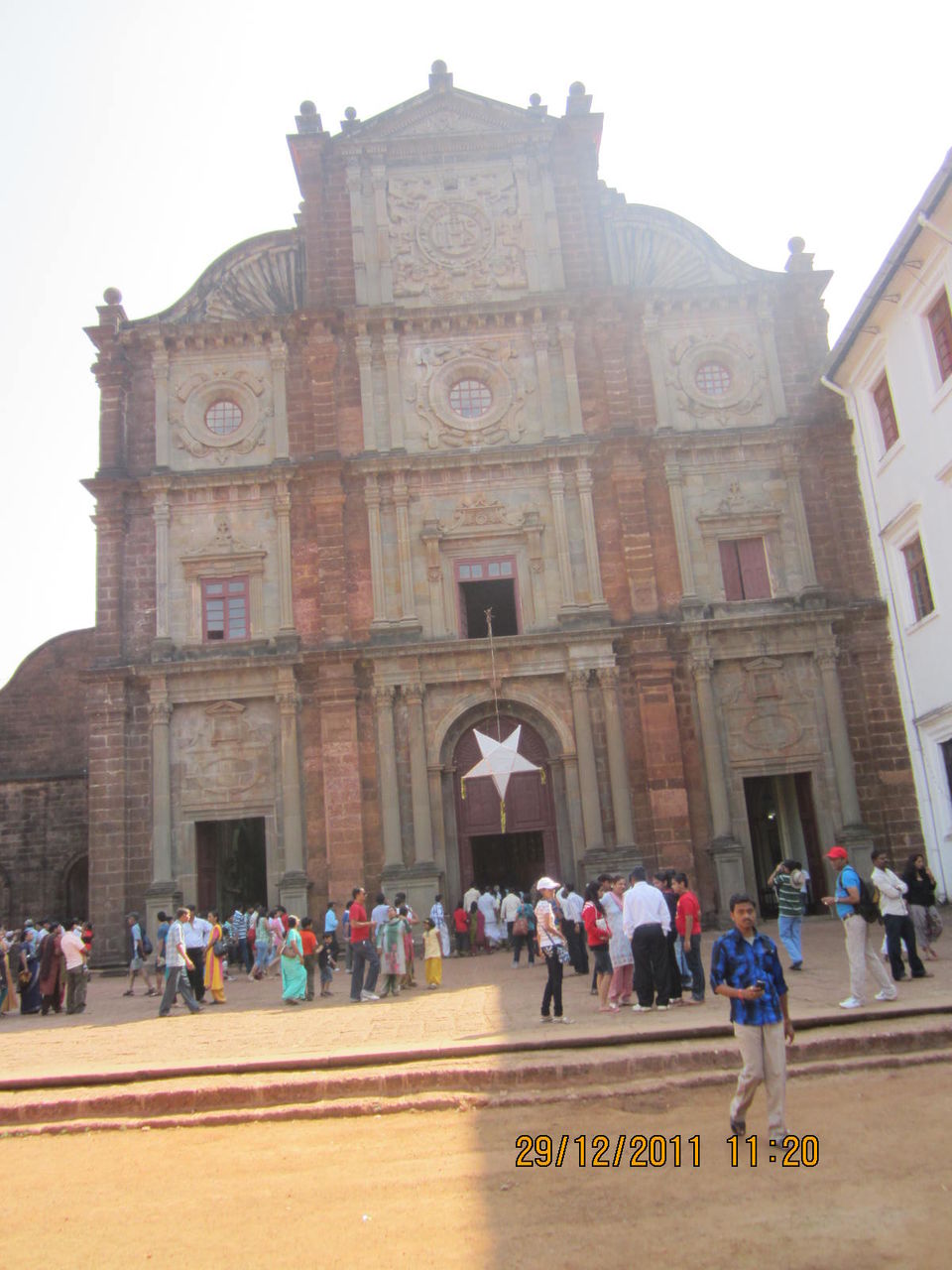 We started our sightseeing from same day from Old Goa (signature Church) We visited the famous church The Basilica of Bom Jesus , built in 1594 , the 'oldest church in Goa' it holds the dead body ; remains of St. Francis Xavier , a special friend of St. Ignatius of Loyola with whom he founded the society of Jesus (Jesuits).And I did my Graduation & Post- Graduation from St. Xavier's College of Ahmedabad (recognized the 1st 5* College of Gujarat run by 'society of Jesus' means Jesuits Priests having the privilege of being called a 'Xavierite'.The quality of Education imparted there has moulded me as a unique human therefore.After every decade the body of St, Francis Xaviers is lowered n kept down for people to see , even after 400 yrs the body is in good condition, people all over the world flooding curious to see this body , because its once in 10 years only.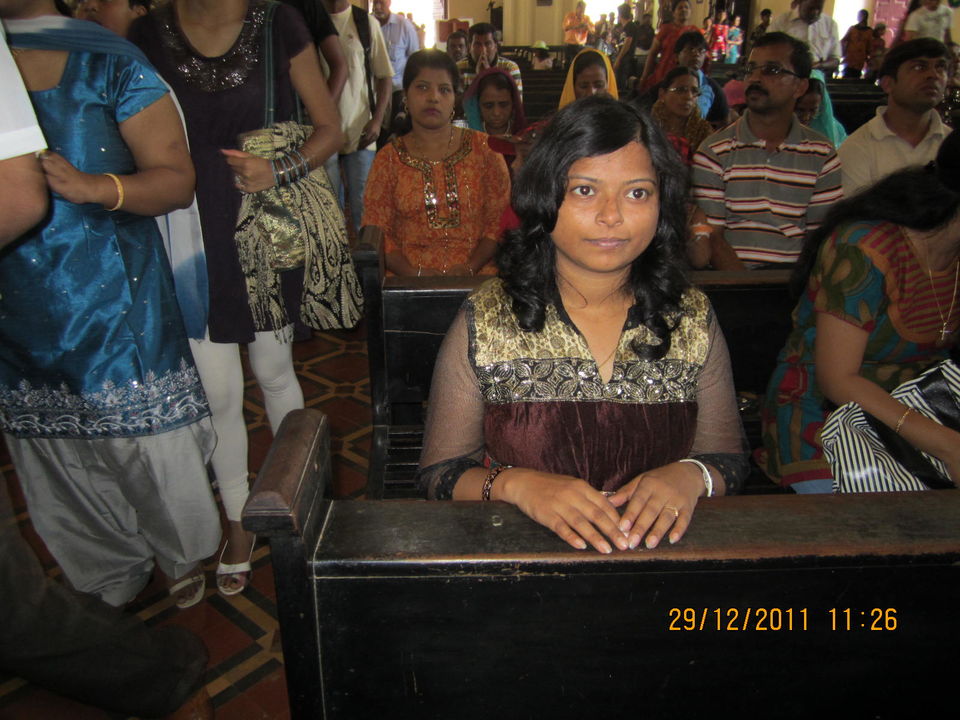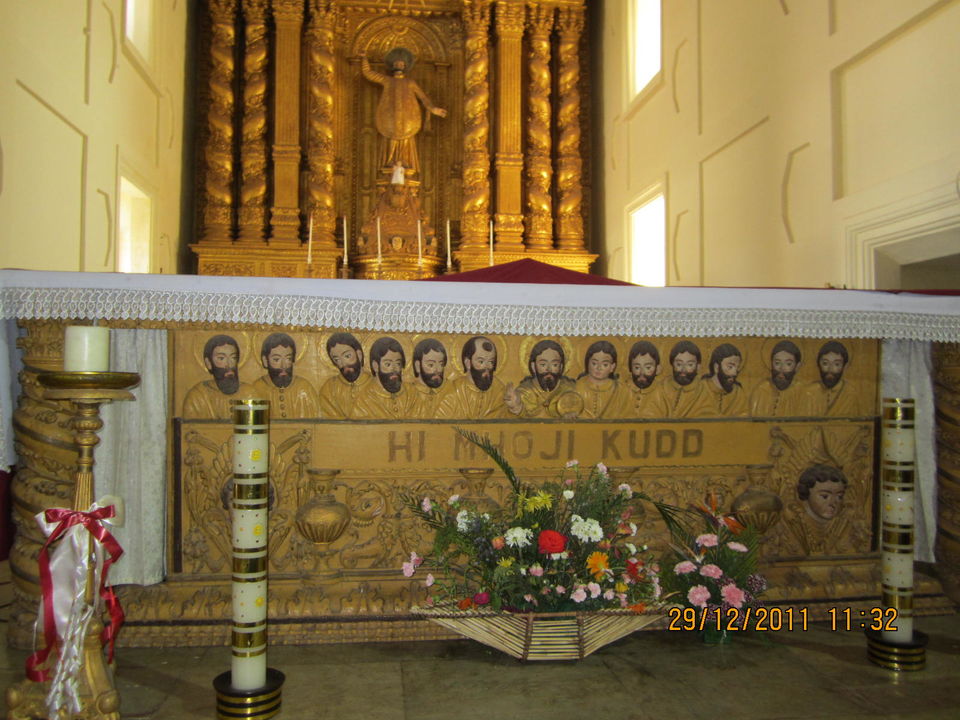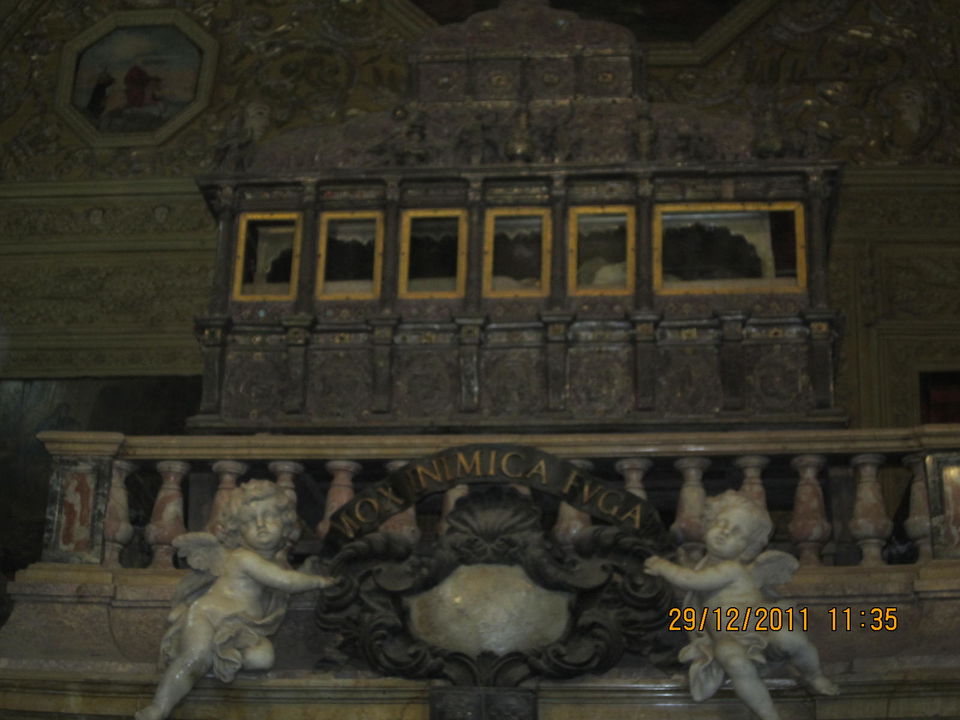 Next was Catholic Church of St. Francis of Assisination built in 1661 by Portuguese Viceroyalty of India.Next church was Se Cathedral completed in 1619 ,this church has an 'ancient large bell' known as the "Golden Bell" on account of its rich tone.I is said to be the largest in Goa , and 'one of the best in the world'. This church shown in movie 'Khamoshi', scene where Manisha Koirala had a little brother who goes to ring this bell and he dies falling down from that height.It's that same huge bell.We also visited Vagator beach, the Northernmost beach of Bardez Taluka, Goa .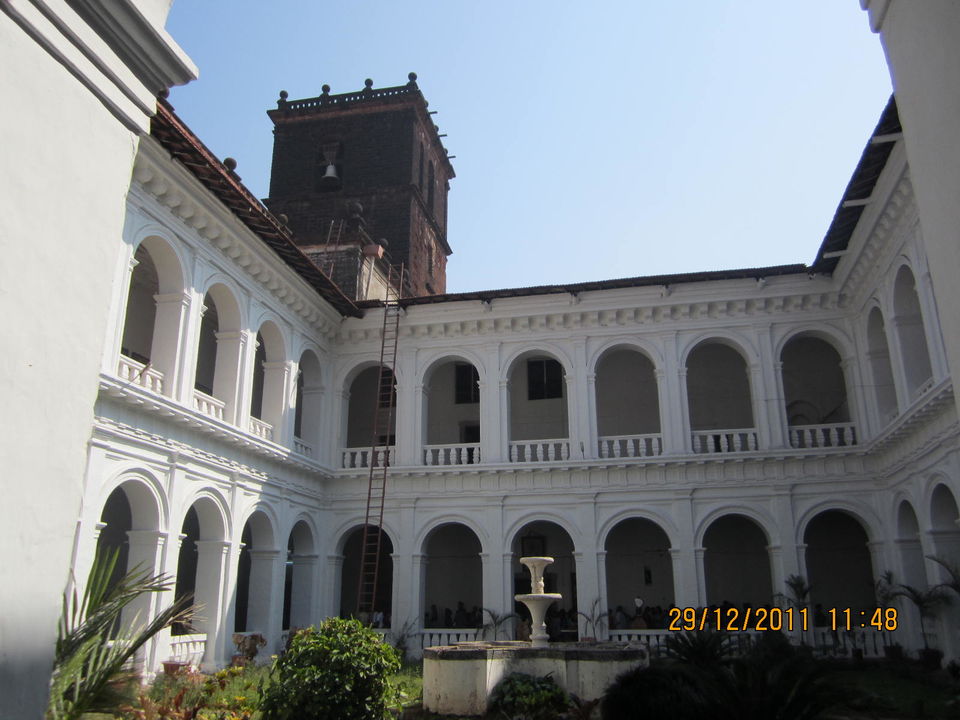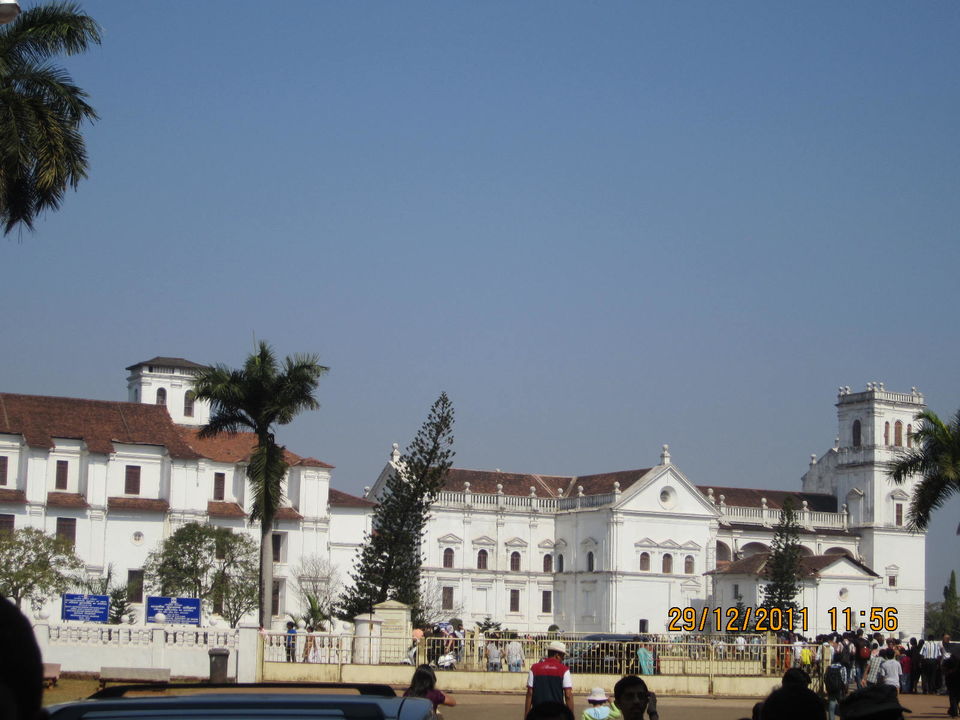 Then , visited Vasco De Gama Port and jetty , Dona Paula famous beach with jetty for movies like 'Singham '& most Romantic movie 'Ek Duje k Liye'.Enjoyed the famous Kokam Drink there.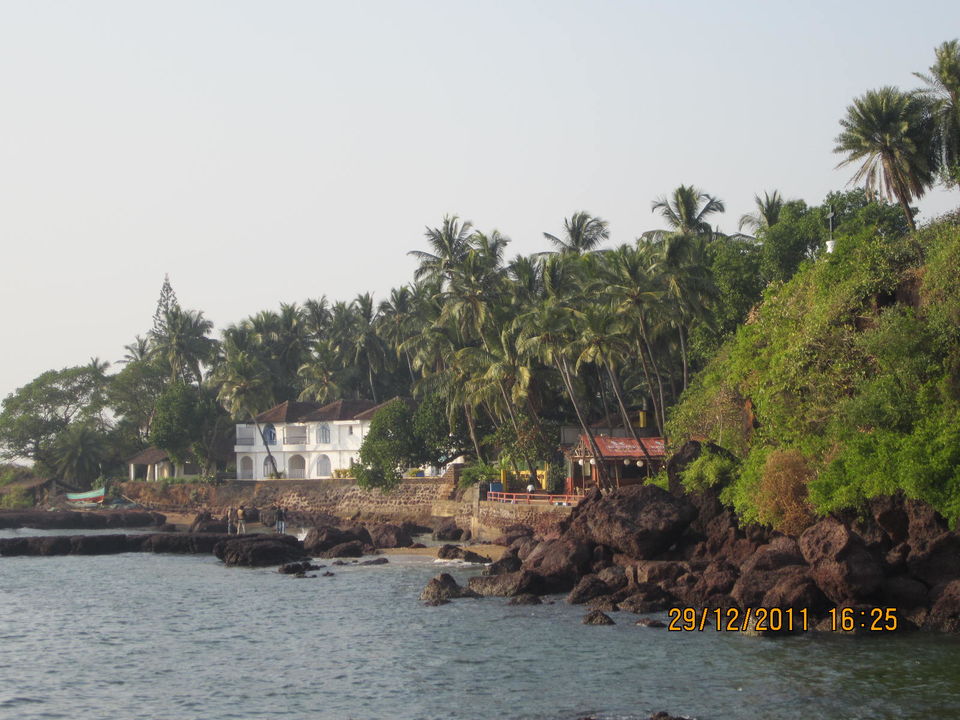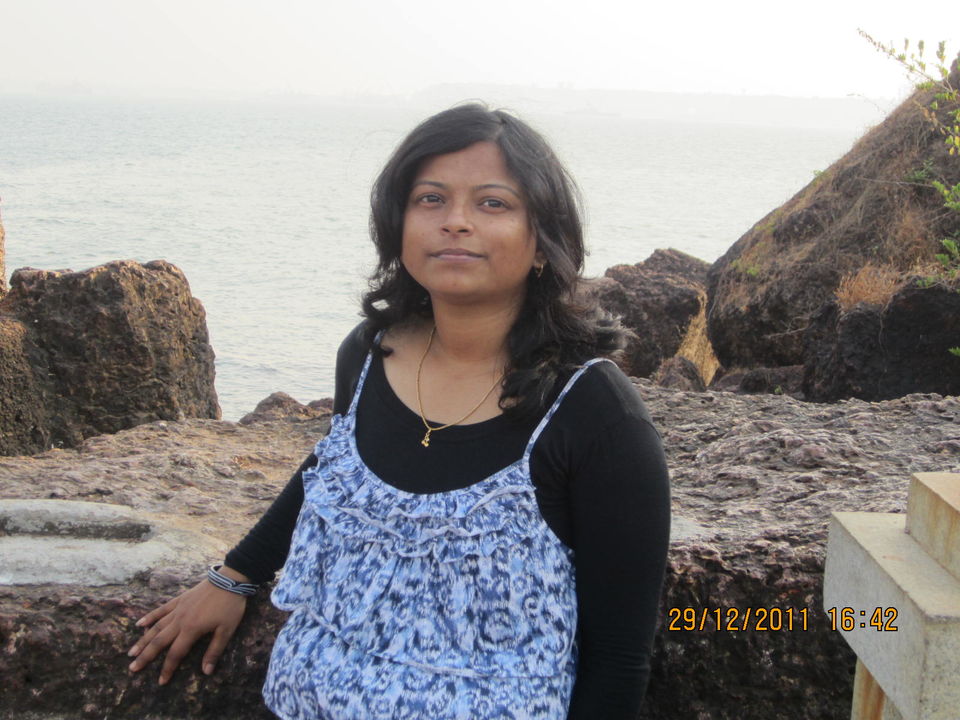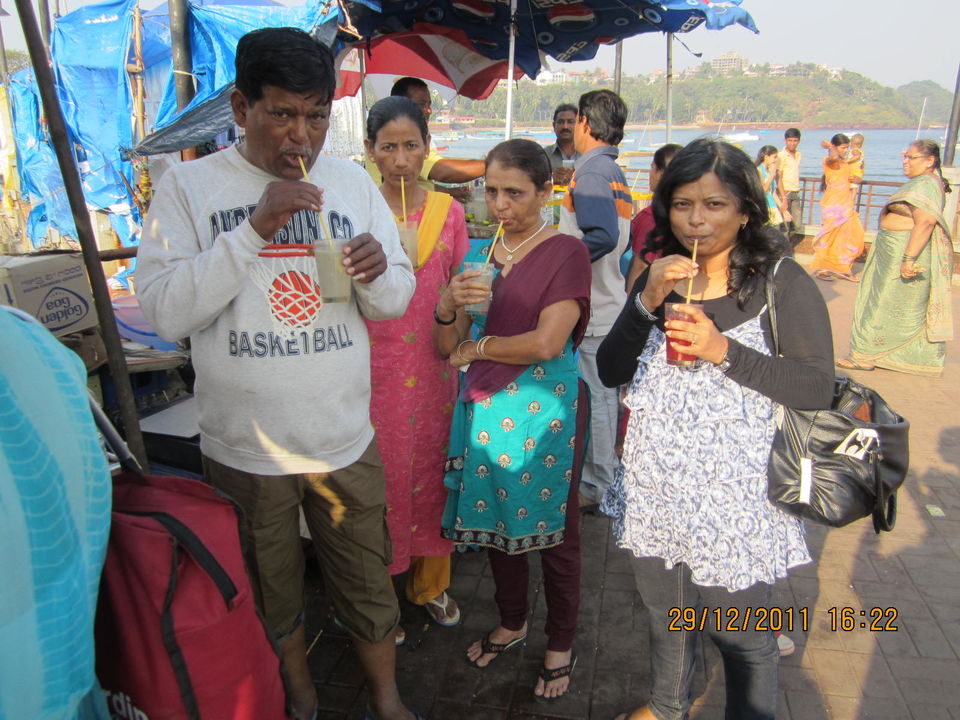 Day 4 Calangute Beach ,Goa
I did my first water sports Adventure at Calangute Beach , we were group of 4 youngsters 3 gals and 1 boy , it's a package and started with Dolphin watchin by boat ride , next my favourite one Parasailing , I enjoyed this one most , next Jet-Ski , as seen in movies looking so attractive and fancy but actually a scariest thrill of bumpy rides on the waves with highest force and speed and I sat behind from front its more scary , behind I'm holding the person as per instructed and I holded tight and tighter , rest I fall , next Banana boat ride 4 person for balance ,smore scary u have fear to fall if u don't balance and the thrill ends when they shock you with a throw in the shallow water(and you are not prepared but they know it when they do it) you are scared to death in the sea n then you come out all wet.Next and last one was Apple boat ride its only two people in one boat and yes scariest of all u feel the force of waves .wind and the jet engine which pulls you at a high speed, twist and turns everytime a fear of falling in sea.Your brain and body experiences the powerful force of the sea, winds, engines and everything around you.It's a once in Life-time experience , a must-do if you are in Goa.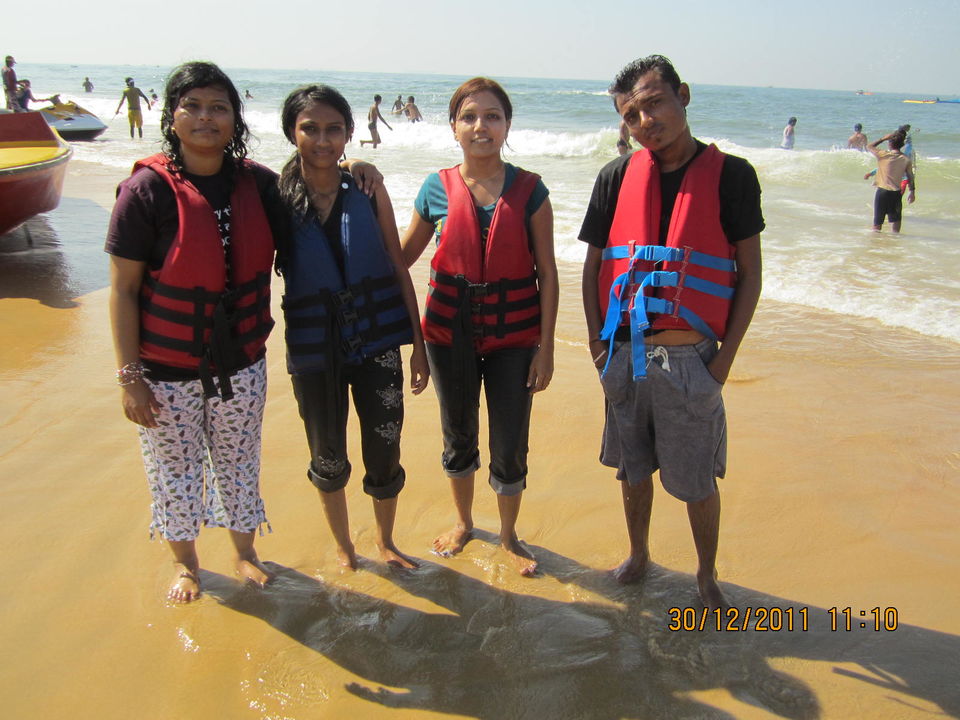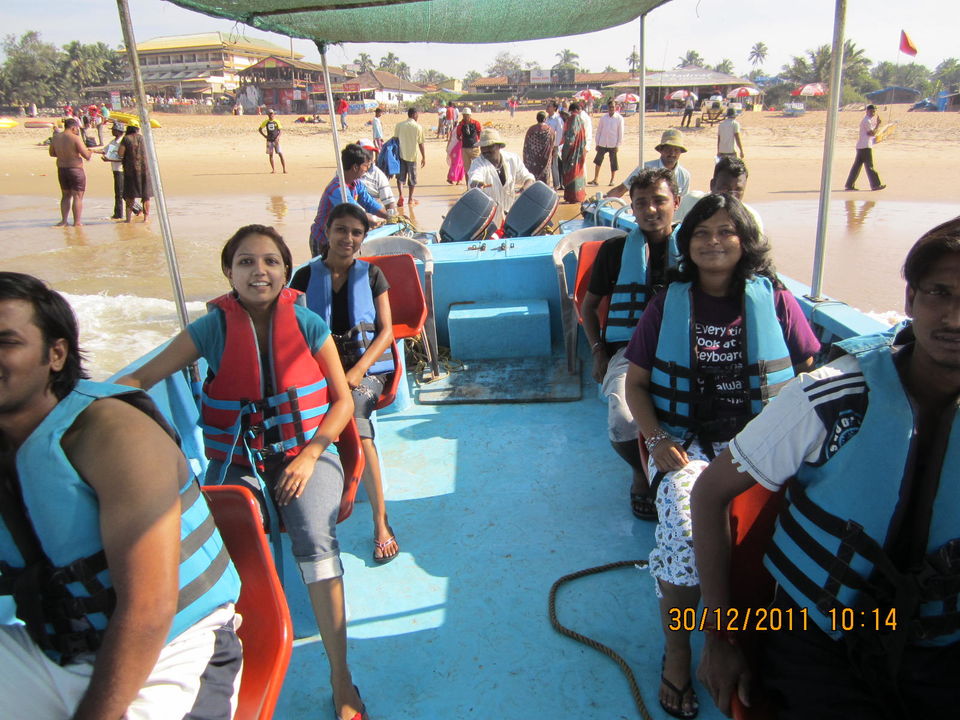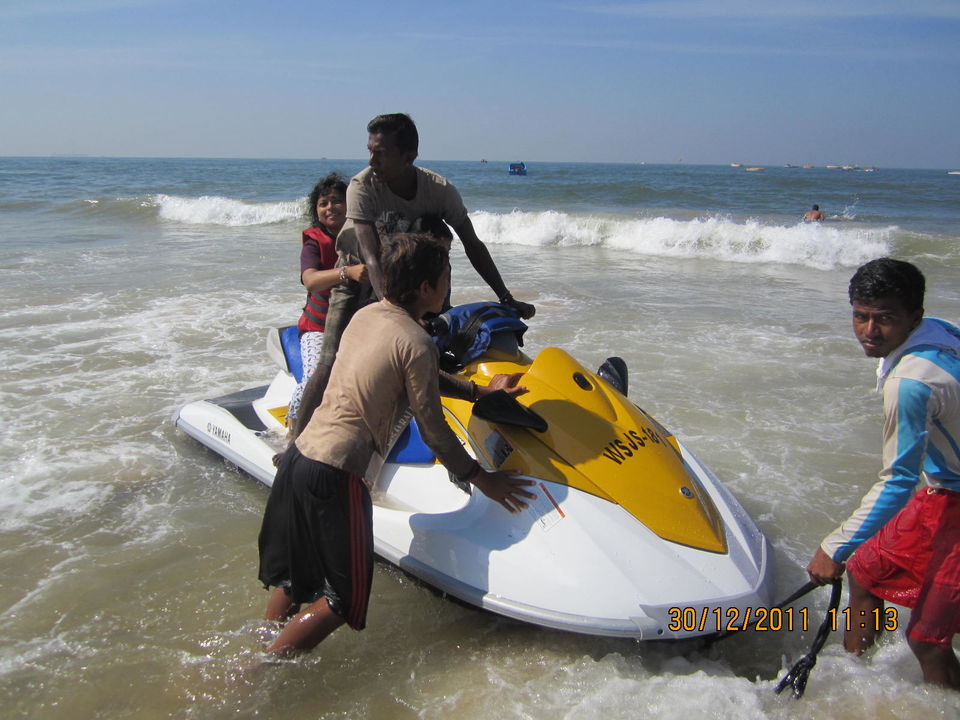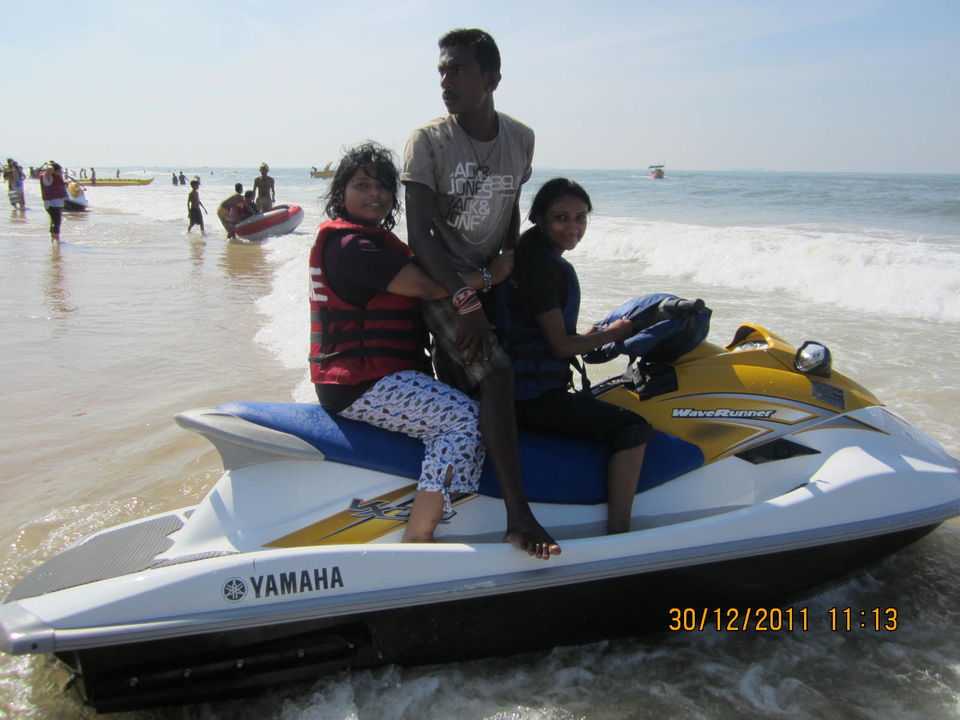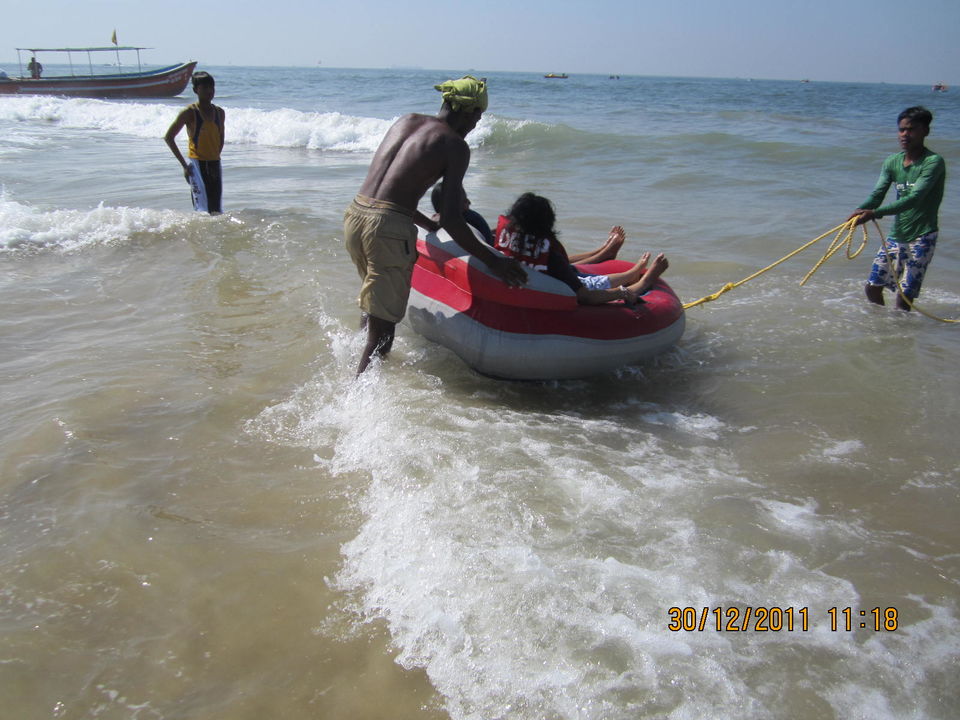 And then Chapora Fort of Goa the famous 'Dil Chahta Hai' scene ,its located on a hill and you need to climb a little.This place has a historic significance.When Portuguese invaded Goa.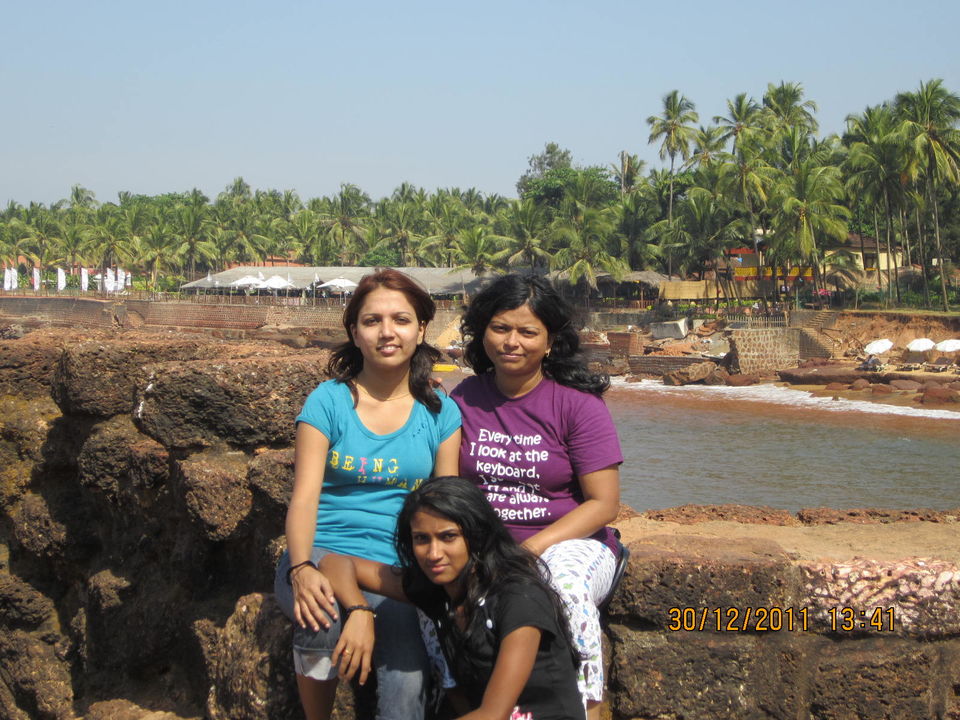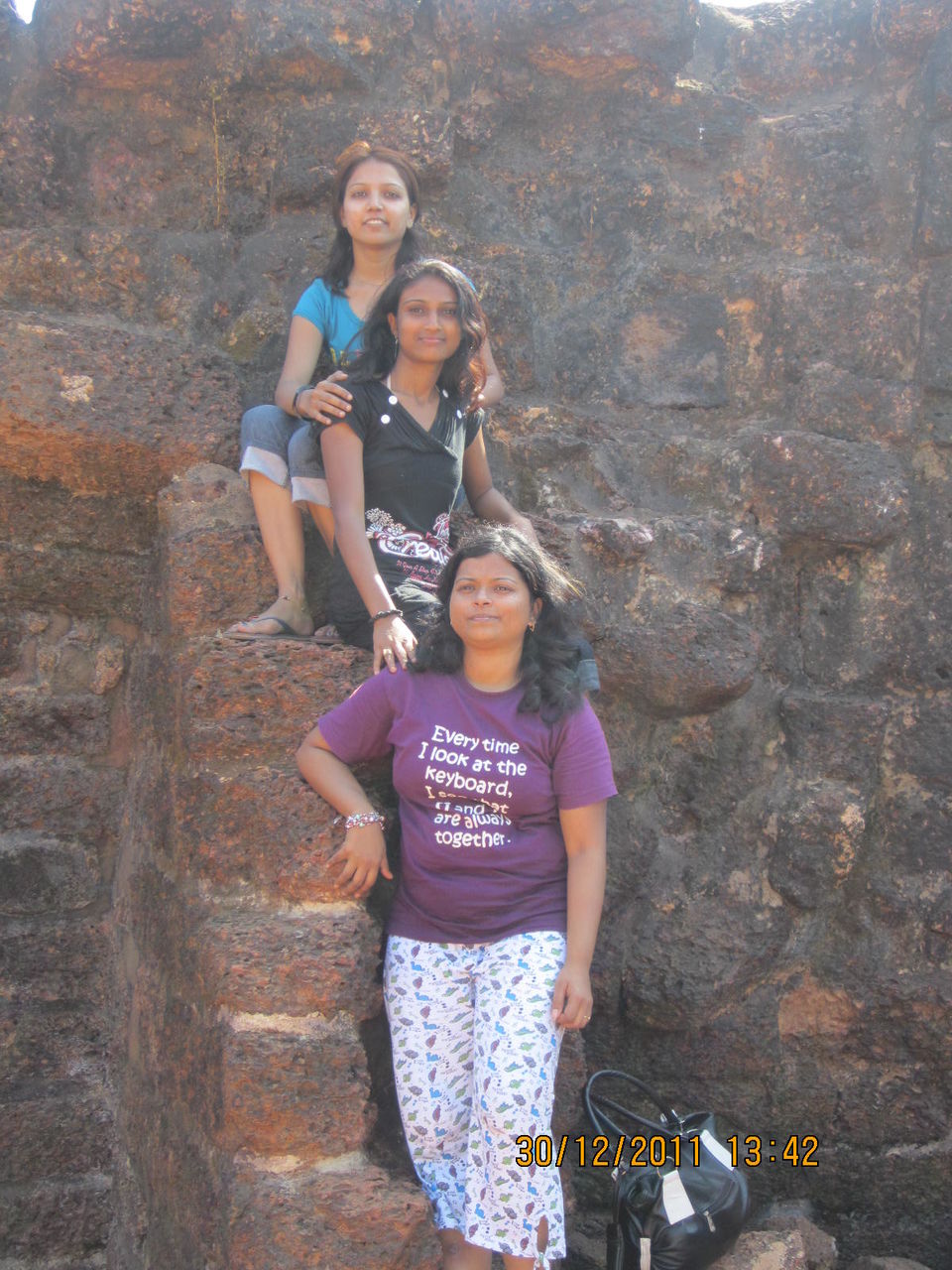 Day 5 Goa
31st morning ,I went by myself out of the package with my bro-in-law , he picked me up and showed we unique places as he is a local there , and I'm Goan but live in Gujarat but hail from Portuguese roots .Starting with the Holy Shrine Cross , famous for its Miraculous Holy Cross .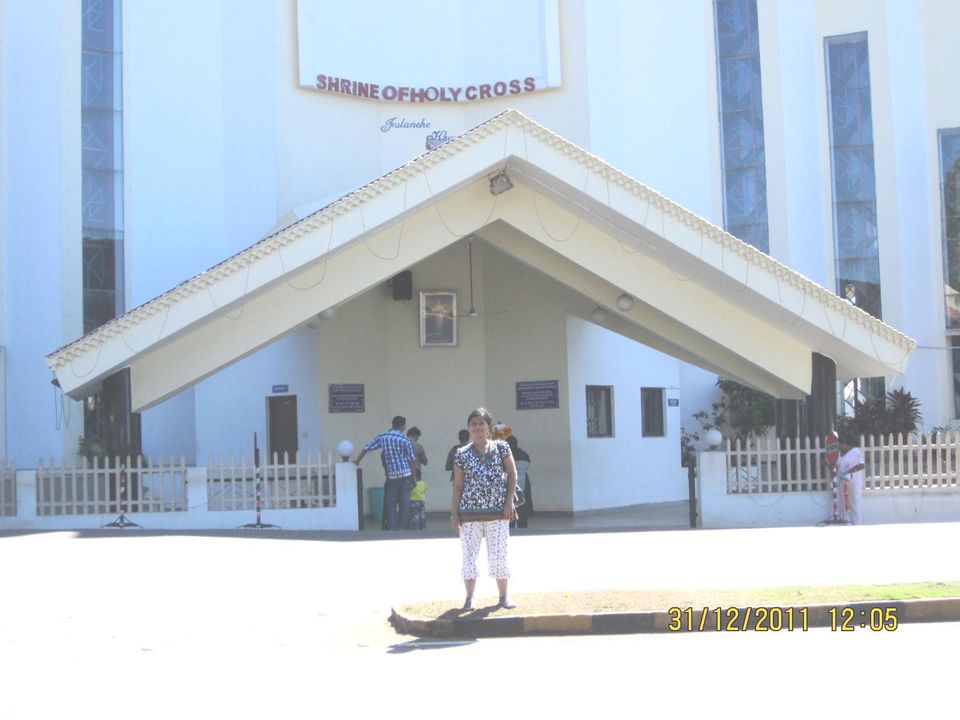 Next ,I visited ABYSS MARINE FISH AQUARIUM , VERNA , GOA.This is one of the best Marine Acquarium visit of this kind for me.I saw the Piranha Fish for first time, called the monster because they are predaters and can eat humans too. just after the famous release of Hollywood movie 'The Piranha'shows the same concept.I was awe struck with this monster.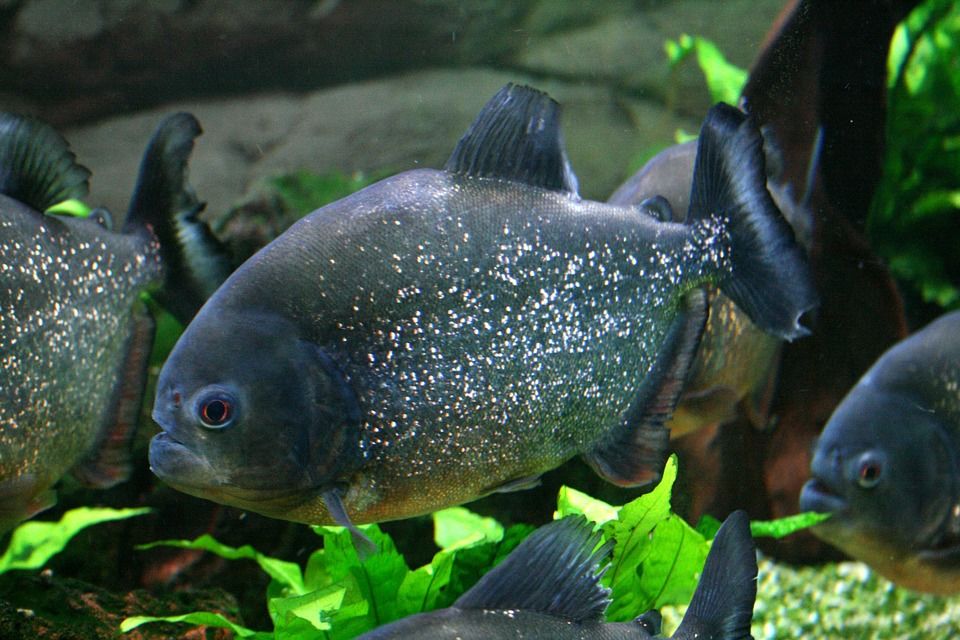 Next I took Sea snakes in my hand, and Lobster and few creatures too.I was scared but its worth it.This again my first experience to hold them in my hand.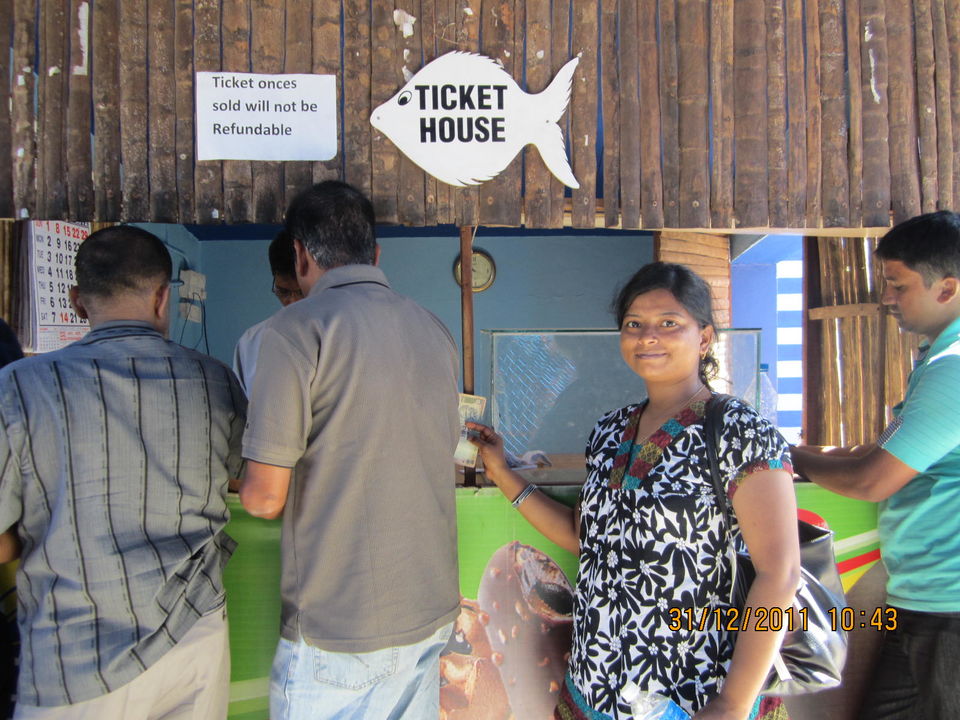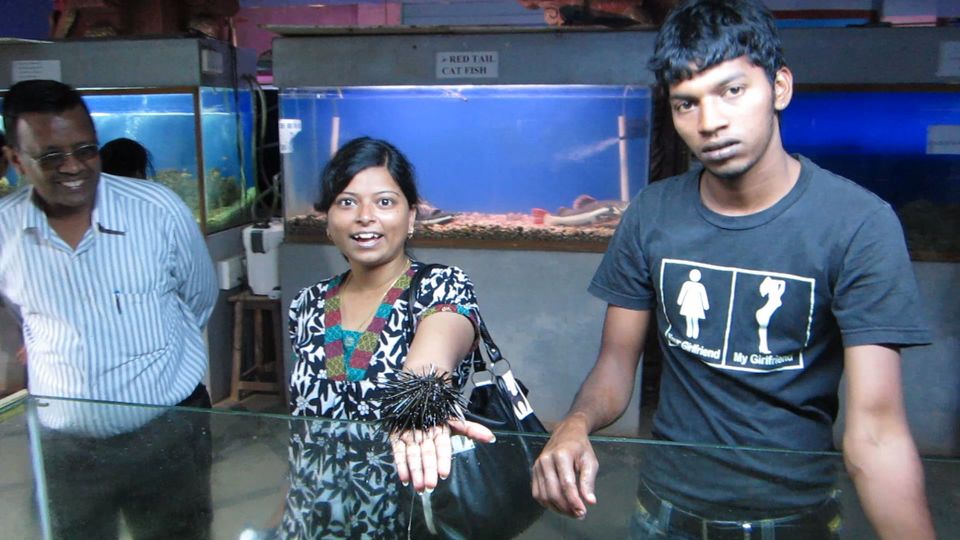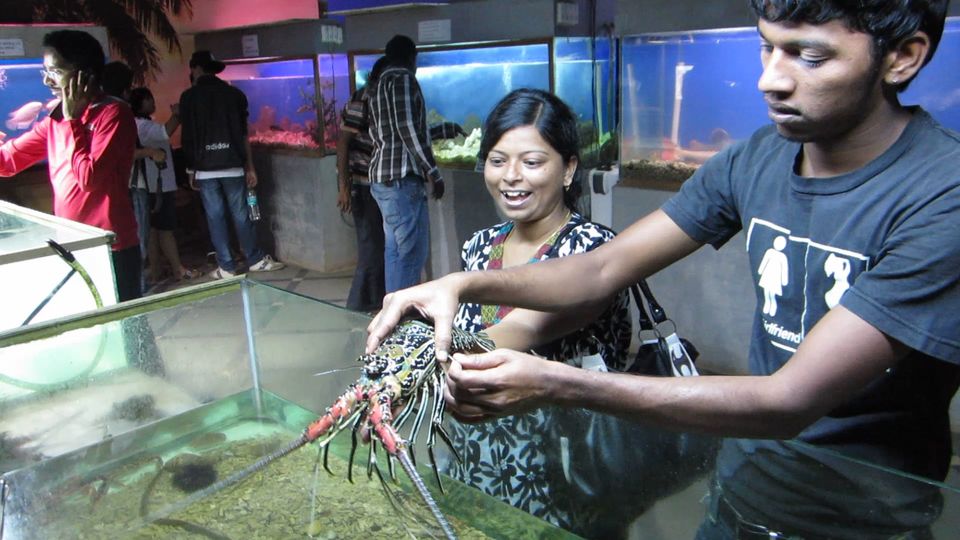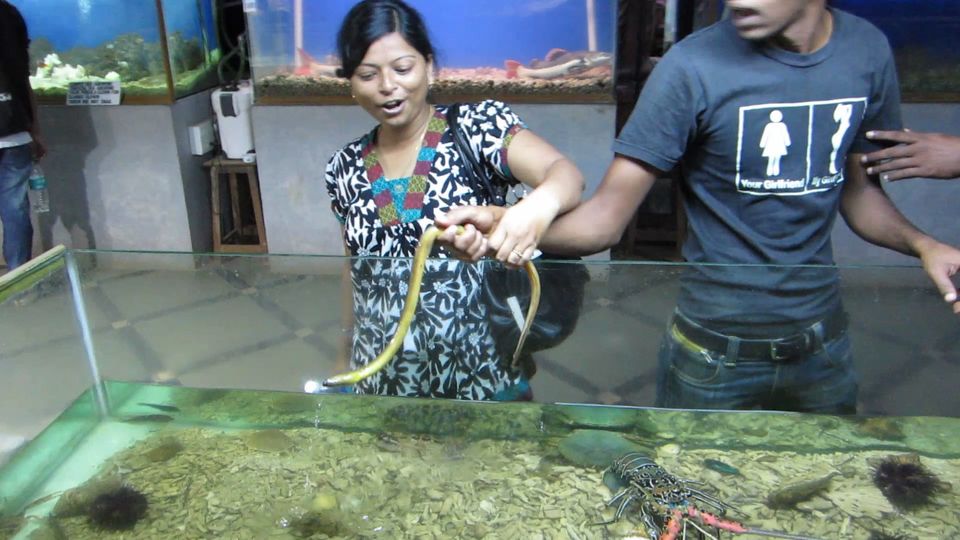 After that we drove to Bambolim Beach in North Goa famoul for Golden sand and calm waves with peace and solace no people at all.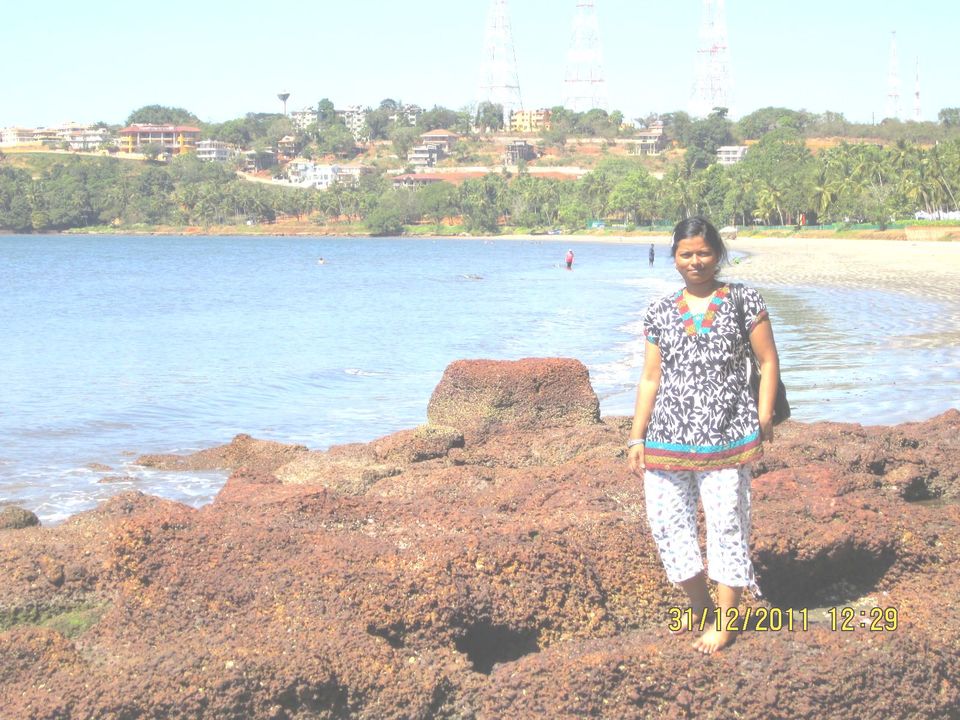 Then in evening ,the most exciting day was 31st December, New Year Eve we had a River Cruise on Mandovi River its around 1 hour ride with entertainment .It stars with 3 Goan folk dances – Dekni , Koti Fugdi (konkani folk dances) and Correndinho (a Portuguese folk dance) basically featuring the culture, dressing, music,and the fishermen folks of Goa.It show the complete beauty of Goan culture a mix of Portuegues influence.Next there is open dance for all eith Live DJ music –varying from popular Retro tracks to favourite Bollywood item numbers.First comes a call for all the couples to get on the floor , next for youngsters, next for kids and last one ia open for all.While u watch this u see the amazing places moving slowly on Mandovi river like the Casino cruise which we see in Bollwood movies.
Day 6 Goa
On the New Year morning we visited Our Lady of Immaculate Conception, Panjim this church was built in 1541 as a chapel on a hill side overlooking the city of Panjim I call this "white Church" it has a singularly distinctive appearance because of double flights of steps that zigzag across the hill on which it is built.True to its namw , the façade of this Church is painted an immaculate 'sparkling white'.also its famous for the 2nd largest Bell of its kind in Goa , surpassed only by the Golden Bell which resides in the Se Cathedral.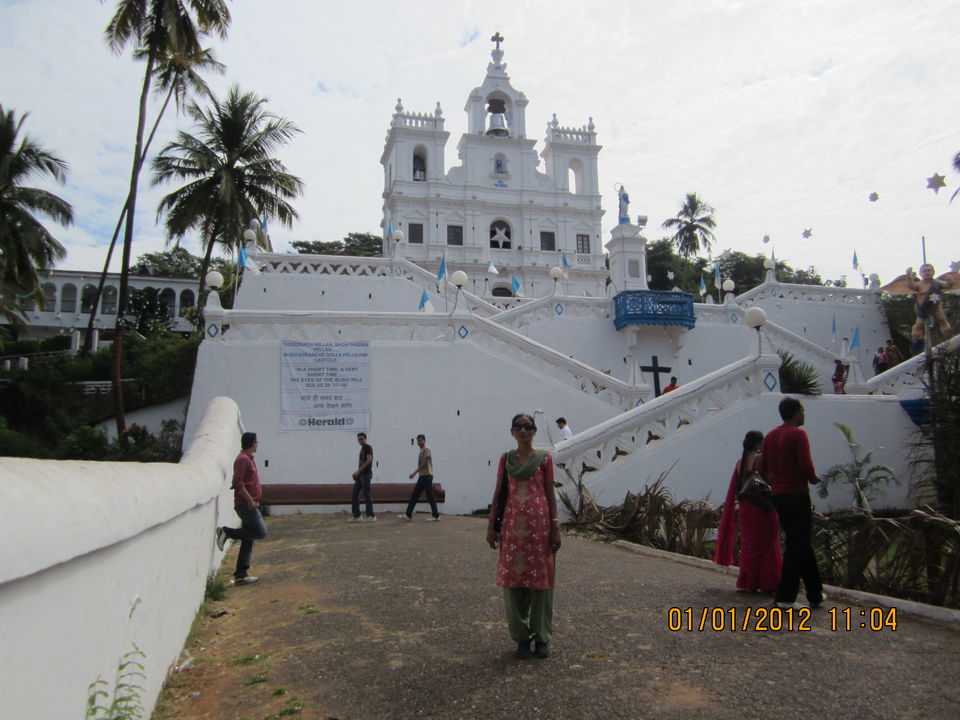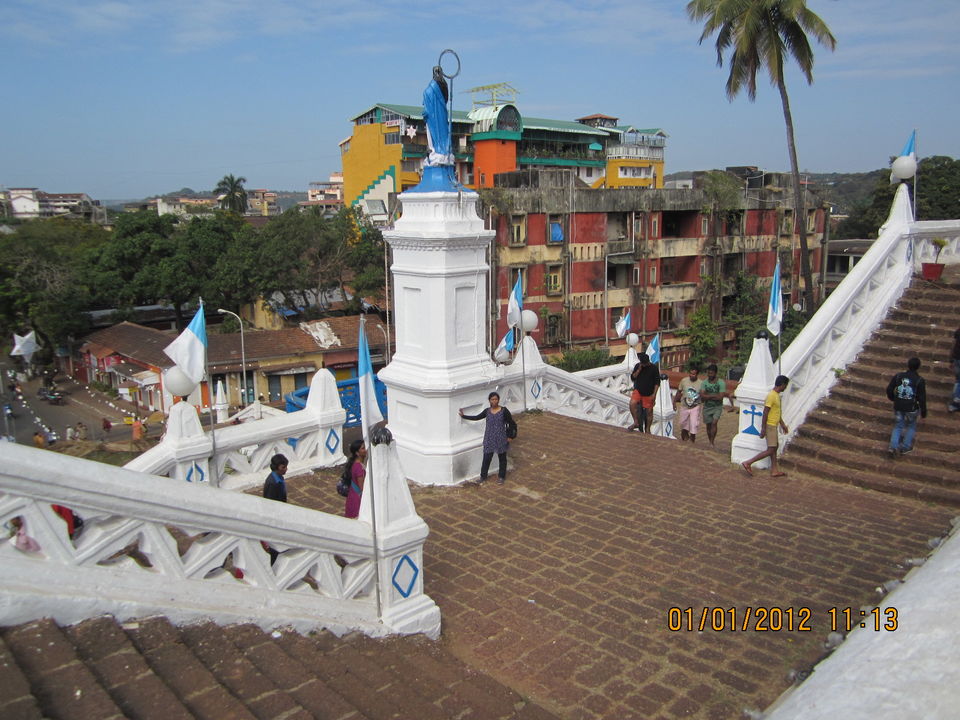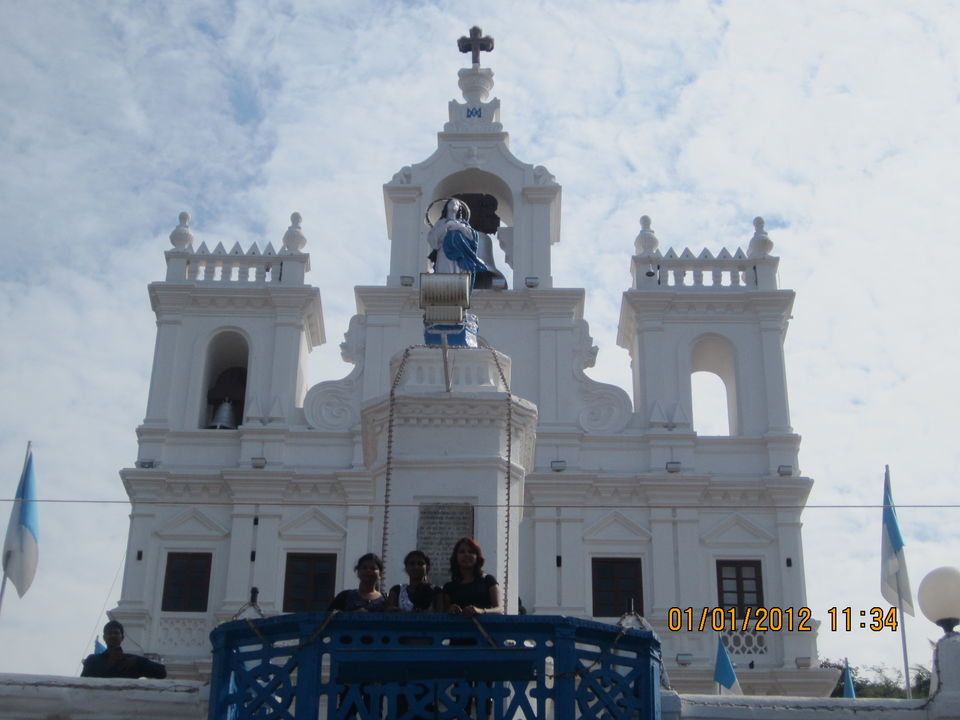 Day 7 Mahabaleshwar
After overnight journey.On 2nd January 2012 we reached Mahabaleshwar, a hill station in South of Mumbai. First, we hired a car for 4 people as family.Visited 3 monkey Point , named because of the natural sculpture of stones which is similar to 3 monkeys of Gandhiji. Next Arthur Point , Venna Lake ,Kate's Point , Wilson Point.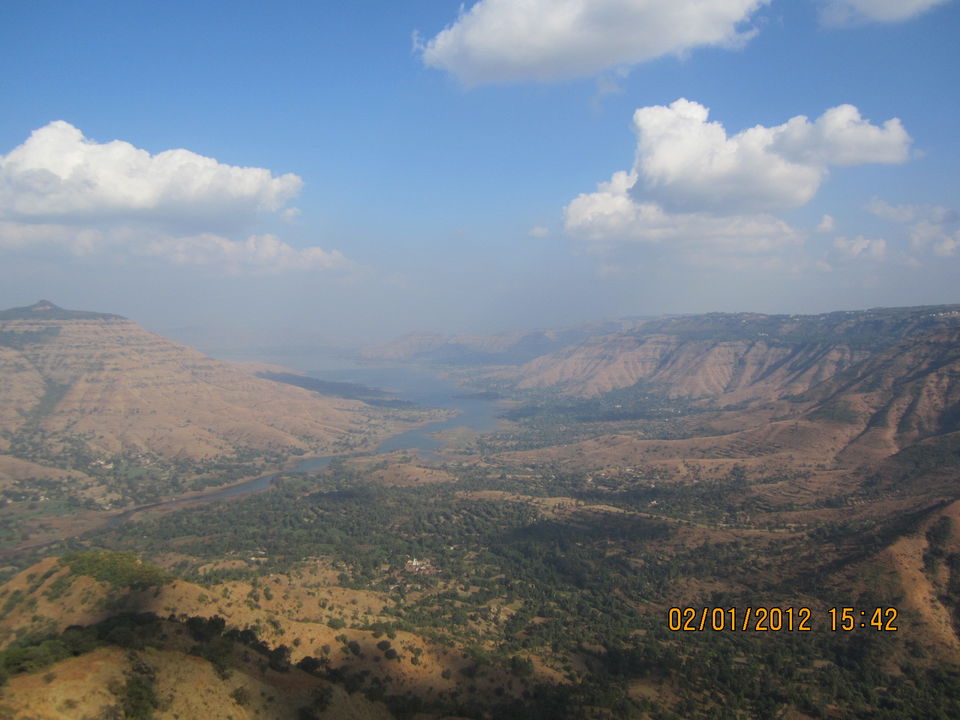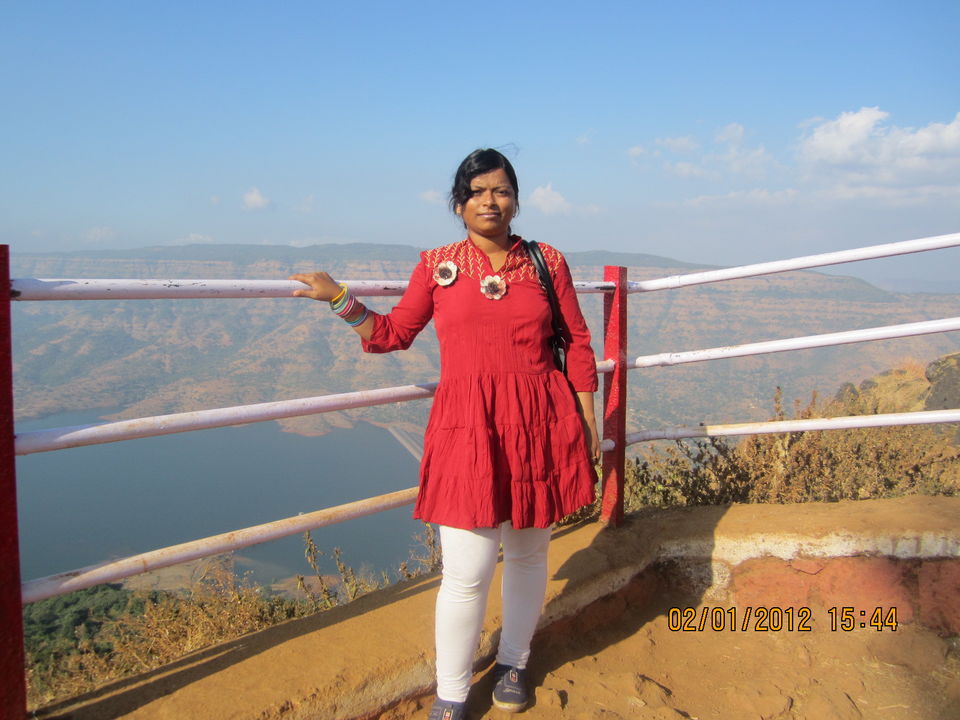 Back in the evening visited the Holy Cross Church and then the local market for shopping.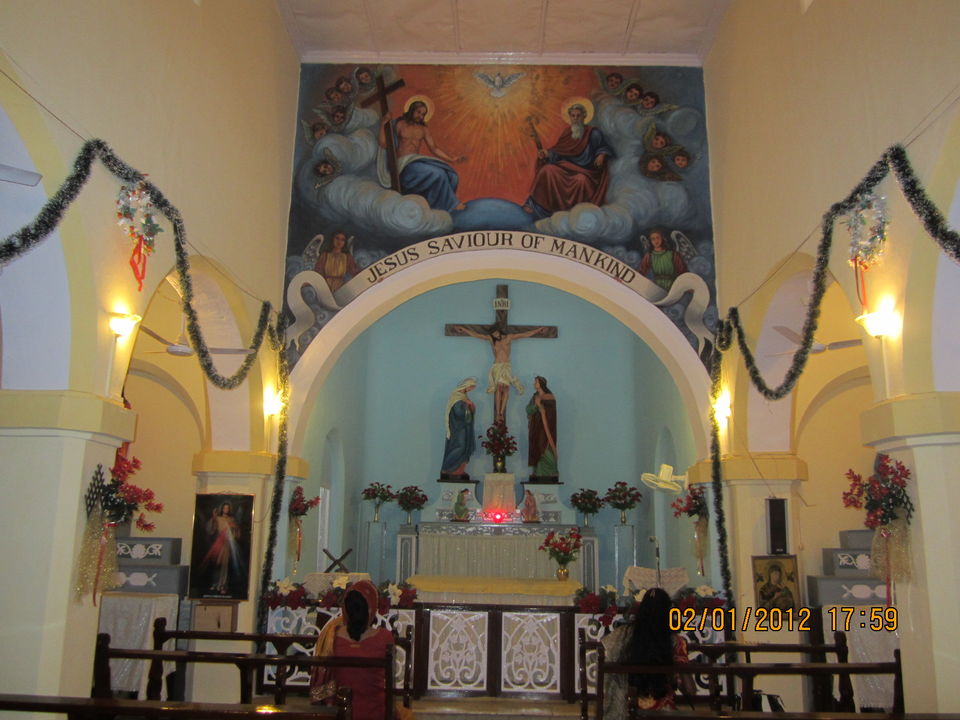 DAY 8 Panchgini
We visited Panchgani ,famous movie 'Taare Zammen Par' was shot here.we visited 'Table Land' vast plateau for views and horseback rides.Here, I also did my 1st Horse Riding on a fully 'White Horse' a dream come true for me.We saw Parsi Point.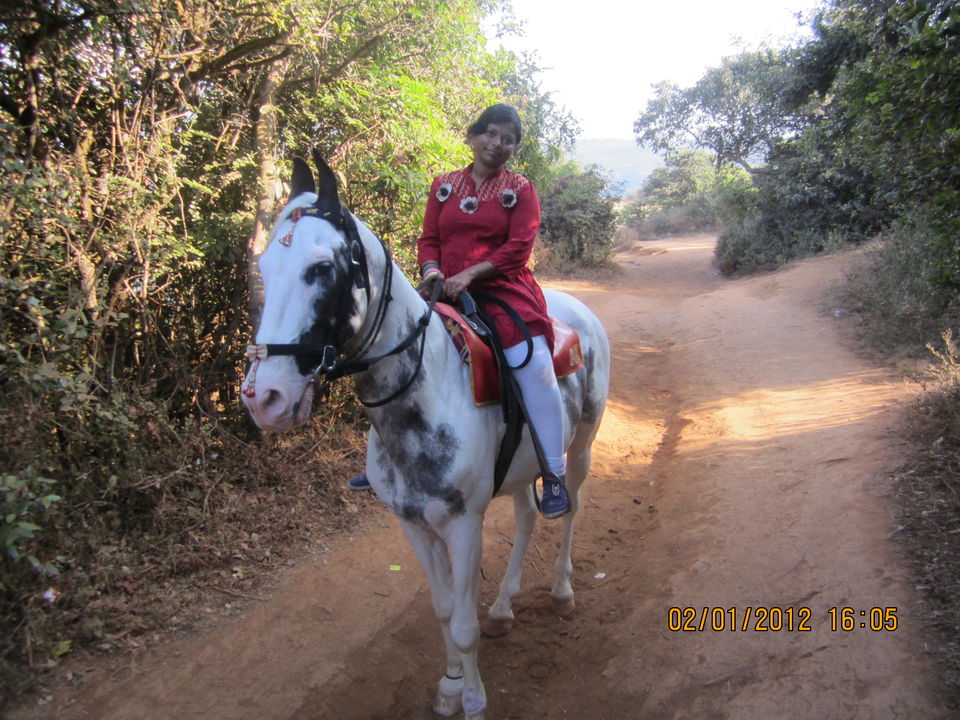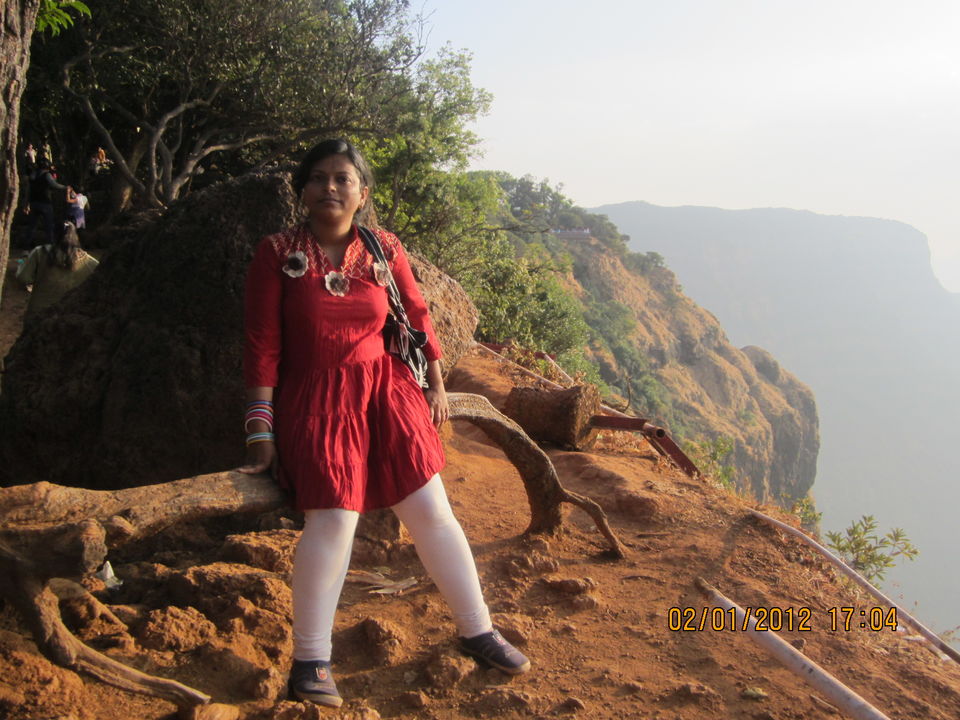 Mapro Garden , famous for Strawberry farming, the famous Mapro brand productions.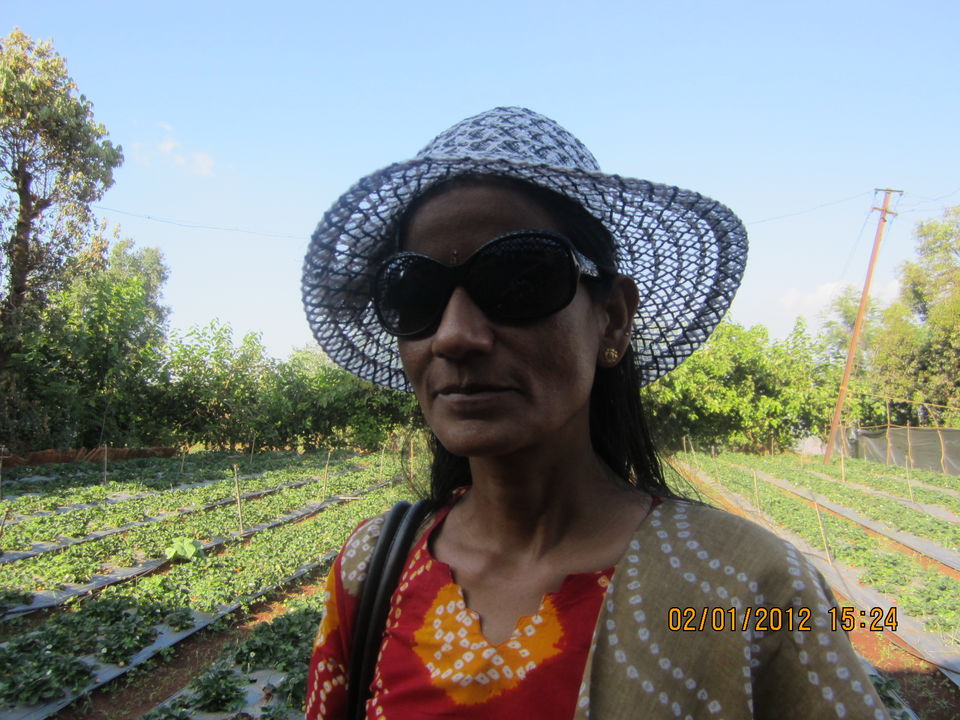 And finally we end our family Trip and left with lots of memories back to our home.