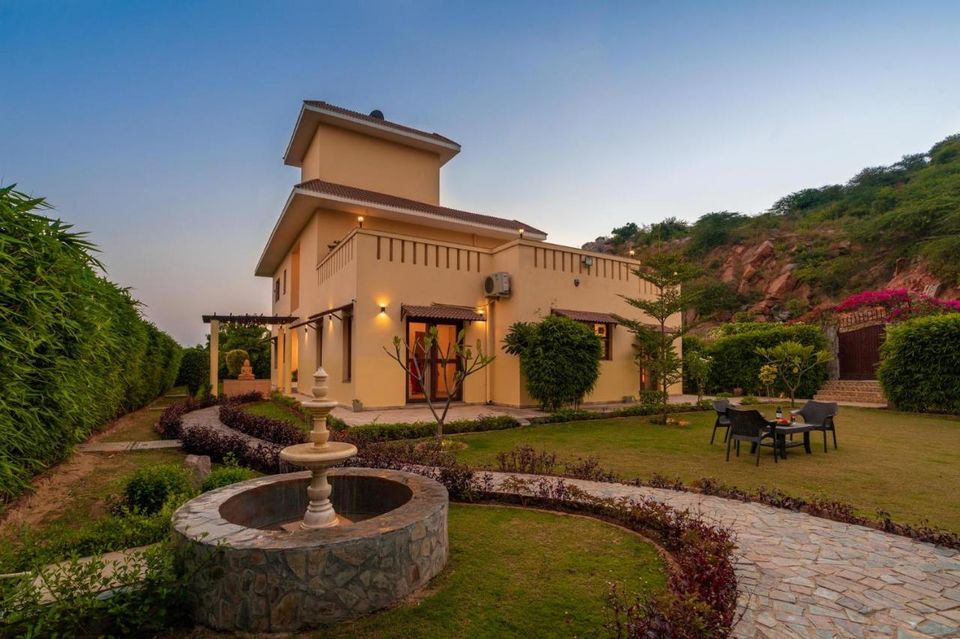 "Lekin time kahan hain?"— if this is the phrase that's holding you back from having a vacation and relaxing in the midst of nature, we feel you. Right from planning, and booking to managing finances, the entire process of travelling can get quite tedious. But thank the stars for Staycation, the new trend of travelling without actually travelling. How is that?
While the pandemic rocked our world with its sudden arrival, it also brought in a new way of travelling that is not only convenient but cost-effective as well: Staycation! With beautiful properties located within the outskirts of your city, you can now enjoy a break without having to worry about long-distance travelling. From luxurious villas with pools, spas, and restaurants to quaint bed & breakfast homes in peaceful neighbourhood– there's something for everyone.
So if you are in Delhi NCR and crave the experience of vacationing without having to go through all the hassle, here's a list of some amazing properties that will give you just that.
1. Bliss In The Woods, StayVista
If paradise had an address, it would be Bliss In The Woods. Nestled in the lap of the Aravalli Mountains and surrounded by breathtaking landscapes, this holiday home is a nature-lover's dream come true. With lawns that touch the hills, a private swimming pool for those perfect summer days and modern interiors - everything here just spells serenity! The outdoors are truly something to behold; play some cricket or badminton on well-manicured grounds or take a leisurely stroll amidst nature. If you're feeling adventurous, explore nearby trails and hikes that will surely give your adrenaline rush an upgrade! Don't forget to relish in some freshly prepared barbecue while basking around the bonfire under starry skies. The indoors are equally inviting, with a plethora of leisure amenities and an aura that's perfect for your staycation.
Price: Rs 28800/- onwards
2. The Lazy Patio
If you're looking for a wallet-friendly escape this new year, why not try out this rooftop BnB with its stunning views of the Hauz Khas Fort and lake? Each cabin is rustic-looking yet cosy, with full-length windows, AC, comfy bedding and even a study table. Plus they have an awesome breakfast spread that includes everything from parathas to Nutella crepes! All topped off with mini windmills and fairy lights - it's like stepping into your own magical little kingdom.
Price: Rs 4000/- onwards
3. Karma Lakelands
Wake up to the sound of birds singing, the scent of fresh grass and a refreshing breeze. That's what you can expect when you stay at Karma Lakelands, an idyllic resort surrounded by lush greenery. Here, relaxation doesn't mean boredom - there are plenty of activities to keep you entertained like petting farm animals or exploring our birdwatching paradise with its array of common and uncommon species such as sparrows, lapwings kingfishers, and green pigeons. You can also take your swing on their award-winning 9-hole golf course. So come spend some time in nature at Karma Lakelands for the perfect getaway!
Price: Rs 13000/- onwards
4. Heritage Village Resort
Discover the essence of Rajasthan at Heritage Village Resort & Spa, Manesar! Located just off of Delhi-Jaipur Highway (NH 8), our stunning resort is only a short drive away from Gurgaon, Indira Gandhi International Airport, and Delhi. Nestled amongst lush green lawns and inspired by classic Rajasthani architecture, they offer a luxurious haven for families to relax and reconnect with one another. Onsite amenities include a sparkling pool, multiple dining options, an inviting bar, wellness retreats, Kids' Club activities and much more. The picturesque setting and tranquil atmosphere make it the perfect place for family getaways, staycations and destination weddings.
Price: Rs 15500/- onwards
5. Ashok Country Resort
Bid goodbye to the concrete jungle and welcome yourself to the paradise that is Ashok Country Resort. Surrounded by lush green lawns, mesmerizing views of azure blue skies, and a chorus of birdsong – this haven promises an unparalleled experience for all who visit. The resort offers guests with a plethora of amenities including Wi-Fi connectivity, 24 Hrs. room services, hot and cold water, tea/coffee maker, a doctor on call, laundry services; all set in elegantly designed rooms that are sure to leave you feeling pampered! You'll also be able to explore the culinary delights from our multi cuisine restaurant 'Picadilly', serving up buffet breakfast as well as delicious dishes cooked with fresh vegetables grown in the resort's private organic farmlands. And when you're not out and about exploring, why not take a dip in the pool or relax with a massage at the spa?
Price: Rs 3550/- onwards
6. The Westin Sohna
A countryside escape awaits you at The Westin Resort & Spa in Sohna, only an hour away from Delhi. Enjoy a luxurious stay with private pools and hammocks in the villas, or take advantage of the spacious rooms for a relaxing getaway. Fish to your heart's content on the lake and dine at Xiao Chi Restaurant for classic Chinese dishes with a modern twist. Don't forget to swing by Splash Poolside Bar for some craft cocktails! Rejuvenate your body and soul with an invigorating session at our Heavenly Spa by Westin™, work up a sweat at WestinWORKOUT® Fitness Studio, or simply enjoy nature's beauty - it's all here waiting for you!
Price: Rs 13000/- onwards
7. Haveli Dharampura
The world is obsessed with the winding lanes of Chandni Chowk- where magic unfolds in the form of mouthwatering delicacies and a culture that's derived right out of the olden (read: golden) days. Standing right amid the chaotic beauty of Chandni Chowk is the Haveli Dharampura– a UNESCO-awarded Heritage Haveli in Delhi, inspired by the regal heritage. With 14 boutique-style rooms, you can enjoy the Mughal era's cultural heritage with contemporary amenities. There are 2 Shahjahan Suites, 6 Diwan-e-Khas rooms and 6 Jharoka Rooms to choose from. Each of these is tastefully styled while having a touch of the royal Mughal flair to it.
From the intricate artwork and ornate designs to its restored glory, Haveli Dharampura is a dream come true for any artist. It serves as a beacon of inspiration, attracting talented individuals from far and wide.
Price: Rs 14875/- onwards
8. The Roseate
A paradise of luxury and hospitality, this beautiful property is an oasis of beauty and tranquillity amidst the hustle and bustle of urban life. With its award-winning architecture inspired by five elements– air, water, fire, earth and sky – this one-of-a-kind urban resort offers guests an unforgettable escape. Guests are surrounded by lush gardens with towering colonnades paying homage to the royal lineage of Delhi as well as serene waterways that meander through the property. You will find intricate bronze meshwork in guest areas; doors rising up to 20 feet tall; high dome ceilings; Isfahan pillars blended seamlessly with Moghul architecture from centuries ago; and 650,000 brass ficus leaves adorning the entrance courtyard. With three distinct dining options, a luxury spa, an exclusive club and a boutique all on-site, you can be sure of a stay that is nothing short of extraordinary.
Price: Rs 33000/- onwards
9. Surjivan Resort
If old world charm is your thing, then Surjivan is the place to be! This award-winning eco-friendly retreat offers a unique escape from concrete jungles and an opportunity to reconnect with nature. The self insulating cottages are built from sun baked bricks and feature thatched roofs with 'Jarokhas' for natural aeration and cooling in summer as well as warmth in winter. Inside, guests will find solar powered interiors adorned with tribal artworks crafted by master artists and walls painted with spiritually enhancing Vedic Yantra Motifs - creating a therapeutic atmosphere like no other! Each individual hut is uniquely furnished and aesthetically decorated, making Surjivan the perfect destination for anyone looking for a little piece of history.
Price: Rs 5200/- onwards
10. Baweja Farm
Get teleported to paradise at Baweja Farm! Located in Manesar, this fabulous villa is the perfect getaway spot. With ample parking space, a huge lawn, and perfectly trimmed hedges leading up to the house, it's easy to feel welcomed as soon as you enter this property. The highlight of this place is undoubtedly the massive pool with a gazebo on its side – perfect for those hot summer days! It also has four brick-walled rooms that can accommodate up to 16 guests, making it ideal for large groups or families wanting some quality time together.
Price: Rs 40000/- onwards
If you have an exciting travel news to share with us, feel free to drop your inputs in the comments below. Or write about it here on Tripoto and earn Tripoto Credits! You can also follow me on Instagram to stay on top of my updates.