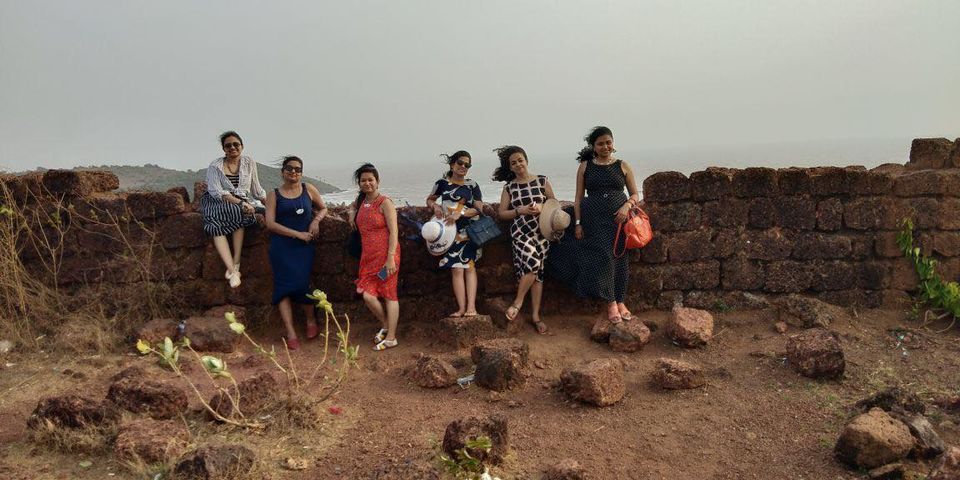 The beaches and Beer....Yes, we are talking about Goa! One of the most popular tourism destinations in India!
I had been visiting Goa since last 5 years almost once a year (sometimes even twice)! There are so many more to just Beer and the beaches! It solely depends on how you want to conduct your tour and what you are trying to attain. Goa has got something for everyone.
Most of my trips had been with the family and kids. However, this time we decided to tour with childhood friends! Sounds exciting? Yeah, I can not tell you how excited I was, in fact, all of us were! Six school friends in their late thirties, made it to Goa from different parts of India!!! Off course we were in regular touch through WhatsApp, but meeting in person after ages, and that too on that sandy beaches of Goa has it's own sorcery! You simply, can not let this opportunity go...
After months of planning, delegation of duties (at office & home), the gang of girls arrived at Goa on 24th May 2018. Piali & Nilanjana flew down from Delhi and waited for Soumee at airport, who was coming from Mumbai. Me & Saswati traveled from Bangalore and met Gargi, our sixth companion at Goa airport, whose flight from Hyderabad landed soon after ours. By that time the team Delhi & Mumbai had already reached hotel. Thanks to Soumee and Saswati, our hotel was pre booked, right on Candolim beach, a four star property with decent accommodation, clean rooms and a roof top pool. Our cab took us through the curvy roads witnessing the sea side, ports, mouth watering food joints and lash green trees & shrubs hanging over the path. We dumped our luggage in the room and rushed to the beach as half of the team was already there waiting for us with piping hot pepper chicken and Brizzer. Now, I feel embarrassed to remember how we screamed and jumped at the moment of our reunion. I am sure every single person present in the shak gave us a stern look. But the sea beheld a group of friends hugging each other and smiling through tears who came together after twenty looong years! This was a night to remember, a night to cherish our old days. We walked on that sandy beach and then on the adjacent road which is a hub for shopping, restaurants, bars and even super market. I had been here earlier. Hence, I suggested few nearby restaurants for dinner. Everyone was ready for a stroll till Kingfisher villa and then dinner at Fisherman's Kove. On the way we were attracted by the music coming from a small, not so famous food joint. Their warm welcome made us change our mind. We ate, drank and sang. The musician also probably got enthusiastic looking at us, reliving our childhood. After dinner we headed to the supermarket to buy a bottle of wine and some necessities like juice, face wipes, toothbrush (someone forgot hers and was unsure if the hotel is providing a dental kit) etc. After all we are ladies and shopping is always on our priority list. Saswati was the accountant for the day. On the way back hotel, most of us called home to find out how our better halves are managing in our absence? If the kids are fine? One had to attend a few official calls too. Upon return, we all gathered in one room and chit chatted. We laughed and talked till our stomachs ached. Finally, at 3 am we hit the bed.
The day 2 began with Soumee & Piali pulling the rest of the team out of blankets. As per plan we quickly freshened ourselves and headed towards the beach. It was a calm and pleasant morning. Soft sun rays beamed on the waves. We spent some time playing in the water, jumping over the waves and off course clicking some photographs. I purchased a round hat from a local vendor to protect myself from the sun rays as I missed carrying mine. The breakfast was waiting and who wants to miss a complementary one! When you are in Goa, you must drop the idea of dieting. So, we stuffed ourselves with egg, bacon, paratha, fruits and what not! Now, the body needed some rest. Soumee, being the fittest of all wanted to head for swimming but we instantly rejected the idea. We settled in one room and started planning the rest of the day. It was already hot and going out was not a great thought. So, after some laughing and leg pulling sessions like school days we embarked on our next activity. Yes, a pre-planned one. Gargi had got 6 white t-shirts for us (off course as per our sizes) with a caption reading "Aged to perfection" (we got it customized). Nilanjana got her daughter's painting kit. Six of us chose six different colors and painted flowers on the back of each t shirt using our colored thumb impressions. We signed at the center of the flowers; a signature of love; a signature of the maturing friendship. It took quite some time. We decided to let the t shirts dry and head for a late lunch followed by a visit to Chapora fort and Baga beach. The lunch was simple at a local restaurant with Goan fish & prawn curry. An Innova was booked for the day and the driver did not make us wait for more than 5 mins. Chapora fort was around 12 KM. We surpassed velvety green fields, few small lakes and few batches of children returning from school. As I had visited this earlier, I informed my friends about the loosely pebbled road and distant parking. So, we chose flats / floaters to avoid an unwanted fall. To our surprise the place was quite crowded. People struggling to strike a balance with hat, umbrella and some, even beer bottles! Realizing that it is an unequal battle I decided to let go the hat. Upon reaching the top every group was trying to occupy the best spot (basically the walls to sit on, almost hanging over the Vagator beach) and click a "Dil Chahta Hai" replica. It is a pleasant place to wander that offers fantastic views north across the Chapora river to Pernem south, over Vagator and Arabian sea in the west. We had our share of fun and headed towards Baga beach as sunset these was in our checklist and we were in no meed to let it go.
Baga beach was as crowded as ever. Since the parking lot was full, our cab driver advised us to get down at the entrance where as he will try to get a parking else where. The tourists from different parts of India and overseas, shops with fancy clothes and jewelry, shacks made it look like a carnival. Brittos is my all time favorite. Since the rest of the crew agreed, we headed towards Brittos and grabbed a table by sea side. Soon we started feasting on fried squids, king fish, prawn cocktail, The Blue Lagoon etc relishing the signature taste of the famous restro-bar. Soon, one wicket was down. Yeah, Piali was a little uncomfortable after gulping down two cocktails and decided to go back to hotel. We ensured her safe return and then headed towards Tittos, our next venture. Most of us, who had visited Goa earlier wanted to visit Tittos but never could make it there as kids are not allowed and we could not leave them...(yeah..call it the "mommy thing").
To our surprise it was a free ladies night at Tittos and we saved some bucks. As most people know, they have quite a few dance floors, we hovered around a couple of them initially and finally settled down to the one playing Bollywood music. This floor was two tired. The lower section had maximum crowd (may be because they were serving free drinks there). The upper tire was relatively less crowded with more options for drinks. We moved there and enjoyed our time with hilarious some moves. Finally, around 1:30 am we called it a night.
We wanted to spend our last day in leisure. So, getting up late and rushing for the breakfast was obvious. The strong coffee killed the hangover soon. The hotel claimed to have an infinity pool and we decided to experience that. To be honest, it was a simple roof top pool. However, not a bad arrangement to bit the heat. The best part was you could see the Candolim beach while relaxing in the water. The day was hot and humid. Hence we decided not to go out and have lunch at the hotel only. The lunch was available in a restaurant facing the entrance of the hotel (different from the breakfast cafe). Believe it was the outsourced unit of the hotel where non boarders can also fill their stomach. The restaurant took a long time to process our orders, however, the food was good, specially the salads and fish preparations. Now, it was time for our customized t-shirts (I have preserved that in my wardrobe, wrapped in a cover, as a souvenir of our memorable trip). Yes, we wore them and snapped in them. to our surprise, there was a wedding photographer who volunteered to shoot some clips.
The evening was scheduled for shopping. Calangute beach was not far. So, as advised by the hotel staffs we got share taxis and buses to reach the beach. The vehicles drop you at the entrance of the Calangute, from where the actual beach could be nearly 1.5 KMs. This crowded walk way is no less than Delhi Palika Bazar. Clothes, junk jewelry, foot wear, hats, toys...you name it and you have it. But you need to be a pro in bargaining to shop here. I loved the collection of swim wear and jumpsuits. Soumee & Nilanjana purchased some statement jewelry. At the end of three hours shop hopping we found our bags filled with clothes (mostly for kids and better halves), floaters, cashews, swimsuits, juices etc. After straining our legs so much, now the stomach started revolting. Hence we quickly headed towards a food joint on the beach. Like most food joints in Goa this also served delicious food. The butter garlic nun and baked prawn with cheese sauce combination was simply out of the place. It was nearly 11pm and time to get back to hotel. However, returning hotel was not easy. We struggled for sometimes to get a cab and finally after much negotiation one taxi driver agreed to drop us.
We had a bakery next to our hotel which was still open. As planned we picked a small piece of chocolate cake from there. The initial plan was to buy a cake and cut it to celebrate this trip, a milestone of our friendship. However, now everybody was quite full and buying an entire cake will call for wastage. So, we settled down with a piece of it. Upon reaching our rooms we quickly finished our packing and then cut the cake together. This was the last night of our trip and we wanted to make the most of it. After loads of fun filled chit chat we wrapped up around 2:30am.
Gargi woke me up around 5am. She had an early morning flight and I found her all set to leave. It was raining heavily. We requested to cab driver to come under the portico so that Gargi can board the cab to airport without getting drenched. Soon she left for Hyderabad.
The morning breakfast did not taste great. We all were heavy hearted, trying to be contingent with the fact that this wonderful trip is coming to an end! Slowly we completed our last minute packing and waited for the cab. Team Delhi, Mumbai & Bangalore had flights within a gap of one and half hours. Hence we planned to go to the airport together. The cab took us through the same curvy roads, sea sides and the food joints like the day 1. But it looked so different, so quite. May be we missed the excitement of the first day! Team Bangalore and Mumbai had a long wait at airport due to the delay in flight. However, team Delhi flew off soon. Before that we took our last group picture of this memorable trip. After some more wait the boarding for flight to Bangalore was announced. Soumee still waited for her flight to Mumbai. Me ad Saswati kept waving at her for the longest period. At airport our respective families waited and we headed towards home in some time.
The day ended with everyone's msg of safe return at the WhatsApp group. Around 1am a msg popped up in the group. It was soumee, writing "Wake up girls! When are we going to plan for our NEXT TRIP?"