From Agra, our trip proceeded towards Fatehpur Sikri, 35 kms from Agra, which is often described as Akbar's dream in red sandstone. Lunch time was closing in, we stopped for lunch at one of the restaurants on the highway and after a hearty meal, we reached Fatehpur Sikri, around 2.30 PM.
Some lessons in history and some for life
Akbar, the greatest of the Mughal kings, as we all know, founded the city of Fatehpur Sikri and made it his capital at the peak of his reign in 1571 A.D. One of the reasons for choosing Fatehpur Sikri was in honour of the great Sufi saint, Salim Chisti, who lived there and whom Akbar revered. Today, Fatehpur Sikri is listed in the UNESCO World Heritage Site and the celebrated example of Mughal architecture under Akbar.
As we approached the gateway to Fatehpur Sikri, our cab driver informed us that private vehicles were not allowed near the actual location of Fatehpur Sikri's monuments, we had to take shuttle buses. He also told us that Fatehpur Sikri was too big a place to explore on our own and that we wouldn't know what to see if we did not hire a guide. Even as we were contemplating, he parked the car at the parking lot and immediately, the car was surrounded by burly looking men. One look at them and we knew we had no choice but to hire the guide they would refer us to, such was their looming presence. In fact, starting from that moment, we knew we would have no say in our sight seeing trip !
We boarded the bus and followed the guide into Fatehpur. We were greeted by this royal mahal.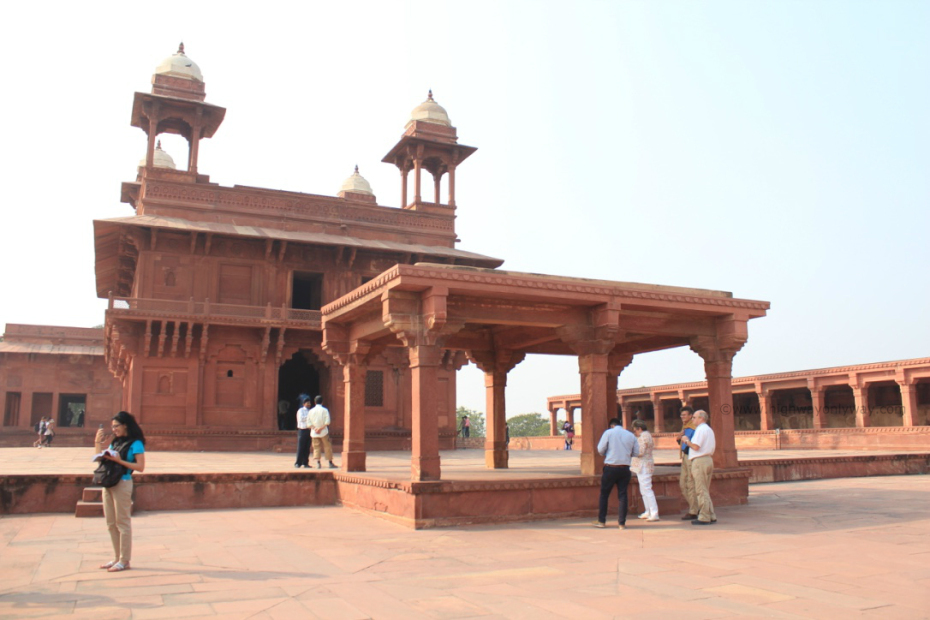 The guide rambled on about the history but we were too lost in the bright hues of the red sand stone all around.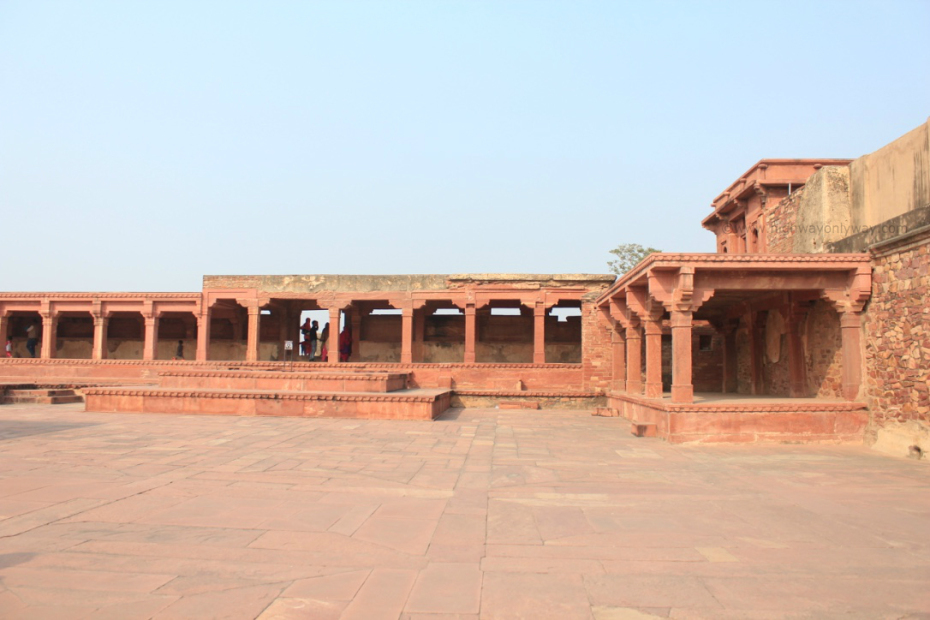 Akbar moved his capital from Agra and had Fatehpur built as his dream project, probably why even the buildings turned out as dreamy as these !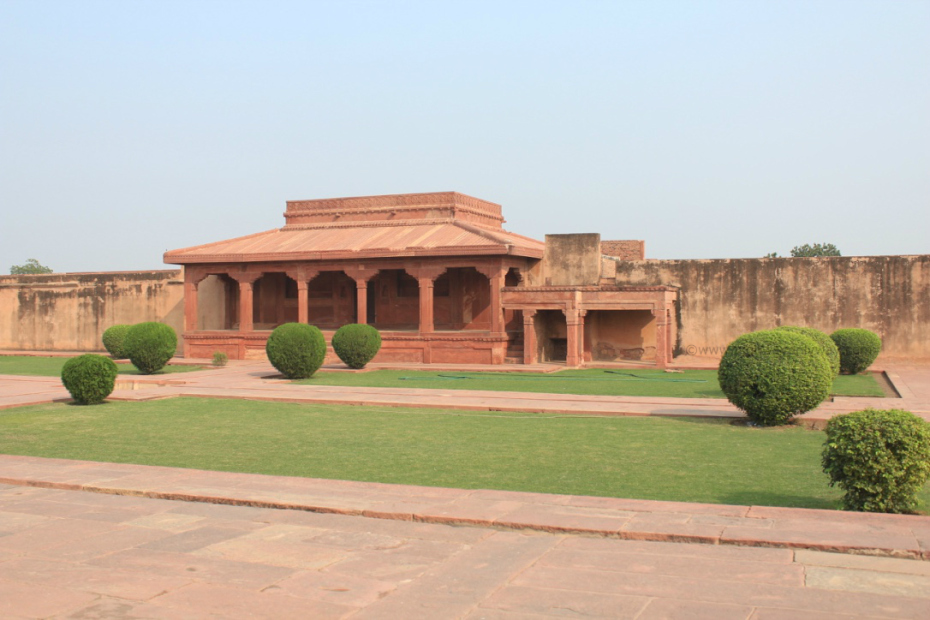 We hardly got some time to admire the architecture because the guide was in a rush to finish up the tour, it felt like somebody had tied us down because we usually spend a lot of time exploring a place, looking at the architecture and clicking pictures.
Running to keep pace with the guide, we were shown the Din-e-Ilahi Pillar. Din-e-Ilahi was Akbar's idea of religious harmony and it was a new religious movement propagated by him which took the best from all the religions in India. This pillar in Fatehpur is a combination of sculpture forms of all the religions and represents his principles of Din-e-Ilahi.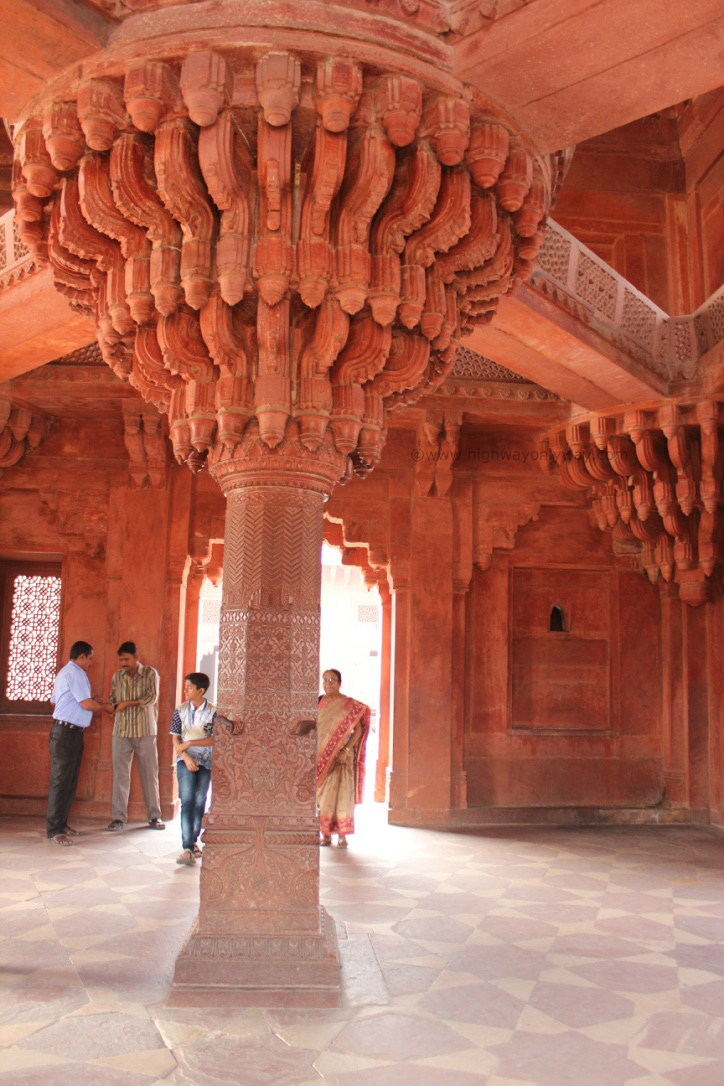 One can see the Hindu, Islam, Jain/Buddhism, Christian, Sikhism styles of sculpture and architecture all blended into one pillar. This we found very fascinating. But, Akbar's Utopian idea of religious harmony did not take off and even after 400 odd years, this harmony has eluded the world !
Next, we were rushed past the private areas meant for the royals, the Panch Mahal being the most important one. It is designed to look like a temple and has been built in such a way that one could enjoy the cool breeze from each floor.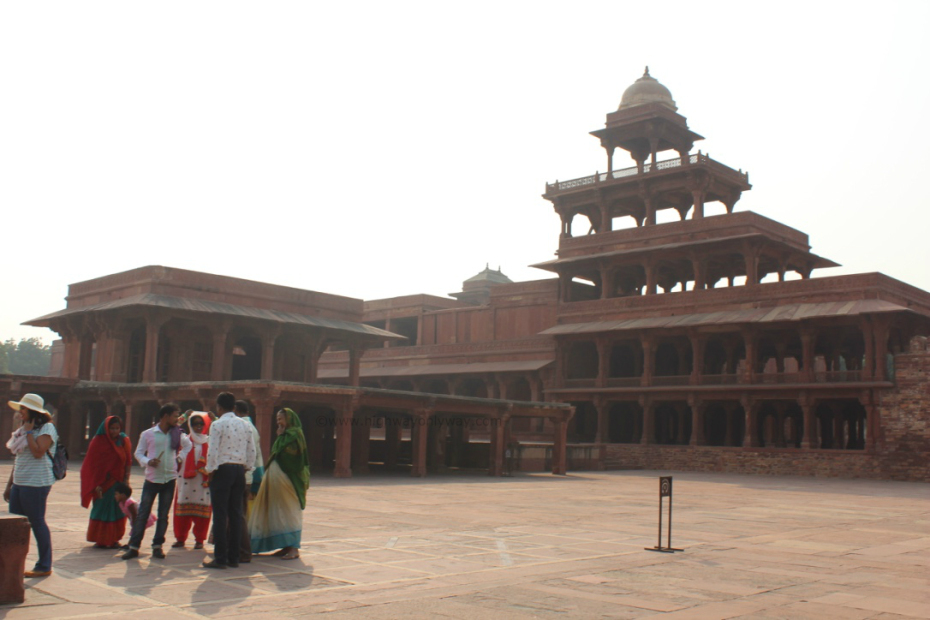 We don't have a better picture because the guide seemed to get annoyed if we stopped for more than a few seconds to click pictures. We now understand why History is not a favourite subject with students. Teachers simply rattle off events and dates, nobody bothers to stop and make them appreciate the lives of those who lived before us.
Next to the Panch Mahal is one of the private chambers of the Chief Queen.
You could imagine the queen relaxing on a pleasant evening watching dancing girls and listening to the music.
Music was an important part of the Mughal culture with the mystic Sufis and Hindustani musicians, the legendary among them being Tansen. Perhaps, the most charming structure of Fatehpur is the Anoop Talab.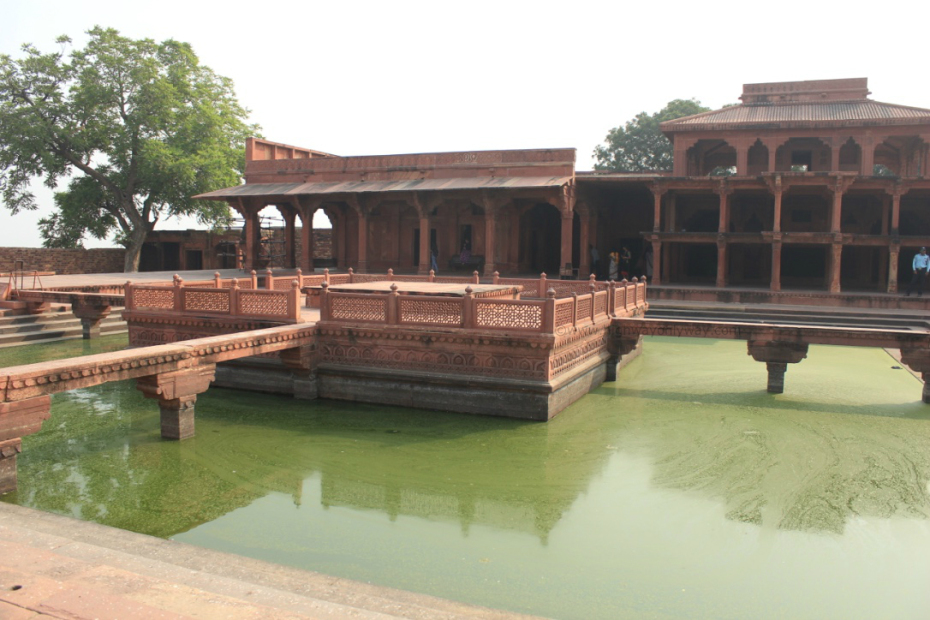 The open air stage in the middle of a pool where musicians entertained the king on evenings, chief among them being Tansen. There are stories about how Tansen would sing the Malhar Raag and could move even clouds and bring in rains or how he could light lamps with his Deepak Raag.
Take a moment and imagine an evening where Akbar sits in one of the rooms on the top floor and Tansen rendering his raagas under the cool breeze and as night falls, his music reaches a crescendo and the lamps light up ! Or imagine Tansen's voice making clouds gather, melt and send down showers in appreciation of his music ! Of course, it was all poetic liberty and stuff that legends are made of but the setting is so perfect for your imagination to travel back in time.
Up next were the living quarters of the Queens, more specifically, the Rajput princesses.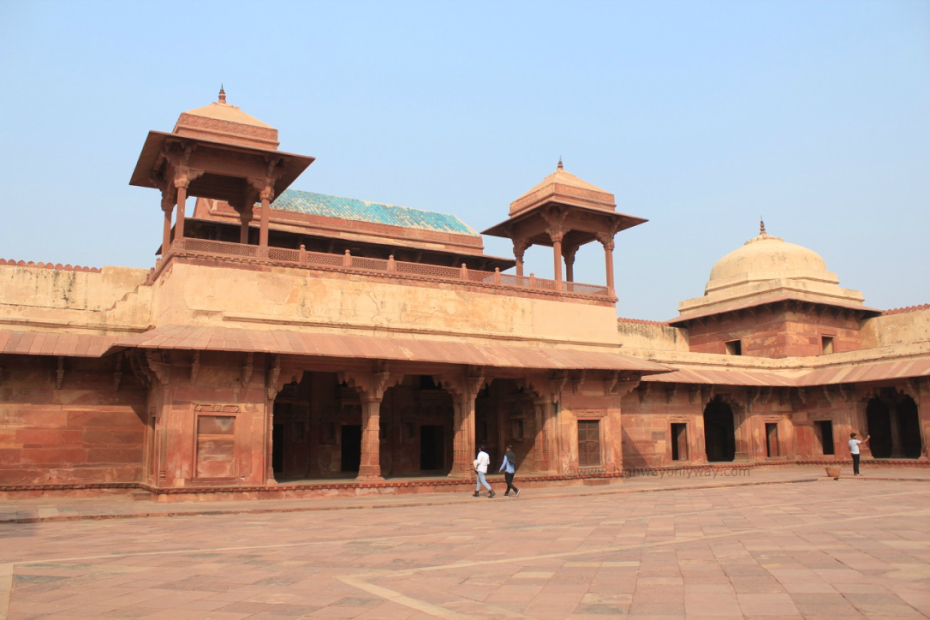 An interesting feature of this part of the fort is that, the architecture is heavily dominated by Hindu features which, the guide will tell you, was because these were built in the Rajasthan style because the Hindu princesses lived there. Check out this mandir, a prayer room built for Queen Jodha.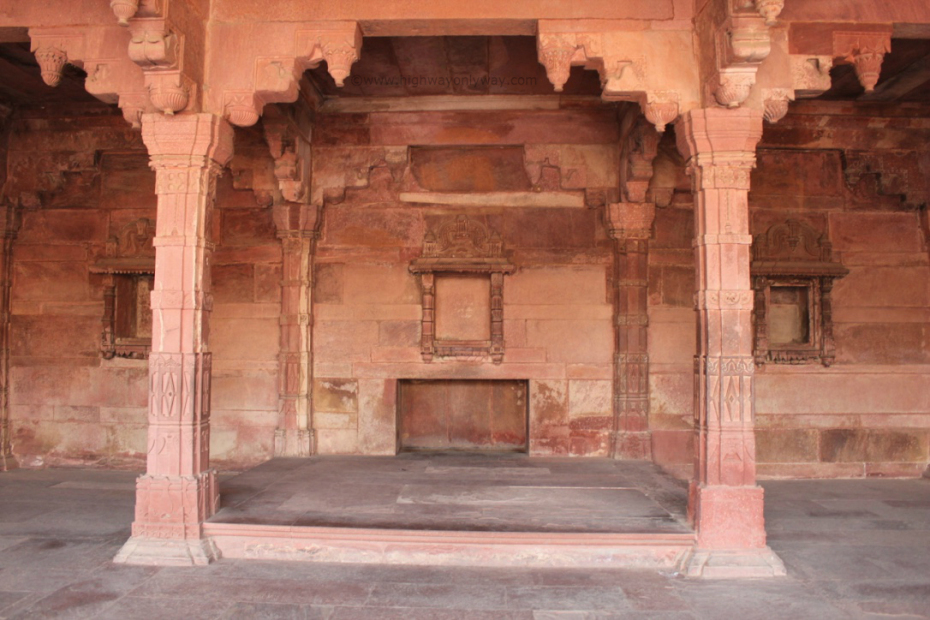 It seems, Akbar even had a separate kitchen built for Jodha because she was a vegetarian ! While there are different opinions on whether Jodha was real Queen or a fictional character but at Fatehpur Sikri, her name reverberates in every where.
Here is one more of the several chambers of the noble women, this one shaped like a hut.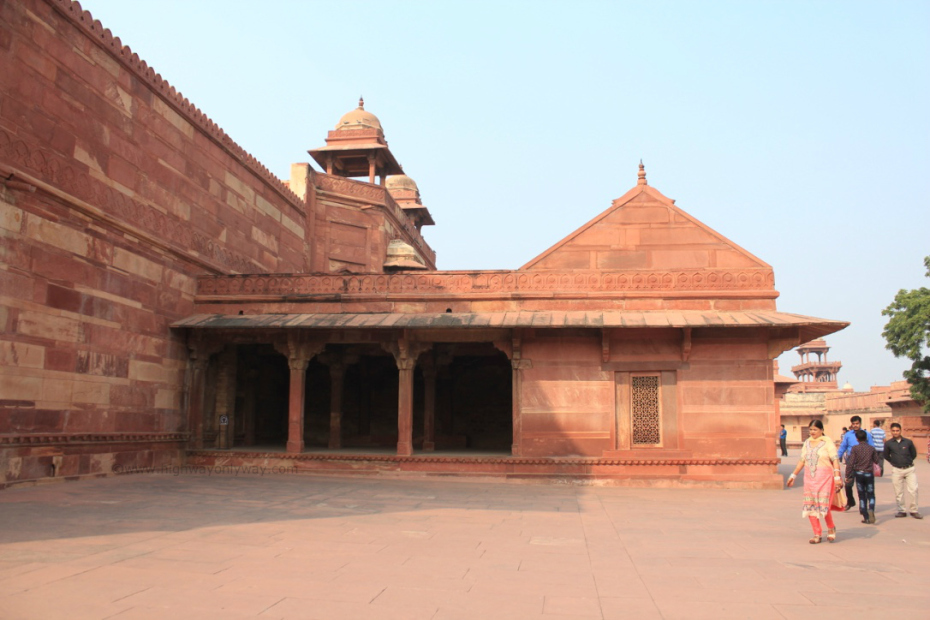 Akbar's dream capital and royal palace was abandoned after about 15 years because the dry area of Fatehpur Sikri ran out of water and it was not possible to sustain a capital with such severe water shortage.
We had hardly registered the whole tour in our minds when our guide announced that his duty ended there and he was going to introduce us to another guide who would show us Sikri ! Our expression is left to your imagination !
Not in the name of God !
It wasn't until we visited Fatehpur Sikri did we know that Fatehpur and Sikri were technically two different places, though both are located beside each other. Sikri was the name of a small village with a large water body near by, it was the home of Salim Chisti. Inspired by the Sufi Saint, Akbar, decided to make the area his capital and built Fatehpur beside Sikri. It was the water body near Sikri that served as a water source to the entire capital and when it dried up, Fatehpur Sikri had to be abandoned and the capital was shifted back to Agra.
Sikri looks regal, the architecture also reminded us of the British era buildings especially the National Art Gallery at Madras.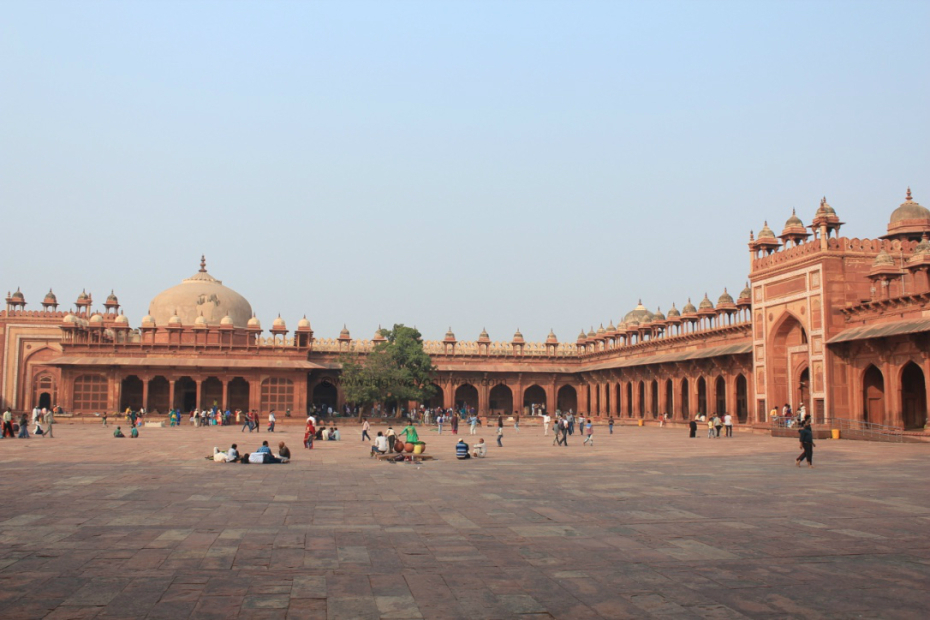 Indo-Saracenic architecture, as the British architecture in India is usually called, must have been inspired by these Mughal buildings.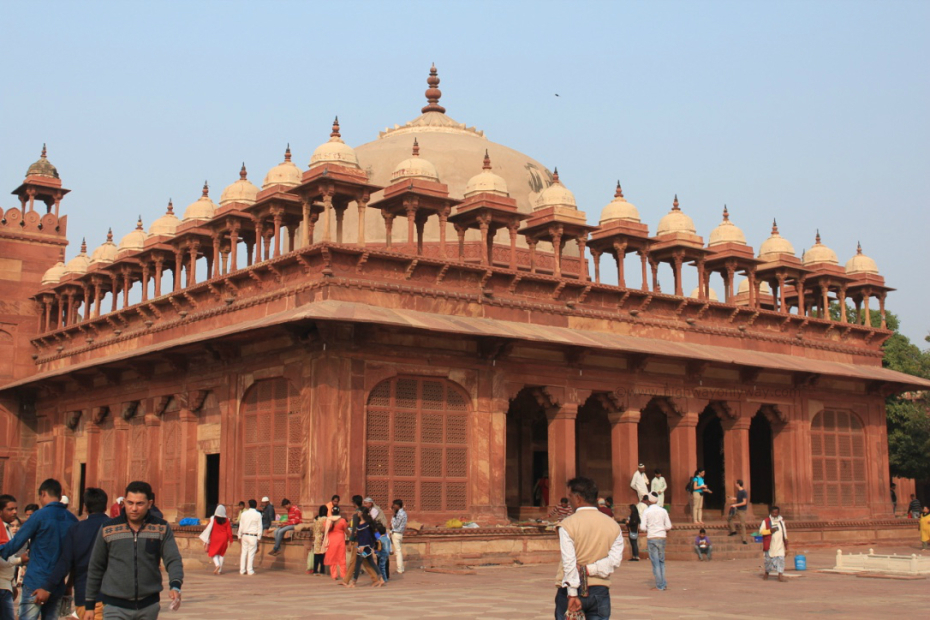 The guide continued showing us around, honestly, we did not pay much attention, especially when we were being told stories like how Anarkali was not actually entombed alive but Akbar had an escape passage built so she did not have die, he only wanted to separate Salim and Anarkali. Now, we know that Anarkali was a fictitious character but we have government authorised guides narrating these stories and expecting us to amazed by them !
But, what really ruined the entire Fatehpur Sikri experience for us was the tour of Salim Chisti Tomb. Located amidst the red sandstone structures of Sikri, the tomb is the only white marble monument and like all other Mughal structures, looks elegant and pristine. To the left of the Tomb is the Jama Masjid, the Jama Masjid at Delhi almost looks like a replica.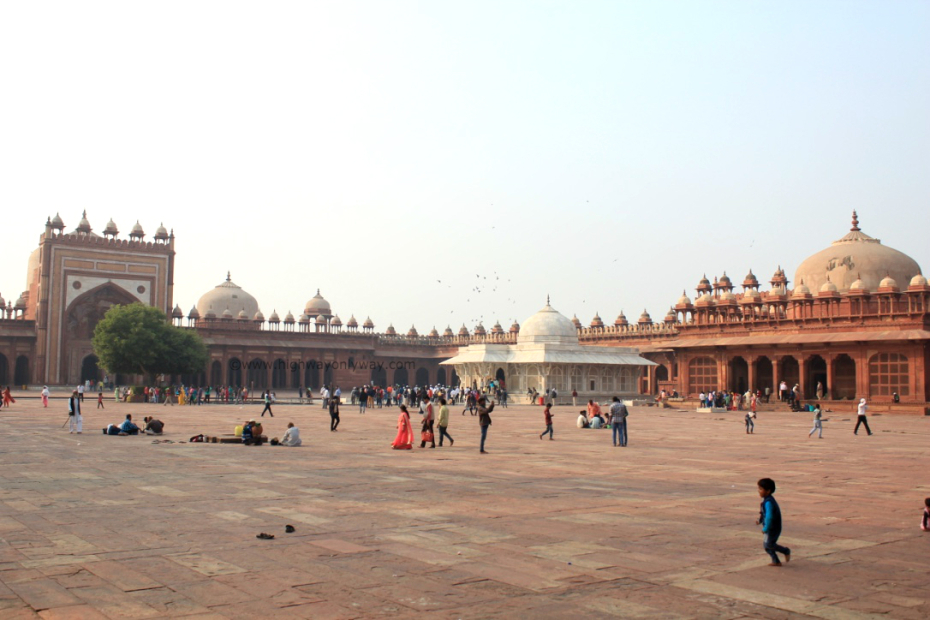 Before visiting the Tomb, we were given instructions and lecture on the traditions of the Chadar and Mannat, how the proceeds of whatever we buy go to help the poor and so on. We had mentally decided we weren't going to do any of those but obliged to follow the guide to one of the guys selling the decorated Chadar and the sacred threads to be tied to the grills of the Tomb after making a wish.
We were shown the Chadars and listened patiently to every thing that was told to us, then we said we weren't keen on buying anything. And then, all hell broke loose, the person who was selling the Chadar suddenly became rude, almost to the point of abusing and creating a scene. We suppose, they rely on the fact that if they raise their voice, ordinary tourists like us would want to avoid any ugly scenes and succumb to their pressure. Like every tourist taken for a ride, the Chadars and Mannats were forced upon us, we had to spend Rs.1000/- unwillingly. We were disgusted and shaken by the whole experience and fraud in the name of God, fleecing of tourists in the name of the holy saint ! Respect people's beliefs but making a business out of it is unfair. We do hope the concerned authorities do something about it.
After that point, we lost it. It dawned upon us that right from our hotel who booked the cab to the cab driver to the hotel where we had lunch to the ones who insisted that we hired a guide to the first guide who showed us Fatehpur to the second one at Sikri to the shopkeeper selling Chadar, they were all part of the network out to cheat tourists ! If Indians can be taken for a ride, imagine the plight of foreigners ! So much for Athiti Devo Bhava.
After this point, we didn't care what the guide was telling us, we vaguely remember him telling us about the marble and carvings on the Salim Chisti tomb. We were not in the mood to click any pictures, just about managed to click this one for the record.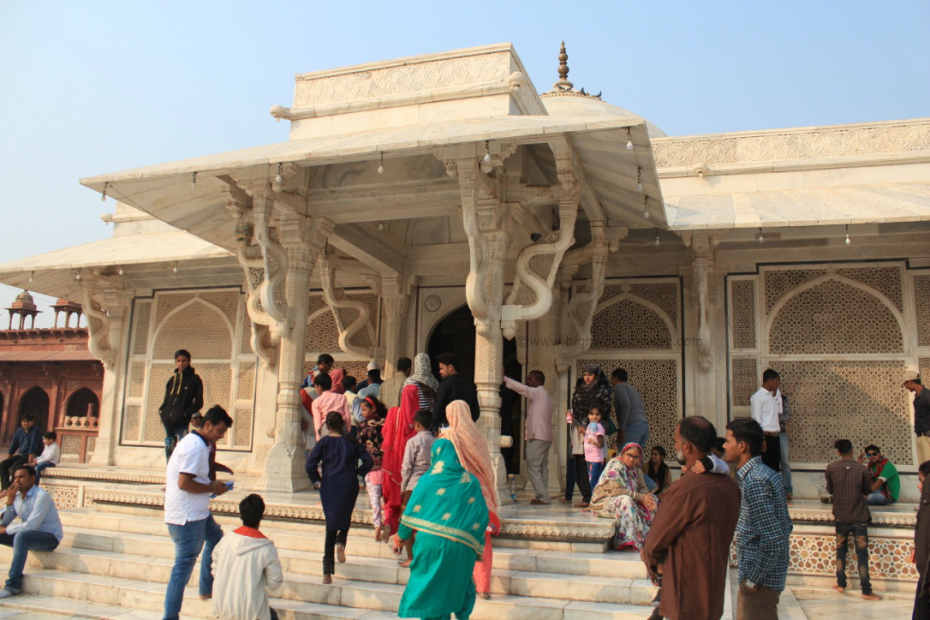 Instead, we turned our attention to a group of singing Sufi songs outside the dargah, atleast the music was soothing.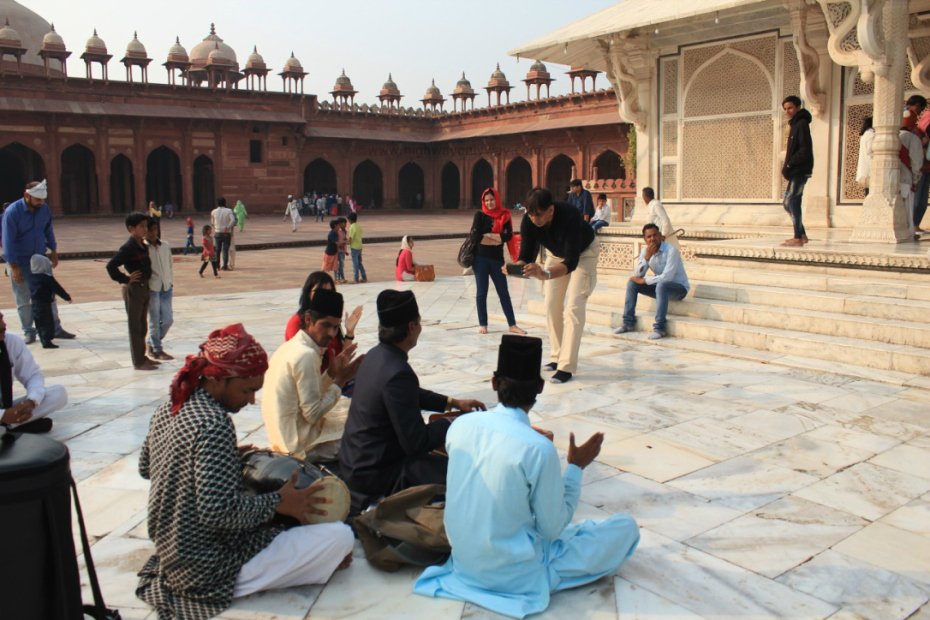 We would have wounded up the visit, if not for Buland Darwaza, supposed to be the highest gateway in the world. Even from inside Sikri, one can see how massive the gateway is.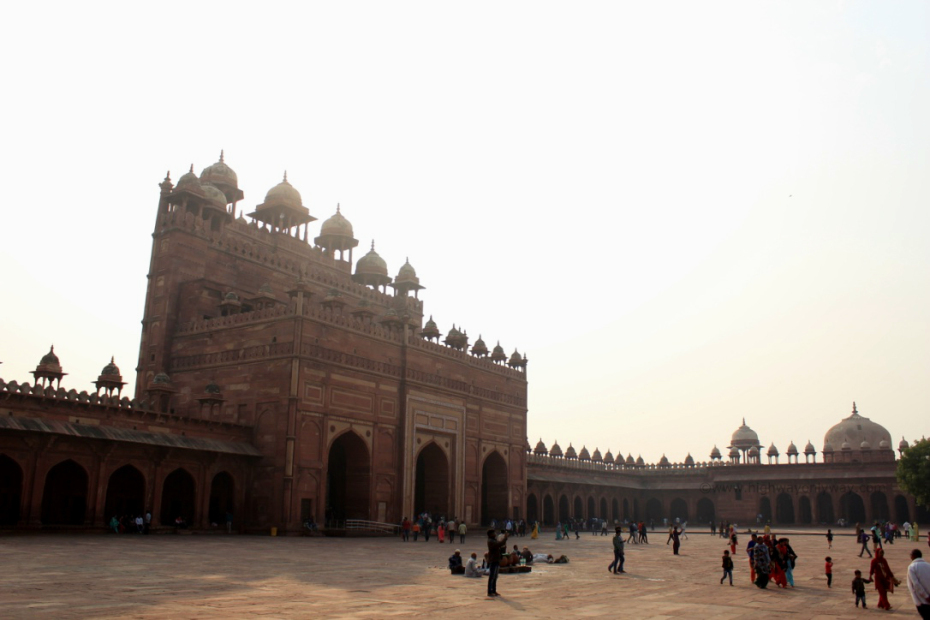 To see the front face of Buland Darwaza, one has to go outside the Sikri complex through the same gateway. May be it was our disinterested mood, we simply scanned the Buland Darwaza, our reaction was something on the lines of "nice" ! This photographer did not even think of taking a proper picture of it.
It is hard to fit the colossal gateway into a single frame unless you walk down the steps before it and take a long shot.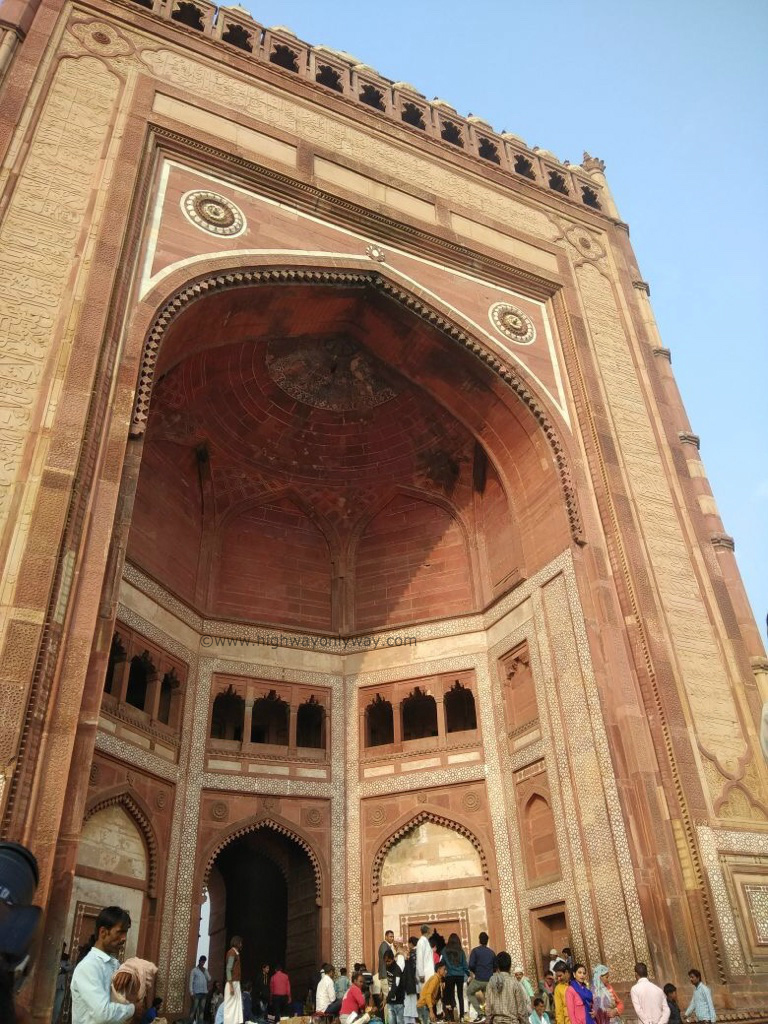 We do not remember what the guide told us about its architecture and other features, one could always look up for more reliable information on the internet.
Back inside Sikri, we were shown the corridors where the famous song of the 1990s from the film Pardes "Do dil mil rahe hain", was shot. There is some kind of a grace in these long, arched, red sand stone corridors, a signature mark of Mughal architecture.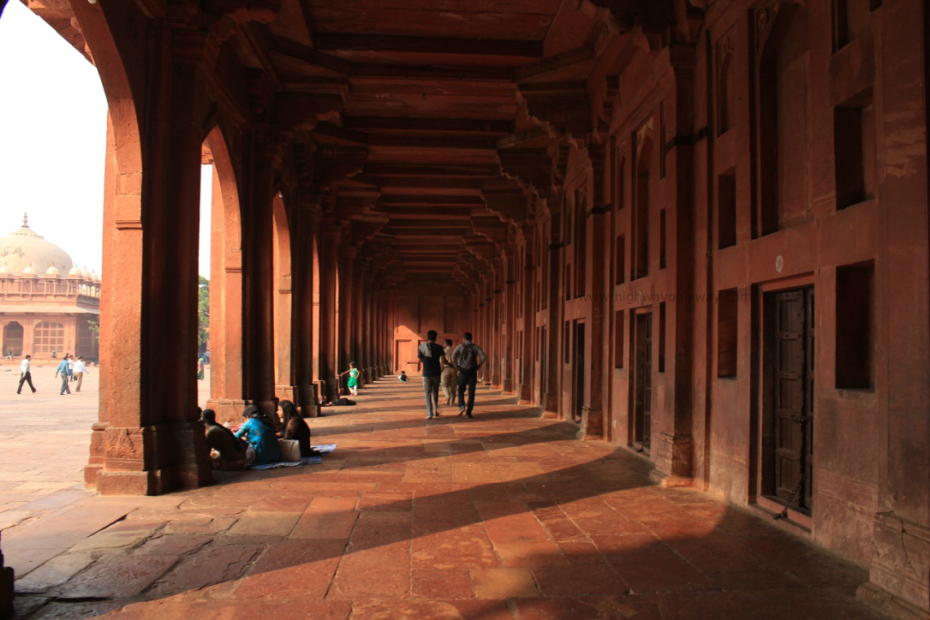 We spent a few minutes more looking around and then decided it was time to leave. As we were leaving, a few kids surrounded us telling us that they would recite some shayari, in return, we would pay them. We refused, yet the kids wouldn't stop and as we wore our footwear, they recited things that were inappropriate for kids that young, imagine a 10 year old describing the beauty of "madam" and how "sir" is lucky ! It was sickening that someone taught these verses to the kids and they mouth them without knowing the meaning. We told the kids to use their intelligence for their studies and left the place.
We hastily paid the guide and took the shuttle bus back to the parking lot. We complained to the cab driver about how we were fleeced and told him there were unfair practices going on, he simply reacted with a "acha" ! With nothing much to do, we travelled back to Agra, had one more round of our now favourite vegetable juice, spent some time buying the famous Agra Petha, followed by dinner at a random restaurant and reached the Agra railway station to catch the Shatabdi Express to New Delhi. In less than 24 hours time, we had seen the "who's who" of India's tourism !
The train scheduled to arrive at 9 PM was late by more than an hour. Tired, we decided to catch some sleep in the train but dinner was served when we least expected it. It was exactly the same menu that was served to us on the Rajdhani ! Second round of dinner done, we couldn't stop ourselves from dozing off and woke up a few minutes before New Delhi arrived.
New Delhi was only a transit, we were to catch an early morning train to Amritsar. We had booked our rooms at Smyle Inn, a short walk from the New Delhi station through the narrowest, strange looking bye-lanes of Paharganj ! Walking through those lanes in the middle of the night, we never thought we would be doing it in our lives. Travel is fun, bitter experiences and all !
Info tidbits
Fatehpur Sikri is 35 kms from Agra and a cab could cost around Rs.1800/-.
This includes Agra sightseeing and round trip to Fatehpur Sikri. Authorised guides charge Rs.250/-.
There are separate guides at Fatehpur and Sikri. We suggest you read up all the information on the internet or buy and audio book. Stay away from guides if you can.
Even if you hire a guide and you are not keen on paying for the Chadar and Mannat, be firm and tell the guide that you are not interested. Though we were given a quick tour, one can spend about 2 hours at Fatehpur Sikri, the place is really beautiful.
"The content and pictures on this blog are owned by the authors of http://www.highwayonlyway.com and are not available for copying or reproducing elsewhere without any written consent from us."