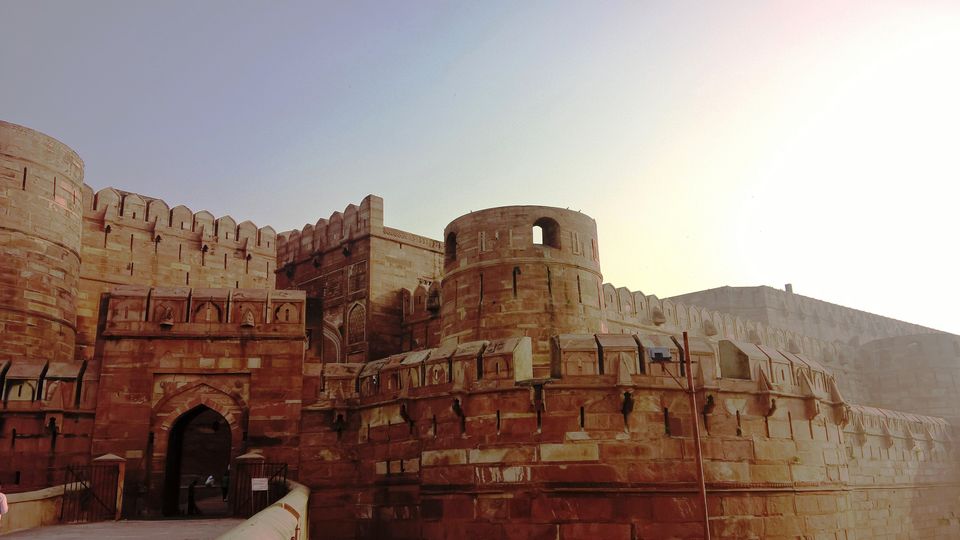 Our plan to visit Agra was made in less than 15 minutes. Two bored souls, desperate to take a break, sat together one auspicious evening. One said, "I wish we could take leaves and go on a long vacation." "We can't. It's time to wrap up projects at work. We can't be on a long leave now," thus spake the more pragmatic other. I was about to change the topic, when he added, "But, you know, we surely can go somewhere this weekend. A two-day break will do, won't it?"
And we decided to go to Agra.
The next 15 minutes whizzed by in a blur. We looked up the route map; browsed through hotels; swore at the internet connection whenever it got slow, let out a round of lamentations which ultimately compelled Destiny to be a good girl and propitiate us and, voila, we chanced upon an incredible five star deal!
I did a short jig in the room. Such rare luck demands appropriate celebration.
Our next job was to download suitable music to play on the road and pack munchies. Next morning saw us happy souls getting into the car and driving towards Agra.
For someone like us, with a lust for the past and an appetite for the road, Agra is the perfect destination. Being only 5 hours away from Delhi, Agra is ideal for a weekend gateway. Now, people like us who have already visited Agra more than once surely need a revamped itinerary to lure us on. Of course the Delhi-Agra road was fascinating enough to inspire one to take the trip, but we needed to find something new in Agra, something besides the obvious attractions of Taj Mahal or Agra Fort.
So this time we decided to visit Mehtab Bagh (the little-known Moon Garden which in its ruined glory shows the finesse of Mughal garden-art), the palace of the Mughal Mary and Sikandra, where Emperor Akbar rests in eternal peace. But of course, can any conscientious traveller come back from Agra without paying a visit to the Taj Mahal and Agra Fort? Not really! We planned to turn up at these two spots at the wee hour of dawn to enjoy an undisturbed rendezvous with the past.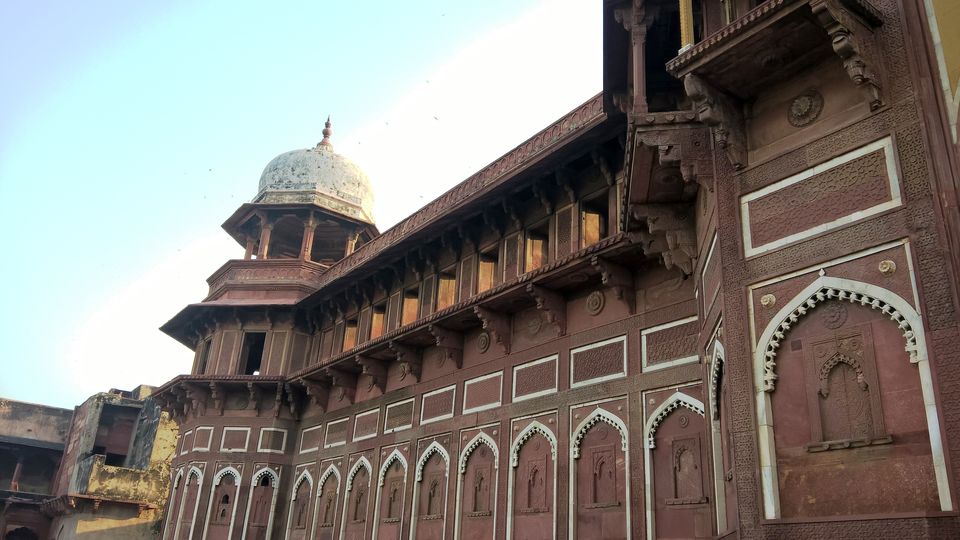 After stuffing a sumptuous breakfast at our hotel Clarks Shiraz, we headed for Fatehpur Sikri. It was a meagre 3 hrs. drive from Agra. The road between Agra and Fatehpur is smooth and wide, making the drive a pleasant experience.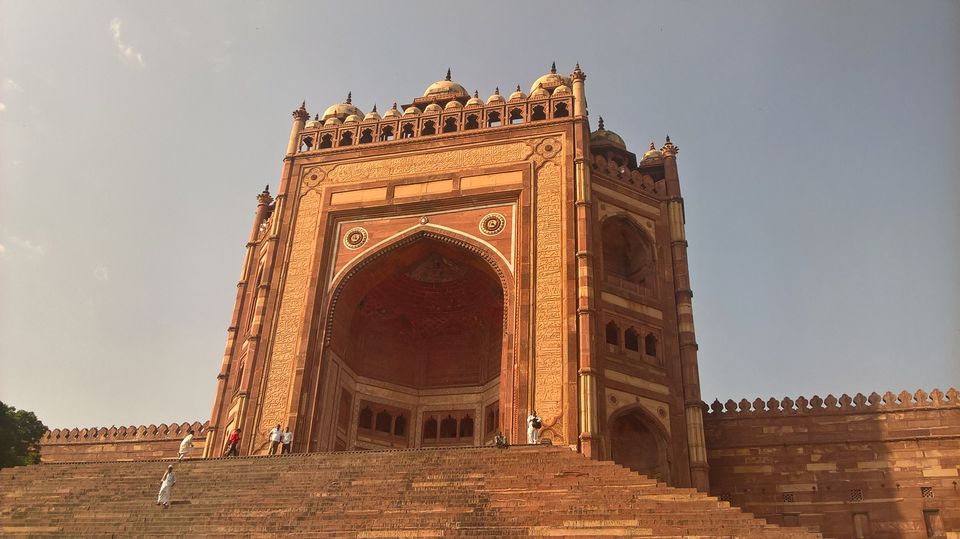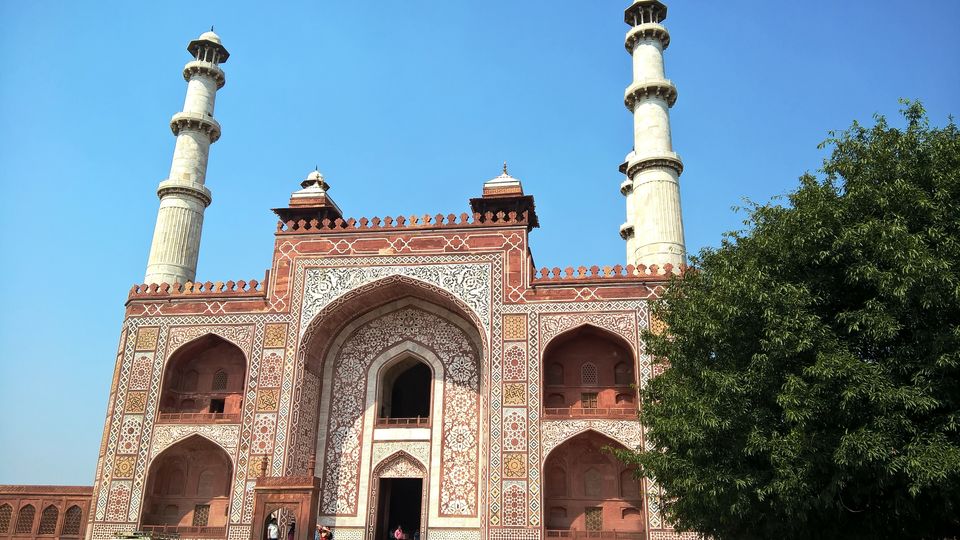 Shah Jahan built this garden during 1631 and 1635 A.D., as apart of hid grand mausoleum dedicated to his beloved wife.Romantic in its name, Mehtab Bagh or the Moon Garden was designed by Shah Jahan as an ideal place to enjoy the beauty of Taj Mahal on moonlit nights. To read about how we enjoyed ourselves in this shahi garden, read my article on Tripoto.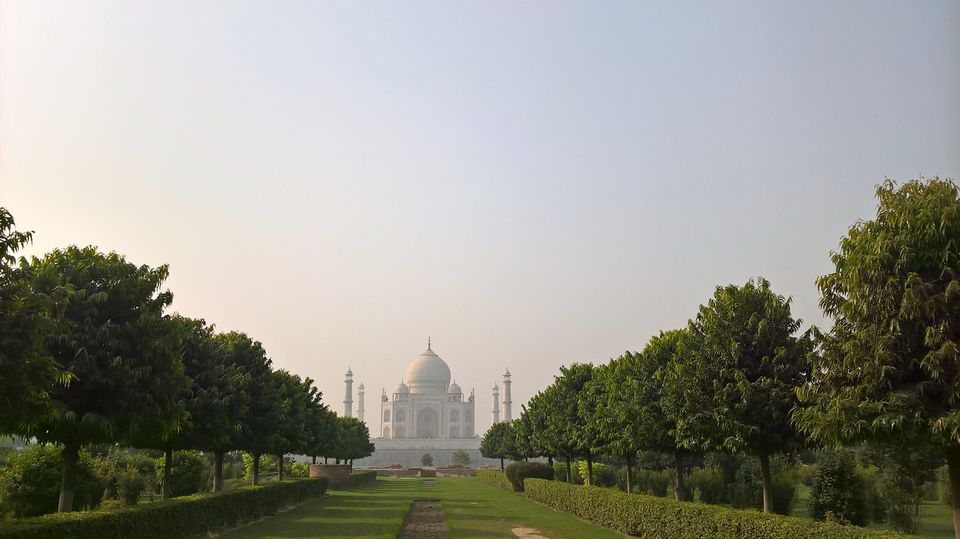 I am not a morning person, have never been one. But the next day saw me hopping off my bed at precisely 5:30 a.m. with a plan to see the morning sun touch the ancient fort.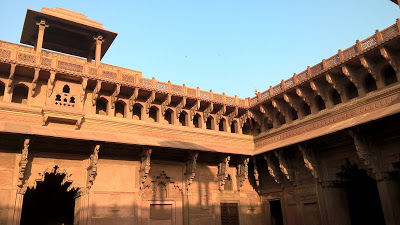 Agra fort is a seat of history. The site was originally called Badalgarh. It had witnessed the rise and fall of many dynasties-from the Lodis to the Mughals. The design and architecture of the fort too had undergone many changes following the whims of its royal inhabitants. Ibrahim Lodi held this fort for 9 years, after the death of his father Sikander Lodi, who incidentally was the first to make Agra a centre of power. The fort still has several mosques and wells that were built during the Lodi period. But the glory days of the Lodi dynasty ended with the Battle of Panipat in 1526 when Babur defeated and killed Ibrahim Lodi and pioneered the march of the great Mughals in India. Humayun, Babur's son, captured the Lodi fort and seized vast treasure which included the celebrated Koh-i-noor diamond.
In 1558, during Akbar's reign, the fort got renovated with red sandstone, but only to be draped again in immaculate white marble as per the wish of its Shah Jahan, whose love for white marble found its finest expression in the Taj Mahal. Shah Jahan built white marble palaces and mosques inside the Agra Fort called Moti Masjid, Nagina-Masjid and Mina Masjid. Agra Fort also saw him spending his last days looking over the Jamuna to the Taj Mahal, where his beloved wife slept in heavenly peace.
Standing inside the Musamman Burj (the octagonal white-marble tower, facing the Taj Mahal) in the purest golden light of a morning sun, one can almost see the old Emperor Shah Jahan's melancholy face as he counts his last days in imprisonment.
Agra fort tells a strange tale of love and hate. Aurangzeb's hatred culminated in the imprisonment of his father, while the last days of the long-suffering Shah Jahan saw Jahanara nursing her dying father with an almost maternal love. One never knows if it's a husband's love for his deceased wife, or an artist's love for his masterpiece that made Shah Jahan draw succour from the view of the Taj Mahal. Seen from the fort, the misty Jamuna looks like the dim eyes of an old man. And in the distance stands the Taj Mahal, half visible through the morning fog, like a long-forgotten but eternal lovestory. The sun rises, its rays piercing through the filigree work of the marble arches and lighting up the place from where centuries ago Shah Jahan had departed to meet his bride at the other side of life.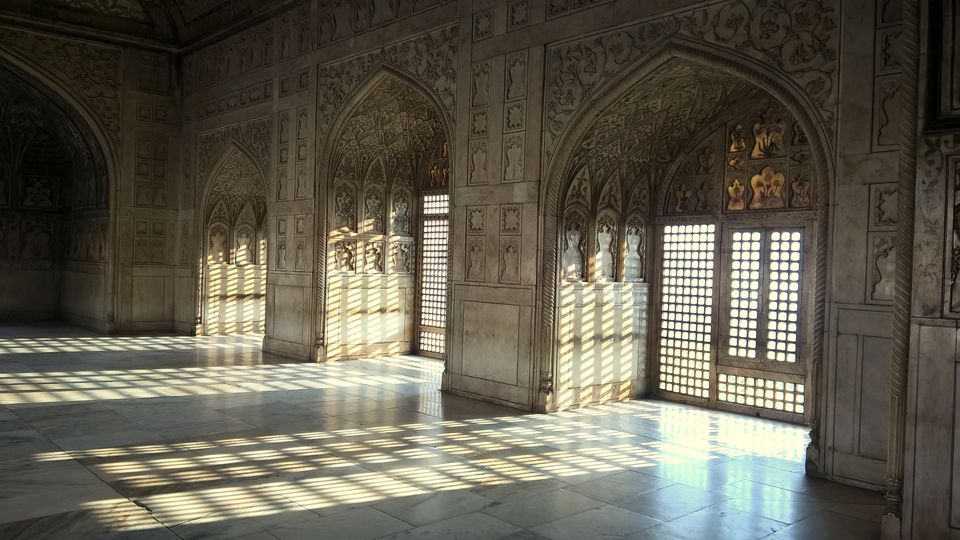 Fatehpur Sikri, as everyone knows, used to be the capital of Emperor of Akbar between 1569 and 1585. In his attempt to glorify his religious mentor Salim Chisti, Akbar built this exquisite red-stone citadel and it is here that the foundations of Akbar's secularist creed, Din-i-Ilahi, was laid. All that is common knowledge. Having visited Fatehpur multiple times, we wanted to delve a little deeper, to dig out some more treasures of history. And we chanced upon not one but many: palaces of Mariam-uz-zamani and Birbal.
Yes, you have heard about Maryam's palace before. Your guide has told you that the palace was dedicated to Akbar's Christian wife Mariam. Wrong that was! The palace of Maryam was dedicated to none other than Akbar's beloved wife Jodha Baai. Fatehpur Sikri does have a separate palace for Jodha Baai. Mariam or Mariam-us-zamani was the name Akbar gave to his wife after she became the mother pf Jahangir. Jodha Baai was honoured with the title Mariam-uz-Zamani which means "Mary of the Age" after she gave birth to their son. She herself used this name to issue official documents.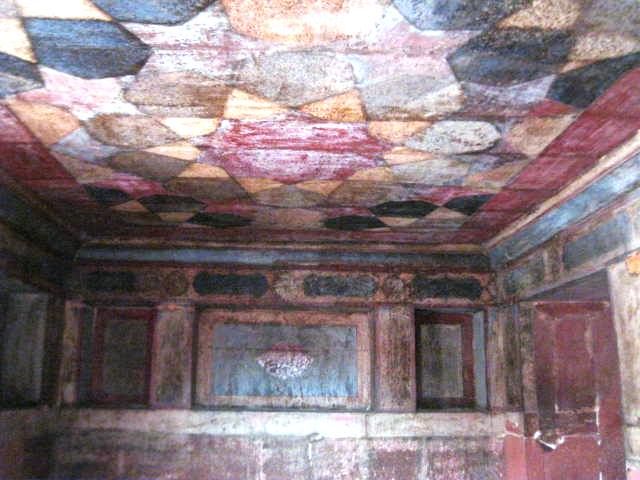 Our second major attraction was standing on the dais where Tansen used to perform for the emperor. An amateur classical singer, I was thrilled to imagine the scene where the maestro sits singing mian-ki-todi or mian-ki-malhar-his own divine creations-and carrying his royal audience into a trance. The starry night-sky under which Tansen sat singing must have filled with the magical tune of his voice.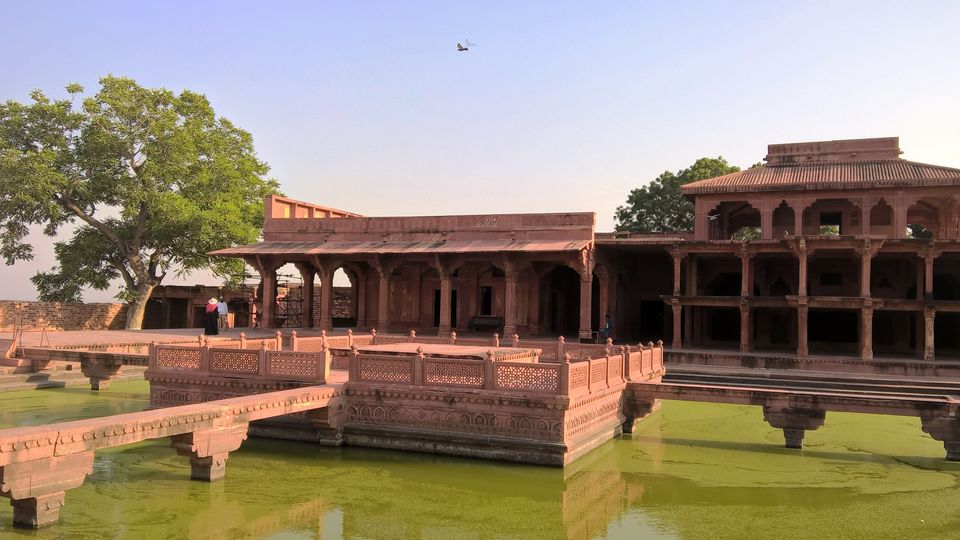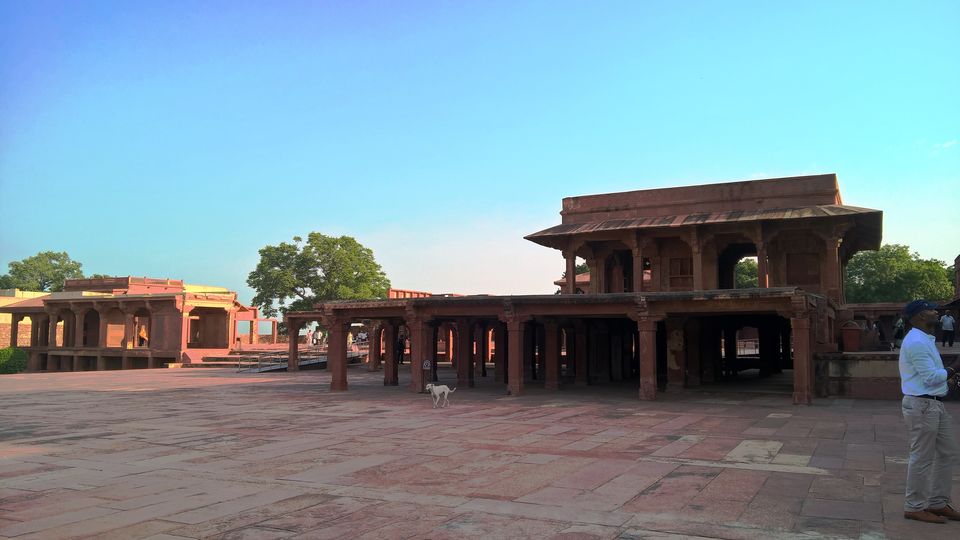 Where the soul of a great emperor rests in eternal peace. An emperor who placed humanity above religion, love above difference. In this world where religious differences have only led to bloodshed, we need to learn tolerance from Akbar's great mind. He was a warrior, to be sure. Desires for expansion that characterised the great Tamburlaine or Genghis Khan ran in the veins of Akbar too. Yet he was different. His was the mind of a poet who conquered only to embrace. He expanded territory as well as human communion. He loved and respected the Other, embraced difference: fell in love with a Rajput woman, found his best friend in a witty Hindu, got carried away by the divine voice of a Hindu singer.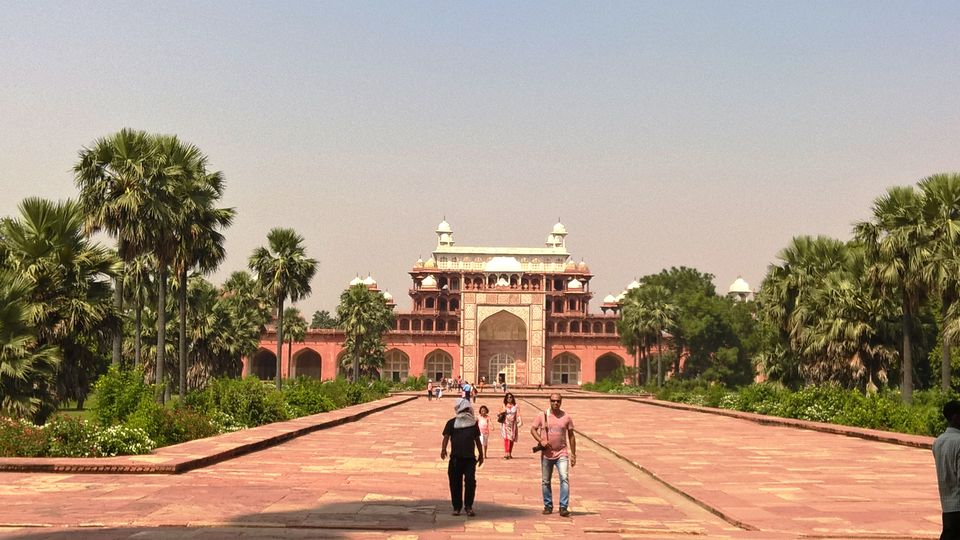 We, the modern day secularists desperately looking for love and humanity, found a brief comfort in his mausoleum at Sikandra. The place is so green that it soothes the eye. Deer, black buck and many other animals roam freely here. The ceiling of the mausoleum is decorated with brilliant fresco painting. The inscriptions are from the Quran. Fittingly so for a man who understood the essence of Islam: peace.
The inner sanctum where the emperor lies in his eternal sleep is dark and quiet. Distanced from the clamours of outside world, peace remains supreme here.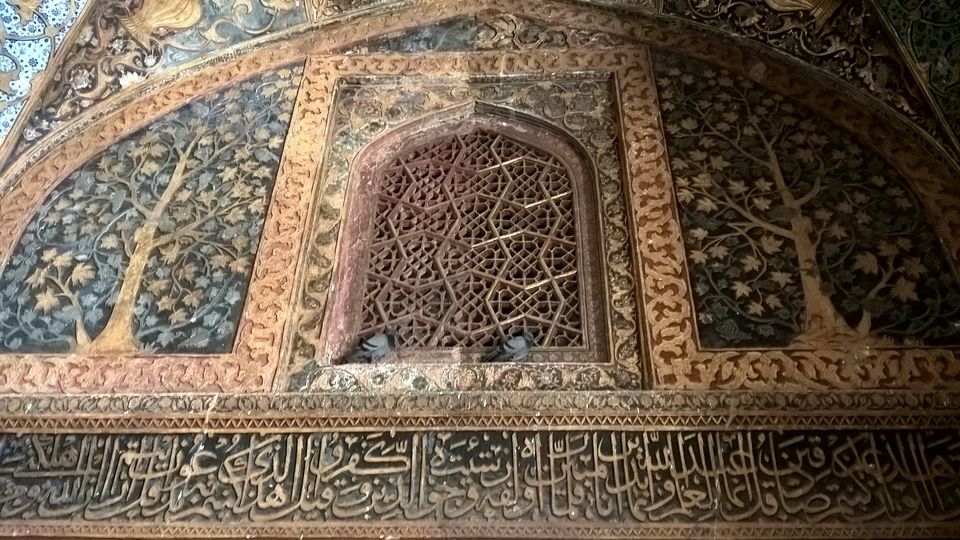 Returning from Agra to our daily life in Delhi feels unreal. The contrast is almost painful. It's a return from a glorious past to a very mundane present. But it's exactly this contrast that holds the charm for Agra. You never tire of going back to the place where an artist and lover made his love immortal, where a great conqueror freely bowed his head before the conquered's religion to acknowledge its richness.