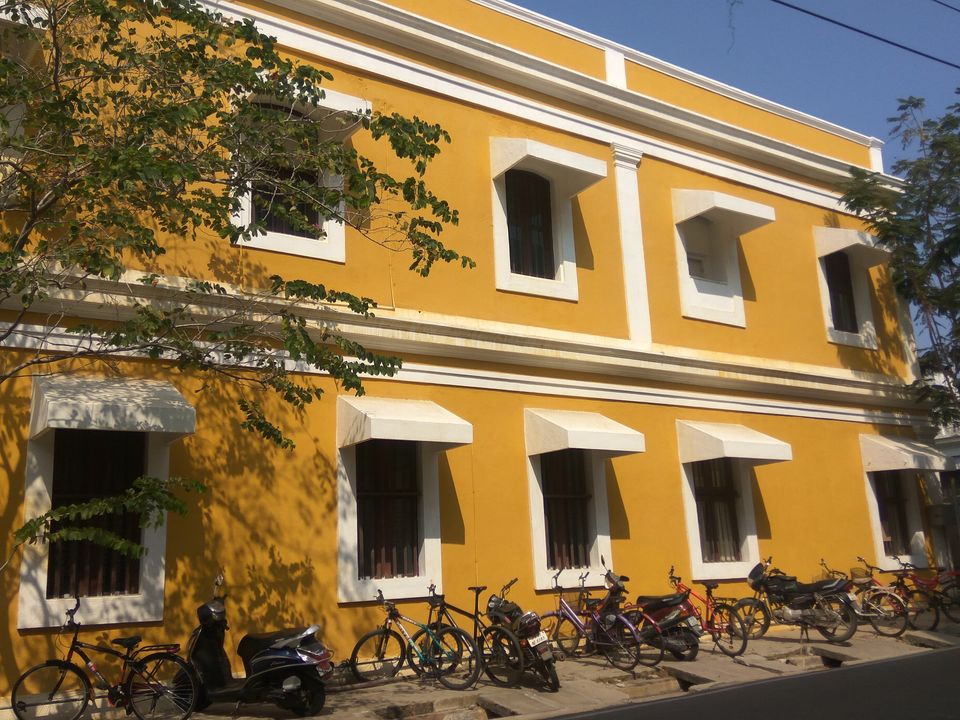 Known for mustard buildings, white streets, pristine beaches, mouth-watering cuisine, cheap alcohol, and one of the cleanest Union Territory, Pondicherry captures my heart.
The time you step in Pondicherry, you will realise why it's called "The French Riviera of the East' Because the city architecture is weaved around the reminiscence of the French colonial rule and culture.
How to reach Pondicherry:

Well, there are three ways to reach Pondicherry.
Via Road: The city is well connected to Chennai (through Mahabalipuram) and Bangalore (through Tiruvannamalai)
Direct train to Pondicherry: connected by train to all metros: Chennai, Delhi, Kolkata, and Mumbai
Flight: Puducherry Airport is located at Lawspet. It has direct flights to Hyderabad, Bangalore operated by SpiceJet Airlines.
The best way to reach is via Road - take a bus from Majestic Bus stand of Bangalore to Pondicherry. There are many Volvo buses which take you to Pondicherry. You can easily book the tickets online with KSRTC Tourism. Make sure to book the tickets way earlier, and also there are some KSRTC buses have a pick up from the airport, so check in advance and save time.
You can also take a cab from the airport, but that costs you much. For those, who prefer to take the bus at last minute like me, I advise you to go Satellite Bus stand, around 8 km from Majestic bus stand. From there you will get numerous local buses to take you to Tiruvannamalai, a small town of Tamil Nadu. And, there you will get a bus to Pondicherry which merely takes 2 hours to reach the majestic island. And, that's how I reach Pondicherry.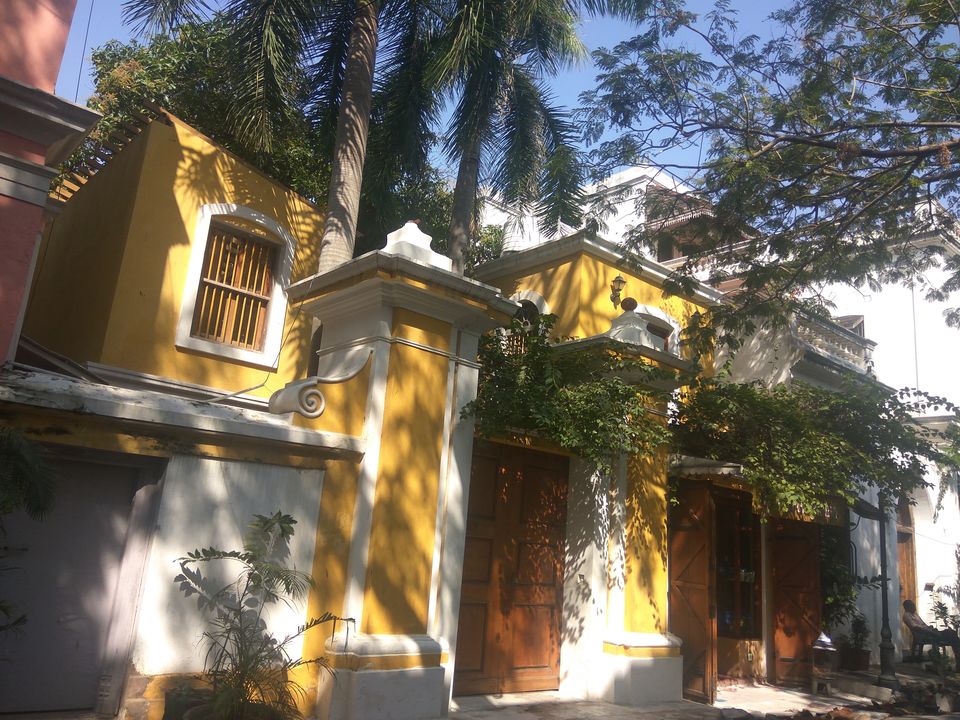 As you make your way toward this beautiful French Colony, the thing that leaves you wow-struck is greenery and of course large coconut trees. Also, there are many eateries where on the highway that serves authentic South Indian food.
Where to stay:
If you want to experience the ultra-luxury, then Promenade beachside hotels would be an ideal option. Here you will find - Promenade Hotel, Dumas Villas and much more to give you the ultimate beach feeling.
The hotel where I stayed was MRK Inn around 5 min walk from the promenade beach; the hotel was clean, corporative staff and near the shopping market. Also, all the major attractions of the city: Bando statue, Promenade Beach, Sri Aurobindo Ashram, Immaculate Conception Cathedral, Aayi Mandapam (monument), Basilica of the Sacred Heart of Jesus, Manakula Vinayagar Temple.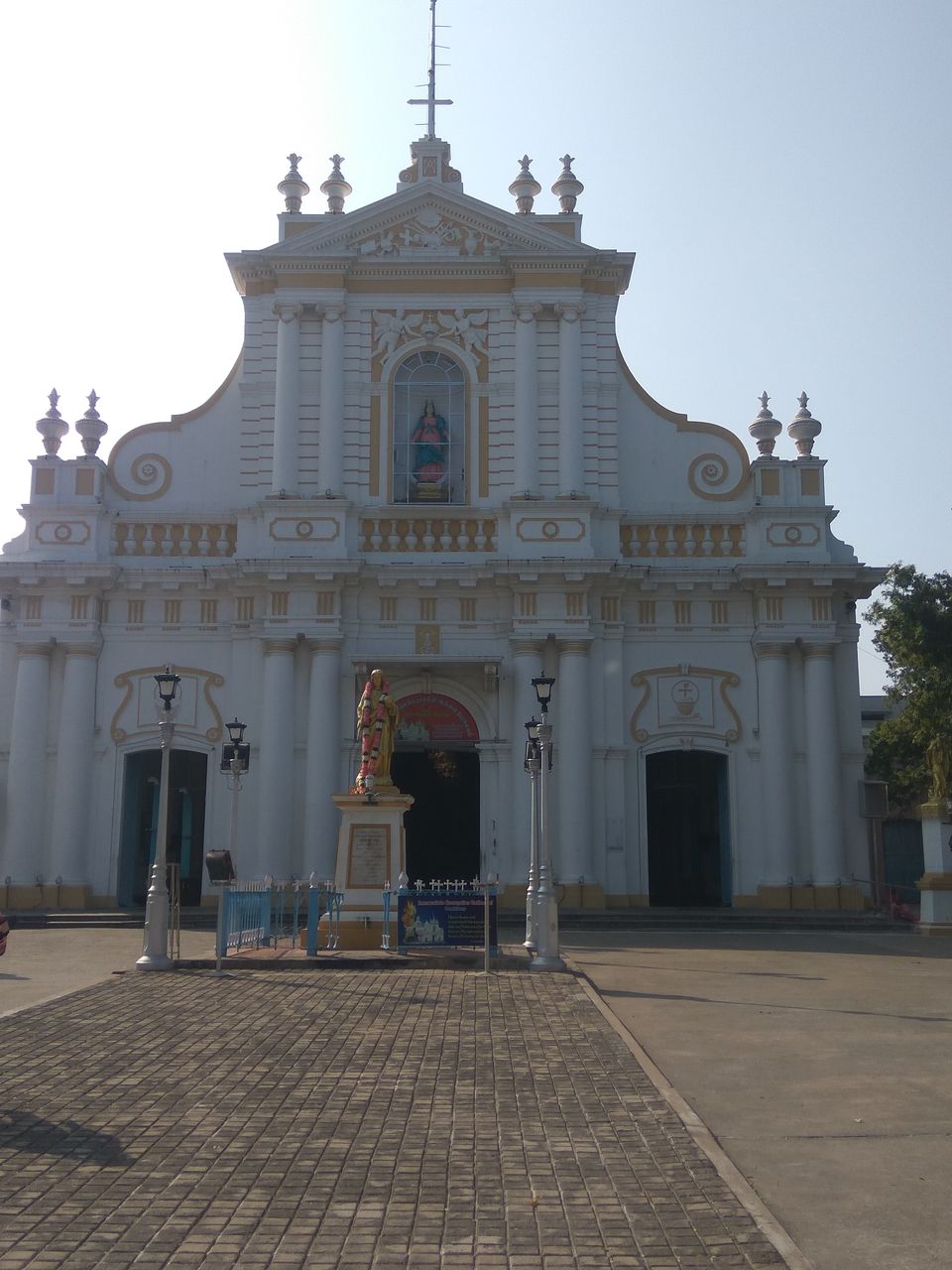 Things to do on the First day:
Heads to Baker Street: 123, Bussy Street, MG Road Area
Begin your day with experiencing the French Legacy that can be seen all over the town. And, the best way to start is to have a delicious breakfast of croissant, chicken quiche, baguette, espresso, cake and macrons. The Baker Steet is open from 7 am onwards. Price for two is approximately Rs. 600.
The best part is Baker Street is in the French colony only, so don't forget to take a walk around the famous Instagram's-famous white street.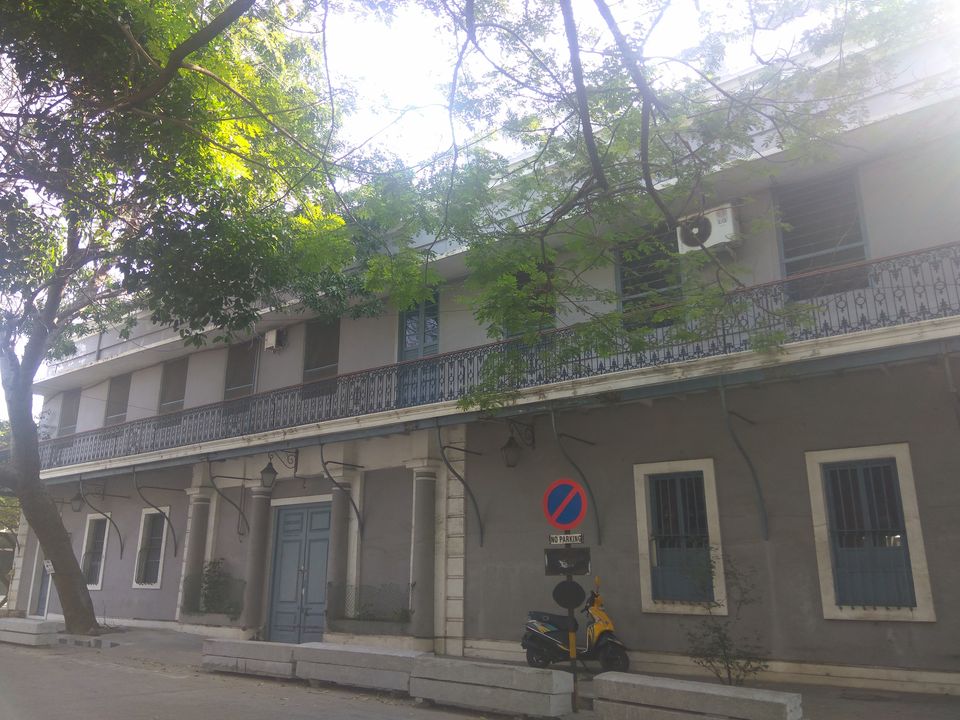 Walk around the streets: Roam around the yellow streets of the town, covered under the shades. The white courtyard is narrating the life of the French who lived and ruled the city. In the meanwhile, you can visit, Sri Aurobindo Ashram, Manakula Vinayagar Temple, Cathedral and Basilica of the Sacred Heart of Jesus. The best is all the major attractions of the city are under 2 km. You can cover them by walking or rent a bicycle which charges 350 a day.
Tea Break at Aura Cafe: An amazing cafe situated at the Promenade beach which serves the most excellent South India Filter Coffee at Rs. 40. Also, next to Aura Cafe there is a shop that sells astonishing clothing, scented candles, hand-made stuff, terracotta pots and embroidered jute-bags. A must visit place in Pondicherry.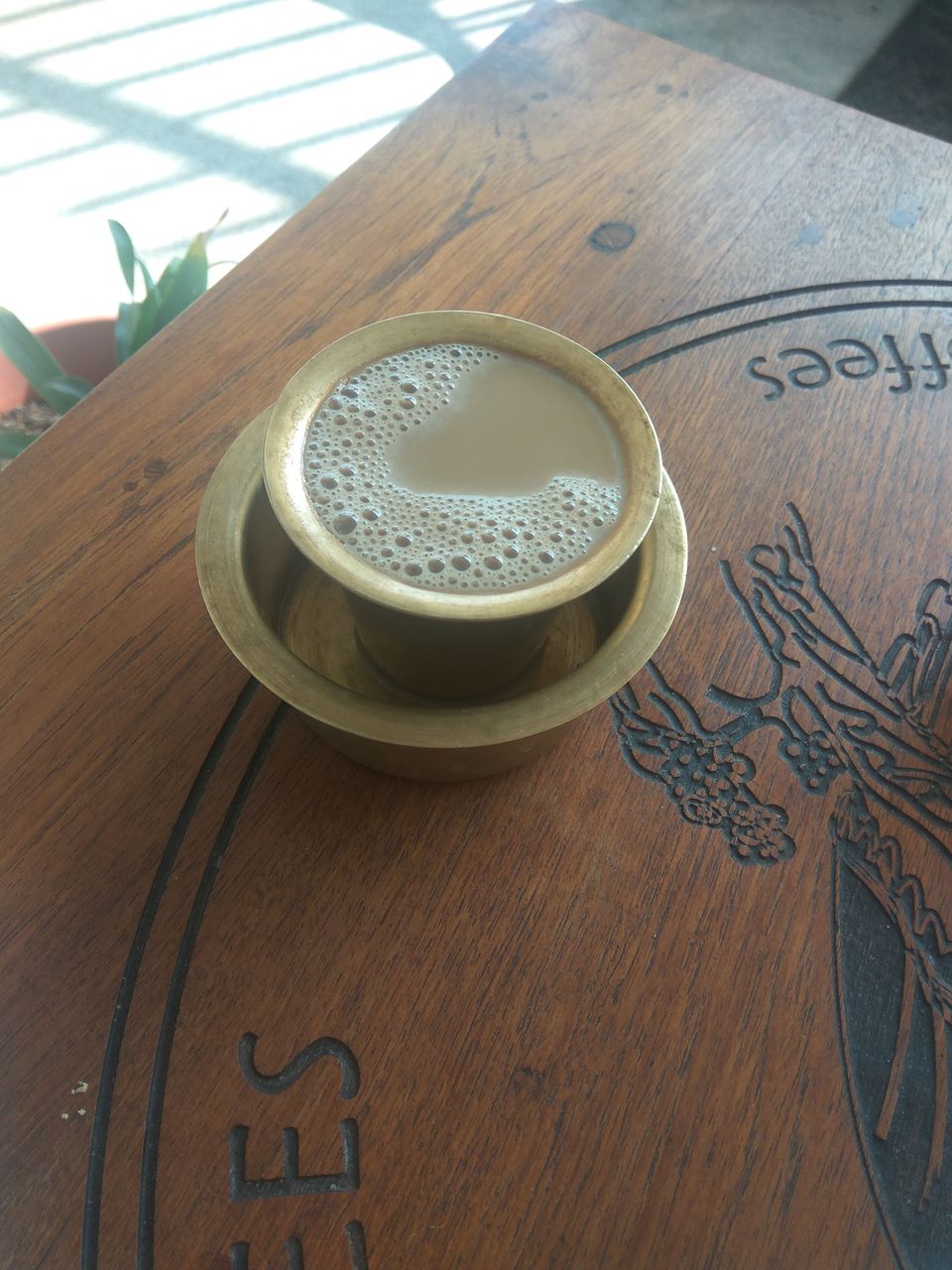 Dine out at Cafe Xtasi: 245, Mission St, Opposite VOC School, MG Road Area
Cafe Xtasi is the most fantastic place in the city to experience the perfect wood fire-over Pizza. The place serves some of the tempting Italian Pizzas to satiate. Although best known for Italian Pizza, they also serve other dishes like pasta, lasagnas and tiramisu as well.
Day 2 at Pondicherry:
Morning - Spend the entire day at Auroville: Located 14km from the city. You can take an Auto at Rs. 300 (of single way) or book a cab Rs. 500 (single direction). Else you can rent a cycle and hop to Auroville.
Founded in 1968, Auroville is an experimental township where people of all nationalities live in peace and progressive harmony. Roam around the complex and understand their culture, have lunch with them, explore their way of living. Then proceed to Matrmandir, the beautiful golden dome, in the centre of Auroville.
Auroville is not a temple; it's a meditation centre built for silent introspection. Take a walk around the beautiful golden dome, sit there peacefully and you will experience a different perception of living.
At 5 pm: Leave from Auroville and came back to town. Head straight to Pondicherry Beach and grab a delicious cup of filter coffee and take a walk at the beach, i.e. the pride of Pondicherry. Enjoy the sunset at the beach and end your walk through this beautiful area at Alliance Francaise, located inside a Pristine white villa, It stares out at the French Quarter on one side and the sea on the other.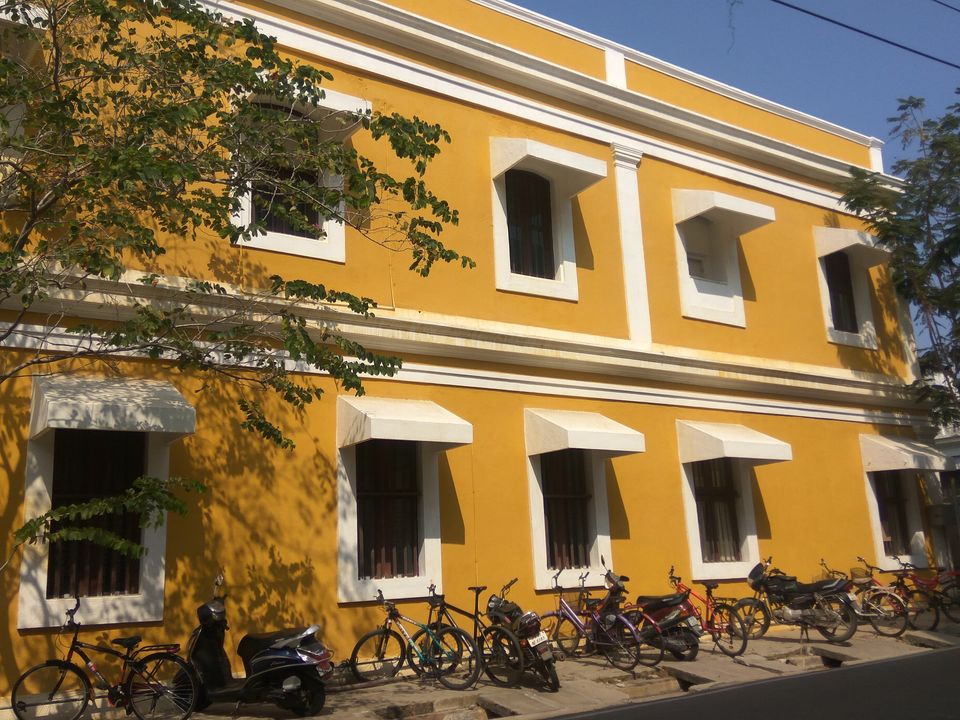 Evening - Dine out at Le Cafe, situated at the Paradise Beach, which is open 24 hours and roughly cost 300 for two persons. Sit at the beach and feel the cold waves.
P.S. - Don't forget to taste the amazing ice-creams at Richie-Rich.