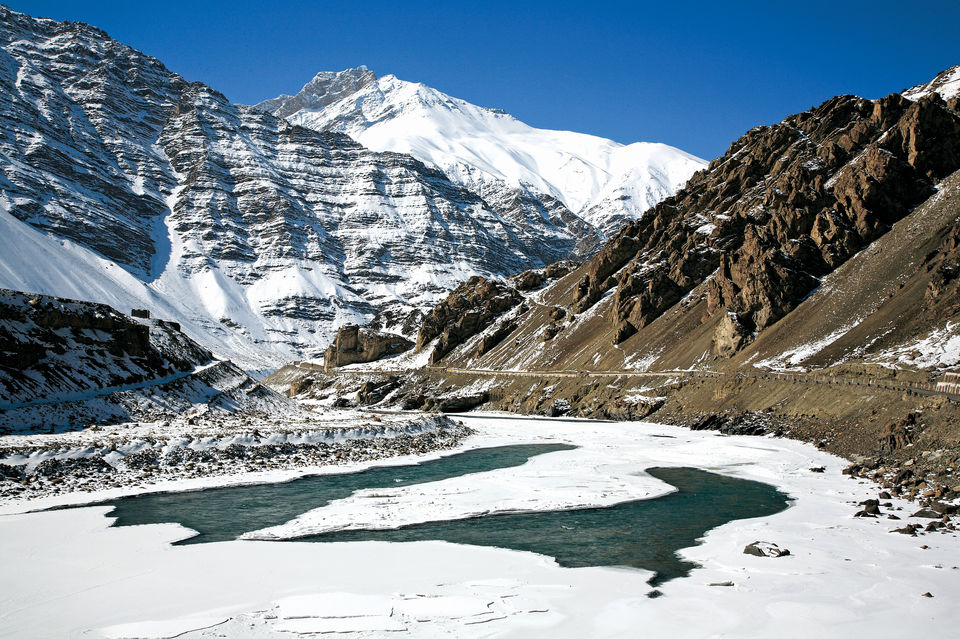 At a towering 12,467ft, Indus Valley enthrals you at its very first glance. Otherwise known as Ladakh's backbone, the reticent Indus River sustains dizzying pinnacles, unfathomable valleys and the major towns of Shey, Leh, Basgo and Tingmosgang on its banks. Typical to the moonscape, the valley's vista is bewitching – layers of snow shimmer away like a thousand little suns, frost-laden monasteries greet you at sporadic intervals as you trek past one too many nondescript frozen lakes reflecting the impossibly blue skies. One of the most thrilling treks you could ever embark on in India, these nine days walking the frozen Indus River will stay with you long after you've left its snowy terrains.
Where is it
The basecamp for the trek is located in Leh. To acclimatise yourself with the altitude and weather, you will be staying in the accommodation provided by the tour company you're travelling with.
Reaching Leh –
By air: Regular flights are operated by the Leh Airport, that is well-connected to all major cities of India.
By bus: Daily buses ply from Jammu and Kashmir and Manali, and if you're starting from Delhi, it will take you a total of four days.
By car: If you're feeling adventurous, take your bike or SUV along Rohtang La via Keylong and Sarchu to reach Leh.
Difficulty level
The moderate grade trek spans 450 kilometres, and on your way you will pass through campsites and the scenic villages of Chumathang, Mahe and Tso Moriri. Taking nine days and eight nights, the maximum altitude reached is 3,800m.
DIY or not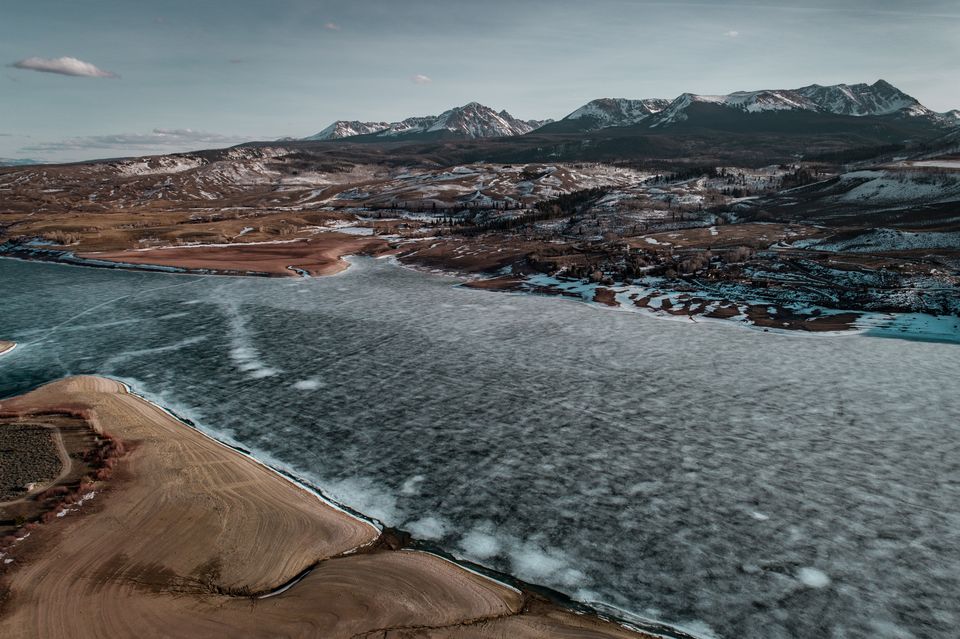 This trek's steep slopes and unforgiving terrains can't be charted independently and should be embarked upon with the help of a tour company.
The Indus Valley Trek is organised by numerous tour companies. We recommend Trip360º, who along with their expert guides and OELs (Outdoor Experience Leaders) also believe in sustainable tourism.

Cost

For a single person, the trek costs ₹39,500, including transport from Leh and back if you are travelling with Trip360º. This includes accommodation in camps and home-stays, all meals, logistics for the trek and transfers to and from the base camp.

When to do it
The first season for the trek would be between January and February. This is the duration when the hills are blanketed with snow and the Indus River is frozen. The second season starts from mid-June and goes on till September, when the weather is pleasant and temperatures range from 20-30°C.
The route
The nine-day long trek's basecamp lies in Leh and comes to an end at the Korzok Village, lying on the banks of Tso Moriri. A 138-kilometre drive from Leh takes us to Chumathang, from where the trek actually starts. Thereafter, we'll make stops at various campsites along the Indus riverfront and the village of Mahe.
This is the route for the Indus Valley trek:
Leh – Chumathang – Mahe – Tso Moriri – Leh
Itinerary
This is the itinerary that's usually followed if you are travelling with a tour company: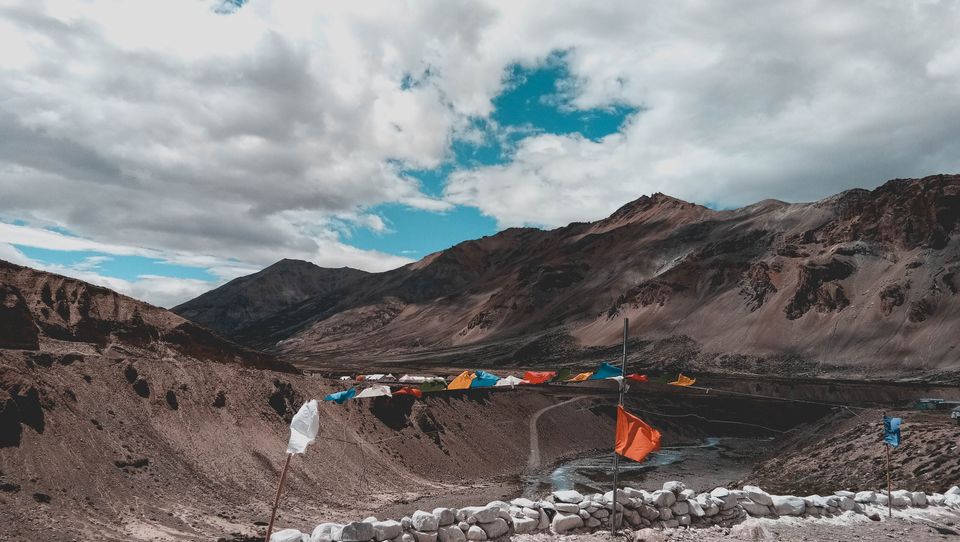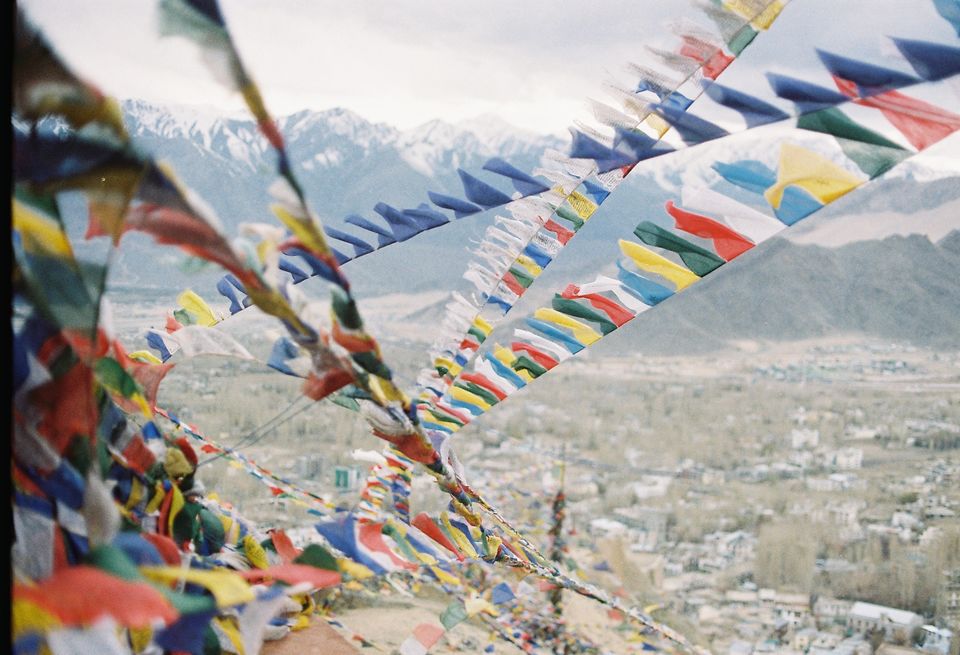 Leh – Chumathang (3 hours)
River Camp – Mahe Campsite (9 hours)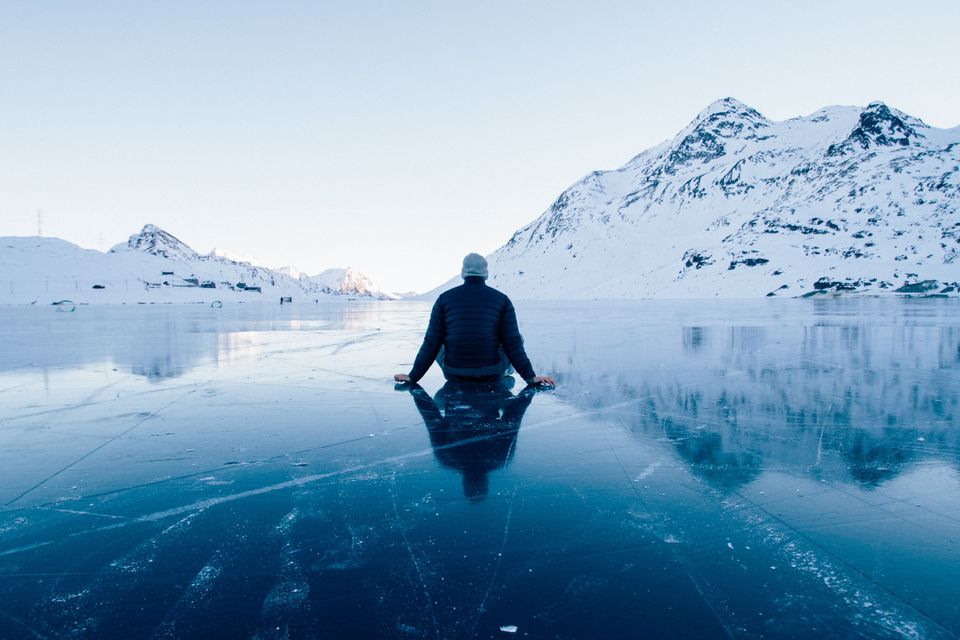 Mahe – Tso Moriri (3 hours)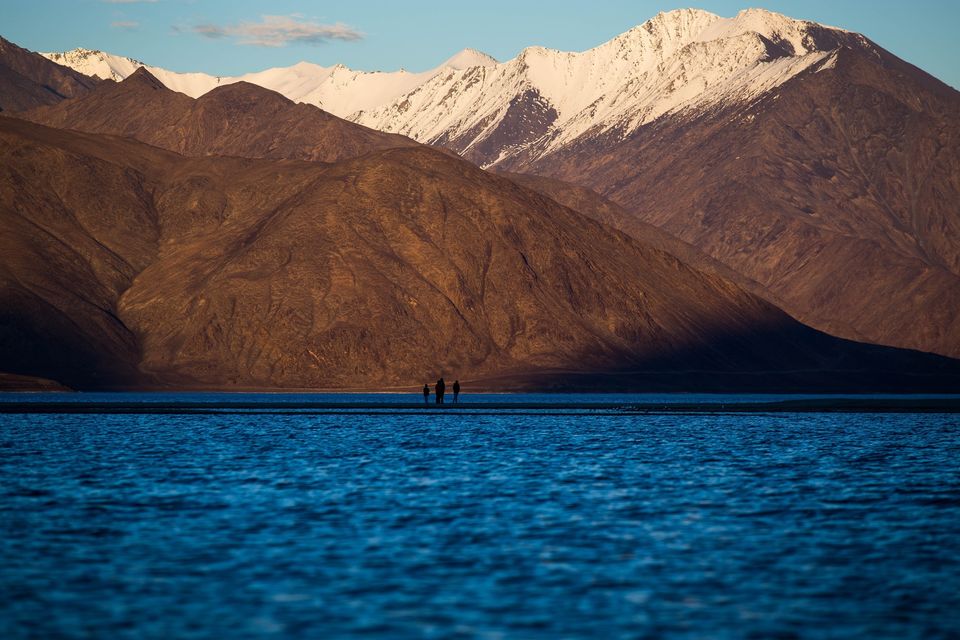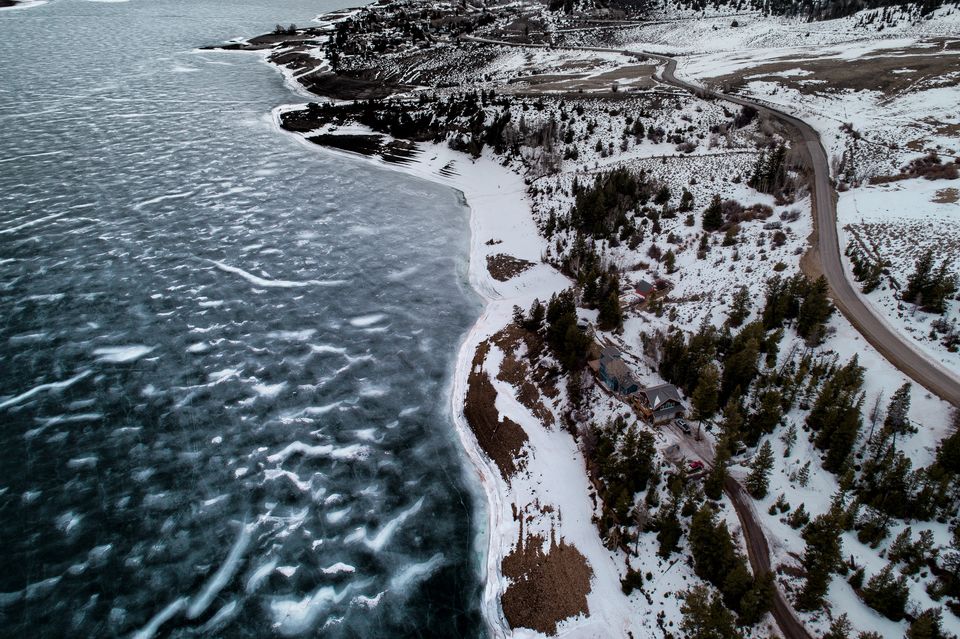 Tso Moriri – Leh (5 hours)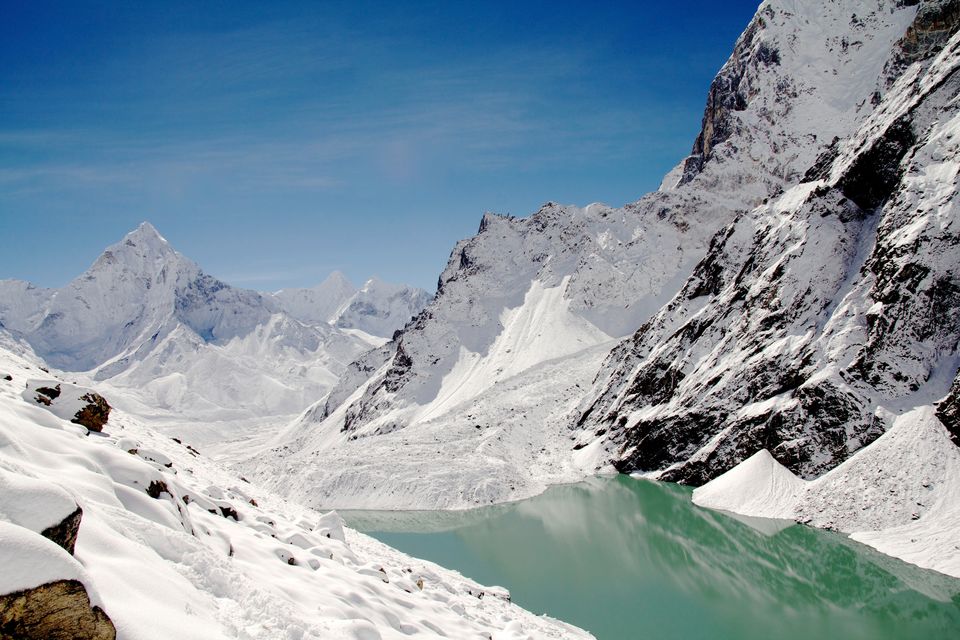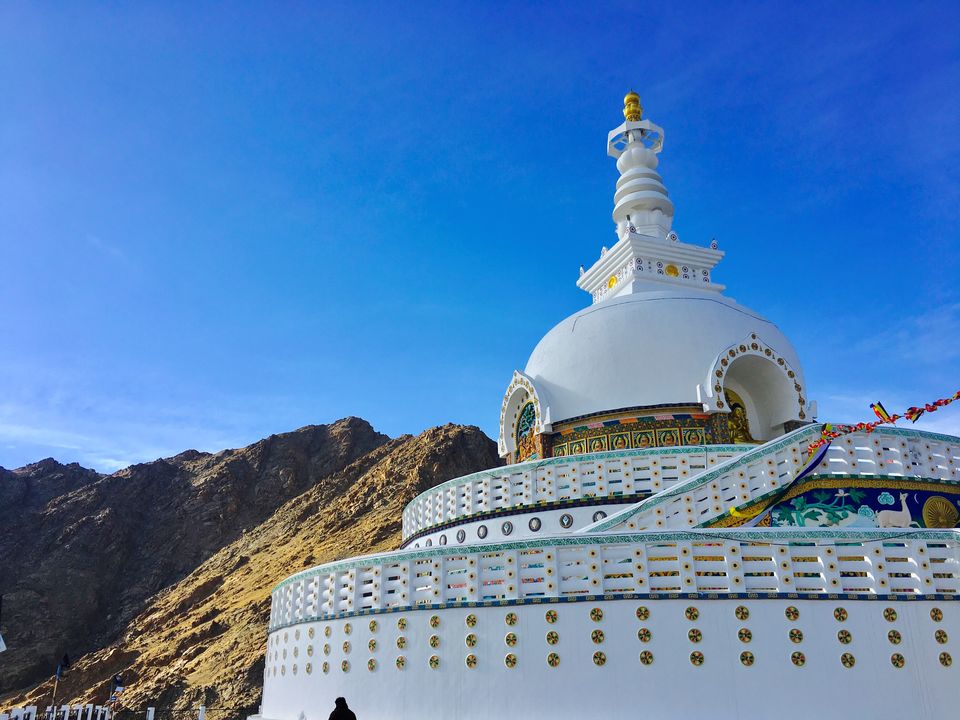 Your first day will be spent acclimatising to the high altitude and harsh weather. Take short walks in and around your hotel and soak in the snow-glazed panoramas.
Altitude: 3,500 metres
On the second day, go out and about in Leh and explore the 'Last Shangri-La'. Hop from one Buddhist temple to the next, and interact with the moon-faced monks for a lesson or two in the Tibetan way of life.
Duration: 8 hours
Altitude: 2,574 metres
Crossing one too many abysmal gorges and snow-dusted valleys, we cover 138 kilometres by car to reach the breathtaking Chumathang. The arctic weather goes a notch higher upon arrival into this town. On careful observation, you'll notice that though the mighty Indus is frozen, the choppy river flows on beneath the icy layer. End the day with a few long, leisurely hours bathing in Chumathang's hot springs.
Duration: 3 hours
Altitude: 3,950 metres
Chumathang – River Camp (5 hours)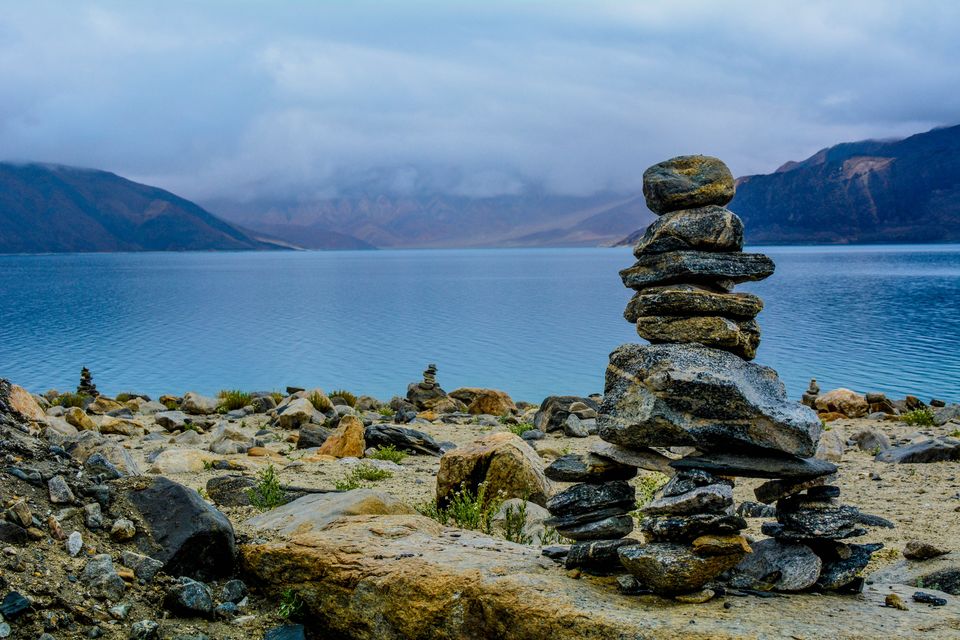 Possibly the most exhilarating stretch of the expedition begins on the fourth day. You'll start walking the frozen Indus River in the morning and guides will help point out the most solid tracts. Certain lengths might require that you rope up with your group members if conditions are such.
Duration: 5 hours
Altitude: 3,800 metres
Start the fifth day with a prayer on your lips and fully charged camera batteries. For the most part, you'll be precariously balancing your tread over the frozen river and feel a jolt of euphoria every time you cover a stretch successfully. The rest of the day however, will be whiled away in marvelling and capturing the frozen wonders of streams, waterfalls and Indus tributaries. At night when you return to your camp, the skies will greet you with the magnificent milky way.
Duration: 9 hours
Altitude: 3,875 metres
Start with an hour long drive from Mahe campsite to the edge of the frozen Tso Moriri lake. Today, you might encounter Himalayan shepherds and a few indigenous Ladakhi tribes who will give you a glimpse into the local way of life.
Duration: 3 hours
Altitude: 3,870 metres
Teeming with wildlife, the banks of Tso Moriri are flocked by mountain goats, blue sheep and the odd wolf. Hike up to the Korzok Village where if you're fortunate enough, you might stumble upon the grey ghost of the Himalayas – a snow leopard.
Duration: 4 hours
Altitude: 3,684 metres
A 220-kilometre long drive from Tso Moriri will take you to Leh. Stay the night in Leh.
Duration: 5 hours
Altitude: 3,500 metres
You'll be dropped to the airport for your flight back home.
What to pack
Be sure to pack heavy woollen garb, sturdy shoes, gloves, caps and sleeping bags, especially if you're travelling during the months of November through January; few other essentials – sunscreen with SPF 20 or above, sun hats and balaclavas (ski masks).
For further details, give this article a read.
Embarked on a trek recently? Tell us about your experience in a travelogue on Tripoto, and inspire millions of travellers across the globe!
Frequent Searches Leading To This Page:-
the indus valley hotel ladakh, the indus valley hotel leh ladakh