This year, get into the spirit of adventure! The mountains and valleys of Leh, Ladakh beckon you to explore their sheer beauty and promise you an adrenaline rush like never before. Whether you are a newbie trekker or a pro, Ladakh has a route to suit all needs. Here's presenting some of the best treks in leh:
1. Spituk to Stok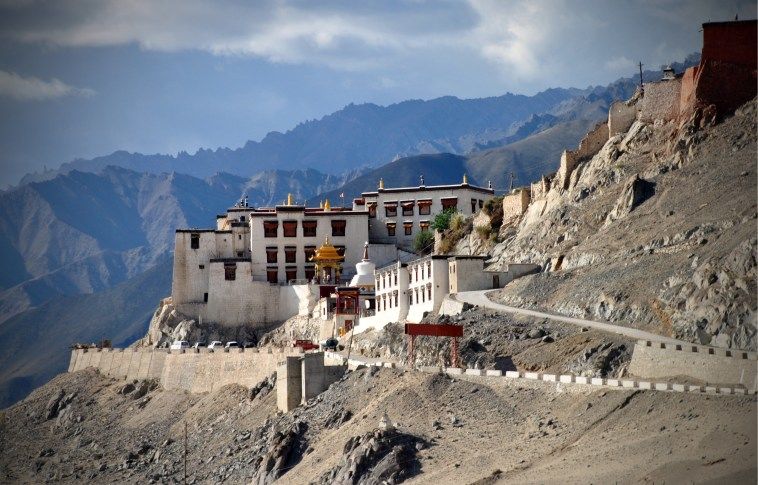 Duration: 4 days Best time to go: May to October Difficulty level: Beginner to moderate
If you're just starting out with trekking, start with this relatively easy and short (4 days) trek, which covers some scenic areas of Leh. Start by driving from Leh to Spituk village, which is about 7 kilometres away. The hike from Spituk to Zinchen (usually the first halt) could take around 4-5 hours, going through dry, barren land to greener areas of Zingchen valley. Here the Rumbak River flows into the Indus and it's the perfect place to set up camp, enjoy the landscape, and maybe even take a dip in the river. The next day will take you through Hemis National Park where you can spot plenty of mountain flora and fauna. A 3-4 hour trek, largely uphill, will bring you to the pretty village of Rumbak. Day 3 will be a bit more arduous with a steep trail near Stok La and then descending down towards Mankarmo (5-6 hours of trekking). On the last day a 3-4 hour descent through narrow valleys with lovely rock patterns will bring you to the village of Stok. Before heading back to Leh be sure to check out the 19th century Stok Palace, which now houses a museum.
2. Markha Valley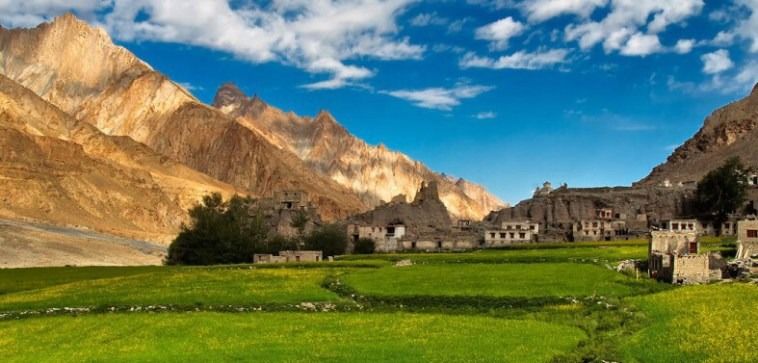 Duration: 8 days Best time: June to October Difficulty level: Moderate
One of the popular treks in Leh, Markha Valley trek, takes about 8 days and will take you through varying landscapes and give you an opportunity of mingling with the locals as well. This trek too begins from Spituk to Zinchen and then onwards to Yurutse on day 2. Day 3 involves 6-7 hours of trekking up Ganda La pass and then down to Skyu. On the next day you will proceed to Markha Valley, following the course of Markha River. Day 5 will see you criss-crossing the river several times as you make your way to Thachungtse. The next day will be an uphill trek of 4-5 hours, to Niamling - the highest camp on this trek. From here you can get spectacular views of the Zanskar range. On day 7 you will trek up to Kongmaru La pass, which is the highest pass on the Markha Valley trek. Prepare to be enthralled by some splendid views of the mountain ranges as well as the Indus villages. The last night on the trek will be spent at the village of Shang Sumdo. On the 8th day, an easy descent and a walk along a stream will bring you to the famed Hemis and Thiksay monastery, before driving back to Leh.
3. Parang La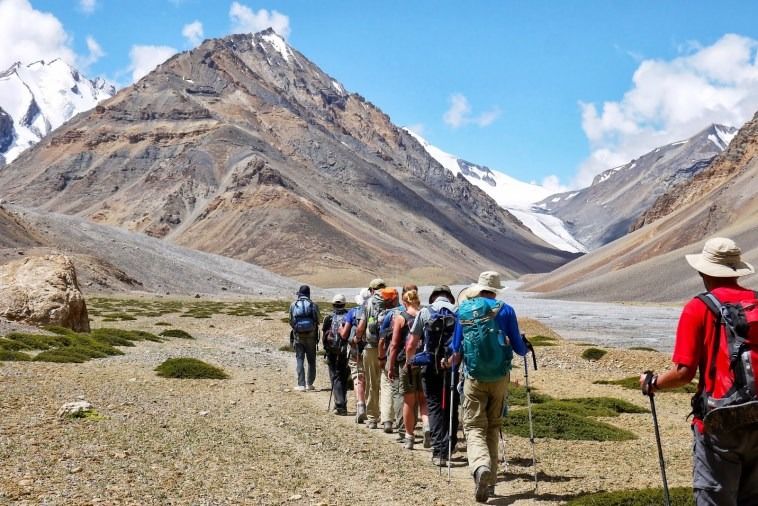 Duration: 8 days Best time: August to October Difficulty level: Moderate to Challenging
This 8-day trek is a popular option in the Spiti Valley, taking you on the traditional Ladakh-Spiti route with gorgeous views, steep gorges, stark landscapes and a glittering lake all thrown in. Drive from Kaza to Kibber village, the highest inhabited settlement in India. From Kibber it's a couple of hours trek to Dumla. The next day you will descend from Dumla and head to Thaltak Meadow, which should take a good 5 hours. Day 3 is a strenuous one with some 7 hours of trekking from Thaltak to Jagtha and onwards to Bonrojen. On the next day a steep 2-hour climb will bring you to Parang La pass at 18,300 feet, from where you will get sweeping views of Spiti valley. Trek ahead to the source of Pare Chu River and set up camp at Dak Karzong. Days 5 to 7 will cover broad plains and a well-marked, fairly easy trail from Dak Karzong to Datang Yongma to Chumik Shilde and finally to the southern edge of the breathtakingly beautiful Tso Moriri Lake. On Day 8 trek along the shore of the lake as you behold the Lungser Kangri peak in the background. A 6-7 hour trek will bring you to Karzog where you can visit the ancient monastery. The next day drive from Karzog to Leh via Mahe Bridge, a distance of more than 200 kilometres, which can be covered in 8-9 hours.
4. Kang Yatse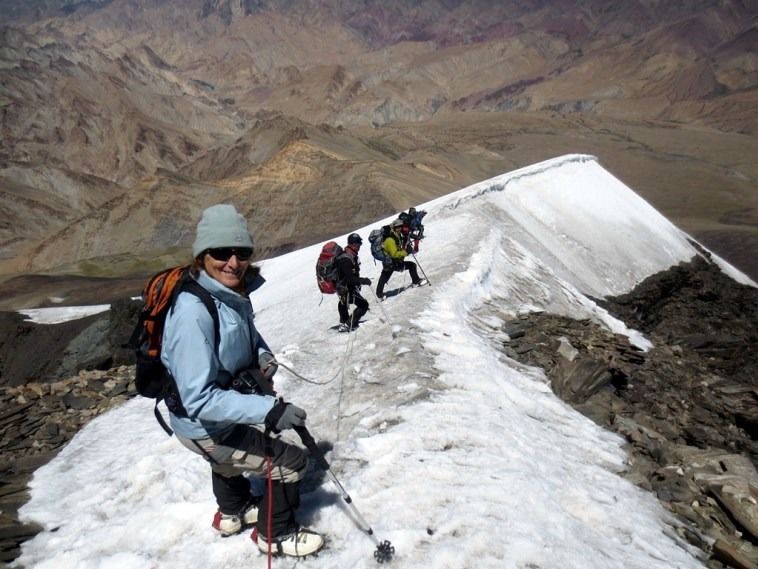 Duration: 12-13 days Best time: End of May to mid-September Difficulty level: Challenging
Kang Yatse is one of the most stunning peaks in Ladakh and at 20,000 feet it's an adventurous and demanding trek taking 12-13 days to complete. It is essentially an extension of the Markha Valley trek up to Niamling, from where you will proceed to the base camp on Kang Yatse. On the next day you will proceed to Kang Yatse's High Camp. Though the distance between the two campsites is less, it's mostly an uphill route that is quite difficult. The next day, you will begin very early at around 2 am to start your ascent to the summit of Kang Yatse. From the pinnacle you can get a bird's eye view of Tibet and the Zanskar River. You will then return to Niamling and the next day proceed to Kongmaru La pass with its jutting peaks and deep gorges, including the surreal rock configurations of Shang Gorge, eventually camping at Shang Sumdo. On the last day you will head to Martselang and finally head back to Leh, taking in the monasteries of Hemis, Shey and Thiksey on the way.
5. Chadar Trek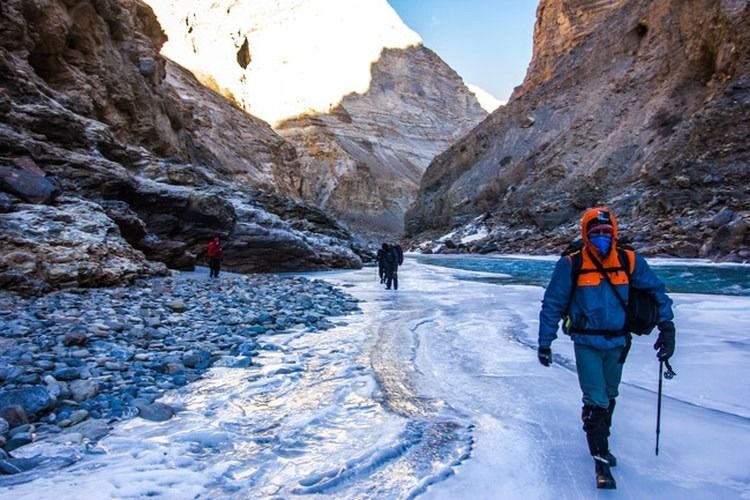 Duration: 6-20 days Best time: January and February Difficulty level: Challenging
Have you ever walked on a frozen river? The Chadar trek on the Zanskar River is the most fascinating of all the treks in Leh. Every year when the river freezes, the route is open to adventurous trekkers for a couple of months. It's certainly a physically and mentally challenging trek and can range from 6-20 days depending upon your proficiency level. The frozen river resembles a blanket of snow and hence the name 'chadar' trek. You drive from Leh to Chilling, 64 kilometres away, which is the starting point of the trek. Walking on the snow and ice might be a bit tricky at the beginning, especially since you may encounter different types of surfaces - fresh, powdery snow or old and hard ice. Even though most of the trek is on the frozen riverbed, there are points where you will be scaling icy rocks. Apart from the rising peaks, you will also see some frozen waterfalls, monasteries such as Lingshed Gompa and Karsha Gompa (the largest in Zanskar), even a fort at Zangla village. The day-time temperature usually ranges between -5 and -10 C and at nights it can plunge down to -25 C. Hence it's important to carry enough warm jackets (wind and rain proof) and clothes.
This post was originally published on My Heart On The Road.