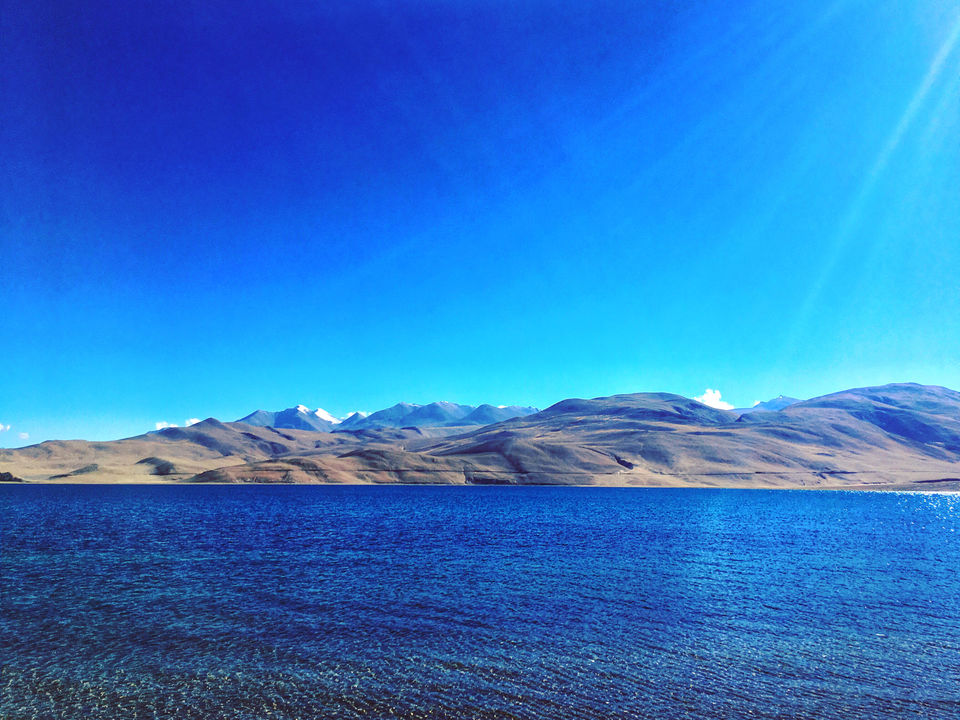 Yes! you heard it right. I personally consider Tso Moriri lake, leh Ladakh as a hidden treasure in the lap of Himalayas. Its one of the pristine lake I have ever seen. Such Emerald beauty. Tso Moriri is 220kms from main Leh town. And trust me the landscapes are literally the treat to an eye. Splendid it is. Such breathtaking views. But wait, let me tell you that the roads are not at all good. Its a pain in an ass, seriously. But as you know, the best thing in life comes after lot of struggle and pain. Just like everyone loves rose, but if you love rose you should be ready to grasp its thorn as well. so just brace up! It almost takes around 10 hours of ride, which blind cuts and curves. Majority of the road is broken, which actually leads to major accidents. so just beware! You need to be physically fit enough to have proper grip. Fitness should always be there.
And i think I saw one of the most beautiful moon rise ever, rising proudly behind the majestic Himalayas. Its reflection in moon was so clear. And it was bit cloudy so even moon and clouds were playing hide and seek within themselves. Wonderful it was.
Next morning as sun rays entered in my room making ways through dark shade curtains, i woke up. It was quite pleasant. Sunlight and chilled winds played well that morning. I walked down to the lake. I walked fill the end of lake. i got stuck in miry clay at times but i think its all worth it. Endless horizon. I was in complete awe! My Heart! I forgot everything, whatever I held within. I was just listening to the calming sound of Tso Moriri. Snow capped mountains were glowing as the sun rays directly fell on them. what a bliss it was, rolling down on the lush meadows.
I crossed numerous of small and pretty villages, Like Chumathang, Sumdo etc, welcomed by the open arms and warm smiles on innocent faces. I felt like i was falling in love with the landscapes and innocence of people there. How beautiful it is to get lost in the lap of majestic Himalayas. Where numerous of pure and clear streams were flowing from numerous unknown sources, birds singing, sheep grazing the field, kids playing around, villagers welcomed with their warmest smile and joy on their faces by waving their hands, green patches on the ground covered with flowers which were blooming in full swing, white cotton candy clouds scattered in the clear blue sky, had end number of chai and Maggie, vibrant landscapes and much more. it was like a unending vast expanse of land covered with eternal beauty. And then i realized some places are untouched by human notions.
And there is one more hidden gem 67 km before Tso Moiriri lake named Tso Kar lake. Not a single human being was there! no one. So secluded and pure. And this is the actual hidden place or you can also say a perfect offbeat destination in India. water as clear as sky! all blue it was. I felt like there isn't any ending point, guarded by massive rugged snow clad Himalayas. Gaze the pristine blue water, few patches of clouds were reflected in that water, that reflection was so spectacular. It made me feel as if there were white small boats which looked much more similar to swans (from far) floating peacefully on that blue beauty.
This place is so peaceful and worthwhile, away from all the city chaos and confusion. Though away from home I felt more like home, even miles away.
And, if you want to experience something most extraordinary, Leh Ladakh is the best place for that. It is the route for Asia's most beautiful, challenging and spectacular Chadar trek, the frozen trail. The place and experience will leave the imprints on your heart forever.