The annual Rath Yatra held in Jaggannath Puri is a unique occasion that displays the festive mood of an entire country. The faith and belief attached to Puri's rath yatra has come a long way and now many Indian cities and even countries like The UK, Dubai and Singapore observe their own versions of Rath Yatra.
For an atheist or a non-believer, Rath Yatra offers a lot other than just a display of religious extravaganza. The crowd, the trance, the food and the display of human emotions can be observed at the peak. For a culture seeker, a writer or a photographer, Rath Yatra is like walking into a grand buffet catering everything they need to inspire their soul.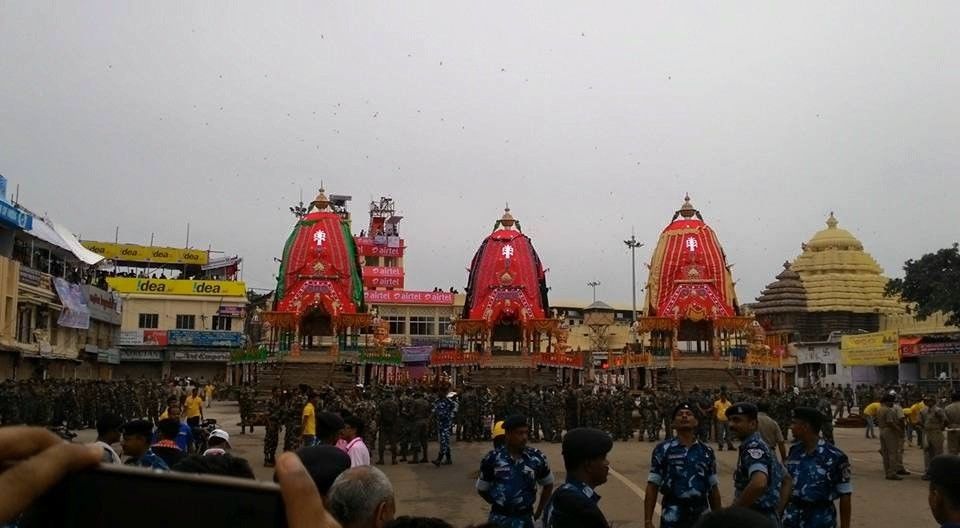 July 14th is the date when Puri Rath Yatra will be organized this year.
How to reach Puri during Rath Yatra - The nearest airport is in Bhubaneswar while daily trains run between major parts of the country. One can reach Bhubaneswar and continue their journey further. Puri is an hour away from here and the buses drop you at the point from where you can walk and reach the venue.
Tips on making your Rath Yatra experience better

Avoid hotels in Puri and make Bhubaneswar your base

It is evident that the hotels in Puri will either be full or overpriced to a level that will leave a bad taste of the festival in your mind. At-least it did for me because I had to pay INR 800 for a hotel room that was not bigger than the size of a bus in Mumbai. The bathroom was attached and was not in its finest condition. A better idea is to stay in Bhubaneswar and then leave early morning for Puri. The streets will be crowded so don't keep a lot of money or valuable items in your pockets.

Instead of attempting to see the Rath up close, concentrate on the crowd
The crowd during the Rath Yatra is at its best. The Rath is just the centre attraction but around it, is a vigorous display of culture and tradition. It is better to see the people, the sadhus, the dancers and the painted faces to make the best out of your travel experience. People fight their way to the Rath as they believe that a touch will get them salvation. Well, you don't have to.
Wear comfortable clothes but as per the traditions
This is the most annoying part for me because I don't understand the point of clothing as per traditions. Well, try to avoid high heels and go for sport shoes. For women, it is a better idea to wear anything that will let you walk for longer distances (I am not that well versed on female fashion so apologies). Cover your face because random colors flying in air can prove harmful.
Stay at the festival for an hour max

Rath Yatra is really slow. It moves with a very slow pace so you can walk around, may be reach as close as the rath and then leave. There is no use of staying for long unless the weather is nice. Reach early, when the pilgrims start to arrive. This is the best moment to observe everything, click pictures and then get going. Go to Swargdwar beach and spend time at one of the few beach shacks trying the authentic sea food. Travelling to Konark will be futile today, on a positive note, Bhubaneswar will be practically empty so you can return and explore temples and Dhauli Stupa.
Lesser known places in Odisha to attend Rath Yatra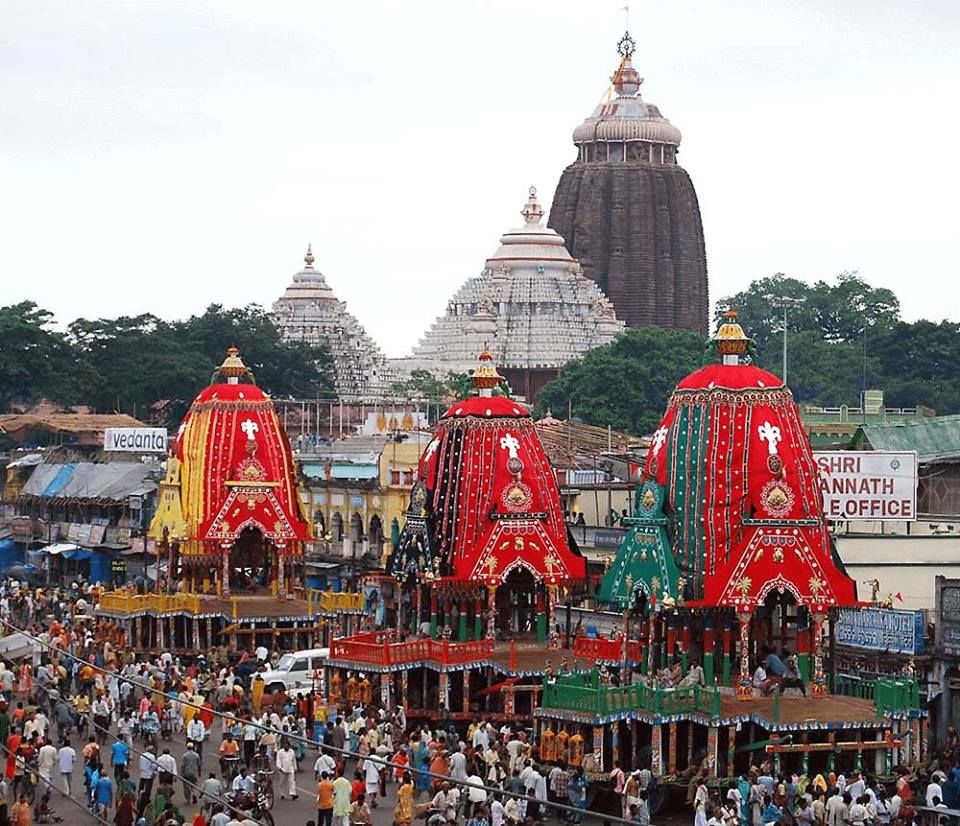 Rath Yatra is not just a tradition of Puri. Many temple towns of Odisha have their own versions of the tradition and Rath Yatra. You too can ditch Puri and explore these lesser known towns for a better and more authentic look at this tradition.
Baripada

The temple of Lord Jaggannath at Baripada is known as Haribaldev Temple. This is the only Rath Yatra in Odisha where one can observe only women pulling the chariot. The chariot of Devi Subhadra, Lord Krishna's wife is pulled by women. Apart from this, the famous Chau Dance can be observed during the festival.
Buses to Baripada are available from Bhubaneswar, Rourkela and Kolkata
Kendrapada
At a distance of 100 km from Puri, Kendrapada is the temple of Lord Balbhadra, the brother of Lord Jaggannath. The Chariot here is 72 feet high, taller than other Chariots in Puri. Unlike Puri where non-hindus are not allowed to pull the Rath, visitors from all religions and sects get to take part in pulling of Rath.
Koraput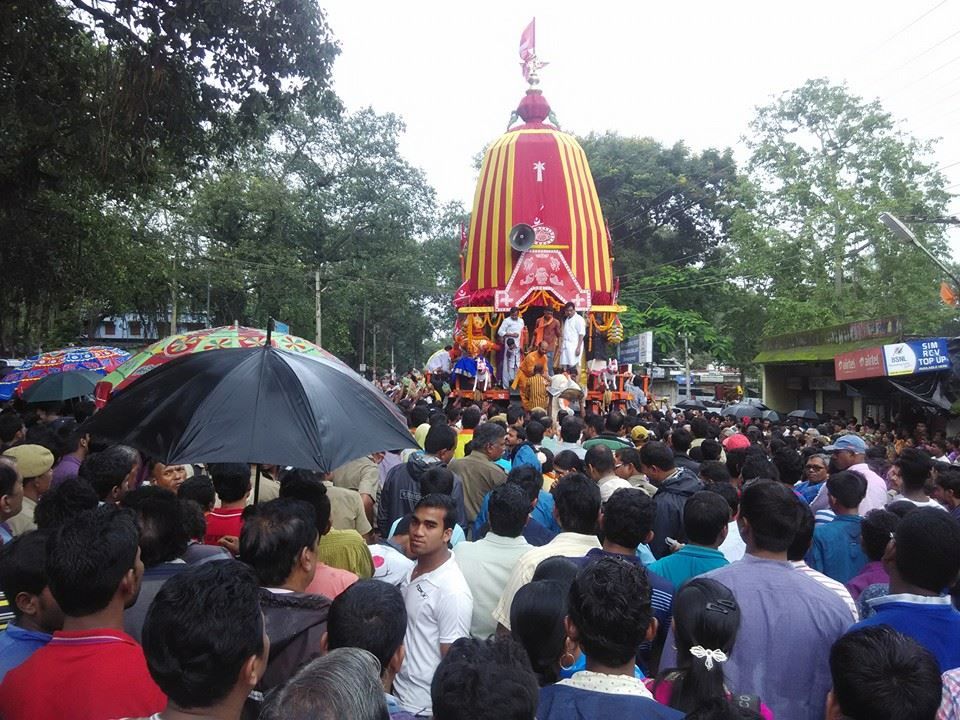 The 12th century Jaggannath temple of Koraput is famous for its ancient architecture. The Rath Yatra is culturally rich with many dance performances and folk arts being performed during the event.
Rath Yatra is an experience of the lifetime even if you are not interested in attaining moksha. Odisha government makes ample arrangements to experience the festival. Special trains and flights are available to Bhubaneshwar and Puri. There is still time, you can book one and get going to one of the biggest events of this country.