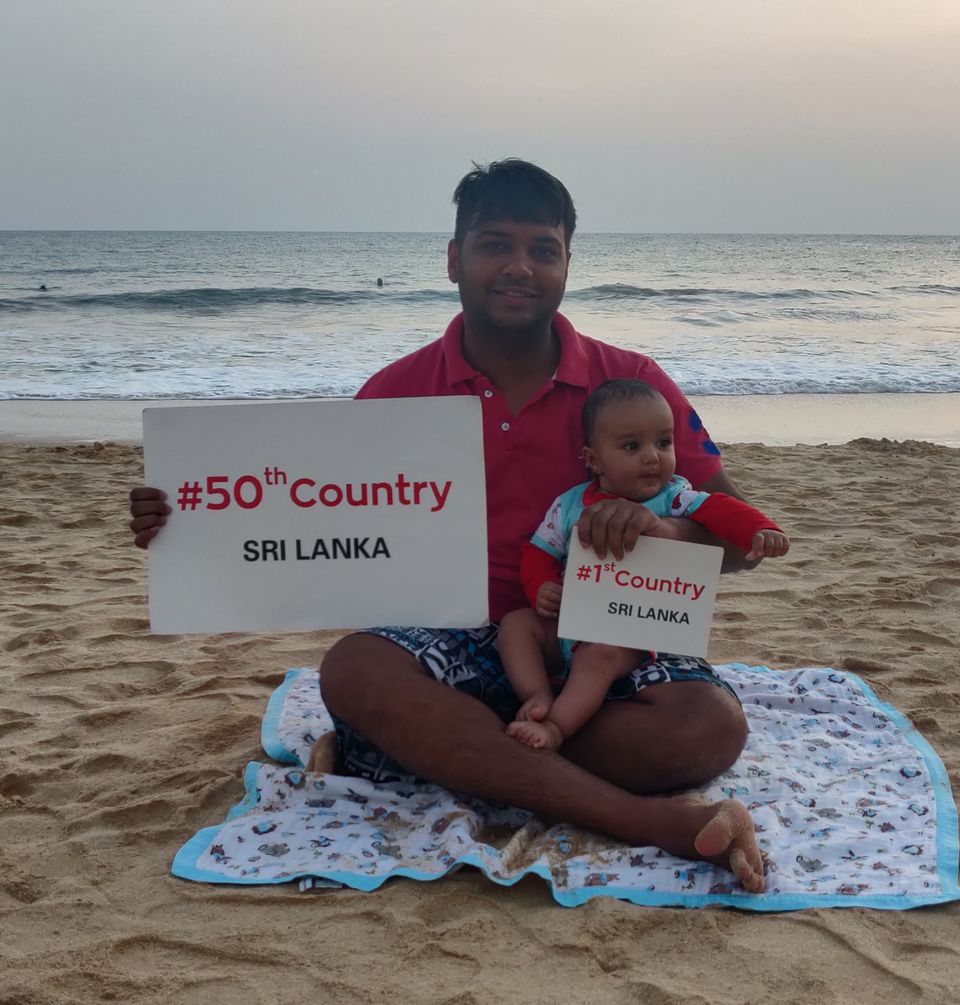 So I finally made it to my 50th country - Sri Lanka. And what a beautiful coincidence it was, it came as my 1st trip of 5 month old baby boy. I could not feel more happier and blessed to have been able to experience such diverse cultures, cuisines and meeting wonderful people around the world.
I can not describe in words how surreal it has been. Apart from Monumental sites and Natural Beauty I saw, I believe the most incredible part of the Journey was meeting people from around the world and learning new things from them, whether it be about their beliefs or cooking styles. I realised that people from all the religions and countries are welcoming and the way Media has deposited perceptions in our mind about them are totally wrong. I urge everyone to travel to Muslim Nations with the same confidence as to European Countries as people are way more hospitable there & its completely safe.
I definitely believe travel is not a race!
And I have only scratched the surface of the countries I have visited and it would take me 10 more lifetimes to experience them fully. Having said that, the numbers do give you a high especially when they are done on an Indian Passport. I have visited 35 countries in Europe, 12 in Asia and 1 each in America, Africa & Australia. I have visited more than 10 countries twice and some of them even Thrice, so I was clearly not in a hurry to just reach my 50th country.
I have been often asked few questions a lot of times, so I would just answer them as Summary of my experiences in different countries.
Favourite Countries : Iceland, Philippines & South Africa
Favourite Cities : Budapest, Barcelona, Gold Coast, Dubai & Rome
Favourite Islands : Coron, Bali, Koh Lanta, Santorini & Whitesundays.

Also, I have visited all the 28 states in India. So Here is my India list.
Favourites Regions in India : Kashmir, Rajasthan, Meghalaya, Goa & Kerala
Favourites Cities in India : Udaipur, Gulmarg, Amritsar, Leh & Goa
Favourites Cuisines : Indian, Japanese, Italian, Turkish & Mexican
I enjoy adventure sports, diving & exploring the cities on foot. Also, I love Road Trips and Island Hopping. I am an active traveler and one of those who goes around all the places in the city from museums to monuments, cafes to nightclubs & Beaches to Viewpoints. I get very restless even if I miss 1 out of 10 things that I had to see in that particular city. I am not much of a party person, but love having conversations at the bar & observing people doing crazy thinks after getting wasted.
I travel at a quick pace, usually spend around 3 days in a city and then move on to next place. Similarly, I usually spend around a week in a country and then move on to next. Though in some cases I ended up spending a whole month exploring them - USA & Australia.
And now the most important question? What do I do and how have I manage to travel so much?
I am 27 Years Old, born and brought up in Gurgaon. I studied B.com(hons) in Delhi University and then joined family business of Ayurvedic Medicines at the age of 21. We manufacture & market patent formulations across 15 states in India. The business was started by my father, managed by my mother from past 15 years as my father passed away when I was 10 years old. In the initial working years, my mother made me travel across India so that I can learn about the marketing operations of company. As a result I traveled to around 20+ states, as part of learning tricks of the trade. Now I have been effectively handling the business from past 5 years, with the regular guidance of my mother.
Meanwhile we gradually started traveling international for annual holidays taking tour packages by SOTC & Thomas Cook. So I came to know how can we travel on our own and book everything online. And then I started traveling Solo. First Trip was to USA, then to Thailand and so on.
The big leap was doing a 3 month solo backpacking trip across Europe in 2015 where I visited 30 Countries and 100+ cities as part of my trip. My entire Budget of the Trip was Rs.4 Lacs as I stayed in Hostels, ate street food and used buses to commute between the cities. So on an average I Spent 50$ a day which is my usual budget for Holiday.
Since then I managed to travel 4-5 times every year internationally with the support of my mother who is able to take care of company operations behind my back. My mother is a Typical Hardworking Indian Mother, who is too scared to send her Kid solo outside, but somehow I convince her every time, she is sweet.
I love staying in Hostels, so much to an extent I wanted to open a Hostel in Delhi. And I tried working on it for a month, but then realised that Delhi Govt. does not have proper guidelines for it and it was not financially viable for me in long run.
Therefore, I ended up opening 2 Boutique Hotels or Corporate Guesthouses as they call it in Gurgaon in 2015 by taking properties on Rent. It was golden time period for such businesses as OYO was heating up the market and giving lot of incentives for partnering with them. As per the trend, the startups burn a lot of cash in beginning to gain new vendors as well as customers. And I made huge profits during OYO's cash burn and then shut down my business in 2018 end when they started increasing their margins and narrowing our profits. The guesthouse business was mainly run on Auto-Pilot mode as my front desk managers were sharp enough to carry out the day-to-day proceedings, due to OYO's efficient staff and technology.
This is how I financed my travels and was able to take time off for my travels.
I Happily admit that I am Privileged by my family background and hence have been able to travel so much. However, I have always traveled on budget and managed to see as much places possible in the time I have rather than chilling in pool and burn my cash on expensive food, hotels & taxis.