It was Dad's seventieth Birthday and we were wondering what to gift him. He is a man of no"wants" and minimalism. He would not have enjoyed a big party or a get together , nor would he have been excited about any gifts or watches and never used it .... so what could we do?
And then came that moment of the mind ticking! How about taking him to Japan. Japan had been on his wishlist for a long time . He'd always talk about visiting Mt.Fuji , seeing Tokyo and siting in the Bullet Train. What could be a better gift than to take him there. So my sister and I decided to book the tickets and the hotels and then gift it to him . It was going to be a reunion of teh original family - just the four of us! My sister would fly in From Sn Francisco and I would fly in with my parents from New Delhi and we'd spend a week there together.
We booked them in Business Class to give him a real treat and took a direct flight on Air India to Tokyo (Narita). Dad was so elated just thinking that his little girls were so capable that they had planned this entire trip for him and Mom so seamlessly. He was grateful to our husbands and our kids and extended families to take care of themselves while we took off!
We landed at Narita and had booked the First Class tickets for Bullet Train. Took the train to downtown where I had booked a penthouse apartment via AirBnB. this was my first ever stay with AirBnB and I must say a great one. The apartment was beautiful and large (by Tokyo standards) and at a perfect location. The Japanese people are the most helpful and kind people I have ever met.
If you ask them for directions - be rest assured that they will drop you till your door and ensure you are safe and where you need to be! My sister flew in that evening and next day we started our beautiful exploration of the country - a city tour in an open deck bus - visits to Meiji park, shrines, Shibuya ... the famous crossroad at Shibuya will have you mesmerized completely! So many people - but all courteous and following their line and path. No pushing and touching inappropriately!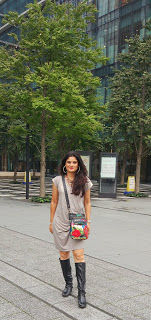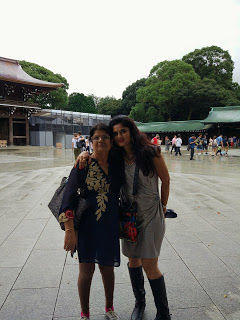 I had been invited by a group there to teach my Bollywood class as a workshop. That was almost an hour away from downtown so I went to teach a class of 50 amazing all Japanese students so enthusiastic to learn Bollywood dancing. One of the most memorable experiences of my dancing career. They are so humble and so loving. I loved teaching them and they were amazing dancers and students.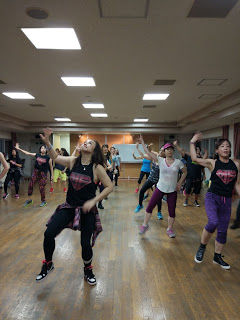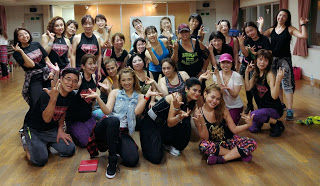 Again, we were lost trying to change trains to return to the apartment and one kind person came all the way to drop us back to the apartment. When I asked him how far away was his home now- he said he'd have to go back the same route (from where we came) another 45 minutes to reach his home! such is their kindness and hospitality.
My dad's wish list has very few things and to visit Mt Fuji was one of the,. As per the weather news Mt.Fuji had been shrouded in clouds for more than a month and visibility was 10%. We were disappointed but we nevertheless decided to take the three hour train journey to it. To our surprise when we reached Mt.Fuji station for the first time in more than a month the clouds had gone and the entire Fuji was visible from the Train station itself. It was literally a miracle.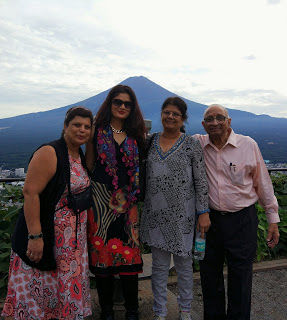 I do believe that if you yearn for something very sincerely and strongly the universe comes together to grant that wish to you. That was the case for my father. We spent 6 hours in the Fuji town - taking a water cruise, going up the cable car to watch Mt.Fuji and it was surely a sight to behold!
We returned back to Tokyo in the little Thomas The Tank train. I so missed my kids......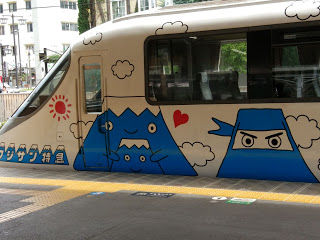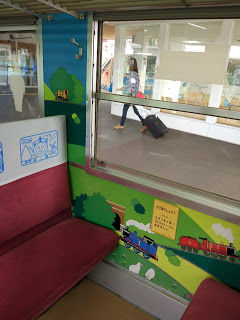 The next day we relaxed around the tiny cobbled streets in the city and visited some more shrines, parks and the greater areas of Shibuya .
Day 4 we left for Osaka via the bullet train (Shinkasen). What a beauty it is with a beautiful nose. Quiet and calm. We boarded the train and within three hours we were in Osaka. Along the way we witnessed some beautiful small towns and villages of Japan. All solar powered.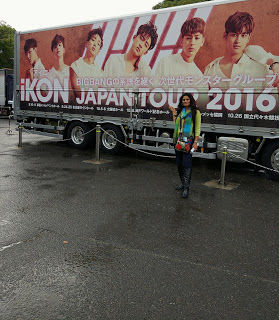 We stayed at The Marriott at the Shin-Osaka station. A quick tour around the city of Osaka and at night I had invitation to conduct another Bollywood Dance workshop in Osaka. My host instructor was a Japanese American and she and the students welcomed me with open arms. We danced to the tunes of "Lovely" and Gallan Ghodiyan" till we were all sweaty and panting for breath!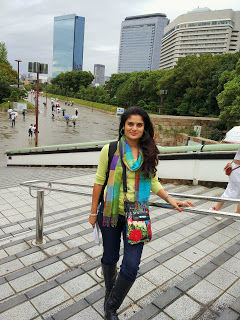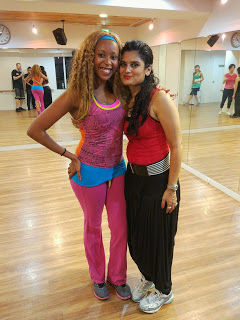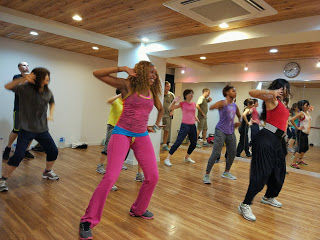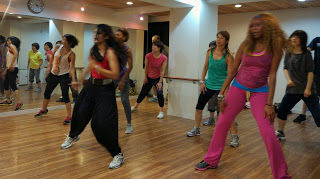 Next day early ,we were off to Kyoto to see the ancient temples, tea-houses. How I wished I saw a Geisha - but i wasn't so luck after-all! But we did witness a Japanese wedding and the bride looked beautiful like a Japanese doll in her kimono.
After Kyoto we took a day trip to Nara. The large statue of Buddha and the innumerable deers that just roam around freely in the temple campus without harming anyone was indeed something spectacular. We entered the temple premise and the coronation of a temple priest started right then. We were fortunate to see the entire coronation ritual, hearing the chants and prayers and sitting through it.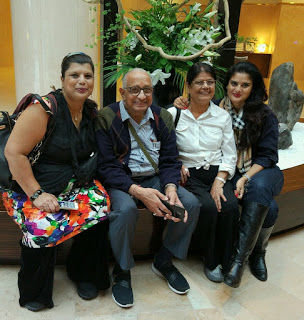 We took our train back to Tokyo the following day and said our goodbyes and took our flights back to our respective countries! How small has this world become. Within 6 hours we had reached at a common point from two different parts of the world! What a memorable trip and what a journey! Memories etched forever in our hearts! Happy 70th Dad! and Happy 50th Anniversary to both of you!