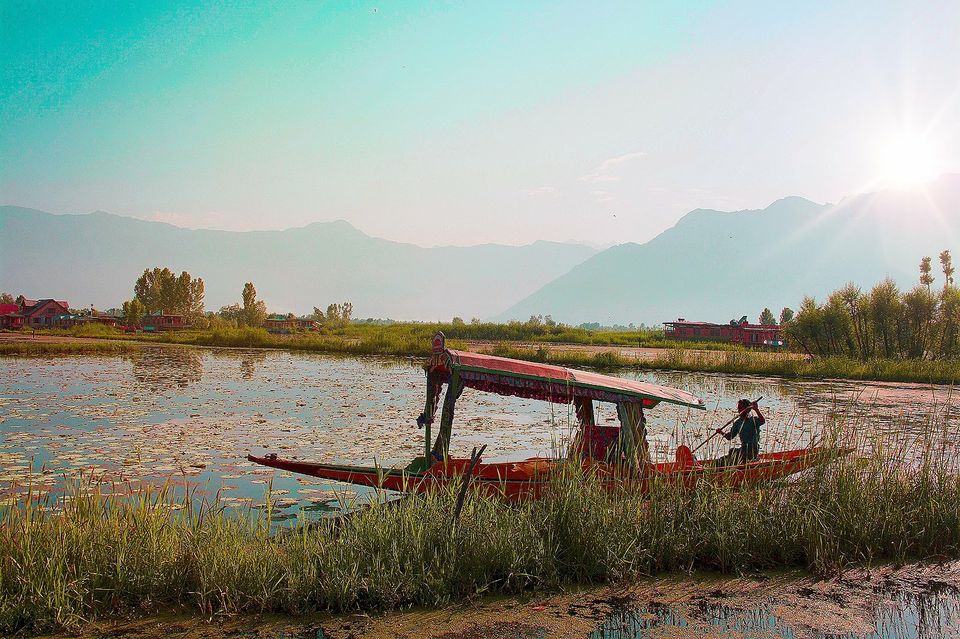 Kashmir -the paradise on Earth!
Don't your sense organs compels your brain to flash those scenes of mighty snow-capped mountains, romance in Shikaras,  and Alpine Meadows, as soon as you think of Kashmir?
Kashmir -the paradise on Earth!
Heaven ! Isn't it?
Yes, Kashmir is undoubtedly one of the most beautiful and romantic places on the Earth. The Mughal emperor  Jehangir once on his visit to Kashmir said-
"Agar Dharti pe kahin swarg hai to, yahin hain , yahin hain , yahin hain!!!
Which means "if there is heaven on Earth, it is here, it is here, it is here! when translated into English.
Now how much would you love this if I told you to imagine yourself waking up to the incandescent sun streaks falling on your face like a feather and this golden ball of blazing fire(SUN) seems to be positioned between two snow-clad mountains?
Yes! exactly like the one you drew in your drawing book in primary school. And what's better than waking up to this view through your window of your own private lavish and extravagant HOUSEBOAT?
By the way, I recently traveled to Goa and had lots of fun, click here to read
Is Kashmir in your bucket list yet? The most exotic place on Earth.
Kashmir was always on my bucket list and I am sure many of us would dream to visit this paradise on our earth. Am I right?
But don't you worry, if you are planning to pay a visit to KASHMIR, then this blog will definitely sort you out.
So would you mind if I take you along with me to time travel the snow-capped Gulmarg peaks, the beautiful Dal lake, the stunning meadows and valleys of Pahalgam and many more? No right? let's go…
Rewinding back I remember Kashmir happened to me and my family two years back(in may 2016) and till date, the traces of it are still fresh in my forgetful brain.
Having said that, Kashmir was one of the best trips of my life and I mean it.
Before starting the blog, let me help you out with the transportation convenience if you are wondering how to reach the paradise.
How to reach Kashmir-the paradise on Earth!
Via flight-
Logically flights make so much sense as they preserve so much time of yours. Right?
Better it would be if you make tickets in advance as you may get great deals and offers on flight tickets.
Flights to Kashmir is well linked to many major cities like Delhi, Banglore, Indore, Chennai etc. The Srinagar International Airport in Srinagar and  Jammu airport in Jammu should be your destination if you are flying.
Via rail-
Jammu Tavi railway station in Jammu is the nearest railway station to Kashmir. From there you can hire a Taxi or take the bus to Srinagar.
Railways are the cheapest way to reach Kashmir and if you love spending hours and hours peeping landscapes from the train's window then railways can be ideal for you.
Via Road-
Private buses are easily available from various nearby cities.  The popular Jawahar tunnel which connects Jammu to Srinagar falls on the way, and also to inform you, National Highway 1-Aconnects Jammu to Srinagar is also a good option if you love to drive through terrains…
And the voyage begins to..
Kashmir -the paradise on Earth!
My dad booked four tickets to Srinagar international airport 1 month in advance.
On May 4th  we boarded the flight from Rajiv Gandhi International airport(Hyderabad) and as usual, I could not keep my adrenaline in place and as you know my brain fumbles due to over-excitement, I was jumping off the cloud nine in my mind. It was a Five-hour flight. Very long and restless right?
Voayage begins!
Yes, it was, but when you have your siblings sitting right beside you, it doesn't seem that boring.
Plus you can take a nap, savor your taste buds, flick over some magazines or you can glare the clouds and the sky out of the window.
To catch the glimpse of the Snow-peaked Himalayas from the top is what I was the most exhilarated about. Trust me I am not blabbering, it looks celestial. It was a dawn to remember.
Alternatively, you can take a flight to Delhi and then a connecting flight from Delhi to Satwari airport(Jammu).
We landed  Srinagar in the morning at 8 am and it welcomed us with a very pleasant weather. Well, let me help you grading the best time to visit Kashmir so you can have the time of your life.
Want to steal the best of Kashmir?
 Let's check out the best time to visit Kashmir-The paradise on Earth!
March to October-
These months are considered ideal for visiting Kashmir as this period categorizes of three seasons, spring(March-May), summers(late May to August) and autumn(September-November), so you can plan according to your preference.
In this time frame, Kashmir blossoms into the most beautiful place ever!
Isnt it the most beautiful place on Earth?
Flower blooming, birds chirping is all that Kashmir has to offer with a panoramic view of the magnificent meadows and the majestic Himalayas so its the best time to explore and have the sightseeing of those astonishing views.
This is the peak season, so the hotel rates will be high, you might not get any stays right away. Also, the temperature is quite pleasant with 30degrees to the max and 10 degrees to min.
Tip-Always make your tickets for accommodation in advance.
November to March-
Are you a winter lover? Do you wanna ski and play with the snow?
Then winters are perfect for you as Kashmir will be blanketed under the ivory snow in the winters. And the temperature normally varies between 12 to -4 degrees.
It can nerve chilling cold so make sure you carry lots and lots of warm clothes.
sorry to interrupt, but this cutie has to be in here!
Our stay not less than a dream house?/We lived in a lake?
After we landed Srinagar, dad did some inquiry about the routes and all. Then we hired a taxi and headed to our accommodation? Any guesses where we stayed?
It's the Houseboat guys!!!
On our way to the houseboat, we came across the real beauty of Kashmir that is the people who were donned in Pherans.
It is their traditional costume that is worn by men, women, and children to keep them warm. We saw some women and men working on the farms and some children with blush pink tint on their cheeks looking totally adorable were playing with each other.
Want to take the feel of Bollywood in the houseboat?
We reached our houseboat which was in Dal lake.
We lived in a Houseboat which was no less than a dream house. But first, let me show you around Dal lake.
Dal lake is known as the jewel of Kashmirand it is the second largest lake in India spread over 15 km. Dal lake is also popularly called Venice of East.
Have you ever shopped designer clothes from a floating shop?
You will be awestruck when you will find out that this lake is the world on its own.
The lake is the habitat of floating markets selling every possible thing from designer clothes, to food items to home needs and what not in Shikaras and also you can stay in houseboat in the lake.
You will be mesmerized by the beauty of how the lake reflects the mystic Pir Panjal range of mountains with snow-capped peaks.
I found myself to be extremely lucky to stay in Iram's houseboat. We were super happy. Let's see what all can you do in Kashmir.
Things to do in Kashmir-
1. Ditch hotels to stay in an extravagant and contemporary houseboat at just Rs 285.
The Houseboats are designed with smart architecture which implies royal heritage and culture of Kashmir but with modern amenities.
LIVING at its best!
These are a great source of accommodation for those who want to experience a unique style of living in the lap of mother nature. Check out great deals on houseboats https://www.makemytrip.com/hotels/p-houseboats-in-srinagar.html
 A total of 700 houseboats with 2750 rooms all in a Lake?
Now that's the power of-
Kashmir -the paradise on Earth!
They are made with strong wood and carved intricately.
As you enter the Boat, there will be a huge hall with the paintings of Kashmir, their rich Kashida (embroidery of Kashmir) work done on carpets and big chandeliers hung on the wall of the boat which looks ultra lavish.
Feels like a palace.
Also, you can find more rooms with attached washrooms and the houseboats are well equipped with clean drinking water, food, wifi, and safety.
The owner of our Houseboat was Imran and he was very polite to us.Also he said many Bollywood movies like Mission Kashmir and Jab Jab phool khiley were shot on these houseboats .
2-DAY-1, itinerary 1-PAHALGAM
We got freshened up and had our breakfast reached the bank of the lake through a Shikara. The Shikara was provided by the houseboat owners for us to explore within the lake.
Our Taxi was waiting to take us to Pahalgam which was our first itinerary of the day. Yes!we hired a taxi which made our life much easier.
The distance between Srinagar and Pahalgam is 96 km. The journey was very scintillating as we got to see the majestic grandeur of Kashmir. The captivating mountains will leave you ecstatic and energetic all through the vain.
Can you see these adorable sheeps? Yes, it is indeed Valley of Shepards.
We would pause at several points just to click snaps and get overwhelmed by the view throughout the journey. The temperature went down as we got near Pahalgam.
*There are a plethora of things you can do in Pahalgam.
*Avantipur temple-
Now, this temple lies on the way to Pahalgam from Srinagar. This temple comes under the off-beat places in Kashmir, so you must include this if you love to explore unconventional places and this should be your favorite if you love to click picturesque architectures.
The ticket is 25RS.
Such an amalgamation of nature and made compilation.
This rocky shrine was built by Maharaja Avantivarman in history. These rock structures look like an embellishment to the captivating mountains in the backdrop.
*Pahalgam-The valley of shepherds and mesmerizing view!
As we reached, Pahalgam just amazed me with the view that was awe-inspiring and opulent.
I froze so much that I borrowed the jacket from our driver! p.s-that's my dad.:)
Pahalgam, also known as the valley of Shepards is one of the most popular tourist destinations in Kashmir, situated on the banks of river Lidder at an altitude of7,200 feet.
Me chasing sheep be like!
Pahalgam offers the scenic beauty at its best -unfolding the wide turf of meadows spread over the longest of sight with the Lidder river running parallelly and alpine mountains in the vicinity.
Did you know? Pahalgam route is famous for the devotees who make their way to Amarnath.
I remember when we reached the top of the Pahalgam meadows, my style was massacred by the intense cold wind coming from the Himalayas.
To not look fluffy in the pictures, I did not wear or carry any warm clothes, but as soon as I realized I could die, I borrowed this oversized jacket from our driver.LOL.
*Club park-
Its the oldest park cum picnic spot in Pahalgam.
This park encompasses of alluring views one needs to cure his lethargic mind with fresh air and the merry-making ambiance in the countryside landscape.
My mom bought a bedsheet, we spread it and started to toss and turn on it while having the best view all around you.
We had some snacks a, clicked a few pictures and head to Betaab valley which was 6 km from the park.
Me getting clicked behind the Lidder river in Club garden
*Betaab valley-
Jab hum jawan honge, jane Kaha honge…lekin Jaha honge Tujhe Yaad karenge… Tujhe Yaad karenge!!!
Tell me you don't remember this, I won't believe it! If you are a Bollywood junkie and a 90's kid just like me, you would know which movie this song is from?
Hey honeymooners, Ignite your romance in the Betaab valley!
*Betaab valley-Yes! the song above is from the Bollywood movie Betab and this valley is named after it.
This valley is adorned with romantic ambiance and breathtaking views of alpine meadows and mountains.
NATURE'S WONDER
If you are just married, then Betaab valley will definitely help you cherish your honeymoon all life long. 
I'll tell you an awkward and a funny story- As you know that Beataab valley is drop dead gorgeous and a kind of a lovey-dovey park, so one couple was there who could not resist their romance and all that P.D.A(public display of affection) was censored to all. It becomes awkward when you are with your parents right? 
Guys get a room!  
We were quite tired by then, so we hauled at a cafe, which has the most insane view ever.
*Stone age lounge was a cafe situated in the main market of Pahalgam serves the best snacks you will have. You should definitely check it out if you are in Pahalgam. After finishing our snacks, we head to the Baisaran valley which was 5 km away.
Kashmir -the paradise on Earth!
Did you know our India has its Mini Switzerland in Kashmir?
Located 5km from Pahalgam, Baisaran valley will definitely quench nature lovers. Baisaran valley is also known as mini Switzerland of India for its lush green meadows and pine trees surrounding the valley.
Also pony rides are available for 600 rs from Pahalgam to Baisaram valley. Then we headed to another popular destination in Pahalgam – an adorable village called Aru valley that is 12 km away.
12 km from Pahalgam, this valley has the green carpet laid on with pine tree and snow peaked mountains in the backdrop.
such a cutie1i remember i cried to convince my parents to let me catch this cutie!Lidder river was freezing even in summers !
Do not forget to bring in your cameras and take out a photographer in you. There are many hotels, restaurants, and lodges in Aru valley perfectly set up for you amidst the scenic beauty.
We witnessed the spectacular sunset from the valley.
Hotels in Pahalgam-
Wanna live in the middle of pristine meadows and majestic mountains of Pahalgam?
Pahalgam
Pahalgam has numerous hotels and lodges to offer you. check the best deal here according to your prerequisites.
https://www.tripadvisor.in/Hotels-g665884-Pahalgam_Anantnag_District_Kashmir_Jammu_and_Kashmir-Hotels.html
It was getting dark and we were very tired by then so we headed back to Srinagar as after this sightseeing chapter.
We got back our houseboat, had a scrumptious dinner, snuggled into our blankets and slept soon.
DAY 1 went perfectly! And cannot wait to unfold the following days in kashmir with you guys.
let's catch up soon with another blog about Kashmir,
stay tuned
until then,
keep smiling!
#wanderuffles