Amidst all the negative news in the media post the Pulwama attack, with election time in the country & people around us advising not to visit we had somehow made up our mind that we are going to Kashmir & kept our fingers crossed. We just stopped watching news channels & began the countdown to our trip. Hoping to give a true picture of Kashmir through this write-up. Some travel tips also included at the end.
Our journey began on the 4th of May from Mumbai. We had booked a window seat on the flight from Delhi to Srinagar to witness the aerial view of the snow-capped mountain range of Kashmir. We just forgot all worries & were looking forward to an exciting trip.
4th May - An hours drive from Srinagar airport got us to the beautiful Dal Lake. After some rest & evening tea, we went on a 2 hours Shikara ride on the lake. This is recommended if you are visiting Dal lake. Sunset view from the Shikara looks awesome with golden light falling on the lake. You can see floating market, floating vegetable fields & various beautiful wood carvings on the houseboats. You can enjoy some fruits, hot kahwa & sweet corn on your ride. We noticed that houseboats which are away from the main road have a little quieter surroundings. Food on the houseboat is simple, fresh & homely.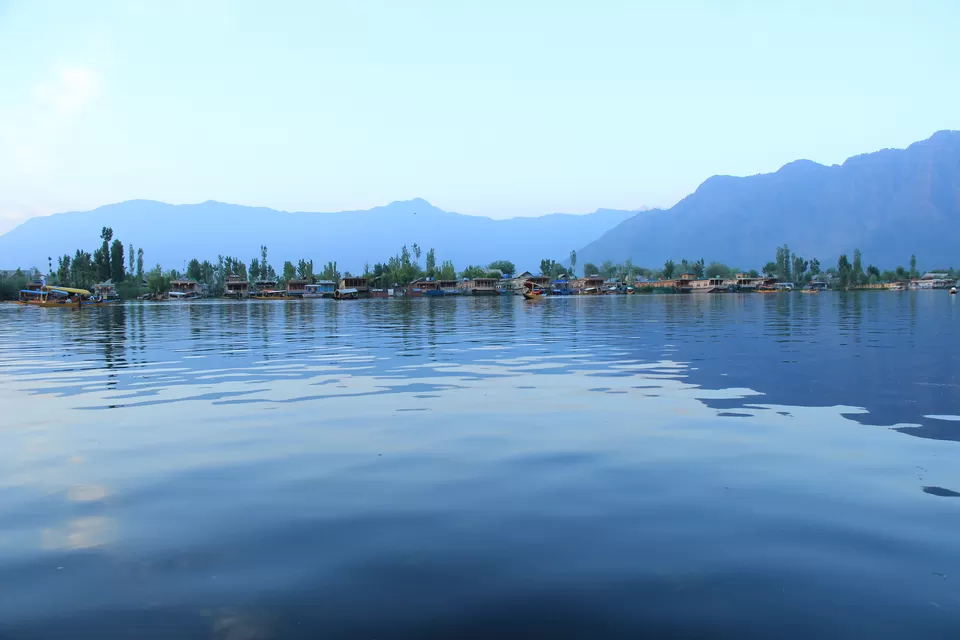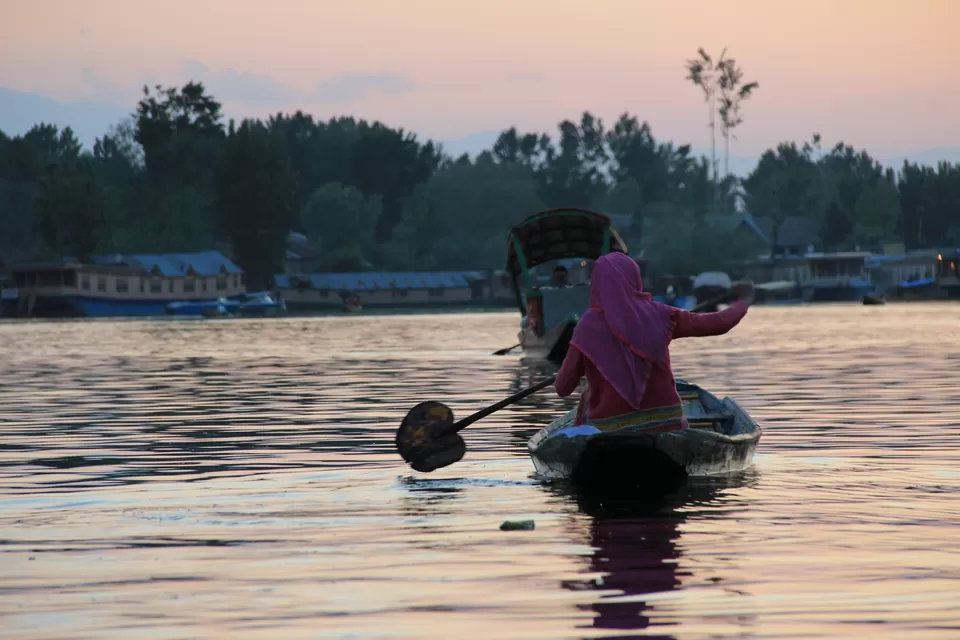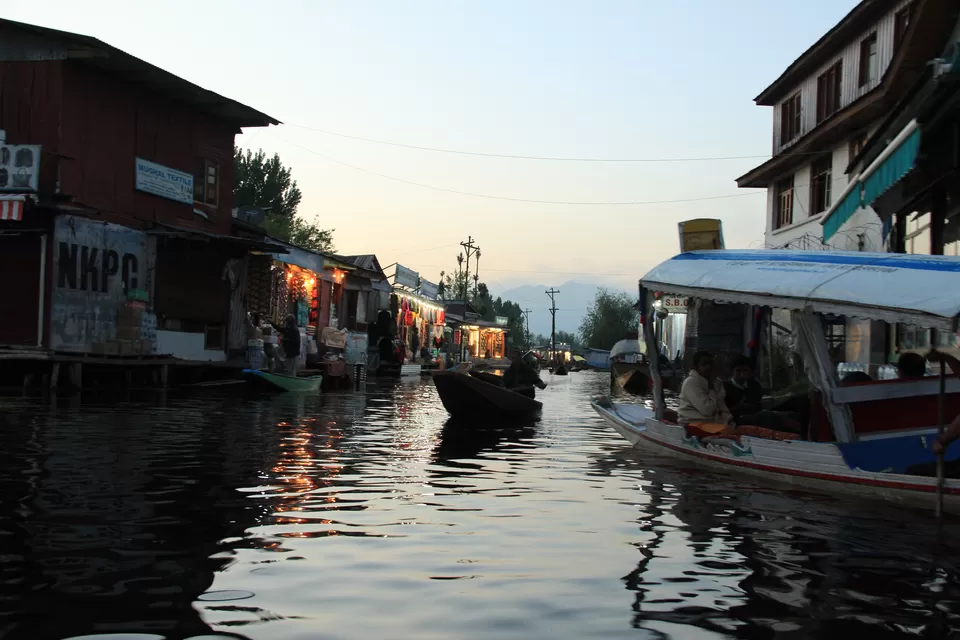 5th May - We drove to Gulmarg to have some fun in the snow. Tourist vehicles are only allowed till Gulmarg taxi drop point. Snow was quite far from the drop point during this season. You have to take a pony ride to the base & a sledge further up the slopes to reach the area which has fresh snow. It was not much cold, so one can easily skip buying the rented jackets, shoes, etc.
Gulmarg is a very typical tourist place with all vendors from horse owners, sledge owners, rented clothes shops, photographers, etc are tied up with each other & will be behind any tourist right from the base. They were quite annoying & we didn't much enjoy the beauty of the place. Gulmarg seemed better to be visited in winters when the snow is right at the base & can be reached on foot. We were back to the houseboat by evening for a night stay.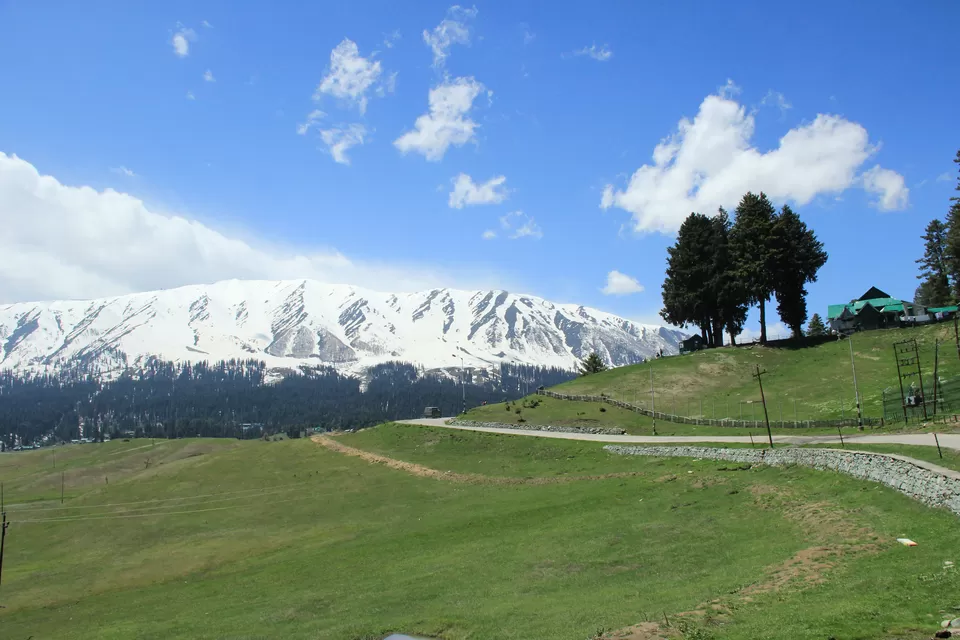 6th May - It was the day of elections in Pulwama. Security was tightened across the state & there was a sense of fear in the air. Army men were deployed in large numbers on the streets of Srinagar.
Our destination for the day was Doodhpathri, a lesser-known hill station in Budgam district, around 50 km from Srinagar. As advised by our driver, we drove out of Srinagar early in the morning to avoid any roadblocks & after around a 2 & half hour's drive we reached a small village 2 km away from Doodhpathri meadows, this is where you can find some hotels to eat. There are no other hotels or shops beyond this point.
Doodhpathri is an absolutely must-visit place for all nature lovers. The approach road is not in good condition, but it's all worth the effort. First sight of it was enough to forget all the trouble of commute. Vast lush green meadows, herds of sheep grazing, pine trees & mountains in the background formed a perfectly picturesque location. It's called mini Switzerland of India. We got down & spent some time here in the meadows. A beautiful ride further through the meadows will take you to a river bed with white pebbles & a wooden bridge to cross over. Amazing view all around. You can spend some time here to just sit & enjoy the nature & have some photos clicked in traditional Kashmiri dress. With loads of pictures, we drove back from Doodhpathri to Anantnag.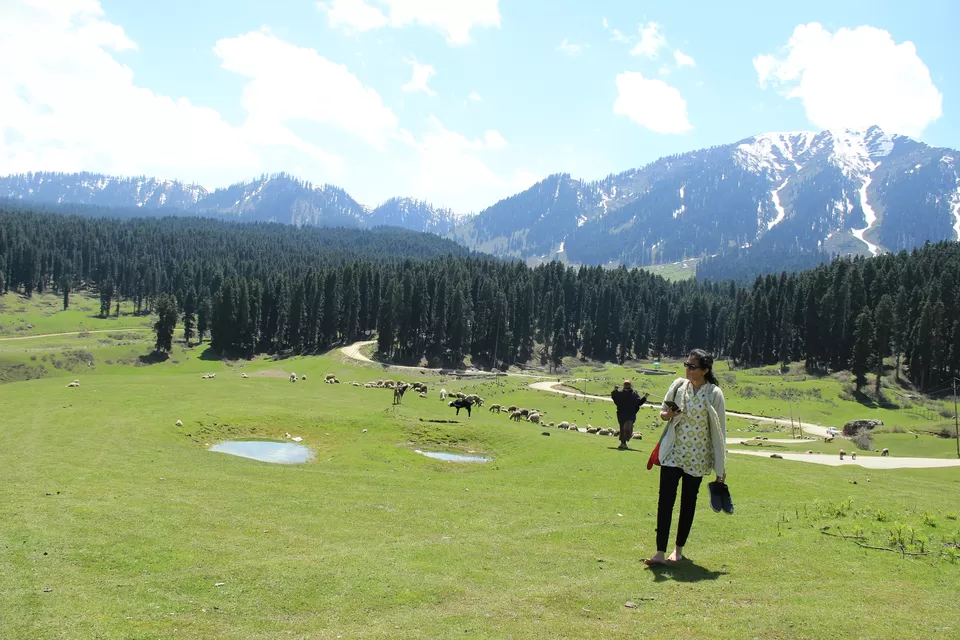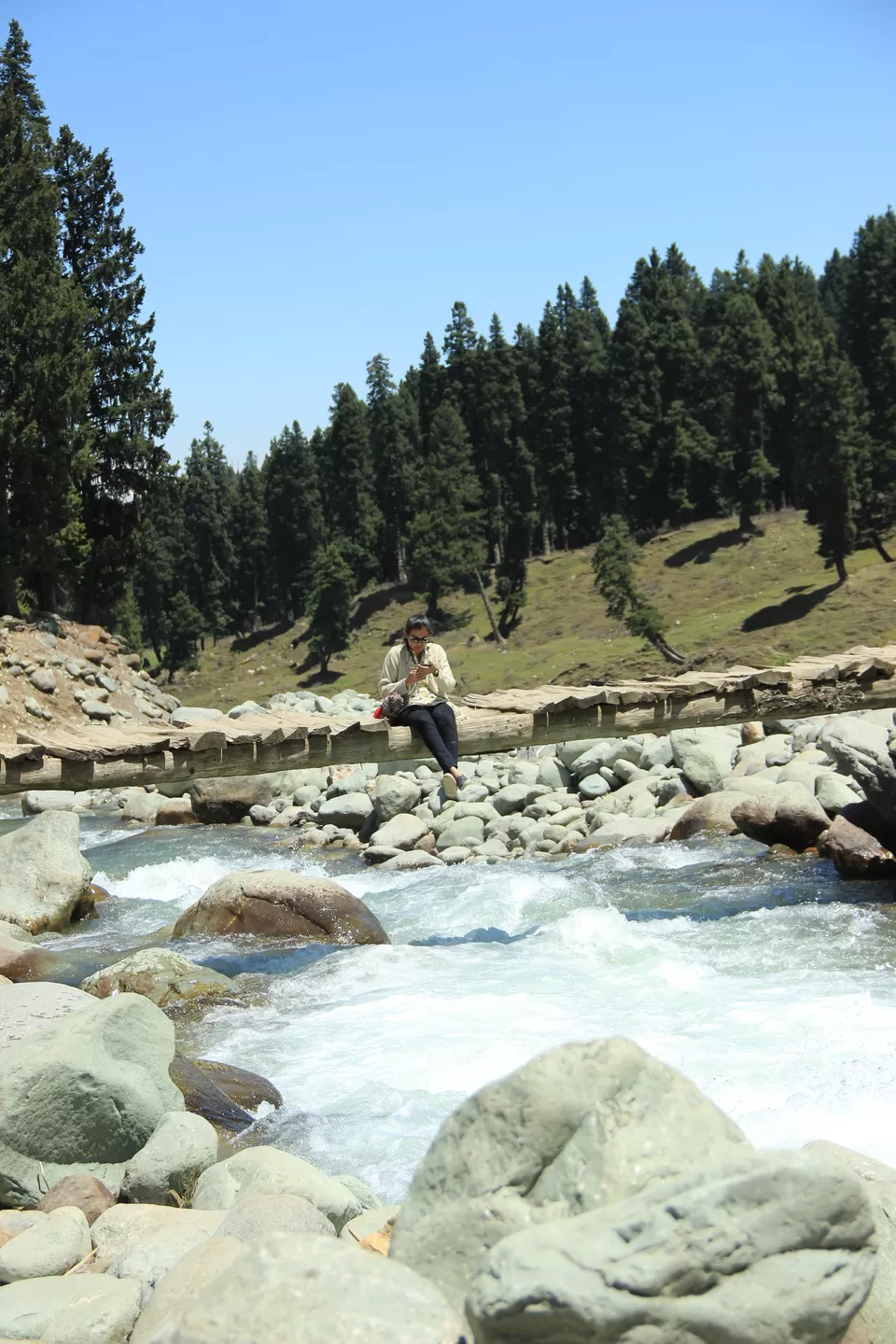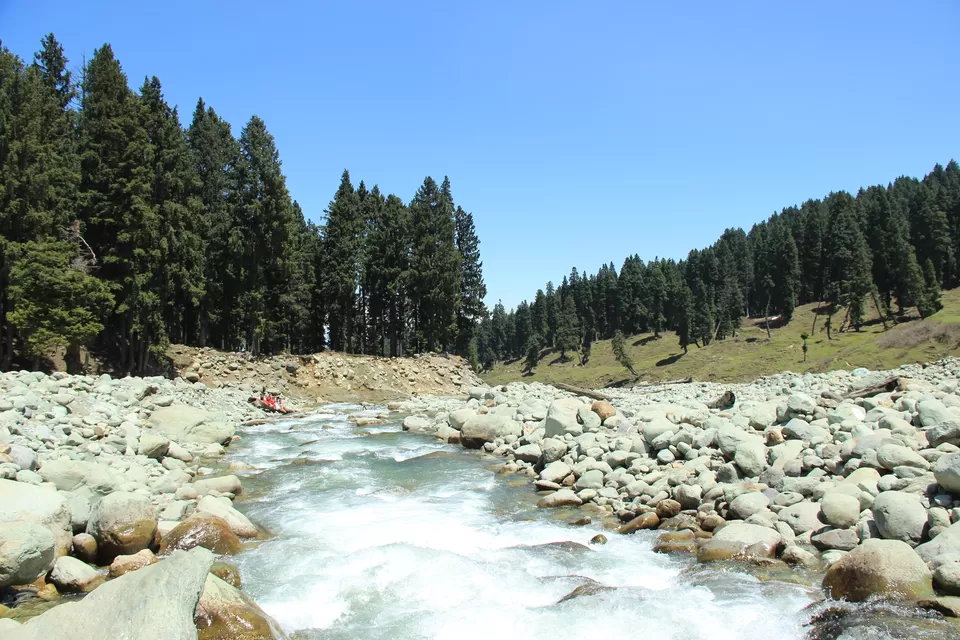 Our night stay was at a friend's place at Larkipora village in Anantnag. It was a different experience which we had never thought of, staying at a Kashmiri local's house. We were greeted with a warm hug from the elderly in the family. Must say Kashmiris are very hospitable people & they always wait for guests to visit. They just love doing mehmaan-nawazi. Anantnag is considered one of the unsafe areas in Kashmir, but we didn't feel the fear while going around the village for a morning walk.
7th May - This was the first day of the holy Ramzan month. It does not much affect the famous tourist places, lesser known ones might have shops/restaurants shut specially on a Friday. Our next stop was Pahalgam located on the banks of the Lidder River. The river accompanies you all through your ride in Pahalgam.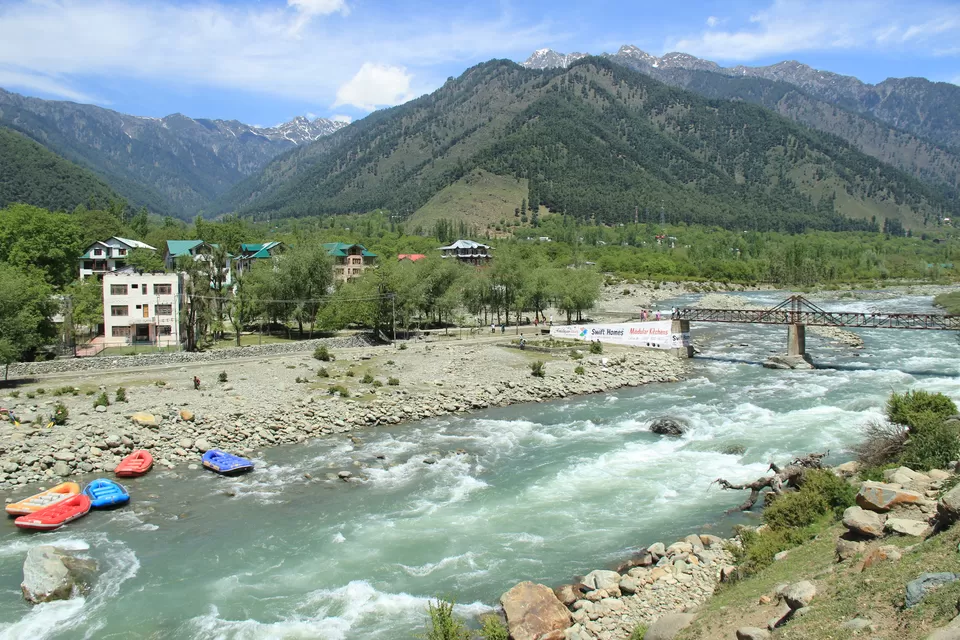 Its a well-known destination amongst the tourist visiting Kashmir. So we had to find a place away from the crowd & "Travellers inn" was the best option. The approach might be a little task for the elderly, but they arrange for a palkhi on request. After crossing a hanging bridge across the river & around half a km walk we reached the cottage & it seemed like a dream house. The picture says it all.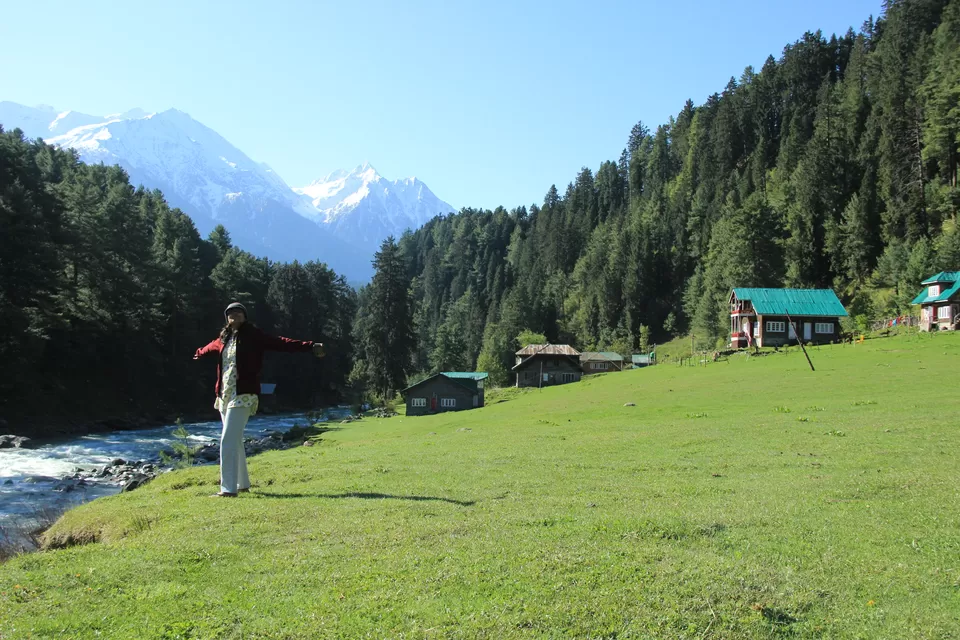 It was an ideal location for us nature lovers with a vast carpet of green grass, pine trees & mountains as a backdrop, the river flowing in front of the house, birds chirping & horses grazing around. What more could we ask for? It's a very calm & peaceful place. Early morning walk on the grass, just sitting by the river, dipping your feet in the ice-cold water & watching the snow-capped mountains is all that you would want to do. They also arrange for a small trek through the forest.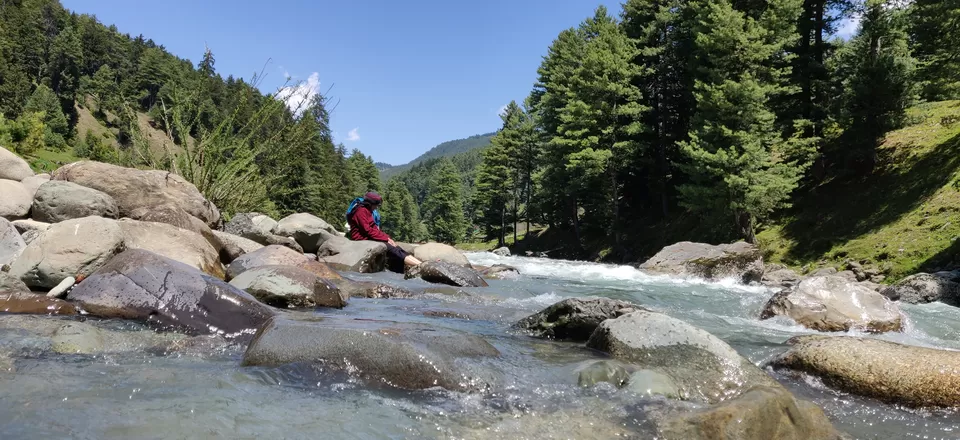 8th May - We visited Betaab Valley which has got its name from the famous song of the movie Betaab that was shot here. It has a big garden at the base with many chinar trees, small wooden bridges & a stream flowing by. It has vast lush green slopes where you can see a large number of horses & sheeps grazing. It's a very beautiful & scenic location.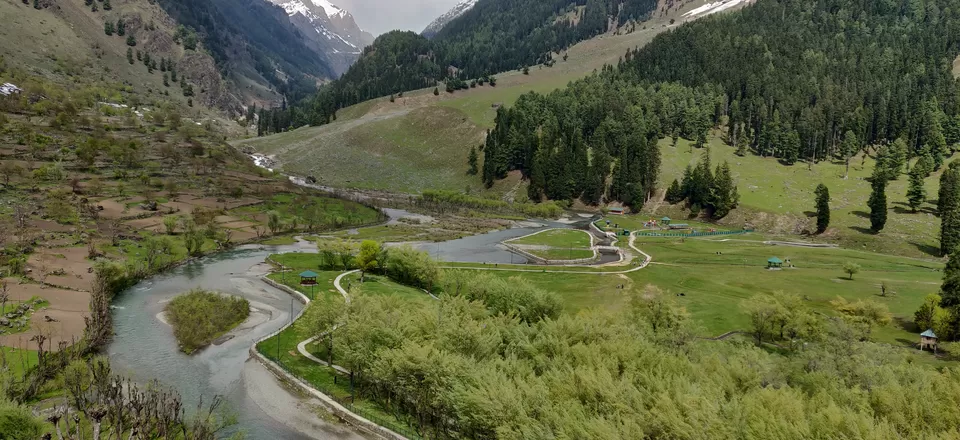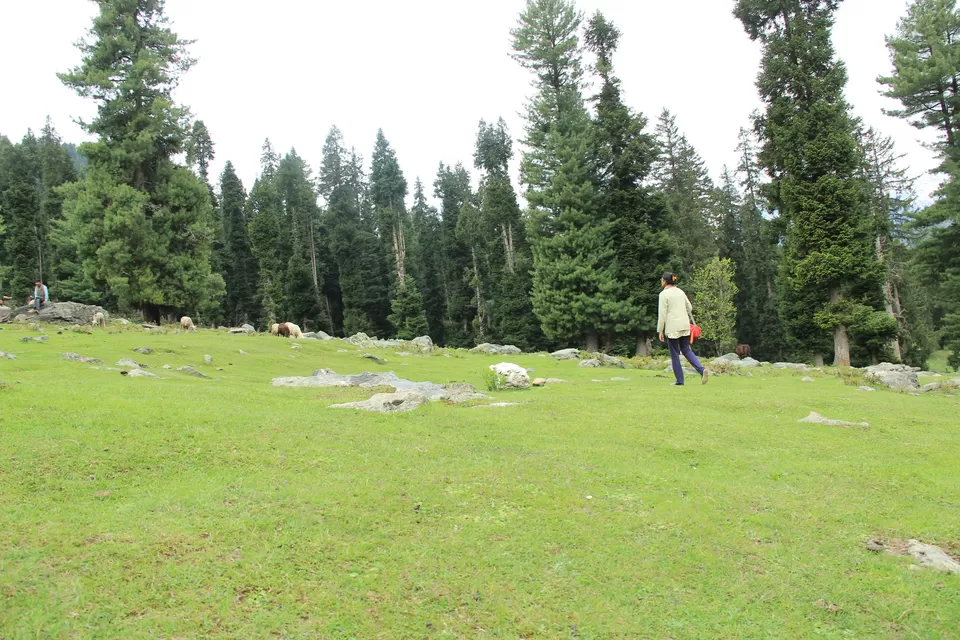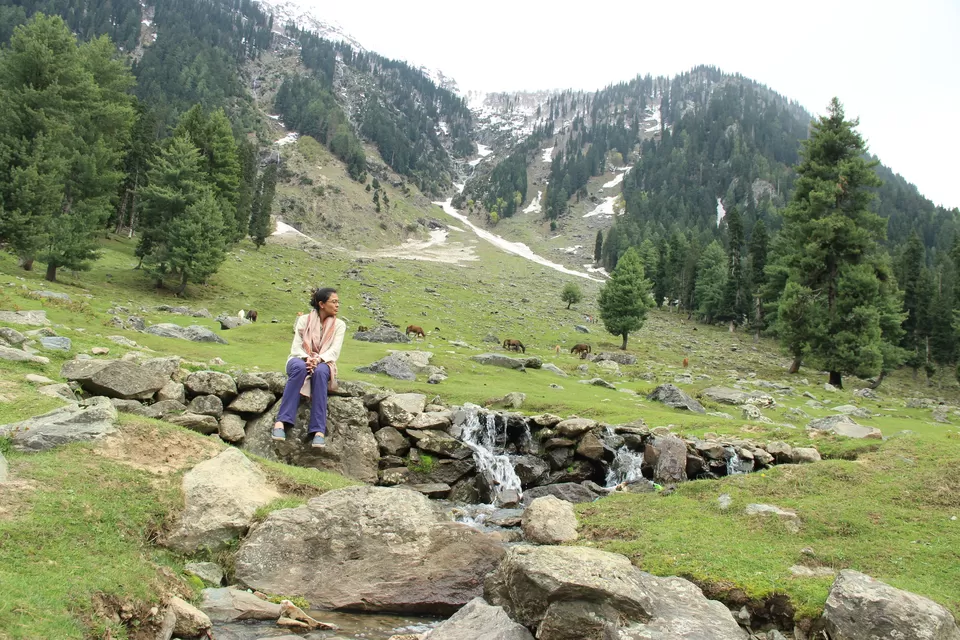 After returning back in the evening, we had an amazing bonfire & barbecue evening. We stayed at Travellers Inn for 2 days & were totally in love with it. The 2 boys who look after the place are very helpful & will do all possible to make your stay comfortable. Food is very homely & delicious & is made on order.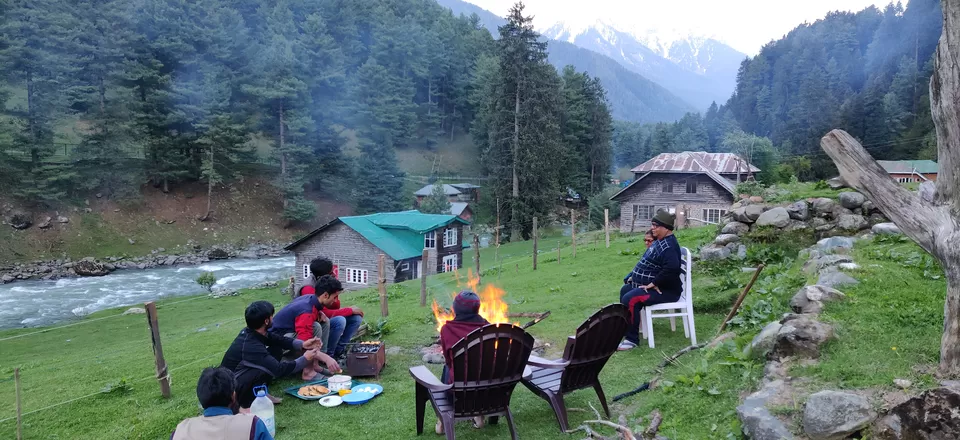 9th May - After breakfast, we left for Kokernag. On the way, we halted for lunch at a local house in Lagripora village in Pahalgam. It was the house of a friend's relative whom we were meeting for the first time, but not even once did we feel like strangers. We went around the village where most of the scenes of the movie Haider were shot. Also saw apple gardens & met some Kashmiri people who were all ready to welcome us to their home for a cup of tea.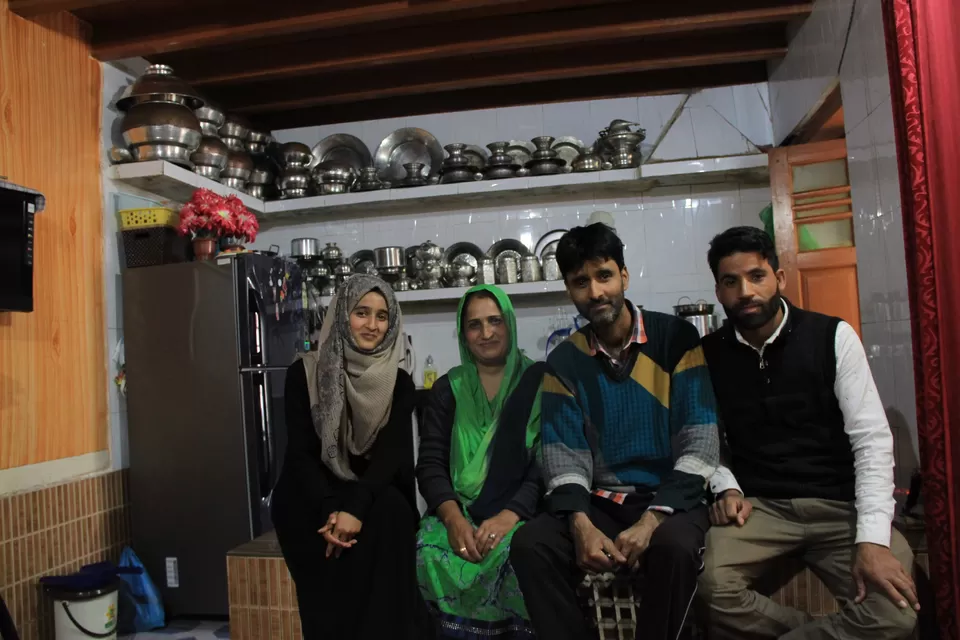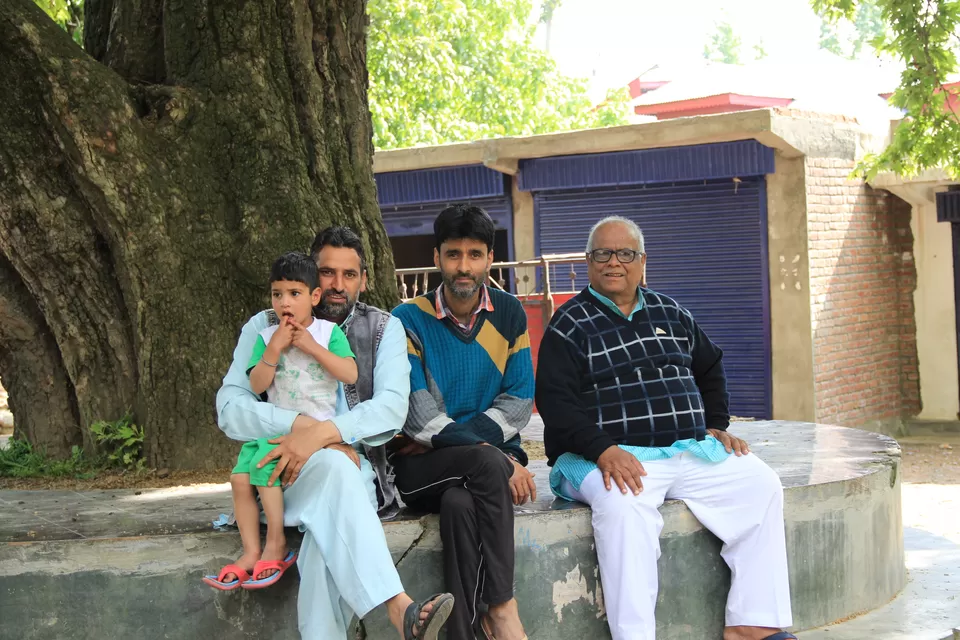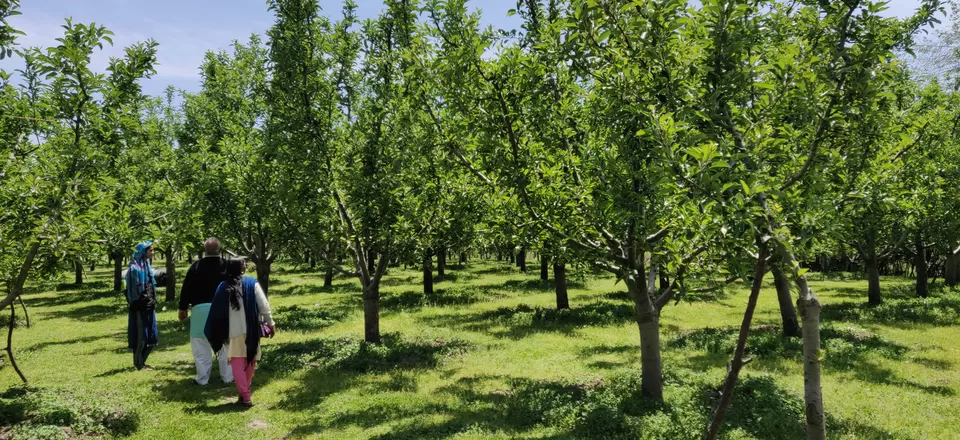 After a 2 hour's drive, we reached Kokernag. It's known for its beautiful gardens. We visited a botanical garden here. It's quite huge with a fresh water stream flowing across the garden & cute small wooden bridges to cross over. It's a very scenic garden with a lot of Chinar trees & mountains around. We stayed at Alpine huts managed by JKTDC inside the garden. Huts are not that well maintained but the location is quite good.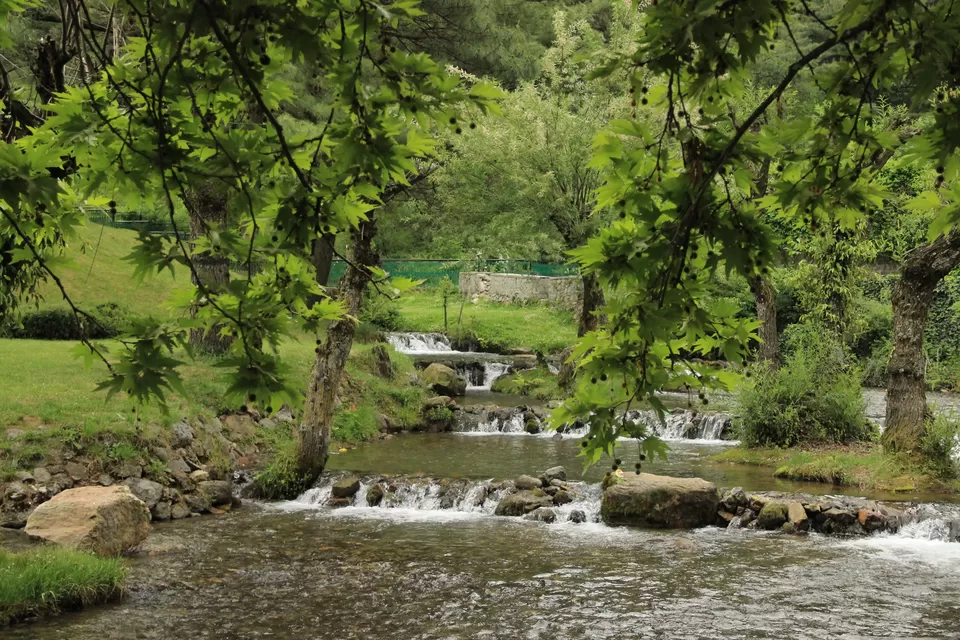 10th May - Early morning with our jackets & mufflers on, we left for Sinthan top, a mountain pass in the Pir Panjal Mountain Ranges. It's another lesser-known tourist spot located 12500 ft above sea level & is snow-capped for most of the year. You can go right up to the top if the road is clear of snow. Road to the top has some bad patches in between but the amazing view of snow on both sides of the road is all worth it. Do carry food & water along as its a 25-30 km uphill drive & there are no shops along the stretch. The temperature is pretty low here, so woolen clothes are must. After some fun in the snow, we left for Srinagar for a night stay. On the way back, on Jammu-Srinagar highway, we purchased some kesar, walnuts & apricots from Pampore town.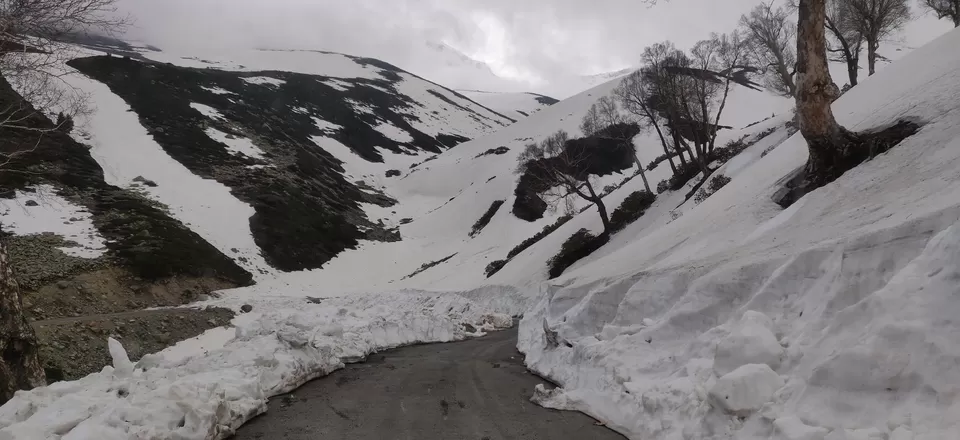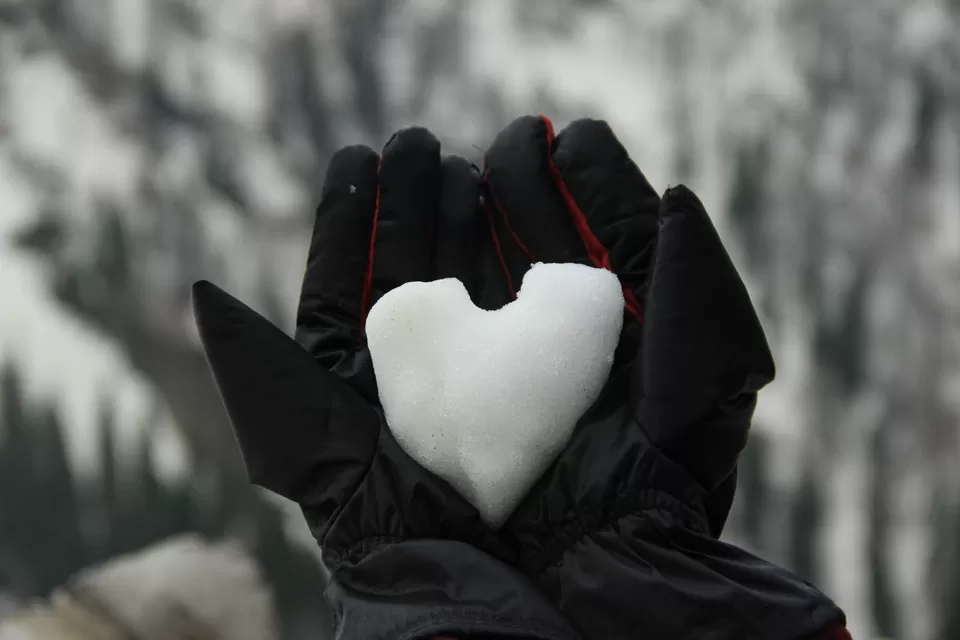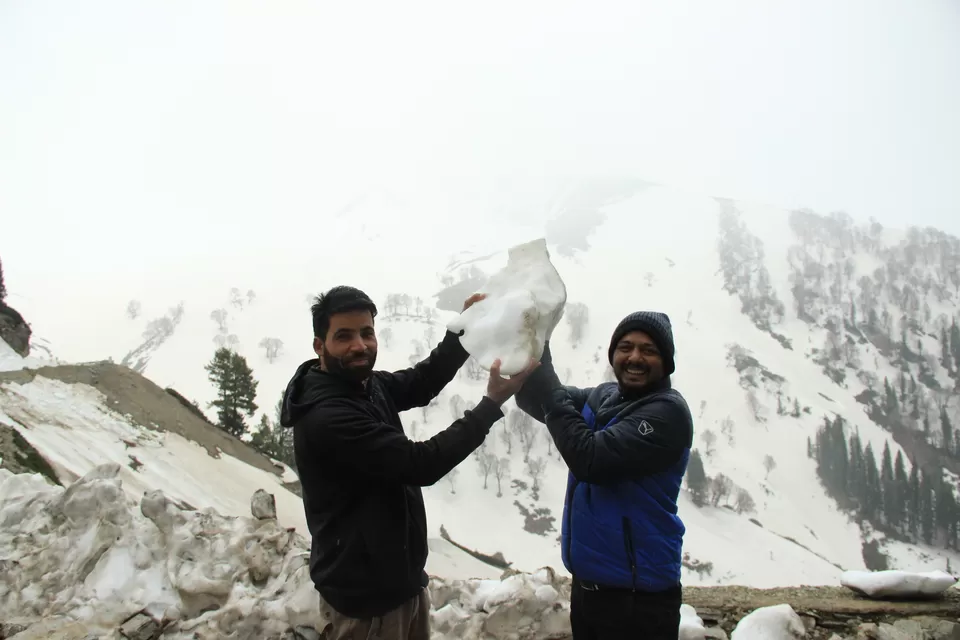 11th May - Left for Srinagar Airport for our flight to Delhi.
12th May - We returned back with a very different picture of Kashmir as to what our Indian media portrays. Along with enjoying its beauty, we also learnt about the struggles of both, a common Kashmiri man and an Indian Army soldier.
Kashmir is the only place in India that looks beautiful in every season. It feels very unfortunate to see the condition of this heaven on earth & its warm & welcoming people. They are deeply hurt to know that people of India think of Kashmir as a dangerous place. Everyone we met had a request for us to go back home & tell people to visit Kashmir. Tourism is their major source of earning & its worst hit after the Pulwama attack. I feel everyone should visit Kashmir once in their life to experience the beauty of the place & the warmth of its people.
Recommended places with some travel tips
Srinagar: Stay on houseboats on Dal Lake or Nigeen Lake, Shikara ride on Dal Lake, visit Nishat Bagh, Shalimar Garden
Gulmarg: Better to visit in winter. During summer, snow is far from the base. Sonmarg & Yousmarg are also good.
Doodhpathri: Must visit for all nature lovers. 50km from Srinagar. Carry some dry snacks & water for the way.
Kokernag: Botanical garden is really good. Achabal is also known for its Mughal garden & its fresh water spring. Stay is not recommended as there are no good hotels here.
Pahalgam: Atleast 2 nights stay should be planned at Pahalgam. There are many good hotels available at Pahalgam. Betaab Valley, Aaru Valley, Aishmuqam Shrine (Dargah showed in the movie, Bajrangi Bhaijaan) are recommended places to visit. Chandanwadi, the start point of Amarnath yatra can be skipped.
Pahalgam has a nice market to shop for Kashmiri clothes & handicrafts. Danapani is a very good pure veg restaurant in the market. Pony ride can be done in Pahalgam, better than Gulmarg.
Sinthan Top, Daksum: Must visit for the snow covered views. Vehicle can be taken right up to the top if its not blocked by snow. Road is really beautiful. Carry enough dry snacks & water for a long travel. Woolen clothes are must.
Pampore: Only town on the Jammu-Srinagar highway where saffron is produced. So it should be purchased from here. It falls on the way from Srinagar to Pahalgam.
Imp to know: None of the prepaid connection will work in Kashmir. BSNL has a good network, so BSNL postpaid or any other postpaid sim should be carried along. Internet connection is on & off. Whenever the situation is bad internet is disconnected in many areas. Card payments are accepted at major tourist locations, but due to internet issues digital transactions become difficult. ATMs are available at all places, but carrying enough cash is advisable while visiting to remote or lesser known places. Travel during Ramzan month should ideally be avoided. Though all tourist locations & transport is functional during the month, but at lesser known places or on the way, it might be difficult to get restaurants.