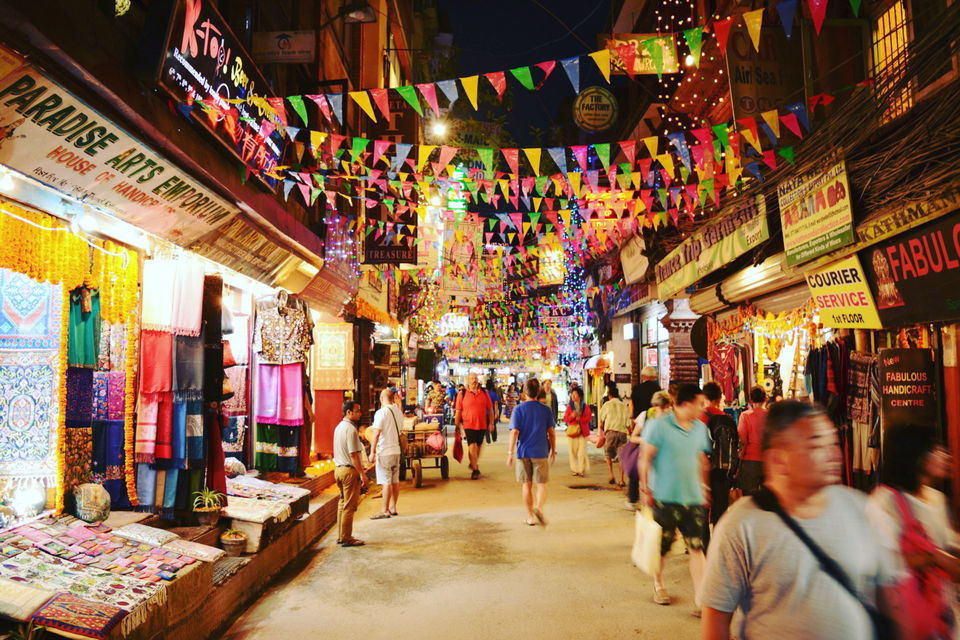 Stepping out of the plane at Kathmandu is a pupil-dilating experience; a riot of sights, sounds, and smells that might just lead to a sensory overload. Whether you're barrelling through the traffic-jammed alleys of the old town in a rickshaw, marvelling at the beauty of the medieval temples or just dodging trekking touts in the backpacker district of Thamel, Kathmandu can be an intoxicating, amazing and exhausting place all at the same time.
Although the idea of travelling to Kathmandu was never on my mind, making it to one of the International destinations very surely was! I had planned on going to Bangkok but I realised that I don't hold a credit card and running out of money would definitely not be funny in such a situation. I didn't want to invite any trouble especially since I had no intention of telling my folks about this trip. So, having seen many of my Western friends fly off to Kathmandu often, I considered the idea of a trip to Nepal. It appeared to be a great choice because Nepal counts as an international destination and so, I can keep my resolution of making it to one international destination in 2017 without having to end up being broke.
I decided to make it a road trip and it seemed like a perfect plan. The idea was to make it to the Indian border from Nepal, head south to Varanasi and then further down the south to get back home to Kolkata.
I booked my tickets in advance. A sense of apprehension and excitement took over me since that moment. Many of my friends who lived in Nepal had mentioned earlier that the roads were not safe, especially after the earthquake had struck the major parts of Nepal. At times I wondered what if something was to go wrong! However, I had already made up my mind and shook off all such feelings!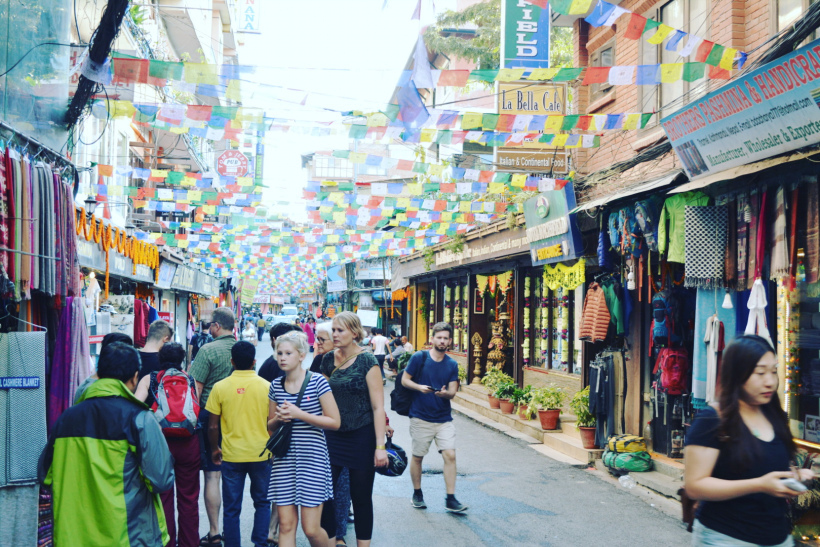 Always in the habit of putting together a budget backpacking trip, I waited a while after my exams got over and boarded the cheapest flight to Bagdogra via Kolkata. I had studied the maps to plan my itinerary to Panitanki which is the last town closest to the Indian border and then to Kakarbhitta which is the closest town to the Nepal Border. Unfortunately, my flight landed at an odd hour due to which I couldn't board the bus to Kathmandu on that same day. I had to spend the night in Siliguri. The following morning I tried my best to reach my destination as early as possible. To my disbelief, even the locals were not sure of the timings of the buses plying to Kathmandu. I was surely surprised by my series of bad lucks when I learnt that I had yet again missed the bus and the next bus was scheduled to depart at 4 in the evening. I was in a state of bewilderment thinking about what I would do with the nine hours that I had left till then.
While I was fretting about this hopeless situation that I was stuck in, a travel agent popped out of nowhere and proved to be my saviour for the day. He helped me book a flight ticket for just 2,500 NPR (1,560 INR). Just when I was going to have to endure a 14 hour long journey in the bus with my heart pounding against my chest because these mountain roads were surely crazy enough to make me nervous, this flight from Bhadrapur was to bring me to my destination in just 45 minutes! I said to myself that my events of bad luck had timed out and wondered how it really is true that sometimes the wrong turns do bring us to the right places.
It was a quite a memorable experience to reach the Bhadrapur Airport which required us to pass through a little village. This was the smallest airport I have ever seen in my life, almost comparable to the size of an Indian post office. They didn't have an electronic weighing machine and I was astonished to see that my boarding pass didn't even have my name printed on it. The best part was when I saw my oh-so-tiny flight. I couldn't ignore a signboard which read "Have a safe flight". I smirked as I muttered in my head 'It better be'.
I finally arrived in Kathmandu after 45 minutes. For the domestic flights, there are no conveyor belts to claim your check-in baggage. Instead, the cargo attendants drop the baggage on a table and one needs to raise his ticket to claim their bags. It almost appears like a stock exchange market where a lot of people shout out loud to claim their bags. Truly, this craziness is a sight to behold.
I had already exchanged my Indian rupee for Nepalese rupee. I reached my hostel. I wasn't that tired but I decided to freshen up and rest for a while. I got around talking with the other hostel boarders and soon my evening got merry with local Everest Beer. Later, they invited me to dine out with them. I learnt that most of them had come for either Annapurna Base Circuit Trek or Everest Base camp which calls for at least 3-4 weeks of time. I laughed at my plan thinking it's not even close to what they have in their mind and their expectations from Nepal. If anyone of you is planning to travel to Nepal, you can visit Pokhara and Mustang for paragliding and other such adventurous activities but you would need to save a week for just that.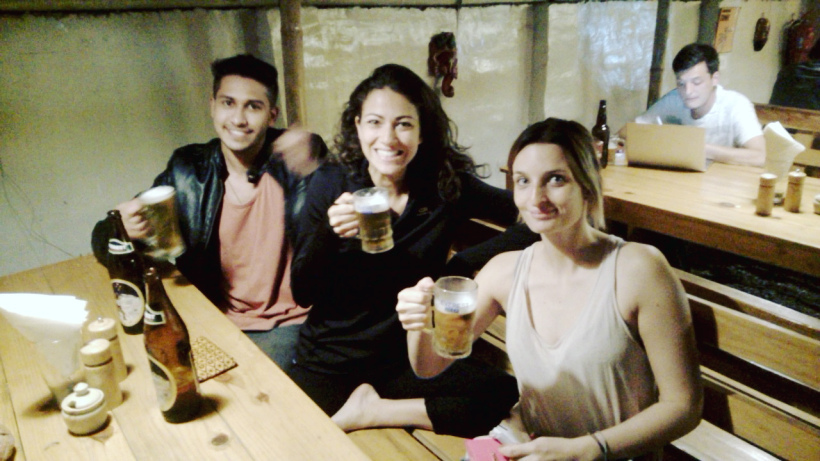 Day 2: Time had come to explore the marvellous city of Kathmandu. I tagged along with a few recent friends and headed to Durbar Square and the Swaymbhunath Stupa. The strength it took to climb these stairs made me wonder that I might just as well be fit enough to get back for Annapurna Base circuit trek if at all I plan to come again.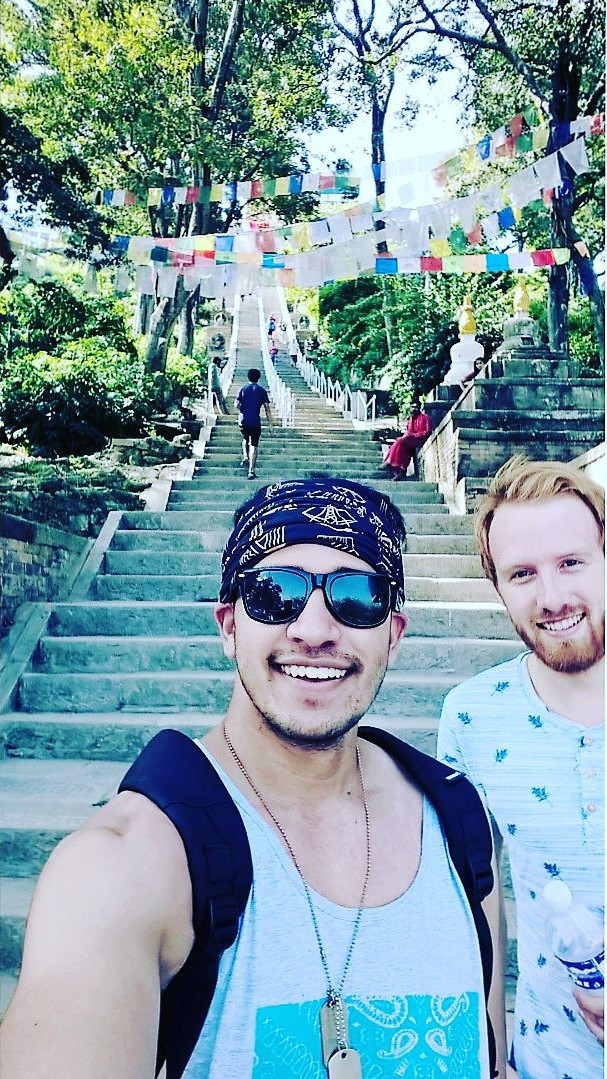 In the evening, I went to Thamel Bazaar for some street shopping. I had walked so much the entire day that I felt like I had covered half of Kathmandu on foot.
Day 3: This day was well planned by one of my friends who is a local here. The best part was that she brought along her scooter. I gave her the entire responsibility of showing me to the best eateries in town. She did impress me by taking me to the places that would easily be missed out by any ignorant tourist. I never knew till then that there could be apple and peach flavoured tea too! I got to taste the best momos in town and the pizza with a funny name called the 'Chatamari".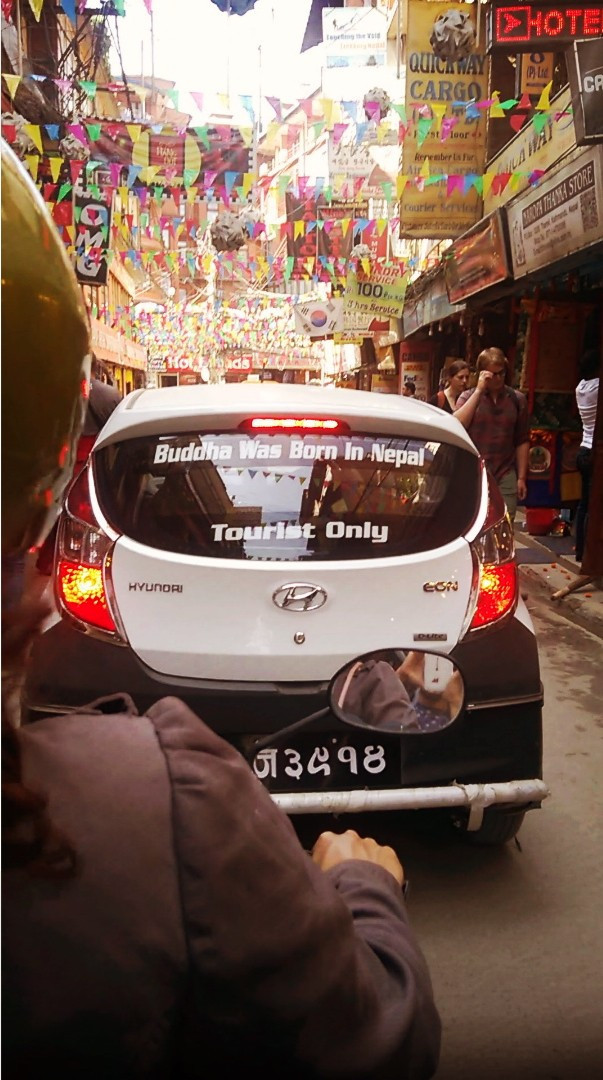 Let me tell you that this was during Diwali. After an entire day of food hopping and cheap shopping, for all the wrong reasons my debit card got blocked and I had not enough cash in hand. I lost it for a moment and thought I might have to call up my close friends if nothing else works out. After trying a zillion times at different ATM kiosks, I finally heaved a sigh of relief at the SBI Main Branch. (TIP- Always carry enough cash to sustain your requirements and carry a debit card and a credit card as well.)
Day 4: My friend convinced me to wake up at 5 in the morning to take me to the most famous Pashupatinath Temple. People from across the globe come to visit this Temple dedicated to Lord Shiva. You must also know that the Buddha Square is one of the biggest Stupa in the city.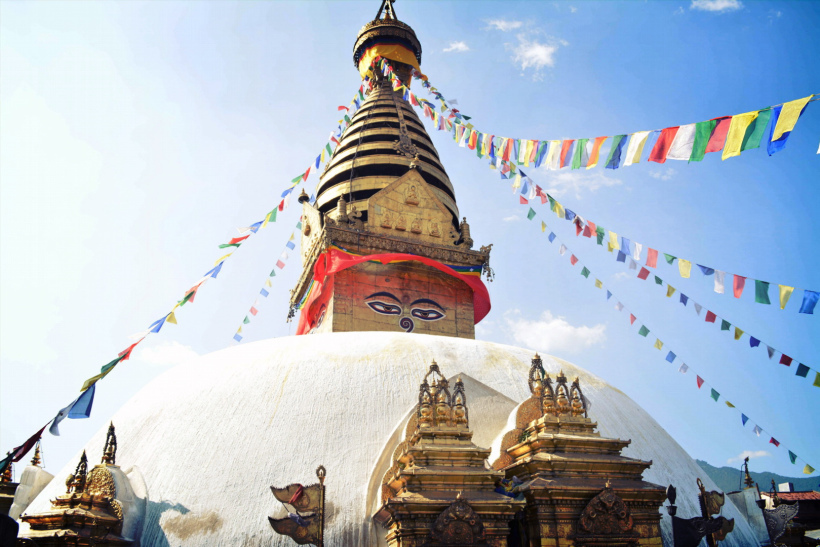 Later, she introduced me to the local Nepalese breakfast. After we had finished our breakfasts, she dropped me at the bus station. Time had come to venture into India's most holy place - Varanasi.
There is only one direct bus to Varanasi from Kathmandu which takes 16 hours for 1,500 INR. This is an initiative of Indo-Nepal Maitri Bus Service. There were only 3 odd people in the entire bus for Varanasi but being a State bus I knew it wouldn't get cancelled. So there I was snaking my way down the dangerous mountains roads. Oh, let me tell you that the warning signs by the road only depicted symbols of falling rocks!
I realised that nothing can be better than a local friend to show you the real joy of a city. Instead of bursting crackers on Diwali, I always prefer to do something unusual. I was successful in keeping this silent promise to myself. Last year, I was at Hampi chilling with backpackers I had never met before. This year, Kathmandu filled me with yet another beautiful adventure and an unforgettable experience!
Get in touch with me for any information on this trip.
Follow my travel related stories on Instagram SamTravelogue