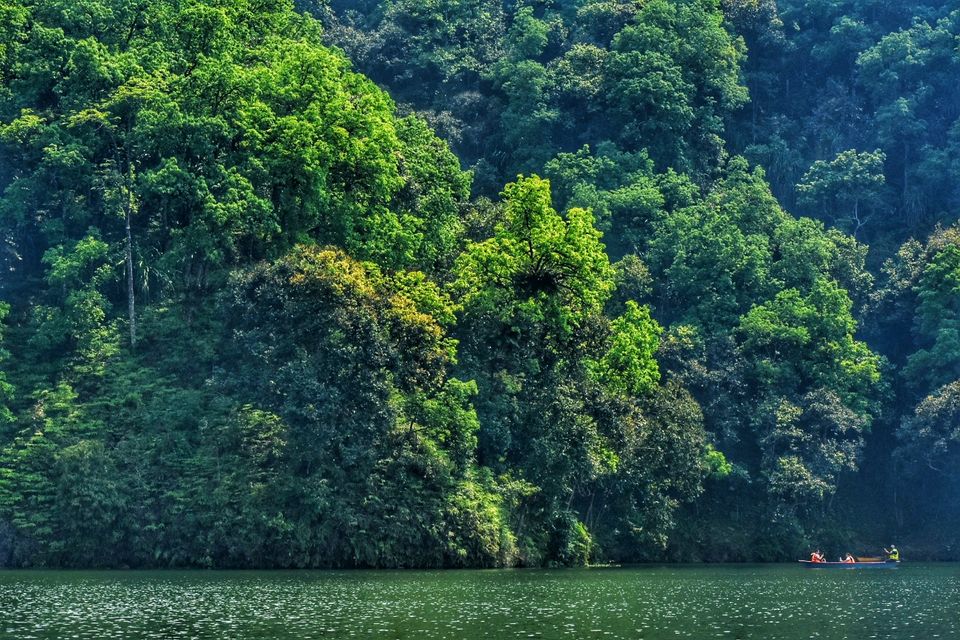 Bagdogra (West Bengal) to Kathmandu (Nepal)
There are quite a few ways to reach Nepal from India. I chose the one including roads. As I was in shortage of time I hired a taxi from Bagdogra airport to Bhadrapur airport. Takes about an hour and a half if there is no traffic. There's a bridge connecting Indo-Nepal border at Panitanki(yes, it's the name of the place). Here the checking takes place and hence most of the traffic. After the checking you cross the bridge and viola you are in Kakarbhitta, Nepal. Everything looked the same as India except I had to use Nepali currency now. There is an Immigration office here where you change your taxi, no complications. Then next step comes Money Exchange. For that there's a bank nearby and your 1 INR gets converted into 1.6 NPR (at least this is what I got). The roads to Bhadrapur are a bit rough but you will enjoy it. An hour drive later I was in Bhadrapur airport. It's a small domestic airport connecting to Kathmandu (KTM). Meanwhile, there's a small shop outside the airport where I had steamed Momo and cold drink. On entering the airport, you see counters of Yeti Airlines and Buddha Airlines. Check in starts 1 hour before departure and then security check half an hour before. Then I saw a small airplane (1x2 seating) with the capacity to carry 29 passengers + 1 air hostess + 2 pilots and luggage of course. Mine was Yeti Airlines. It was quite a lovely experience traveling with them. They provide cotton plugs, candy and peanuts to every passenger without any extra charge. 40 mins later I am in Kathmandu Domestic airport. I hired a prepaid taxi to my homestay booked through AirBnB. That's all for the day.
My expenses
Taxi (Bagdogra to Bhadrapur) 1500INR
Flight (Bhadrapur to KTM) 3000 INR approx
Prepaid taxi in KTM 800INR ( depends on how far it is from the airport)
Homestay 900INR ( For 1 night)
Food and misc. 300-500 INR
Important tips
1. Buy a Nepali sim. It's very very important. (My Vodafone network was unavailable. However if you have primary Airtel Sim, you are lucky as you will be able to receive OTP. It's a blessing)
2. Carry your valid ID proof and a few passport size photos.
3. Save money. Live in homestays. Live like a local.
4. Carry your passport. I know you might be thinking that Indians don't require passport to travel Nepal. But trust me. Do have your passport ready. You will thank me later.
3. Check the baggage allowance before booking a flight in Nepal. Most of them just allow hand baggage and such flights are cheaper. Keep an eye on the baggage allowance.
Bonus tip:
If you are tight on a budget then here's a bonus tip.
1. Travel from Bagdogra to Panitanki by bus.
Cost 30-40INR
Walk across the bridge
Take a bus from Kakarbhitta to Bhadrapur
Cost 150INR
In a nutshell you can reach Bhadrapur airport in 200-300 INR
2. IF you are hell-bent on saving more money then you can take a bus from Kakarbhitta to KTM/Pokhara. It takes 2 days to reach Pokhara.
Here's my AirBnB link:
Sign up and get 2200INR off on your first home booking.
https://www.airbnb.co.in/c/rupivarshas?currency=INR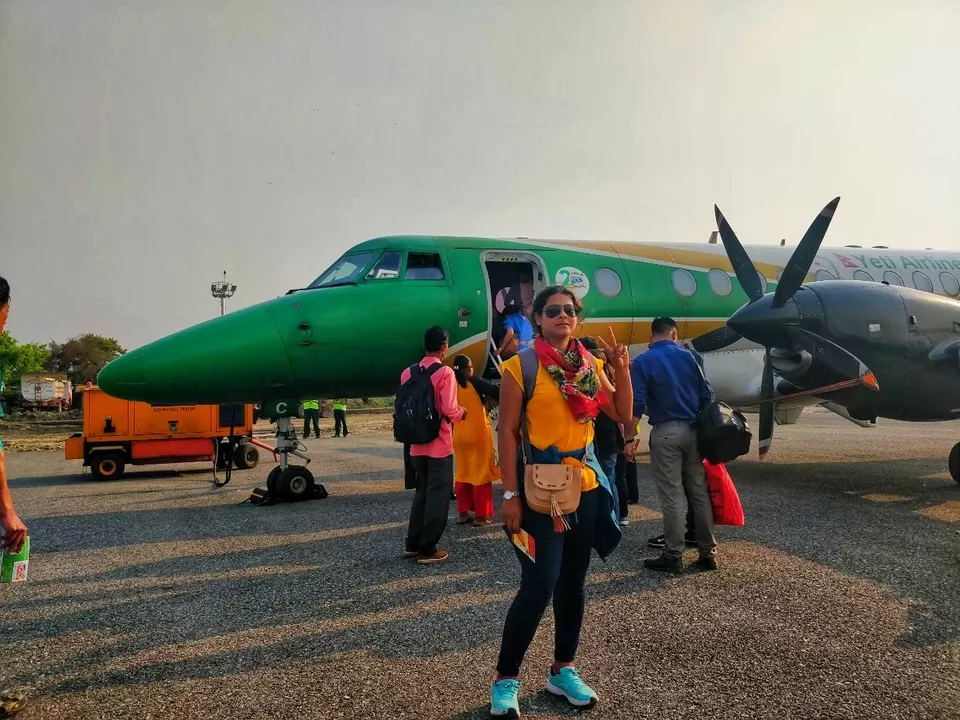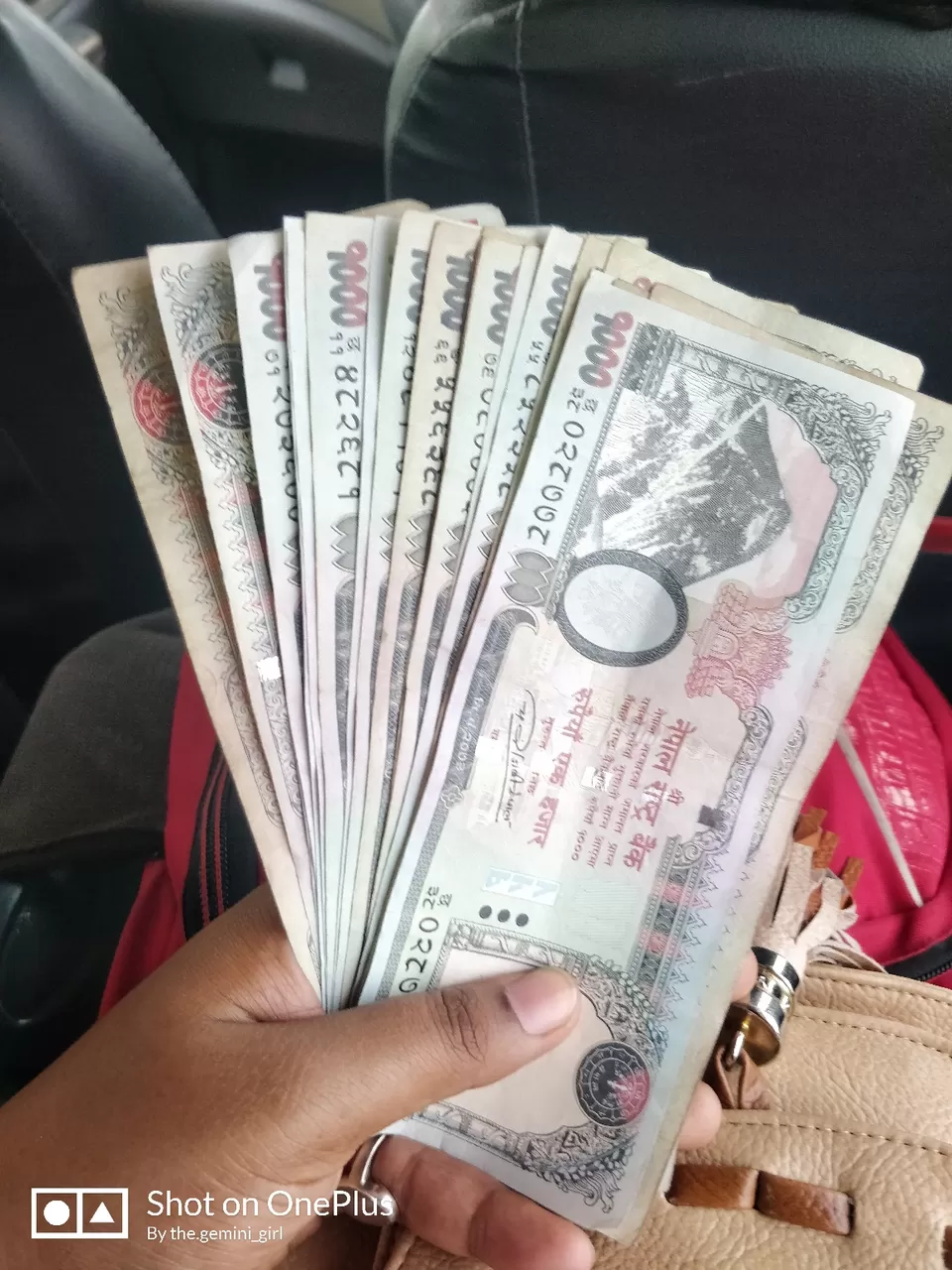 KTM to Pokhara
I took a tourist bus for this journey. The tourist bus stop is situated in Sorhakhutte, KTM walking distance from my homestay and Thamel(tourist hub). You can book the tickets online or on spot. Ticket fare ranges from 700-1500NPR depending on the type of bus. All are Volvo AC buses. They also provide a bottle of mineral water. The buses depart at 7am sharp from KTM. Don't worry if you want to grab something before your journey. There are vendors selling egg rolls, tea, biscuits, fruits ect in the bus stop. It takes around 7 hrs to cover a distance of approx 200km to Pokhara. The bus stopped 1-2hourly for breakfast, lunch and getting fresh. They stopped for breakfast by a riverside restaurant. Such a beautiful view and good food. All the public toilets were clean and well maintained. The journey was comfortable even though I booked the cheapest one. As you go higher in price it will include WiFi, lunch, breakfast, etc.
On reaching Pokhara bus stop, I headed to Lakeside which is a tourist hub in Pokhara. It's a lively place. One can roam around freely even at night. The crowd is very decent and good. You can book your rooms online through various sites. I used AirBnB for booking my homestay as they are cheaper than hotels.
Expenses
Bus 700NPR
Egg roll + Black tea 170NPR
Breakfast buffet 400NPR(unlimited food)
Lunch buffet 250NPR
Homestay 800NPRight
Smart Tips:
1. If you don't want to spend money on breakfast and lunch then carry packed food like Wai Wai which is cheap, easily available and fulfilling.
2. You can always buy fruits as it is also cheap depending on the fruit of course. Eg apple was 160NPR/kg
3. You can also go for cucumber @ 100NPR. Its around a feet long and thick. Keeps you full for long.
4. You can find rooms as cheap as 500NPR near Pokhara bus stop. There are agents lurking everywhere. But if you are staying for 2-3 days only then I prefer you stay in a good place.
5. Download Google maps offline. And don't use taxi frequently as everything is at a walking distance and maps do help.
6. If you are planning to stay for long, a month or so. Choose homestay away from market. You will get it as cheap as 700NPR with breakfast and kitchen for your own cooking. Don't worry about the distance as getting around is easy once you get a hang of it.
Alternative way
You can also book a flight from KTM to Pokhara.
Flying distance 150km approx
Flying time 30-40 mins
Fare 3000NPR approx
Departure from KTM Domestic airport
Frequency every half hourly
Do check the baggage allowance before booking.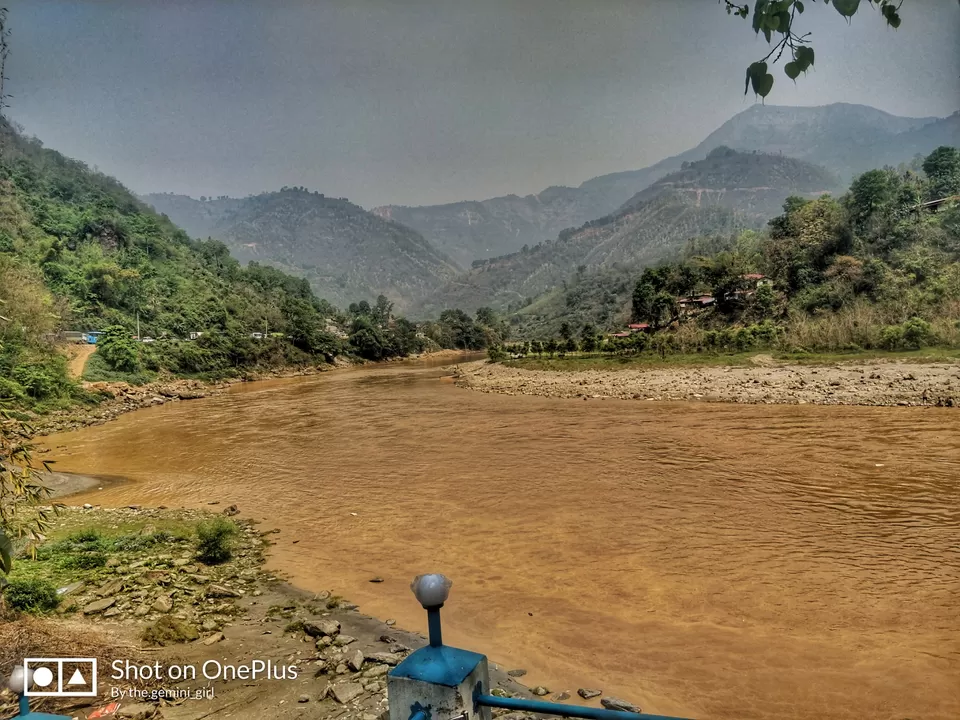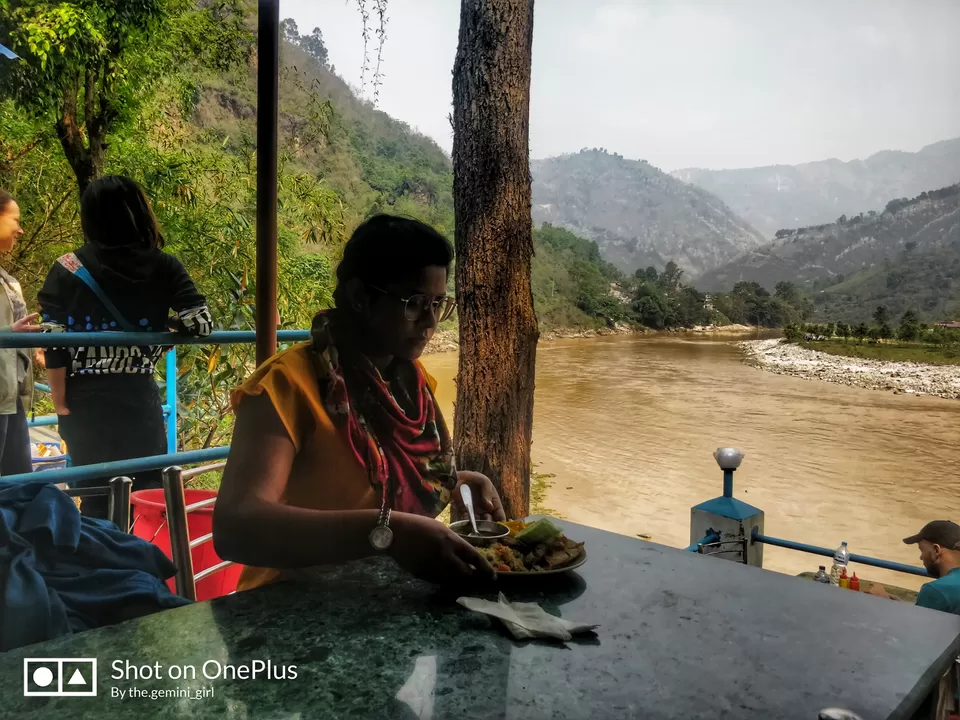 Pokhara Local Sight Seeing
After a peaceful good night sleep it was time to explore Pokhara. I was lucky enough to get a local tourist bus which is way much cheaper than hiring a tourist taxi. It shows you almost all major tourist spots in Pokhara and gives you enough time to explore. Tour starts at sharp 10 am and ends by 3-4pm. It also stops for lunch in Midway. Once you are done hopping around the spots they drop you off at the beautiful Fewa Lake. Then you can spend rest of your evening sitting by the lakeside enjoying the mesmerising view. Trust me it's breathtaking.
The local tourist bus took me to following tourist points:
1. Bindhwasini Temple
2. Bat cave
3. Mahendra cave
4. Seti River Gorge
5. Begnas Lake
6. Gupteshwor Mahadev Temple
7. Devis Fall
8. Fewa Lake
This was at a cost of 800 NPR and includes only transportation charges. Ticket charges and food at own expenses. It was a pleasant tour though.
Details below
1. Bindhwasini Temple
It's a beautiful temple with lots of pilgrims. As the tour guide allowed only 25 min, couldn't visit the main temple. No tickets required.
2. Bat cave
It's a very very dark underground cave. It was pitch black. One has to use torch to get a view. Ticket charges varies according to your country. For SAARC Nations 80NPR foreigners 150NPR
3. Mahendra cave
It is near the bat cave. This one's bigger than the previous one and has lights at places to guide the tourist. Inside the cave is a small statue of Lord Ganesha which drives the tourists to the end of the cave. Same ticket charges
4. Seti River Gorge
It's actually a gorge and nothing else. Ticket charges 50NPR. You can actually skip this. There's a small garden after entering and nothing special.
Actually there's a nearby restaurant where we stopped for lunch. Food is good.
There are also 2 nearby spots. One is a Buddhist Monastery which you can visit after having lunch. We had enough time. 2nd one is a Mountain Museum which was not in the list and no time was left in hand to visit it.
5. Begnas Lake
After lunch we headed to Begnas Lake. It's quite a beautiful and serene place. You will fall in love with the calmness and peace of mind it offers. Boating facility is also available on a reasonable fee. We had 1 hour here. Such a beauty.
6. Gupteshwor Mahadev Temple/Cave
The one of the best part of this tour. It's mesmerising. There's a very beautiful cave beneath the temple. It's a must visit place. I don't have words to explain what I saw and felt.
7. Devis Fall
Cross the road from gupteshwor Mahadev Temple and you are here. It's a small beautiful fall and has some statues where you can click photos for fun. It was really fun.
8. Fewa Lake
The day tour ended at the Beautiful Fewa Lake. It's a vast lake. You can sit by the lakeside or enjoy food as many cafes are there. Boating services are also available. There's also a temple in the lake. And you have to cross the lake and hike to Bodhi Stupa.