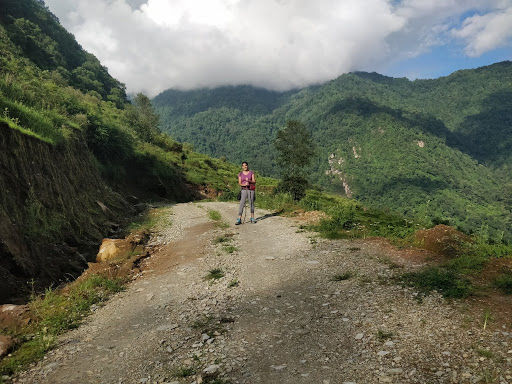 Solo female travel to Nepal.
''I have no idea what am I going to write and how much will they understand from my blog post. Will I be able to choose the right set of words? Will I even get time to write it? How do I explain the goosebumps in words? Is my trip even worth writing and sharing? - Yeah ok, I'll write.''
This starts in June`18 when I am taking a break from my full-time job. Well, a break I had been asking for subconsciously from a long time but didn't welcome it happily at first when I got it. I have always worked with startups and like most things in life, this too, has two sides of the coin. On the flip side, my then-company decided to undergo a major roadmap change and they had to let go of pretty much most of us in the internal team. Sudden. Unexpected. It had been only a few months over there and me being overly conscious of my time on this planet and chasing ambitions; thought of it as a start of a bad phase to a seemingly good year so far. Little did I know that often we ought to forget believing in the 'quotes' that we grow up saving in our phones, sharing on social media or putting in proudly in our Facebook profile bio. I believe in 'Everything happens for a reason and most of the time it is for the better. If not yours at that time, someone else's. In the end, the good comes to you as well because what goes around, come around' (ya, that's kind of my mashup version of two quotes). After a couple days of just bird watching, I started using my gym membership (of which 6 months had already passed of the 10 that I had paid for). I had been procrastinating working out for a long time and in turn I'd feel guilty and bothered about not being fit in the most exciting, younger phase of my life. That's it. I thought- let's have at least one less problem!
I worked out, cleaned my room, hung out with so many friends I had not seen in a while, made shopping wish-lists, planned my finances for the indefinite time I was not working and read some material related to my field of work. Soon I got a job (even better.) and suddenly that 'indefinite' time was down to just 2 weeks.
I was overwhelmed and confused as to how to spend the two weeks. So many times I'd crib that 'I'd do this, I'd do that IF ONLY I got a month or so free'. I had it now and decided to make the most of it.
Initially, I was planning to go explore north-east India and prepared a decent itinerary also. While booking my flight tickets, funnily things took turn and before I knew, my tickets were booked for a 10 day period to NEPAL! One ticket=Solo. Nepal is my first country on my backpacking journey.
As usual, I overpacked a 50L backpack and carried a tiny one. Sling bags are SO annoying during travels.
Age: 25Solo travel area: Districts in Kathmandu, Pokhara, Kaski-Annapurna base camp trek circuitTravel days: 9 days, 9 nightsRoute: Kathmandu - Thamel - Pokhara - Naya pool- Kimche - Ghandruk - New Bridge - Jhinu Danda (and tato pani)- Siwai - Pokhara - Kathmandu
NIGHT 1: 28 June, 2018 Landed in Kathmandu, stayed over at a Nepali friend's house in Kathmandu who used to work with me in India almost 4 years back in 2015. Thank you, Saindhavee and your beautiful family for the kindness and amazing care.
DAY 1: Exploring the Kathmandu Valley
29 June, 2018
LESSON 1: It's a strangely nice feeling to be aware of your own fragility and at the same time congratulating yourself on your own little victory and bravery.I had been in Nepal for 12 hours by now and was already wondering- why did I come here? what am I going to do with the rest of the days and how?
Local buses and vans in Kathmandu are mostly dirty, smelly, rarely on time causing disruption to your schedule and have no air conditioning. The taxicabs charge you a bomb for local commute. But all this is just to share the info here, honestly, I didn't mind it at all. I counted it as an experience on it's own, sitting amid pleasant, charismatic Nepalese.
About Zostel, thamel, do I recommend?- TOTALLY!
Fact: Nepal is home to 10 UNESCO world-heritage sites.
Image A - Kathmandu Durbar in the front of the vintage royal palace of the previous Kathmandu rulers is one of 3 Durbar (royal palace) Squares in the Kathmandu, all of which can be UNESCO world heritage websites. Decorated with the finest, most intricate wooden work I've ever seen, you can just stand there and stare at the delicate designs for a long time and dwell into thoughts like - Holy shit this is beyond awesome. I wonder how those fine artisans were treated for their art. Did they get their due credit in history?..
Image B - Thepalanquin (palki) from the times, for the royal princesses of this palace.
Image C - Several buildings in the square had collapsed and dismantled due to the major earthquake in Nepal in April, 2015. You can see wooden pillars supporting the structure. You see the black window here? There's a tradition in Nepal- a Kumari is chosen (a pre-pubescent young lady chose from the Nepalese Newari people group)and worshipped by a portion of the nation's Hindus. Until puberty (read: until she gets her period), the kumari lives at the palace and Everyday at 4 PM the kumari comes and sees the crowd that awaits a glance at her. I tried debating on this tradition with my friend, but as they say, ''the faith of the believer is not complete, unless he knows the meaning and reason of his belief''. Moving on.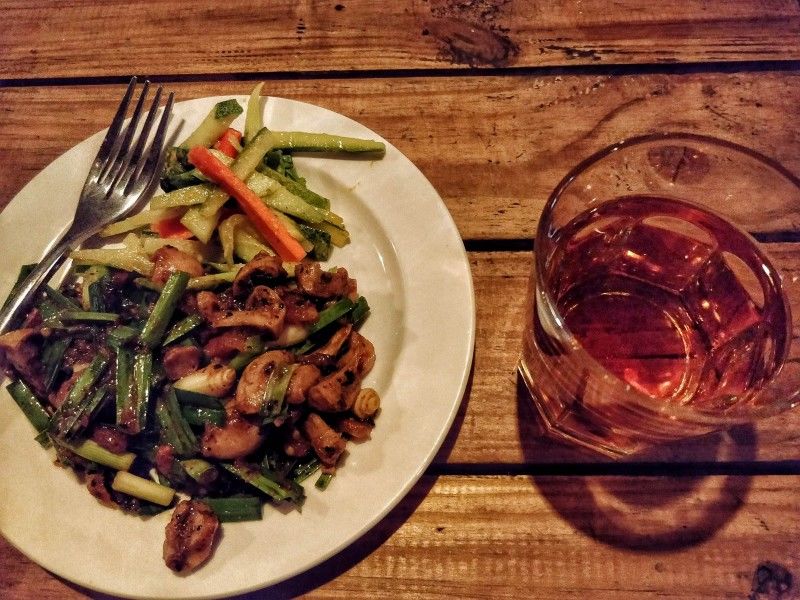 DAY 2: Enroute Pokhara
30 June, 2018.
LESSON 2: Trust binds trust. I trusted a stranger woman from Sweden to tag along and find a hostel, I trusted a local shopkeeper to guide me somewhere, I trusted a bartender to talk to him for a hour over a cold Somersby about Nepal and the local life. I trusted a cab driver for commuting at 5 AM alone. Above all, I trusted myself -that it will all work out.
After Kathmandu, I still had 6 more nights and 7 days to explore. From what I had heard, this simply isn't like a lot of time to do or see anything, but considering the daily rains, I was glad to have sometime to explore Nepal, than no time at all. I took a bus from Kathmandu to Pokhara for NPR 700 and signed up for an 8-9 hour journey in a non-ac, seater bus.
I got down at Pokhara tourist bus stop at around 4 PM. Not knowing which direction to go to, I was looking around to figure it out on my own when the girl from the bus offered me to join them in the cab to Pokhara lake side. The cabs usually charge 200 NPR and four of us pooled in i.e. just 50 NPR each!
Pokhara is a major trekker starting point but that doesn't mean that there's nothing else to do there. Other than the adventure stuff, pretty much everything is at walking-distance in Pokhara and you don't have to worry about transportation. Can easily rent bicycles/scooters.
After settling in Paaila hostel, I went around the lakeside. Bought me a somersby and I got talking to the shack owner. ''Every visitor to Pokhara will likely say that it is one of the loveliest cities on planet earth'' - he said.
DAY 3: Exploring Pokhara and Fewa Lakeside; Failed attempt to reach Davis falls
1 July, 2018.
LESSON 3: DO NOT ignore working out. One day when you ride a bicycle after years and your glutes can't take it, trust me it won't be your 'favourite pain in the ass'
Rented out a bicycle for 100 nepali rupees per hour! I was set to reach the famous Davis falls but ambigously enough I kept getting lost and couldn't reach the right location. It started raining and honestly that was the most cycling my body was capable of doing at that point. I returned back to lakeside meeting a bunch of new people on the way and visiting a small temple-cum-shrine by the lake!
DAY 4: Exploring Begnas Tal (the second biggest lake of Pokhara)
2 July, 2018
LESSON 4: You'll only regret the chances you didn't take and the waterproof bag you left home.
Begnas tal was a plan when I was disappointed sitting in my dorm and restless as to what to do today. ''Does it ever stop raining here in monsoons? Gosh, Saindhavee was right to advice me not to come in this season to Nepal'' and just then I googled some places quickly and found probably the best travel blogger from Nepal @shutter_psycho, on Instagram. He was so helping and nice to answer all my queries related to exploring Pokhara. I decided to visit Begnas lake with one Delhi girl from my dorm.
Rest is lost in pictures, rains, breeze, laughters and memories.
DAY 5: Failed Paragliding attempt; Started feeling Pokhara is my home
3 July, 2018
LESSON 5: There's a fine line between 'Friendliness' and 'Hospitality'
Went all the way up with the happy people from the best (and the most reasonably priced!) Happy Paragliding, to Sarangkot top. As much expected, clouds mocked and finally rain washed away the paragliding plan. I spent the day strolling in and around Pokhara lakeside. You can't really get enough of it until it starts feeling like an everyday ritual, your home.
Locals in nepal might not be the 'friendliest' but they're definitely very 'hospitable'. A couple of frowns from local women made me feel bad and I instantly made a judgement that people here are not very 'friendly' but the sweet receptionist at my hostel, the cheerful lady who lent me a bicycle and told me to take care, the chirpy jute shop owner who'd wave at me and show me the direction to German bakery almost everyday when I kept forgetting, were just few of those wonderful people who made me feel welcomed and safe.
DAY 6: Trek from Kimche > Ghandruk> New Bridge
4 July, 2018
LESSON 6: Clouds have feelings too.
Located northwest of Pokhara, Ghandruk can be reached -
Either take an early morning cab to Nayapool and trek to Ghandruk (~ 6-7 hrs trek) From Nayapool take a jeep to Kimche and trek to Ghandruk (~ 4-5 hours trek)
We chose the second way as we were short on time. Since it was monsoons, there were going to be a lot of landslides and its not safe to be trekking after dark
We reached Ghandruk crossing the most stunning views my eyes had ever seen. It was quite a journey and as per shutter_psycho 's recommendation, I dragged Mandy (Pokhara dorm mate from Delhi who accompanied me in the trek) to the home-stay called 'Ashish aama'.
''Aashish ki aama,'' she said. She was a bright smiling lady, dressed in black, blues and pinks, golden bracelets up her arms and a big red bindi.
Whole body was beginning quiver as a result of anxiety and excitement and my heart was humbled by the sight of the Annapurna range. I simply needed to share the experience I had with the world yet there was no photograph, no words, and no videos that could do it any equity. Maybe the gleam in my eyes could have explained it all. I had seeked to be there and the moment was totally mine. Although, I video-dialled my mom, dad and the love of my life to show what I was looking at, like a kid.
DAY 7: Trek to Jhinu Danda and Return to Pokhara
5 July, 2018
LESSON 7: It's not necessary to wait for the 'right' season to visit a certain place. Nature has its ways to surprise you!
I got to experience best of both worlds- cloudy and clear! As cheesy as it sounds, patience, hope and good thoughts were kind of the reasons this happened. At one point I was so desperate to see the sun and go out and about that I was talking to it. I really think it worked. (haaah!)
The return Trek from Jhinu was no cake walk. We had to be back before 3 PM to be able to catch a bus of Jeep back to Nayapool or Pokhara. We crossed major ladslides, climbed up 1900 meters altitude and were lucky enough to get the last jeep available (with the help of the kindest owner of the homestay at New bridge)
DAY 8: Paragliding in Sarangkot, Dinner date with self
6 July, 2018
LESSON 8: Good things come to those.. WHO WANT THEM TO!
After 2 failed attempts and constant unfavourable weather, paragliding seemed to be a miss this time, among other adventures like zip-line, bungee and river rafting.
Paragliding from Sarangkot is located about 8-10kms from lakeside Pokhara. I didn't give up and kept in touch with happy paragliding for any chance of going for the flight.
DAY 9: Back to Kathmandu, Pashupatinath Temple
7 July, 2018
LESSON 9: Fall in love with Nepal, be thankful and promise to return.
There are still many small-big things in between that I've not been able to cover in this blogpost. But I guess, I'll let them rest in my memories. To those thinking if 'I connected with myself', yes I did. Everyone says you will come back a different person after a journey like this. But, I haven't changed. I've been tested and challenged at every bend in the road, and I've responded with the kind of bravery I never knew I had.
Being a part adrenalin packed and part cultural traveller, Nepal had much more to offer than I had thought. I'm enticed to portray myself as free and independent, however there are few people and new companions that I have depended upon en route. These include the local Nepali friends also whose faces I need to see again and the voices I want to hear. Dhanyabad, Nepal. I am definitely coming back to your skies and clouds.
Even though I am a Delhi girl, I grew up in a society that prioritizes 'culture' over personal choices and beliefs. Uncles and aunties interrogating other uncles and aunties about their kids. While women are discouraged to travel anywhere alone, the men in our society can travel anywhere they want, alone or with company, without much interrogation. I have shunned societal rules since childhood and always kept dreaming to have the freedom of learning and exploring anything that intrigues me. As my favourite Maria from Hatecopy says- Trust no aunty. Don't give a flying chappal about what society says.
FAQs Is it safe for women to travel solo to Nepal?
In my 9 days long period of exploring between the areas of Kathmandu, Pokhara and ABC conservation area, I never experienced any untoward occurrence from local people. At times you'd feel vulnerable thinking 'I would have to face harassment on local buses' or 'who is sitting next to me' or 'should I ask this person for route guidance or it's a bad idea to let them know where am I headed' etc.
2. What to pack for a trip to Nepal?
(giggles! look who's answering)
Well, all I needed for a 10 day Nepal trip during peak Monsoon seasosn was:-Some of my personal hygiene stuff+toiletries, - Trekking apparel and gear, -3-4 top wear & 2-3 bottom wear, -A mini health kit including a couple of generic medicines like paracetamol, voveran and saridon and some protein bars,-A raincoat/an umbrella.-Carrying a fanny pack and a small backpack also turns out to be really helpful in carrying knick-knaks and some change handy. -All this can easily fit a 30-50L backpack. Getting all this in Nepal is very cheap though. Gears like tents and walking poles are also offered on rent. -A face mask. Air pollution has reached alarming rated in Kathmandu. I was greeted by clouds of dust that never settles.Hope this helps!
3. How to book the stays?
Thamel district & Pokhara streets are lined with hostel and guesthouses which are available at super affordable prices. Just book online or simply go there and find a hostel. Maps will help. Most people are nice and helping as well.
________________________________________________________________
Connect with me on Instagram @shailjamittal9 for more pictures from Nepal and other travels.