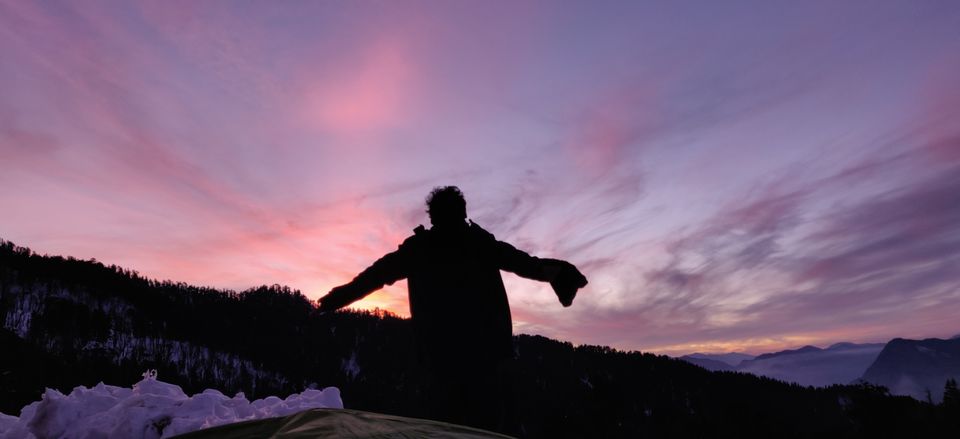 It hadn't been long that I went for a holiday, but it had been some time since I trekked last. And, since Christmas was approaching, so like every year, I wanted to go for some trek. I had spent last 3 years on 3 different treks and obviously didn't want to break the ritual. So, me along with a colleague & a cousin planned out to visit Kedarkantha starting from Delhi on 21st.
We started our journey from Delhi on 21st night by taking a volvo to Dehradoon. Excited as we were, the bus started a bit late but we reached well before scheduled time.
We reached Dehradoon at around 5 in the morning. Since volvos drop you at ISBT, one has to take an auto or a cab to Mussoorie bus stand near railway station for buses towards mountains. What we had read was, that the direct buses to Sankri i.e. the base camp for the kedarkantha trek starts at 5:30, 6:30 & 7:30.
But to our surprise, only a single bus which would leave around 8 was there. So, we talked to some guys over there and they said we should take a bus to Naugaon which leaves at 6 from where either a cab would be get us to Sankri or local buses would be available. but in all, that meant, saving 2 hours which would have been wasted if were stranded at the bus stand waiting for the 8am bus.
Now, we took that bus and reached Naugaon at around 9:45 after covering a distance of 130kms. Again, we needed either a cab or a local bus for Sankri. To our surprise, a bus which had been late to start from Vikasnagar (the other starting point for buses to Sankri) & goes directly to Sankri reached there right after we dropped down from the government bus. Boarding onto that, we reached Sankri at around 2:30 in the afternoon.
Now, we 3 had researched some things of our own but it was not close to what was required.
We talked to people, asked agencies, saw what all scene was there & decided that we would book the package for 2N/3D, the details of which i will get into later. The package costed us 5000rs which i think was justified considering we had asked 3-4 agencies and all had kind of similar rates only.
The Kedarkantha trek is divided into 3 stages :
1. Juda ka talab,
2. Base camp,
3. The summit.
The first camp site of the trek is located at Juda ka talab which is 4kms from Sankri. Juda ka talab is a lake that is completely frozen during winters and one is not advised to go very near to it. It is a moderate trek only & would take anywhere close to 3.5-4 hours to complete. Snow starts after you reach midway.
The second camp site is the base camp for the trek which is a little less than 2kms from Juda. The route is completely snow covered and one is advised to ask for crampons from the guide from here only. The ascent is comparatively steeper than the Juda but since its only a km and half, one can cover it in an hour or two.
The base camp is a sight to behold. It feels completely blissful once you reach here. atleast that's what i felt. the camp site is quite a big meadow, and can easily accommodate 100-125 camps at a time. Luckily, we had the perfect spot saved for us at the camp site and views from there were to die for. Spending the night at the base camp, one leaves for summit the next day.
The guides wake you up at 2:30 -3, serve you light breakfast, and one leaves around 3:30 so that can reach the summit by the time sun rises. Its 4 and a half kms trek and obviously takes up the combined energy of Juda and the base camp trek. Last 100-150 meters are very difficult. After starting out a bit late at 3:30 around, we reached the summit at 7:15am and to our luck once again, we were just in time for the sunrise.
It was truly an incredible experience watching the sun rise from between the mountains and the rays shining on the other peaks like anything. People usually don't stay for more than 5-10mins on the peak as its very chilly and windy. but we ended up spending close to half an hour there.There hadn't been any cell reception for 2-3 days and so i hadn't talked to my family, and guess what, i called them up from the top and told them of my well being.
Then after clicking some pictures we started descending. Descent is always kind of easy and a km from the peak can be covered just by sliding on the snow.
We then reached our base camp at 12:30 and faced a situation of whether to get down to Sankri on the very day itself or stay at Hargaon camp site that was 1.5km from there.
Hargaon camp is another camp site on the way.
People can take this way also to reach the top.
Since we had booked 2N package so we had a stay at Hargaon camp already booked. bUt we thought we could get down to Sankri on that day itself, so we decided to let go of our stay at Hargaon camp site and went directly to Sankri that day. Starting at 12:30, to our utter surprise, the descent was very tough. The snow which we found quite fascinating while ascending was melting and the route was all mushy. It was very difficult & exhausting coming down. But somehow managed to reach Sankri around 6:30. We already had exchanged our Hargaon stay with the hotel stay so we were allotted the room directly upon reaching Sankri and dinner was also served then. Resting the night there, we took a direct bus back to Dehradoon the next morning.
Now, on the PACKAGE part,
the websites listing Kedarkantha trek give you a 5N/6D package with stay at each one of the camp site and Sankri included. But as you can see, we did the trek part only in 1N/2D only and it was doable. I wont say very easily doable but it was doable. However, if you want the full experience of staying at each of the campsites, i think you should opt for at most 3 day trek, the full package is seriously not worth it.
All your meals are already included in whatever packages you take, you don't have to pay anything extra while trekking.As for the gears/equipments required, they provide gators and crampons. You yourself need to have good waterproof hiking shoes, enough clothes to keep you warm, toilet paper, a torch, trekking pole if you want, a poncho, sunglasses & sunscreens ( recommendatory and not mandatory). I personally didn't carry a good trek pant and so suffered a bit due to track pants getting a bit wet, don't make that mistake.
So, this was all the detailed account of the trek. I don't think I have missed anything, but if someone needs some info you can follow me up on Instagram @karansetiya0 or comment down below.
The total trip expense : RS 7400/-
VOLVO ( Delhi to Dehradoon ) : 750
Local bus ( Dehradoon to Sankri ) : 340
Trek cost : 5000
Trek equipments & rentals :
Hiking shoes for 150 for whole trek(not very comfortable, I suggest investing in a pair beforehand, which I am also gonna do now).
Poncho,Torch,Toilet roll,chocolates for trek, etc. : 250
Local bus ( Sankri to Dehradoon) : 340
VOLVO (Dehradoon to Delhi) : 600